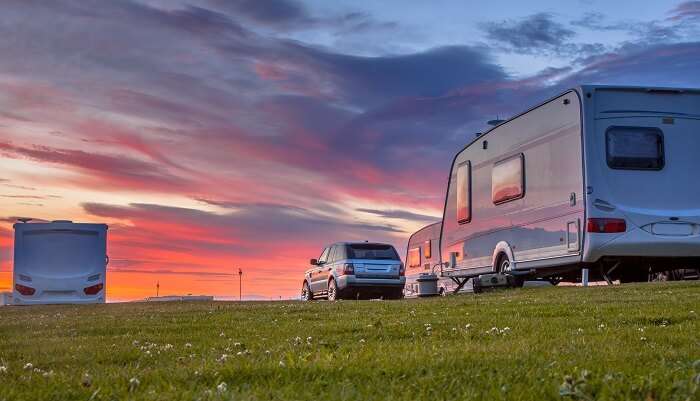 Road tripping through majestic sunsets, waking up next to a pristine waterfall and traversing through rugged mountains across the country; all these encounters have induced the urge of caravan travel. With the wake of Covid all around the world, a caravan trip makes complete sense. Ensuring all protocols of social distancing and sanitation are followed, this travel trend is the new future of tourism. From the freedom of planning your own trip to the excitement of exploring the offbeat places, a caravan trip ensures a remarkable experience. So, if you are planning a caravan trip in India, this detailed guide will help you plan and execute a perfect holiday on wheels experience.
What is a Caravan trip?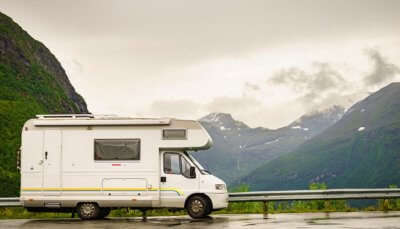 A caravan is a motor vehicle or van that has a bed and cooking equipment and is used to traverse through offbeat routes and places. It can be used by a group of people planning for a road trip, the vehicle is such that it can be easily pulled by a car. Camping amid nature and exploring all the offbeat trails, will definitely add to your travel experience. So, if you are someone who is bored of the monotonous way of travelling, a caravan trip is the best bet for you!
6 Adventure Sports In Kochi That Will Let You Challenge Your Fears In 2022!
Step by Step guide to planning a Caravan trip in India
From planning your own itinerary to looking for the right camping places and planning your meals, there is a lot that goes into planning a caravan trip. We have curated all the tips and tricks that will help you plan a perfect caravan trip in India for an exceptional holiday experience.
Step 1: Plan your destination and the itinerary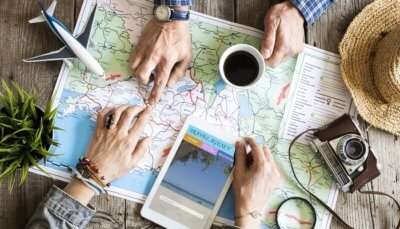 The first step to planning a caravan trip is planning the destination. It can be a short weekend getaway near your hometown or a long trip that will help you explore multiple destinations. The key to planning a perfect caravan tour in India is to pick offbeat destinations that will help you stay close to nature, indulge in activities like trekking, camping and at the same time, help you explore some hidden gems. Plan your itinerary, budget and all the stopover places in advance as last-minute add ons in your trip can be a little overwhelming. You also need to make sure to find a safe place for camping, always stick to the itinerary.
15 Crazy Festivals In Goa 2022 You Need To Witness Atleast Once In Your Lifetime
Step 2: Rent a caravan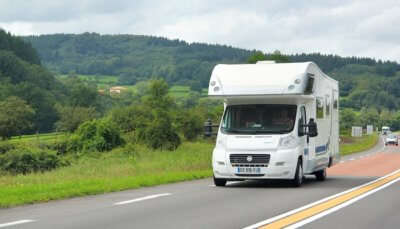 Now that you have an idea of the planning, another major task is to rent a caravan. The easiest way is to outsource a caravan from an established company. This will help you in planning the routes, they also provide a driver and guide. So this will save all the hassle of driving and planning caravan travel in India. You can also rent just the caravan and drive through routes on your own, making sure of the construction of the vehicle for safe travel. You can opt for an all-in-one caravan, which has all the facilities like a kitchenette, lavatory and roll on beds.
Step 3: Choose the right place to stay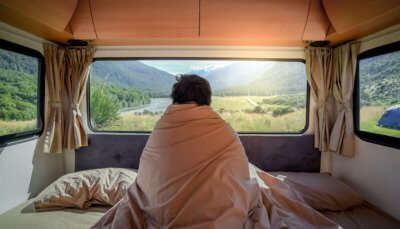 If you plan on camping at a stopover place, not picking an isolated place is the best option. Stay in close proximity to the city or the local market. Also, make sure you plan all your stay places in advance and research well about them before travelling.
20 Places To Visit In Thekkady For An Exuberant Getaway In 2022!
Step 4: Plan your meals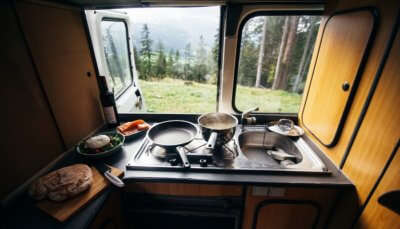 A major part of the trip includes food, and since you are planning a caravan trip you have the liberty to cook on the go. One thing to keep in mind is to gather all the ingredients and try to cook meals that are easy and healthy at the same time. For anyone planning a long caravan tour in India, there should be enough supplies for cooking. Make sure to carry extra dry snacks that you can have on the go. Set up a mini-refrigerator, induction and enough supply of drinking water, this will ensure a good supply of home-cooked meals.
Step 5: Stay organised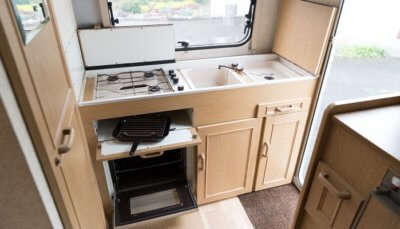 To enjoy the trip and have a hassle-free experience on your caravan tour in India, you need to stay organised. Take separate baskets for everything and try to keep the space open and non-congested since you will be spending a lot of time in the caravan.
25 Best Places To Visit In Visakhapatnam In 2022 To Relish The True Charm Of This Coastal Gem
Essential Packing List for a caravan trip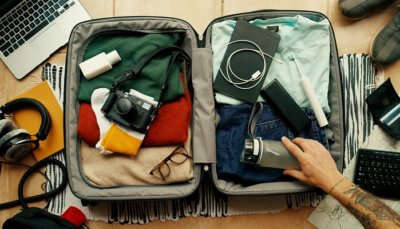 Permit: Depending on your tour, you would need a state/national permit. In case, you go for a rental caravan the company takes care of all the permits
Camping kit: carry an essential camping kit that includes sleeping bags, foldable chairs, in case of impromptu camping plans.
Clothes: the key here is to pack minimally, carry clothes that you use multiple times. Avoid carrying fancy clothes.
Cutlery: it is good to carry basic cutlery and cooking utensils, just in case.
First Aid Kit: A first aid kit with all the basic first aid and necessary medicines should be there in the caravan in case of unforeseen emergencies.
Toiletries: Carry extra towels, hand towels, tissues and basic toiletries handy.
22 Places To Visit In Panchgani In 2022 For A Fine Weekend Getaway
Cost of a caravan tour in India
The caravan trip price in India will depend on the places you visit and the amenities you choose. There are various types of caravan available from all-in-one to the ones providing amenities like a barbecue grill, queen size bed and many more. The price for a caravan usually starts from INR 5000/- per day to INR 20,000 per day, depending on the caravan you opt for and the amenities you choose.
Caravan companies to consider in India
Driving through rugged trails of Leh Ladakh to camping through the heritage circuit of Hampi, India is home to many great caravan routes. And with the change in travel trends, a caravan trip in India is gaining popularity with time. Here are a few companies that you can consider if you are planning for a caravan tour in India.
1. Luxe camper
This Bangalore based start-up is India's first commercially approved motorhome. The caravan is available for daily rent including the night halts. It can accommodate 4 people and provides amenities like 2 queen size beds, a kitchenette, a small refrigerator, a microwave, shower. Bheemeshwar, Kabini, Bandipur, Hampi are a few trips you can take on Luxe Camper.
2. Wacation on Wheels
This Nagpur based hiring company was established in the year 2016 and provides caravans at affordable rates. They offer the options of five-seater and seven-seater caravans along with amenities like TV, shower, kitchenette, generator etc depending on your requirements.
3. Motorhome adventures
Founded in the year 1998, this Delhi based company provides trips to destinations like Ladakh, Himachal, Rajasthan, and Uttarakhand. The caravan can accommodate large groups of 12 people to a small group of 2 people along with facilities like microwave, fridge, lounge area, bathroom etc.
4. Camper trails
Founded in the year 2018, this caravan provides trips to places like Sakleshpur, Chikmagalur, Coorg, Gokarna, Kabini, Mangalore, Mysore and Bandipur Reserve. It can accommodate 5 people, providing facilities like a central AC caravan, bathroom, kitchen and lounge area.
5. Trippy Wheels
These 4 funky looking caravans in Bangalore, provide trips to places like Hampi, BR Hills, Hirekolale Lake, Dubare Forest Camp, Kundapura, Bhadra Sanctuary and Sakrebayalu. It provides facilities like kitchenettes, utensils, bathrooms, beds etc.
30 Places To Visit In India In April 2022: Beat The Heat This Summer Like A Pro
Now that you are all set and prepared to plan a caravan trip, what are you waiting for? Plan a caravan trip in India to explore the best of these stunning landscapes, offbeat routes and mesmerizing surroundings that India has to offer
For our editorial codes of conduct and copyright disclaimer, please click here.
Frequently Asked Questions About Caravan Trip in India
Can we use caravan in India?
Yes, it is legal to use caravans in India. The state government is promoting caravan tourism at beaches, forts, mountain ranges, heritage sites and hills.
What are the best caravan routes in India?
From rugged mountains to pristine beaches, India is home to many great road trip routes. Gokarna, Hampi, Jaisalmer, Rishikesh, Coorg, Panchmari, Bandhavgarh, Amarkantak, and Sakleshpur are some of the best caravans routes in India.
Is it safe to plan a caravan trip in India, given the covid situation?
Yes, a caravan is the most sensible option right now to plan a trip as it avoids any public interactions. One can follow all the sanitisation protocols and maintain social distancing at all times while travelling.
Do we need any permits to plan a caravan trip in India?
Yes, you will need a state/national permit depending on the destination you are planning, to plan a caravan trip in India.
People Also Read:
Road Trips in Spain Road Trips in India Road Trips in Greece