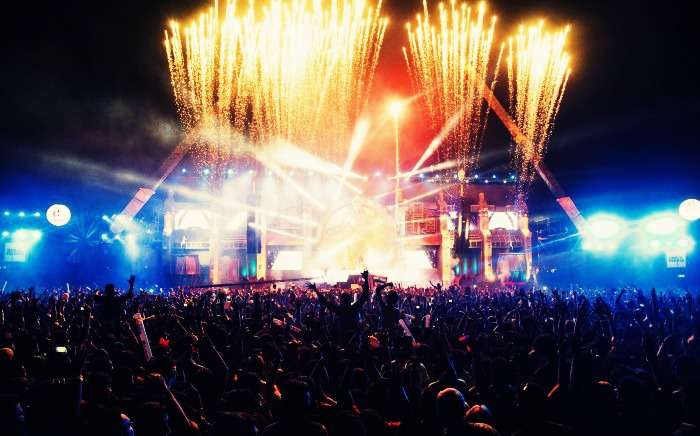 With a harmonious mix of variant credo and thought flow in its population, Goa celebrates religion, music, dance & food festivals with extreme enthusiasm. Singing and dancing are a part of life every Goans life. The entire state throbs with the beats of merriment during the time of festivals in Goa.
This city of happy-go-lucky people welcomes the tourist all over the world to show its glamour and dazzling celebrations. So, plan your trip to witness this list of festivals in Goa and live a life like the locals who never are exhausted to enjoy!
15 Vibrant Festivals In Goa 2021
Goa is not just a party state. You will also find a milieu of culture and festivities here. Attend these Goa festivals 2021 and have unique experiences on your vacation. Check the list below to have better insights about the festivals of Goa. Read about these and get set to pack your bags & relish the vibrant Goan festivals.
| | |
| --- | --- |
| Goa Festivals | Dates |
| Goa Carnival | 13-15 Feb |
| Christmas | 25 Dec |
| Saptah festival | 16th Aug onwards |
| New Year | 31st Dec |
| Grape Escapade | January |
| Goa Food & Cultural Fest | February |
| Goa Cashew & Coconut Fest | April/May |
| Sao Jao | 24th June |
| Goa Sunburn Festival | December |
| VH1 Supersonic | 27-30th December |
| Shigmo Festival | 21st March |
| Three Kings Feast | 6th Jan |
| Feast of St. Francis Xavier | 3rd Dec |
| Bonderam Festival | 4th Sat of Aug |
1. Goa Carnival 2021- 'The Intruz In the World of Colors'

Image Source
One of the hottest and most happening festivals in Goa, Carnival or the 'Intruz' is the only one of its kind in India! Set to dazzle with color, costumes, foot-tapping music, and a soul-stirring extravaganza. Apart from the non-stop festivity, the streets are beautified with vibrant colors and floats leaving everyone spellbound and in merry!
Location: Panjim, Mapusa, Margoa and Vasco Da Gama
When: 13th February to 15th February
Major attractions: The King Momo and his grand prize distribution ceremonies along with fancy dress parades and, red and black dances!
Don't miss The sawdust fight!
Famous For: Commemorating the presence of 450-year-old presence of the Portuguese in Goa.
Must Read: 7 Best Places For Camping In Goa For An Enchanting And Rejuvenating Experience
2. Christmas- The Festival Of Magic & Glitters

Image Source
As the winter strikes, it opens doors to usher in the grandest of all celebrations in Goa. The market places are over-embellished with trinkets and glittering Christmas trees are found in all the nooks and corner of the State. Christmas is the main festival of Goa along with festivities from other religions and faith.
Location: All across the state
When: Christmas Eve
Major Attractions: Traditional midnight masses and glittering aura will enhance you at this magnificent festival in Goa.
Don't Miss: The delicious cake and pudding prepared especially during this festival. PS: To enjoy the feast the most, befriend a Goan beforehand! ;)
Famous For: Vibrant colors, colorful celebrations, festive vibes
Suggested Read: Nightlife In Goa 2022: 12 Best After-Dark Experiences Offered Here!
3. Saptah Festival- Celebration Of Strength

Image Source
This century-old festival is a tribute to numerous people who lost their lives in a severe epidemic that hit Vasco. The residents visited Damodar temple to seek almighty blessings and the replacement is accompanied by elaborate rites and rituals which marks the festival of Saptah. You must take part in one of the most interesting Goa festivals 2021.
Location: Vasco region of Goa
When: Begins 16th August for 7 days
Major attractions: live music, and dance performances, and chanting
Don't miss: live performances
Famous For: The festival is dedicated to Lord Damodar and is celebrated by all the people irrespective of creed or caste.
Suggested Read: Trekking In Goa: 14 Trails That Are Ideal For An Adventurous Experience
4. New Year Fiesta – The Vibrant Side Of The End

Image Source
With its inherent party culture, the state is the ideal venue for celebrating the birth of a new year amid fun and frolic. The atmosphere reverberates with the cordial 'Happy New Year' greetings. This is a vibrant beach festival in Goa.
Location: All across the state
When: Last few days of the year
Major attractions: Euphonic church bells give a happy beginning and throbbing drums clubbed with Goan trance mark the nights.
Don't miss: Partying till the wee hours of the night, sometimes till the dawn, followed by some quiet and cozy moments at the beach
Famous For: Buzzing nightlife
Suggested Read: 41 Best Places To Visit In North Goa In 2022 For A Kick-Ass Beach Holiday!
---
Planning your holiday in Goa but confused about what to do? These Goa travel stories help you find your best trip ever!
Real travel stories. Real stays. Handy tips to help you make the right choice.
---
5. Grape Escapade – Biggest Wine Festival Of India

Image Source
One of the most unique festivals in Goa, The Grape Escapade is a popular gourmet and unique cultural celebration. The is one of the best Goan festivals which brings wine connoisseurs of the world to savor the delectable flavors of grapes from India and abroad. Being one of the famous festivals of Goa, it has worldwide charm.
Location: Panjim
When: January
Major attractions: Taste the decade-old wines and let the fashion shows, live music, and dance performances add to the merriment of the evenings at the Grape Escapade
Don't miss: The 'Wine- Stomping' sessions as well as the 'Grape Escapade Queen' contest
Famous For: Wine tasting
Suggested Read: 5 Things To Do In Goa In May That Must Be Experienced By Every Traveler Out There!
6. Goa Food and Cultural Festival

Image Source
Do you drool over the Goan curries, the Portuguese Vindaloo, and the Goan fish 'n' chips?! The Food & Cultural Festival of Goa is the place to be for you! Everyone from homemakers, restaurateurs to high-profile chefs of 5-star hotels take part in the festival exhibiting their culinary art at various beaches in Goa! The festivals in Goa cannot get more exciting for foodies.
Location: Beaches of Goa
When: February
Don't Miss: Delectable Goan delicacies- fish curry and rice including barbecues, pasta, oriental cuisine, and other desserts
Major attractions: culinary artists, foodies connecting, display of various dishes
Famous For: luscious food, authentic dishes
Suggested Read: 36 Most Famous Festivals Of India You Must Experience In 2022
7. Goa Cashew and Coconut Fest

Image Source
As Cashew was introduced firstly in Goa, it adds greatly to the economy of the state. One of the most interesting festivals in Goa showcases rare arts, cuisines, and concoctions. Some interesting activities that can be experienced are cashew stomping, coconut breaking, and a taste of exotic fenny cocktails.
Location: Panaji
When: In the month of April or May
Don't miss: Must go for cashew fenny, poi filled with meat, Goan curries, rice, and a whole lot of seafood
Major attractions: fun activities like 'climbing a coconut tree'
Famous For: celebrating the rich agrarian Goan traditions through its two very crucial crops: cashew and coconut
Suggested Read: Experience Flyboarding In Goa For An Adventurous Getaway On Your Next Vacation!
8. Sao Joao – The Dancing Monsoon Fiesta

Image Source
Image a procession of village youth wearing crowns of leaves & feathers, carrying bottles of Fenny advancing through the village. Sao Joao festival in Goa is loaded with folk dances, music, fruits and fenny.
Location: All over state
When: 24th June
Major attractions: Pool parties serves as a complete package of merriment and joy
Don't miss: dance performances, musical night
Famous For: Feast of Saint John the Baptist
Suggested Read: 43 Famous Beaches In Goa That Will Make Your 2022 Vacay A Happy Trip
9. Sunburn Festival – Call For Music Lover

Image Source
If you are a music lover, you need to get yourself to Asia's premiere three day electronic dance and music event Goa Sunburn 2021! Sunburn is a synergy of music, entertainment, food, shopping and lifestyle that pulls music tourism in India. It is one of the most popular Goa festivals that attracts tourists from all over the world.
Location: Calangute Beach
When: In the month of December for 3 days
Major attractions: Asia's largest music festival
Don't miss: Live performances, meeting the artists
Famous For: EDM music
Suggested Read: 20 Best Beaches In South Goa For A Happening Holiday In 2022!
10. VH1 Supersonic – Music, Beaches & Parties!

Image Source
Another one of the best music Goa festivals is VH1 Supersonic. Block your dates for the most awaited EMD beach party in India – Vh1 Supersonic. Vh1 Supersonic features an array of International and Indian artists & provides electrifying beats aimed to make you dance to your heart's content.
Location: All geared up to take place on the sunny sands of Candolim Beach When: 27th – 30th December
When: January
Major attractions: Vibrant night, buzzing music
Don't miss: Musical performances
Famous For: Giving a strong sense of belonging & community vibe
Suggested Read: 10 Yoga Retreats In Goa That Will Let You Be In Touch With The Spiritual Realm
11. Shigmo festival- The dance of colours

Image Source
Shigmo is Goa's answer to Holi. Shigmo parade is a street festival binged with music, dance, colours and float parade. The life of a Goan is portrayed in elaborate folk performances by local men and women who dance inexhaustibly in huge processions along with the parade.,The festival respects the homecoming of mortals who had left their homes and families at the end of Dusshera to fight the encroachers.
Location: Celebrated at different 14 parts of Goa like, Ponda, Mapusa, Panji, Margao, Pernem, Vasco,etc.
When: 21st March
Major attractions: Attired in traditional costumes, folk groups consisting of women dancers give vibrant performances of various Divli dances, also folk dances like Ghode Modni and Fugdi
Don't miss: Crazy enthusiasm, colorful dance
Famous For: celebrated with a lot of pompous
Suggested Read: Christmas Celebration In Goa Is The Perfect Way To Soak In The Festivities In 2022!
12. Goa Mango Festival – The Juicy Festival

Image Source
This is hosted by Goa's agriculture directorate. Through the festival Goa celebrates the onset of the mango season. The variety of mangoes grown in Goa are put to display and the best variant is picked up. The mango festival is hosted alongside the Konkan Fruit Festival. Competitions like mango carvings are also held. There are various mango products and demonstrations of new technologies related to farming.
Location: Panaji
When: January
Major attractions: everything related to mangoes, activities, games, competitions, even products.
Don't miss: Mango eating competition
Famous For: celebrating the mango season
Suggested Read: 6 Scintillating Beaches Near Panjim For A Perfect Week Off In 2022
13. Three Kings Feast

Three Kings Feast is a famous festival of Goa and also one of the favorite holidays for Goan citizens. You are lucky to attend the festival as a tourist if you can. What happens in this festival is that three boys enact the scene where the three kings of Magi come to meet the baby Jesus bearing gifts. There is excitement among the locals. It is also believed that the nearby hill has footprints.
Location: Cansaulim, Arossim and Quelim
When: 6th January
Major attractions: procession, the ritual of gifts giving, food, drinks
Don't miss: fun day from dawn till dusk
Famous For: dedicated to the three kings
Suggested Read: 22 Hill Stations Near Goa That Offer Some Of The Most Impeccable Views Of The Landscapes In 2022!
14. Feast of St. Francis Xavier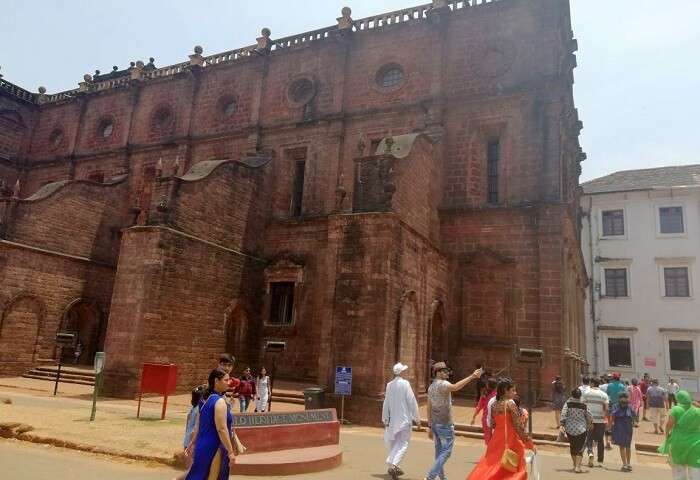 St. Francis Xavier was the patron saint of Goa to whom this festival is dedicated. The festival is commemorated as the death anniversary of the holy saint. The mortal remains of the house are housed in the Basilica of Bom Jesus which is visited by thousands of devotees on the eve. A variety of ceremonies are conducted to pay reverence to the saint. It is a popular festival of Goa.
Location: Basilica of Bom Jesus
When: 3rd December
Major attractions: the silver casket in which the remains of the saint are kept is on display every 10 years. 2024 is the next time it will be on display
Don't miss: Religious ceremonies
Famous For: celebrating St. Francis Xavier
Suggested Read: 12 Lakes In Goa That Are Ideal For An Off-Beat Vacation In 2022!
15. Bonderam Festival

Bonderam Festival is a famous festival in Goa that is celebrated on the quiet island of Divar. This day is celebrated as the victory of villagers against the Portuguese on the island who demarcated areas on the island with flags that could not be visited by the villagers. During this time, the whole island comes alive with dancing, music, and food.
Location: Divar Island
When: 4th Saturday of August
Major attractions: huge parade, music fest
Don't miss: music, celebrations and amazing food
Famous For: Harvest festival
Further Read: 55 Best Places To Visit In Goa For A Splendid 2022 Vacay!
So what are you waiting for? Don't miss out on the action and the chance to be at the forefront of the world's most incredible festive zone this year. There is more to this place than just partying and hopping shacks. Book your trip to Goa with TravelTriangle now and be a part of these festivals in Goa.
Frequently Asked Questions About Festivals In Goa
Why is the Goa carnival celebrated?
Goa Carnival is a popular festival in the state. It has been celebrated since the 18th century and the carnival is unique to Goa. The major highlight is King Momo and his grand prize distribution ceremonies along with fancy dress parades.
Are 3 days enough in Goa?
3 days in Goa are enough to explore all the famous attractions and other touristy places. However, no number of days are enough for this attractive place as travelers get hooked to this place.
What is Sunburn Festival 2021?
Sunburn festival is Asia's largest music festival. It is an electronic dance music festival held for three days. The festival is a mix of entertainment, food, music, shopping, and lifestyle.
Which part of Goa is the best?
Every corner of this beach town, whether it is North Goa or South Goa, it is best and perfect. However, the best place for you depends on if you are a party animal or if you like to chill in a peaceful environment.
What language is spoken in Goa?
Konkani is the official language of Goa. The total number of languages used in Goa are Konkani, Hindi, English, Portuguese, and Marathi.
What is the famous food of Goa?
The tropical climate has influenced the food of Goa to be in varied flavors and spices. The staple food here is rice and fish curry.
How safe is Goa?
Goa is quite a safe place for tourists. Women can also travel during the night. One should just take safety measures and avoid places that are secluded.
When is the best time to visit Goa?
The best time to visit Goa is between November and March when the weather is pleasant and beautiful with a cool sea breeze blowing.
---
Looking To Book A Holiday Package?
Book memorable holidays on TravelTriangle with 650+ verified travel agents for 65+ domestic and international destinations.
---
People also read:
Festivals In Andhra Pradesh Festivals In Switzerland Festivals In IndonesiaFestivals In India