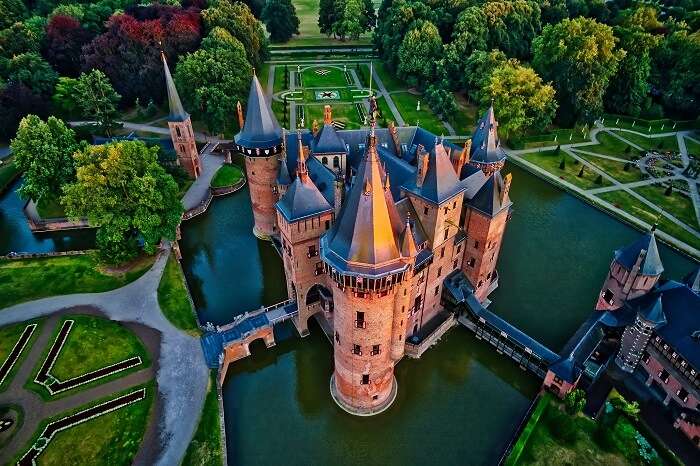 The Netherlands is often referred as the country that looks more like a postcard picture, with its beautiful tulip fields, the tall, glorious windmills, and the amazing cycling routes. It is definitely a place worth visiting at least once in a lifetime. The Netherlands is also known for its history and the royal kings and queens that used to rule the country. Therefore, there are plenty of castles in Netherlands, and each one is special and unique in their own way.
10 Magnificent Castles In Netherlands
We have made a list of the top ten castles in Netherlands, that you should include in your itinerary if you are planning to visit this magnificent country to explore these royal houses.
1. Muiderslot Castle
The Muiden castle in Netherlands, also known as the Muiderslot Castle, an interesting square shaped castle located in the province of North Holland. The castle has a moat and a drawbridge that are both still functional, though not used. The beauty and grace of this well-renowned castle make it one of the best castles in Amsterdam, Netherlands.
Additional info: There is a museum located within the castle.
Location: Herengracht 1, 1398 AA Muiden, The Netherlands
Timings: Usually 10AM-5PM but varies due to certain events.
Entry fee: INR 1500 for adults, INR 900 for children
Must Read: Netherlands Nightlife: 10 Best Places To Party Till Sunrise!
2. De Haar Castle
The De Haar Castle in Netherlands is the largest castle in the whole country and is located close to Haarzuilens, in Utrecht. Surrounded by beautiful parks and gardens, this castle boasts of gracefully designed interiors and extremely impressive exterior architecture. This castle is also home to the annual Elf Fantasy Fair, where people come dressed up as their favourite fantasy characters.
Location: Kasteellaan 1, 3455 RR Utrecht, Netherlands
Timings: 11AM-5PM
Entry fee: INR 1600 for adults, INR 1000 for children
Suggested Read: These 12 Indian Restaurants In Netherlands Will Satisfy Your Hunger In 2022
3. Doornenburg Castle
This castle is a combination of a smaller castle and largest castle, connected together by a bridge, and together making for one of the largest castles in the Netherlands, as well as one of the most well-preserved castles.It started with the construction of a villa named Villa Dorenburc, which later on had grown and expanded to become this gorgeous castle.
Location: Kerkstraat 27, 6686 BS Doornenburg, Netherlands
Timings: Varies from day to day, so make sure to check prior to your visit.
Entry fee: INR 750 for adults, INR 500 for children
Suggested Read: 15 Best Things To Do In Netherlands For Treating The Adventurer & Nature Lover In You
4. Doorwerth Castle
If you're intrigued by ghosts and other supernatural things, you will love visiting this castle. It is said that there was a girl who lived in the castle, who starved to death, and her spirit still haunts the halls of this castle to this day. However, this doesn't seem to scare people off, and this castle is still one of the top castles to visit in Netherlands which also host many events around the year.
Location: Fonteinallee 2 B, 6865 ND Doorwerth, Netherlands
Timings: 11 AM – 5 PM
Entry fee: INR 1150 for adults, INR 750 for children
5. Radboud Castle
Built in the year 1920, this is one of the best castles in Netherlands and was built after a Frisian king who went by the same name. The castle in itself looks splendid, with impeccable architectural design, and a beautiful water body that surrounds it, along with a lush green garden.
Location: Oudevaartsgat 8, 1671 HM Medemblik, Netherlands
Timings: 11 AM – 5 PM | Closed on Mondays and Fridays
Entry fee: INR 600 for adults, INR 400 for children
Suggested Read: 11 Best Indian Restaurants In Amsterdam To Add Some Spice To Your Holiday!
6. Ammersoyen Castle
Located on the west of the Gelderland province, this is one of the castles in Netherlands that is renowned for its sheer beauty and grace. Surrounded by water, this castle stands out among the green field it is surrounded by. It was originally built in the 1300's but was greatly damaged during WWII and since then it has gone under many renovations.
Location: Kasteellaan 1, 5324 JR Ammerzoden, Netherlands
Timings: 11 AM – 5 PM | Closed on Mondays
Entry fee: INR 950 for adults, INR 525 for children
---
Planning your honeymoon but confused about where to go? These honeymoon stories help you find your best honeymoon trip ever!
Real honeymooners. Real stays. Real opinions to help you make the right choice.
---
7. Duurstede Castle
Another castle in Utrecht, in Netherlands, this is an old medieval castle located in the town of Wijk Bij. One of the distinct things about this castle is that it has a tall tower called the Bourgondisch Toren. The rustic look of this castle makes it look straight like a picture out of your history book, and is definitely a sight to see!
Additional info: This temple was seen in the movies 'Bassie & Adriaan' and 'De Diamant'
Location: Langs de Wal 6, 3961 AB Wijk bij Duurstede, Netherlands
Timings: 9 AM – 5:30 PM | Closed on Mondays and Fridays
Suggested Read: 10 Best Airports In Europe For An Enjoyable Journey To Your Dream Destination
8. Slot Loevestein
Built by a knight called Dirc Loef van Horne, this castle and fortress located near the town of Poederoijen was once the residence of the knight who used it to conduct raids, and also illegally charge toll money from passerby. This castle now houses a museum and is one of the most famous castles to visit in Netherlands.
Location: Loevestein 1, 5307 TG Poederoijen, Netherlands
Timings: 11 AM – 5 PM
Entry fee: INR 1350 for adults, INR 900 for children
9. Huis Bergh Castle
Not much is known about the history of this castle, the origins of which go way back to the 13th century. Right now, the castle is one of the biggest in Netherlands, and is surrounded by a moat, which was used as an instrument of defence in the early ages. The insides of the castle are lined with beautiful Italian paintings, and some medieval handwritings as well.
Location: Hof van Bergh 8, 7041 AC 's-Heerenberg, Netherlands
Timings: 12:30 PM – 4:30 PM | Closed on Mondays
Entry fee: INR 1350 for adults, INR 800 for children
Suggested Read: Top 10 Hotels In Netherlands For Those Who Want A Grand Stay While Living The Good Life
10. Het Loo Palace
This castle that was built in the years between 1684 and 1646, is considered as one of the top 100 Dutch heritage sites and a top tourist attraction. Today, this castle serves as a state museum and houses some of the important European artworks of the past centuries, and a library which displays some of the important historical books, as well as other decorations and medals.
Location: Koninklijk Park 1, 7315 JA Apeldoorn, Netherlands
Timings: 10 AM – 5 PM
Further Read: 22 Best Places To Visit In Netherlands: The Perfect Mixture Of Art And Culture
If you're already intrigued by the royalty of these castles and can't wait to see them closely, then plan your much awaited vacation to Netherlands with TravelTriangle and experience the lavish architectures of these ages old castles!
---
Looking To Book Your Honeymoon Package?
Book memorable honeymoon on TravelTriangle with 650+ verified travel agents for 65+ domestic and international destinations.
---
Comments
comments