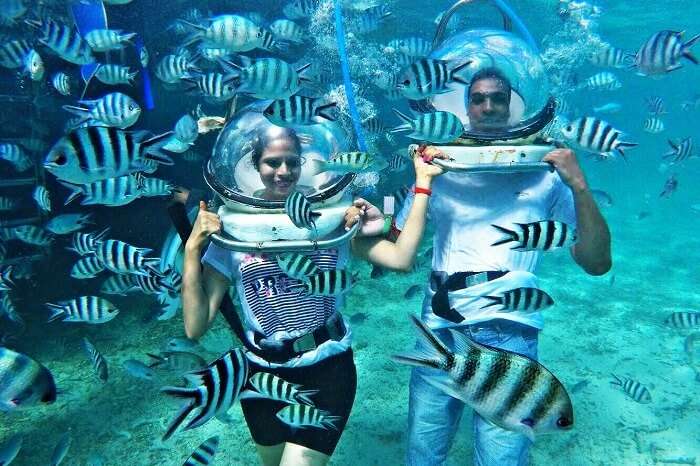 Chandan and his wife Minita share the experience of their honeymoon in Mauritius. Having looked forward to this day since what felt like an eternity, they wanted to make every bit of it count.Additionally, the arrival of fall season had led to a nip in the Mauritian air which basically meant, the weather was more than perfect for their special occasion.
About Our Mauritius Honeymoon Package
We booked our honeymoon via TravelTriangle, an online marketplace for travel agents where one can get multiple quotes and customized itineraries. We had found this website on the internet and after a lot of comparison, quotes, and itineraries, selected the best quote from "Travel Plug", an agent on the website.
Our Package And Trip Details:
Cost: INR 127717
Duration: 6 Nights 7 Days
Inclusions: Flights, transfers, sightseeing, & accommodation
Exclusions: Personal paid activities and sightseeing. Anything that is not part of the itinerary.
Day 1: A grand welcome and stay at the Hotel Anelia Beach Resort in Mauritius
So our Air Mauritius flight from Mumbai landed to Port Louis on Day 1. On our arrival, we were greeted and nicely taken care by the local agent who then arranged for a transfer to our hotel – Anelia Beach Resort.

Looking For Water Villas In Mauritius? Constance Le Prince Maurice Is A Dream-Come-True!

The hotel was love at first sight and had a private beach overlooking the sea and sky. Our infinite ocean view from the superior sea front room simply added to the stellar tropical ambience but this was not it. Upon checking into our room, there was a bottle of sparkling wine and a floral decor greeting us. The stage for our romance of a lifetime was set!


Later in the evening, we attended an open-air dinner along with fusion DJ night on the beach of the hotel. Needless to say, it was awesome and a perfect way to end our lovely first day of our honeymoon in Mauritius.
Day 2: The Mauritius south island tour got us closer to nature and divinity
The second day of our honeymoon in Mauritius started with a full day tour of the south side of Mauritius. We were part of an all couples group, which was an extremely jovial one. The fresh air and serenity of Mauritius had refreshed our senses and we were more than looking forward to visit the best places on our honeymoon in Mauritius.

Another plus point of this tour was that there was a sizeable proportion of people of Indian ethnicity living here which made us feel as if were in a well planned mini India. This feeling further intensified when we visited the Grand Bassin and (the sacred lake and Hindu temple) Mangal Mahadev Shiva Statue. This was the moment where we realized how deeply Hindu culture is rooted in this island. It was sort of a pleasant surprise for us.


Best Honeymoon Experiences For Couples In Mauritius
Ship models are considered to be a good-luck charm in Mauritius and so we were taken to the Le-port ship model factory which was connoisseur in ship model making. We were impressed to see the comprehensive collection of ship models in spanky looking showroom style display. We also made stops at few local souvenir shops and explored the market.

During the later part of our day, we covered Trou aux Cerfs volcanic crater, Chamarel Waterfalls, and the seven colored earth made by evolution of lava. It was fascinating to learn how this island has evolved over years. While we found our south island experience ceremonious, we were certainly willing to make it more adventurous in coming days.
Day 3: The Catamaran Cruise in Mauritius was a one of kind sailing experience we will never forget!
The Catamaran Cruise was a part of our add-on package that we took in Mauritius. The day started early for us as we were picked up at 8 AM for transfer to cruise by a lady named Catherina, who turned out to be a great conversationalist. Our cruise started sailing at 9.30 AM and we were on board with a group of wonderful couples. The boat was in the ocean, and we were all set for an exciting day!

Later, as the cruise sailed with a calm speed over wonderful upbeat music, we sat-back, relaxed and enjoyed our breakfast amidst surreal sceneries. After the breakfast, we cruised some more and were then served drinks and a barbeque buffet lunch. We enjoyed our lunch in the company of the dolphins, who incidentally showed us some amazing stunts.


Later, the cruise halted for us midway to try snorkeling with colored reef fishes. Post this, we sailed to the clamshell (Bénitier) island, which is a rock formation coming out from the middle of the sea. This Benitier is the hallmark of Mauritius Island because of its unique shape.

Curepipe In Mauritius: 5 Reasons Why It Is An Unrivalled Getaway
Overall, apart from the excellent sceneries and the infinite blue ocean, what really stood out was the great company that we got. Friendly crew members, both young and old couples, and some great conversations totally rejuvenated our mood. In the last hour of the sail during return, it almost seemed as if we were part of one big family while we were playing dumb charades together. It was quite an extraordinary experience – something that one should definitely try!
Day 4: Up in the sky, down on the ground, and below the water at Ile Aux Cerfs
If we were to summarize this day upfront in two words – it would be 'speed' and 'fun'. This was the day, we were to do adventure sports at Ile Aux Cerfs and as scheduled, we were picked up in the morning for the same.

Our activities started off with a tube-ride that immediately got our adrenaline rush pumping. It was a mind-blowing non-stop activity for 15 minutes in which we were screaming and bouncing up & down on the waves inside the tube.

Next up was a sky high activity called parasailing and as expected, this one was also "too much fun". Parasailing gave us a breathtaking aerial view of the lagoon, beaches, and the landscape. Indulging in this activity as a couple really gave us a "wow" feeling.

Next up was an immersive experience of the ocean-bed with the underwater sea-walk. As we queued up for our turn for this activity, we were quite anxious and were noting down all the sign language instructions (for communicating underwater) that the guide was telling us.
Later, as we were slowly taken underwater, we lost a sense of time and were totally immersed in the whole experience. Everything walked around us in slow-motion and was muted. Beautiful fauna, corals, and striped fishes swam past us and everything felt magical. During the activity, we also fed fishes with bread baits with our hand. It felt wonderful to see the fishes flock to grab a bite. Heavenly!

 Romance Aboard A Catamaran Cruise On Your Mauritius Honeymoon For Memories Of A Lifetime
Next up was a waterfall visit on a speedboat ride. While the waterfall was good, the highlight of the whole activity was the speedboat ride that was honestly, too amazing! It was thrilling and by the time it was over, we felt like hiring a private boat and repeating all the amazing adventures we had on this day.
Later after, all the water and adventure activities were done, my wife and I spent some quality time with each other on the beach of Ile Aux Cerf. We had a great time playing in water here and recording fun videos. In the evening, we were transferred back to our hotel.
Day 5: A Truly Personal Day with a long-drive on a hired car and a candle-light dinner
This was a day-at-leisure for us and we wanted to make the most of it. Basically, a "we" day! So after a multi-cuisine breakfast in the morning, we spent some time exploring the hotel facilities and then took a dip in the infinity pool. For the rest of the day, we had hired a car to self-drive and roam around the city.

It is possible to cover the entire Mauritius Island from one-end to another in a day by road. So we started our drive from hotel to Grand Baie in the north. FM channels played mix of Hindi, English, and local music which was once again a pleasant surprise. We drove the car with Google navigation (Maps), and it worked quite well except for few directions which were not accurate. Mauritius roads, less traffic, and beautiful weather was an ideal scene for me to take a long drive with my love.

Throughout the drive, we kept on halting to see the various wonderful sceneries, take pictures, and sit at some scenic spot, to enjoy each other's company. This was one of the highs of romance on our honeymoon in Mauritius, and we savored every moment of it. On our drive back to hotel, we were lucky to witness one of the quixotic sunsets of Mauritius.

Back in the hotel, a candlelight dinner was organized for us on our request. The warmth, courtesy, and excellent hospitality that the staff displayed here was commendable and made the whole experience quite special, personalized, and intimate. Apart from this, cutting the cake for us and lighting the cracker were all perfectly timed for our candlelight dinner. We really appreciate and thank Anelia for organizing it for us!
Day 6: We saved the best for the last at Casela Nature Park
This was our last day in Mauritius and since Casela Nature Park was quite nearby to our hotel, we decided to shift it towards the end so as to manage our time better. As it turned out, we had saved the best for the last because we were to do the most unique wildlife experience here – "Walking with Lions".

Feeling The Tropical Love On A 4N 5D Honeymoon In Mauritius
Casela Nature Park in general is an adventure park having Safari, Bird Park, Animal Shows, Artificial river, pools, and 4D cinema discovery center themes. We went there driving and enjoyed everything that we covered. There was an avalanche ride which we tried one by one. It took us some time to gather the courage to try it – but it was worth trying!


So the 'Walking with Lions' was quite an adventure. We were in group of seven couples taken inside the open forest area where two lions arrived. We were briefed about DO's and DON'T's about interacting & walking with Lions. While lions walked at their own pace and comfort, we were allowed to touch, pat, walk, and click pictures with the lion in a friendly manner.

It felt like an era where humans and lions live peacefully together. The guide sequentially allowed all the couples to interact and provided sufficient time for everyone to click pictures. Entire interaction was photographed and filmed. It's going to be a lifetime memory for us!
If we were to pick one single activity that one should never ever miss-out in Mauritius – it's gotta be 'Walking with Lion'.
Bye Bye Mauritius
It was then time to bid adieu to Mauritius. In the evening, the same day, we were transferred to the Port Louis Airport where we spent some time buying souvenirs for our loved ones back home. Our trip was so amazing that one point in time we thought of extending the vacation to one more week. But then we thought, "there's always a next time!" :)
Tips For Travelers:
Do a thorough research about the destination before you plan your trip. From adventure to romance to a chilled out long drive, Mauritius has something for all. And you can add them to your itinerary.
Casela Nature Park and its "Walk with the Lions" activity is a must do for all.
Intrigued much? You too can experience all the fun and adventure on your next trip. Customize exciting Mauritius tour packages with TravelTriangle, and plan your travel, your way!
---
Looking To Book An International Honeymoon?
Book memorable honeymoon on TravelTriangle with 650+ verified travel agents for 65+ domestic and international destinations.
---