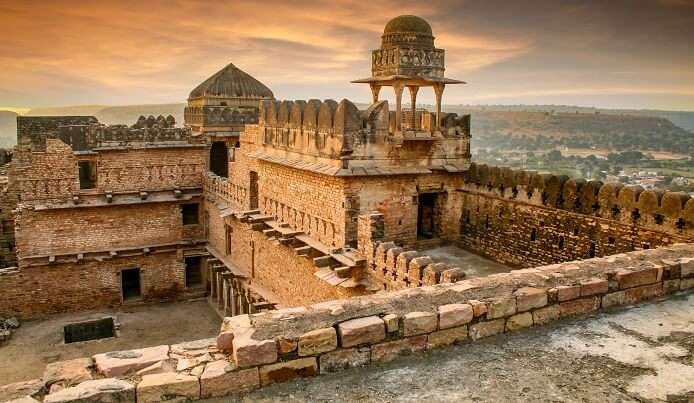 When it comes round to visiting heritage sites in India, there is an abundance of spots that one can choose from. The only problem is that we have limited time on our hands and want the best experience out of the trip. To ensure that, we would suggest you visit the places that people normally wouldn't. Chanderi in Madhya Pradesh is one such spot that is often underrated but equally breathtaking.
To help guide you through your planning, we are going to suggest everything that we know of and ensure that your trip is worth remembering through and through.
About Chanderi In Madhya Pradesh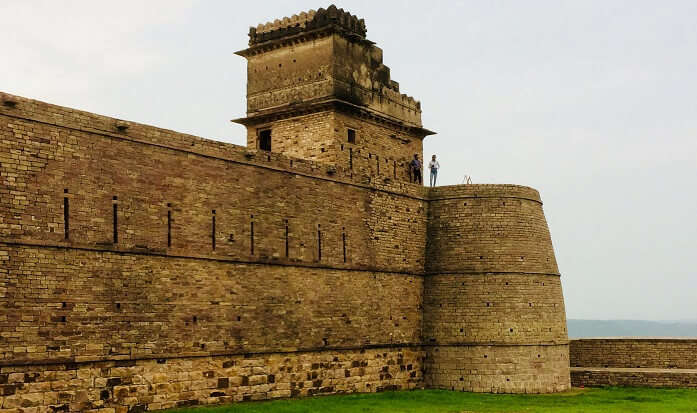 When we mention the term "Chanderi", the majority of the people think about the fabric by the same name. While that is completely fine and justified, Chanderi is also a very popular but small town nestled just between Malwa and Bundelkhand in Madhya Pradesh. The place is located along the Betwa river, further, making it an amazing option to explore. So, if you have had the question of where is Chanderi in Madhya Pradesh, we hope this answered it.
Chanderi was so centrally located during the historic era that it served as a trade route for Central India as well as the route to Malwa. The town was enriched with natural resources and was located in a very strategic position, making it an ideal trading hub back in the days. The place, because of its location, was also eyed by some of the major rules across India back in the days.
But What Makes Chanderi So Special?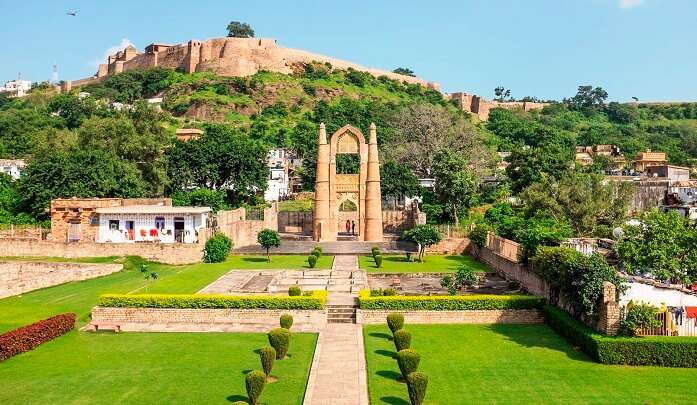 Well, to be honest, it is just how amazing the place looks that make all the difference. It is beautiful from all ends, thus making it a spot that one possibly can't even think of existing in India. The place has such a strong heritage that several films have also been shot here.
The wide range of historic monuments will further polish your knowledge about culture and heritage, making it quite the ride that you possibly didn't even think of in the first place. If you wish to explore more into the depths of history and heritage, this is possibly the best spot to visit.
Weather In Chanderi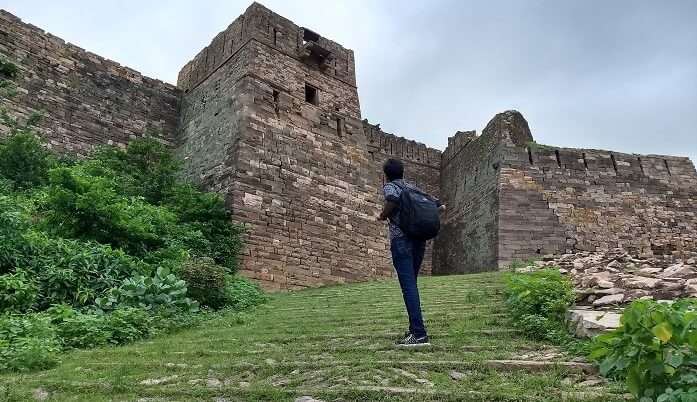 Well, much like the rest of India, Chanderi does have pretty standard weather. The summers are hot and humid and can jump up to 30 to 45 degrees celsius while the winters are pretty chill and comfy with the temperatures skirting around 5 to 20 degrees celsius.
For the most part, it is best suggested that you do visit during the winter months because of how favourable the weather is. It is quite easier for you to walk around as well during the winter months without any issues, to be honest.
Places To Visit In Chanderi
When it comes to Chanderi town, there are several spots around that you do need to visit and explore. The town is more than just the type of fabric that it is known for. If you want to know how this place is such a rave and holds so much heritage, you have got to explore around.
1. Chanderi Fort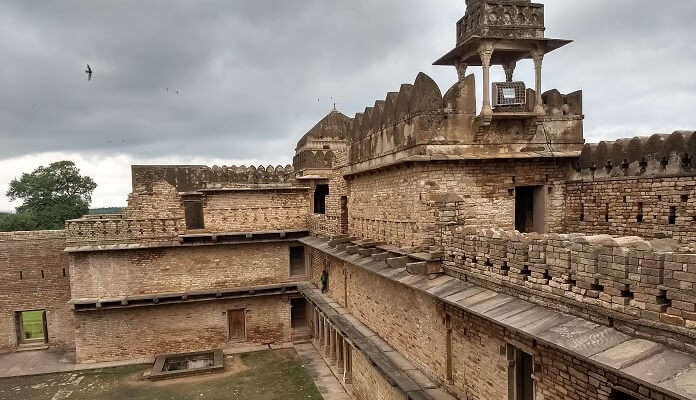 The very first in the list of things to do in Chanderi in Madhya Pradesh is to visit the Chanderi fort. It was constructed back in history by ruler Kirti Pal and has since then been renovated time and time by several successors to the throne. The fort itself isn't the only spot to visit, there is an abundance of spots inside the fort that you can explore as well. Khilji mosque, Naukhanda Palace, Hawa Paur, etc. are some of the spots around that you can check out.
Location: Chinchavali Village, Chanderi
Must Read: 5 Places To Visit In Tikamgarh For An Enlightening Trip To Madhya Pradesh
2. Jauhar Kund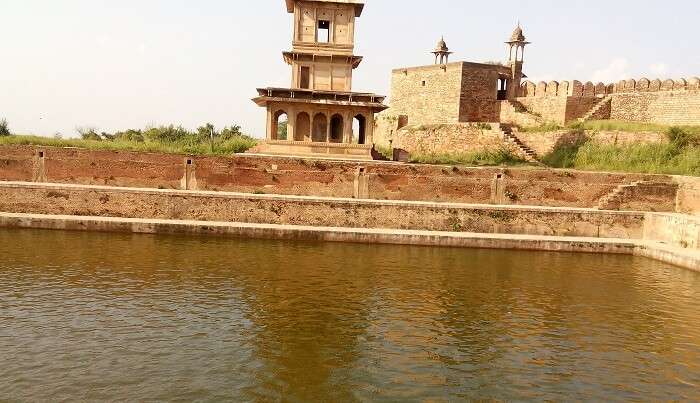 Just outside the Chanderi fort complex, there is a Jauhar Smarak to commemorate the sacrifice done by the women during history. The place signifies the self-sacrifice done by several of the Rajput women following the departure of Medini Rai and his soldiers to fight the last battle with Babur and his soldiers.
Location: Outside Chanderi fort
Suggested Read: Monsoon In Madhya Pradesh: 5 Best Places To Visit In The 'Heart Of India' In 2022
3. Koshak Mahal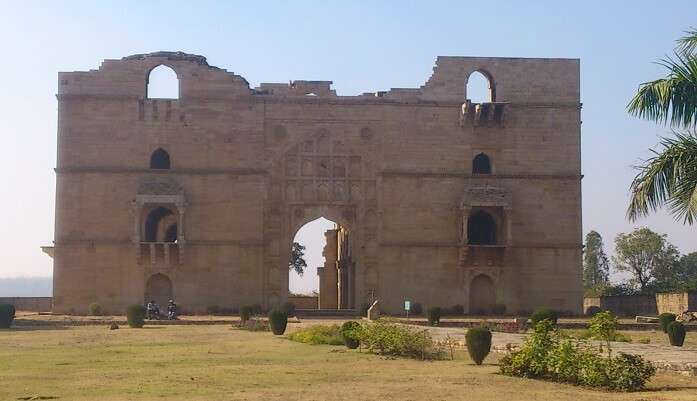 Another one of the places that are a must-visit while you are in Chanderi is the Koshak Mahal. It is situated just 4 km away from the main town of Chanderi and is worth the time you spend. The place dates back to 1455 which was built by the Sultan of Malwa, Mehmood Shah Khilji. The Mahal was planned as a seven-story building, hence why it was initially known as Kushk-e-Haft Manzil. There are also beliefs that the Mahal was advised to be constructed by the Sultan because he wanted to employ the people in the kingdom.
Location: Isagarh – Chanderi Rd, Singhpur Chalada, Madhya Pradesh 473446
Suggested Read: 10 Best Places To Visit In Madhya Pradesh In Summer For A Soothing Trip
4. Badal Mahal Gate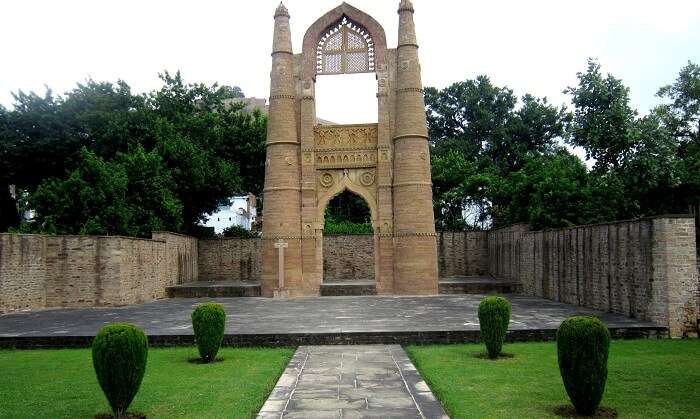 This is yet another one of the underrated spots that not many people do visit and explore. That being said, this is located in the inner town of Chanderi and makes up for one of the best spots to explore around the town. The gate is the only remains because the palace it was built for, doesn't exist anymore. To further enhance the tourist visits, the place has now been decorated around with gardens and flowers.
Location: MP SH 10, Chanderi, Madhya Pradesh 473446
Suggested Read: 4 Best Tourist Circuits In Madhya Pradesh In 2022
5. Jama Masjid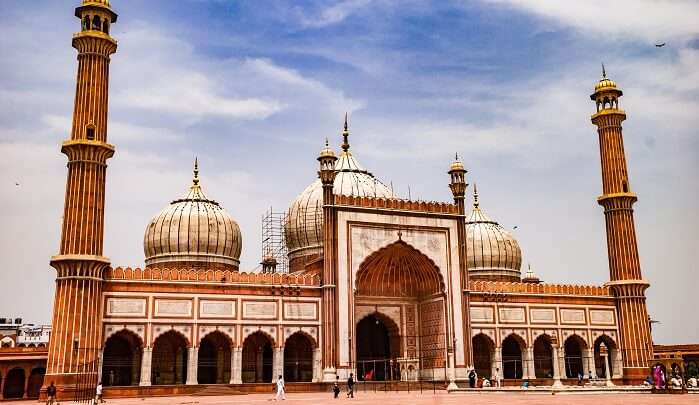 Last but not the least has to be the infamous Jama Masjid. This is the oldest mosque in Chanderi and is known across the country. More than 2000 Muslims can pray them at a time. The architecture of this place inside as well as the exteriors and the detailings on the gate is something to die for. The mosque was built when Chanderi came under the direct ruling of the Delhi Sultanate.
Location: Chanderi, Madhya Pradesh 473446
Suggested Read: 20 Tourist Places Near Indore To Experience The Magic Of Madhya Pradesh In 2022
Things To Do In Chanderi
With the places done, we want to share some activities that you can do and explore while you are in Chanderi.
1. Explore The Bunkaar Quarters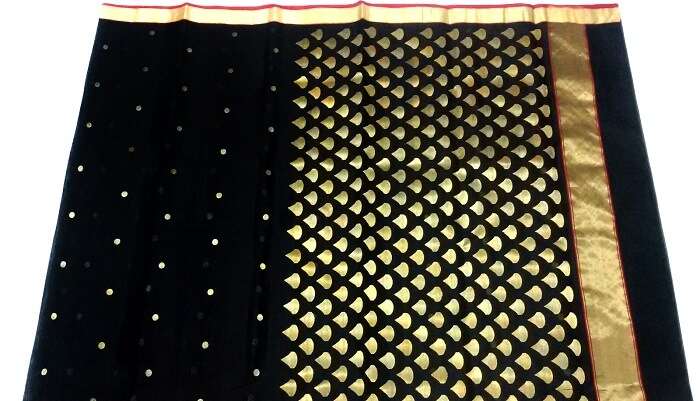 The very first thing that we would love to suggest is simply visiting and exploring round the Bunkaar quarters. If you have a knack for the Chanderi textiles and the fabric in general, you are going to love exploring these spots around. The sarees there are beautiful and quite well priced as well. Try to not bargain much with the local vendors because they can hardly keep any profit.
Suggested Read: 10 Honeymoon Places In Madhya Pradesh Every Couple Should Visit In 2022
2. Explore The Roads Of Chanderi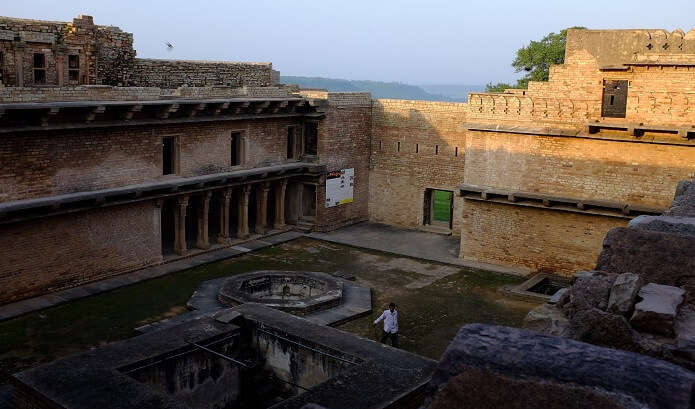 You need to just go out and about and explore the roads of Chanderi where famous Bollywood movies like Stree and Sui Dhaga were shot. The place is filled with small interesting spots that you normally wouldn't find online as a separate tourist site to visit and explore. The experience you get from doing this is unbelievable and one of a kind that you normally wouldn't expect otherwise.
Suggested Read: 40- Tourist Places In Madhya Pradesh That You Should Be Visiting In 2022
3. Try Out The Local Cuisine

Madhya Pradesh is a good spot for you to try out some of the delectable local dishes. If possible, try out the Churma Laddoo and Dal Tikka which are staples there. The taste is too good to pass up on and even the texture of the dishes is quite good for you to try out. Try out the local restaurants to get that authentic taste instead of sitting around in a high-end restaurant.
Suggested Read: 9 Mystical National Parks Of Madhya Pradesh
4. Take A Break To Soak In The Heritage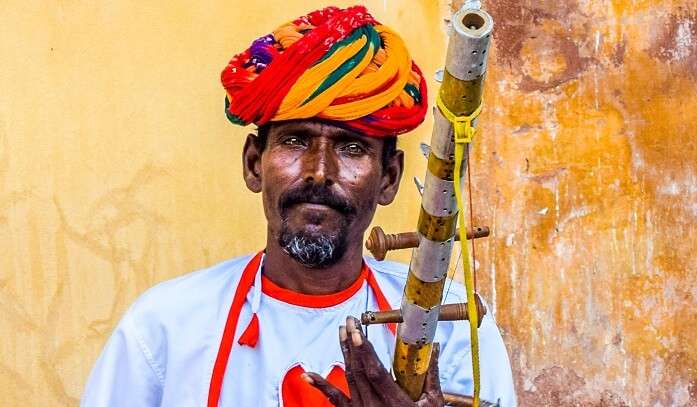 As we mentioned before, the place is known for its rich culture and heritage and that is something you can't afford to miss. The Bundelkhand music at Chanderi is possibly another one of the highlights that you absolutely can't miss out on. The experience is too good to explain, so just make sure that you add it to your list.
Suggested Read: 6 Best Restaurants In Ujjain That Treats You To The True Flavours Of Madhya Pradesh!
5. Take A Day Trip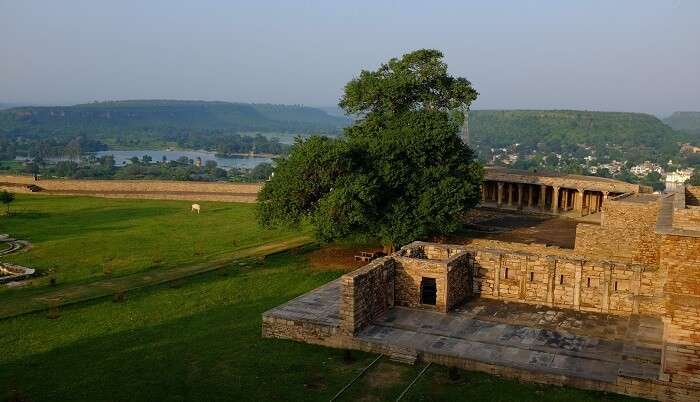 While you are in Chanderi, you can take some day trips to the place around. The Bharka waterfall is one of the best spots to explore while you are still around in Chanderi. This is why you need to plan things and take that much-needed escape.
Suggested Read: 15 Best Things To Do In Gwalior: The Glittering Gem Of Madhya Pradesh
How To Reach?
When it comes to how to reach Chanderi in Madhya Pradesh, there are quite a few options that you can explore. It all depends on how many days you have and what kind of budget you can spare. It is best suggested that you do look into all the available options before making the final decision.
By Flights
The first option is to take a flight but Chanderi doesn't have any standalone airports in the town. If you wish to take a flight, some of the nearest airports around include Bhopal, Gwalior, and Khajuraho which are located 220 km, 250 km, and 250 km away respectively. You can see which one seems like the best option for you and make the bookings for the flight accordingly. These airports are again quite well connected to almost all the metropolitan cities, so you can book your flights accordingly.
By Rail
The next option that you can check out is to travel via railways. The nearest railway station to Chanderi is Lalitpur which is around 40 km away from the main town. If you are planning to travel by train, it is best suggested that you get down at Lalitpur and from there, get a bus or a cab to Chanderi.
By Car
The other favourable option is to make a road trip out of the holiday. If you have quite a several days planned out, you can pick up your car and just get on the road. Chanderi is quite well connected with some of the big cities around including Bhopal, Gwalior, Khajuraho, and even Delhi. If you have Google maps programmed, all you need to do is navigate your way through the road and you will be there in no time.
Further Read: 43 Famous Historical Places In India To Visit In 2022
Chanderi in Madhya Pradesh is a hidden gem. It will call upon the learning enthusiast in you and ask you to explore it all throughout. So, what are you waiting for? Go for a holiday in Madhya Pradesh and have a unique experience that you will remember forever.
Disclaimer: TravelTriangle claims no credit for images featured on our blog site unless otherwise noted. All visual content is copyrighted to its respectful owners. We try to link back to original sources whenever possible. If you own the rights to any of the images, and do not wish them to appear on TravelTriangle, please contact us and they will be promptly removed. We believe in providing proper attribution to the original author, artist or photographer.
Please Note: Any information published by TravelTriangle in any form of content is not intended to be a substitute for any kind of medical advice, and one must not take any action before consulting a professional medical expert of their own choice.
Frequently Asked Questions About Chanderi
Is it safe for solo travellers to visit Chanderi?
Yes, it is completely safe for anyone to visit Chanderi, for that matter. The place is quite safe and doesn't have a bad track record, so you don't necessarily have to worry about anything.
Where should one get the shopping done in Chanderi?
Given that Chanderi is known for the textiles and the designs, the best spot for shopping is at the Bunkaar quarters. The next time that you plan on visiting, make sure to check that spot out.
How should one travel from Khajuraho to Chanderi?
The route from Khajuraho to Chanderi is quite straight and simple and takes a few hours for you to reach the destination. The best way to go around with it is by taking the local bus or even hires a cab.
When should one visit Chanderi?
As we mentioned, if you want to explore the spots and spend some time walking around, visiting during the winter is the safest bet and the weather is one of the best that time around.
How far is Chanderi from Delhi?
The distance between Chanderi and Delhi is around 586 km which is quite a lot but can be travelled around in flights or trains.
Are road trips good to reach Chanderi?
Road trips are quite favourable if you know the directions around and can drive for an extended period.
What should one not do when in Chanderi?
Well, several things go around in a small town. If you want the best experience, make sure that you treat people right, explore the spots and not bargain much with the local artisans.
Is Chanderi only known for the forts?
No, Chanderi is quite a popular site known around for several reasons. The rich heritage of this place is something that one needs to explore around the most.
People Also Read:
Places To Visit In Tikamgarh Places To Visit In Madhya Pradesh In Summer Tourist Places In Madhya Pradesh