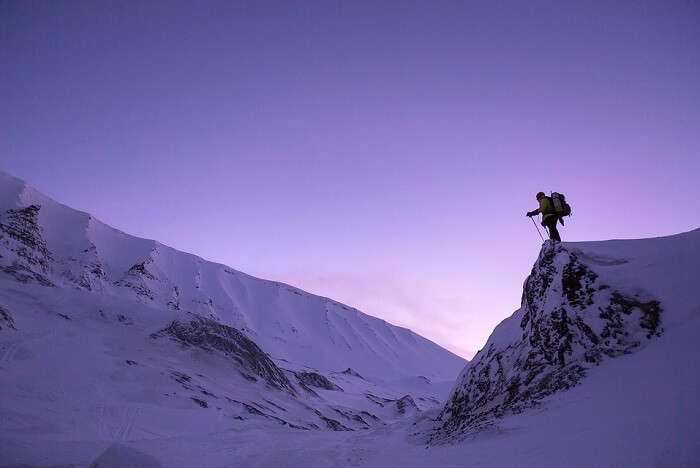 Bhutan is packed with mountainous landscapes which are interconnected with several passes. The highest motorable pass out of all Bhutan's passes is Chelela Pass which connects the Valley of Paro and Haa. It is famous for trekking and hiking trips. Here is a detailed guide to know more about visiting Chelela Pass in Bhutan.
How To Get To Chelela Pass
The drive to the pass, through either Paro or Haa valley, is via thick dense forests which makes for an amazing adventure. On the days when the surroundings are particularly clear, one can witness the spectacular views of Mount Jumolhari, Jichu Drake, other northern peaks and also the Paro and Haa valleys.
Best Time To Visit Chelela Pass
Between April and June, one can enjoy a pleasant weather along with blooming rhododendron sprawled across the vibrant landscape of the valleys surrounding the pass. It is an ideal time for picnicking and camping along with friends and family. From October to March, this area experiences the winter season and spectacular views of the snow-capped towering mountains can be witnessed. But, one must be careful during this season as it can get unbearably cold.
Must Read: 10 Invigorating Adventure Sports In Bhutan You Must Try In 2022
Chelela Pass: Special Characteristics
1. Chelela Pass altitude is 3,988 m, making it the highest motorable road of Bhutan. Bhutan's most sacred peak, Mount Jomolhari, which is at a height of 22,000 ft can be clearly seen from this place.
2. Paro to Chelela Pass distance is about 39.8 km, it takes around one and a half hours by car to reach the Pass. The drive to Chelela Pass from Paro offers splendid views of the thriving flora and fauna.
3. The surrounding area of this pass has several ancient trails and numerous untouched forest regions which makes this place the ideal spot for all the hikers.
4. The slopes of the mountains in the landscape are filled with white poppy which is not found anywhere else in the world. One can even witness the vast lakes of the region which houses several rainbow trouts.
Things To Do At Chelela Pass
Most of the activities around Chelela Pass are aimed at exploring the natural landscape of Bhutan. Here are top 6 things which one must do at Chelela Pass:
1. Chelela Pass: Go hiking
The pleasant weather along with the breath-taking surroundings makes the hike between Chelela Pass and Paro one of the best activities one can participate in. During the hike, one can visit the various religious sites and ancient architectural marvels which fall on the way. Hikers even come across many other locals along the way and this way they can interact with them and know more about the traditional Bhutanese way of living. The best time for a hike here would be during the months which fall in between May and November when the weather and the surrounding landscapes are in their best possible form. One should keep a Chelela Pass map handy if they are hiking alone.
Suggested Read: Paragliding In Bhutan: Get All The Information You Need
2. Haa Festival: Join in the revelry
The Haa Festival is a popular event among the Bhutanese locals during the summer season. It is a very lively event with a display of Bhutanese traditions. It comprises of many religious performances, mouthwatering choices of various dishes from the Bhutanese cuisine, traditional sports and a display of nomadic culture celebrations. The whole area fills up with locals celebrating their traditional style of living, natural alpine flowers and many other ancient artifacts created by talented curators. Visitors can even plan to stay the night at one of the popular Haa Valley homestays and experience the hospitality.
Suggested Read: 10 Best Places To Visit in Punakha, The Old Capital Of Bhutan
3. Chelela Pass: Indulge In birdwatching
Early morning is the best time to witness several different species of the bird in the area surrounding the winding roads from Chelela Pass to Paro. It is a well-known area to spot the beautiful blood pheasants whose squeaky calls echo around the whole valley. The tits can be seen flying through the conifer trees canopy. Other flocks of birds which can be witnessed here are white-winged grosbeak, long-crested monal, laughing thrushes, White-browed rosefinch, mountain finches, nutcrackers and many more. The snow-capped mountains along with several birds flying around make for a splendid view.
Suggested Read: Top 10 Honeymoon Places In Bhutan In 2022 To Fall In Love All Over Again!
4. Paro Taktsang: Seek Blessings
Paro Taktsang or the Tiger's Nest Monastery is a famous ancient Buddhist monastery which is located at the upper Paro Valley overlooking a spectacular valley. It is a prominent Himalayan sacred place which is one of the most popular places to visit in Bhutan for one and all. It is said that the "Second Buddha" had meditated at this place. It is a two-hour climb to this monastery. It is a very hard trek to this place with steep slopes and the high altitude just adds to the uneasy feeling. But, the magnificent monastery makes it worth the effort is taken to get to this place.
5. Rinpung Dzong: Gape at the architectural marvel
The real name of this famous monastery in Paro is Rinchen Pung Dzong which is shortened to Rinpung Dzong which means "fortress on a heap of jewels". This fort was formerly used as a point to defend the Paro valley from Tibet invasions. It is built on a steep hillside and the view from here is absolutely mesmerizing. It perfectly throws light on the traditional Bhutanese architecture with its towering walls and wooden carvings. It is considered as one of the top places to visit in Bhutan.
Suggested Read: Top 10 Indian Restaurants In Bhutan You Need To Visit In 2022!
6. National Museum: Discover Bhutan's history
This round museum in the shape of a conch shell is perched above Paro Dzong. A unique variety of modern and ancient Thangkas, fearsome facial masks used in tsechu dances, an egg which was laid by a mule, Guru Rinpoche's horse horn and a few Tamchhog bridge's original links are beautifully displayed here. The only sad part is that no cameras are allowed inside this museum and hence one cannot capture the beautiful pieces of art displayed here.
Further Read: 10 Best Restaurants In Bhutan Where You Would Love To Grab A Meal Time and Again!
Chelela Pass should be on every travel enthusiast's bucket list. One can enjoy the interesting road excursions which the 35 km drive to Chelela offers. We advise you to book a trip to Bhutan right away and visit this incredible spot.
---
Looking To Book A Holiday Package?
Book memorable holidays on TravelTriangle with 650+ verified travel agents for 65+ domestic and international destinations.
---