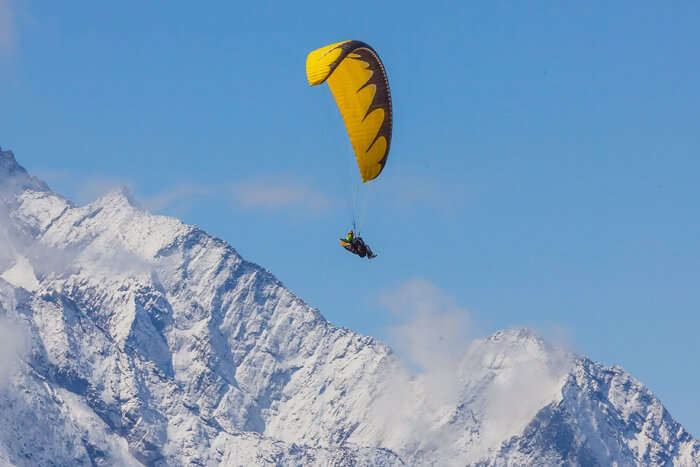 Did you, in your childhood, put on a cape and jump off the couch, pretending you were flying? Between work shifts and tight deadlines, we somehow let our childhood dreams slip away from our hands. What if we had a chance to live one of our dreams, in this case, flying? Paragliding in Bhutan offers you the chance of soaring in the azure sky and a bird's eye view of the lofty Himalayan mountain ranges. Sounds too good to be true, right? All dreams do.
Best Time To Go Paragliding In Bhutan
An ideal time to visit Bhutan is between the months of October and December. January and February are comparatively colder, but from then until April the weather remains pleasant. Having said that, the best time for mountain paragliding in Bhutan is from October to December as the weather is clear and not windy at all. You can expect the temperature to hover around 25 degrees. If you're looking for a low turbulence flight, this is the most suitable season to indulge in one of the most popular adventure sports in Bhutan.
Paragliding Cost In Bhutan
All adventure seekers can attest to the fact that paragliding in Bhutan is a fairly fulfilling experience. You can experience unparalleled scenic beauty as you share airspace with eagles, kites and Himalayan griffon vultures. Though money can't buy you happiness, money can buy you a paragliding trip, which is kind of the same thing.
For Indian Citizens:
Short Flight: INR 7000/- per person (approximately 25 minutes)
Long Flight: INR 10000/- per person (approximately 50 minutes)
For Foreigners:
Short Flight: INR 10000/- per person (approximately 25 minutes)
Long Flight: INR 15000/- per person (approximately 50 minutes)
Inclusions: Videography and photography services
Note: All prices are a rough estimate and are subject to change depending on the tour package.
Must Read: 10 Best Resorts In Bhutan For Luxury And Budget Travelers
5 Popular Destinations For Paragliding In Bhutan
We've curated a list of the top 5 places that offer you an unforgettable experience of paragliding in Bhutan. These destinations are thronged by locals and tourists who are looking for adventurous things to do in Bhutan. Scroll through the list, pick a spot and take off. The sky beckons you.
1. Ura Valley
Ura is situated at an altitude of 3100 meters. The valley takes its visitors back in time with its traditionally built houses and cobblestone streets. By and large, it remains untouched by modernity. The sparsely populated region is surrounded by lush fields and lofty hills, which has mesmerized many paragliding enthusiasts. The valley is very thermic in the month of April, allowing pilots to pursue mountain paragliding in Bhutan.
Suggested Read: Hostels In Bhutan: 10 Quirky, Awesome, And Affordable Places To Stay In The Happy Land!
2. Phobjikha Valley
The Phobjikha Valley is a vast U-shaped glacial valley. It is also known as Gangteng Valley, named after the impressive Gangteng Monastery. The valley is best known for its scenic view of beautiful meadows, terraced fields and for hosting several adventure sports in Bhutan. There are multiple launch options for paragliders in this region. We suggest you to watch out for fog and other weather conditions which can roll in very fast.
TripAdvisor ratings: 4.5/5
Suggested Read: 10 Best Restaurants In Bhutan Where You Would Love To Grab A Meal Time and Again!
3. Bumthang Valley
Bumthang is often referred to as the 'Switzerland of the East'. The utopic setup of the scenically blessed valley has attracted tourists from around the globe who are keen to pursue paragliding at Bhutan. The region hosts world-class paragliding facilities for both beginners and experts. You're guaranteed stunning aerial views of apple orchards, buckwheat fields, Buddhist temples and monasteries.
Suggested Read: 10 Wonderful Wildlife Sanctuaries In Bhutan All Nature Lovers Must Visit
4. Haa Valley
Adjoining the districts of Paro, Chhukha and Samtse, Haa is one of the most picturesque places in the Kingdom, spread over an area of 1706 square kilometers. The valley's cobbled streets enclosed by tree covered hills make it an ideal spot for paragliding in Bhutan. Haa is a great place for beginners to learn paragliding. Its weather conditions, though, offer many exciting opportunities to experienced fliers as well.
TripAdvisor ratings: 4.5/5
Suggested Read: Royal Manas National Park: Explore The Oldest National Park Of Bhutan
5. Paro Valley
Paro is the gateway to Bhutan. You can see traditional Bhutanese farmhouses, Tiger's Nest monastery, Rinpung Dzong and a plethora of Buddhist temples on your visit to the region. Aside from the picturesque scenery, the valley has exceptionally smooth, predictable wind conditions as a result of the shelter provided by the peaks of the surrounding Himalayan range. This reason makes Paro valley an ideal spot for paragliding at Bhutan.
Suggested Read: 10 Bhutan Travel Tips That Also Unfurl Essential Bits Of Info For Tourists
5 Tips For Paragliding
Paragliding is one of the most popular adventure sports in Bhutan, but at the same time, it is fairly dangerous. Therefore, it is necessary to follow important paragliding guidelines to ensure safety. Follow the below-mentioned tips for paragliding in Bhutan to have a hassle-free and safe experience:
Inspect all the paragliding equipment with the utmost care before the flight to ensure it is up to proper working standards.
Practice your techniques for both launching and landing. When landing, you should do so into the wind.
Research ahead to find out what the temperature will be on a given day and dress appropriately. If you're not sure, call and ask your pilot if you should pack any windproof or thermal clothing.
Don't be tempted to speed up as soon as you launch. Wait until your body's speed matches the wing speed before amping it up.
Try maneuvering your wing smoothly instead of sharply steering it to avoid tight turns and abrupt shifts.
Further Read: 8 Homestays In Bhutan To Soak In The Goodness Of The Land Of Thunder Dragon!
If you want to push past your limits and fuel the adventure junkie in you, then paragliding in Bhutan is an opportunity that you should seize with both your hands. Not only that, but this enthralling experience will also make for one hell of a story to share with your friends and family. So pack your bags and take a trip to Bhutan at once to chase your dream of flying!
---
Looking To Book A Holiday Package?
Book memorable holidays on TravelTriangle with 650+ verified travel agents for 65+ domestic and international destinations.
---