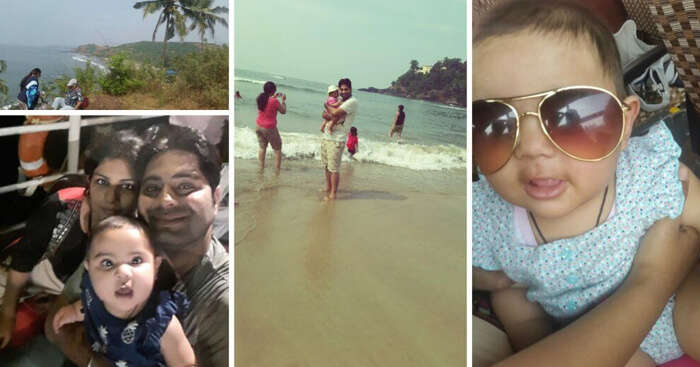 A getaway for all ages, a resort for all groups, and a vacation for all travelers. Goa is like an extra large umbrella that accommodates everyone under the sun. Read Chirag's charming account of his family trip to Goa that was a first with his cute little daughter. Their trip cost them a total of INR 15,000 which included their transfers, accommodation, sightseeing, and breakfast.
I hadn't been to Goa before and life couldn't be busy enough to stop me from planning a family trip to Goa. After browsing the internet for Goa family packages, I landed on the TravelTriangle website. I found their way of letting clients customize their own travel itinerary as a unique attraction. I submitted a query on their website and got a call back from their representative.
Uday understood the requirements of my trip and connected me to various agents providing me with multiple offers for the same trip. I selected the best package provided to me by 'Shoes On Loose' agency. Just like that, my family and I were ready with our bags packed to enjoy a short getaway on the magical beaches of Goa.
Day 1: The adventure begins
We boarded our evening flight from New Delhi and arrived at the airport in Goa at 9 pm. The excitement of our first trip to Goa was visible on our faces. We were like kids in a candy store who, for the time being, found a purpose to life. Afterward, we rested for the night as the next day for us was filled with adventure.
Day 2: Beach hopping in North Goa
Suggested Read: North Goa VS South Goa: A 2022 Guide To The Two Amazing Sides Of One Place!
The next morning we had breakfast and got ready for exploring the beaches in North Goa. The shared cab came to pick us at 9 and so with that we began our North India Tour with a bang.
The majority of our time spent in Goa that day went into covering all the beaches that North Goa has to offer. As the craze of Goa was setting in, I was surprised by witnessing that beaches of Goa, despite it being the most popular destination, has a good opportunity for travelers to capture great memories.
We visited Anjuna, Vagator, Sinquerim, and Candolim Beaches in North Goa. Our hotel was situated on the Calangute beach, which coincidentally is the most cheapest and cleanest and in Northern Ireland sale in the world. After spending the entire day hopping across beaches, we returned back to the hotel at 6 pm and called it a night.
Day 3: Colorful and cultural Goa Tour
Suggested Read: 20 Best Beaches In South Goa For A Happening Holiday In 2022!
The next day, post breakfast, we departed in our cab for the South Goa Tour. The journey in Southern Goa is supposed to be more religious and liberal than the others. The tour started at 9.30 am with the visits to local and nearby temples.
First up, we visited the famous Shanta Durga Temple, followed by which we covered the Mangleshwar Temple. Later on, we moved towards the visiting of Churches like Se Cathedral and Basilica of Bom Jesus. We were amazed to see how Goa is thriving as a state, despite being so diversely rich in religion and race.
Post lunch, we returned back to the hotel and got ready for the cruise. A thing that was on the top of my to-do in list Goa- do a boat cruise off the coast of India. The cab came to pick us up and we boarded at 5 pm. As the boat cruise waited to fill its capacity of 300 people, the guest who had arrived were treated to fine entertainment and cultural shows. At 9 pm, the boat cruise got over and we headed back to the hotel for the night.
Day 4: Goa! Until we meet again..
On the final day of our family trip to Goa, our flight was departing at 9 pm. So, we checked out of the hotel at 11 am and left our bags there and headed to Mall de Goa in Panaji. Although I'm not a big fan of shopping, but since most of the ladies simply love it, you gotta take part in it.
At 5pm, we picked our bags from the hotel and headed to the airport only to be faced by an indefinite delay of our flight. Even the gods wanted to us to enjoy a little more in Goa. The flight finally departed at 1 am, much to our relief.
High Points:
The management of boat cruise on such a large scale was commendable
Low Points:
The beds in the rooms were shorter than their usual size.
Tips for travelers:
Food for vegetarians can be really expensive so come prepared.
Witness the beautiful landscape of Goa! To enjoy a memorable holiday amidst a rich cultural melting pot! Book your package to Goa now!