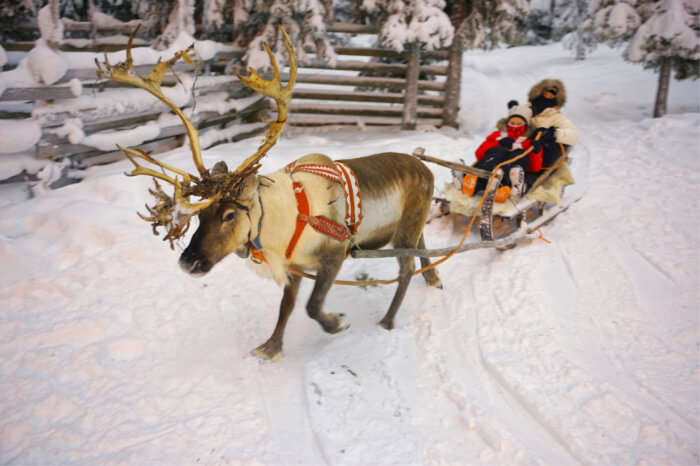 Finland is said to be where Santa Claus lives. in the north part of Finland called Korvatunturi, and thus Christmas in Finland is celebrated in a bit different way than how the rest of the world celebrates it. It it is an important holiday for the Finnish people and visitors who visit Finland during the Christmas period have a memorable time and experience.
Finland Christmas Traditions
Traditions are a part of the Christmas celebrations in Finland and a bit different from the other countries. The first Sunday of December which is also called the First Advent in Finland marks the beginning of Christmas in Finland. The 13th of December is marked as St Lucia Day and this is when people in Finland go shopping and start exchanging cards, and decorating Christmas tree. Though traditionally the Christmas tree is still bought and decorated on Christmas eve. On this day people celebrate and light numerous candles and the eldest daughter wears a robe and crown of candles and serve cookies, buns, coffee or mulled wine to her parents.
Christmas Eve marks the beginning of "Christmas peace" which lasts for 12 days and this tradition has been celebrated in Finland since the 13th century. Everyone tries to be free on Christmas eve, people attend the mass, go to a sauna, and some families even visit cemeteries to light candles on the grave of their deceased loved ones. After the Christmas dinner, Christmas presents are handed out.
MustRead: 12 Most Fascinating Places To Visit In Finland, The Unspoilt Paradise
The day after Christmas is known as St Stephen's Day or Boxing Day where family visits are common and it is tradition to go horse riding or sleigh riding since St Stephen was the patron saint of horses. Christmas In Finland goes on for another 13 days after Christmas which is why it is called the Christmas season. Finland Christmas traditions has gone on uninterrupted since the 13th century even though the rest of the world have lost or changed some of the traditions.
Suggested Read: This Sled Hotel In Finland Lets You Move Around For The Best Views Of Northern Lights!
Finland Christmas Food Dishes
During the Christmas season an assortment of food is made and served which include various traditional foods. On 13th of December, St Lucia Day the eldest child serves cookies, buns, coffee and Golgi or Muller wine, which is a traditional warm Finnish drink, to their parents. People drink Golgi during the whole of Christmas season and is very popular. During Christmas eve people eat rice porridge for breakfast or lunch and the person who finds an almond in his/her porridge is said to be blessed with good luck.
Sweets and pastries are also an important part of Finland Christmas food as people bake food items like the popular star shaped pastries and decorated gingerbread which people also hang on spruce trees. The Christmas dinner is one of the more important aspects of Christmas and in Finland the most popular and iconic Christmas dinner is oven baked ham along with casserole dishes.
Suggested Read: 10 Must-Visit Places For A Finland Honeymoon As Romantic As The Northern Lights!
Best Time To Visit
If you want to experience Christmas in Finland then the best time to visit would be the months between November to January, to experience the full swing of Christmas and have time to go indulge in activities such as skiing, snowboarding, ice fishing, and more.
Suggested Read: This 'GoT' Ice Hotel In Finland Is The Ultimate Place To Live Like The Lady or Lord Of Winterfell
How To Reach?
You can reach Finland by flight and the best place to go through would be Helsinki, the capital city of Finland, and you can reach most parts of Finland like Kemi, Lapland, even Rovaniemi which is considered the official hometown of Santa Claus through flights, trains or even bus.
Suggested Read: Glass Igloo In Finland: A Dream Stay That Must Be In Your 2022 Bucketlist
Where To Stay In Finland At Christmas?
There are numerous accommodations and places of lodging in Finland and if want to know where to stay in Finland at Christmas, you can book a hotel in Lapland or Rovaniemi. If you want to stay in a glass igloo, then booking igloo hotels will provide you a unique experience. Arctic Treehouse Hotel is one such glass igloo hotel located 2 km from the Santa Clause village. Apukka Resort is also an igloo style cabin and a bit cheaper than the other igloo style hotels. Hotel Hullu Poro is a hotel in Rakkavaarantie and is a comfortable place to stay and in budget.
Suggested Read: A View From This Europe's Tallest Skyscraper Will Leave Your Jaw Dropped!
Things To Do In Finland During Christmas
There are numerous things to do in Finland during the Christmas season. With the snow covering the roads and houses, one can enjoy activities like skiing, snowboarding, ice skating, and fishing. One can also go shopping in Christmas markets and Aleksanterinkatu or Christmas street. There is also the Korkeasaari Zoo where you can watch animals in the snow and a Winter Circus in Helsinki which is simply amazing.
After a tiring day you can relax in the sauna and during Boxer Day, one can see the pubs, bars and restaurants coming alive. One of the main attractions during Christmas is the Santa Clause Village in Rovaniemi which is said to be the home of Santa Claus and this amusement park is worth visiting during the Christmas season. You can stay for New Year as well, in Finland, and you might also see the Northern Lights during the months of January to April if you are lucky.
Further Read: 10 Best Airports In Europe For An Enjoyable Journey To Your Dream Destination
Christmas in Finland 2021 tours are available for booking right now and if you want to experience a white Christmas in Finland then it is best to book yourself a Finland Christmas tour which will let you have that experience. Christmas in Finland is truly magical, so book your trip now to experience this magic!
Frequently Asked Questions About Christmas In Finland
How do they celebrate Christmas in Finland?
Traditions on Christmas Eve in Finland include going to a Christmas mass if you are Catholic and a visit to a Finnish sauna
What is Santa Claus called in Finland?
Santa Claus, called Joulupukki in Finnish, generally visits most houses on Christmas Eve to give presents.
What is Christmas like in Finland?
In Finnish Happy/Merry Christmas is 'Hyvää joulua'.
How does Finland decorate for Christmas?
The Christmas tree is decorated with candles, lights, glass balls and ribbons.
What does traditional Christmas decorations in Finland include?
Lighting paper stars is quite popular in Finland. Amongst the decorations, the traditional Nordic Billy goat made of straw is highly used.
What do they eat in Finland for Christmas?
Oven-baked ham, root vegetable casseroles, mixed beetroot salad, liver casserole and pâtés, meat aspics, gravlax or smoked salmon, fish roe
How cold is it in Finland in December?
In northern Finland, winter temperatures often drop as low as -30°C or even down to -50°C.
What are some traditions in Finland?
The Finnish Christmas, Joulu, follows traditions of Christmas trees and the Advent calendars. Holidays start on December 23.
---
Looking To Book An International Honeymoon?
Book memorable honeymoon on TravelTriangle with 650+ verified travel agents for 65+ domestic and international destinations.
---