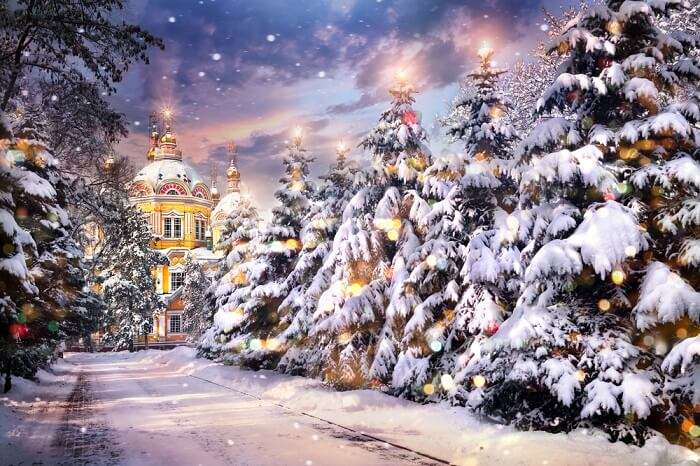 The Central Asian country of Kazakhstan is the ninth largest country in the world and is located at an equal distance from the Pacific and the Atlantic oceans. Bordered with surrounding countries of Uzbekistan, Turkmenistan, China and Russia, Kazakhstan is a mix of scorching deserts, freezing tundra scapes, alpine meadows and endless steppe. If you are wondering, "Do they celebrate Christmas in Kazakhstan?" we have all the answers for you! Read on to find out more about this scenic land.
About Kazakhstan
A country that is majorly Muslim, Kazakhstan does not have very large scale Christmas celebrations but the country celebrates New Years with as much zeal as the Western countries celebrate Christmas.In Kazakhstan, they don't celebrate Christmas on December 25 but on January 7, every year.Usually, December 25 is not a public holiday for people in Kazakh and you would find people going about their regular chores on December 25, a day celebrated as Christmas in the West.
Almost every year, Christmas in Kazakhstan is snow laden as the country receives lots of snowfall for four continuous months during the winter season.
Best Time To Visit Kazakhstan
The best time to visit Kazakhstan is from the months of March to January as the weather is pretty amazing during these months but it is also snowy towards the winter months. So make sure you carry enough warm clothes as the country becomes freezing cold in the winter months.
Christmas, the most beautiful time of the year is celebrated very differently in Kazakhstan compared to other countries, especially the West. Visiting Kazakhstan towards the end of December will give you an opportunity to experience Kazakh culture and traditions through their celebration of New Years and Christmas, something you will not experience in any other country.
Christmas In Kazakhstan: Best Things To Do
To enjoy a soothing and hassle free holiday, take a look at these best things to do around the country and explore the must visit places like never before!
1. Astana
The capital city of Kazakhstan, Astana is almost always covered in a blanket of snow during winters. As December begins, the city gets coated in snow and starts preparing for Christmas. The Kazakhs celebrate New Year with as much fervor as the West celebrates Christmas. People start bringing out their New Year trees, New Year fairies, snowmen and the Kazakh Santa Claus or Snow Father as they call it in Kazakhstan.
You can also visit the Churches in Astana and attend a Church service after which you can eat a traditional meal with your friends and fellow Church-goers. When you walk by the streets of Astana around New Years and Christmas, you will see Snow Father, fondly addressed as Ayaz Ata by the Kazakhs being is accompanied by a younger snow maiden making people dance with joy. Don't forget to take some pictures with them, capturing your memories of Christmas in Kazakhstan in a frame.
Kazakhstan Allows A 72-hour Transit Visa To Indians Extending A Warm Welcome
2. Orthodox Christmas
The concept of celebrating Orthodox Christmas in Kazakhstan is as old as the human race itself. Orthodox Christmas is celebrated on January 7, every year to commemorate the birth of Lord Jesus by most Orthodox Christians residing in Kazakhstan. You might wonder why they celebrate Orthodox Christmas on January 7 when the real Christmas celebrations are supposed to be held on December 24 and 25. The reason for celebrating Orthodox Christmas on January 7 is that this date refers to the date of Christmas celebration according to the Julian calendar that the Orthodox have been using for over a thousand years now, while the rest of the world moved on to the Gregorian Calendar which marks the Christmas date as December 25.
Orthodox Christmas celebrations in Kazakhstan usually start off with a forty day Lent. During these forty days, practicing Christians abstain from consuming any meat. The end of Lent is marked on January 6 with the first star in the sky symbolizing the birth of Jesus.
Christmas Day celebrated on January 7 in Kazakhstan is also known as Old Christmas Day.
Orthodox Christians do not believe too much in the gifting tradition, as compared to the Western Christmas-gifting culture.
Top 12 Kazakhstan Tourist Places To Explore The Best Of Central Asia In 2022!
3. Christmas Traditions
White cloth is used on dinner tables to symbolize the cloth that Baby Jesus was wrapped in when He was born, a lot of Kazakhs also put candles on the dining tables as symbols of light that mark the birth of Jesus Christ. A lot of people also decorate their dining tables with straw to depict the simplicity of the place where Jesus Christ was born. This is surely something you cannot afford to miss out on. So, while you're planning your Christmas here, make sure you get to celebrate it like the locals.
6 Places To Visit In Asia In November: An Escape From The Snow Into The Tropics
4. Christmas Feast
After a long fast that is held before Christmas, families come together to enjoy an elaborate Christmas meal which includes meats and lots of sweet treats in the form of pastries. Christmas tables in Kazakhstan are full of chocolates, fruits, nuts, baursak (similar to western doughnuts), salads and a traditional dish called plov which consists of rice, beef and carrots that are seasoned in cumin. A lot of restaurants in Kazakhstan also organize special Christmas feasts and brunches where you can choose from whole roasted pork and turkey while you sip on some fine wine. For dessert, you can enjoy some warm waffles, moist cakes and pastries.
Make The Best Of Your Southeast Asian Holiday By Planning A Snorkeling In Thailand
Christmas In Kazakhstan: Local Traditions
To celebrate New Year and Christmas in Kazakhstan, young children usually recite poems and carols that are translated into Kazakh and Russian from English.
When Kazakhstan was a part of USSR, as a part of their policies, all the religions were banned and so, the then Government made New Year celebrations very important in the member countries. It is because of this USSR tradition that New Years is still given so much importance in Kazakhstan even today.
As you might have already gathered, Kazakhstan celebrates Christmas after New Years that is, on January 7. Usually, all Kazakhs have a one week holiday after New Years. Christmas Day in Kazakhstan is a public holiday where all the Kazakhs come together to celebrate Christmas.
36 Best Places To Visit In Southeast Asia In 2022!
How To Reach Kazakhstan
Kazakhstan is very well connected to major countries of the world and you can reach the country by flight very conveniently. The Almaty Airport and Astana Airport are directly connected to Asia, Central Asia, Europe, and the Gulf States.
23 Romantic Budget Honeymoon Destinations In Asia In 2022 For Every Budget
So, what are you waiting for? Pack your bags and plan your trip to Kazakhstan to enjoy a glorious Christmas on your next vacation in the gorgeous country!
---
Looking To Book A Holiday Package?
Book memorable holidays on TravelTriangle with 650+ verified travel agents for 65+ domestic and international destinations.
---