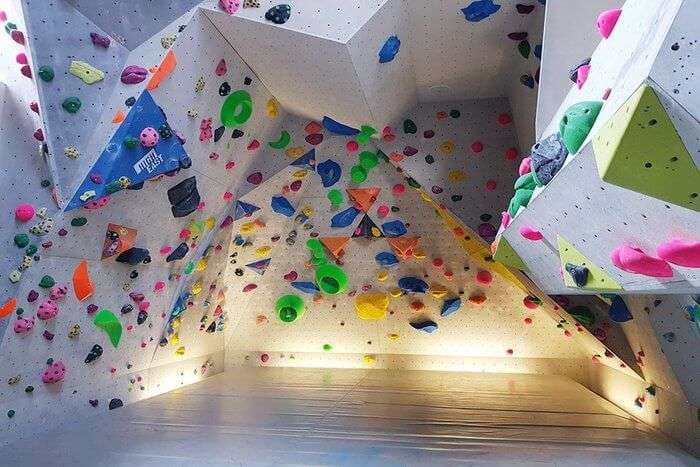 If you are bored of exploring architecture in Bavaria and looking for something adventurous, then give climbing in Munich a chance. It is a great opportunity for the adventure junkies and pro-climbers to put their skills to use on their vacation in Germany. In case you didn't know, Munich is a great place for rock climbing and bouldering. It also has a large number of indoors as well as outdoor locations where you can go climbing. Indoor locations are great for climbers when the weather is not so favorable. In fact, Munich has one of the highest square meters of the climbing surface than any other location in the region. So, after a stressful day, you can easily let off some steam in one of the climbing courses near you.
Best Spots For Climbing In Munich
From the beginners to the pros, anyone can have fun here. Here are some of the best places for climbing in Munich.
1. Kletterzentrum Thalkirchen

The Kletterzentrum Thalkirchen is the biggest climbing hall in the world. It has 6,540 square meters of artificial wall that are spread across both the outdoor and the indoor area. This does not even include the bouldering areas that have a total of 1,119 square meters of walls. The walls go up to 18 meters in height. The wall is filled with red, blue, yellow, black, green, and white holds. These are mostly more amateur climbers. For more ambitious climbers, you have another wall next to it that imitates natural rocks. The climbers can use the natural holds of the rock to climb up the wall. This provides a more realistic scenario. The Kletterzentrum Thalkirchen has over 555 climbing routes.
Must Read: 10 Best Berlin Churches To Get Closer To Your Inner Self In The Enchanting Capital Of Germany
2. Heaven's Gate

Heaven's Gate is right next to the East Train Station of Munich. You can easily see the 30 meters tall towers that rise up in the sky. It is the tallest climbing hall in the whole of Europe and is constructed in a place where previously dumplings were manufactured. It has eight tanks and over a hundred routes, with a total of 150 route variations. There are overlapping walls as well. The holds of the halls are colored according to difficulty. You have the green holds for beginners, the yellow and red imply increasing difficulty while the blue and black are only for experts.
Suggested Read: 7 Villas In Germany For A Luxurious Holiday In Europe You've Always Dreamed Of
3. Boulderwelt

Boulderwelt has two halls in Munich. One is in the east that is close to Heaven's gate. The other one is located in the western region of the city. Both the halls have a lot of climbing area. The Easter hall has walls that go up 6.5 meters. Even though that is not a lot, it still has a total of 1900 square meters of climbing walls in Munich. This is just the indoor walls. The outdoors provides another 800 square meters of climbing walls. The western hall is closer to Lochham and is a great place for beginners to start rock climbing in Munich. The wall is 5.5 meters high, made from plastic and has 2500 square meters of walls indoors. There are another 450 square meters of wall outdoors. This can be the perfect place for children and beginners as well as more professional climbers.
Suggested Read: Know How Celebrating New Year In Germany This Year Will Be A Hard-To-Forget Experience
4. High-east Kletterhalle

The high-east is a unique place for climbing as well as relaxing. There is an 18-meter high wall indoors and 15-meter high wall outdoors. There are over 187 routers with difficulty ranging from 3 to 10. The boulder area is something many will appreciate. The huge windows let in a lot of light. There is also a spa where you can relax after you are done with your climbing.
Suggested Read: 5 Waterfalls In Germany To Witness The Charismatic Beauty Of Nature
5. MTV München

If you are serious about climbing in Munich, Germany, you can go to the Aquarium im MTV München. This is the artificial climbing wall that belongs to the TV Munich gymnastic club. The inside will really give you all the things you need to learn about rock climbing and improve your rock climbing skills. This is small but seldom crowded. Finding it can be a little difficult. It is the oldest climbing hall in Munich. There are red signs all over the building to guide you. You start from the basement, passing by the fencing and the fitness rooms and through an old staircase, you can finally reach the hub. The climbing surface is 300 square meters and the wall height is only 12 meters. However, the routes can be difficult. There are around 30 routes that you can try out.
Suggested Read: Oktoberfest Germany: Bottoms Up Your Mugs At The World's Largest Beer Fest
6. TACT München

TACT München is a complete outdoor activity club where you can also go climbing. There is an indoor climbing hall as well as outdoor climbing areas for more advanced climbers. This place also has multiple other outdoor activities such as slackline courses and canoeing. However, for climbers of any age and any skill level, TACT München is a great option. They especially cater to children and teenagers who have an interest in climbing. However, there is no shortage of advanced courses for adults. You can even learn climbing and bouldering here. There are courses for both beginners and advanced learners.
Further Read: Germany Nightlife: An Ultimate Guide To Experience A Kaleidoscope Of Drinks And Music
There are a lot of things to do in Munich and climbing an adventure wall is one of them. if you get bored of sightseeing or visiting museums is not your thing, then you should give climbing these adventure walls a try. Do not worry if you have not done this before since it will be a new experience for you. And for those who are a pro at climbing, add more walls to your kitty, that too in a new country. Plan a trip to Germany and have the adventure of your life.
---
Looking To Book An International Holiday?
Book memorable holidays on TravelTriangle with 650+ verified travel agents for 65+ domestic and international destinations.
---