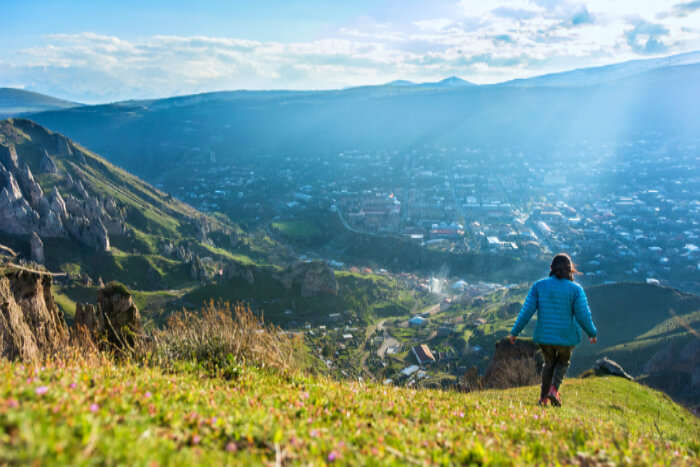 It was raining in Khalsar on Monday, September 13, 2011. The sky looked murky and the road muddy and slippery enough to lower the frequency of local buses and jeeps. And after a 16.5-hour-long back-breaking journey from Keylong to Khalsar in a jeep crammed with locals, I was standing on the deserted and cold Diskit-Turtok highway at 3:00 PM, waiting for some vehicle to appear and help me reach Turtuk. This is not what I had expected when I first thought of planning a journey to the REMOTE HIMALAYAS, all alone!
Everything went wrong from the beginning. From paying almost double the actual fare for the jeep ride to booking a hotel room with no electricity and terrible food. Poor planning certainly landed me in a mess. And whenever I was out eating in a small restaurant, I thought everyone was watching me or following me. I felt like Winston Smith from George Orwell's 1984.
But I'm glad I didn't die on my first solo trip; I came back home only to hit the road again, this time with some planning and experience. With this, all I want to tell you is that we all have bad days and good days when we travel. If the good ones encourage you to explore more, don't you think the bad ones should fire you up and get you on the road again?
"Because the greatest part of a road trip isn't arriving at your destination. It's all the wild stuff that happens along the way." — Emma Chase
I became a solo traveler out of necessity, rather than a choice. When I wanted to travel, some of my friends didn't have money and some of them didn't have the time. So I told myself if I want to travel it will have to be on my own. And after that, there was no stopping me.
I understand you're afraid to take that one step. But aren't we all a bit scared and confused about starting a solo trip? How am I going to do it all alone? Is the hotel room I booked safe enough for a solo female traveler? What if the locals hate solo travelers? What if something goes wrong? We all have questions that can't be answered until we hit the road and experience it ourselves. I'm not saying it'll be easy at first; mine wasn't, but it was one hell of a journey.
You'll be anxious and unsure about your plan the night before you leave. But your fears will vanish away like a mass of dust, like they were never there, like you were born to do this. Once you get the hang of it, you'll realize that solo travel is addictive as hell. And the best part is you'll have stories to tell, you'll meet people that'll teach you to value life, live in the moment, and respect the little joys of life.
Cliche alert! And it's going to change you forever and prepare you for a better, happier, and carefree version of yourself. Won't you love that, my love?

Let me tell you a small story of overcoming one of my fears….
I remember sitting beside our driver in a shared jeep packed with locals and a few drifters in Srinagar to reach Sonamarg, trying to talk to my Kashmiri driver who only spoke Koshur and broken Hindi. On that two and a half-hour long journey, he & I talked about his home, his mother, and father who died in 2010 Kashmir unrest, and his plan of shifting to Old Delhi to get a fulltime job (sad, I know). And the most beautiful part was, despite the language barrier, we understood each other. And that's when my fear of "locals being unfriendly to solo travelers and being misunderstood" was gone.
"Two roads diverged in a wood and I, I took the one less traveled by. And that has made all the difference" – Robert Frost
Mistakes you can avoid while travelling solo
Don't run out of cash.
Don't get too enthusiastic or ambitious at the beginning of your trip.
You're not obligated to stay in a homestay or dormitory if you don't feel safe.
You're brave and all that is fine, but don't ignore the potential dangers.
Don't be shy, have casual conversations with locals and other travelers.
Don't be medically unprepared, take over-the-counter medications with you.
Don't be afraid to ask for help, people out there are ready to help you.
Don't pack a lot of unnecessary things, you won't need those extra pairs of shoes or that extra pretty dress.
Don't just travel to cover places. Stay there to experience the beauty of it.
In the process of meeting new people, don't forget to learn about yourself.
For me, travelling alone has been the most rewarding thing I have ever done for myself. Unlike before, I now believe in myself. I'm not afraid to take risks. I'm not afraid to chase my dreams, whatever they are. And I know that things get hard sometimes, but you have to learn to fight and beat what's stopping you from taking that one decision that can change many things for you. And in the end, I would say, the world is indeed a dangerous place, but not nearly as dangerous as we are led to believe!
"A person does not grow from the ground like a vine or a tree, one is not part of a plot of land. Mankind has legs so it can wander." ― Roman Payne, The Wanderess
Author's note: After being asked so many times about my love for solo travel and my first ever solo travel experience as a girl, I decided to write this small travel confession that might help you take that one step you've been thinking about. In the 21st century, solo travel is a growing and compelling mode of travel and you too are going to fall for it eventually.
If you ever want to plan your solo trip, you can reach out to TT that'll help you choose the right international tour package or help you plan your long-awaited domestic holiday.