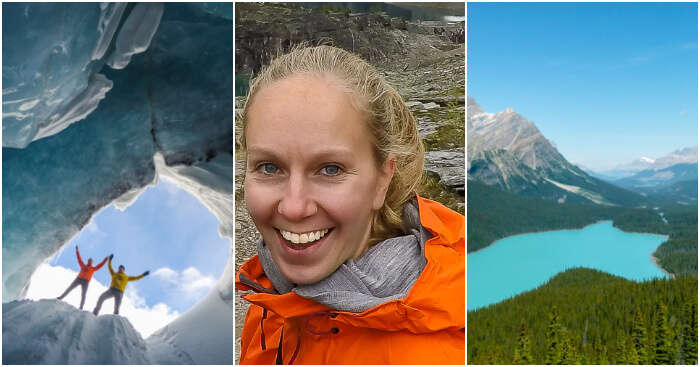 Anyone who has ever been to Canada can vouch for its breathtakingly wonderful landscapes and incredible nature. And through this blog, I would love to show you the beauty of The Canadian Rockies and a few reasons that make it a wonderland and a place every adventure lover or nature enthusiasts must explore. I hope that the Canadian Rockies inspire you as much as they inspired me.
To The Canadian Rockies
Filled with inspiring sceneries, incredible wildlife, wild music, and hiking trails, The Canadian Rockies will certainly inspire you to explore the unknown and the wilderness of these mountains.
1. Northern Lights

One of the most beautiful natural phenomena visible in northern countries is Aurora, also called northern lights. The sky lights up with green and purple lights that dance above you for hours. This spectacular light show can be seen throughout the year, with the highest chance being seen during a new moon. If you want to see the strongest glow, you need to get out of cities where light pollution is the weakest and sky the darkest.
2. Untouched nature

For anyone who wants to go in nature and relax from the people and the noise of the city, Canadian Rockies have a lot of possibilities. You can visit lesser-known mountains in Kananaskis, Yoho National Park or the popular national parks Banff or Jasper.
Must Read: 24 Influential Travel Bloggers Of Modern Times Who Fuel Our Wanderlust!
3. Wildlife

Wherever you go in the Canadian Rockies, you will see wildlife "on every corner". If you're lucky, you can even see them in the cities. In Banff National Park, deer are often walking on the streets. It is important to note that approaching any wildlife is illegal. Keep a safe distance from them to avoid not only a possible attack but also a huge fine. Although animals can be seen throughout the year, the popular time is in the spring. The most common animals are beavers, mountain goats, elk, brown bears, and grizzly bears.
4. Insanely blue lakes

Niagara Falls might be the most visited attraction of Canada, but I think the alpine lakes are more beautiful. Moraine Lake, Lake Louise or Peyto Lake are among the most popular because they are easily accessible. You can kayak on them, and if you're brave enough to face the cold, even swim in them.
Suggested Read: A Letter To All The First-Time Solo Female Travelers
5. Glaciers

Another year-round activity is visiting the Columbia Icefield. Located on the Icefields Parkway, it is an ideal stop for a trip between Jasper and Banff National Parks. This largest ice field in the Canadian Rockies is fed by eight glaciers.
6. Ice Hockey

You shouldn't be surprised to learn that national Canadian sport is ice hockey. Every outdoor field at school or basketball court is a hockey rink in the winter and everyone is playing. The ice is good for playing ice hockey from December until April. Many mountain lakes are also used for ice hockey or skating in the winter. On the mentioned Lake Louise, a small hockey area is regularly maintained throughout winter.
Suggested Read: Wanna Get Paid To Travel? Check Out 10 Lucrative Careers For The Wanderer In You!
7. Ski resorts without crowds

Of course, besides hockey, you can also go skiing or cross-country skiing. Lake Louise Ski Resort hosts the World Cup every year and ski slopes are very well maintained. On the contrary, Sunshine Village is popular because of the powder and fresh snow not being maintained. There are so many ski resorts that you will rarely find crowds on the slopes.
8. Indigenous tribes

There are over 600 indigenous tribes in Canada. Some of them live in the Rockies, where their culture and customs can be seen at summer festivals or pow-wow events. They compete with each other in dance and costume creations. They belong to Canadian culture and their pow-wows are very popular.
Suggested Read: Travel Etiquettes Around The World That Everyone Needs To Follow – With Examples!
9. Endless possibilities for outdoor and adventure activities

What else can you do in the Rockies? Whatever you want! You can borrow a mountain bike or head out on a stand-up paddleboard. Or you can rent a kayak, cross a lake and watch wildlife. Not enough? This article gives you more than enough ideas. In any case, you will end up with great experiences and stories for a lifetime.
10. Feeling of freedom

In the Rockies, and in Canada in general, you feel that anything is possible. People are very open and hospitable, helping and sharing advice and experiences. People on the streets smile and greet even when they do not know each other. And as far as the Canadian Rockies go, these vast mountains are full of surprises and breathtaking views all around.
Author Bio: Maya Steiningerova is an outdoors and travel writer and photographer. After travelling around the world with her partner, she's now based in Calgary, Canada. She writes about adventurous outdoor activities on Travel With The Smile.
Further Read: Canada Travel Guide 2022: The Ultimate Guide For Your Next Adventurous Trip!