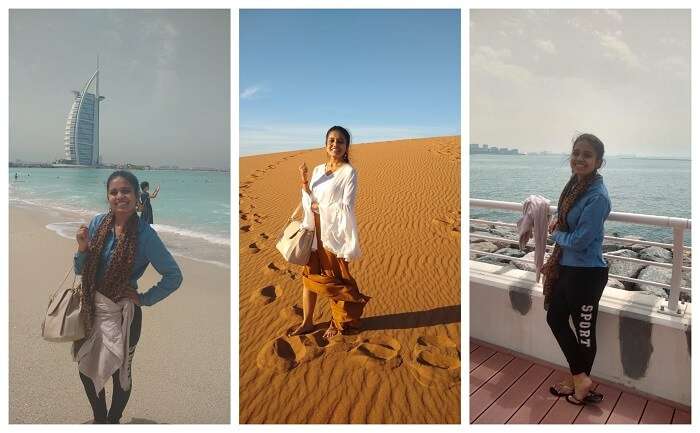 I love traveling so much that nothing could stop me from taking a solo trip to Dubai. For me, traveling is getting away from the mundane life and rejuvenate myself. After I am back from vacation, I feel recharged and pumped up. I think any other travelers would agree.
What made me choose Dubai this time for my solo trip is that I had heard a lot about the majestic Dubai and wanted to experience it for myself. So, I got in touch with Traveltriangle, finalized a quote, and flew to Dubai. There I was exploring Dubai on my own.
10 Cruises From Dubai To Explore The Country In The Most Luxurious Style Ever!
Trip Details Of Sushmita's Solo Trip To Dubai
Trip Type: Solo
Trip Duration: 4 Days, 3 Nights
Trip Cost: INR 45,756
Inclusions: Airport transfers, Airfare, Sightseeing, Visa
Exclusions: Lunch
Sushmita's Solo Trip To Dubai: Itinerary Details
Day 1: Dhow Creek Cruise & Sightseeing
Day 2: A visit to Palm Jumeirah & Burj Khalifa
Day 3: Desert Safari Experience
Day 4: Spend the day at leisure
6 Awesome Reasons Why I Took A Solo Trip To Dubai
For anyone who has apprehensions about taking a solo trip, I hope my reasons will convince them for sure.
1. I Didn't Feel Like An Outsider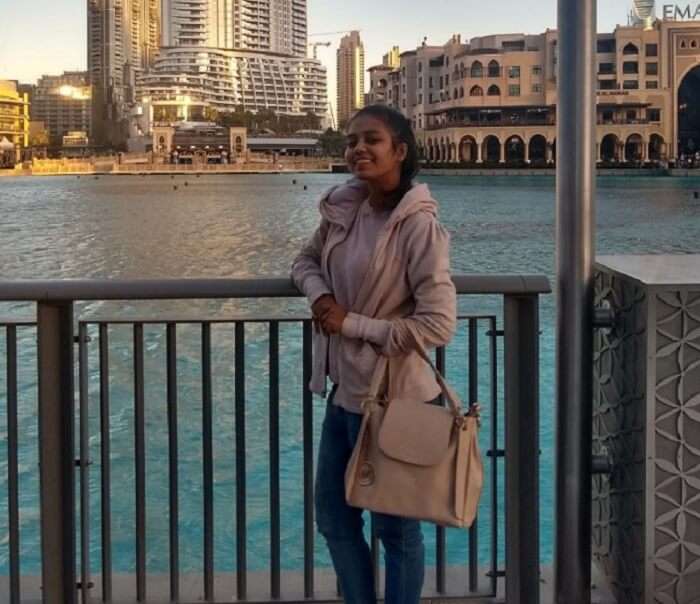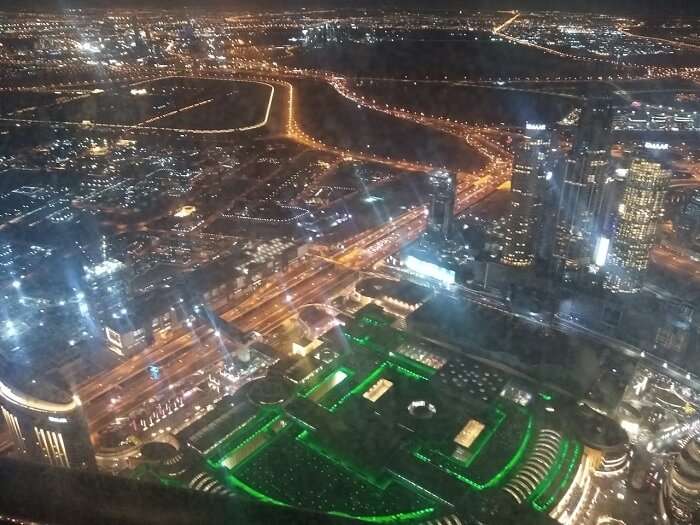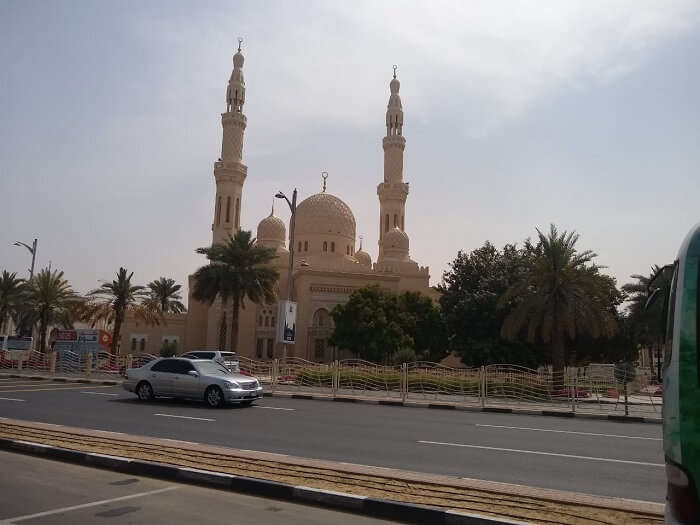 Dubai is was a place where I found people from all walks of life. So, blending in was easy for me. Locals were friendly and helpful. There was one of the instances where I was having difficulty with traffic rules and crossing roads, but locals came forward for my help. It is one of those destinations where you are treated with the utmost respect at public places like restaurants, supermarkets, and even the hotel I was staying at. It is absolutely safe for solo travelers.
2. It Was Safe For A Solo Female Traveler Like Me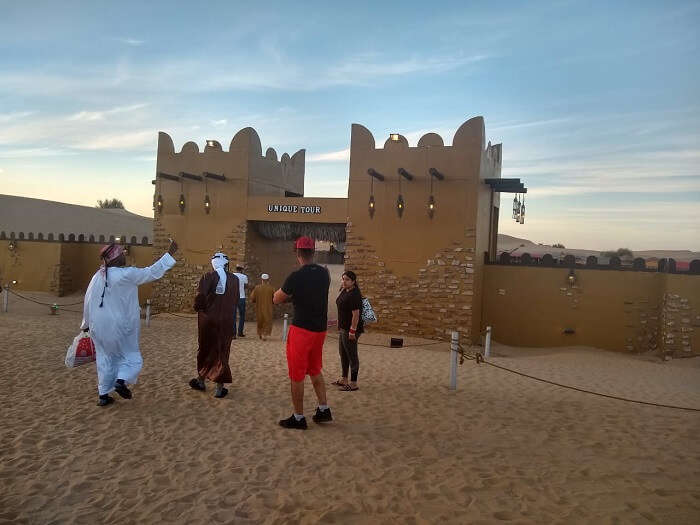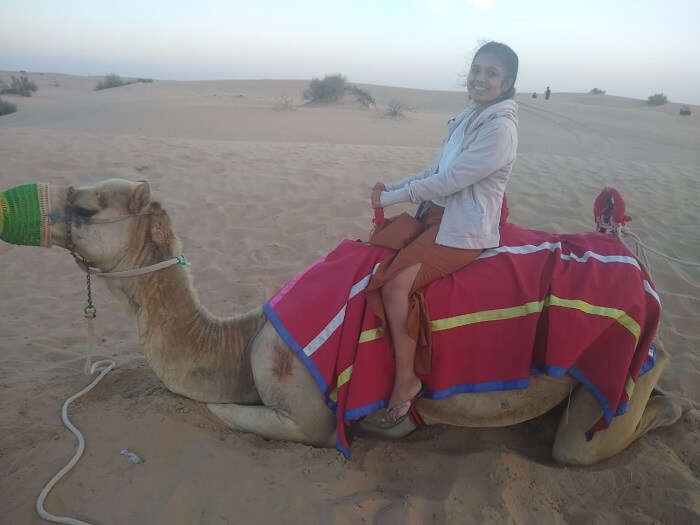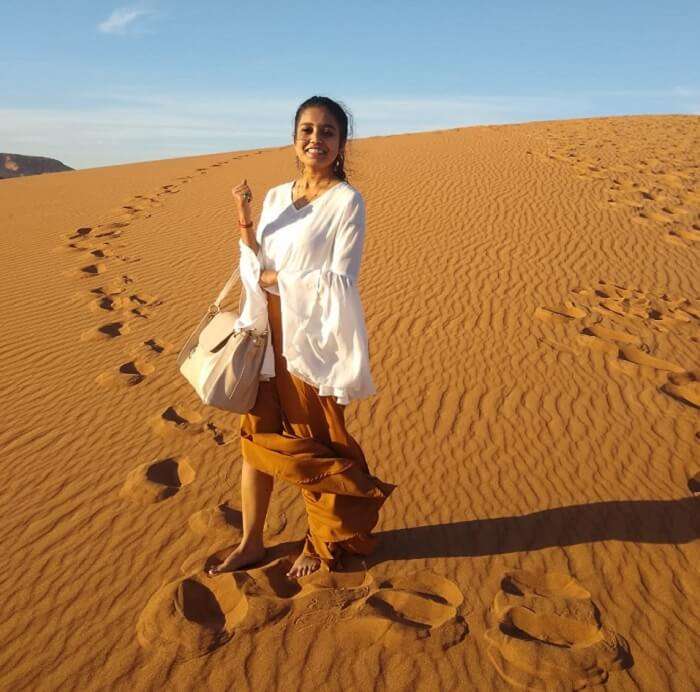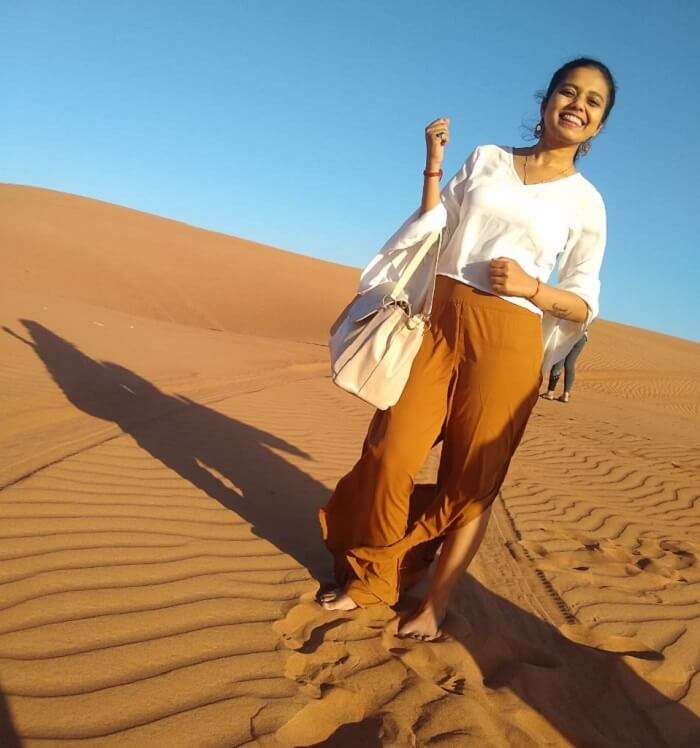 Dubai is one of the few destinations where I could roam around the city freely without any worry in the world. It is a kind of place where I found fellow travelers from all around the world. Unlike offbeat places where tourism has not flourished yet, I did not have a problem getting around or finding accommodation. However, I would suggest female travelers that they dress modestly as skirts and shorts are frowned upon in Dubai.
3. Shopping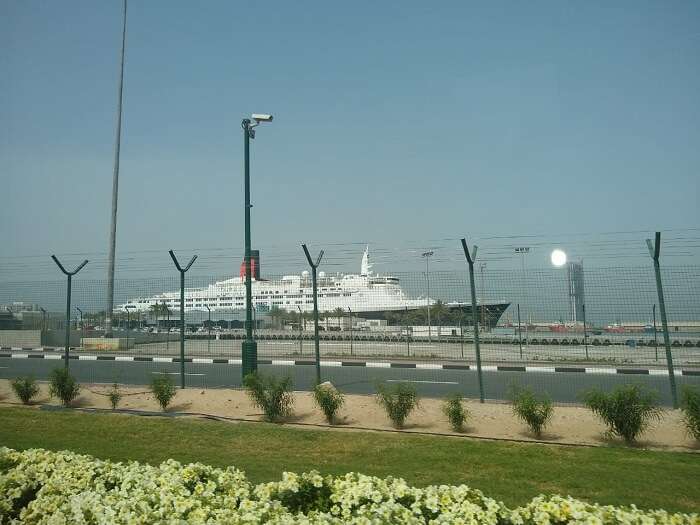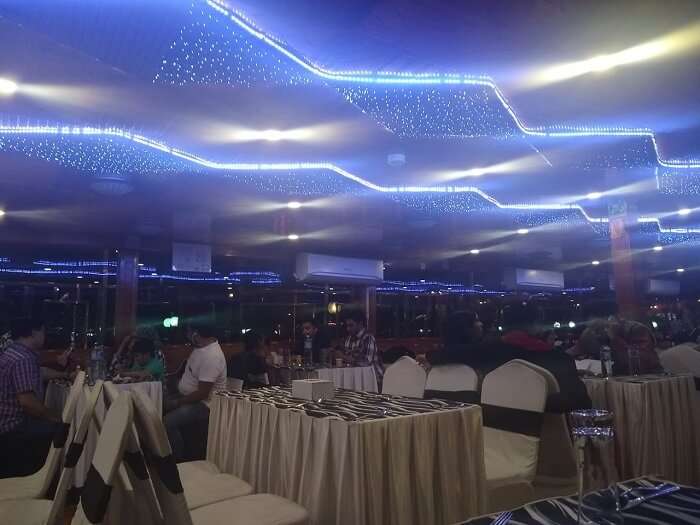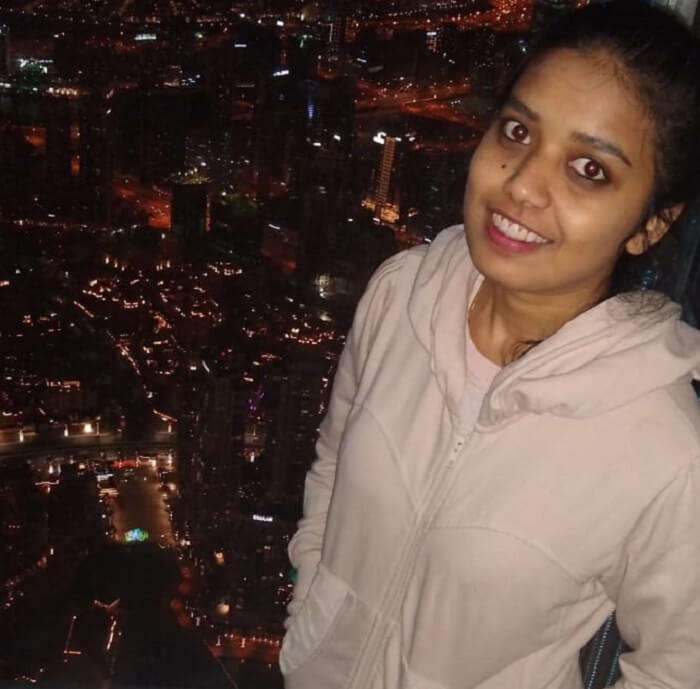 If one thing that most girls love it's shopping. Dubai is a paradise for shopaholics for there are so many things to bring back as a souvenir. You will end up with one extra bag full of your shopping treats by the end of your trip. It's guaranteed. I didn't shop much but if you are planning a trip, there are a few things you should buy. Gold Souk is a traditional gold market where you will find tons of jewelry shops. Apart from that, what you can buy is perfumes, dry fruits, and dates which are kind of a specialty in Emirates. Camel milk chocolate is another unique thing to buy in Dubai. My personal tip: explore Meena Bazaar for the ultimate shopping experience.
Indoor Forest In Dubai: A Unique Place To Hangout Amidst Flora And Fauna
4. Getting Around Was Easy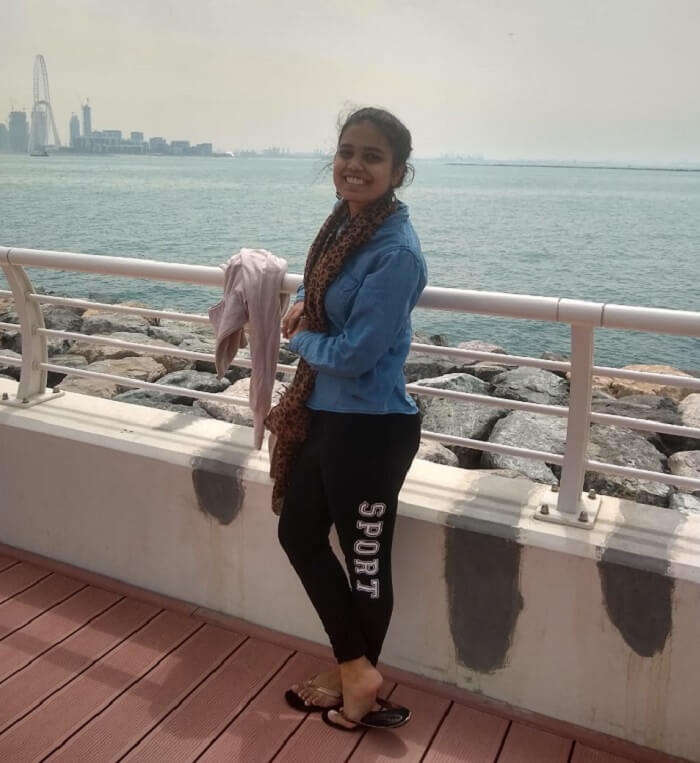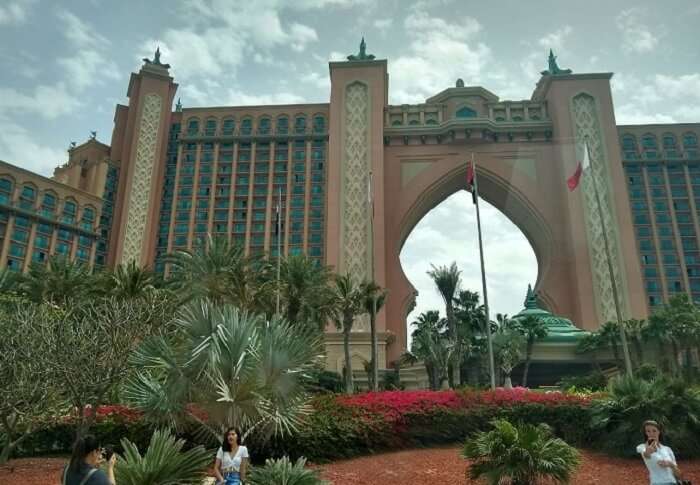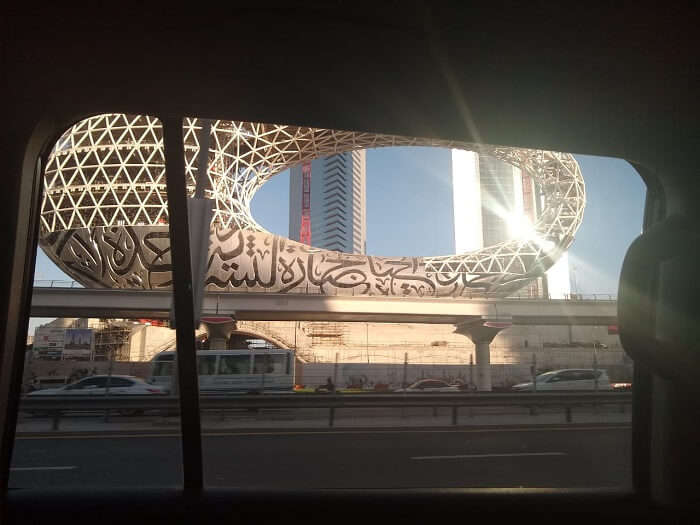 Dubai is a developed Emirate. The infrastructure is fully developed. The public transport network is strong and cheap. So, getting around in the city was not much of a hassle for me. I didn't have to travel large distances to explore the most beautiful attractions in the city. There are just so many places to visit in the UAE and the transport made it all possible.
5. Food Was Not A Problem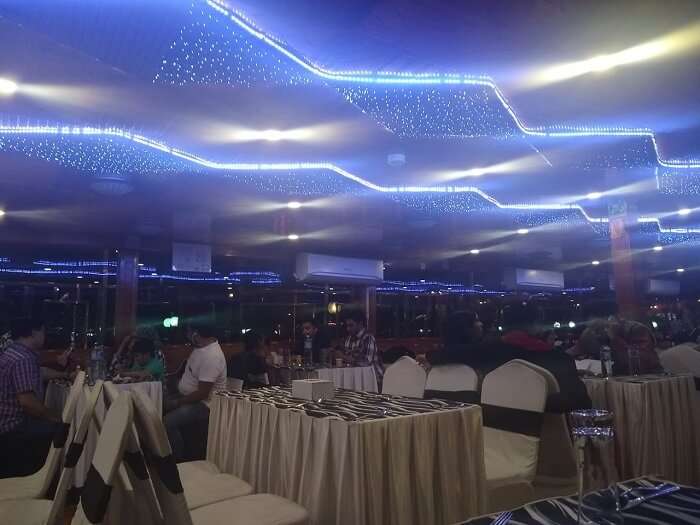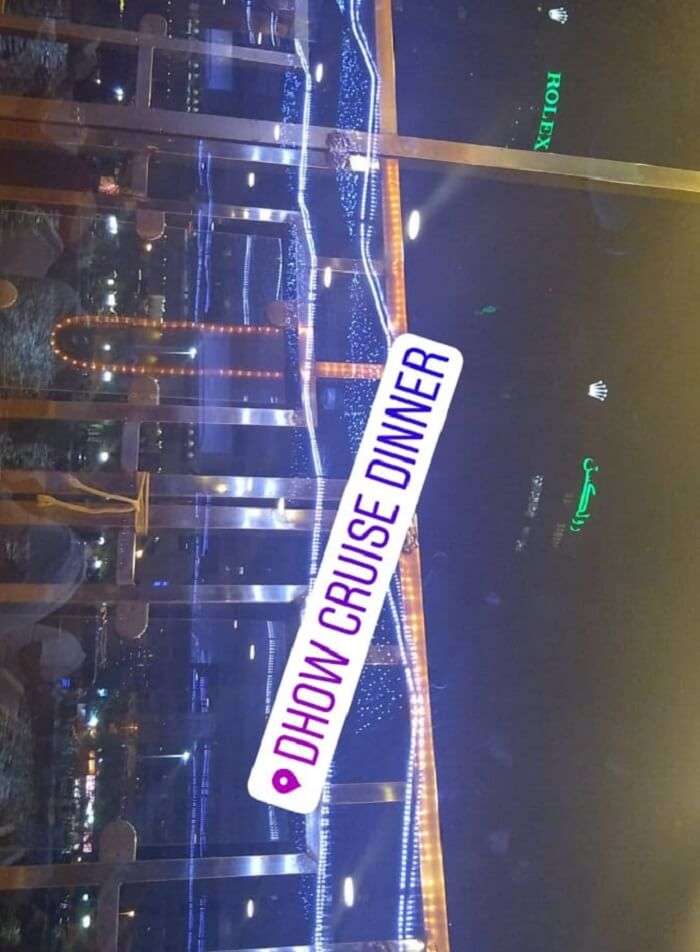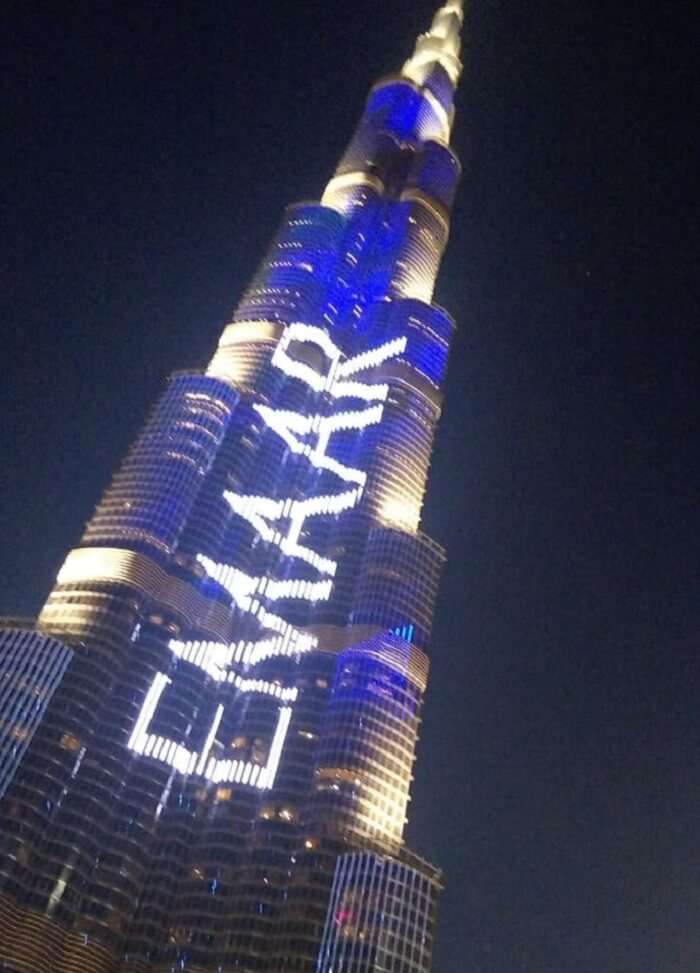 One of the grievances that travelers have to deal with is not finding food suitable to their palate. I faced no such difficulty in Dubai. In fact, there were restaurants for both vegetarians and non-vegetarians of various nationalities. So, I had a wide variety of options to choose from. There were myriad Indian restaurants too that never made me homesick for Indian flavors. I absolutely loved Chicken Shawarma. It was nothing like you get in India. However, I found some places a bit expensive, but Meen Bazar had some outlets that served food at a reasonable cost.
6. Holiday On A Budget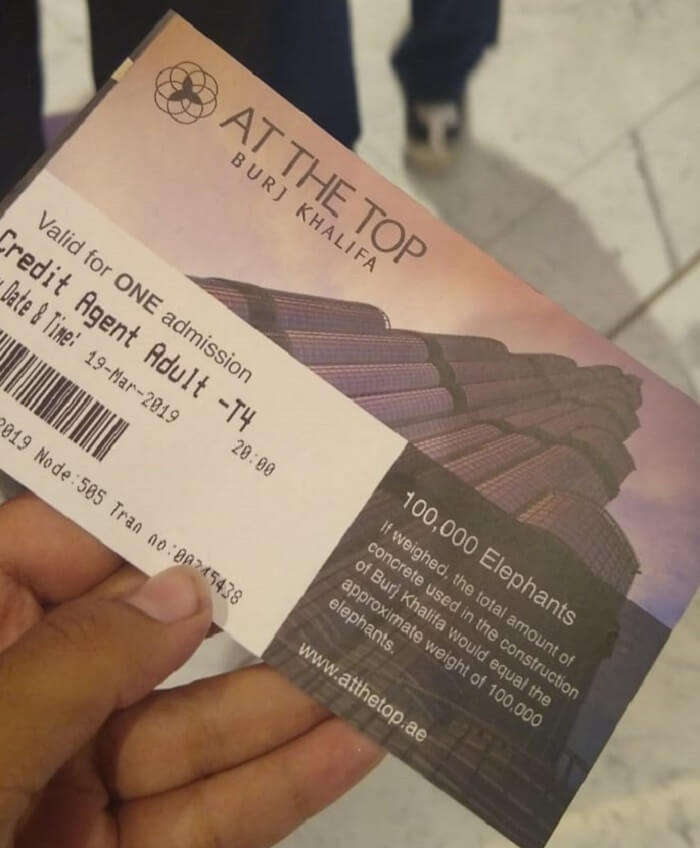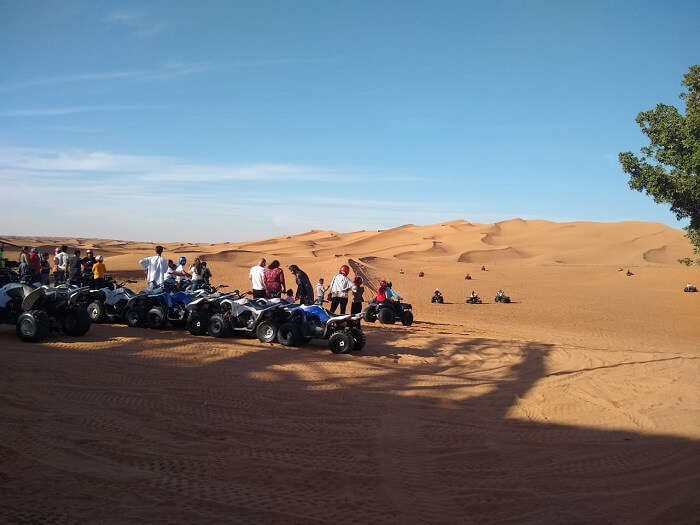 For me, I had a planned budget for my Dubai vacation and to my delight, I was able to explore Dubai and have fun under my budget. The key is to plan well. I planned my trip and thanks to TravelTrinagle, I was able to not only get a quote under my budget but was also able to get all the customizations done in my itinerary.
Some More Tips For Fellow Travelers
Dubai is a hot place. So, it is indispensable to keep yourself hydrated at all times. Carry enough water and energy drinks with you.
Carry a first-aid kit and have all basic medicine with you because pharmaceutical products in Dubai are expensive.
Dress modestly, especially when you are visiting a religious place like a mosque. Refrain from wearing skirts and shorts as it is frowned upon their culture. You would anyway won't be allowed to enter inside if your clothes are showing skin.
Do not consume alcohol before going to public places. It is not allowed.
Wear light cotton clothes throughout your trip as it gets hot in Dubai.
Head Out To These 10 Stunning Unusual Places To Visit In Dubai Today!
Highlights Of My Solo Dubai Trip
Here are a few highlights from my Dubai holiday that turned my trip into a fantastic experience:
Burj Khalifa: Not only I got to lay my eyes on the world's tallest building but also the spectacular skyline from the 125th floor. It was an on-top-of-the-world' feeling.
Cruise Dinner: Watching Dubai from the water was altogether a different experience. The dinner was great. There were a magic show and local dance performance too.
Desert Safari & Sunset: One word for it – Spectacular
My Experience With TravelTriangle
Thanks to TravelTrinagle, my trip was successful and memorable. Kudos to the executive and the agent who were always a call away.
Tips For A Vacation During Ramadan In Dubai In 2022: See The Best Of The City And Its Culture
If you too want an amazing experience like Sushmita, get in touch with TravelTriangle and plan a trip to Dubai. Life is short and in the end, we will only regret the trips we didn't take. Don't be afraid to travel and explore the world on your own.
Frequently Asked Questions About Solo Trip To Dubai
Is it safe to travel alone to Dubai?
Yes, whether you are a man or a woman, it is absolutely safe to travel alone to Dubai. Though you should be cautious any country you visit.
Is Dubai safe for single females?
Yes very safe. They have got very strict laws against crime hence it is very safe. Speaking from my experience, Dubai is safe for single females. If you follow the dress code and conduct, you should not be facing any problems.
Is it expensive to vacation in Dubai?
I won't say very expensive but to some extent. There are places which are really expensive and there are also places which are quite reasonable. As tourist country yes it is expensive to some extent.
What can you do in Dubai alone?
Everything. Dubai is one of the destinations where you can have so much fun, even if you are alone. Here are a few things to do in Dubai should not miss out on:
1. Take A Dhow Cruise
2. Get on top of Burj Khalifa
3. Take a Desert Safari
4. A visit to Aquaventure Waterpark
5. Go to the beach
6. Check out Mosques
7. Enjoy vibrant nightlife
What can you do at night in Dubai?
If you want to roam around at night, explore the Glow garden, watch the fountain show, and take a walk at JBR beach.
---
Looking To Book An International Holiday?
Book memorable holidays on TravelTriangle with 650+ verified travel agents for 65+ domestic and international destinations.
---
Comments
comments