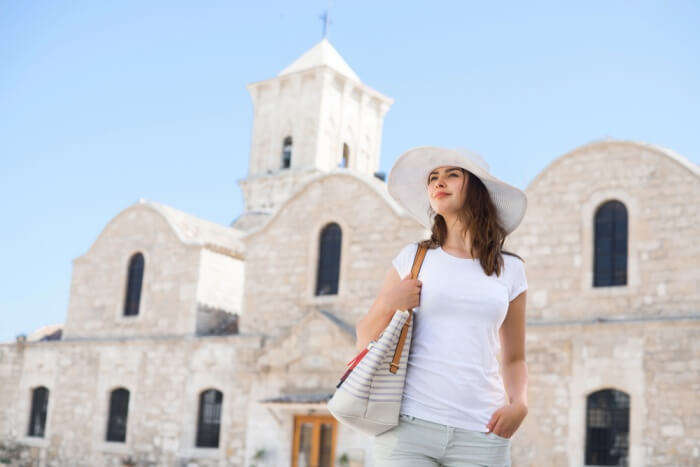 Cyprus, a land of ruined castles and forlorn fortresses, of medieval monasteries and terracotta houses. The Cyprus Tourist Guides Association does their best to educate the world about these hidden pockets of beauty and splendor. In ancient times, Cyprus was known as the gateway between the reputed and honorable land of Europe, with its knights, castles and kings, and the mystical and unexplored lands of Asia, the continent known for its glorious wars, shaking revolutions and oriental ways. Due to this, it has changed hands many times over the course of history, from this European Governor to that Asian warlord. Here is the perfect Cyprus travel guide which will help you learn more about the land.
9 Places To Visit In Cyprus
It is true that if one just turns to any corner in Cyprus, World Heritage Sites seem to litter the very streets, with old fortresses, statuary, Cathedrals, and monasteries at every nook and cranny. Even in this land that is filled to the brim, and then some more, with wonders and glorious sights, there are some that truly seem to defeat the others, standing tall above the common rabble. Keep scrolling to see the contents of this Cyprus tourist guide and learn more about the famous locations.
1. Agios Ioannis Lampadistis Monastery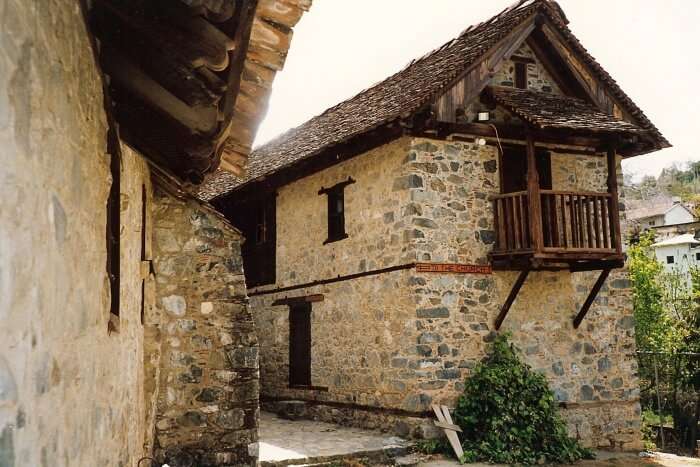 This is by far one of the most well known and popular sights in the entirety of Cyprus. An architectural marvel in and of itself, this is one of the most unique monasteries in the world. The reason for this is that unlike the usual and nondescript monastery, this does not contain a single cathedral, chapel or church: indeed, it contains three, all housed and maintained under the same roof! Run by an order of monks, the first is dedicated to the very initial bishop of Cyprus, the second on St John of Lampada, with the third a standard Latin church. The compound also contains a small museum that houses many different Byzantine artifacts. This place is present in all of the travel guide for visiting Cyprus.
Must Read: Belgium Travel – Cockpit Of Europe: A Mini Guide To The Unique Side Of Belgium
2. Zenobia Wreck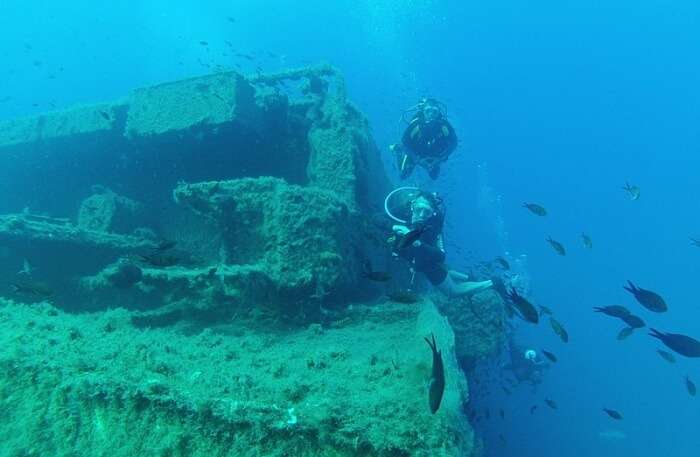 A ship that is simply massive, this enormous shipwreck falls just a wee bit short of the Titanic, one of the largest ships in the history of mankind. The ship itself sank in 1980 did so with a giant cargo hold still filled to the brim with cargo, and has since then become home to many exotic and rare types of fish. Over the years, it has turned into a popular spot for scuba diving and is also used for instructor courses in diving, as navigating the wreck itself is quite simple due to the large rooms and largely intact condition of the ship.
Location: Larnaca 7081, Cyprus
Timings: Open in Mornings and Afternoons
Entry Fee: 90 Euros for Diving Experience
3. Kourion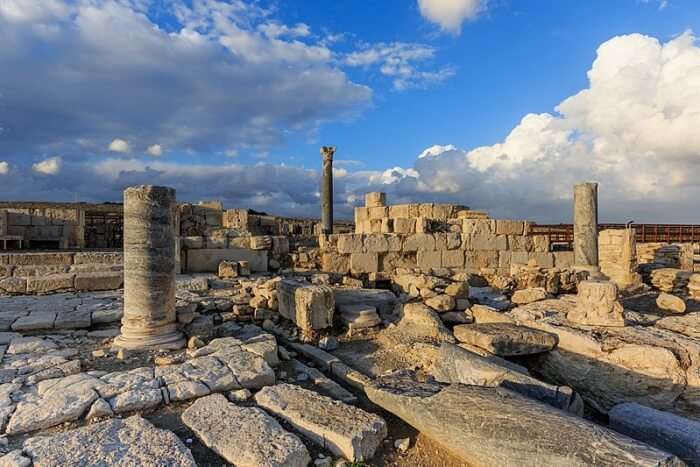 A lot of empires flourished to Cyprus and fell to ruins in the same place. Kourion is one of these places, as in its heyday it was a Greek city-state that was the very envy of other Greek kingdoms, with buildings made by the finest masons and builders. Now, it is one of the most famous archeological sites on the entire island, and displays its most prominent wonders with pride: one can take a trip there and visit the ancient Roman Agora, or even tour the mosaic tiled inside of the great House of Achilles.
Location: Near Episkopi, Limassol, Cyprus
Timings: Open All Day
Entry Fee: Free
Suggested Read: Christmas In Denmark: 13 Places To Enjoy The Christmas Vibes In Europe In 2022
4. Salamis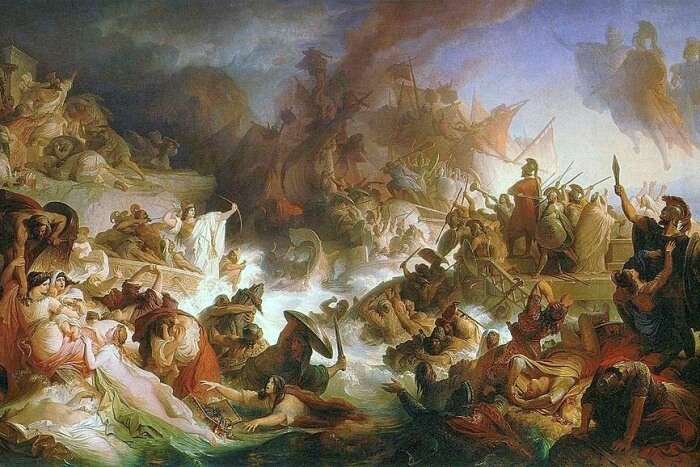 A perfect succession to an entry about a Greek city state, this site housed one of the greatest Roman settlements the island has seen. Complete with markets, bath houses and so on and so forth, Salamis is a perfect example of a great Roman city, complete with all the luxuries and comforts one would find in the capital of Roma itself. Now being a ruined city, it still has most of the buildings left intact. If one chooses to take a trip there, they will see a Roman Fish Market (seafood is always popular), houses, Roman Baths (trust me, something to be noted), a theatre and an amphitheatre (the latter is an open-air theatre, and the more grand out of the two).
Location: Famagusta 99450, Cyprus
Timings: Open All Day
Entry Fee: Free
5. Famagusta Walled City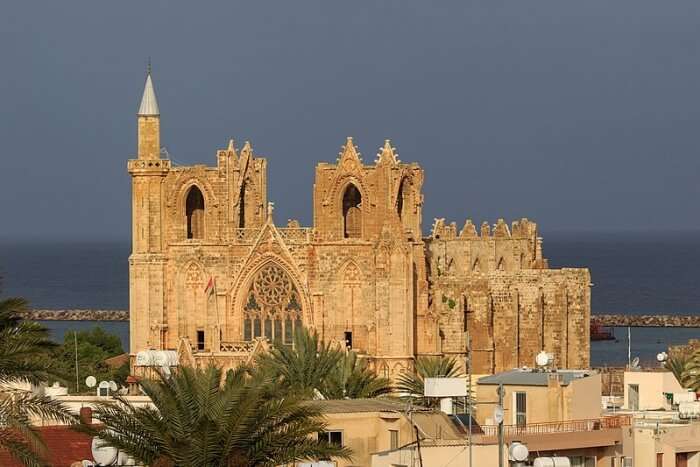 This is one of the larger wonders one would find in cyprus. An entire city that is walled off with one of the most spectacular, well built and architecturally sound walls in the island, it holds many interesting sights to see, with one great example being the large mosque located near the center of the city. This mosque was not always one of the largest sights of the Muslim faith in the island, and was actually built to be a Christian Cathedral, but was converted to a mosque.
Location: Famagusta, Cyprus
Timings: Open All Day
Entry Fee: Free of Cost
Suggested Read: 7 Days In Spain: Witness The Splendid Sceneries Of This European Country In 2022
6. Paphos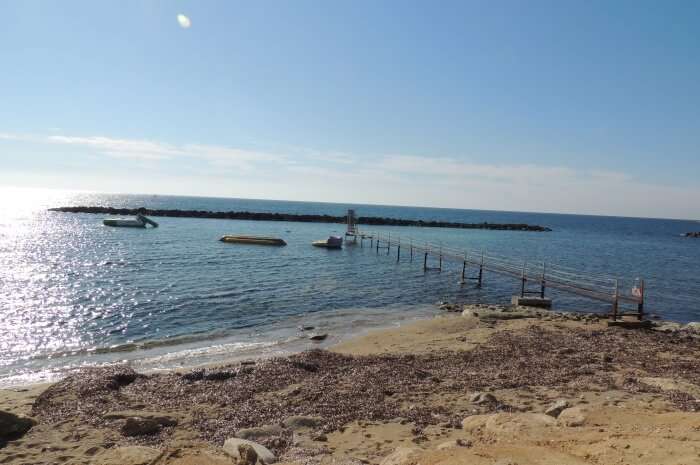 Theseus is one of the most well-known heroes in mythology, with his deeds immortalized in many songs, odes, and myths. His exploits and deeds were known by every single child of the ancient world and is generally one of the favorite figures of most mythicists. His village is one of the most well-preserved sites on the island, with authentic columns, buildings and other structures present. An archaeologist's dream, this place has 4 Roman Villas, along with many other famous structures such as tiled mosaics and an Odeon.
Location: Archaeological Park of Paphos, Paphos 8060, Cyprus
Timings: Open All Day
Entry Fee: Free of Cost
7. Famagusta Sea Gate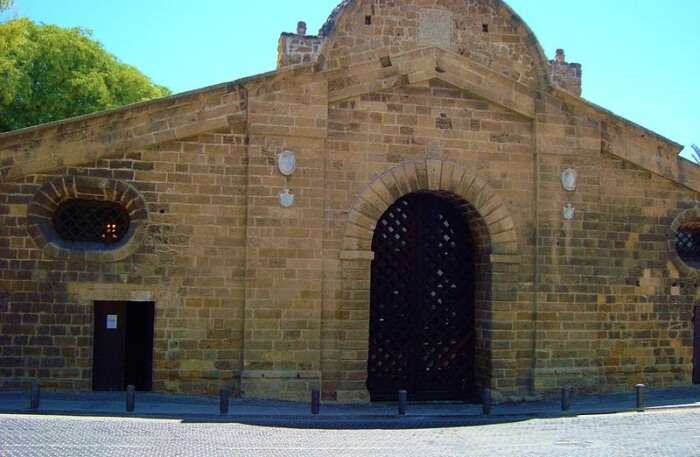 A quite well-known tower establishment in Famagusta, the Sea Gate offers an unobstructed view of the surrounding seaside and was originally built as a watchtower to observe and watch for enemy ships and returning friendly ones. Porta Del Mare, the original name of the tower establishment, was one of the two historical gates to the city, and still has the grand feeling and magnificence to prove it, centuries, if not millenniums, after its construction.
Location: Yesil Deniz, Famagusta, Cyprus
Timings: Open All Day
Entry Fee: Free of Cost
Suggested Read: 35 Best Places To Spend Christmas In Europe In 2022
8. Temple Of Aphrodite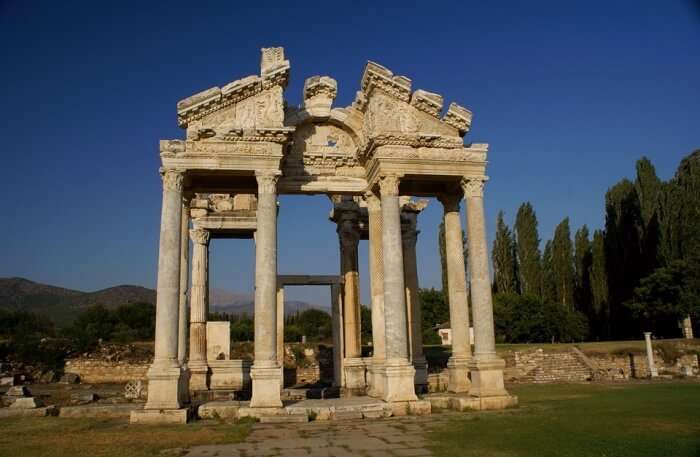 One of the largest and most grand Greek temples built on this island, the Temple of Aphrodite has stood tall for millennia, and has, over the years, been accentuated and built up by many different governments, such as the Roman Empire, which not only built up the temple after the ruin of the Greek Empire, but added lots of touches, finishes and buildings that were Roman in nature. The Temple features large highlights of both Greek and Roman culture and also is home to a small museum, which houses artifacts recovered from the Greek and Roman periods of its influence.
Location: Southwest of Kouklia Village, Kouklia 5565
Timings: Open From Morning to Late Evening
Entry Fee: 10 Euros
Suggested Read: 17 Spots For Snorkeling In Europe Every Underwater Enthusiast Must Visit In 2022
9. Monastery Of Apostolos Varnavas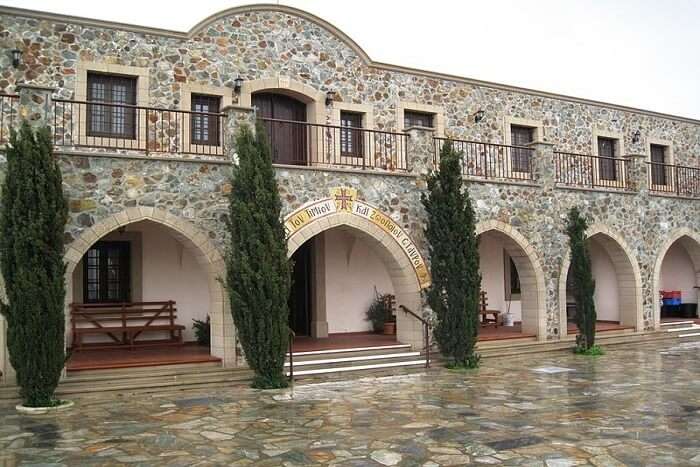 While certainly not being one of the most famous monasteries on the island, this one does have a certain rapport with the tourists that most cathedrals, churches, and monasteries have not been able to establish. Known across the island as rather a fun place to visit, this monastery is loved by locals and tourists alike, as both visit here regularly. Besides the amazing monastery itself, one also has the chance to pet and feed many domesticated animals that wander around it, such as some of the cutest puppies, kittens, and donkeys one has seen!
Location: West of Amogostos, Famagusta, Cyprus
Timings: Open From Early Morning to Late Evening
Entry Fee: Free of Cost
Further Read: 13 Frolicsome Beaches In Europe For All The Excited Beach Bums Across The Globe
One can see over and over the magnificent and glorious civilizations that took root here, and flourished, as most of the ruins boast a level of grandeur seldom seen in war-torn lands. Besides being famous as the birthplace of Aphrodite, Cyprus is also a booming destination in the tourist industry. So, don't wait anymore and book your Europe trip right away!
People Also Read
Malta Travel Guide Georgia Travel Guide Israel Travel Guide
---
Looking To Book An International Holiday?
Book memorable holidays on TravelTriangle with 650+ verified travel agents for 65+ domestic and international destinations.
---