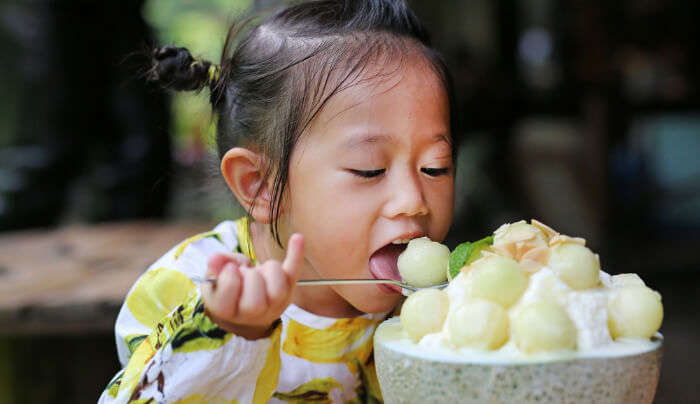 Singapore is a country with incredible cultural and ethnic diversities. This nature of the country has played a key role in the development of  Sinporean cuisine. It is a fusion of cuisine styles of several destinations. A bite from one food with burst flavours from several regions across the globe. An desserts in Singapore being a celebrated aspect of food, you must try some of the most popular ones to discover and enjoy the real flavours of the country.
Top 10 Desserts In Singapore
Here are the top 10 desserts in Singapore that you must surely try on your visit to this island nation:
1. Pandan Chiffon Cake

Pandan Chiffon Cake, popularly known as the Green Cake is one of the most loved desserts of Singapore. It is said that the origin of this cake is Indonesian and Malaysian. The beautiful green color makes it visually appealing. The juice of Pandan leaves is responsible for this color. Pandan leaves are one of the most widely used ingredients in Asian desserts. Another important ingredient added to this dessert is Coconut milk which adds more rich and creamy taste to it. This is also a popular element in the Asian cuisine. Pandan Chiffon Cake is has also been titled as 'Singapore's National Cake.'
Must Read: Best Casinos In Singapore For Some Poker, Entertainment, And A Whole Lot Of Fun!
2. Durian Pengat

Durian Pengat has a history that relates to the Malay and Perkanakan communities. Durian is one of the most popular and widely eaten fruits in Singapore. It is consumed in the form of a fruit or is added to various dishes. And Pengat is a dish which is made by cooking root vegetables or fruits in the mixture of coconut milk and sugar. Durian Pengat is prepared by cooking the fruit until it has the consistency of a smooth mousse. Pieces of Durian can be added to garnish the dessert.
Suggested Read: Singapore Aquarium: Immerse Yourself In The Magical Marine World With This Handy Guide
3. Chendol

Chendol or Cendol is one of the most popular desserts in Singapore. Though Malayasians and Indonesians also share the love for this dessert, Singaporean style of Chendol is different. It is prepared drenching ice shavings to the palm sugar syrup and coconut milk. The dessert gets its colour from the squiggles of green rice flour jelly or Pandan and Mung Bean jelly added to it. Durian or Grass Jelly is also added as a garnish. The sweetened Red Adzuki Beans add some contrast to the whole look but compliments the taste. Creamed corn adds the beautiful shade of yellow.
Suggested Read: Singapore In October Calls All Nature Lovers To Take A Dip In The Beauty Of The Lion City!
4. Ice Kachang

Ice Kachang or Aic Kacang is one of the favourite desserts in Singapore. Originated in Malaysia, the name of this sweet dish means 'bean ice'. It is made by churning the ice shavings along with colour-syrups, gula melaka syrup, condensed milk. It is then moulded into a mountain. It is usually served with sweetened red beans, creamed sweetcorn, colourful jelly, palm seeds.
Suggested Read: 8 Must-Go Flea Markets In Singapore That Are A Paradise For Shopaholics
5. Cheng Tng

This sweet soup, originated from the classic Chinese cuisine is one of the best desserts for the weather in Singapore. Cheng Tng translates to 'clear soup' and contains various other ingredients including lotus seeds, red dates, barley, longans, sago, and white fungus. It is consumed both hot and cold and is believed to have soothing and nourishing qualities. It is a light dessert in comparison to the other creamy and chunky desserts in Singapore.
6. Orh Nee

Orh Nee is highlight and a showstopper dessert of the Singaporean wedding feats. Orh Nee in the Chinese dialect, Teochew means Yam Paste. This dessert had originated in the Chaoshan region of China. It was introduced in Singapore by the Teochews in the 19th century, when they immigrated to Malaya. The dessert is soaked in sugar syrup but the sweetness is balanced by the yam paste. This paste is cooked in animal fat (lard) ans has a mouth-watering aroma.
Suggested Read: 7 Upscale Spas In Singapore For A Relaxing And Rejuvenating Time There
7. Tang Yuan

One of the most flavoursome desserts in Singapore, Tang Yuan are sweet rice balls. Specially consumed during the Winter Solstice Festival, this sweet-dish was originated in China. The dish has cultural significance and is associated with the reunion and harmony of family. In Singapore, Tang Yuan is also called Ah Balling. This dessert is cooked using fermented rice, peanuts, ginger soups, red beans, pandan and rock sugar.
Suggested Read: Top 8 Things To Buy In Singapore: Souvenirs For Gifting And Treasuring In 2022
8. Ice Cream Sandwich

Who doesn't love ice-creams, right? Singaporean Ice Cream Sandwich is a big hit among the natives and tourists alike. Unlike the conventional form of ice-cream or softy served in cups or cones, this dessert is served inside a slice of bread. With a small brick of ice-cream, this is a delightful bite. It uses a special kind of bread, usually made in pandan flavour or a slice of crispy water. You can ask for any of your favourite flavours including chocolate, vanilla, strawberry, peppermints, mocha. And for a Singaporean twist, there are options in durian, red beans and sweetcorn too.
Suggested Read: 20 Romantic Places To Visit In Singapore For Honeymoon In 2022
9. Pulut Hitam

Pulut Hitam is a mouth-watering Singaporean dessert that had emerged in Indonesia. Its preparation includes use of all the favourite Southeast Asian ingredients. This includes pandan leaves, coconut milk, and palm sugar. The main ingredient, Black rice is boiled till it becomes creamy and soft. It is then mixed with pandan leaves and palm sugar. The mixture is served with coconut milk grating. Unlike other Singaporean sweet-dishes, Pulut Hitam can be eaten as both – a dessert or a snack.
10. Soya Beancurd

Soya Beancurd is also called Tau Huay in Hokkien. It is not a Tofu but is like a pudding of soyabean. This is one of the most famous desserts in Singapore is made by heating soya milk to solidify it into curd. It can be eaten hot or cold and is served with sugar syrup. Soya Beancurd is also garnished with tapioca red beans, flour pearls, green tea and durian mousse, to add more color and taste.
Further Read: Singapore Visa For Indians: Requirements For Application Process
Is your mouth-watering already? Plan a trip to Singapore just now and savour all the above-listed desserts in Singapore.
Frequently Asked Questions About Desserts In Singapore
What is the most popular food in Singapore?
Singapore is a food lover's paradise. The cuisine witnesses a blend of Chinese, Malay, Indian, Indonesian and western influences. Hainanese chicken rice is one of the dishes that you must not miss when in Singapore. Yet another dish is the Chilli Crab, which is fondly known to be the National dish of Singapore. It is cooked with spicy tomato chili sauce. Other mouth-watering delicacies that one must try are fried carrot cake, roti prata & fish head curry.
Which is the famous sweet in Singapore?
For all those who have a sweet tooth, local desserts of Singapore are sure to satiate your taste buds. You will not be able to resist yourself from sinking your teeth into the striking green Pandan chiffon cake. Durian pengat, cooked in a concoction of coconut milk and sugar is every fruit lover's delight. Singapore's ice-cream sandwich delights both kids & adults alike. Other famous sweets that one must try in Singapore are: – Cheng Tng – Chendol – Ice Kachang – Pulut Hitam – Orh Nee
What are the local desserts to enjoy in Singapore?
There are sweet things to buy almost everywhere in Singapore. The sugary toasted aroma can be felt in the air. There are numerous bakeries & shops that can give you a flavour of Singapore's authentic sweets & desserts. You must make a visit to Xi Di Li for sweet breakfast doughnuts, Kim Choo Kueh Chang for Peranakan sweets. Tu tu kueh fans must visit the Haig Road and try out the Haig Road Putu Piring, the Malay version of Tu tu kueh.
What do they eat in desserts in Singapore?
There's always room for dessert and desserts in Singapore are too good to resist. Here's what locals love to eat in Singapore: – Chendol: shaved ice, green rice flour jelly, adzuki beans, coconut milk and gula melaka – Pulut hitam: porridge made from black glutinous rice – Cheng Teng: light dessert soup having lotus seeds, gingko nuts, longans, white fungus and red dates. – Bubur Cha Cha: made from jelly cubes & sweet potato in fresh coconut milk.
Is Singapore dessert sweet?
Singapore is a delight for sweet lovers. The city offers unique desserts that are a perfect amalgamation of traditional flavours and innovative modern twists. Desserts in Singapore have a Malay, Korean, Indian and even Western influence and thus come in a myriad of flavours and variety. From street booths to heritage dining, these picture-perfect delicacies are sure to take your sweet tooth on a wild ride.
---
Looking To Book An International Holiday?
Book memorable holidays on TravelTriangle with 650+ verified travel agents for 65+ domestic and international destinations.
---
People Also Read:
Desserts In Turkey Desserts In Vancouver Desserts In Wellington