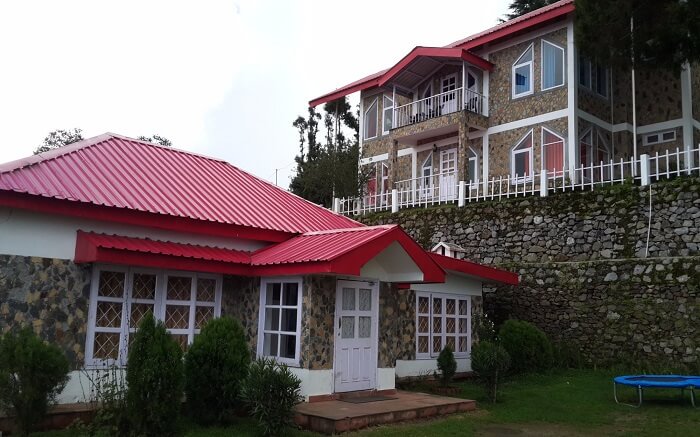 Dhanaulti, near Mussoorie, is known for misty mountains and thick woods of pine and deodar. For those people who are planning a quick respite from the busy urban life of Delhi, Dhanaulti is the perfect pick. Be it camping, trekking or just rejuvenating amid nature, nothing beats this small hill town. And to make the holiday extra special, stay in the most popular and beautiful Dhanaulti resorts to rejoice the best of hospitality, services and amenities.
Whether you are on a budget or a luxury traveller, this list of resorts in Dhanaulti will not disappoint you.
Resorts in Dhanaulti
1. Karma Vilas Resort – Luxury amid misty hills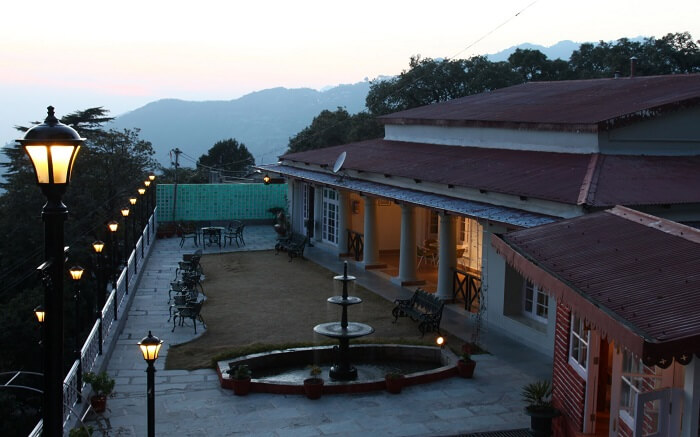 Breathtaking views of the surrounding mountains, 13 lavish rooms, well-manicured garden, and fine dining restaurants are some of the facilities you will get at Karma Vilas. One of the best resorts in Dhanaulti, it is nestled in the Bala Hisar area of Dhanaulti. At a height of 6000 feet on a hilltop, this is a colonial mansion turned into a resort. Offering varied range of rooms from deluxe category, presidential suites to wood cottages, this resort is an epitome of class, elegance and luxury.
What's special: Wood Brick Café- authentic Italian Café, serving best hand tossed pizzas in the town.
Starting tariff: INR 5000/night
Website | Reviews
2. Apple Orchard Resort, Dhanaulti – A blend of royal charm and contemporary amenities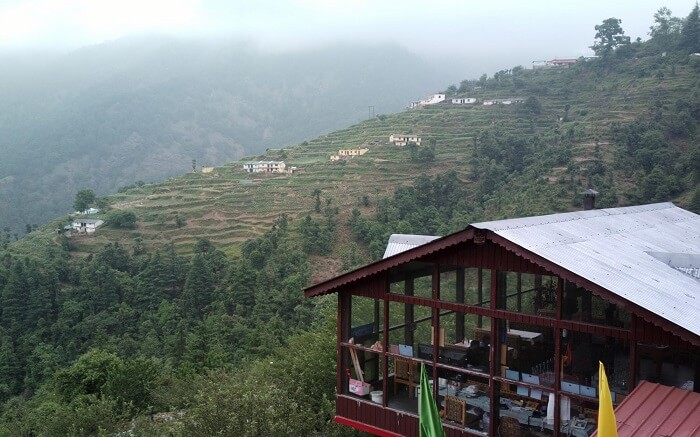 Apple Orchard Resort, Dhanaulti is one of the most famous resorts in Dhanaulti, located amid luxuriant apple groves, on the Dhanaulti – Chamba Road. This was the Hunting Lodge of Royal Family of Tehri Garhwal, which turned into a heritage resort, years later. The resort offers 15 lavish rooms with stunning view of pine and deodar forests and lofty Himalayas. Along with the elegant stay, an exquisite in-house kitchen, plush green garden, terrace and expansive parking space come along.
What's special: Glass House Restaurant, serving traditional Garhwali food.
Starting tariff: INR 3,900/night
Website | Reviews
3. Whispering Pines Resort, Dhanaulti – A traveller's paradise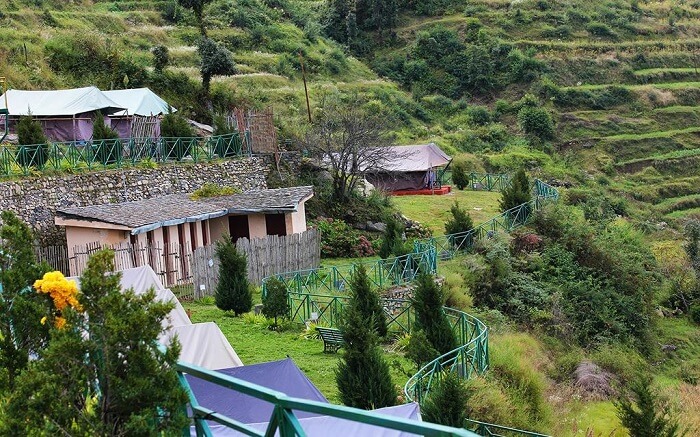 If you are idea of holiday is relaxing with a book on the hummock or indulging in some thrilling adventurous activities, stay at Whispering Pines Resort, Dhanaulti. Apart from lip smacking delicacies, served at the in-house dining room and entertaining its guests with varied activities like trekking, rappelling mountain biking and golf, Whispering Palms boasts of spectacular views of the snow-clad Himalayas. There is also a spa in the resort, to pamper your mind and body. Moreover, the resort also organises snow camps, snow treks and sledging for its guests, on advance requests. In a nutshell, Whispering Pines is one of the best luxurious resorts in Dhanaulti, for an all-embracing vacation.
What's special: Moonlight trails and star gazing
INR 3899/night
Website | Reviews
Must Read: 6 Dhanaulti Hotels For An Affordable Trip To The Mountains
4. Dhanaulti Camp Homes and Nature Resort – For the thrill loving travellers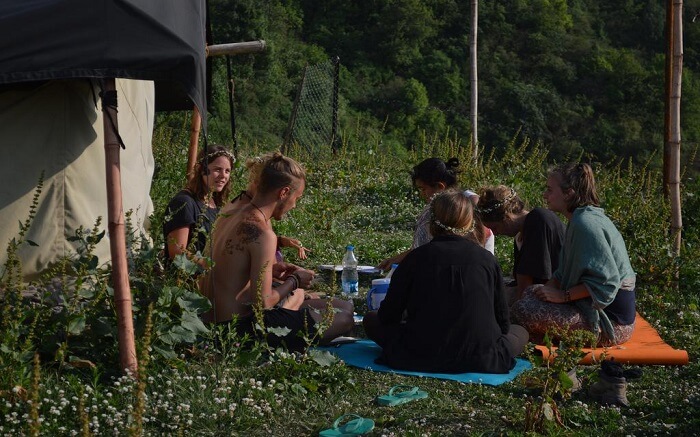 If you are an adventure loving soul and planning for a thrilling yet delightful vacation at Dhanaulti; look no further and head to Dhanaulti Camp Homes and Nature Resort. One need to trek for 15 to 20 minutes to reach this mind-blowing resort camp and enjoy the thrill of camping amid mountains and thick pine forests. Well-furnished and pet-friendly accommodation along with enthralling activities hiking, bonfire, trekking and rock climbing are available for guests here.
What's special: Packed lunch and dinner are arranged for guests here on advance booking.
Starting tariff: INR 3147/night
Reviews
5. Green Forest Resort, Dhanaulti – Come close to nature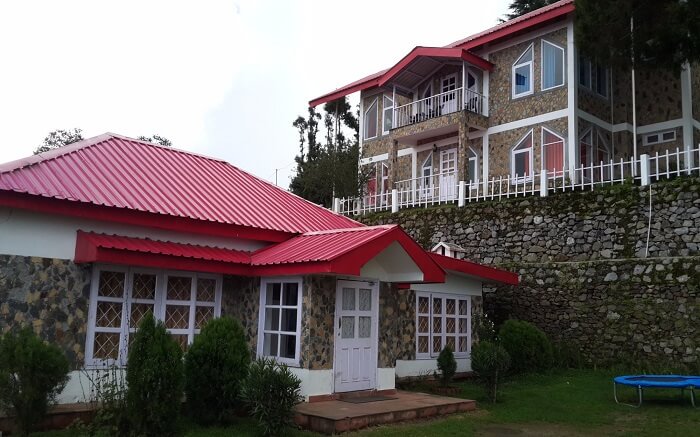 Known for its serene and picturesque location, Green Forest Resort, Dhanaulti is one of the most sought after Dhanaulti resorts. Sprawling on 19-acre apple garden, this lavish resort engages its guests with scenic views of forested valleys and mountains. The neat, spacious and well-appointed rooms make the stay comfortable and enjoyable. From a garden restaurant to children play zone; there is so much one can enjoy in this resort.
What's special: On prior request, the resort arranges for bonfire and live barbeque in their garden.
Starting tariff: INR 3,000/night
FB Page | Reviews
Suggested Read: 10 Eco Huts In Dhanaulti For A Stay Closer To Nature
6. V Resorts Glamwood – For comfort, convenience and luxury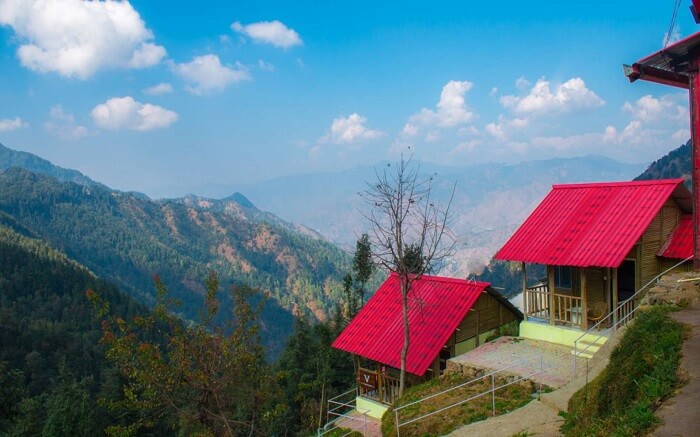 Close to Eco Park, V Resorts Glamwood is another well-known resort in Dhanaulti. People who want to stay close to nature, yet rejoice all convenient and modern amenities like free WiFi, ample parking space, doctor on call and 24 hours travel desk, V Resorts Glamwood is the perfect choice for them.
What's special: Bamboo hut accommodation
Starting tariff: INR 2299/night
Website | Reviews:
Suggested Read: 6 Best Sites For Camping In Dhanaulti And Kanatal
7. Rock Resort – Your cozy holiday abode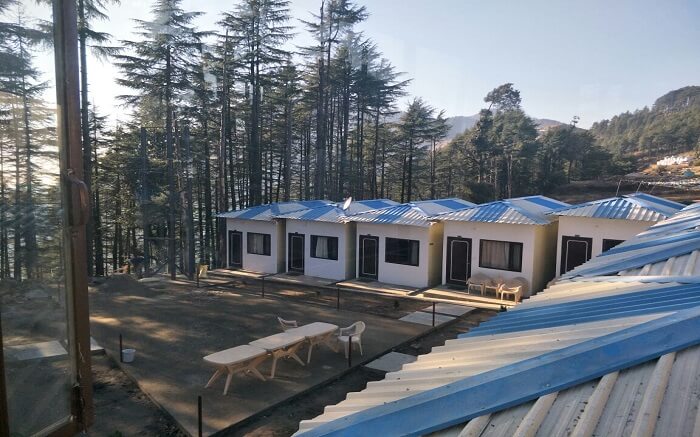 For someone searching for a decent stay option in Dhanaulti, Rock Resort is your most apposite pick. The rooms are neat, clean and well-furnished and most of the rooms offer marvellous views of surrounding pine and rhododendron forests. The staff here are friendly and their super quick room service is undoubtedly one of the highlights. Along with the hut type accommodations, facilities like free WIFI and free parking in the resort will surely leave a memorable imprint in your heart.
What's special: The resort has facilities for adventure sports like commando net, Burma bridge, rappelling and rock climbing.
Starting tariff: INR 1,927/night
Website | Reviews
8. Silver Dew Resort – Admire nature's aura during your stay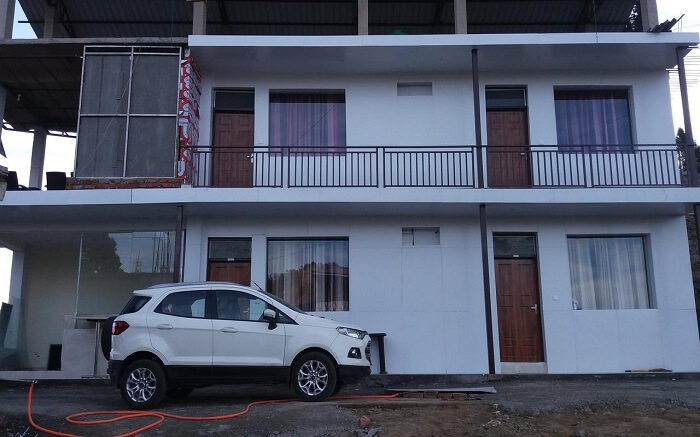 Silver Dew Resort is a pleasant stay, situated near Mussoorie- Chamba Highway. It is one of the best budget resort in Dhanaulti that welcomes all its guests with well-appointed rooms and best of food from in-house kitchen. Located amidst lush alpine forests, this property allows you to live closer to nature and enjoy and best of comfort and impeccable services. Rejoice the mind-blowing vistas from the rooms and make your vacation an unforgettable one.
What's special: Facilities of adventure camps on advance booking.
Starting tariff: INR 1,413/night
Website | Reviews
If you're planning a quick weekend near Delhi or are looking for a perfect hideout in the foothills of the Himalayas, then these resorts in Dhanaulti will not disappoint you.
Further Read:
Comments
comments