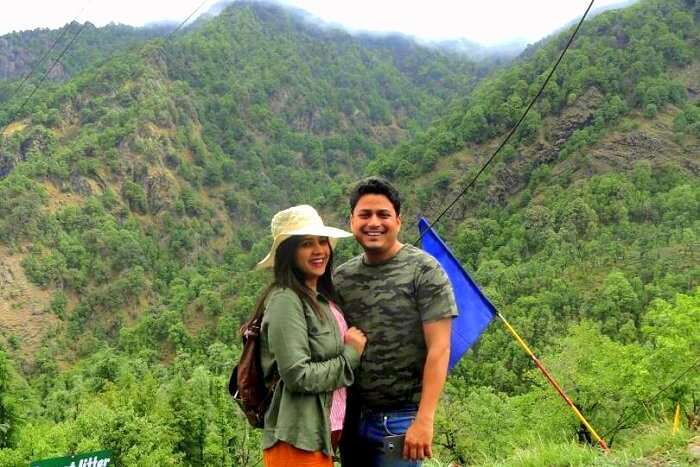 Pankaj and his family went on a delightful weekend getaway to Dhanaulti. The weather was at its charming best, as they enjoyed their camping retreat surrounded by scenic nature. A memorable trip to be remembered by the precious family time they spent at a lovely getaway in the hills.
Trip Cost: INR 3,499 on quad sharing basis
Trip Duration: 1 night/2 days
Travelers: 4 adults, 1 child
Month of Travel: April 2017
Inclusions: Return bus ticket, accommodation, meals, and adventure activities
Exclusions: Entrance, and return journey dinner
My family is filled with people who've loved traveling since their younger years, and so keeping with the tradition, we make sure we take atleast 4-5 short vacations in a year. My wife started searching for weekend destinations on the internet when she got to know about TravelTriangle on Facebook. We really liked the TravelTriangle weekend getaways section, and their package to Dhanaulti felt like value for money.
Suggested Read: Incredible Way To Spend A 2D 1N Weekend Trip To Dhanaulti
Our reason for choosing Dhanaulti was that we had never been there before and only traveled till Mussoorie (which was only 25 km from Dhanaulti). It looked like a hill station that would be away from the crowds that flock in from the big cities.
Our trip began at Akshardham, where we assembled at 10 pm to board our bus to Dhanaulti. There was a bit of anxiety in our family as this was our first time on a group tour. However, the coordinator (Javaid) from TravelTriangle created such an environment that all the travelers mingled with each other and got comfortable within the group.
Day 1: Relaxing at a secluded nature retreat
After a comfortable night journey, we arrived in Dhanaulti and checked into Campo Royale at 9 am. I really liked the location of Campo Royale, which is situated two kilometers off the main highway and is accessible via a dirt road. Needless to say, reaching this place in itself was kind of a short trek which we really enjoyed.
Suggested Read: Weekend Trip To Dhanaulti: This Solo Traveler Gave 2017 A Kickass Start!
Having been allotted our tent, we settled in and had breakfast. Later on, we were scheduled for some adventure activities within the camp premises like Burma Bridge, and Flying Fox. My family and I thoroughly enjoyed these activities along with our fellow travelers. However, all this physical exertion, compounded with last night's tiredness, took a toll on us and we had to take a compulsory nap to get rid of our tiredness.
By the time we woke up, it was already cloudy and the temperature had already gone down by a few degrees. Given the fact, that we were from Delhi, it wasn't that hard to please us people that were facing the brutal summer heat.
"Just take us to a beautiful retreat like Dhanaulti in nice weather and we'll be singing your praises for months."
As it started to drizzle, we enjoyed the evening with a cup of tea and thought about how going via a booked package to Dhanaulti with TravelTriangle was a great idea. Their coordinators handled all the requirements like food, accommodation, and other basic amenities. And had we come here on our own, where there are no mall roads, bustling markets, or fancy restaurants, the experience would've been very annoying.
Suggested Read: Radhika's Quest For Peace & Beauty Brought Her To Dhanaulti…And Left Her Mesmerised
In the evening, as scheduled, we were supposed to visit the Eco Park but couldn't do so since it was closed due to heavy rains. Later on, a bonfire and dinner was scheduled and it was a great experience The arrangement done for snacks and DJ was really good and sitting by the bonfire at night gave us the opportunity to interact and get to know our fellow travelers.
Day 2: A short sightseeing visit to divine Haridwar
We checked out of Campo Royale at 10 am from Dhanaulti and headed towards New Delhi. At the request of the travelers, we took a short detour and stopped by at Haridwar to do some sightseeing at the Harkipauri Ghat. What better way to end our trip, than by taking a dip in the Ganga river at one of the most holiest Hindu pilgrimage places. Afterwards, we continued our journey back home and arrived in New Delhi at 10 pm to conclude our trip to Dhanaulti.
We absolutely loved the timing of this vacation. A much needed break for my wife and I, as we were mentally exhausted over the past few weeks. Dhanaulti is a very secluded hill station and a getaway in every sense of the word. The weather was mild and windy, and a big relief from the Delhi heat. After this, I would love to take a longer trip with TravelTriangle in the upcoming months as my son's summer vacation is about to begin. It will allow us to go out and explore places in the Himalayas for a longer duration.
Suggested Read: Weekend Trip To Dhanaulti: An Incredible New Year In Nature's Retreat
High points:
My six year-old son enjoyed and completed all the adventure activities in the camp which all the adults where doing. It was one of my proud dad moments I would take back from the weekend trip to Dhanaulti.
Tips to travelers:
Travelers going to Dhanaulti should definitely consider booking a package instead of going without a planned itinerary.
Excape to the hills to beat the summer heat! Book your Dhanaulti weekend getaway and enjoy like Pankaj did!