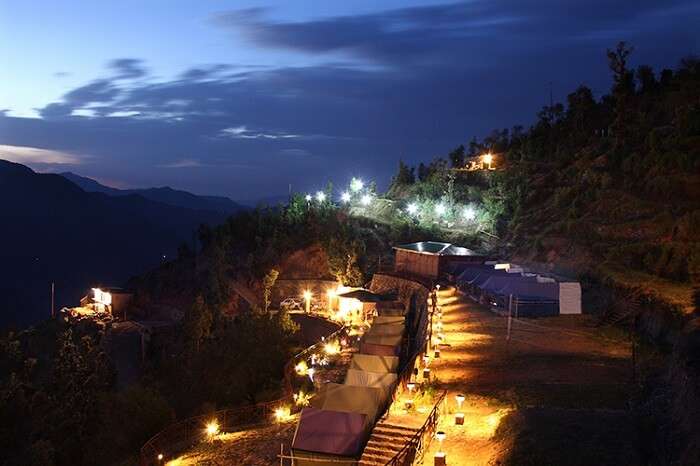 With more and more people looking to break free from the busy city lives and enjoy the gifts of nature, camping holidays are fast gaining popularity. And the scenic views of the Garhwal Himalayan range from the campsites have made camping in Dhanaulti an alluring experience.
Thanks to its elevation of 2,286 m above the sea level, Dhanaulti serves as one of the best places to visit in Uttarakhand to enjoy the panoramic views of the Himalayas. Located only 18 km from Dhanaulti, Kanatal is another such destination. In the stretch between the two hill stations, there are a few camping sites that have started to gain importance lately.
Best Camps For Camping In Dhanaulti
Listed below are the best camping resorts in Dhanaulti and Kanatal that are perfect for a thrilling vacation in the hills. See all of the best sites for Dhanaulti camping and pick the one that suits you best.
1. Camp O Royale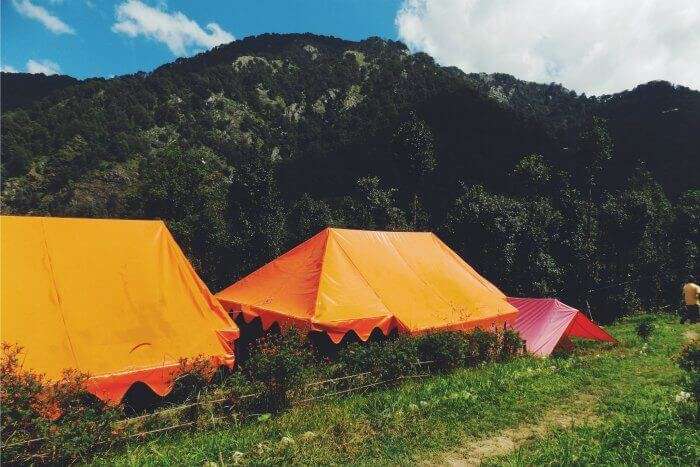 Camp O Royale is one of the best options for camping in Dhanaulti. The camping site has 21 luxury tents with attached toilets and 6 deluxe tents with common toilets. With a wide variety of amenities, numerous adventure activities, and a multi-cuisine kitchen, the Camp O Royale provides a balanced blend of and leisure.
Other attractions: Rafting, Burma bridge, valley crossing, bonfire, commando net, and trekking
Must Read: How Camp O Royale Made Radhika's Trip To Dhanaulti A Wonderful Experience
2. Camp Awara

Spread over a sprawling 125 hectares of land, the Camp Awara is one of the best camping sites in Dhanaulti. It is surrounded by green trees and offers scenic views of the valley, river, glaciers of Bandarpoonch, and Gangotri. The camp offers 10 deluxe Swiss tents, 5 dome tents, and 5 camping tents for a pleasant stay. Additionally, it also offers numerous adventure activities in the camp area.
Other attractions: Burma bridge, flying fox, tire climbing, commando net, commando crawling, and tire crossing
3. Camp Dhanaulti Magic

Surrounded by the towering peaks of Top Tibba and Tapowan Top, Camp Dhanaulti Magic is one of the most beautiful camping sites in Dhanaulti. Peaceful & tranquil environs, lovely weather, and breathtaking views of the snowcapped peaks make these camps in Dhanaulti an ideal retreat for all seasons. The Dhanaulti camping resort offers 2 options of stay, namely Swiss bamboo cottages and deluxe tents.
Other attractions: Skywalk, sky bridge, zip swing, valley crossing, paragliding, rappelling, mountain climbing, and trekking
4. Kanatal Camp

Nestled at the edge of the dense deodar forest, Kanatal Camp is one of the best places for camping in Dhanaulti and Kanatal. The camp offers 11 super deluxe tents, 2 deluxe tents, and 2 standard tents. With the dense forest on one side and the spectacular views of the Garhwal hills on the other, Kanatal Camp is ideal for camping and trekking in Dhanaulti.
Other attractions: Rock climbing, rappelling, valley crossing, and trekking
5. Kanatal Adventure Camp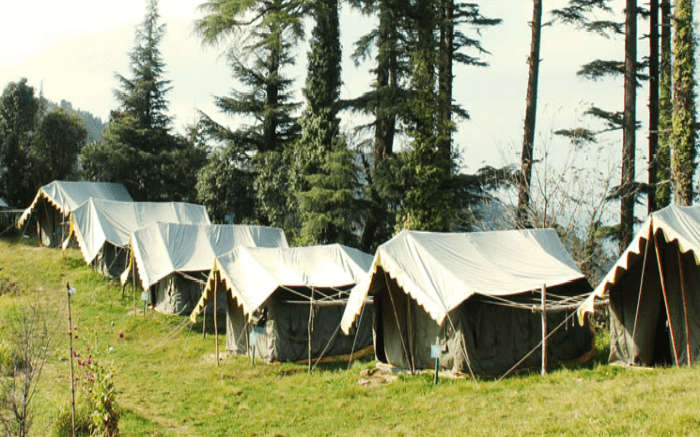 The 25 well-appointed Swiss tents of Kanatal Adventure Camp, nestled in the deep jungles of oaks, are perfect for an experience of camping in Dhanaulti. Each of these tents has an attached washroom and offers a picturesque 180 ° view of the Himalayas. Which is why they are some of the most recommended Dhanaulti camps.
Other attractions: Trekking to pine forest, Burma bridge, Mowgli walk, and rock climbing
Suggested Read: 11 Serene Places To Visit In Dhanaulti For Ultimate Peace
6. Whispering Pines

Surrounded by the dense pine, cedar, oak, and rhododendron forests, Whispering Pines offers a plethora of exciting experiences for casual travelers as well as adventure seekers. One of best places for camping in Dhanaulti, it comprises of 14 Alpine Safari Plus Tents with attached baths, 6 Alpine Safari Tents with common bath, 50 dome tents, and ethnic hut rooms with non-attached washrooms.
Other attractions: Moonlight trails, rappelling, trekking, rock climbing, hammocking, star gazing, and bonfire with barbecue
7. Incredible Camps

Situated at an altitude of 2286m above sea level amidst the mountains of Dhanaulti. It is definitely a place that will give your mind and soul the ultimate peace. So, do consider this camp for your adventures in Dhanaulti.
8. Camp 180 Heights

Camp 180 heights is one of the most recommended camps for camping in Dhanaulti. They offer all the amenities in their camps. And the best part about them is the views of Garhwal Himalayas you get from them. This place is also surrounded by some of the best things to do in Uttarakhand. 
9. Dhanaulti Woods Mountain Camp

For the most refreshing holiday in Dhanaulti and best camping in Dhanaulti, choose Dhanaulti woods mountain camp! These camps let you connect with nature on another level. The camp offers luxurious tents and an opportunity to indulge in various thrilling activities. This is also one of the best places to visit in Uttarakhand in May. 
10. Camp 5Friends

These camps are really good and offer luxurious stays amidst the picturesque mountains of Dhanaulti. In less price, they offer so much that you will find them the best accommodation while camping at Dhanaulti, Uttarakhand.
Further Read: 13 Unexplored Recreational Spots For Camping Near Delhi
Isn't your wanderlust tickling you? Aren't you fascinated by these wondrous sites for camping in Dhanaulti where you can sleep under a blanket of stars and wake up to the melodious sounds of birds chirping? So what are you waiting for? Plan a trip to Uttarakhand now!
For our editorial codes of conduct and copyright disclaimer, please click here. 
Frequently Asked Questions About Camping In Dhanaulti
What are the best camps in Dhanaulti?
Camp O Royale, Camp Awara, Camp Dhanaulti Magic, Kanatal Camp, and Whispering Pines are amongst the best camps in Dhanaulti that are loved by guests for their exclusive experiences.
Which is better Dhanaulti and Kanatal?
Both places are beautiful and are known for their mesmerizing experiences. If you are heading to Dhanaulti then the distance from Chakarta is comparatively less and you can also visit Mussoorie, Kempty Fall, and Kanatal before reaching Dhanaulti. The total distance between Dhanaulti and Kanatal is 87 kilometers and one can easily reach from one spot to another in 2-3 hours.
Which is the most beautiful place in Dhanaulti?
There are numerous beautiful places to visit in Dhanaulti.The best amongst them are the popular temples Surkanda Devi Temple & Dashavtar Temple and the famous fort that was built in the 16th century, called Deogarh.
How far is Dhanaulti from Delhi?
Dhanaulti is located at a distance of 288.4 kilometers from Delhi. If you are planning to drive from Delhi to Dhanaulti then you need to take Saharanpur Road and the entire journey will take 6 to 7 hours.
How can I reach Dhanaulti from Delhi?
There is no direct train between Delhi and Dhanaulti and the nearest airport to the destination is Jolly Grant Airport in Dehradun. The best way to reach here from Delhi is via road. The entire journey will take nearly 6-7 hours.
Is Dhanaulti worth visiting?
Dhanaulti is known for its awesome weather and serene ambiance. If you are planning a visit between March to June, then you will surely witness the best sights of this majestic place.
What are the most amazing things to do in Dhanaulti?
Dhanaulti offers numerous exciting and adventurous activities that include skywalk, sky bridging, valley crossing, zip swing, zip line, trekking, rock climbing, rappelling, quad bike adventures, paragliding, mountain biking, cave exploration, etc.
Which is the most difficult trek in Dhanaulti?
Surkanda Devi Temple trek is believed to be the most difficult trek here. However, the trek is tiring but once you reach the peak, the surroundings will entice you with its exquisite beauty.
---
---
People Also Read: