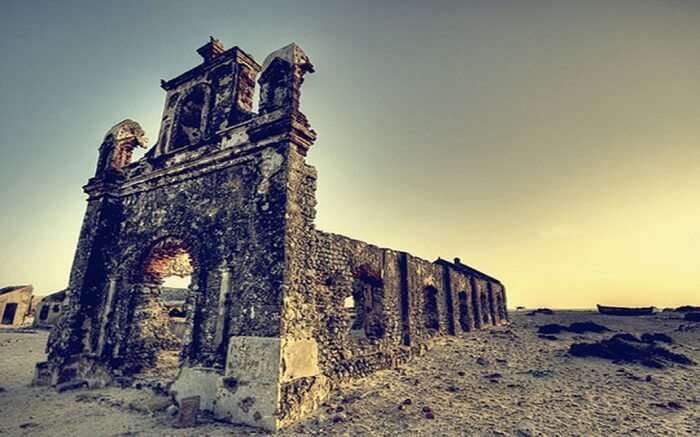 Those who have already visited Dhanushkodi have mentioned that on a clear night Sri Lankan coast is clearly visible which is just 30 km from here! This place is a visual delight only if you dare to travel the extreme southeast jutting into the Gulf of Mannar. Most of the travel experts have named this place has Dhanushkodi Ghost Town after it was massacred by super cyclone 54 years ago. Yet I see the quaint little village sitting on the edge of Indian mainland as a must-visit place for curious wanderers.
The pretty town with unprecedented views of blue waters is hugged by the confluence of the Indian Ocean and the Bay of Bengal. Dhanushkodi is located on the trip of Pamban island which is connected to Indian mainland only by the Pamban Railway Bridge. The place that was once a thriving town in south India with infinite legends to it, has been reduced to ruins and mystic stories today. Let's find out why!
Dhanushkodi History

Dhanushkodi translates to the end of the bow. And the bow we are discussing here is Lord Rama's. The legend has it that when Ravana kidnapped Sita and took her to Lanka, the events propelled Lord Rama to build the Rama Sethu Bridge also known as Adam's Bridge. The bridge is faintly visible from a distance and has been confirmed even by geologists.

In the process of making a bridge to Lanka, which is mere 30 km from Dhanushkodi, Rama earmarked this as the place from where bridge construction would begin. He took his bow to mark the place and hence its name!

Must Read: 12 Jyotirlingas In India To Visit: See The Spiritual Side Of The Country
Almost 54 years back Dhanushkodi on the Pamban Island was a bustling town along Southeast India's coast with a railway station, police station, medical center, and basic amenities. Ferries from Chennai and to Talaimannar in Sri Lanka was a perfect tourist activity until the massive cyclone engulfed the entire region on 21st December 1964. The cyclone, with tides as high as 20 feet, didn't spare anything but ruins.

Post calamity, government, after analyzing the perilous location of Dhanushkodi, declared it as an uninhabitable place. Hence the place got popular as the ghost town. Today, apart from the 50-60 odd fishermen and a few local shopkeepers, nobody else lives here. The place continues to fascinate history lovers and experience seekers!
Best Time To Visit Dhanushkodi

October to February is the perfect time to visit the place when it's winter in India and Dhanushkodi weather is ideal for a visit. Be assured that you might have to brave the harsh sun rays during the day.
Suggested Read: Top 17 Religious Places In India: Redefining Spirituality For Gen Y
Popular Things To Do In Dhanushkodi Ghost Town

Only after Dhanushkodi was declared unfit for habitation, the place has started gaining more eyeballs. Experience seekers visit Dhanushkodi in pursuit of more adventure and thrill. And there is actually a lot of things to do and places to explore when you are planning a trip to Dhanushkodi or it can also be maintained that Dhanushkodi makes for a perfect day trip when you are planning to visit Rameshwaram.
Some of the most prominent activities to try in Dhanushkodi are:
A trip to the ruins of church, police station, Arichal Munal, and erstwhile railway station
Admire the beauty of calm blue waters
Go swimming at the seashore, but remember not to go too far
Pay a visit to the Rameshwaram Temple

Drive along the Rameshwaram Pamban Bridge
Plan a trip to Gulf of Mannar Marine National Park

Enjoy magical sunset views from Pamban beach
Plan a visit to the temples along the beach in Dhanushkodi
How To Reach Dhanushkodi

Image Source
By air: Madurai Airport, 163 km far, is the nearest airstrip to Rameshwaram and subsequently Dhanushkodi.
By rail: Rameshwaram is the nearest railway station from Dhanushkodi which has plenty of trains running in tandem from Chennai and Madurai.
By road: Rameshwaram is the nearest city located at a distance of 18 km from Dhanushkodi. Rameshwaram is well-connected by rail and road with major cities like Chennai and Madurai. After a certain point, you have to take the tempo traveler to travel to the ruins. Tempos are easily available at the village gate.
Dhanushkodi Map
Tips For Visiting Dhanushkodi Ghost Town

All the restrooms, cafes, and eateries can be found only until Rameshwaram. Dhanushkodi has none. Therefore, try to take some packed food along with you.
Try to start early for Dhanushkodi. You can reach there as early as 7 am. Entry to the town after 5 pm is prohibited.
Don't even think about trying the deep waters for swimming. Swimming is considered unsafe here.
Make sure that you apply enough sunscreen lotion before you step out in the sunlight.
Rameshwaram has plenty of hotels stays so make sure that you have your accommodation reserved there.
The complete tour of the place starting from the entry point shouldn't take you more than 2 hours.
Further Read: The 24 Most Elegant Places To Visit In Rameshwaram On Your Vacay
For all the fascinating remains, scenic roads, and a glorious past associated with the place, a visit to Dhanushkodi is a must! This place lives to narrate tales of melancholy and enigma from the past. Don't worry, not a single ghost was ever spotted here. So, don't think much and plan your trip to Tamil Nadu with TravelTriangle right away!