Rameshwaram is located in the sea region of "Gulf of Mannar Biosphere Reserves" and is relatively small in terms of area. Standing firmly in the middle of India and Sri Lanka with its clean sea breezes, less crowded temples & sacred ponds, this famous "Island City" has been the center of attraction for travelers across the world. One of the Char Dhams of India and an avid place for Hindu devotees, Rameshwaram is one place you must add to your travel bucket list. Listed below are some of the best places to visit in Rameshwaram that will definitely quench your thirst for spirituality and peace.
11 Best Places To Visit In Rameshwaram
Though Rameshwaram is a highly popular religious destination and is visited by pilgrims and travelers throughout the year. But the experience gets even better during the best time to visit Rameshwaram:
For The Monsoon Bliss: August | 28°C to 35°C
For Pleasant, Windy Winters: October to April | 17°C to 32°C
To enjoy the presence of something so sacred and divine is what a trip to Rameshwaram is a part of. Take a look at these places to experience the best of this land.
Sri Ramanathaswamy Temple
Kothandaramaswamy Temple
The Five Faced Hanuman Temple
Lakshmana Tirtham
Villoondi Tirtham
Agni Theertham
Ariyaman Beach
Dhanuskodi Beach
Adam's Bridge
Water Bird Sanctuary
Annai Indira Gandhi Road Bridge
1. Sri Ramanathaswamy Temple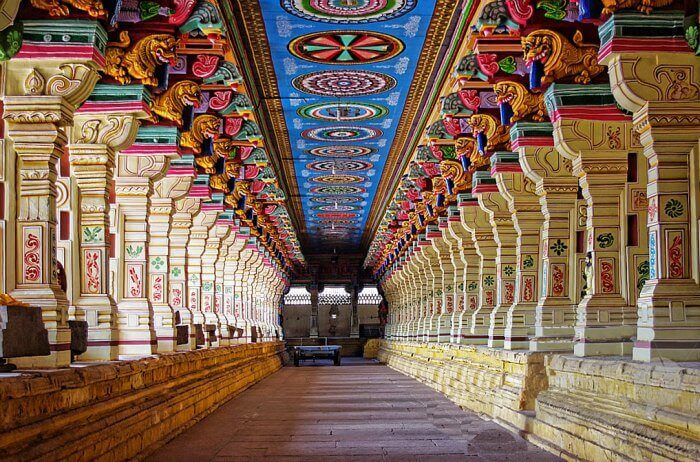 This is one of the very few temples in the history of India which is built in the Dravidian style architecture. Sri Ramanathaswamy Temple is famous for its collection of Lingas, which were made up of sand, salt, stone and other elements. According to stories, there were around 112 ponds here out of which only 12 are left. This popular tourist attraction in Rameshwaram with the second largest pillared corridor in the world is one of the must visit tourist places in Rameshwaram. This is the most popular spot in the city and must be included even on the list of most choosy places to visit in Rameshwaram in 1 day.
Worship Timings: 5 am to 1 pm & 3 pm to 9 pm
---
South Weekend Holiday Packages On TravelTriangle
A trip to South India has a lot to offer – from tranquillity of forests to charm of sizzling beaches and from lost kingdoms to chills of a hill station. Visit Kerala, Voorg, Ooty, Mysore, or Kodaikanal. Book holiday packages inclusive of airport transfers, cab, resort, sightseeing, and meals.
---
2. Kothandaramaswamy Temple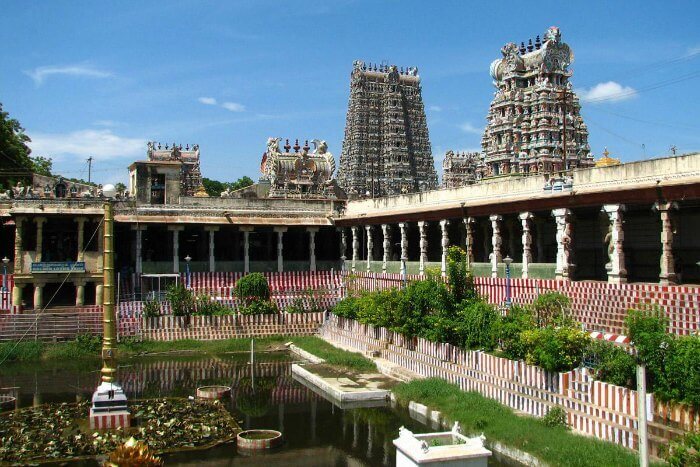 Image Source
Situated in Dhanushkodi, Kothandaramaswamy temple is lined along the shallow beaches, historical ruminants, and vast horizons of the azure sea. One of the best tourist spots in Rameshwaram, this is a ruin of the temple described in Ramayana. This temple holding the deities of Rama, Lakshman, Sita & Hanuman is believed to be the residing spot of Vibhishana, the younger brother of Ravana.
Temple Timings: 6:30 am to 10:30 am & 5:30 pm to 8:30 pm
Must Read: 18 Beautiful Train Journeys In India In 2019 That Will Compel You To Ride Right Away
3. The Five Faced Hanuman Temple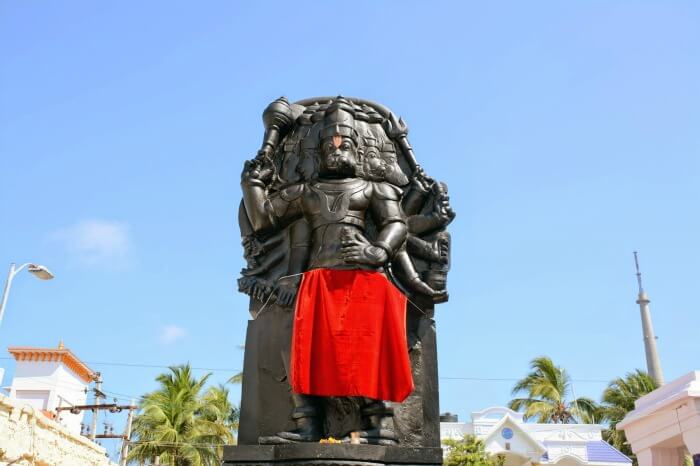 Image Source
Situated just 2 km from Rameshwaram Temple, this temple is famous for the five manifestations of Lord Hanuman and is listed among the most prestigious places to see in Rameshwaram. This famous idol is carved out of a large Senthooram Stone which was considered very precious in ancient times. The Hanuman Temple is said to house stones used to build the Rama Setu, the bridge built by Hanuman's army of monkeys in order to rescue Goddess Sita from Lanka.
Timings: 6 am to 7 pm
4. Lakshmana Tirtham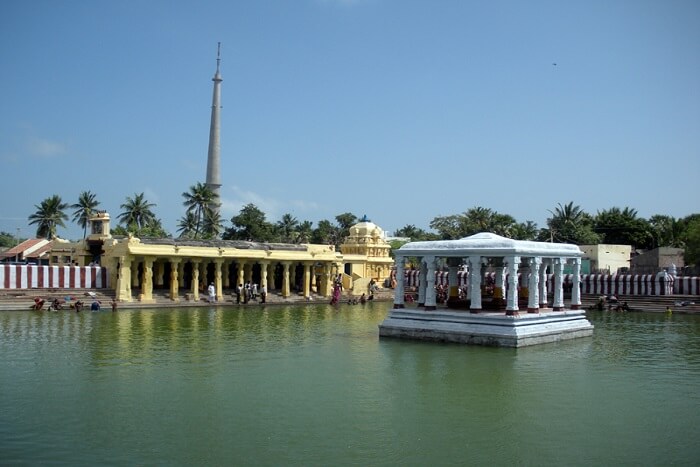 This is one of those popular places to visit in Rameshwaram and around that are spiritually and architecturally attractive. If you wish to soak in more bliss while you're out and about in the serene land of Rameshwaram, this is the place to be. Being famous as a sacred pond near the temple of Lakshmana, this place is situated in close proximity to the glorious Ramanathaswamy Temple. People visiting the Lakshmana temple, often prefer to take a dip in this pond.
Suggested Read: 20 Mesmerizing Hill Stations in South India That Have Their Own Charm
5. Villoondi Tirtham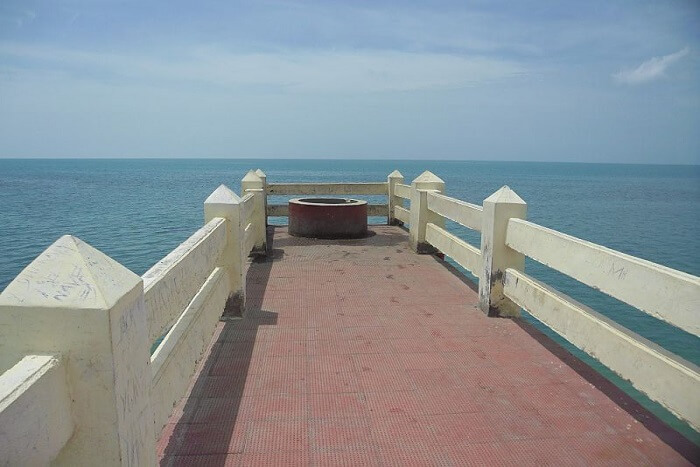 If you are making a list of places to visit in Rameshwaram in 2 days or even less, this place must not be missed. Villoondi Tirtham, or the buried bow, has a significant legend attached to it, which is why, the locals and even the pilgrims believe in visiting this place at least once. It is said that Lord Rama dipped a bow in land around this region only, to get water for Sita when she was thirsty. A renowned temple of Ekantha Ramar is also located nearby if you wish to explore further. Make sure you don't miss out on one of the best places to visit in Rameshwaram, India!
6. Agni Theertham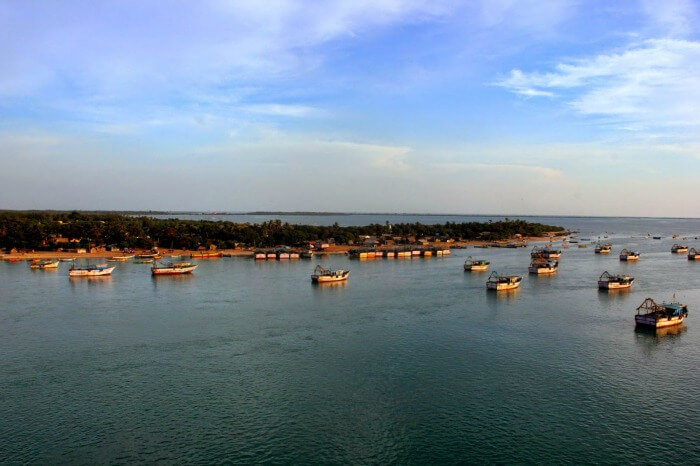 Image Source
One of the 64 sacred baths in India, Agni Theertham is always on the top of the list when talking about the best places to visit in Rameshwaram. It is believed that bathing in this sea will rid one of his/her sins and make them pure. Holistic rituals such as those for the dead ancestors are performed on the shores of this pristine beach. Pilgrims wishing to take a sacred bath are first supposed to take a dip here and then proceed for the bath inside the
Rameshwaram Temple.
Timings: 5 am to 6 pm
Suggested Read: 18 Beautiful Train Journeys In India In 2019 That Will Compel You To Ride Right Away
7. Ariyaman Beach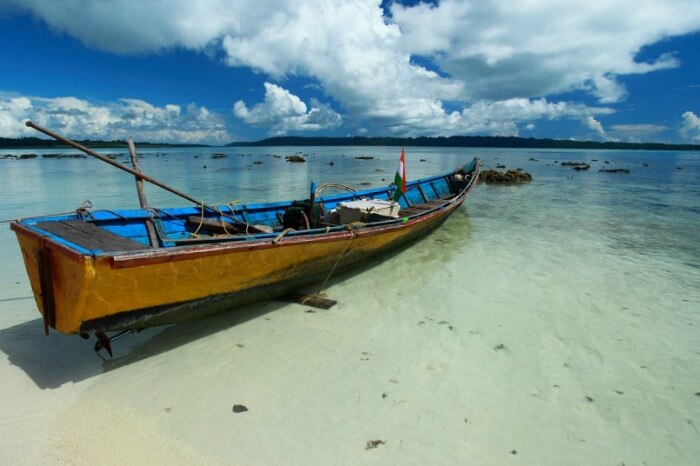 Image Source
The Ariyaman Beach, or the Kushi Beach, has an astounding width and length of about 150 m and 2 km respectively. Characterised by gentle waves and utmost cleanliness, this beach is perfect for a picnic with friends or family, which is why it is listed among the significant places to visit near Rameshwaram. This place surely make it to the list of top 10 places to visit in Rameshwaram!
Distance from Rameshwaram: 27 km
8. Dhanuskodi Beach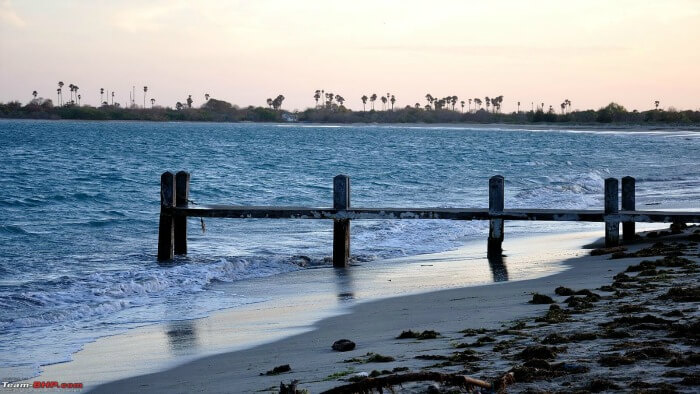 Image Source
Dhanuskodi lies in the southern tip of Rameshwaram and is bordered by the Bay of Bengal on one side and the Indian Ocean on the other, merging at the very tip of the beach, such that one can tell apart the high tides of the former from the low tides of the latter. The beach town was heavily populated prior to the devastation caused by storm of 1964. But now, with a population of merely 500 fishermen and their families, the town has been declared a 'Ghost Town' by the government, and is among the prominent places to visit in Rameshwaram.
Suggested Read: 50 Best Beaches In India
9. Adam's Bridge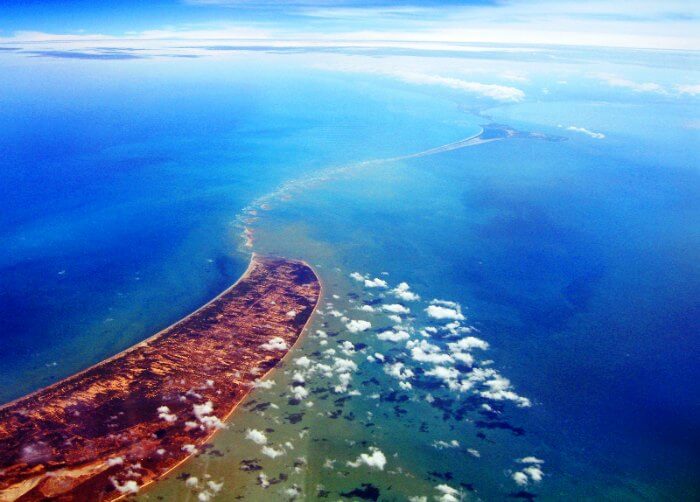 You cannot miss this unique places in the Rameswaram tourist places map. The Adam's Bridge or Rama Setu is a historic bridge connecting the Rameshwaram island of India to the north-western coast of Sri Lanka. The bridge is a network of limestone shoals that start from Dhanuskodi, the tip of India's Pamban Island, which in turn is connected to the Indian mainland by a 2 km long bridge. Always a topic of hot debate among historians and archeologists, the bridge is among the most preferred tourist places in Rameshwaram.
10. Water Bird Sanctuary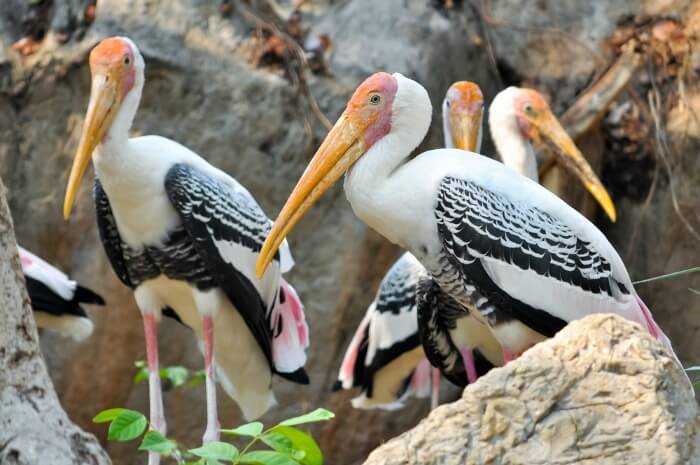 If you are a nature lover, this is one of the best places to visit in Rameshwaram in one day. Rameshwaram isn't solely a religious spot. For all visitors who wish to explore something other than the temples, they can go to the Water Bird Sanctuary that is home to a lot of native as well as migratory water birds. Between October and January, the sanctuary turns into a battalion of migratory birds who flock here to breed and feed their offsprings. The sanctuary is located in the Ramanathapuram District and is indeed one of the most popular Rameshwaram tourist places. Are you ready to visit one of the most tranquil places to visit in Rameshwaram, Tamil Nadu yet?
Best Time to Visit: October to January
Suggested Read: 12 Jyotirlingas In India To Visit In 2019: See The Spiritual Side Of The Country
11. Annai Indira Gandhi Road Bridge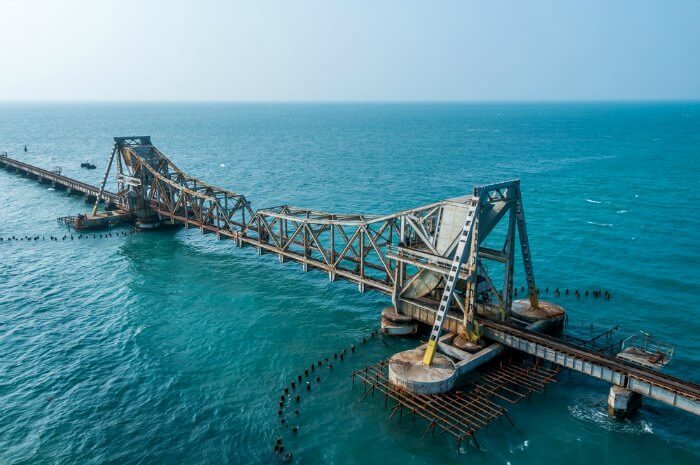 The Annai Indira Gandhi Road Bridge or Pamban Bridge is a cantilever bridge on Palk Strait that boasts of being the first sea bridge of India and connects Rameshwaram Island with the Indian mainland. The bi-lane road next to the bridge allows one to get a clear view of this railway bridge and of its amazing double leaf bascule which raises itself to let ships pass from underneath it. Containing 143 pillars, each of which is 220 feet long and weighs 100 tonnes, the bridge is among the most fascinating places to see in Rameshwaram.
How To Reach Rameshwaram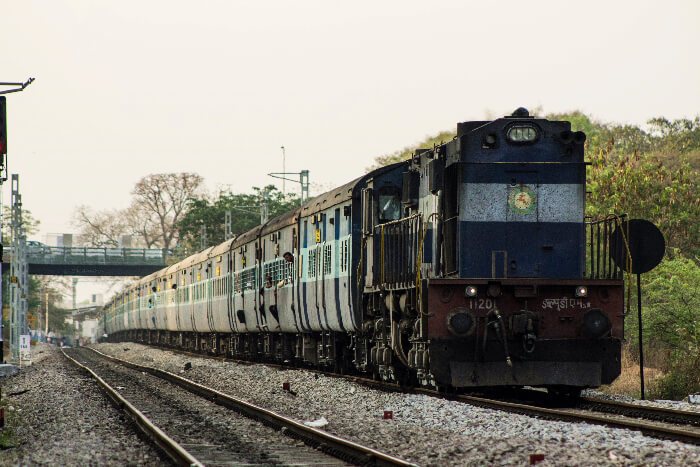 By Air: Take a flight to Madurai Airport which is approx. 170 km away from Rameshwaram city and hail a cab from here.
By Train: The Rameshwaram Railway Station is directly connected to all major stations like Madurai, Chennai, Coimbatore, Thanjavur, & Trichy. Various kinds of trains such as superfast, express and mail trains ply from here.
By Road: A road trip to Rameshwaram would be nothing less than exciting and refreshing, given you'd be driving on the smoothest of roads over a long bridge. The city is well connected with major cities like Chennai, Madurai, Tiruchirappalli, & Thanjavur. One can also take a bus from Madurai which is 169 km away by road.
Further Read: 20 Reasons To Look Forward To The Weekends If You Are in Chennai
If you wish to tour the serene city of Rameshwaram, don't just wait, it's time to experience it firsthand. Plan your trip to Rameshwaram for a soothing holiday experience like never before!Now that you know of all the beautiful places to visit in Rameshwaram, which one would you be hopping off to first. Let us know in the comments below and don't forget to share this with your friends.
---
Looking To Book A Holiday Package?
Book memorable holidays on TravelTriangle with 650+ verified travel agents for 65+ domestic and international destinations.
---
Comments
comments