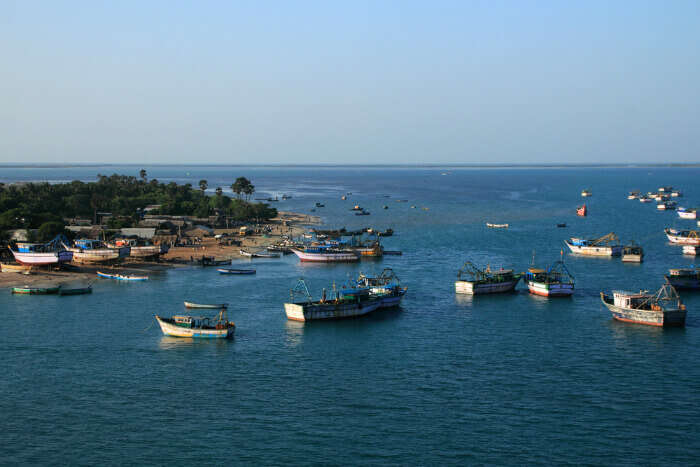 Rameshwaram is located in the sea region of "Gulf of Mannar Biosphere Reserves" and is relatively small in terms of area. Standing firmly in the middle of India and Sri Lanka with its clean sea breezes, less crowded temples & sacred ponds, this famous "Island City" has been the center of attraction for travelers across the world. One of the Char Dhams of India and an avid place for Hindu devotees, Rameshwaram is one place you must add to your travel bucket list. Wondering what are the places to cover on your next trip to Rameshwaram? Listed below are some of the best places to visit in Rameshwaram that will definitely quench your thirst for spirituality and peace.
24 Best Places To Visit In Rameshwaram
To enjoy the presence of something so sacred and divine is what a trip to Rameshwaram is a part of. Take a look at these places to visit in Rameshwaram and get set to experience the best of this land.
Sri Ramanathaswamy Temple: Admire The Vibrant Interiors
Kothandaramaswamy Temple: Explore The Ruins
The Five-Faced Hanuman Temple: A Highly Religious Place
Lakshmana Tirtham: Praise The Architecture
Villoondi Tirtham: Know About The Buried Bow
Agni Theertham: Take A Dip In The Bathing Sea
Ariyaman Beach: For Crystal Clear Beaches
Dhanuskodi Beach: The Famous Southern Tip
Adam's Bridge: Most Popular Ram Setu
Water Bird Sanctuary: Watch The Birds Flocking Together
Annai Indira Gandhi Road Bridge: Pay A Visit
Kalam National Memorial: To Honour APJ Abdul Kalam
Sea World Aquarium: Meet The Underwater World
Kunthu Kal Beach: Perfect Spot To Laze Around
Nambu Nayagiamman Temple: A 14th Century Temple
Jada Tirtham: Famous For The Artistry
Gandhamadhana Parvatham: Seek Blessings
Jatayu Tirtham: Built To Honour Jatayu 
Thiruppullani: Dedicated To Lord Vishnu
Sugreevar Temple: Popular For The Lotus Pond
Badrakaliamman Temple: Houses An Idol Of Devi Durga
Dhanushkodi: A Quaint Place To Explore
Agnitheertham: A Religious Place For Devotees
Rama Teertham: Explore The Imprints Of Lord Rama
1. Sri Ramanathaswamy Temple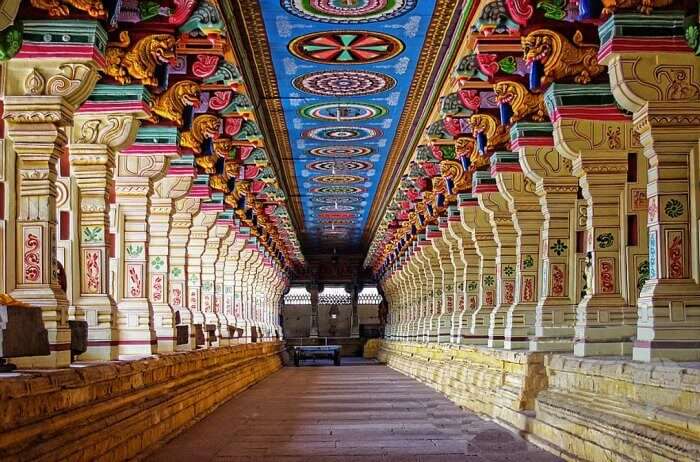 This is one of the very few temples in the history of India which is built in the Dravidian style architecture and one of the famous temples to visit in Rameshwaram. Your Rameshwaram sightseeing isn't complete without paying a visit to this temple. Sri Ramanathaswamy Temple is famous for its collection of Lingas, which were made up of sand, salt, stone and other elements. According to stories, there were around 112 ponds here out of which only 12 are left. This popular tourist attraction in Rameshwaram with the second-largest pillared corridor in the world is one of the must-visit tourist places in Rameshwaram. This is the most popular spot in the city and must be included even on the list of most choosy places to visit in Rameshwaram in 1 day.
Location: Rameswaram, Tamil Nadu 623526
Timings: 5 am to 1 pm & 3 pm to 9 pm
Tip: The temple gets crowded during the time of Maha Shivratri
Speciality: The interior of the temple.
 12 Jyotirlingas In India To Visit: See The Spiritual Side Of The Country
2. Kothandaramaswamy Temple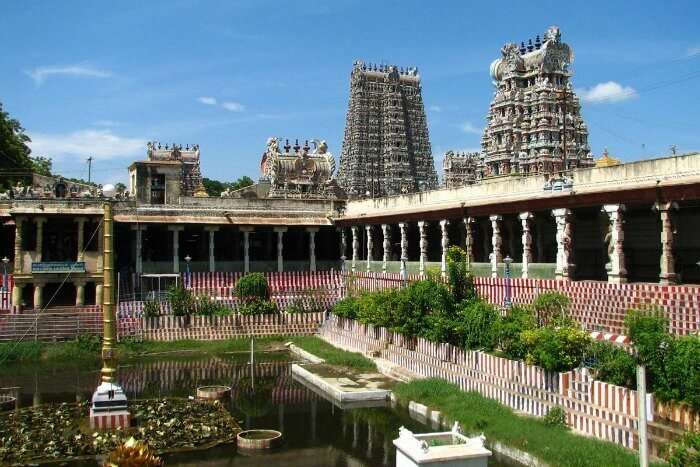 Situated in Dhanushkodi, Kothandaramaswamy temple is lined along the shallow beaches, historical ruminants, and vast horizons of the azure sea. And your Rameshwaram sightseeing must include this temple. One of the best tourist spots in Rameshwaram, is a ruin of the temple described in Ramayana. This temple holding the deities of Rama, Lakshman, Sita & Hanuman is believed to be the residing spot of Vibhishana, the younger brother of Ravana.
Location: Temple, Kochi – Madurai – Dhanushkodi Rd, Munichallai, Madurai, Tamil Nadu 625009
Timings: 6:30 am to 10:30 am & 5:30 pm to 8:30 pm
Tip: Visit this with your family
Speciality: Strong built structure of the temple.
3. The Five-Faced Hanuman Temple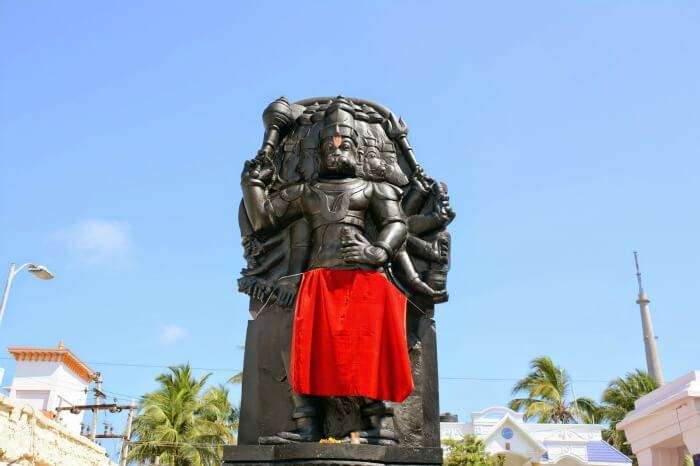 Situated just 2 km from Rameshwaram Temple, this temple is famous for the five manifestations of Lord Hanuman and is listed among the most prestigious places to see in Rameshwaram. This famous idol is carved out of a large Senthooram Stone which was considered very precious in ancient times. The Hanuman Temple is said to house stones used to build the Rama Setu, the bridge built by Hanuman's army of monkeys in order to rescue Goddess Sita from Lanka.
Location: Rameswaram, Tamil Nadu 623526
Timings: 6 am-1 pm to 4-8 pm
Tip: Tuesdays and Saturdays observe huge crowd of devotees
Speciality: Panchmukha (five-faced) statue of Lord Hanuman.
20 Exquisite Beach Resorts In Chennai To Appease Your Coastal Cravings
4. Lakshmana Tirtham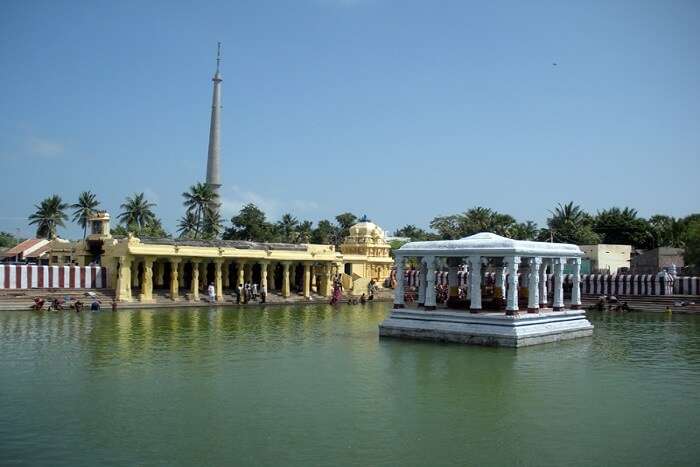 This is one of those popular places to visit in Rameshwaram and around that are spiritually and architecturally attractive. If you wish to soak in more bliss while you're out and about in the serene land of Rameshwaram, this is the place to be. Being famous as a sacred pond near the temple of Lakshmana, this place is situated in close proximity to the glorious Ramanathaswamy Temple. People visiting the Lakshmana temple, often prefer to take a dip in this pond.
Location: Rameswaram, Tamil Nadu 623526
Timings: 6 am-1 pm to 4-8 pm
Tip: Take a dip in the holy pond for the atonement of your sins
Speciality: Temple has illustrations of Ramayana on its walls
Entry fee: No entry fee, just pooja fee of 60/-
5. Villoondi Tirtham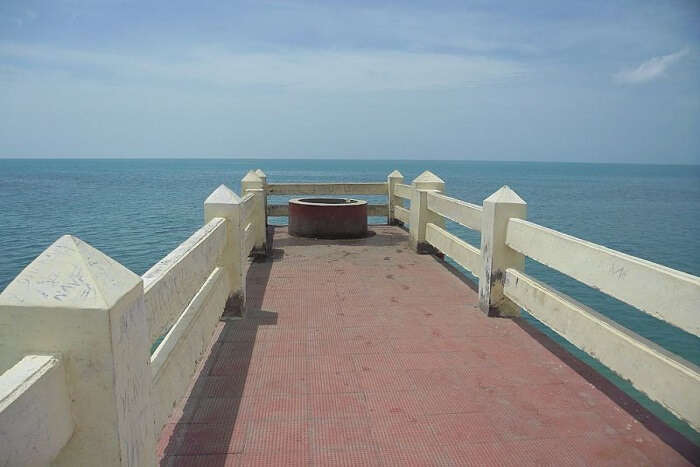 If you are making a list of places to visit in Rameshwaram in 2 days or even less, this place must not be missed. Villoondi Tirtham, or the buried bow, has a significant legend attached to it, which is why the locals and even the pilgrims believe in visiting this place at least once. It is said that Lord Rama dipped a bow in land around this region only, to get water for Sita when she was thirsty. A renowned temple of Ekantha Ramar is also located nearby if you wish to explore further. Make sure you don't miss out on one of the best of Rameshwaram.
Location: Thangachi madam, Rameswaram – 623526, Tamilnadu, Thangachimadam, Tamil Nadu 623526
Timings: Open 24 hours
Tip: It is one of the 64 sacred water bodies around Rameshwaram
Speciality: One can witness breathtaking views from the temple.
5 Resorts Near Rameshwaram That Offer Extraordinary Services Coupled With Beautiful Rooms!

6. Agni Theertham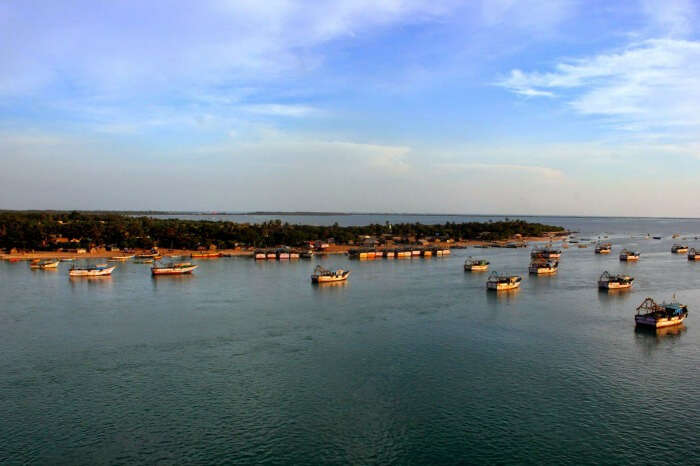 One of the 64 sacred baths in India, Agni Theertham is always on the top of the list when talking about the best sightseeing places in Rameshwaram. It is believed that bathing in this sea will rid one of his/her sins and make them pure. Holistic rituals such as those for the dead ancestors are performed on the shores of this pristine beach. Pilgrims wishing to take a sacred bath are first supposed to take a dip here and then proceed for the bath inside the Rameshwaram Temple.
Location: Rameswaram, Tamil Nadu
Timings: 5 am to 6 pm
Tip: All days are considered to be auspicious to take bath in the pond
Speciality: It is one of the 64 holy baths in Rameshwaram.
7. Ariyaman Beach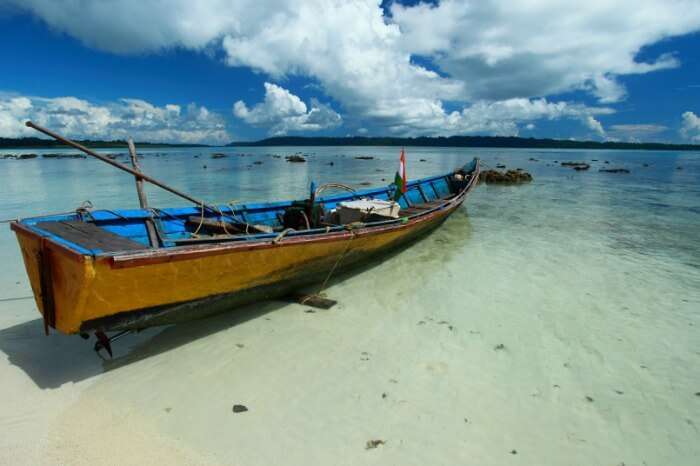 The Ariyaman Beach, or the Kushi Beach, has an astounding width and length of about 150 m and 2 km respectively. Characterised by gentle waves and utmost cleanliness, this beach is perfect for a picnic with friends or family, which is why it is listed among the significant places to visit near Rameshwaram. This place surely make it to the list of top 10 places to visit in Rameshwaram.
Location: Madurai-Rameswaram Rd, Sattakkonvalasai, Tamil Nadu 623516
Timings: Anytime
Tip: If you are taking a bus, then you should get down at Mandapam and then take a taxi
Speciality: Scenic views and tranquil blue water
Entry fee: No entry fee, only 60/-pp for 15 mins boat ride.
14 Things To Do In Madurai For An Interesting Experience During Tamil Nadu Vacation!
8. Dhanuskodi Beach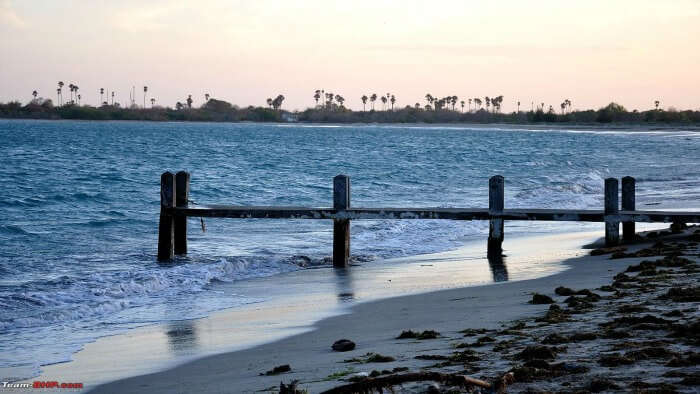 Dhanuskodi lies in the southern tip of Rameshwaram and is bordered by the Bay of Bengal on one side and the Indian Ocean on the other, merging at the very tip of the beach, such that one can tell apart the high tides of the former from the low tides of the latter. Dhanushkodi is among the top tourist places in Rameswaram. The beach town was heavily populated prior to the devastation caused by the storm of 1964. But now, with a population of merely 500 fishermen and their families, the town has been declared a 'Ghost Town' by the government and is among the prominent places to visit in Rameshwaram. 
Location: Tamil Nadu
Timings: Anytime
Tip: The only way to reach this is by getting a taxi since there is no railway station in Dhanushkodgi.
Speciality: It is believed to be the place where Lord Ram built Ram Setu with his army.
9. Adam's Bridge

You cannot miss this unique place in the Rameswaram tourist places map. The Adam's Bridge or Rama Setu is a historic bridge connecting the Rameshwaram island of India to the north-western coast of Sri Lanka. The bridge is a network of limestone shoals that start from Dhanuskodi, the tip of India's Pamban Island, which in turn is connected to the Indian mainland by a 2 km long bridge. Always a topic of hot debate among historians and archaeologists, the bridge is among the most preferred tourist places in Rameshwaram. It is one of the most boosted places by Rameshwaram tourism due to its geographical and religious significance amongst tourists.
Location: Adam's Bridge, Tamil Nadu
Timings: NA
Tip: Book your tour ahead of your visit for a hassle-free experience.
Speciality: It is located between the islands of Mannar, Sri Lanka and Rameshwaram, India.
25 Mesmerizing Hill Stations In South India That Are A Must Visit
10. Water Bird Sanctuary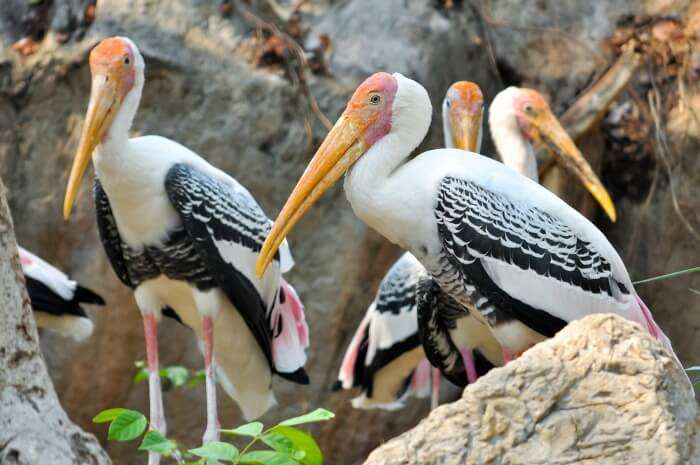 If you are a nature lover, this is one of the best places to visit in Rameshwaram in one day. Rameshwaram isn't solely a religious spot. For all visitors who wish to explore something other than the temples, they can go to the Water Bird Sanctuary that is home to a lot of native as well as migratory water birds. Between October and January, the sanctuary turns into a battalion of migratory birds who flock here to breed and feed their offspring. The sanctuary is located in the Ramanathapuram District and is indeed one of the most popular Rameshwaram tourist places. Witessing a wide range of colorful birds is indeed one of the best things to do in Rameshwaram.
Location: on the road to Dhanushkodi from Rameswaram
Timings: 7 am – 6 pm (Best time to visit is from October to January)
Tip: October-January is the best time to visit when the migratory birds fly down here.
Speciality: Home to a wide variety of migratory birds.
11. Annai Indira Gandhi Road Bridge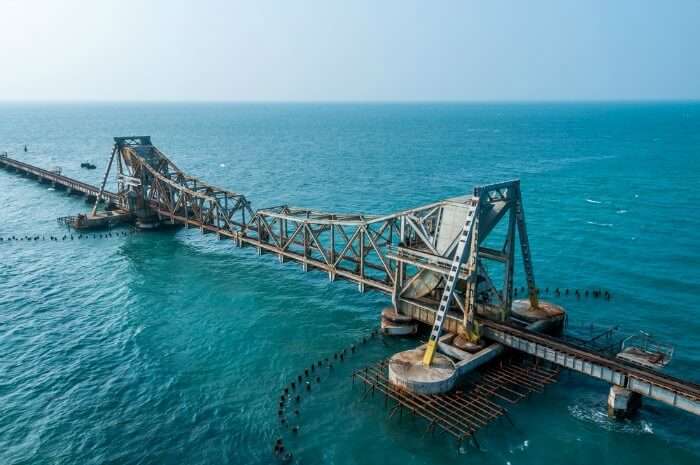 One of the famous places in Rameshwaram, Annai Indira Gandhi Road Bridge or Pamban Bridge is a cantilever bridge on Palk Strait that boasts of being the first sea bridge of India and connects Rameshwaram Island with the Indian mainland. The bi-lane road next to the bridge allows one to get a clear view of this railway bridge and of its amazing double leaf bascule which raises itself to let ships pass from underneath it. Containing 143 pillars, each of which is 220 feet long and weighs 100 tonnes, the bridge is among the most fascinating places to see in Rameshwaram.
Location: Bhuvaneshwari Nagar, Velachery, Chennai, Tamil Nadu 600042
Timings: Open 24 hours
Tip: It is the longest bridge in southern India, and also the most dangerous ones so be a little careful.
Speciality: Longest bridge in South India.
22 Best Places To Visit In South India In December
12. Kalam National Memorial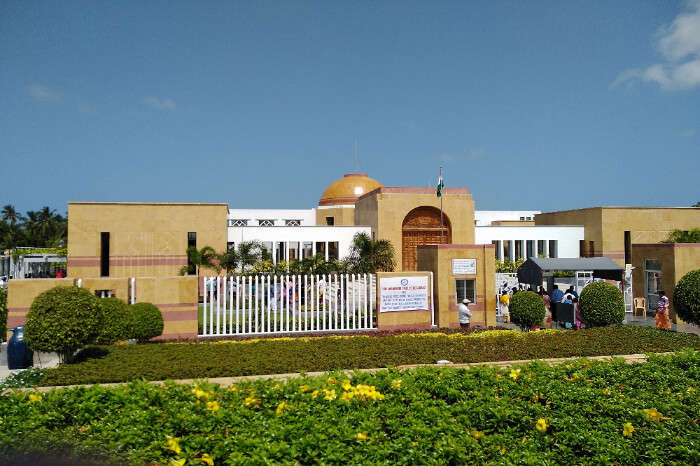 Kalam National Memorial was built in honour of India's great leader and a renowned scientist, Dr APJ Abdul Kalam. This great personality always reflected simplicity, calmness and depth which is excellently showcased in his memorial. It is one of the most important places to visit in Rameshwaram and attracts tourist from all over the world to witness India's diversity. The memorial has an impressive collection of Mr Kalam's including replicas of missiles, information about the Pokhran Nuclear Test. and rockets. The place is a beautiful blend of Mughal and Indian architecture.
Location: Pamban- Tharavai Thoppu Rd, Pamban, Tamil Nadu 623529
Timings: 9:00AM – 1:00PM and 2:00PM – 5:00PM
Tip: It's good for art lovers
Speciality: It was built to honour the life and achievements of Dr APJ Abdul Kalam.
13. Sea World Aquarium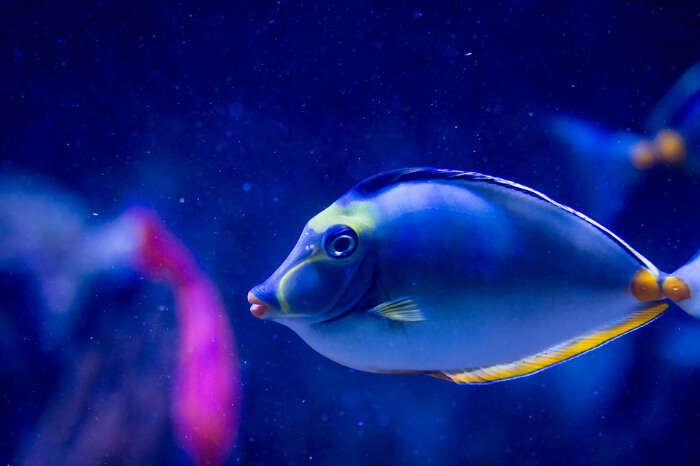 Among the most amazing places to see in Rameswaram, Sea World Aquarium is a popular, unmissable attraction located opposite the Rameshwaram bus stand. It has an awesome collection from the sea world and a number of aquatic species that houses in the oceans like the Rabbit Fish, Shark, Lobsters and Octopus. It is one of the most enthralling places for the little ones. The aquarium also sells items made of seashells that tourists can purchase as a souvenir. This place has an amazing collection of sea species, making it the most important place to be included in the Rameshwaram tourist places before planning your next trip.
Location: opposite Rameswaram Bus Stand
Timings: 10:00AM – 5:00PM
Tip: Visit this place with your kids
Speciality: Astounding collection of sea species.
Visit These 26 Tourist Places In South India During Summer
14. Kunthu Kal Beach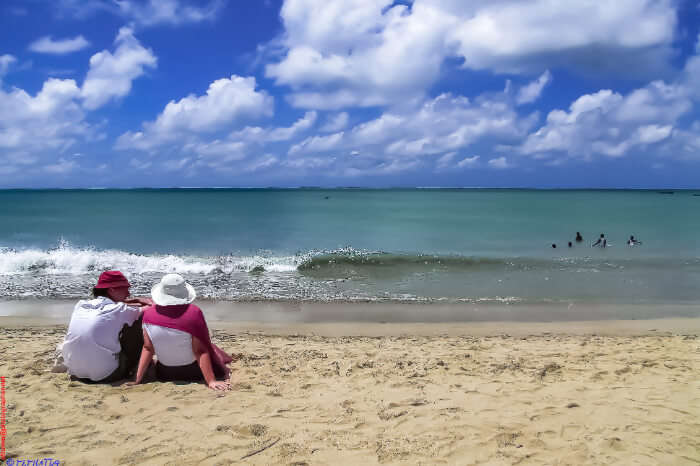 Kunthu Kal Beach, located on Pamban Island in the Indian Ocean is one of the most famous places to visit in Rameshwaram. This beach is regarded as a paradise of Tamil Nadu and the tranquil seashore is a delight for beach lovers. The beautiful location of turquoise waters, serenity and mesmerizing natural flourish attracts tourists every year. The beach is a perfect spot regardless of what you are looking for – watersports, romance, leisure or perfect delight. Moreover, if you are looking for best places to visit in Rameshwaram at night, Kunthu Kal Beach can be on your list.
Location: Kunthukal, Pamban, Tamil Nadu 623526
Timings: 24 hours
Tip: The beach has the vegetation of a variety of medicinal plants.
Speciality: Remotely located it is famous for its magnificent views and peaceful environment.
15. Nambu Nayagiamman Temple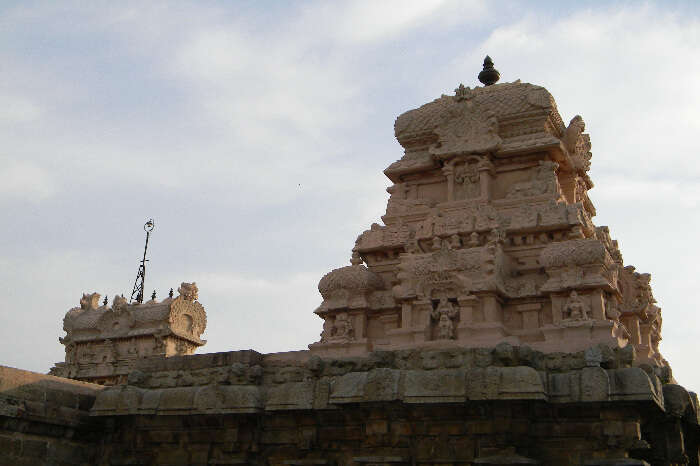 Located at a distance of 8km from the Ramanathaswamy Temple, Nambu Nayagiamman Temple is a 14th-century temple dedicated to Lord Rama. Many tourists are drawn to the temple because of the peace the place provides and the splendid architecture with beautiful lawns. Nambu nayaki amman is considered the protecting goddess of the south direction. The temple is managed by the locals in the area. Local transportations are easily available from the main city to visit this temple. With its magnificent architecture and calm environment, it has become the most visited spot amongst all the other Rameshwaram tourist places.
Location: Tamil Nadu 623526
Timings: 6:00AM – 7:00PM
Tip: It's a famous place for all those facing issues in marriage.
Speciality: Sumptuous architecture.
10 Hotels In Coonoor Amid The Lush Valleys Of Tamil Nadu
16. Jada Tirtham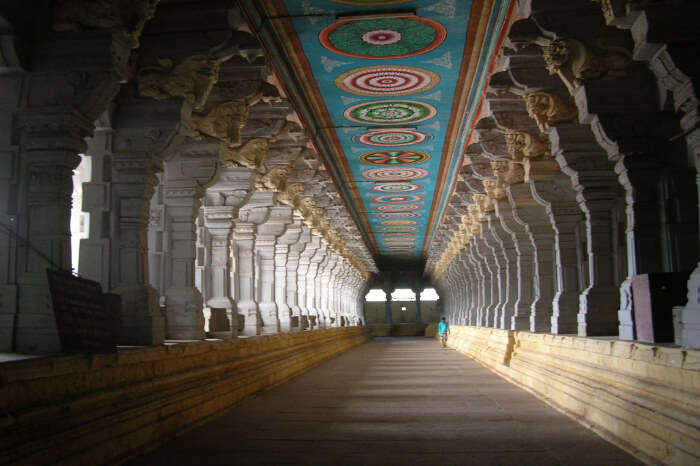 Jada Tirtham is a small temple and holds its own mythological importance. Constructed near the trunk of a large peepal tree, the temple hosts two grand events – Maha shivarathiri (once every year) celebration and Maha Makam (Once in 12 Years). The temple is a tremendous work of outstanding artistry and is famous for its beauty and uniqueness. This temple marks one of the most important places to visit in Rameshwaram for a pilgrimage.
Location: Ramanathapuram, Coimbatore, Tamil Nadu 623526
Timings: NA
Tip: If you are visiting Dhanushkodi, it is suggested you visit this place on your way.
Speciality: Intricate work of artmanship.
18 Pristine Beaches Near Coimbatore Which One Must Definitely Visit When They Are In Tamil Nadu!
17. Gandhamadhana Parvatham

Located in the north-western part of Rameswaram, Gandhamadhana Parvatham is a very popular sunrise and sunset viewpoint. The temple of Gandhamadhana is one of the highly renowned and ancient temples in India. It is worshipped in southern India as well as visited by people from far across. The temple is two-storeyed and you can see Lord Rama's feet imprinted on the chakra placed in the temple. This place is a must-visit Rameshwaram tourist place in regards to historic importance.
Location: Gandha Madhana Parvatham, Kendhamana paruvatham, Rameswaram, Tamil Nadu 623526
Timings: 7 am – 1 pm, 3 pm – 6 pm
Tip: Visit early in the morning or in the evening to witness the sunrise or sunset.
Speciality: It is believed that the temple has a wheel with lord Ram's imprints.
38 Romantic Honeymoon Places In South India For That Cast Utter Magic
18. Jatayu Tirtham

Jatayu Tirtham is a sacred temple dedicated to Jatayu . He was the most loyal eagle of Lord Rama and is believed to have helped Lord Rama in several crisis situations. It is said that the eagle lost its life in order to save Lord Rama and hence it is worshipped as a deity. The Jatayu temple has been created at the place of its burial. To have one of a kind experience, one must visit this place to learn more about it.
Location: Tamil Nadu 630314
Timings: 6.00am to 7.00pm
Tip: It is a peaceful shrine. So, maintain silence and decorum
Speciality: The temple is built on the place of Jatayu's burial.
19. Thiruppullani

Located at a distance of around 70 km from Rameshwaram, Sri Adi Jagannatha Perumal Temple, popularly known as Thirupullani Temple, is dedicated to Lord Vishnu. This sacred temple is visited by most of the devotees on their Rameshwaram tour. The temple is famous not only for its sacredness but also for its historical background. Built during the reign of Cholas, the temple is now maintained by the Hindu Religious and Endowment Board of the Tamil Nadu Government. This is one of the most popular Rameswaram tourist places.  
Location: Utira – Thiruppulani Road, Thiruppulani, Tamil Nadu 623532
Timings: 7 am – 12:30 pm, 3:30 pm – 8:30 pm
Tip: Explore the temple in the evening
Speciality: One of the 108 Divya Desam temples of Vishnu.
Thekkady In December: Best Ways To Explore Its Impeccable Beauty
20. Sugreevar Temple

Sugreevar Temple or Theertham is located on the way to the Gandhamadana Parvatam. The temple is popular for its famous lotus pond on the way to Ramar Padham, another location close to this temple. The pond is known as Sita Kund and is a beautiful sight to spend some time. This one of the best tourist places in Rameshwaram can be reached by taxi or auto-rickshaw. 
Location: 133, Balepete Main Rd, Balepete, Chickpet, Bengaluru, Karnataka 560053
Timings: 6.00am-11.30am, 3.00 to 8.30pm
Tip: Since it is located on a hill, the views from the top are amazing.
Speciality: Its lotus pond is also known as "Sita Kund".
21. Badrakaliamman Temple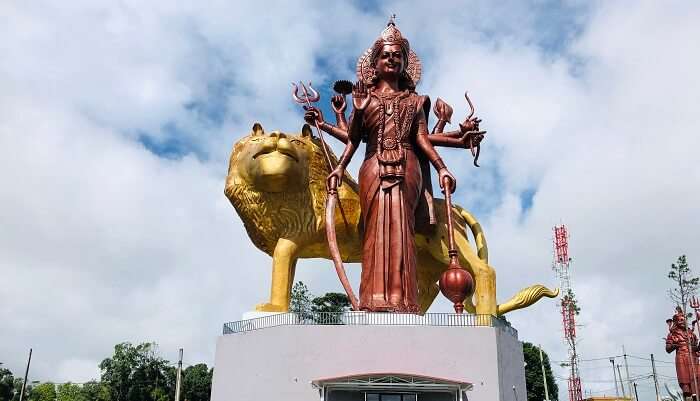 Badrakaliamman Temple is solely dedicated to Devi Durga. You can reach this temple while going towards the Gandhamadana Parvatam. It is the largest temple of Goddess Maa Kali in entire South India. The golden statue of Goddess Durga is visited by tourists from across the world. The temple is currently managed by voluntary organisations in the region. Keep this one in your list of Rameshwaram tourist places and do not miss the visit.
Location: Thoppur-Mettur Dam-Bhavani-Erode Rd, Mecheri, Tamil Nadu 636453
Timings: 5 am – 8 pm
Tip: The place gets crowded in the days of Navratri. So, avoid visiting during the time if you don't like crowds.
Speciality: Famous Maa Durga temple of South India.
Monsoon In Tamil Nadu: See The 8 Most Wonderful Places To Explore
22. Dhanushkodi

A quaint, little beach town sitting on the coast of Tamil Nadu is this sparsely populated Dhanushkodi. It was in the year 1964 that this little town was hit immensely by a storm and since then, the beach town has been getting its makeover in the most unique and unusual ways possible. For those who are seeking to escape the crowded destinations and simply embrace the isolation, Dhanushkodi is the town where one should be because it is one of the most popular tourist places in Tami Nadu. Cut off from the world around, Dhanushkodi appeals to those who are seeking for roads less traveled. This town looks like a living museum, a town that seems to have frozen in the ancient, historic times.
Location: Tamil Nadu
Timings: Anytime
Tip: You will be transferred into a special jeep at the checkpost before you enter Dhanushkodi
Speciality: It is the place where lord Ram built Ram Setu with his army.
23. Agnitheertham

Attracting believers, devotees, and pilgrims, Agnitheertham is one of the most visited Rameshwaram tourist places and most populated baths out of the 64 situated in Rameshwaram. Sitting on the beach side of the famous Sri Ramanathaswamy Temple, Agnitheertham is the single theertham that has earned itself a spot right outside the temple complex. Agniteertham has been mentioned quite a lot of times in the ancient texts and is of utmost significance amidst the mythological legends in the Hindu religion. Devotees get rid of their sins by taking a dip in the holy waters of this theertham.
Location: Rameshwaram, Tamil Nadu
Timings: 5 am to 6 pm
Tip: Everybody has to take a dip into the ocean before visiting the premises, be prepared for that.
Speciality: Important religious spot for devotees.
4 Best Homestays In Rameshwaram For A Heavenly Stay
24. Rama Teertham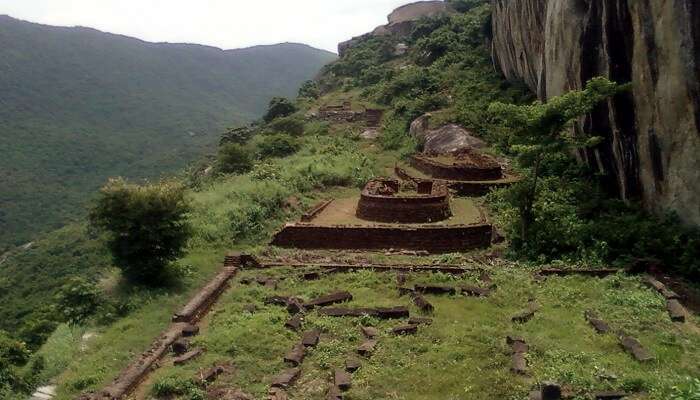 Sitting on the famous Gandhamadhana Parvatham, Rama Teertham is one of the most significant places to see in Rameshwaram. Also being tagged as the Gandamadana, Rama Teertham is believed to have been one of the most blessed places in South India and hence attracts hundreds and thousands of pilgrimage. The Ram temple is home to a chakra with imprints of Lord Rama being carved extremely beautifully on it. Nestled amidst the hilly region, Rama Teertham allows travellers to embrace the spirituality and tranquillity that is spread in the atmosphere. Do add this place to your list of Rameshwaram tourist places.
Location: Rameshwaram, Tamil Nadu
Timings: 6 am to 7 pm
Tip: Fish fee for good luck and prosperity.
Speciality: It is believed that Lord Rama took bath in this teertham.
Best Time To Visit Rameshwaram

Image Credit: D Kartikeyan for Wikimedia Commons
Though Rameshwaram is a highly popular religious destination and is visited by pilgrims and travelers throughout the year. But the experience gets even better during the best time to visit Rameshwaram:
For The Monsoon Bliss: August | 28°C to 35°C
For Pleasant, Windy Winters: October to April | 17°C to 32°C
How To Reach Rameshwaram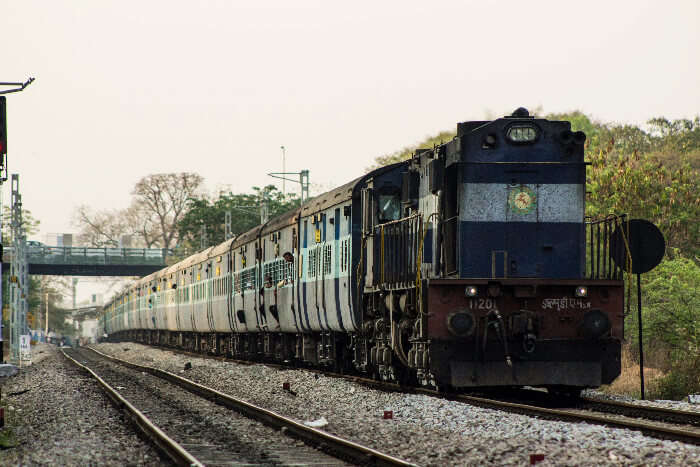 By Air: Take a flight to Madurai Airport which is approx. 170 km away from Rameshwaram city and hail a cab from here.
By Train: The Rameshwaram Railway Station is directly connected to all major stations like Madurai, Chennai, Coimbatore, Thanjavur, & Trichy. Various kinds of trains such as superfast, express and mail trains ply from here.
By Road: A road trip to Rameshwaram would be nothing less than exciting and refreshing, given you'd be driving on the smoothest of roads over a long bridge. The city is well connected with major cities like Chennai, Madurai, Tiruchirappalli, & Thanjavur. One can also take a bus from Madurai which is 169 km away by road.
49 Tourist Places Near Chennai: Reasons To Look Forward To Your Weekends In Chennai
If you wish to tour the serene city of Rameshwaram, don't just wait, it's time to experience it firsthand. Plan your trip to Rameshwaram for a soothing holiday experience like never before! Now that you know of all the beautiful places to visit in Rameshwaram, which one would you be hopping off to first. Let us know in the comments below and don't forget to share this with your friends.
For our editorial codes of conduct and copyright disclaimer please click here.
Frequently Asked Questions About Places To Visit In Rameshwaram
What are the top tourist places Rameshwaram?
Sri Ramanathaswamy Temple, Kothandaramaswamy Temple, The Five-Faced Hanuman Temple, Lakshmana Tirtha, Villoondi Tirtham, Agni Theertham, Ariyaman Beach, Dhanuskodi Beach, Adam's Bridge, Water Bird Sanctuary, and Annai Indira Gandhi Road Bridge are amongst the top attractions in Rameshwaram.
Which is the best month to visit Rameshwaram?
The best time to visit Rameshwaram is between October and April. The weather remains pleasant during these winter months with temperature usually ranging between 17° C to 25° C.
What to remember while traveling to Rameshwaram during Covid-19?
You need to follow all the mandatory travel guidelines mentioned by the authorities to ensure a safe travel experience. Complete both doses of vaccination before planning your visit and get an RT PCR test done as you may have to produce it at the entry and exit points. Maintain social distancing and remain masked while stepping out. Avoid visiting crowded places and gatherings. Keep sanitizing your hands regularly after touching surfaces.
Is it compulsory to take a bath in Rameshwaram?
It is not mandatory to take bath in the waters of Rameshwaram. It is entirely your choice whether you wish to take religious dips or not. The place is quite significant for Hindu devotees who usually perform rituals and bath at the Ghats in Rameshwaram.
Is Rameswaram safe at night?
Yes, it is safe to explore Rameshwaram at night, however, make sure that you are traveling with a group of fellow companions. Avoid visiting secluded places alone at night. If you are returning from the temple, then make sure that you are traveling with experienced travel planners.
Is there any dress code in Rameshwaram?
While there isn't any specific dress code for visiting Rameswaram Temple, one should make sure they dress conservatively to respect the local customs and traditions. The local people usually wear traditional dhotis and sarees inside the temple. People from northern India can simply visit the temple in a normal saree, salwar kameez, or other clothes that cover your head, arms, and legs completely.
What is Rameshwaram famous for?
Rameshwaram Temple is renowned for being a part of one of the twelve Jyotirlingas (lingam of light) of Lord Shiva in India. The temple is also famous for the fact that it's the southernmost 'jyotirlinga' of India which makes it one of the top religious places in India. This holy place is said to have been the site where Lord Rama offered his gratitude to Lord Shiva, which makes it the preferred location for pilgrims in India as well as all of Southeast Asia.
What is the best time to visit Rameshwaram?
Rameshwaram can be visited any time of the year. It is one of those places in India which has pleasant weather all round the year and in all the seasons. The peak tourist season in Rameshwaram is from October to April when this place is flooded with travelers and pilgrims from around the world. While people avoid visiting during the monsoon season from July to September because of humidity with rainfall, one must note that the scenic beauty of this place during that time is outstanding.
How can I go to Rameshwaram from Kanyakumari?
The road distance between Rameshwaram and Kanyakumari is 309 km while the rail distance is 407 km and the aerial distance is 236 km. There is only 1 direct train from Kanyakumari to Rameshwaram, and the Rmm Cape Express (22621) can get you to Rameshwaram from Kanyakumari comfortably and in the shortest span of time. You can also choose to drive from Kanyakumari to Rameshwaram and enjoy the scenic beauty you are greeted with on the way.
What can I buy in Rameshwaram?
Some of the best things to buy in the markets and bazaars of Rameshwaram include coffee, Sungudi Sarees or Chinnalapattu, bangles, handicrafts, brass items, and paintings from Cottage Arts Emporium. Handmade souvenirs, local arts and handicrafts, Khadi fabrics, and jewelry are other popular items to buy from Rameshwaram.
People Also Read:
Places To Visit In Gujarat Places To Visit In Ooty Places To Visit In South Goa