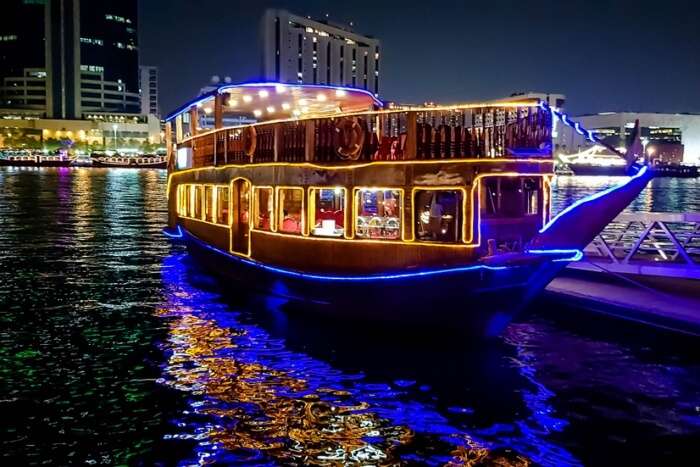 Imagine being one of those awesome people who visit Dubai for its lively and colorful street life, cool skyscrapers and perfect beaches. Now imagine you can go to all these places in an extensive manner while chilling on a ship. Dhow Cruise in Dubai is here to make your imagination a reality. It cruises you from one stunning landmark to another and all you have to do is enjoy the scenic beauty of the Arabian Gulf and feel the cool breeze hitting your face and causing you happiness. Check this guide before you leave for an enticing vacay in Dubai!
About Dhow Cruise In Dubai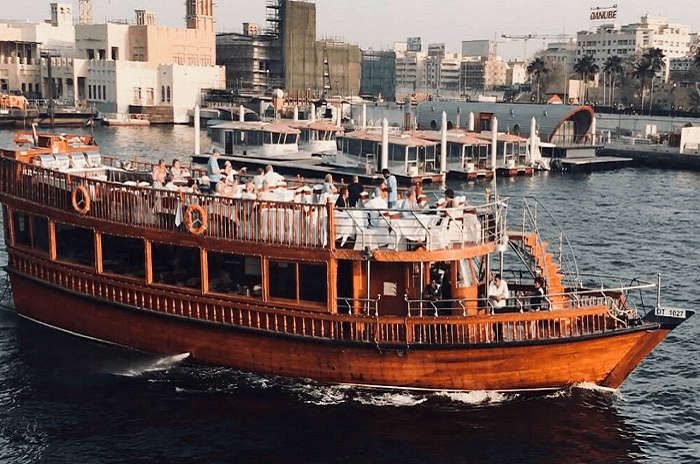 Dhow Cruise in Dubai is a mesmerizing cruise that takes you throughout the city you are touring in an exquisite manner and grand style. The cruise has two decks, one that is fully air-conditioned and shows you entertaining performances that leave you surprised and asking for more. The second deck is partially opened and lets you enjoy the cool breeze and the pristine waters of the Arabian Gulf. The Dhow Cruise takes you on an unforgettable sightseeing experience and offers to tell you stories that were handed down by their ancestors a long time back and are still kept alive and kicking. The traditional vessel is termed as "food on water" because of its best dining and drinking options distributed infinitely throughout the magical cruise.
Visa For Dubai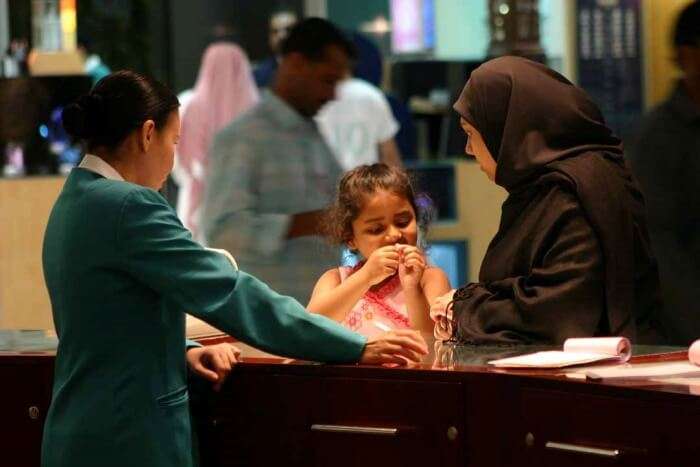 Getting a visa for Dubai is a hassle-free experience as it does most of its critical work online. All you need to do is get the required forms filled online on the correct and verified website. Later, the officials approve and send you the important visa documents attached to your passport. The process does not take too long, it stretches to a maximum of 2 weeks.
Best Time To Visit Dubai
Dubai is a magical and happening city throughout the year, however, the winter months are the best time to pay a visit. November to April are the cool months that make your touring around easy and comfortable. January and February are even better options because of the famous Dubai shopping festivals that allow the shopaholic in you buy as many souvenirs to your heart's content.
Must Read: Dubai Marina: The One Stop Destination For Breathtaking Panorama And Unparalleled Luxury!
Types Of Dhow Cruises
The famous Dhow Cruises are divided into different city lines that let you tour a particular place or city individually. Here are the best Dhow Cruises in Dubai that will let you explore the beautiful city without missing a thing or place.
1. Dhow Cruise Creek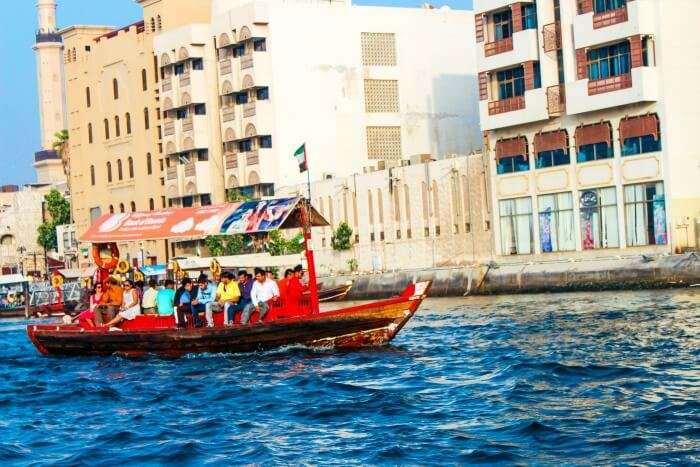 Dubai Creek is a noteworthy waterbody that is situated between two popular and towering buildings which led to the origin of the thrilling Dhow Cruise Creek. Dhow Cruise Creek lets you view the scintillating high rise buildings and the prominent Dubai Skyline. Dubai Creek is the most on demand Dhow cruise in Dubai because of its complimentary pickup and drop off services, unique live shows, and unlimited food availability. The 2-hour cruise cannot be missed for the simple reason that Dubai Creek is considered the heart of Dubai and deserves a visit for its enchanting lights and a panoramic view of Dubai.
Suggested Read: Your One Stop Guide For Planning A Honeymoon In Dubai In 2022
2. Dhow Cruise Marina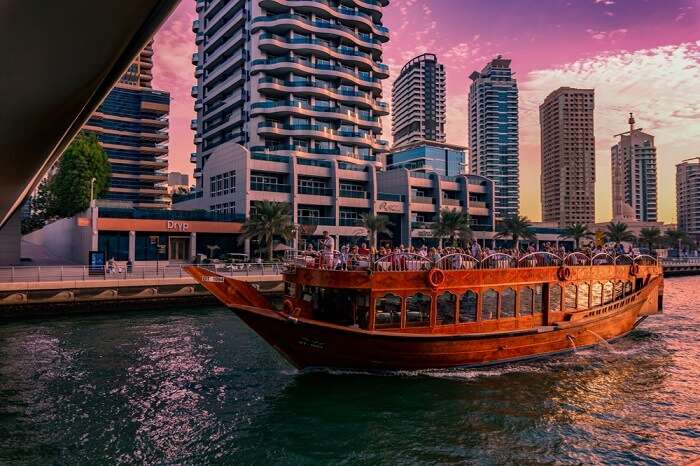 Dhow cruises in Dubai have a part of them completely dedicated to the traditional Bedouin style of living. Dhow cruise Marina explores the marina canal and the cultural aspects attached to this enamoring water body. Marina skyline is the highlight of this cruize and will surely leave you wide-eyed and wanting it more. The marina cruise seeks our attention in the form of dances, songs and astounding live shows that tell us the story of how the now modernized city journeyed through various obstacles to become one of the most tourist-thronged places in the world.
Suggested Read: 25 Most Popular Adventure Sports In Dubai For A Thrilling UAE Holiday In 2022
3. Dhow Cruise In Abu Dhabi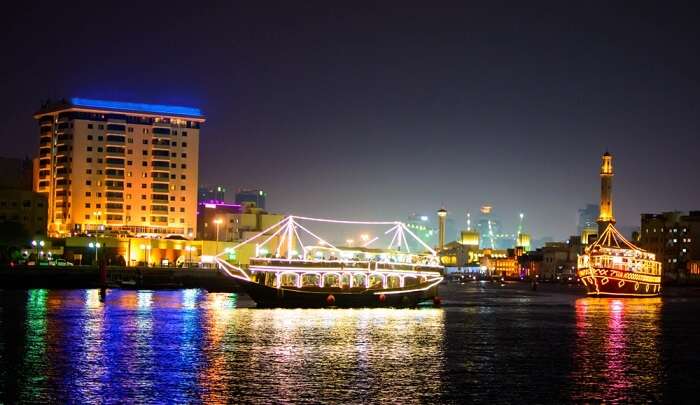 Abu Dhabi, the capital of the UAE, has genius architectural sights, twinkling skyline, gorgeous mosques, and stunning landmarks. It won't do your Dubai trip justice if you miss out on the exotic and wonderful Abu Dhabi Dhow cruise in Dubai. The cruise lets you experience the capital's unique style of city designing and skyscrapers that will make you wish you did not have to leave. The food options will leave you bewildered as to how much you could eat without having to miss out any Arabic dish. The cruise is an option worth spending a few dollars on and will leave you in awe of the beautiful city.
Suggested Read: The Complete Guide To Applying For Dubai Visa For Indian Tourists
4. Dhow Cruise – Dubai City Tour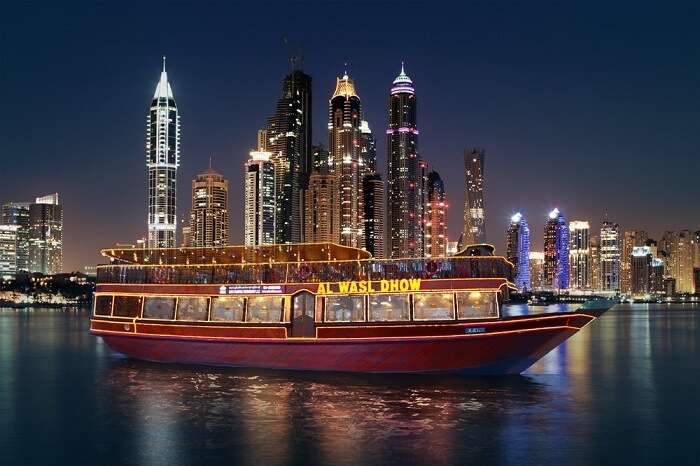 In case you are short on time, Dhow Cruise in Dubai has an interesting option for you and that is the Dhow cruise touring Dubai by taking you to important landmarks like the inconspicuous Heritage Village, spectacular Burj Khalifa and the serene Palm Islands. There are many more destinations covered in this amazing four-hour tour. The cruise may not take you through every place in detail but it will show you the bigger picture of Dubai's finest sightseeing stations. Dubai city tour will make you be more than happy with regard to their awesome culinary skills and options which allows the vegetarians and non-vegetarians eat peacefully without any hassles.
Further Read: The World Islands: A Detailed Guide For 2022 To This Man-made Marvel In Dubai
Dubai is an invigorating city that encourages its guests to try out exciting activities that would make their trip unforgettable. Dhow cruise in Dubai is one such activity that will let you watch the colorful and bright city in a very creative and comfortable manner. The cruise can be undertaken numerous times but you will still learn something brand new about the always on the run city.So, instead of getting bored at home, experience Dubai's pristine waters, scenic beaches, and colourful skyscrapers. Plan a trip to Dubai with your friends and family for the best vacation of their lives with TravelTriangle.
People Also Read
Cruises From Dubai Cruises From Istanbul Around The World On Silversea Cruise
---
Looking To Book An International Holiday?
Book memorable holidays on TravelTriangle with 650+ verified travel agents for 65+ domestic and international destinations.
---