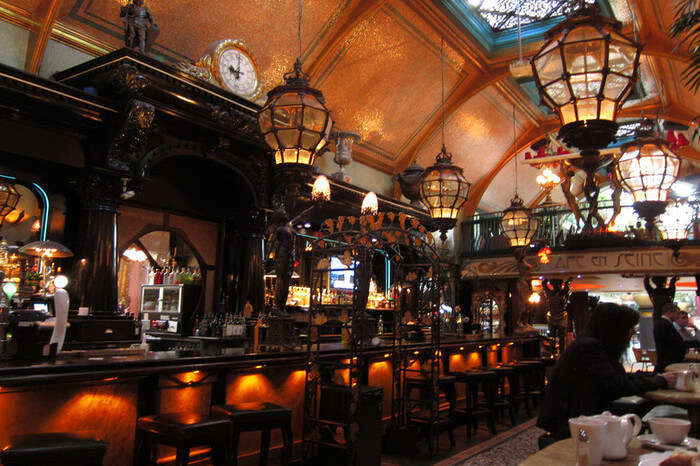 Ireland is famous for its Irish Whisky and beer. The beer in the pubs flows like river. You can only imagine how great Dublin Nightlife would be. It is the best place to get hammered – or ossified as Irish would say.

If you are a beer connoisseur, Dublin is like Mecca to you. The pub scenes are amazing here. The birthplace of the world-famous Guinness Stout (founded in 1759), Dublin is where you will find pubs and taverns which are literally centuries old.
At the same time, Dublin has managed to be on the top of chic and contemporary party scenes. From gay pubs to electric night clubs, Dublin has all sorts of entertainment to offer to you.
Here is your Dublin nightlife guide: a list of all the places where you should go drink, party, and experience the Dublin nightlife.
Top 10 pubs and nightclubs to enjoy Dublin Nightlife
The Long Hall
Fitzwilliam Card Club
The Sugar Club
Cafe En Seine
Brazen Head
The Stag's Head
The Grand Social
Copper Face Jacks
The Temple Bar
O'Donoghues
1. The Long Hall
The Long Hall is one of the oldest and most favourite pubs in Dublin, Ireland. Licensed in 1766, it is basically an antiquated drinking shrine. When you enter inside the pub, it will take you to 19th Century Dublin nightlife. The Victorian design interiors dating back to 1881 create a warm and friendly atmosphere for the drinkers. Even after centuries, it has managed to still be people's favourite place in Dublin for drinking.
Address: 51 South Great George's Street, Dublin 2, Ireland
Timings: 12:00 PM – 11:30 PM
Suggested Read: 15 Dublin Hotels That Offer The Best Of Hospitality And Comfort In Ireland
2. Fitzwilliam Card Club
Dublin's favourite casino, Fitzwilliam Card Club is a perfect place for a Dublin night out. It has got a range of exciting Live Casino games like Roulette, Blackjack, Punto Banco, and Brag. They even host the biggest range of Poker tournaments. One of the few nightclubs in Dublin city centre, it is nearby to many famous attractions. They are open till 6 in the morning. Even if you don't like to gamble, it is always fun watching other people win or lose. Lol!
Address: Clifton Hall, D02 XP89, Fitzwilliam Street Lower, Dublin 2, Ireland
Timings: 06:00 PM to 06:00 AM
3. The Sugar Club
One of the most swanky and jazzy nightclubs in Dublin, The Sugar Club is where you can enjoy Dublin Nightlife at its best. Not just another drinking place, The Sugar Club gets you high on entertainment and booze. It has a large banquette and a stage where the best artists in Dublin come to perform. From plays to jazz music to stand-ups, you will get a wide range of cultural events lined up at The Sugar Club. The tickets for the upcoming events can be downloaded from their website.
Address: 8 Lower Leeson Street, Saint Kevin's, Dublin 2, D02 ET97, Ireland
Timings: 07:30 PM till midnight
Suggested Read: 10 Things To Do In Dublin For A Taste Of Fun And Frivolity In Ireland
4. Cafe En Seine
Cafe En Seine is a chic, sophisticated drink-n-dine place in Dublin known for its Parisian culture and creativity. In the day, it is one of the laid back cafes in Dublin where you can enjoy coffee. But by night, it becomes one of the most stylish bars in Dublin. The Renaissance cafe and gastropub offers an exciting combination in art, fashion, music and food. Friday Nights at Cafe En Seine are all about disco and 80's music.
Address: 40 Dawson Street,Dublin 2,Dublin City, Ireland
Timings: 12 PM to 3:00 AM
5. Brazen Head
Dating all the way back to 1198, Brazen Head is officially the oldest pubs in Dublin. The lantern-lit bar is favourite places of historic rebels and live musicians. Every night, the place hosts live music sessions creating a magical ambiance all around. They even have storytellers and raconteurs from all over Ireland who share exciting stories from history will give you goosebumps.
Address: 20 Lower Bridge St, Merchants Quay, Dublin 8, D08 WC64, Ireland
Timings: 10:30 AM-11:30 PM
Suggested Read: This Bubble Hotel In Ireland Allows You The Dreamiest Glamping Experience Ever
6. The Stag's Head
Another traditional pub in Dublin, The Stag's head is where you can experience the Dublin nightlife like a local. Along with serving fresh Guinness, the place is also a center to enjoy Traditional Irish Food, Music, and Comedy Sessions. Every weekend, an Irish Band entertains the crowd with Local Irish Music. One of the best vintage Dublin bars, it has really become a tourist magnet. FYI, there is an actual stag's head displayed over mahogany-and-walnut bar.
Address: 1 Dame Ct, Dublin 2, Ireland
Timings: 11:00 AM – 01:30 AM on weekends
7. The Grand Social
The Grand Social has carved out its name being one of the best clubs in Dublin. The grand club with various is known for its live music scenes and circus themed interiors. The live music scene here is lit. Best DJs from all around the Europe come to play all kinds of hip music here. Even a person with two left feet wouldn't help himself but bust a move. It is one of the best place to enjoy Dublin nightlife.
Address: 35 Liffey Street Lower, North City, Dublin, Ireland
Timings: 04:00 PM to 02:30 AM
Suggested Read: The First Nude Beach In Ireland Is Opening Soon!
8. Copper Face Jacks
Copper Face Jacks is one of the most touted nightclubs in Dublin, more so a bizarre national phenomenon. The famous nightclub is known for its state-of-the-art lightning and lit music. They even have gold cards for the special members. If you are thinking where to stay in Dublin for nightlife, you can stay in their hotel- Jackson Court Hotel, right next to Copper Face Jacks.
Address: 29-30 Harcourt St, Saint Kevin's, Dublin 2, D02 XV58, Ireland
Timings: 11:30 AM to 03:30 AM
9. The Temple Bar
Temple bar is a bustling riverside neighbourhood in Dublin where you will find traditional pubs and taverns always crowded with people. One such pub is The Temple Bar which has a collection of more than 450 bottles of Irish, Scotch, and Bourbon. Talk about a heaven for whisky lovers! And, it is also this bar which is just few of the places in Dublin where you can enjoy great oysters with a Guinness Stout. If you love food and drinking, this is the place to be. You can even buy their merchandise from the pub.
Address: 47/48 Temple Bar, Dublin D02 N725, Ireland
Timings: 11:30 AM to 01:00 AM
Suggested Read: Ireland Honeymoon Guide: All You Need To Know For Celebrating Your Special Vacay The Irish Way
10. O'Donoghues
A must place for Beer Connoisseurs! If you want to enjoy a stout of creamiest Guinness, Head to O'Donoghues. This is a popular traditional pub which gets busy in the evening. The local bands perform live playing some of the best Irish music. The ambiance of this place is so great you will find yourself returning to this place every evening.
Address: 15 Merrion Row, Dublin, Ireland
Timings: 10 AM to 12 AM
Already making plans to go to Ireland? We got you.
Choose from the curated Ireland Tour Packages with TravelTriangle and get high on life in Dublin.
Frequently Asked Questions About Best Nightlife Experiences In Dublin
Where is Dublin located?
Dublin is the capital city of Ireland. Dublin is a beautiful place that will give you some diverse tourist experiences.
What is the best time to visit Dublin?
We will totally suggest you plan your Dublin travel in the month of June to August as this is the time when the weather is really warm and pleasant that will let you make the most of your trip.
What are the best clubs/bars in Dublin?
The George, The workman's club, Vintage Cocktail club etc are some of the most amazing clubs/ bars that you can find in Dublin, these ones are not just the most famous.
What are the budget clubs/bars in Dublin?
The Mezz Temple's bar, Dicey's garden club etc are some great options for you to enjoy while not wanting to step outside your budget.
Are there any theatres/late-night theatres in Dublin?
Yes, there are many theatres that you can find in Dublin such as the Pavilion theatre, Gaiety theatre, Bord Gais energy theatre etc.
What are the best places for live musical concerts?
CobbleStone, Grand Social, Whelan, The underground venue, Merchant's arc etc are some of the great places that you can visit in Dublin if you are looking for some live music.