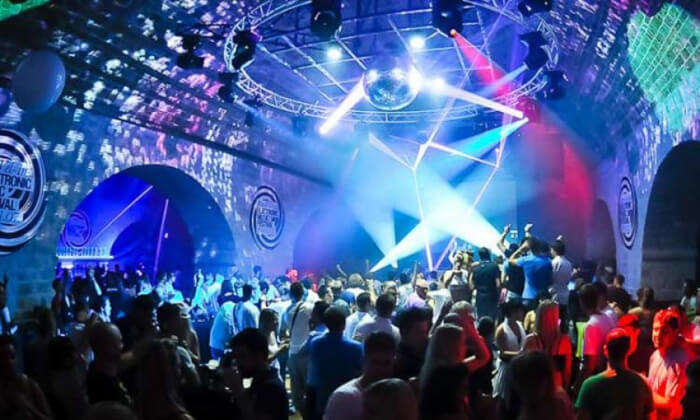 Dubrovnik sleeps peacefully through the cold winters but as summers embark upon, it wakes up with vengeance. An array of exciting options are offered by this city for the night owls, including sipping cocktails on the sea cliffs to the long-standing Summer Festival and partying madly at the Revelin Towers. We give the nocturnal spots and best bars at Dubrovnik, a low-down today! So get ready to experience Dubrovnik Nightlife and Let the silent lions roar!
Dubrovnik Nightlife: 9 Best Bars And Nightclubs
Dubrovnik isn't only about surreal landscapes and white-sand beaches; if you find yourself in Dubrovnik, you must experience rocking nightlife in Dubrovnik.
Revelin Towers
Lazareti
Banje Beach Club
D'Vino
La Bodega
The Bar By Azur
Cave Bar More
Slavika Open Air Cinema
Dubrovnik Summer Festival
1. Revelin Towers
Dubrovnik's only nightclub was built somewhere around the 16th century as the Revelin Towers, near the Ploče Gate, just outside the walls of the city. The seasoned architecture with a historic setting, stone steps, vaulted ceilings, exposed stonewalls, a huge terrace and the wide open archways, make it a perfect venue for summer dance parties. The place boasts of hosting numerous international DJs like Boy George, Paul van Dyke, R3HAB and Fatboy Slim. A huge New Year's party and occasional winter concerts are also hosted by them.
Location: Ul. Svetog Dominika 3, 20000, Dubrovnik, Croatia
Contact: 00 385 20 436010
Website
Open time: May-Sep; daily, 11pm-6am; Oct-Apr Sat 11pm-6am
Suggested Read: Dubrovnik Shopping Guide: From GoT Stuff To Vogue Products, The City That Has It All
2. Lazareti
If a regular program was run by them, it could become one of the best spots to enjoy Dubrovnik nightlife. DJ appearances and live gigs come in flurries as of now. With its location at a rugged old stone ex-quarantine barracks, it is as good as a place can get. You head down to an open courtyard under the stars, after making the payment. The main building which hosts a balcony area with bar, dance floor and a stage for live acts, as well as the DJ decks, is at the bottom.
Location: Ul. Frana Supila 10, 20000, Dubrovnik, Croatia
Website
Must Read: Croatia National Parks: 10 Escapes To Enjoy The Astounding Wonders Of Nature!
3. Banje Beach Club
To get to Banje, guests can travel either by land or by the sea. It has a splendid beachside setting with a private pier to anchor your yacht, boat or dingy and it;s the best place to enjoy Dubrovnik nightlife. A fine dining Mediterranean, seafood oriented restaurant, is what it looks like during the day., As the night unfolds, it transforms into a cocktail bar club on the beachside. Though it is usually hired for high end fashion parties, the place has reasonable prices and is definitely far from intimidating.
Location: Ul. Frana Supila 10/B, 20000, Dubrovnik, Croatia
Contact: +385 99 211 9666
Website
Open time: 10AM to 5AM
Suggested Read: 10 Best Places To Visit In Dubrovnik For An Authentic Croatian Experience
4. D'Vino
This tiny wine bar nests in a narrow stone alley and it definitely worth a visit, owing to its knowledgeable as well as friendly waiters who tend to introduce you to an impressive at the same time expressive range of Croatian Wines. You may get them either by the glass or by the bottle, as it any other bar. You may even choose to sample each and even learn a lot about the history as well as the practices followed by regional wineries. Platters or cured meats and cheese accompany wine tasting 'flights'. The low-key music, candlelight and terracotta-tiled floors offer a cozy, mellow setting.
Location: Palmotićeva ul. 4a, 20000, Dubrovnik, Croatia
Contact: +385 20 321 130
Website
Open time: Daily, 8am-2am (closed 15 Dec-1 Feb)
Suggested Read: 10 Best Adventure Sports In Croatia For Both Adventure Junkies & Rookies
5. La Bodega
A 17th century stone building is occupied by this swanky wine bar, at the end of Stradun. It is quite close to Rector's Palace. This impressive space extends to four floors and features low-lighting, mismatched wooden furniture and mellow music, along with additional seating on a big terrace. A wide selection of Croatian wines is available here. Overlooking Stradun, it is quite expensive as a place to visit, especially due to the prime location.
Location: Lučarica ul. 1, 20000, Dubrovnik, Croatia
Contact: +385 98 904 846
Website
Open time: Feb-Dec; daily, 9am-1am
Suggested Read: 11 Things To Do In Dubrovnik: Cruising, Hiking, Wine Tasting & More
6. The Bar By Azur
Opened by the owners of Azur restaurant, it is among the few nightlife haunts of Dubrovnik that are open all year around. Locals as well as tourists love this welcoming bar with is an excellent place to try out some quality Croatian wines as well as cocktails. You can try the velvety red Dingač – the most highly esteemed wine of Croatia or the mojito – a deliciously refreshing drink to pump back life into hot summer days. Premium whiskies are stacked with pride at the back-lit shelves, behind the bar. Tasty nibbles can be enjoyed by the guests, including the aged Grana Padana cheese, truffled quesadillas with smoked pancetta, fresh mozzarella with spicy gremolata and the avocado toast.
Location: Kunićeva ul. 5, 20000, Dubrovnik, Croatia
Contact: 00 385 20 454477
Website
Open time: 9am-2am
Suggested Read: 10 Best Places To Visit In Dubrovnik For An Authentic Croatian Experience
7. Cave Bar More
Fancy a few drinks at a natural cave? Well, this is the place for you! Completed with subtle lighting and wonderful rock formations, this is an extraordinarily romantic bar in Dubrovnik, nested at the basement of Hotel More (meaning sea, and pronounced as 'moor-ay'). The place has a secluded setting with half a dozen tables, among the stalagmites and stalactites and offers a choice of local beers and cocktails. Comfy wicker chairs along with outdoor tables are available on a series of terraces, right by the edge of the waters, overlooking the Lapad Bay. You can come enjoy a sunset aperitif, and take bliss in the changing colors of the sky.
Location: 11 12, Šetalište Nika i Meda Pucića, 20000, Dubrovnik, Croatia
Contact: +385 20 494 200
Website
Open time: Apr-Oct; daily, 10am-2am
8. Slavika Open Air Cinema
Image Source
Skip the usual bar hopping routine for once and instead head to the old town where they run films at the open air theatre. Enjoy good cinema under the star-lit sky on one of the summer nights (that is when the open air cinema is held) with your friends or partner on the side. Not only it is one of the unique experiences to enjoy the nightlife in Dubrovnik, but also a perfect romantic venue for a date night.
Address: Ul. branitelja Dubrovnika 42, 20000, Dubrovnik, Croatia
Timings: 9 PM onwards
9. Dubrovnik Summer Festival
Image Source
If you are visiting Dubrovnik in summer, you are in for a treat. Head to the old town where jazz concerts, opera, theatre, and film await you. If you call yourself intellectual and art-loving, then you should definitely check out the Dubrovnik Summer Festival. Attending the Shakespeare play and music recitals on the roof is a magical feeling.
10 Jul-25 Aug
Further Read: 10 Best Croatian Restaurants You Need To Try On Your Next Holiday
Dubrovnik, indeed has a lot to offer. All it calls for is a short visit! Why not book a trip to Dubrovnik right away!
---
Looking To Book An International Holiday?
Book memorable holidays on TravelTriangle with 650+ verified travel agents for 65+ domestic and international destinations.
---
div.nav-links {
display: block;
float: left;
width: 100%;
padding: 0 20px 10px;
}
div.nav-links a {
display: inline -block;
float: left;
margin-right: 4px;
font-size: 13px;
webkit-box-sizing: content-box;
-moz-box-sizing: content-box;
box-sizing: content-box;
-o-text-overflow: clip;
text-overflow: clip;
text-decoration: none !important;
margin-top: 5px;
border: 1px solid #c8c8c8;
font-style: normal;
border-radius: .25em;
padding: .2em .6em .3em;
line-height: 23px;
}
div.nav-links a:hover {
background-color: #009688;
color: white;
}