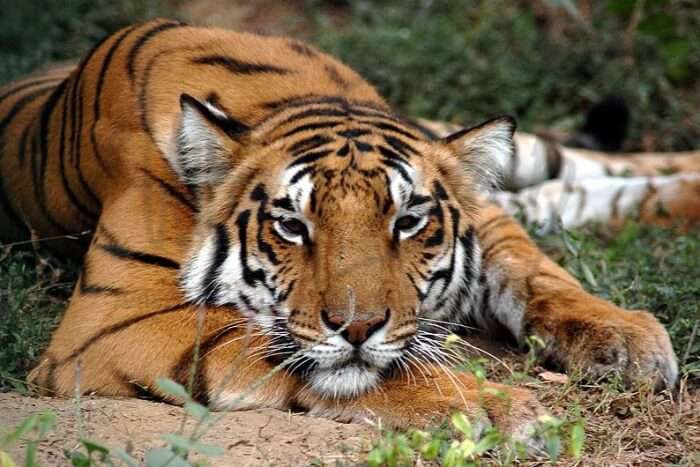 Lying on the edge of the Indo-Nepal border in Uttar Pradesh, the Dudhwa National Park is every adventurer and wildlife lover's fantasy. Dense forests, mosaic grasslands, muddy marshes, to a commendable population of the Royal Bengal Tigers, the Dudhwa Reserve in the Terai belt of the sub-Himalayan area is a splendid reason why you should visit Lucknow at once. Let your soul be one with nature at this lush, untouched retreat in Palia while you thrill yourself with myriad activities like wildlife safari, elephant ride, jungle camping under the starry skies, and more.
Dudhwa National Park Information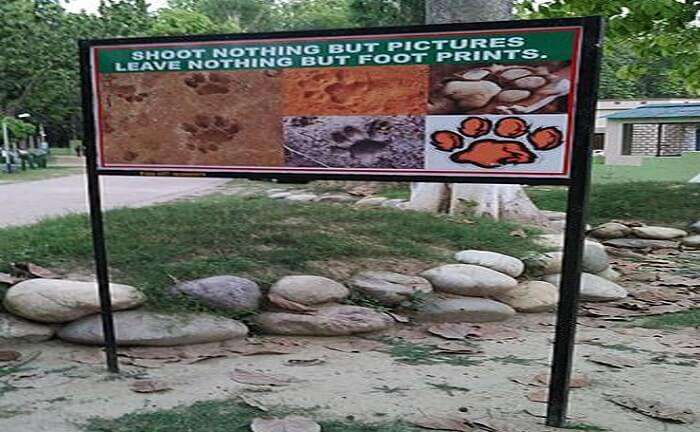 Image Source
Area: 490.3 km sq
Location: State Highway 90, Near Bikram Ban Farms, Palia Kalan, Uttar Pradesh 262902
Altitude: 490 ft to 597 ft above sea level
Latitude: 28.4917° N | Longitude: 80.6465° E
Geography: Upper Gangetic alluvial plains | High forests interspersed with grasslands and wetlands | Characteristic of the Terai ecosystems | Forest types: Tropical Semi-Evergreen, Northern Indian Moist Deciduous, Tropical Seasonal Swamp, and Northern Tropical Dry Deciduous | Rivers, streams, lakes, and marshes
Dudhwa National Park Website | Dudhwa National Park TripAdvisor Reviews
Best Time To Visit Dudhwa National Park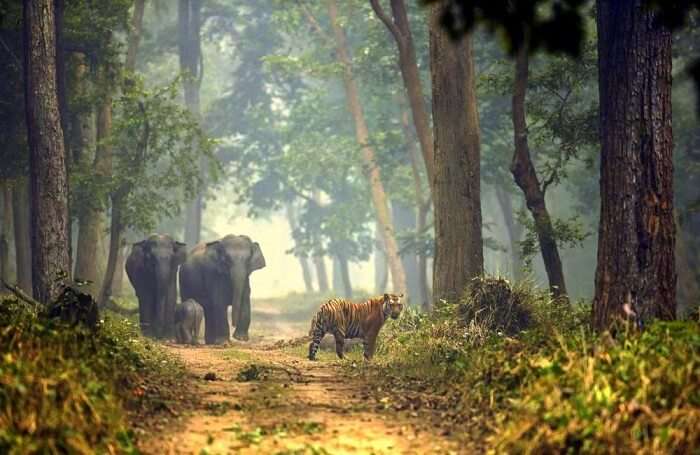 So the best time to visit Dudhwa National Park is stuck between Nov. to May on an every calendar year. The Dudhwa Park remains open to the public on or after 15th November to 15th June. The best time to visit Dudhwa National Park is between the winter and summer season, that is, between November and May. The average temperature at this time is usually around 20 degree centigrade and ideal for various activities in the park like safari and wildlife sighting.
One should try and visit well before May as the weather starts to turn hot and humid once Spring ends. Sunny winter morning are when most of the animals and birds can be spotted inside the park, or near the many water sources where they gather to drink water. The park remains open for tourists from 15th November to 15th June every year.
Must Read: 18 Places You Need To Visit For The Best Wildlife Experience In India
How To Reach Dudhwa National Park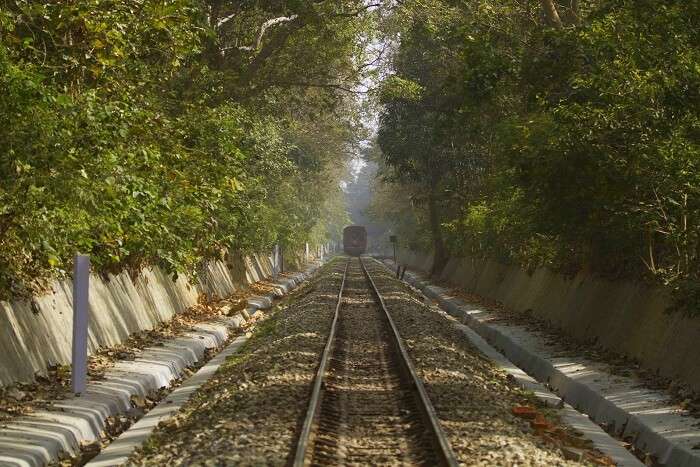 Image Source
Dudhwa in UP is well connected to the nearby cities through various means like flights, railways, and roads.
By Air: The nearest airport to Dudhwa is located in Lucknow at a distance of 230 km (5 hours). The airport receives daily flights from cities like Delhi, Mumbai, Chennai, Kolkata, and Ahmedabad. Once at the airport, one can easily hire a cab and get to the park.
By Rail: The nearest railheads are Dudhwa (4 km), Palia (10 km), and Mailani (37 km). In fact, the Dudhwa Railway Station is right in the heart of the park located 4 km from the main tourist complex at Dudhwa.
By Road: Dudhwa National Park is located at a convenient distance from many cities like Delhi, Agra, Kanpur, and Lucknow. One can either take the state-run bus service, hire a cab to the park, or simply drive to it themselves over the well-maintained road network.
Here are the distances between Dudhwa and some nearby cities to help you plan your trip well:
Distance from Delhi to Dudhwa National Park: 424 km
Travel time: 9 hours
Distance from Lucknow to Dudhwa National Park: 216 km
Travel time: 5 hours
Distance from Agra to Dudhwa National Park: 411 km
Travel time: 7 hours 30 minutes
Distance from Kanpur to Dudhwa National Park: 310 km
Travel time: 7 hours
Dudhwa National Park Timings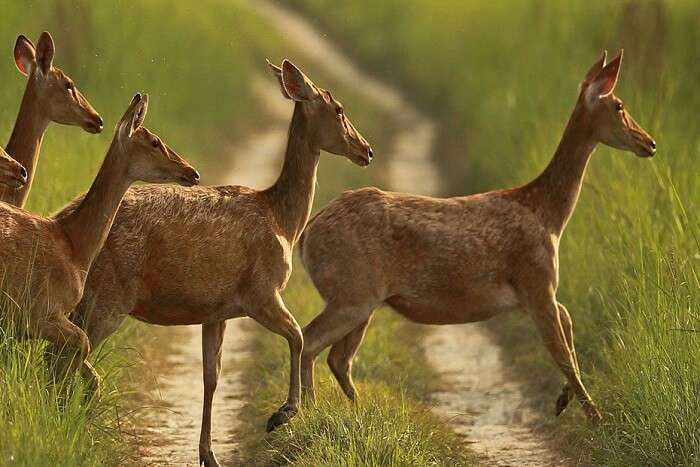 The park remains open for tourists from 7 AM to 7:45 PM. The safari, wildlife spotting, and all exploration inside the park are done within this time and no vehicle is allowed to enter after 8 PM.
Suggested Read: Surajkund Mela 2022 In Faridabad: The World's Largest International Crafts Fair!
Dudhwa National Park Entry Fee
There are nominal charges for entry into the park.
Indian Nationals: INR 50/- per person
Foreign Visitors: INR 300/-
Note: Extra charges are applicable for those who plan to stay longer than the designated safari time.
Dudhwa National Park Safari
While no private vehicles are allowed inside the park, the authorities allow jeeps and safari buses owned by certified private safari agencies to venture into the park, provided they have a valid license. These vehicles are allowed inside the park at a fee of INR 100/-.
Average Per Person Budget For A Trip To Dudhwa National Park
Here's a breakdown of the average cost per person for various aspects of a trip to Dudhwa Park like transfers, accommodation, food, safari, and other knick-knacks like shopping.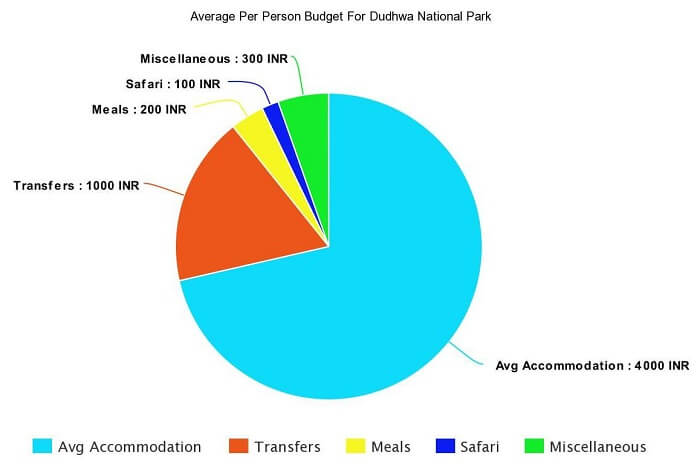 Avg Flight Rate (round trip): INR 6,500/-
Avg Accommodation: INR 4,000/-
Transfers: INR 1,000/-
Meals: INR 200/-
Safari: INR 100/-
Miscellaneous: INR 300/-
Note:
Flight rates are not included in the budget given above as they may vary on the traveler's destination and time of booking
Flight rates given above are average current round-trip airfares from Indian cities like Delhi, Mumbai, Kolkata, and Chennai
'Transfers' here indicate transportation from Delhi and Lucknow to Dudhwa Tiger Reserve (either by train or road)
Flora And Fauna Of Dudhwa National Park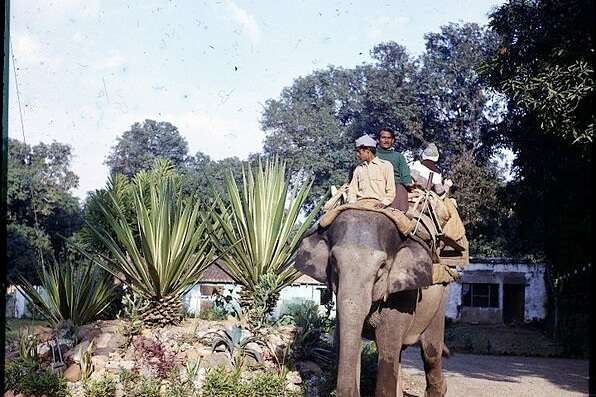 The park is home to various species of animals, birds, and plants that attract travelers here year-round.
Flora: Sal, asna, shisham, jamun, gular, sehore, bahera
Fauna: Swamp deer, sambar deer, barking deer, spotted deer, hog deer, sloth bear, ratel, jackal, civets, jungle cat, fishing cat, leopard cat, Barasinghas
Avifauna: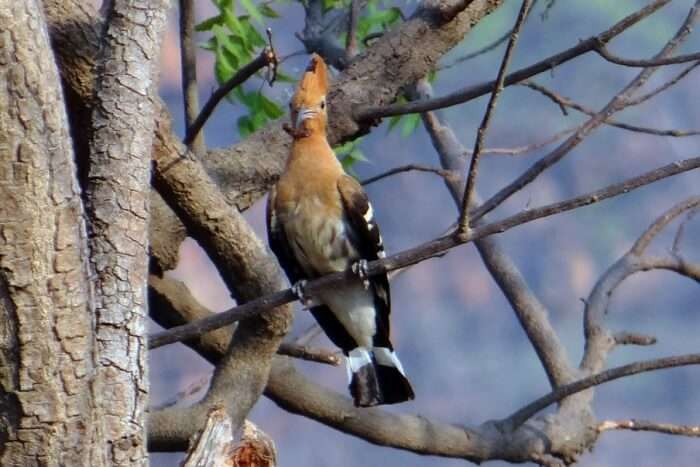 Swamp francolin, great slaty woodpecker, Bengal florican, painted storks, black and white necked storks, sarus cranes, woodpeckers, barbets, kingfishers, minivets, bee-eaters, bulbuls
Suggested Read: 12 Best Places To Visit In India During Christmas 2021
Things to do in Dudhwa National Park
From action-packed safaris to camping under the stars, there are a plethora of quite a few activities to indulge in at Dudhwa Tiger Reserve.
1. Engage In Jungle Safari At Dudhwa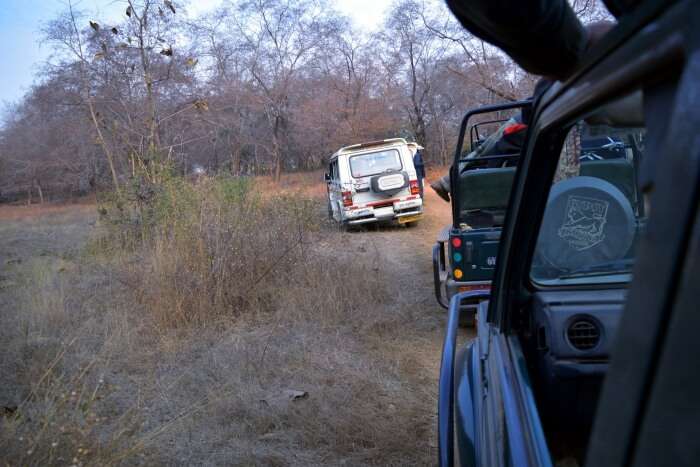 Image Source
For every wildlife enthusiast, a safari inside the Dudhwa National Park is an absolute must since the rough terrains, and the apprehension of what you might spot next will surely give you an adrenaline rush. To top it, the joy is sighting different wild animals and birds of India in their natural habitat and not as captives in a zoo is a joy in itself. While the handsome Barasinghas, the most signature element of the park, can be seen around in abundance, spotting the Royal Bengal Tiger can be a little tricky. You may have to wait for the best weather conditions and time of day for spotting these majestic creatures.
The dense Sal forest here along with the vast expanses of grasslands and wetlands contribute to making this area a unique ecosystem. The natural splendour and landscapes of the park are as much a refreshing spectacle as is animal sighting.
As mentioned earlier, no private vehicles are allowed inside the park. One can hire jeeps and safari buses owned by certified private safari agencies, provided they have a valid license.
2. Go Elephant Riding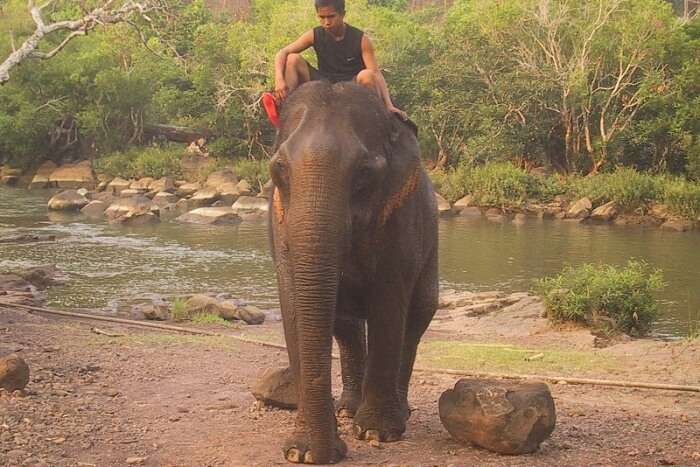 Image Source
Elephant rides inside the park are a great way to enjoy the picturesque views of the expansive grasslands, rivers, marshes, and other beautiful landscapes inside the park. It's the most thrilling activity for kids and adults alike.
3. Bird Watching Tours At Dudhwa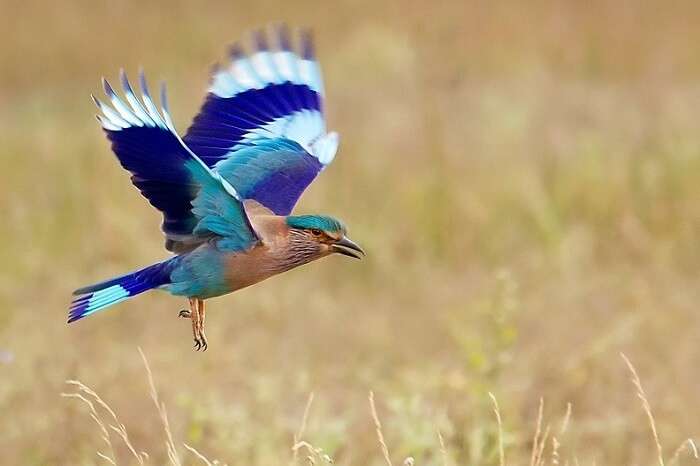 Image Source
Don't forget to take a pair of binoculars on your trip to Dudhwa National Park, as it's home to nine species of endangered birds in India. These include the Black Crested Baza, Great Indian and Indian Pied Hornbills, Laggar Falcon, Shaheen Falcon, Red Headed Merlin, Osprey, Peafowl, and the Bengal Florican. While the park is mainly an undeniable delight for bird watchers and bird photographers, every other traveler is awed by the array of colourful birds that flock to this paradise for shelter and nesting.
4. Feel The Thrill Of Jungle Camping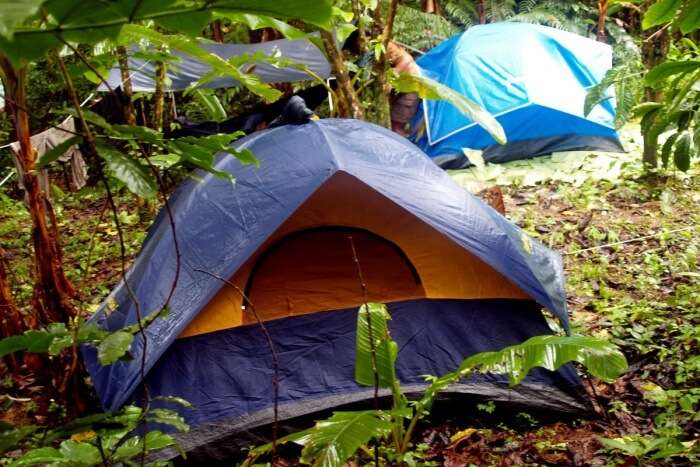 Image Source
Camping in a jungle amid lush fruits of nature is an out-of-the-world experience. Imagine sitting near your tent under a blanket of stars and before a crackling bonfire with the ones your love…blissful, isn't it? There are different luxury campsites in the tourism zone of Dudhwa National Park, most of which are situated right next to the lodges and resorts. Camping in pristine and peaceful surroundings with the wild lurking or settling down of the night all around you, there can be no other way to be one with Nature.
Suggested Read: 31 Places To Visit Near Delhi In December 2021
5. Shopping In Palia
Adjacent to the park lies the small town of Palia. Though not very popular as a tourist attraction, the town has bustling markets and streets lined with handcrafted goods. Don't miss out on a visit to this place on your trip to Dudhwa National Park.
Dudhwa National Park Accommodation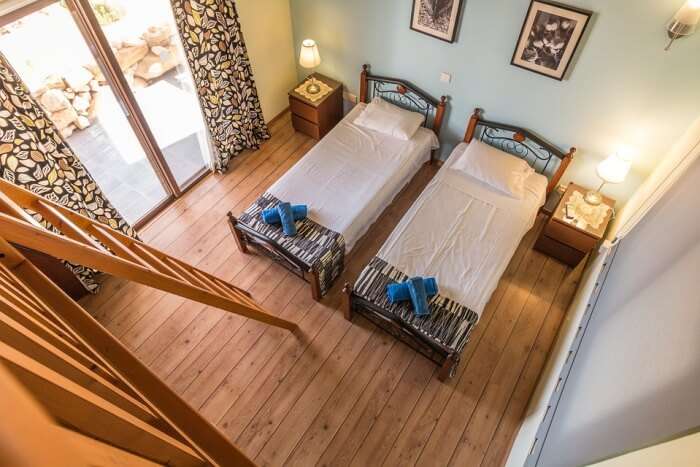 Image Source
There are plenty of Dudhwa National Park hotels and resorts near the tiger reserve. The following are budget hotels and inns within a range of INR 4,000/- per night.
Dudhwa National Park Forest Rest House – 3.5 star
Dudhwa TigeRhino Resort – 4 star
Hotel Sharda – 3.5 star
Dudhwa Jungle Lore Resort – 3.9 star
Jambolana Safari Camp – 4.5 star
Dudhwa has only one luxury resort, the tariff of which starts from INR 15,000/- per night
Suggested Read: 15 Best Places To Visit In North India In December 2021 For A Perfect End To The Year!
Restaurants In Dudhwa National Park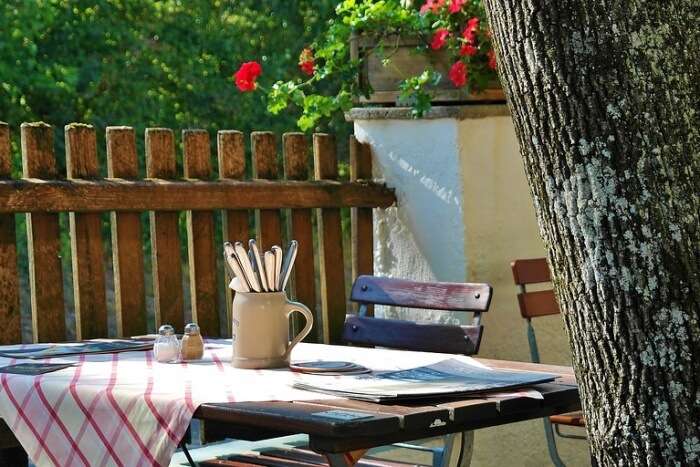 There is only one restaurant-cum-canteen inside the park that serves pure vegetarian food. Other restaurants are located at a distance from the main Dudhwa National Park tourism zone.
Dudhwa Canteen – 4.7 star
Dudhwa TigeRhino Resort – 4 star
Milan Hotel
Shri Hari Cafe
Further Read: Zodiac Signs And Their Travel Traits: Let The Stars Guide You To Your Next Holiday Destination
Greet wild beasts like the fearless Royal Bengal Tigers and Barasinghas on an adventure packed trip to Dudhwa National Park.Book your exciting trip to Lucknow NOW!
Frequently Asked Questions About Dudhwa National Park
Got queries? See if any of the following commonly asked questions help solve them for you.
What is special about the Dudhwa National Park?
The park draws its eminence from its population of the majestic Royal Bengal Tigers, Barasinghas, an incredible array of vibrant native and migratory birds, as well as a beautiful topography of hillocks, grasslands, wetlands, streams, and marshes that have made the park a unique ecosystem.
What is the ideal duration of a trip to Dudhwa National Park
A duration of 1 night 2 days is sufficient for a trip to Dudhwa Tiger Reserve that is inclusive of all major activities like safari, elephant ride, shopping, and more.
---
Looking To Book An International Holiday?
Book memorable holidays on TravelTriangle with 650+ verified travel agents for 65+ domestic and international destinations.
---
People Also Read