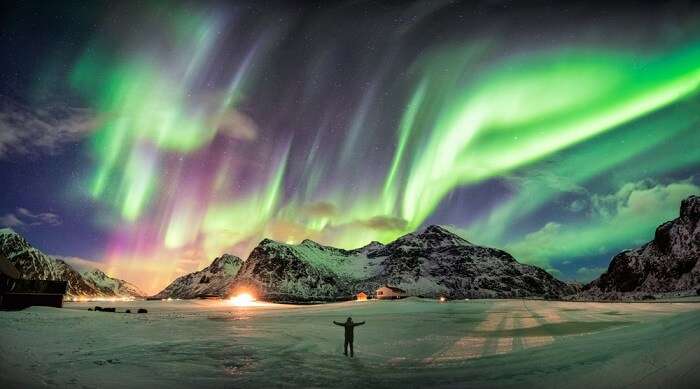 Winters usher impeccable mornings, and that's the time when blankets of snow cover the iconic places around the globe. You can feel chills while crossing the Fifth Avenue street to reach south Manhattan, and the Oxford Street in London gets dusted with snowflakes, turning the city a winter wonderland. Chilling winters of Oymyakon in Russia attract adventure freaks, and those who love to take challenges; plan for expeditions like Chadar Trek to test their endurance. Whether you are interested in a leisure winter break with your significant other or planning an amiable escape, here are the famous destinations in winter that offer unmatchable holidaying experiences to wanderers from across the world.
11 Famous Destinations in Winter
If you are planning a vacation this winter and looking for the best snowy experiences, then check out the below-mentioned famous destination in winter across the globe:
1. Zermatt, Switzerland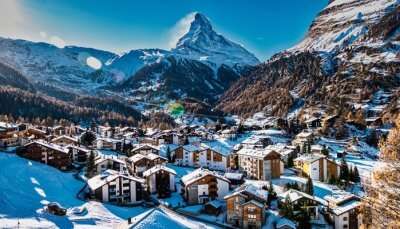 A magical, almost-too-perfect-to-be-real Alpine village, perched 10,000 feet above sea level that offers plenty of snow. There are ski slopes that are ideal for practicing your moves, be it novice or pro. Ensconced beautifully in the foothills of the Matterhorn, this is where you can ride a ski lift or sit tight inside a serene resort and enjoy a cup of hot chocolate.
Places to visit: The Matterhorn, Mountaineers' Cemetery, Gorner Gorge, Sunnegga
Things to do: Skitouring, skiing, snowshoeing, winter hiking, sledging
Suggested Read:Winters In Zermatt: Treat Yourself With The Best Of Switzerland!
2. Svalbard, Norway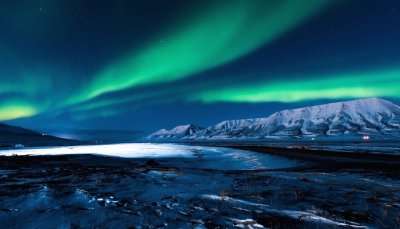 Have a hankering for checking out the Northern Lights, do you? Why not do it in winters, at Svalbard, Norway. Being the highest mining town, it is emerging as one of the best places to catch sight of Northern Lights. If you visit from November to January, you will be one of those fortunate people to experience Polar Nights. There are times when the sun doesn't rise at all, painting even the day sky in hues of blues. If you love sleeping in, all cozy under a warm blanket, this has to be one of the best places to spend the winter months.
Places to visit: Pyramiden, Svalbard Museum, Svalbard Brewery, North Pole Expedition Museum
Things to do: Dog-sledding northern lights safari, Snowcat northern lights tour
3. Lake Baikal, Russia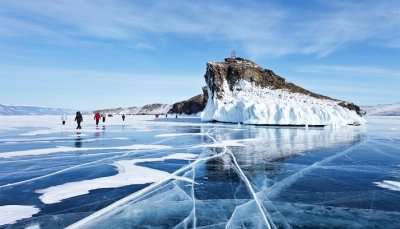 Russia is known for its will-freeze-your-bones-off winters, but visiting it in this snowy weather is a treat for the eyes! Sacred Lake, or Lake Baikal in Russia, is one of the deepest freshwater lakes in the world. And during the winters, it becomes completely frozen, leaving in its wake a gigantic ice-rink that is ideal for locals and tourists to skate, sled and snowmobile over. And if you are feeling a little too brave, after a few vodkas, there is also rafting and diving on offer at places where the lake hasn't fully frozen over yet.
Places to visit: Olkhon Island, Svyatoy Nos, Listvyanka, Irkutsk
Things to do: Skating through Olkhon, attend Ice Sculpture Festival, bathe in Mineral Springs
Suggested Read:A Visit To Lake Baikal Will Definitely Mesmerize You With Its Natural Beauty!
4. Vienna, Austria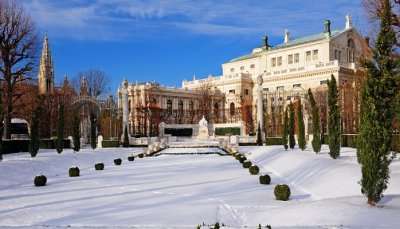 Vienna during the winters looks almost the same as any other major European country. But what makes it such a treat for the eyes is when the Christmas season comes into play. The colorful decorations and fairy lights, coupled with the mulled wine that make you see the world through rose-tinted glasses, transform the city into what you might imagine Santa's town looks like. One of the most famous destinations in winter in Europe. From skating rinks to winter fetes, from carousels to stands selling everything from hot potatoes to grilled sausages, Vienna will give you a warm feeling that will chase away the chilly winds.
Places to visit: Belvedere Palace, Schonbrunn Palace, St. Stephen's Cathedral, Vienna State Opera
Things to do: Visit Christmas markets, attend New Year's Concert, visit breweries, go ice skating
5. Rovaniemi, Finland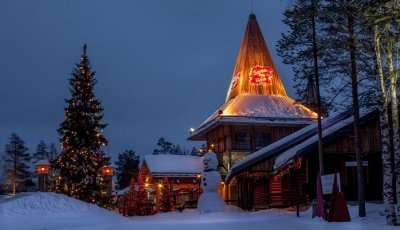 Rovaniemi is the official hometown of Santa Claus, where he is said to be deep in work all through the year with his elves. Plan riding the Santa Express that can start from the city centre. Stay in an igloo hotel room, visit the Ranua Wildlife Park, enjoy a plethora of winter sports, and so much more. Here, you get to enjoy being in one of the spectacular winter places in the world.
Places to visit: Santa Claus village, Arktikum, SantaPark, Ounasvaaran Hiihtokeskus Oy
Things to do: Go on northern Lights tours, reindeer sleigh ride, husky-sledding, snowmobile ride
Suggested Read:Visit The Santa Claus Village In Rovaniemi To Celebrate The True Spirit Of Christmas
6. Rjukan, Norway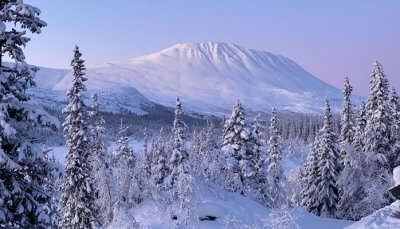 At Rajukan, you can find more than 150 ice climbing trails for beginners as well as experts. And you can check out frozen waterfalls here as well, a rarity in nature. Enjoy guided tours, or take the road-less-traveled to discover icy canyons glittering with green-blue ice when the sunlight is perfect for a day out with friends and family.
Places to visit: Gaustatoppen, The Sun Mirror, Visitor Centre Hardangervidda National Park, Krossobanen
Things to do: Ice climbing, sledging, hiking upto Gaustatoppen mountain
7. Kashmir, India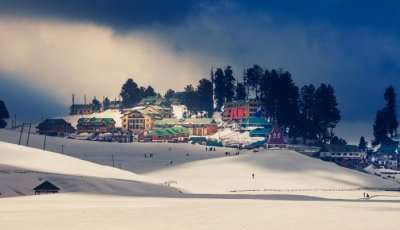 If you wish to capture the true escapades of Kashmir, then winters might be the best time for you. The weather here varies from brilliantly blue skies with the absence of clouds to dreamy swirls covering the entire valley for days. Kashmir can offer you warmth in your heart that not many home-grown winter wonderlands can. It is one of the best places to enjoy a white winter in India.
Places to visit: Sonamarg, Pahalgam, Gulmarg, Zanskar Valley, Leh
Things to do: Go for a shikara ride & gondola ride, skiing, cable car ride, camping
Suggested Read:30 Unbelievably Beautiful Places To Visit In Kashmir One Cannot Miss
8. Mt. Fuji, Japan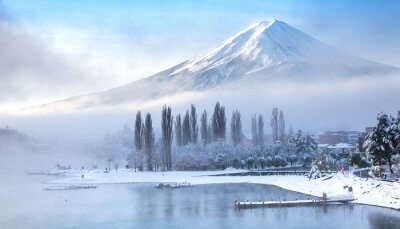 Mt. Fuji probably looks just as magnificent and statuesque in any weather, but somehow the winters and snow make it look even more striking than usual. The way the snow covers its peaks seems to be like a soft-serve spooned carefully over the sides of a waffle cone. With the air being a lot clearer in Japan during the winters, it becomes even easier to get a clearer view of Mt. Fuji. After a fresh snowfall, you can enjoy a few snowball fights with your travel mates!
Places to visit nearby: Kawaguchiko Lake, Houtou Fudou, Fujiyoshida Sengen Shrine, Fuji 5th Station
Things to do: Hiking, camping, attend Shibazakura Festival
9. Alaska, USA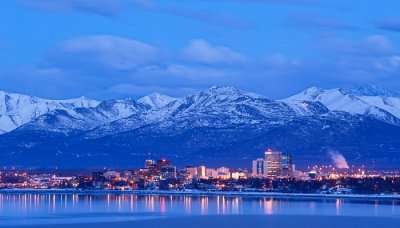 Where on earth will you find more than 3 million lakes? Why Alaska, of course. And on some, like Bear Lake in Kenai Fjords National Park, you will see glaciers looming over you. And you can check out the Northern Lights here as well, apart from some snow sports that will make sure you are all warmed up by the time you go into a snack on those delicate little salmon cakes. All this and so much more makes this place one of the top destinations to visit this winter.
Places to visit: Chena Hot Springs, Mendenhall Glacier, Kenai Fjords National Park, Kodiak Island
Things to do: Sledging, fat tire biking, witness northern lights, snowmobiling
Suggested Read:Alaska Travel Guide: All You Need To Know For Planning Your Dream Vacation!
10. Harbin, China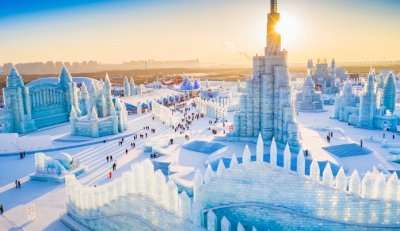 With the snow lasting for more than six months, winter is not a season in Harbin; it's a lifestyle. Harbin hosts the International Ice and Snow Festival every year, attracting adventurers from all over the world. You can climb over and into gigantic ice sculptures and even hotels. Apart from snowsports, like sledding and skiing, there are also other things to enjoy like catching the fireworks display.
Places to visit: Sun Island, Yabuli Ski Resort, Harbin Ice & Snow World, St. Sophia Church
Things to do: Snow skiing, bathe in a hot spring, enjoy Chinese new year celebrations
11. Perito Moreno Glacier, Argentina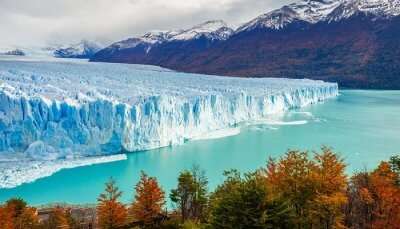 If you were looking for a glacier that never melts, then Perito Moreno Glacier in Argentina is the place to go. This glacier is growing in size as well as in reputation. You can witness the icy-blue glacier and take a boat ride to capture a closer look. It is considered one of the most famous winter places in the world. Don't forget to encounter the thrills of a glacier cave.
Places to visit: Perito Moreno National Park, Cave of the Hands, Carlos Gradin Museo de Arqueologia
Things to do: Trekking, boat ride, hiking
Suggested Read:10 Exciting Things To Do In Argentina Which One Must Definitely Tick Off From Their List!
Winters bring with them a comfort that might not be evident at first glance for some, but who's stopping you from taking a second look or even spending some time staring in awe at the thick blankets of snow covering all that you see. Plan your next winter holiday with TravelTriangle and enjoy vacationing like never before!
For our editorial codes of conduct and copyright disclaimer, please click here.

Frequently Asked Questions About Famous Destinations In Winter
Which are the best winter destinations around the world?
The world is replete with destinations where you can visit during winter seasons. Some of the best ones you can consider include Zermatt (Switzerland), Svalbard (Norway), Lake Baikal (Russia), Vienna (Austria), Rovaniemi (Finland), Rjukan (Norway), Kashmir (India), Mt. Fuji (Japan), Alaska (USA), and Harbin (China).
Are international destinations open for travel now?
Looking at the current Covid situation, most of the countries are lifting travel bans. However, before planning a trip, research wisely and stay updated with the travel advisories of the destinations you are planning to visit. Make sure to abide by the guidelines and stay safe at all times during your travel.
Which are the best experiences to enjoy in Vienna in winter?
Vienna offers a plethora of experiences during the winter season. The best ones you can enjoy on your vacay include 1. Go on a ring tram tour, 2. Visit several Christmas markets, 3. Enjoy a walking tour of Vienna, 4. Try ice skating at Vienna Ice World, 5. Attend a musical show or concert, 6. Spend a joyful Christmas, 7. Savour delicacies at top restaurants/cafes, etc.
Which are the major attractions in Kashmir?
There are numerous places in Kashmir offering you to enjoy the best of the destination. Some places that you can add to your Kashmir itinerary include Srinagar, Pahalgam, Gulmarg, Sonamarg, Leh, Doda, Kargil, Pulwama, Yusmarg, Patnitop, Baltal, Amarnath, Aru Valley, and more.
How many days are enough for a Tasmania trip?
A trip of 4-5 days is enough to witness the best of Tasmania. During your trip, you can visit several tourist attractions and also indulge in activities without rushing.