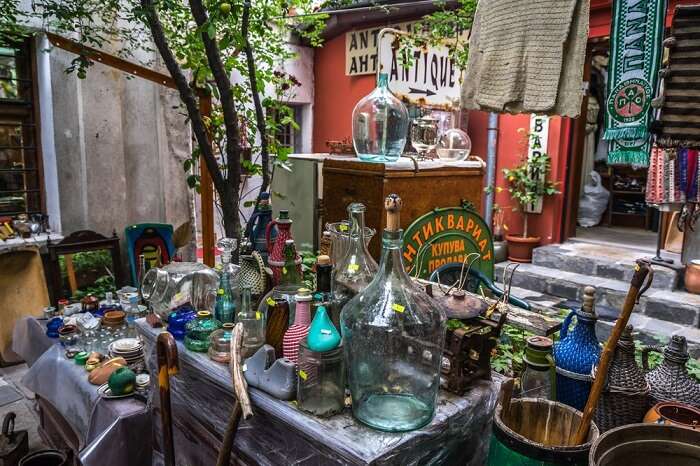 There are a large number of shopping places scattered all over the city of Plovdiv. It is a paradise for any person looking for good shopping therapy. Shopping in Plovdiv, Bulgaria will give you an entirely different experience as you have a completely different shopping atmosphere here, a variety of prices, a large number of shops selling such products that you will not find in your home market. You are bound to have a lot of fun along with a completely new experience. The shopping centers in Plovdiv, are not very far from each other and the transport system of the city is prompt and always on time. The shops here have stiff competition with each other so be sure to get a lot of discounts.
Best Places For Shopping In Plovdiv
Enjoy the best of shopping experience in Plovdiv at these shopping malls and streets from where you can buy local souvenirs and even branded items.
1. Main Shopping Street

This is a pedestrian area located at the center of the city of Plovdiv. The starting point of this shopping center is the Ramada Plovdiv Trimomntium Hotel and continues up to the pedestrian bridge that is located over the Maritsa River. This is a very long and expansive shopping area. The important landmarks of this shopping street are Stefan Stambolov Square along with its municipality building, the Roman Stadium, and the Dzhumaya Mosque. Right at the mosque, the Old Town gets connected to The Trap, where you will get the next shopping center, Hali. So you see that this is the best place or the shopping therapy. There are shops here for everyone – women children and men. You will find a myriad of fashionable items here. You will get to buy cosmetics and clothing along with accessories and groceries. There are also a good number of pharmacies and bookstores. In fact, there is a there is a shop for all kinds of shoppers. This place will ensure best shopping in Plovdiv.
Location: Knyaz Alxandar I Str., Rayko Daskalov Str
Timings: Sunday closed
Must Read: 9 Plovdiv Restaurants You Must Visit To Taste The Best Of Bulgarian Cuisine
2. Shopping Centre Hali

Just as mentioned above this shopping centre is located at a very close proximity to the Main Shopping Street. There are around 130 shops located here, scattered over the four levels of the shopping mall. You are bound to wild shopping in all the shops. The ground floor of this shopping mall is the Hypermarket Billa. The mall has its own restaurants that serve local and foreign delicacies. Apart from the big brands here you will also get all the local brands and also articles that you have never seen before. You are bound to find Bulgarian and foreign manufacturers of clothes, fashionable shoes,various accessories, souvenirs for the loved ones, and all other articles that you can think of.
Location: ul. "Kozhuharska" 4, 4000 Kapana, Plovdiv, Bulgaria
Timings: 9 AM - 9 PM
Suggested Read: 11 Best Things To Do In Sofia To Experience The Best Of this Bulgarian City
3. Shopping Center Grand

This is another shopping mall located at the heart of the city. It is built over an area of 27,000 square metres. It has six levels that include an underground parking lot. The shopping mall has all the services that you want. Apart from the shops for cosmetics accessories and clothing, you will find a hypermarket, pharmacies, commercial banks, travel agencies. There are also offices along with numerous restaurants. Here you will find clothes both of Bulgarian and foreign origin. Along with that you are guaranteed the authenticity of the things that you are buying. The environment here is very pleasant. The shops are very stylishly arranged which increases your desire for buying the goods. The staffs here are very helpful as well which enhances your shopping pleasure.
Location: TG. Grand, Ul. Kapitan, Raycho 56 TG. Grande, Plovdiv, Bulgaria
Timings: 10 AM - 7 PM, Sunday closed
Suggested Read: Museums In Bulgaria: 12 Wonders That Fascinate All Avid Travelers
4. Markovo Tepe Shopping Mall

This is one of the best shopping malls in Plovdiv. The mall covers an area of 55,000 sq. m. it is designed in such a manner that there is optimal flow of shoppers at all times and this commercial site is a very important landmark of the people here. There are a variety of shops from where you can enjoy shopping and also have a good time doing it. This mall houses multiple facilities like a spa centres, cafes and restaurants, and gym as well. if you wish to watch a movie then you get to choose from the cinematic experience of IMAX, LUXE, PREMIUM, or VIP. You also have a quick access banking system here, along with all required mobile services that will help you at all times. The parking space is very well planned here. There are around 600 parking spaces that are located on 4 underground levels. Along with that there is an outdoor free parking area.
Location: bul. "Ruski, 4002 Tsentar, Plovdiv, Bulgaria
Timings: 10 AM - 9 PM
Suggested Read: 10 Stunning Castles In Bulgaria That Showcase It's Awesome History & Heritage
5. Mall Plovdiv

This is the first shopping centre in Plovdiv that has been constructed in a very modern style. This is an all in one shopping facility. The supermarket here houses around 120 retail shops. There are branches of important banks, mobile operators, travel agencies, pharmacies, bookstores and so much more. There is a floor here called the cinema city. It has 11 cinema halls for premiering multiple movies at once. This mall ensures that anyone who is in this area will not get bored at any cost. Apart from all this, you have a large number of restaurants all throughout the mall. There are cafes and snack bars as well. The delicacies here cover multiple cuisines. The mall has underground parking spots for ease of parking in the area. The mall is just 2.5kmm from the main shopping street, which is a ten-minute drive by car or a mere 20 minutes' walk from this mall. The mall is open all day of the week from 9.00am to 10.00pm.
Location: ul. "Perushtitsa" 8, 4002 g.k. Mladezhki halm, Plovdiv, Bulgaria
Timings: 10 AM - 9 PM
Suggested Read: 12 Legendary Festivals In Bulgaria: Rejoice The Balkans Local Traditions
6. Shopping Centre Excelsior

This is one of the best-known pearls of shopping centers in Plovdiv. This gem is located in the main shopping street. This shopping center is included in the country's list of Cultural Monuments. This shopping center is an old building that has been renovated into a shopping mall. This shopping center is better known for its restaurants, and cafeterias, that serve excellent food and coffees. The place also has a summer garden that attracts a lot of tourists. The interesting fact about this restaurant is that the ruins of the Roman Stadium are to be found at its foundation, which also makes it a spot of historical interest.
Location: 24 Knyaz Alexander Batenberg Str., Plovdiv 4000
Suggested Read: Bulgaria Nightlife: 15 Hip And Happening Places For A Dazzling Time
7. Forum Trakia

This mall is located in t het heart of the Trakia district of Plovdiv. It is the largest district of Plovdiv. There are around 120 retail shops located here and 6 restaurants. The main attraction of this mall is the children's area and the cocktail bar. Apart from this attractioin there are the beauty centres that attracts a lot of the female crowds.
Location: 4023 "Turgovski", Plovdiv, Bulgaria
Timings: 10 AM - 10 PM
Further Read: 13 Beaches In Bulgaria You Must Visit For A Laidback Experience
These are some of the best shopping malls in Plovdiv that you must visit. The time you spend shopping in Plovdiv will be a great experience on your trip to Europe and you can explore the variety of things this city has to offer. Enjoy shopping and have an amazing vacation here.
---
People Also Read: