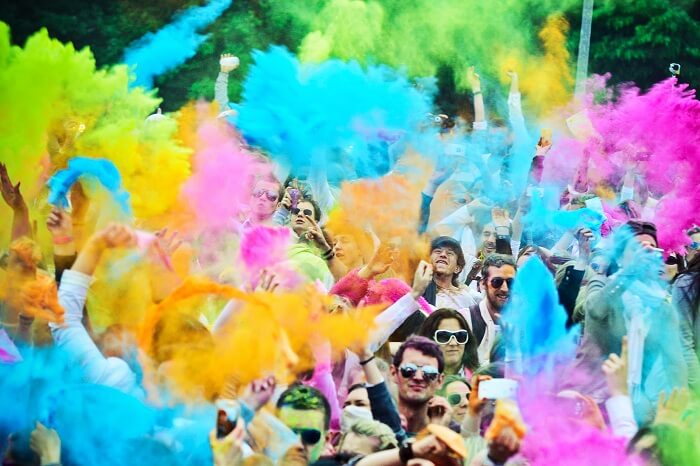 As we all wait for the spring season in March after the cold and chilly winter people in different parts of the country begin celebrating the most fun-packed festivals. The festivals in March are colorful, high-spirited, and filled with a lot of fun.
Here is a list of vibrant and fascinating Indian festivals in March. It's your chance to be a part of these festivals and witness the diversity of this incredible nation.
1. Holi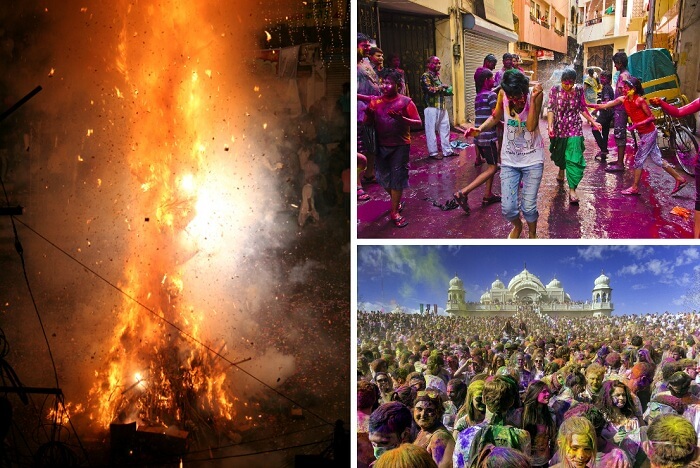 Holi is primarily a 2-day festival in India. Day 1 includes a huge bonfire at night. It is the next day that people play the festival of color.
i. Mewar Holika Dahan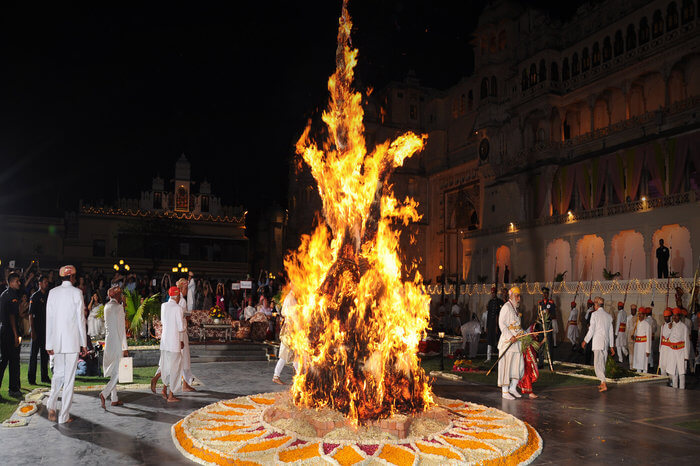 Where: Udaipur
On the eve of Holi, there is a huge bonfire on the City Palace ground in Udaipur. This marks the burning and fading away of all the evils and negativities. The king of Mewar himself graces the occasion of the Dahan.
Key attractions: A rally accompanied by royally decorated elephants and horses and a regal band starting from Manek Chowk residence.
2017 Date: March 12
ii. Lath Maar Holi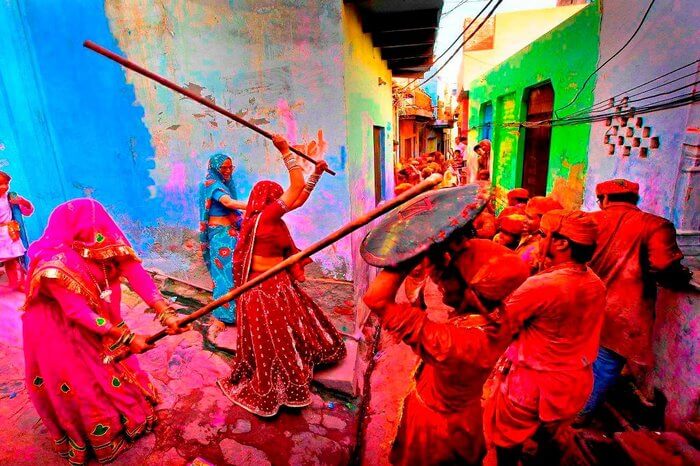 Where: Barsana and Nandgaon, Mathura
Lathmar Holi is celebrated in a unique style in Barsana and Nandgaon towns of Mathura. It is believed mythologically that Krishna once came to Barsana to tease Radha and was playfully beaten by her and her companions. Hence, holi is celebrated here by playfully beating the men with bamboo sticks. This is one of the most unique religious festivals in March.
Key attractions: The fun and exciting holi battle where ladies beat up men with bamboo sticks and men in return throw colours and sing songs to tease them. Undoubtedly an exclusive version of Holi.
2017 Date: March 5 to March 8
Must Read: The Epic Lathmar Holi In Mathura & Vrindavan: Up For It?
iii. Rangon Ki Holi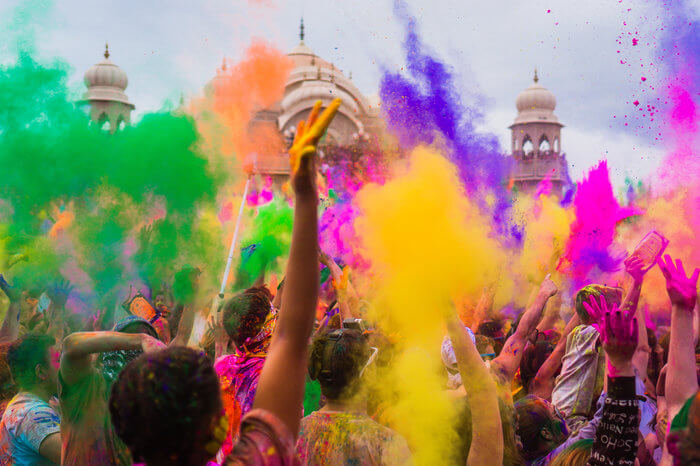 Where: Pan India
Holi is one of the most famous and immensely bright and vibrant festivals in March – celebrated to mark the triumph of Prince Prahlad over Holika. Holi eve is celebrated by huge bonfire known as Holika Dahan; the next day people celebrate with dry and wet colours, share sweets and happiness.
In Shantiniketan, West Bengal, Holi is celebrated as Basanta Utsav or Dol Utsav. Here, the festival is celebrated with dry colours or gulal, traditional Bengali songs, and dance performances and carnivals.
How's it celebrated: Gulal and wet colours sprayed through water guns, jet sprays, and water filled balloons. In Vrindavan, Holi is celebrated with flowers. In Basanta Utsav, one must not miss the morning procession- known as 'Prabhat Feri' where local girls and boys in traditional attire explore the streets, singing and dancing in joy.
2017 Date: March 13
Must Read: Rang Barse!- 6 Awesome Places to Celebrate Holi this Year
2. International Yoga Festival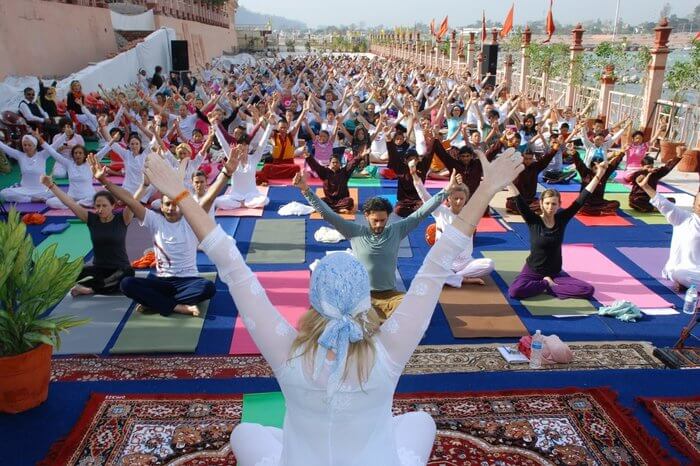 Where: Rishikesh, Uttarakhand
This is one of its kind festivals in March in India in Parmarth Niketan Ashram in Rishikesh. More than 500 yoga enthusiasts, trainers and orators from 30 countries gather here to attend the yoga sessions and take part in talk shows and discussions.
Key attractions: Discussions by spiritual leaders, cooking classes and global yoga sessions by renowned yoga practitioners like Swami Chidanand Saraswati, Shankaracharya Swami Divyanand Teerth, Swami M.M. Asanganandji, Swami Avdheshanand Giri, Pranav Pandya
2017 Date: March 1-7
3. Chapchar Kut Festival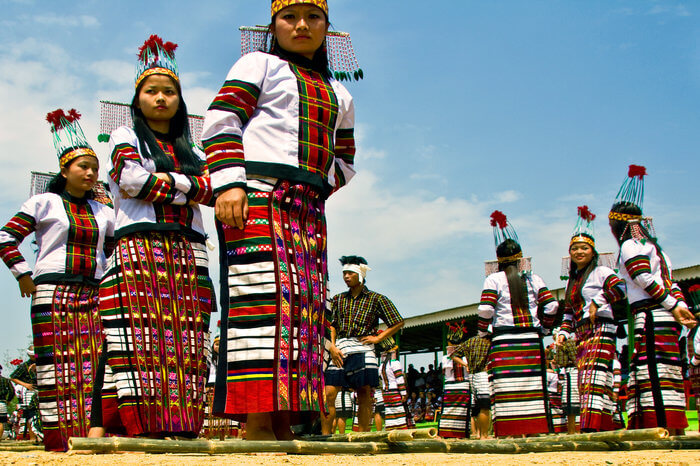 Where: Mizoram
Chapchar Kut is a harvest festival of bamboo shoots, celebrated to mark the drying up process and subsequent cultivation. This is one of the incredible cultural festivals in March in India, where the local people wear their traditional outfit, dance and sing, play drums, gongs and cymbals. Carnivals are also held along with stalls of local food, flower shows and handicrafts.
How's it celebrated: The bamboo dance is the main attraction of the festival. In this dance, men tap the bamboo and open and close them in rhythmic beats as the women step in and out elegantly to the beats of bamboos.
2017 Date: March 3
4. Parippally Gajamela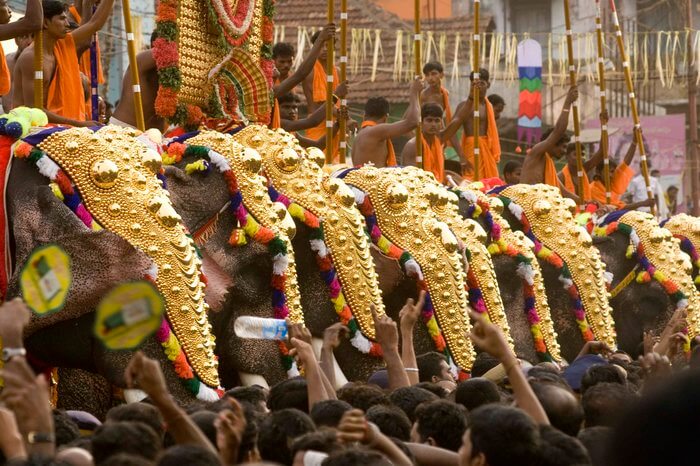 Where: Paripally Kodimoottil Bhagavathy Temple, Kollam district, Kerala
Paripally Gajmela is one of the most incredible temple festivals in Kerala. The 10-day event witnesses parading of upto 50 caparisoned elephants. After that, a host of cultural programmes are organized on the premises of the temple. According to the belief of the locals, offering made to the elephants satisfies the deity and grants all the wishes of the devotees. . This is one of the fascinating festivals in March.
Key attractions: Richly decorated elephants' parade
2017 Date: March 5
5. Attukal Pongala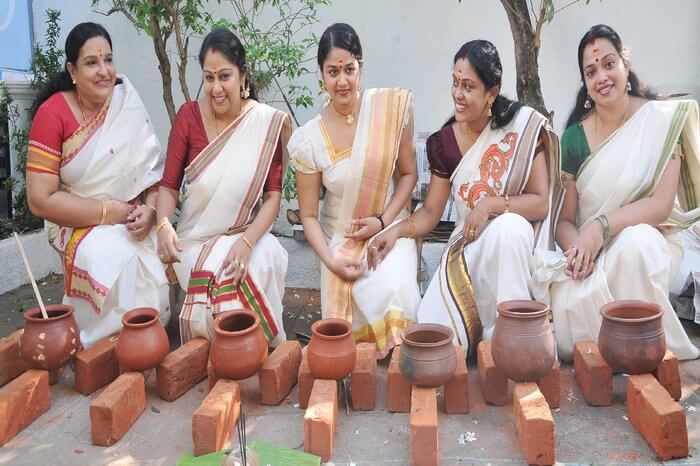 Where: Trivandrum, Kerala
Pongala is one of the spectacular religious festivals in March celebrated in Attukal Bhagavathi temple in Trivandrum. Here devotees offer Pongala, i.e. rice porridge, sweet brown molasses, coconut gratings, nuts and raisins to goddess Attukalamma.
Key attractions: Thousands of ladies, irrespective of religion and cast, gather at the temple to make the Pongala offering. This festival has found a place in the Guinness Book of World Records for being the largest gathering of women for an event..
2017 Date: March 11
6. Matho Nagrang Festival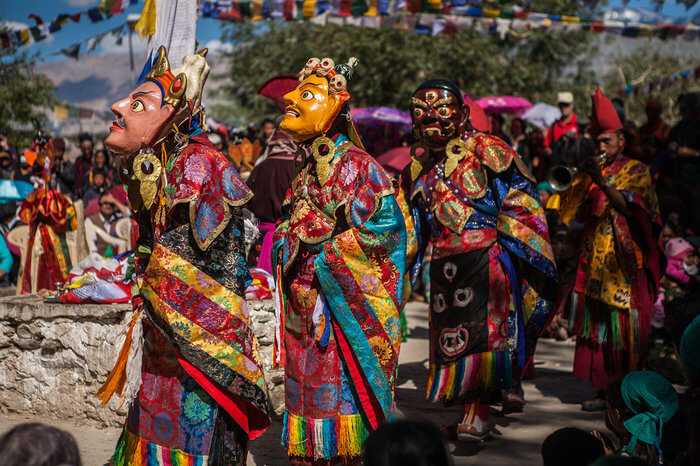 Where: Leh, Ladakh
Celebrated on the 15th day of Tibetan calendar in the first month, Matho Nagrang is celebrated with great cheerfulness and vibrancy in Matho Monastery. This is a 2-day festival, where local people perform dance and songs, wear silk robes resembling Ladakhi gods and goddesses. This festival also marks the homecoming of two oracles (two monks) after spending a month in meditating in remoteness. Amongst all the festivals in March in Ladakh, Matho Nagrang is the liveliest one.
Key attractions: Mask dance
2017 Date: March 11-12
7. Chettikulangara Bharani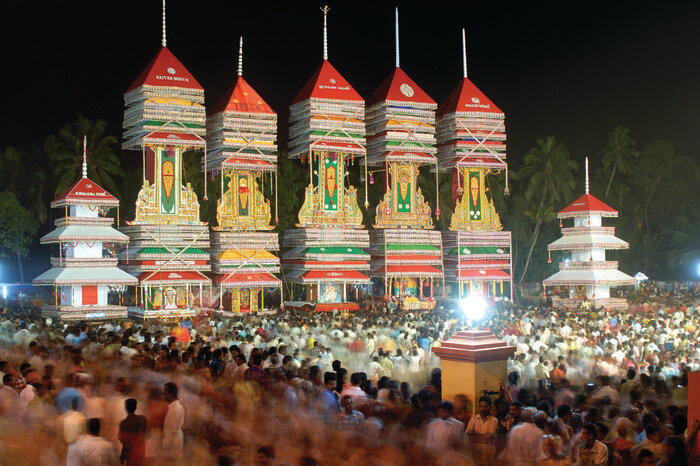 Where: Alleppey, Kerala
This is one of the stunning festivals of March in India, celebrated in Chettikulangara temple. The festival is devoted to Goddess Bhagavathy. The celebration also showcase a grand procession around the countryside, and offerings of rice and coconuts made to God, fireworks, music, dance and gala decorations.
Key attractions: Kettukazhcha- a rally of radiantly decorated structures
2017 Date: March 3
8. Jaipur Elephant Festival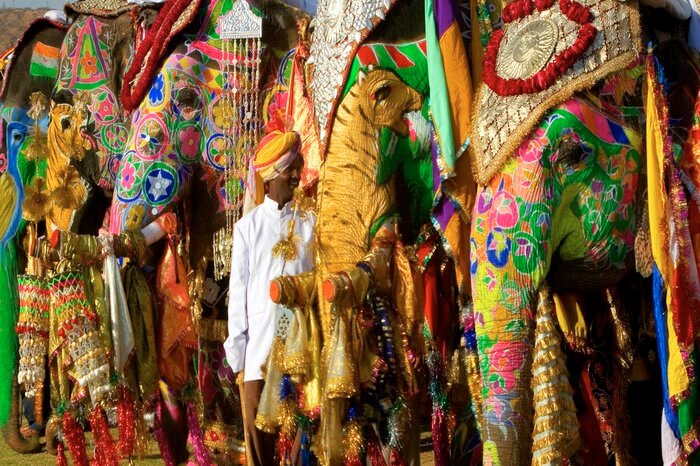 Where: Jaipur
This festival coincides with Holi, where elephants are ornamented with robes, jhools, and beautiful paintings. Grand processions of stunningly decorated elephants, camels, and horses are seen along with amazing musical performances.. In the end, the best decorated elephant is rewarded. Undoubtedly, this is one of the most gorgeous festivals in March in Rajasthan.
Key attractions: Elephant polo, Elephant race, and the tug-of-war between Elephant and men and women
2017 Date: March 13
9. Shigmotsav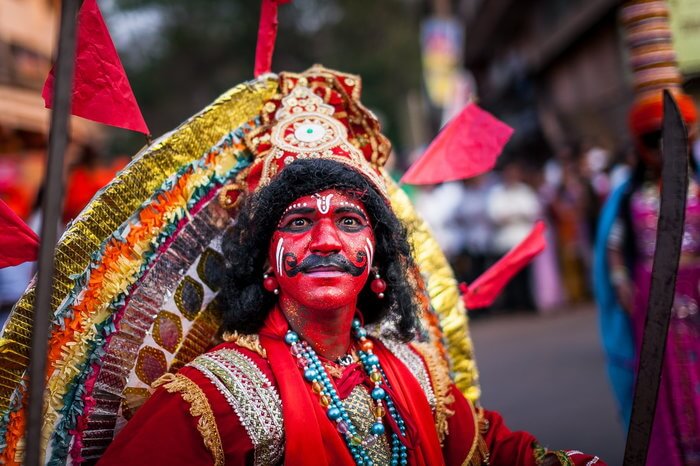 Where: Goa
In Goa, Shimotsav is celebrated to mark the change of season. Goans bid farewell to winter and welcome the spring season. Around this festival, the whole state gets soaked in merriment with parades, local dances, folk music, flutes, and drum beats. This is one of the most popular festivals in March in 2017.
Key attractions: Floating parade on the final day
2017 Date: March 11
10. Thirunakkara Arattu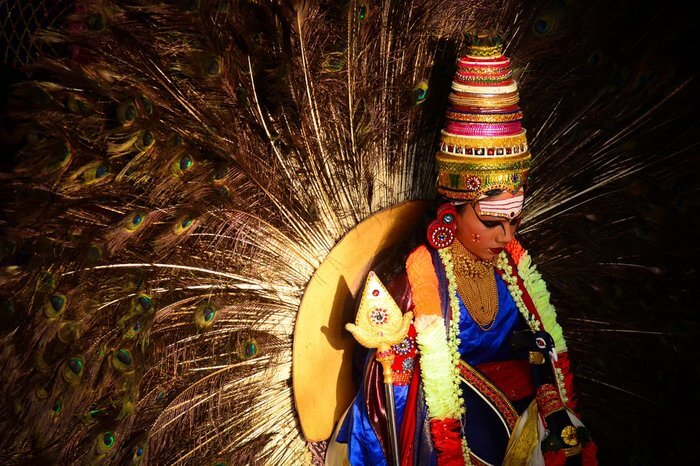 Where: Kottayam, Kerala
Thirunakkara Arattu is one of the most fascinating Indian festivals in March, celebrated in Thirunakkara Mahadeva Temple in Kottayam. This is one of the most stunning 10-day long temple festivals of Kerala, where a gala rally of elephants is organised along with traditional drummers to take the God for holy bath. Local people perform folk arts like Mayilattom (peacock dance), Velakali etc in the evening.
Key attractions: All day long Kathakali dance performances and traditional Mayilattom or peacock dance
2017 Date: March 15- 24
11. Myoko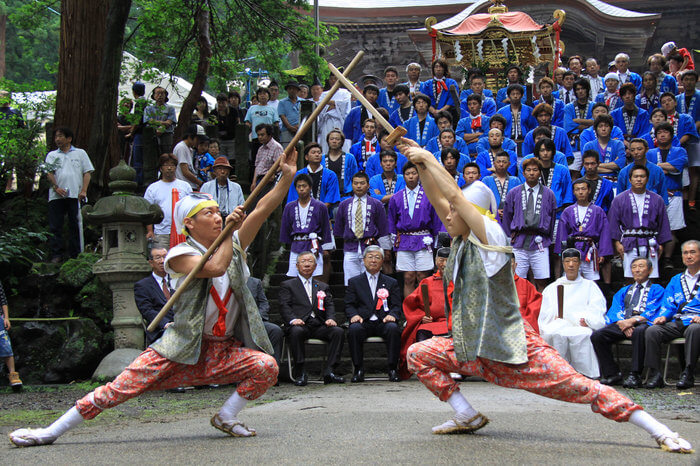 Where: Ziro, Arunachal Pradesh
Myoko is one of the most spectacular Indian festivals in march celebrated by the tribes of Ziro. This festival is organised by the Apatani Tribe to honour prosperity, purification, fertility, and sacrifice. Locals in their traditional attire sing and dance in merriment and cook delicious local food.
Key attractions: Folk performances, martial art, fireworks and drums.
2017 Date: March 20-30
12. Kasauli Rhythm and Blues Festival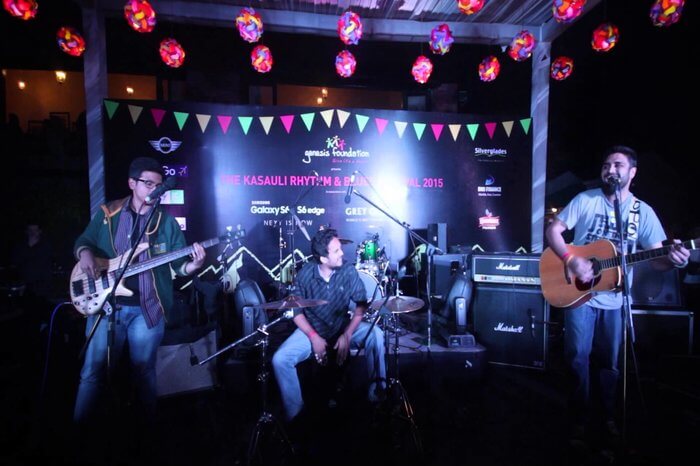 Where: Kasauli, Himachal Pradesh
Good news music lovers! Travel to the hills this March to be a part of the rhythms and blues- the most happening music festival of March in India. From hard rock metal to Bollywood peppy numbers; this musical extravaganza rocks the hills and valleys of Kasauli. This is one of the most popular festivals in March in 2017, especially amongst youngsters and music freaks.
Key attractions: Stunning performances of maestros and kick off gigs of ammeters.
2017 Date: March 25
13. Gudi Padwa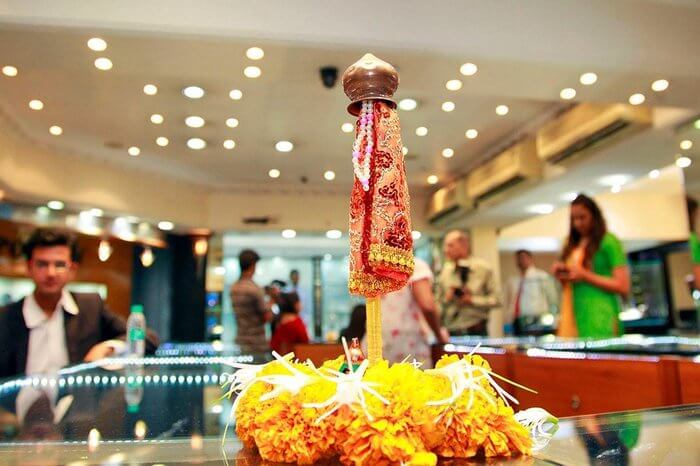 Where: South India and Maharashtra
Known as Samvatsar Padvo, Yugadi, Ugadi, Cheti Chand or and Navreh, this is one of the most important and popular harvest festivals of India in March. The houses are cleaned, decorated with rangoli, people dress up in their best festival attire and visit friends and folks. Traditionally, people also eat bittersweet leaves of the neem tree along with jaggery and turmeric paste to purify blood and strengthen immune system.
Key attractions: Foods like Shrikhand and Poori or Puran Poli, Kanangachi Kheer, a variety of Kheer made of sweet potato, coconut milk, jaggery, rice flour, etc. and Sanna are prepared in every home.
2017 Date: March 29
Now you know what's going on in the month of March across India, pick your choices and plan accordingly. We are sure that you will have a unique experience altogether.
Further Read: 15 Famous Festivals Of India
Comments
comments