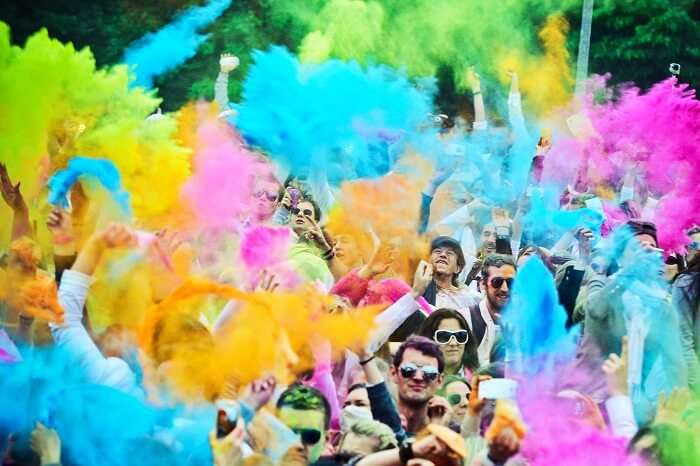 We all wait for the spring season in March after the cold and chilly winter. People in different parts of the world begin celebrating the most fun-packed festivals. The festivals in March around the world are colourful, high-spirited, and filled with a lot of fun. Festivals are the best way to bring together family, friends and a sigh of relief among stressful days. The greatness of a culture is best reflected in its festivals and that is why you must attend one to get to know a place better. Here is a list of vibrant and fascinating  festivals in March. It's your chance to be a part of these festivals and witness the diversity of some of the most incredible nations. Do take this list along on your vacay and have a blast!
Top 15 Festivals In March In India
Searching for March festival 2022? Who isn't fond of festivals? Nothing brings people together as festivals do. Also, one cannot ignore their cultural significance. Here is the list of festivals in March 2022 in India you must be a part of. Take a look:
Mewar Holika Dahan: 28th March
Lath Maar Holi: March 13th in Barsana and March 14th in Nandgaon
Rangon Ki Holi: 18th March
International Yoga Festival: 7th -13th March 2022
Chapchar Kut Festival: 4th March
Parippally Gajamela: 4th March
Chettikulangara Bharani: 7th March
Jaipur Elephant Festival: 17th March
Shigmotsav: 21st March
Thirunakkara Arattu: 24th March
Myoko: 18 – 30 March
1. Mewar Holika Dahan: 28th March

Holi is primarily a 2-day festival in India. Day 1 includes a huge bonfire at night. It is the next day that people play the festival of color. On the eve of Holi, there is a huge bonfire on the City Palace ground in Udaipur. This marks the burning and fading away of all the evils and negativities. The king of Mewar himself graces the occasion of the Dahan. This is one of the most popular Indian festivals in March 2022.
Where: Udaipur
Key attractions on Holi in 2022: A rally accompanied by royally decorated elephants and horses and a regal band starting from Manek Chowk residence.
Date: 28th March
Must Read: Celebrations Of Holi In Mathura And Vrindavan 2022
2. Lath Maar Holi: March 13 In Barsana And March 14 In Nandgaon

Lathmar Holi is celebrated in a unique style in Barsana and Nandgaon towns of Mathura. It is believed mythologically that Krishna once came to Barsana to tease Radha and was playfully beaten by her and her companions. Hence, Holi is celebrated here by playfully beating the men with bamboo sticks. This is one of the most unique Hindu festivals in March. Make sure to visit Mathura in March around the time of this festival to learn about its cultural significance.
Where: Barsana and Nandgaon, Mathura
Key attractions on Holi in 2022: The fun and exciting Holi battle where ladies beat up men with bamboo sticks and men in return throw colors and sing songs to tease them. Undoubtedly an exclusive version of Holi.
Date: 13th & 14th March
Suggested Read: Bharatpur Bird Sanctuary: Your Perfect Date With Nature
3. Rangon Ki Holi: 18th March

Holi is one of the most famous and immensely bright and vibrant festivals in March – celebrated to mark the triumph of Prince Prahlad over Holika. Holi eve is celebrated by huge bonfire known as Holika Dahan; the next day people celebrate with dry and wet colors, share sweets and happiness. In Shantiniketan, West Bengal, Holi is celebrated as Basanta Utsav or Dol Utsav. Here, the festival is celebrated with dry colors or gulal, traditional Bengali songs, and dance performances and carnivals.
Where: Pan India
Key attractions on Holi in 2022: Gulal and wet colors sprayed through water guns, jet sprays, and water-filled balloons. In Vrindavan, Holi is celebrated with flowers. In Basanta Utsav, one must not miss the morning procession- known as 'Prabhat Feri' where local girls and boys in traditional attire explore the streets, singing and dancing in joy.
Date: 18th March
Suggested Read: 10 Awesome Places To Celebrate Holi In India In 2022
4. International Yoga Festival: 7th -13th March 2022

This is one of its kind festivals in March 2022 India in Parmarth Niketan Ashram in Rishikesh. More than 500 yoga enthusiasts, trainers, and orators from 30 countries gather here to attend the yoga sessions and take part in talk shows and discussions. Make sure to visit Uttarakhand in March around the time of this festival. This excursion will prove to be a very relaxing experience.
Where: Rishikesh, Uttarakhand
Key attractions: Discussions by spiritual leaders, cooking classes and global yoga sessions by renowned yoga practitioners like Swami Chidanand Saraswati, Shankaracharya Swami Divyanand Teerth, Swami M.M. Asanganandji, Swami Avdheshanand Giri, Pranav Pandya
Date: 7th -13th March 2022
Suggested Read: 20 Best Resorts In Kumarakom
5. Chapchar Kut Festival: 4th March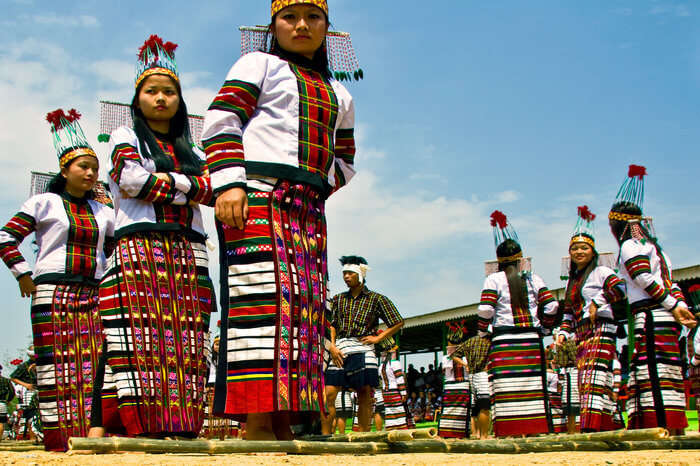 Chapchar Kut is a harvest festival of bamboo shoots, celebrated to mark the drying up process and subsequent cultivation. This is one of the incredible cultural festivals in March in India, where the local people wear their traditional outfit, dance, and sing, play drums, gongs, and cymbals. Carnivals are also held along with stalls of local food, flower shows, and handicrafts.
Where: Mizoram
Key attractions: The bamboo dance is the main attraction of the festival. In this dance, men tap the bamboo and open and close them in rhythmic beats as the women step in and out elegantly to the beats of bamboos.
Date: 4th March
Suggested Read: Ranthambore National Park: The Biggest Habitat Of Nature's Most Ferocious Predator
6. Parippally Gajamela: 4th March

Paripally Gajmela is one of the most incredible temple festivals in Kerala. The 10-day event witnesses parading of up to 50 caparisoned elephants. After that, a host of cultural programmes are organized on the premises of the temple. According to the belief of the locals, an offering made to the elephants satisfies the deity and grants all the wishes of the devotees. This is one of the fascinating festivals in March.
Where: Paripally Kodimoottil Bhagavathy Temple, Kollam district, Kerala
Key attractions: Richly decorated elephants' parade
Date: 4th March
Suggested Read: 22 Wildlife Sanctuaries In Kerala That Showcase South India's Exotic Fauna & Flora In 2022!
7. Chettikulangara Bharani: 7th March

This is one of the stunning festivals of March in India, celebrated in Chettikulangara temple. The festival is devoted to Goddess Bhagavathy. The celebration also showcases a grand procession around the countryside, and offerings of rice and coconuts made to God, fireworks, music, dance and gala decorations. If you want to learn more about why this festival is celebrated and its cultural significance, head to Kerala and get a firsthand experience.
Where: Alleppey, Kerala
Key attractions: Kettukazhcha- a rally of radiantly decorated structures
Date: 7th March
Suggested Read: Top 12 Summer Festivals In India You Must Plan Attending In 2022!
8. Jaipur Elephant Festival: 17th March

This festival coincides with Holi, where elephants are ornamented with robes, jhools, and beautiful paintings. Grand processions of stunningly decorated elephants, camels, and horses are seen along with amazing musical performances. In the end, the best-decorated elephant is rewarded. Undoubtedly, this is one of the most gorgeous festivals in March in Rajasthan.
Where: Jaipur
Key attractions: Elephant polo, Elephant race, and the tug-of-war between Elephant and men and women
Date: 17th March
Suggested Read: Top 39 Things To Do In Jaipur: Exploring The Pink City All Over Again In 2022
9. Shigmotsav: 21st March

In Goa, Shimotsav is celebrated to mark the change of season. Goans bid farewell to winter and welcome the spring season. Around this festival, the whole state gets soaked in merriment with parades, local dances, folk music, flutes, and drum beats. This is one of the most popular festivals in March in 2022. If you want to learn more about the cultural and religious significance of this renowned festival, head to Goa in March. You will not regret this trip.
Where: Goa
Key attractions: Floating parade on the final day
Date: 21st March
Suggested Read: 43 Famous Beaches In Goa That Will Make Your 2022 Vacay A Happy Trip
10. Thirunakkara Arattu: 24th March

Thirunakkara Arattu is one of the most fascinating Indian festivals in the month of March, celebrated in Thirunakkara Mahadeva Temple in Kottayam. This is one of the most stunning 10-day long temple festivals of Kerala, where a gala rally of elephants is organized along with traditional drummers to take God for holy bath. Local people perform folk arts like Mayilattom (peacock dance), Velakali etc in the evening.
Where: Kottayam, Kerala
Key attractions: All day long Kathakali dance performances and traditional Mayilattom or peacock dance
Date: 24th March
Suggested Read: 15 Best Things To Do In Nainital For An Amazing Holiday In 2022
11. Myoko

Myoko is one of the most spectacular Indian festivals in March celebrated by the tribes of Ziro. This festival is organized by the Apatani Tribe to honor prosperity, purification, fertility, and sacrifice. Locals in their traditional attire sing and dance in merriment and cook delicious local food. This festival holds a lot of importance for the Indians. Make sure to participate in it, we promise you will have a fun time.
Where: Ziro, Arunachal Pradesh
Key attractions: Folk performances, martial art, fireworks and drums.
Date: To be announced
Suggested Read: 36 Most Famous Festivals Of India You Must Experience In 2022
Top 4 Festivals In March In The World
Festivals are a great way to explore and get to know about the culture of a country or a city and exciting for the young and the old alike. A welcome break from stress and another excuse for taking a trip, festivals are something you can't miss! With the changing trend people have started exploring new destinations for the sole purpose of attending a particular festivity. So, here are some of the festivals celebrated in March that you can attend!
Grape Harvest Festival
Narvik Winter Festival
Cherry Blossom Festival
Moomba Festival
1. Grape Harvest Festival

Established in 1936, the Grape Harvest Festival is one of the March festivals celebrated in Mendoza, Argentina and is a one of a kind of festival that has the wine growers and the wine makers coming together in a summer month in Argentina and is an annual event where over 20,000 revellers come together and there are parades, performances aand even fireworks and of course, great wine to taste! There is a great show where even actors and dancers participate.
Where: Mendoza, Argentina
Key attractions: Performances, a special show in Frank Romero Day Greek Theatre
Date: NA
Suggested Read: Honeymoon In Argentina: A Guide For Couples Looking To Spend Time Together
2. Narvik Winter Festival

Image Courtesy: vinterfestuka.no
One of the March festivals 2022 which will want you to plan that Norway vacation right away is the Narvik Winter Festival. If you are interested in a little bit of history then this festival has its origin in the Second World War. Now that might sound absurd but the festival is also dedicated to workers who built the railway line connecting Narvik and Kiruna during the nineteenth century. Now an international event, Narvik Winter Festival is now an international event wherein dance, threatrical performances, music and literary and art events are held.
Where: Narvik, Norway
Key attractions: Literary and Art exhibitions, theatrical performances
Date: March 18–27, 2022
Suggested Read: 9 Lakes In Norway Worth Exploring On Your Dream Vacation To Europe
3. Cherry Blossom Festival

One of the most exotic and beautiful March festivals is the Cherry Blossom Festival in Japan. Now, Cherry Blossoms start blooming in some parts of the country as early as January and go on till May. However, in some of the major cities in Japan the season for it is the month of March. It is expected that the trees will be in full bloom in Tokyo around March 23, in Hiroshima and Kyoto around March 25 and in Osaka around March 25 and are something not to be missed.
Where: Japan
Key attractions: Pink blushing cherry blossoms
Date: March 20 – April 17, 2022
Suggested Read: Kyoto Festivals: 6 Traditional Celebrations Which Reflects The History Of The City!
4. Moomba Festival: 6 – 9 March

The list of March festivals 2022 can't be complete without the mention of Australia's largest free community festival. The Moomba festival reflects Australian tradition at its very best and happens on the iconic Yarra River. A cultural festival that has different kinds of food, sports, art, music and fun performances, Moomba Festival will make your Australian experience so much better. There are carnivals by the side of the river and fireworks which are a sight to witness!
Where: Melbourne, Australia
Key attractions: Carnivals along the river and performances
Date: March 11th -14th, 2022
Further Read: 15 Restaurants In Melbourne That Are A Hit With The Tourists
Now you know all about the festivals in March across India, pick your choices and plan accordingly. We are sure that you will have a unique experience altogether. If you're feeling inspired, go ahead and plan an international trip. Haven't you heard: the early bird catches the worm? Celebrate these  festivals in March and have a fun time.
Disclaimer: TravelTriangle claims no credit for images featured on our blog site unless otherwise noted. All visual content is copyrighted to its respectful owners. We try to link back to original sources whenever possible. If you own the rights to any of the images, and do not wish them to appear on TravelTriangle, please contact us and they will be promptly removed. We believe in providing proper attribution to the original author, artist or photographer.
Frequently Asked Questions About Festivals In March In India
When is Myoko in 2022?
The closing date of Myoko festival is estimated to be March 30, however, there might be changes in the schedule due to coronavirus outspread.
Which all festivals will be celebrated in March 2022?
Holi, one of the most prominent festivals of India is celebrated in the month of March every year. Other popular festivals in March are International Yoga Festival, Indian Hip Hop Festival, and Elephant Festival in Jaipur are some of the events that will take place in March 2022.
Which festival will be celebrated on 4 March 2022?
No festival falls on 4th March 2022. However, Panchayati Raj Diwan will be celebrated on 5th March 2022 in Odisha. The thing with festivals of India is that their dates are not permanent are decided on the basis of positions of planets and stars.
Is March 11th 2022 a holiday?
No, as much as you have wished for a leave from work, March 11th, 2022 is not a holiday. It is a normal working day.
What holiday is April 13 2022?
Ugadi or Gudi Padwa will be celebrated on April 13. It is a new year's day for people of Karnataka, Andhra Pradesh, and Telangana. The festival is celebrated by visiting temples, making colorful rangolis, and feasting.
What are some of the major festivals in India?
There are many festivals celebrated in India. There are different religious communities in India and each religion has its own festivals. Some of the major festivals in India are Holi, Diwali, Eid, Guru Nanak Jayanti, Vaisakhi, and Christmas.
What are the national festivals celebrated in India?
Republic Day, 26th January, Independence Day, 15th August, and Gandhi Jayanti, 2nd October are the three national festivals celebrated in India.