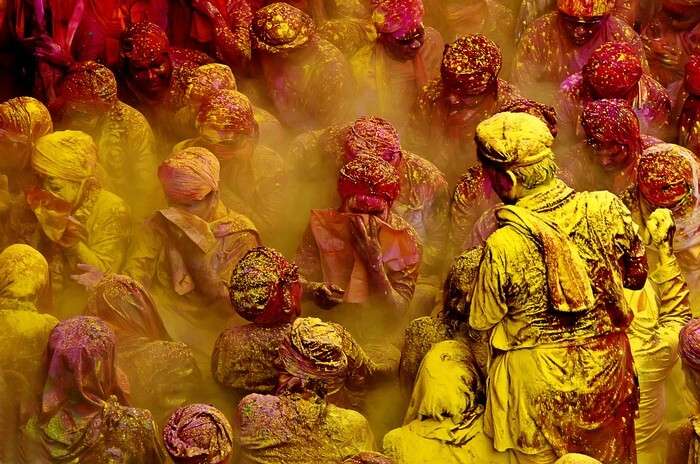 Thousand years of history, mythological legends, stories of goodness prevailing over the evil and that 6-year-old neighbour kid wildly throwing water balloons at you – if this is your idea of Holi, we dare you to be a part of the crazy Holi celebrations of Barsana, Vrindavan, and Braj in Mathura.
It is on the ghats of Mathura – the birthplace of Krishna where Holi is celebrated in the wildest, yet colorful and sane revelry. With sticks, shields, colors, and canons of water, Holi celebration here is a must-have experience. If you are game for an epic Holi this year, here we are answering all questions about Holi in Mathura, starting with what, where, when, why and how. 
When: 18th March (Friday)
Why Is Mathura Holi So Hyped?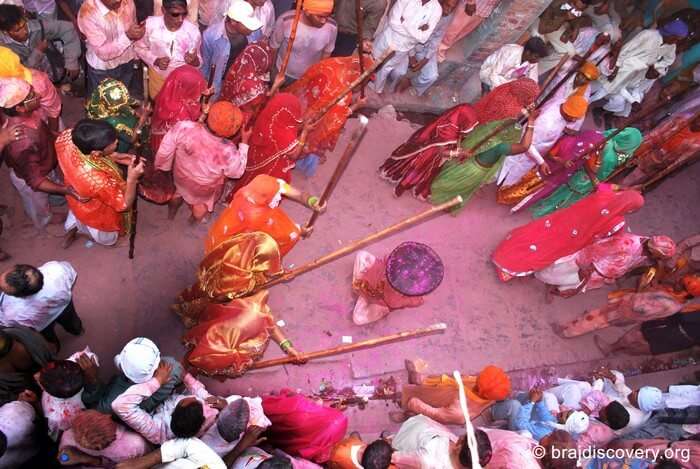 Mathura Holi is certainly an experience for a lifetime for the believers. It is in the suburbs of Mathura that the love life of Krishna and Radha sprouted and grew. Legends say that Krishna was jealous of her fairness and used to complain about his 'dusky' face to his mother. It was only to balance the skin tones of each other that he used to throw colors at Radha and paint her face with multiple colors. From his village Nandgaon, Krishna and his friends used to come to Barsana – Radha's village to color Radha and her friends. The girls used to beat the guys, playfully though, with sticks.
Like every other Radha-Krishna Leela, this also became a tradition and has only evolved to be a more colorful and wild lathmar Holi. Also, Mathura ki Holi celebrations start a week in advance and continue till the final day of the celebrations. Tell us if you feel that any Holi celebration would be better than that of the place where it originated from.
Must Read: 36 Famous Festivals Of India To Bring Your Life Into A State Of Exuberance
Where Exactly Is The Famous Mathura Holi Celebrated?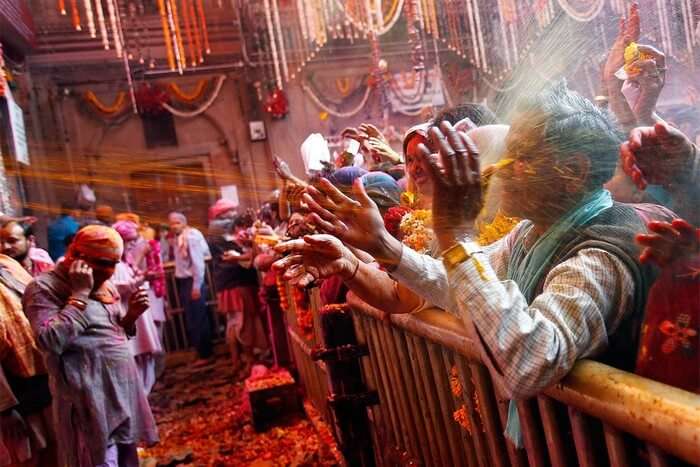 Apparently, the entire city is full of Holi excitement. However, for 'the original Mathura Holi 2022' you must land up in Barsana and then visit Nandgaon, Braj, & Vrindavan. Spend a day in Barsana and get a feel of the platonic flirtations of Radha Krishna. Folks from Nandgaon come with colors to Barsana and paint the women here. The women too reciprocate and try to defend themselves by playfully beating these folks. Visit Nandgaon the next day as women from Nandgaon visit Barsana with colors. Vrindavan Holi and Braj host Holi in the temple premises where the priests shower blessed holy water(of course colored) on the revelers. Holi in Vrindavan turns the entire city into a riot of colors that is a must see.
---
Planning your holiday but confused about where to go? These travel stories help you find your best trip ever!
---
Things To Do In Vrindavan & Mathura During Holi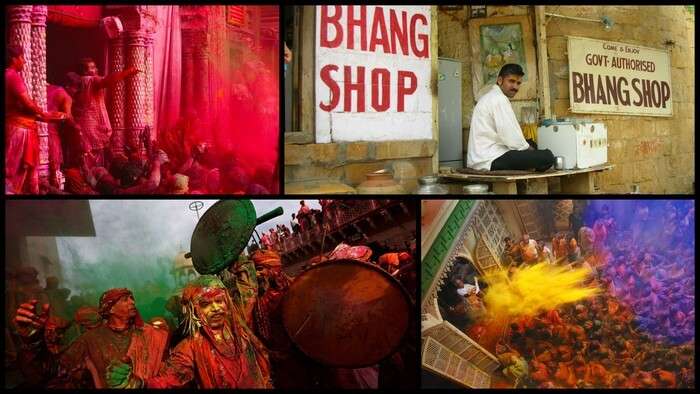 Lathmar Holi in Barasana
Lathmar Holi in NandGaon
Range Bharni Ekadashi – Lathmar Holi in Krishna Janmabhoomi, Mathura; Colorful Holi celebration in Banke Bihari Temple, Vrindavan
Widow's Holi – This is a significant rituual of Vrindavan Holi. Lathmar at Pagal Baba Widow Ashram in Vrindavan that is a strong step against the traditional convention that widows in India are not allowed to wear colorful clothes or play with colors
Holika Dahan in entire Brijmandal; priests crossing holi fire in Phalen Village, Kosi, Mathura
Dhulandi Holi – colored water holi in Brijmandal, color Holi celebrations in Mathura Vrindavan temples
Huranga – famous Huranga Holi celebration in Dauji temple, Baldeo, Mathura
Rang Panchami – end of Holi celebrations in Braj mandal temples
So, basically, there are five major events to attend that are associated with the Holi festival in Mathura, Holi in Vrindavan, & nearby regions – the lathmar Holi at Barsana, lathmar Holi at Nandgaon, Holika Dahan in Kosi, and colorful Holi at Banke Bihari Temple in Vrindavan, Baldeo. So plan your trip accordingly. Besides, some local tour and sightseeing in Mathura – the land of Krishna – & adjoining villages would always be exciting. Stroll through the rustic urban villages, sip a glass or two of thandai (read Bhang – made from cannabis leaves mixed with flavored milk) and dance to the tunes of soulful bhajans.
Suggested Read: 10 Awesome Places To Celebrate Holi In India In 2022
Where To Stay In Vrindavan & Mathura During Holi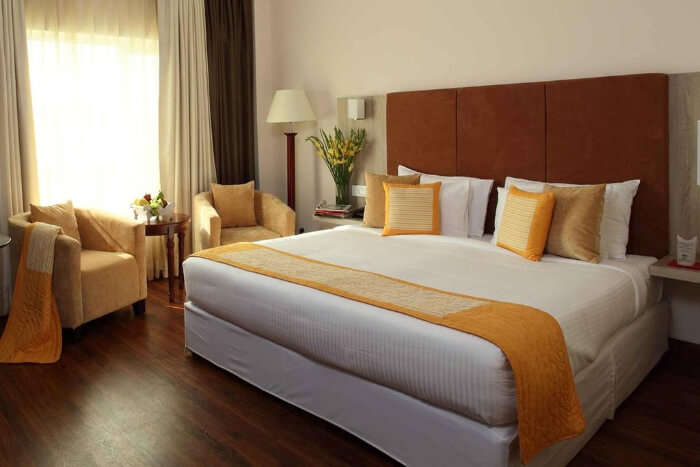 Stay is not a concern here during Vrindavan Holi festival, provided you book in advance. From locals opening up their homes for visitors to luxury resorts and hotels – there are options available for every budget. Rooms can be rented for as low as INR 300 per day while hotels are available from INR 900 onwards. Nidhivan Sarovar Portico is among the best of the options. Here is list of various other stay options in Vrindavan.
Suggested Read: 10 Soulful Retreats Near Agra For A Break Away From The Crowds
What To Eat?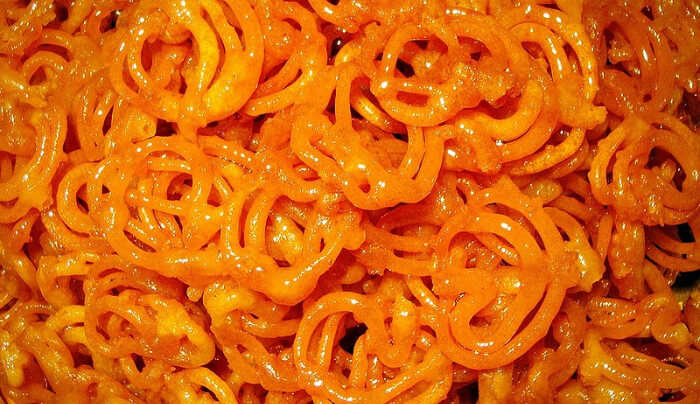 Food also becomes a major highlight when it comes to holi celebration in Mathura. Try things like pain poori, jelabis, imartis, lal pedas, aalo tikki, kachori,  gulab jamuns, lassi and more! Also, one must try bhaang which is legal in the city and is served in the form of thandai – cold flavored milk.
How To Reach Mathura?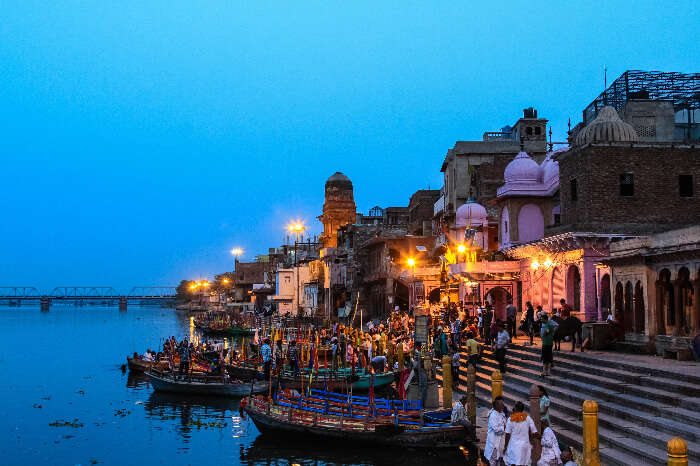 By bus, by train, and by car or taxi! Everything is available and the UP city is well connected from Delhi. Mathura railway station has trains running from almost all the major cities of India. Also, the super fast Yamuna Expressway ensures a swift road connectivity. There are regular inter state bus services plying from Delhi and the distance is just 165 km.
Further Read: 19 Winter Festivals In India You Must Attend
We hope that we have helped you to have a better understanding of how is Holi in Mathura and Vrindavan is celebrated. So, are you game for it? If yes, book your domestic tour and head to Mathura to witness the celebration of this amazing festival of colours
Frequently Asked Questions Related To Holi In Mathura
What is Braj Holi?
Braj ki Holi is loaded with colors, finger-licking food, age-old traditions, and unrestrained fun. Vrindavan, the birthplace of Lord Krishna, and its neighboring areas draw a huge number of tourists every year to be a part of the colorful and vibrant festivities. The interesting part about Braj Holi is that it is more than just a day-long festival. It goes on for over a week or even more, starting from the first day after the Phalgun Amavasi. There is a lot to do, lots to eat, and lots to see during this festival.
Where is the best place to be in India for Holi?
Mathura & Vrindavan are undoubtedly the best places in India to celebrate and witness Holi. They are also popular across the nation for the same reason. Other than these two, the small towns, districts, and villages nearby are also popular for Holi celebrations.
How is the festival of Holi celebrated?
Holi is one of the biggest festivals of India. It is a two day festival, wherein on the first day Holika bonfire is arranged in the evening where people pray to God to cleanse their internal evil. On the second day, people start playing holi from the morning.
How we can make Holi festival eco friendly?
We can make holi festival eco friendly by using organic colors or flowers. Do not waste water and try to make your own colors.
People Also Read