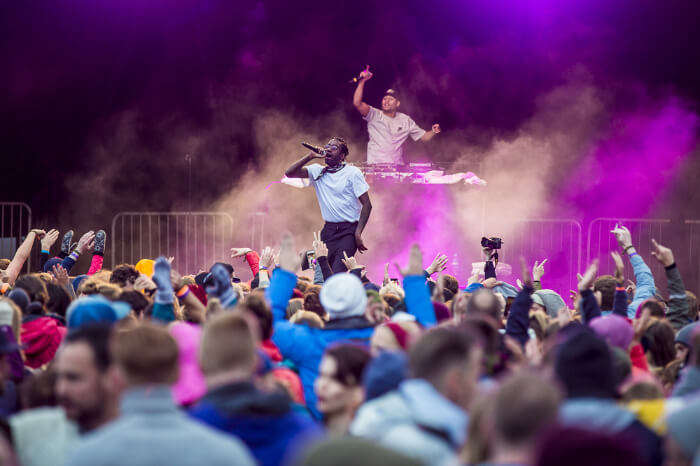 Norway holds a strong history and tradition of music in different genres be it folk, jazz, black metal, or romantic. And unparalleled musicians and recognised bands have become an inseparable part of the celebration culture of festivals in Norway. Not just music, but these festivals also bring to some of the best food and beverages that are closer to the Norway culture. So it's always a great idea to plan your Norway trip dates around these festivals.
10 Popular Festivals in Norway
Holidays paired with festivals make a fantastic combination. On this note, out of hundreds of festivals to choose from we bring to you the list of must attend festivals in Norway which would blow you away with its intensity, passion and electrifying impact that it has.
1. Oya Festival, Oslo
Started and initiated back in 1999, Oya festival has today carved out as one of the largest Norway's music festivals. It is an annual outdoor music festival lasting for four days at a stretch and featuring top musicians, namely, Sonic Youth, Arctic Monkeys, The Stooges, Beck and many others with exhilarated masses attending the same.
Location:Toyen Park, Oslo, Norway
Dates: August 9, 2022 – August 13, 2022
10 Best Norway Restaurants To Try All Delicacies On Your Next European Vacation!
2. Gladmat, Stavanger
Scandinavia's biggest happy food festival, held at the end of July, stretching for four days and attracting over 200000 people from around the world, Gladmat Is indeed a festival every foodie should look forward to. A fatal combination of both professionals and amateurs bring in an amazing fusion of quality food giving your taste buds a bliss. It indeed brings you a taste of happiness served in the form of a food festival bringing together families, friends and chefs at a single place.
Location: Stavanger, Norway
Dates: June 29, 2022 – July 2, 2022
3. Nordlysfestivalen, Tromso
The Northern Lights Music Festival being held in Norway for the past 30 years acts as a celebration of music and is a major catch for all the music lovers of varied forms. It is an active music festival held annually stretching from January end to the beginning of February which not only attracts music buffs but also learned musicians by holding master classes during the stretch of the event.
Location: Tromso, Norway
Dates: January 28, 2022 – February 5, 2022
Castles In Norway: 8 Places To Give WIngs To Your Fairytale Fantasy
4. The Peer Gynt Festival
Based on a dramatic poem written by Henrik Ibsen on the historical life of Peer Gynt, who lived back in 17th century, the peer Gynt festival brings to life a celebration of the same. The festival brings together some brilliant professional actors and musicians to enthrall the people with one of the finest theatre productions of all time. Based on the view point of recreation of traditions, the festival is currently being organized by several volunteers gathering together for the cause.
Location: Gudbrandsdalen valley, Norway
Dates: August 5, 2022 – August 13, 2022
5. Saint Lucia's Day
The festival of light celebrated on December 13, signaling the arrival of Christmas is a major Christmas feast day holding in itself the history of a saint. The festival witnesses varied activities, including singing of songs and dressing up of girls as Saint Lucia carrying and bringing in lights which tend to symbolize the end of darkness and a ray of hope at the end of the tunnel.
Location: Sweden, Norway
Date: December 13, 2022
Want To Visit Norway In Winter? This 2022 Guide Will Help You Plan Your Trip Well
6. The Polar Jazz Festival
The annual Polar Jazz festival initiated back in 1997 and going to be held in the coming year from February 3, 2022 – February 6, 2022 is the northernmost music festival held keeping in view not only the Jazz lovers, as the name might suggest, but all the music lovers alike. Both professionals and local amateurs become a part of the unique festival and get an opportunity to exhibit their skills.
Location: Longyearbyen, Svalbard, Norway
Dates: February 3 to February 6, 2022
7. Ice Music Festival
Founded and initiated in 2006 by Terje Isungset, Ice Music Festival is one of its kind with all the required instruments, the art involved and the venue as a whole made entirely of ice and snow. An active annual music festival beginning from the end of January and lasting till the starting of February brings together the creative ideas and its execution by various artists, dancers and musicians from around the globe.
Location: Finse, Norway
Dates: February 4th to 6th 2022
10 Incredible Tourist Places One Must See In Norway's Bergen
8. Riddu Riddu, Northern Troms
Initiated back in the year 1991, Riddu Riddu festival came into being with the basic idea of protecting and reliving the Sami culture eliminating the need of people to hide their identities and culture and put a halt on being ashamed of the same. Since its origination, the festival has been organized annually in the mid July attracting people from different cultures and backgrounds.
Location: Northern Troms, Norway
Dates: July 13, 2022 – July 17, 2022
9. Ultima Contemporary Music Festival
Ultima contemporary music festival was inaugurated back in the year 1990 and still stands as an active music festival held annually in the mid September in Oslo, Norway. Being the largest held music festival in Scandinavia, the event is held and scheduled in both large concerts and halls as well as small clubs, schools and outdoor premises tapping every possible audience coming its way.
Location: Oslo
The All You Can Fly Pass In Norway Is Giving You Unlimited Flying For Two Weeks
10. International Chamber Music Festival
A fatal combination and mixture of piano and classical chamber music, Lofoten International Chamber Music Festival involves and attracts great talents and artists from around the world who had been a part of international music scenes to come join the festival further serving as a major attraction for tourists around the world.
Location: Stavanger
Dates: unconfirmed
Grab This Chance To Tail The Aurora Northern Lights All Day In Norway
Though the list is never ending, for Norway has got a lot in its store for its enthusiastic and ebullient audience but with this we summarize the most prominent and leading cultural festivals which you cannot afford missing and must attend once you visit the place for these are the most happening music and food festivals for all the music beefs and foodie around the world. So, plan a trip to Norway now and enjoy these super exciting festivals in the country.
---
Looking To Book An International Holiday?
Book memorable holidays on TravelTriangle with 650+ verified travel agents for 65+ domestic and international destinations.
---
Comments
comments