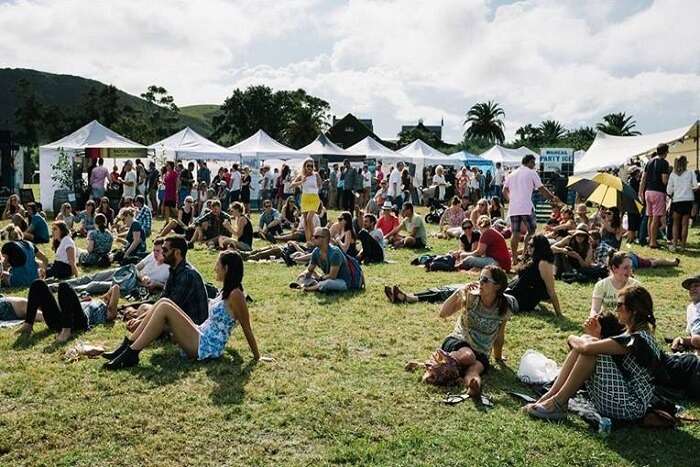 Have you ever seen someone sad when they're around food and wine? Of course not! New Zealand has plenty of ways to make you happy with a variety of foods and wines that you can devour at the food and wine festivals. These food festivals are famous all around the world and have people flocking in from different parts of the world to get a taste of New Zealand. Read on to find out about the food festivals in New Zealand and what each food festival has in store for you!
8 Best Food and Wine Festivals in New Zealand
Finding good food is not a problem anymore with these renowned food festivals happening in the heart of New Zealand. Read on to know what awaits you here.
Hokitika WildFoods Festival
Marlborough Food & Wine Festival
Waiheke Wine & Food Festival
Visa Wellington On A Plate Festival
Whitianga Scallop Festival
Taste Of Auckland
Marchfest
Bluff Oyster Festival
1. Hokitika WildFoods Festival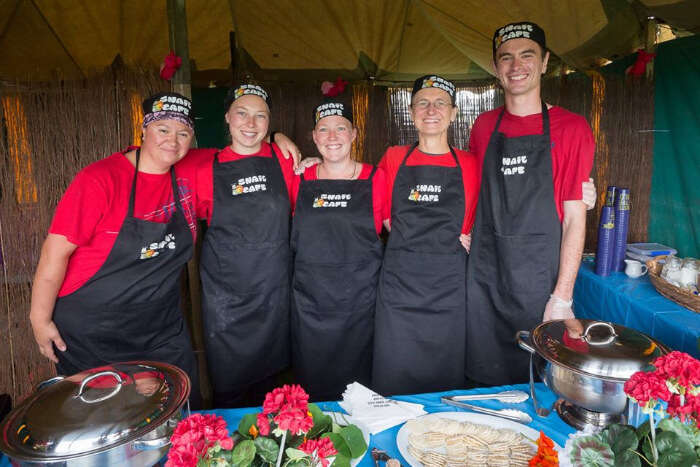 One of the most extraordinary wild food festivals in New Zealand, the Hokitika Wild Foods Festival needs an adventurous lot of participants. Hokitika is a festival that serves crocodile bites, pig ear fritters, lamb testicles, sheep brains and other food items that are very different from what you would expect at a regular food festival. The Hokitika Wild Foods Festival is held every year and completed a whopping 30 years in 2018!
The festival was first started by a Hokitika local-ite, Claire Bryant who set up the festival as an ode to the wild flavors of the West Coast. Get your hands on some of the wildest foods that are sold through food stalls at this wild food festival. While you chow down these unusual delicacies, you can also enjoy live music jam sessions, dance competitions, comedy events, and mime artists at the festival.
Reaching Hokitika from New Zealand: The best way to reach Hokitika from New Zealand is to take a bus from Manchester St Super Stop to Christchurch International Airport which takes about thirty minutes costing around INR 250 (per person). From Christchurch International Airport, take a flight to Hokitika which will take about forty-five minutes to reach you to your destination costing around INR 4500 to INR 19000, depending on the airline and your time of travel.
The Festival is held every year on the second Saturday in the month of March, which is the 12th of March, 2022 (Saturday). The Festival is held at Cass Square, Hokitika. You can access the Hokitika Wild Food Festival on the corner of Weld and Bealey Streets.
Must Read: New Year Parties In New Zealand That'll Let You Explore The Nightlife In This Country
2. Marlborough Food & Wine Festival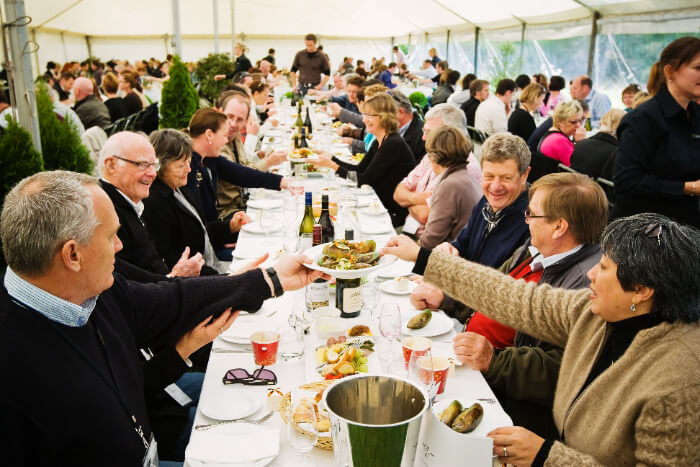 Marlborough, a region in New Zealand, is known for its art of winemaking and the presence of the extensive wine industries in the region. The Marlborough food and wine festival has long been running and giving visitors a taste of fine Marlborough wines, locally produced foods and world-class entertainment. The festival has some very famous wineries producing some of the best wines in the world.
The festival held in 2018 had the Grove Mill Wines, that had integrated sustainable winemaking long before the concept became popular, Tohu Wines, a wine company running from 1998, wine from the famous Marisco vineyards that was established in 2003 which has emerged as a favourite among the locals, these along with other world-renowned wine companies, making it one of the best food and wine festivals in New Zealand 2022.
If you're not too big on wine, worry not! The Marlborough festival also has some gourmet foods that go well with wines and even by themselves, some of the food brands that participate in the food and wine fest are Flavors of Europe, Kaikoura Cheese and Wild Az serving juicy burgers. The festival also has opportunities for super home chefs who want to show off their skills while also taking back the prestigious title of being the 'Marlborough Wine and Food Festival New World Culinary Pavilion Chef of the Year'.
Reaching Marlborough from New Zealand: First, take a bus from Manchester St Super Stop to Christchurch International Airport which costs around INR 250 and takes thirty minutes to reach you to the airport. From the airport, board a plane to Nelson which takes another fifty-five minutes and costs somewhere around INR 5000 to INR 19000, depending on the time of travel and airline. From Nelson, hire a car that will take you to the Wairau Valley which will take about two hours and cost you anywhere between INR 1300 to INR 2000.
Suggested Read: Destination Of The Month: These Surreal Places Will Entice You To Fly To New Zealand In November
3. Waiheke Wine & Food Festival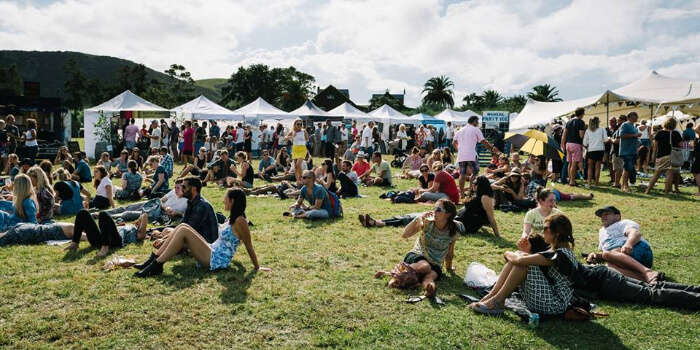 The Waiheke Wine and Food Festival in New Zealand is like a fun day out on the Waiheke Islands where you can drink some Waiheke wines with fancy gourmet food while you listen to foot-tapping live music. You can taste wine from award-winning vineyards such as Awaroa, Batch, Goldie Wines, Cable Bay. Food vendors include popular names of New Zealand including Te Motu, Dragon Fired Pizza, South American Over and Babikas Table. Walk into the festival and enjoy the vibe at the Waiheke Islands.
Reaching Waiheke Island from New Zealand: The best way to reach the Waiheke Islands is to take a ferry from Downtown Ferry Terminal Pier 2 to Waiheke Ferry Terminal which will take around forty minutes and cost about INR 750 to INR 1100.
Suggested Read: Ski In New Zealand: 10 Places Every Adrenaline Junkie Must Visit At Least Once!
4. Visa Wellington On A Plate Festival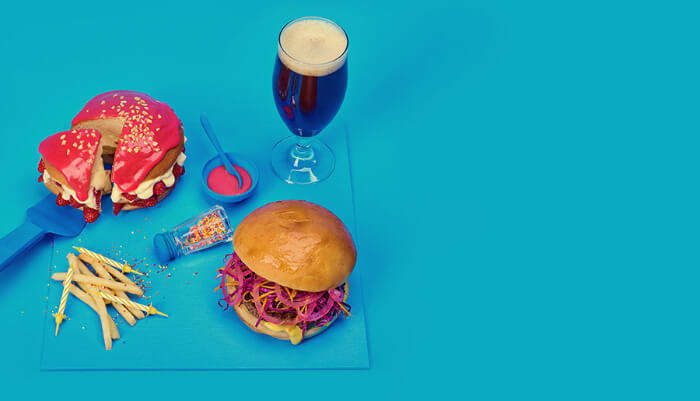 The Visa Wellington on a Plate festival is all about food, fun and celebration spread out over a seventeen-day festival in Wellington. The festival boasts of having some of the best restaurants pop-ups, innovative food menus, interactive cooking master-classes, free food-themed exhibitions and much more. The festival has about a hundred different events taking place all over the culinary capital that is joined in by herds of people looking for some downtime.
Every year, international chefs step forward, coming in to cook up some delectable world-class foods that you can eat at this festival. There are two categories of events at this festival, the first type is ticketed events where you would have to book tickets in advance and pay for the experience while the second type is the pop-ups where you would have to only pay for what you eat or buy. If you plan on going for any events that are ticketed, make sure you book these in advance so that you are not left disappointed.
Reaching Wellington: Wellington is about an hour away from New Zealand if you plan to go by flight, the main city of Wellington can then be reached from Wellington International Airport in another twenty minutes. If you want to take the national bus or train, take the train called The Northern Explorer that runs between Auckland and Wellington, drops you off at the Wellington Railway Station, we suggest you take the train to reach Wellington if you have enough time, the train journey takes about ten hours to reach you to your destination but all the time spent is definitely worth the scenic sites you will see when you're on your way to Wellington.
Suggested Read: Shopping In New Zealand: 10 Incredible Places For Retail Therapy
5. Whitianga Scallop Festival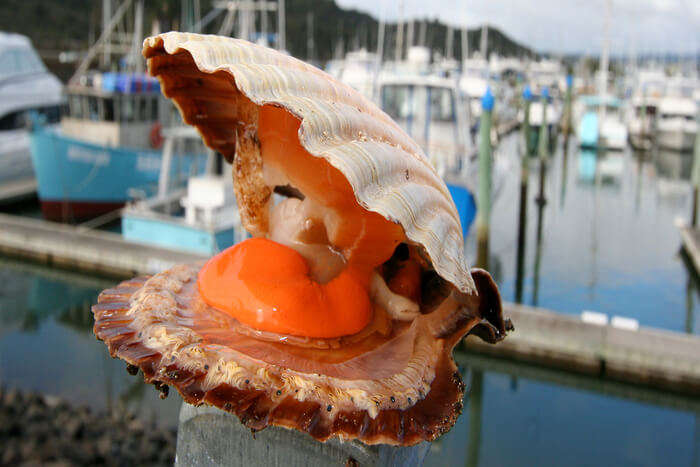 The Whitianga Scallop Festival in New Zealand celebrates the seafood of Whitianga and the marine heritage of the region. The festival consists of live cooking counters where you'll see chefs making some of the best foods right from scratch, over sixty different cuisines with fine wine. The festival is held every year in the month of September.
Reaching Whitianga from New Zealand: Take a ferry from Downtown Ferry Terminal Pier 4 to Coromandel which costs around INR 1500 to INR 2700 and takes two hours. From here, hail a taxi to Whitianga which will reach you to your destination in forty-five minutes costing anything between INR 8500 to INR 11000.
Suggested Read: 10 Adventure Places In New Zealand That Will Give You An Adrenaline Rush
6. Taste Of Auckland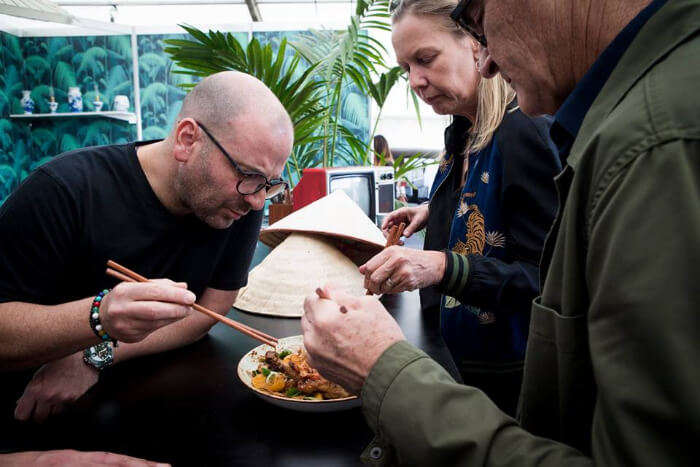 Taste of Auckland is a four-day celebration of food that has an impressive line-up of winemakers, brewers, artisanal producers, musicians that is combined with food and drinks from some of the best restaurants and bars of Auckland. This food festival in Auckland (New Zealand) has successfully completed a decade in 2018, held from November 1 to November 4, it was celebrated at a grander level with some of the world-renowned chefs on the panel.
This food fest has some of the best restaurants of Auckland including Baduzzi (Italian), Culprit (Modern yum cha), Farina (Italian), Gerome (Greek), Lowbrow (fast food) and Xoong (Asian-fusion) among other gourmet restaurants. If you're someone who likes getting your hands into cooking up some delectable recipes just like professional chefs, participate in Electrolux Chef's Secrets where world-class chefs host interactive masterclasses, spilling out their well-guarded kitchen secrets.
The Taste of Auckland festival has live music jamming as you stroll around the Waitemata Harbour. This festival is the ultimate stop for people who love food, drink, and some fun!
Reaching Queen's Wharf from Auckland: Take a taxi from Auckland to Queen's Wharf which is about five minutes away and costs around INR 350 to INR 430 (one way).
7. Marchfest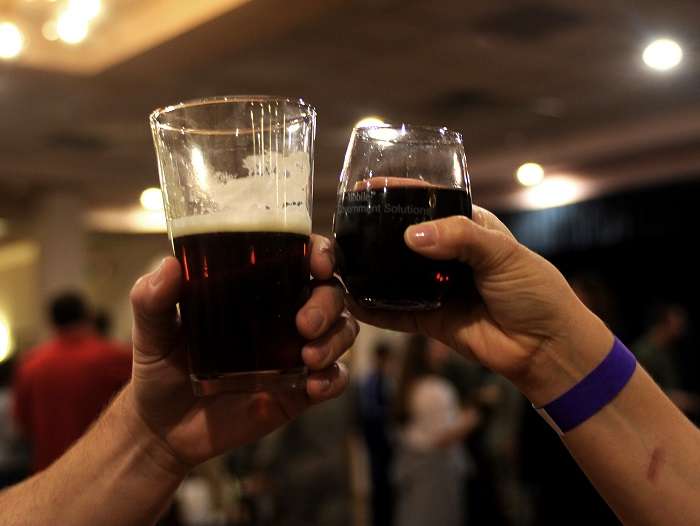 MarchFest is a unique craft beer and music festival that is held in the sunny town of Nelson perched atop the South Island. This town is known as the craft beer capital of New Zealand which is why it's the perfect setting for this festival. Add to it the traffic-free setting of this haven, and you're all set to celebrate! MarchFest is the very best of beer fests in the world, and the town of Nelson has more craft breweries per head of the population than anywhere else in New Zealand. Unlike other beer festivals around the globe, all the beer available at MarchFest are specially commissioned for this very event which makes the experience all the more enjoyable and this one of the best food festivals in New Zealand.
Location: Nelson
When: March
Starting price: INR 1,400 (for super early bird)
8. Bluff Oyster Festival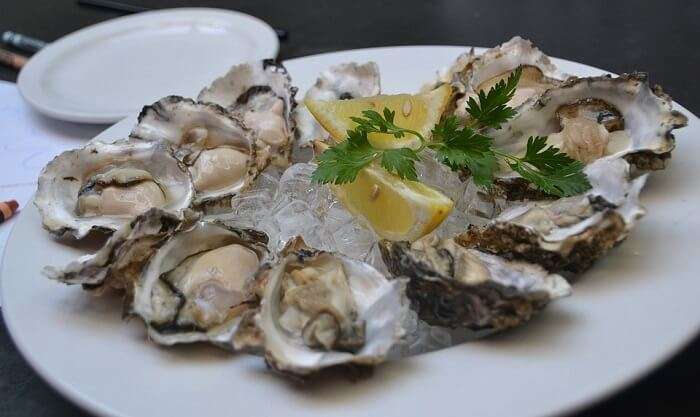 The Bluff Oyster and Food Festivals in New Zealand is a massive event not just on the New Zealand food and wine festival calendar, but also for the whole world. That's the very reason you can spot people from all parts of the world here. Wanna try some delicious oysters cooked in different tempting ways? Get to Bluff in New Zealand when this festival is on. While this pretty little town is mostly quiet, it transforms into a frenzy during this festival. And seafood lovers don't just get to eat oysters, but a variety of other items as well, including crayfish, paua, scallops, salmon, blue cod, and whitebait. Not into seafood? You can try venison, muttonbird, lamb, beef, and pork, along with a range of engaging entertainment to make your time here memorable.
Location: Bluff
When: May
Starting price: INR 1,600 (adults) | INR 700 (kids)
Further Read: Stewart Island: An Unchartered Territory In The Heart Of New Zealand
Planning a trip to New Zealand already? Well, we don't blame you because this place is indeed enticing. Book your trip to New Zealand with TravelTriangle and experience the best of this scenic land with your loved ones! Also if you are visiting during the time of these food festivals in New Zealand, then do attend them. They would surely be a treat.
People Also Read:
Food Festivals In Mexico Food Festivals In Orlando Food Festivals In USA
---
Looking To Book An International Honeymoon?
Book memorable honeymoon on TravelTriangle with 650+ verified travel agents for 65+ domestic and international destinations.
---
Comments
comments