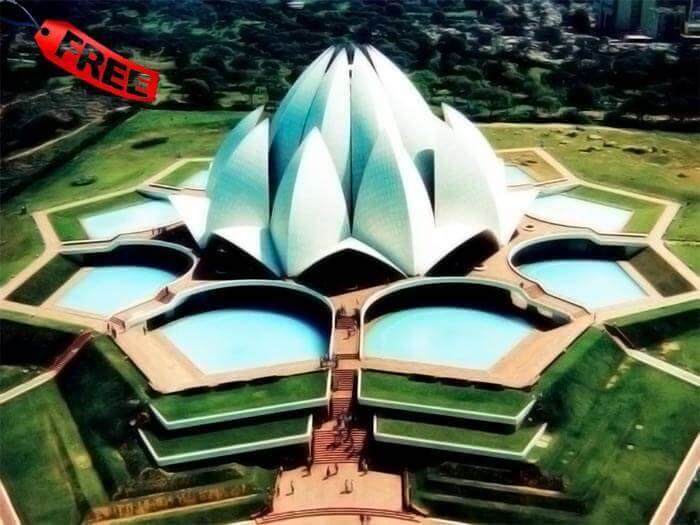 Money can't buy the world, and we are back to prove it with our freshly crafted dope on free things to do in Delhi!
After gliding you through the popular tourist places in Delhi, and hand-picked offbeat hunts, we bring you things to see, visit and do for free in Delhi.
MONUMENTS and TEMPLES
1. Soulful Qawwali at Nizamuddin Dargah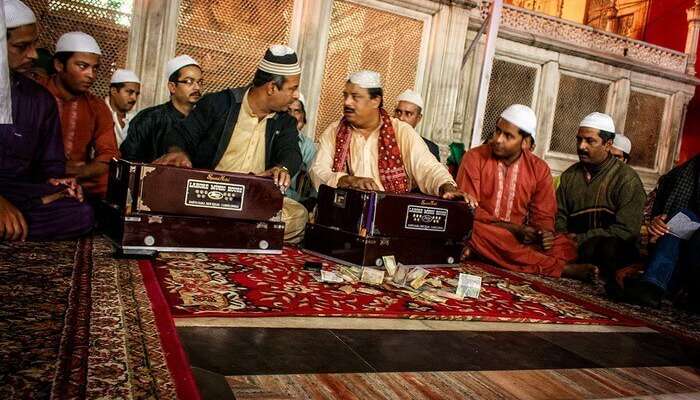 Every Thursday evening, this shrine of Nizam-ud-Din Auliya sets itself on a mesmerizing journey of soulful Qawwali performances under the night sky. Having lived some of the very renowned performers including Wadali and Sabri brothers, the ambience here is electrically enchanting on these days.
Timings: Every Thursday, 6.30pm
Nearest metro station: Jangpura on Violet line
---
Long Weekend Trips Starting @ Rs 3499/-
Take a trip to spend the upcoming long weekend with your buddies.
✓ Stay at 4 star rating hotels with local sightseeing, meals and transfers.
✓ Travel in AC coach round trip (from Delhi).
✓ All Inclusive Deal– Camping, Jeep Safari & Trekking as per itinerary
✓ Sign up NOW to celebrate the long weekend out of town!
---
2. Delicious Langar Food at Gurdwara Bangla Sahib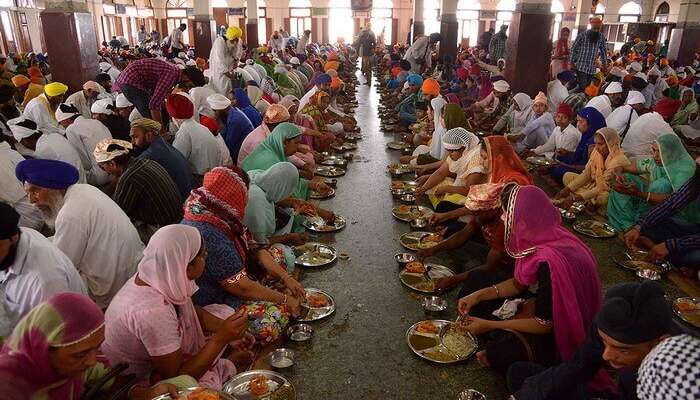 10,000 meals a day – well that's something to be proud of!  Not that we are trying to exploit this, but right in the middle of the city, you get free food and sinfully devourable 'kadha prasad' as dessert at the Sikh shrine.
Timings: 5:00 am to midnight
Nearest metro station: Patel Chowk on Yellow line
Suggested Read: Best Street Food In Delhi
3. Meditation at The Lotus Temple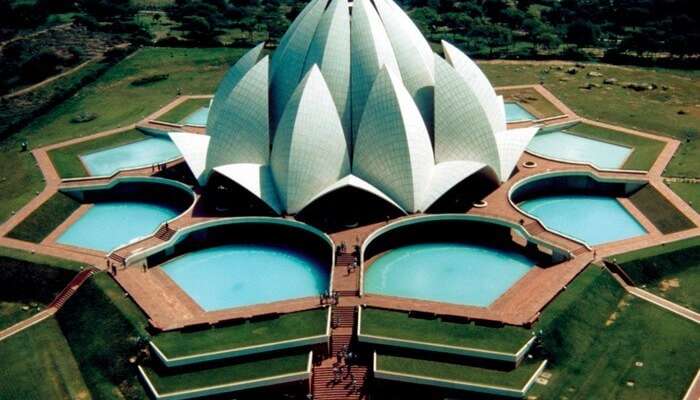 Though there is no dearth of religious monuments in Delhi, this incredible structure of Bahai faith offers planned and well designed moments of meditation and solitude. The beauty and the charm of this monument is an added complement to one's senses!
Timings: 9 am to 5:30 pm
Nearest metro station: Nehru Place on Violet line
Must Read: 20 Best tourist Places in Delhi That Nobody Can Afford To Miss
4. Changing of Guards at Rashtrapati Bhavan
From time immemorial, guards and sentries at palaces, forts and defence establishments change periodically to enable a fresh body of troops to take charge. And why should the Indian Presidential palace remain an exception? So, ladies and gentlemen, every Saturday morning, the oldest regiment of Indian army that guards the president of India exchanges its duty showcasing an exhilarating display of pride, valor and discipline.
Entry Point: Gate No. 2 – near PM Office, on presenting a valid photo ID
Timings: 15th March to 14th August – 8:00 amto 8:40 am; 15th August to 14th November – 9:00 am to 9:40 am; 15th November to 14th March – 10:00 am to 10:40 am
Nearest metro station: Central Secretariat on Yellow line
Adventure, Parks and Museum
5. Open Air Gyms at Lodhi Gardens and Nehru Park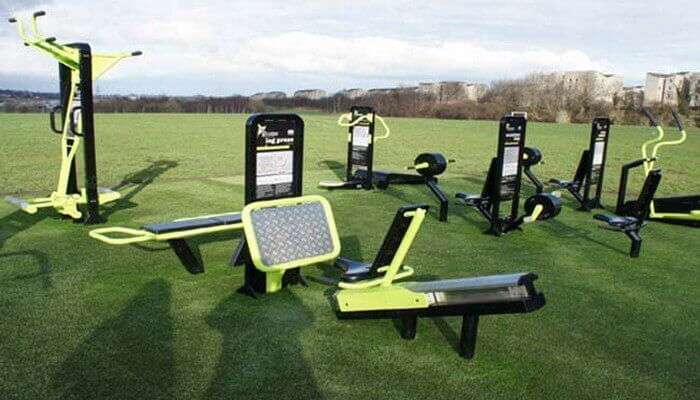 Infamous for the PDA during the other part of the day, these gardens have got a lot to keep you entertained, fit and healthy. The open air gym, though recently installed, is a major attraction for the locals. With Roman chairs, adjustable Abdominal Bench, Cable jungle and cross overs installed just in the open, the park gyms give any other city gym a run for money.
Timings: 5:30 am to 7:30 pm
Nearest metro station: Jor Bagh, Khan Market on Yellow line for Lodhi Garden; Race Course road on Yellow line for Nehru Park
6. Raahgiri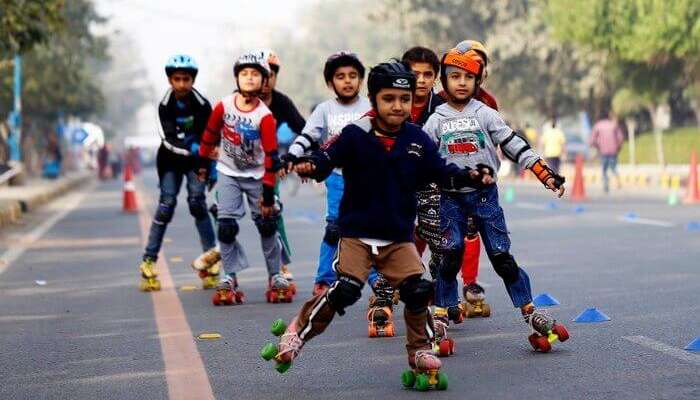 Having gained a lot of popularity already, Raahgiri in Delhi is all about the rebellion of occupying the streets from motored vehicles. The event is held across three locations in NCR – Connaught Place, Gurgaon and suburbs of Dwarka. The roads are car free, people are encouraged to cycle, cycles are rented for free, kids indulge in lot of physical activities, fitness groups organise sessions, band put up shows and what not!
Timings: 6 am to 9 am; do reach early to avoid long queues for cycles on rent.
Nearest metro stations: Rajeev Chowk on Blue line for CP; Huda City Center on Yellow line for Gurgaon; and Dwarka Sec 9/10 on Blue line for Dwarka.
Must Read: Fun Places In Delhi That Proves It Is The Happiest Metro In India
7. Sanjay Van and Tau Devi Lal – free access to some wildlife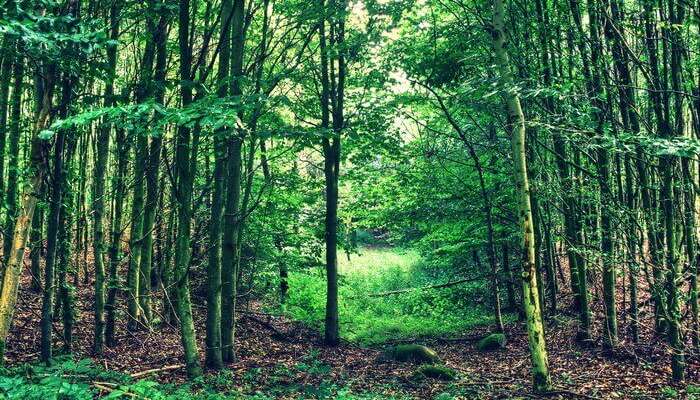 So, in the middle of all the chaos and rush, some of the forests and developed parks are a huge relief. Tau Devi Lal is a huge plantation near Gurgaon sector 22 which boasts of a lot of fauna and beehives. Sanjay Van is another forest plantation near Vasant Kunj with a water tank and rock hills to admire the city-line.
Timings: Early morning till sunset
Nearest metro station: Hauz Khas, Green Park on Yellow line
8. Slacklining at Hauz Khas Village and Asola Lake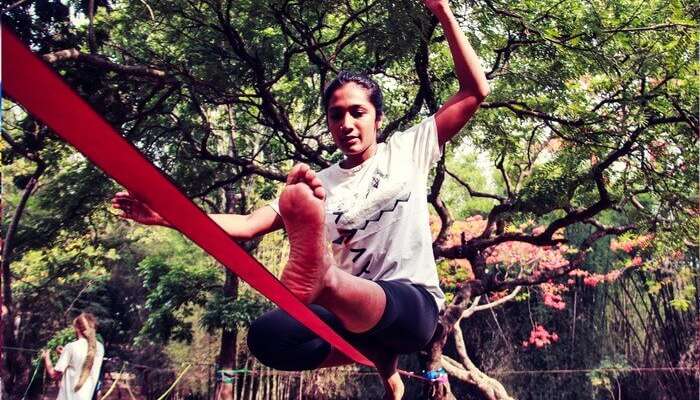 For starters, slacklining refers to the use of webbing tensioned between two anchor points to balance and walk – so basically it's slack rope walking and tightrope walking as the line is held tight. Now, a very renowned photographer, Enrico Fabian has started this slack-tivism to get the fellow adventurers in the city on the same rope – irrespective of age, gender and fitness.
Timings: The schedule is periodically posted on their Facebook page.
Nearest metro stations: Hauz Khas on Yellow line; Tughlaqabad metro station for Asola on Yellow line
9. Professional Cycling with Pedal Yatri and DCC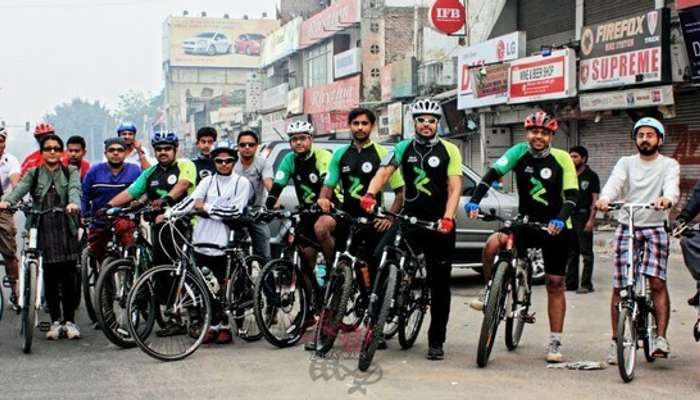 Having recently caught up the trend of hobby clubbing, cycling has rapidly recovered into a preferred popular adventure in the city. A bike, riding gear and a zeal to cycle the path less travelled-  that's all you need to be the part of Pedal Yatri group which go on excursions in the city.  The Delhi cycling Club is solely aimed to develop Delhi as a cycle-friendly city. All they need is a cycle and your will to join the cause and the 800 member team always welcomes new participants.
ART and CULTURE
10. Cultural Fests across the  Capital
South Asian Band Fest, Old Fort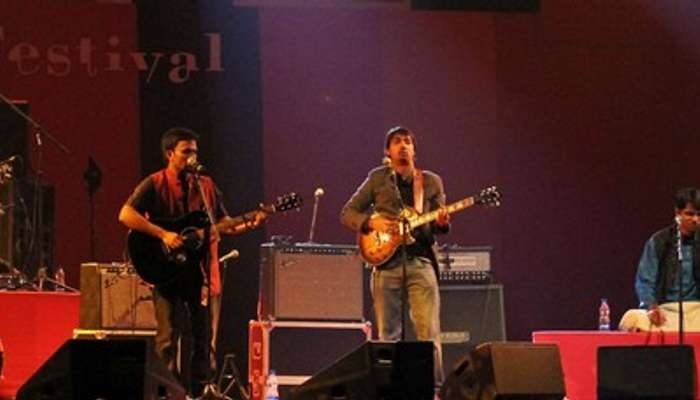 The renowned bands from Afghanistan, Nepal, Bangladesh and the other nations  perform their music amidst the grand backstage of Old fort, every year. With the likes of Kailasha, Indian ocean, Mrigya and The Skavangers, this band fest organised by Sehar is an awesome chance to interact, understand and appreciate the music from the south Asian nations.
Delhi Jazz Fest, Nehru Park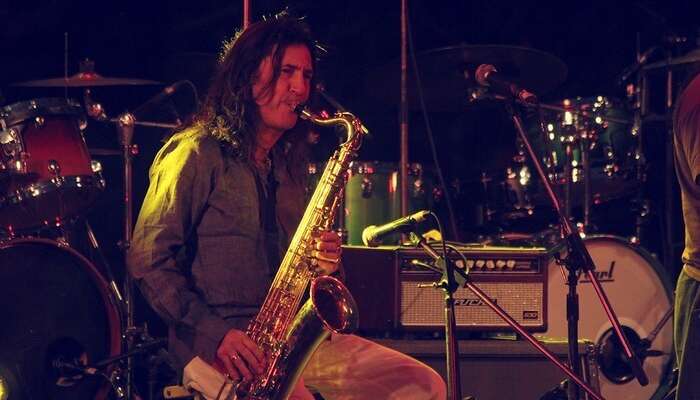 Another sizzling fest that is equally mesmerising is this jazz fest that welcomes artists and musicians from Italy, and other nations. Spend a jazzy evening and relish the music in the park, won't you if it's totally free of cost.
Youth Fest, Central Park, CP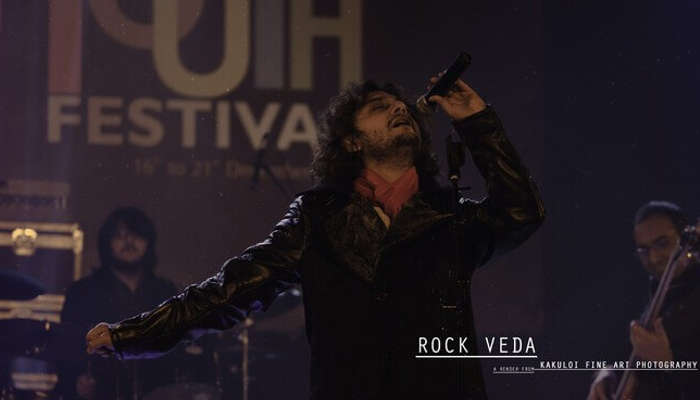 Spread across almost the entire month, this fest hosted in the name of Delhi Celebrates is a popular cultural campaign of Govt. of Delhi. Artists from all over India perform to an enthralling audience in the winter evenings of Connaught Place.
Jashn-e-Khusro, Sufi Fest at Humayun's Tomb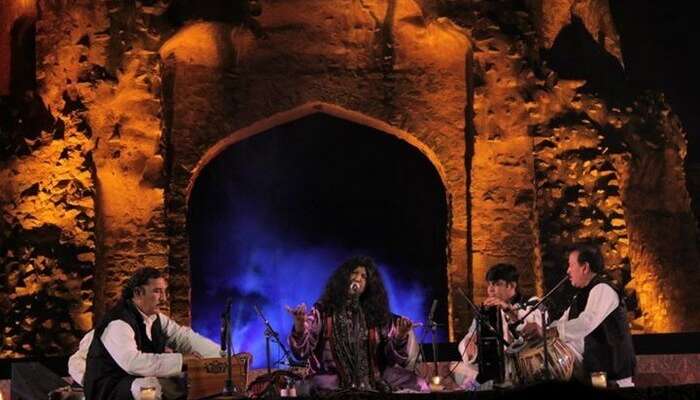 Now this is something as better as a music fest can get! Fancy Abida Parveen performing "chhap tilak" in a Mughalai structure with a Mughlai stage prop – well this is normal and least expected at Jashn-e-Khusro.
Suggested Read: 7 After-Dark Tours In Delhi All You Night Crawlers Must Take
11. Poetry Recitations
Delhi Poetry Slam organizes slam poetry events and workshops. Hip hop artists,  lyricists, musicians and internationally renowned slam artists have been performing at the events of the group. The invites are usually shared on-line and it's totally free of cost.
Where: The website keeps sharing the location and details.
National Patriotic Poetry at Red Fort
Every year, around republic day and Independence day, the Red fort hosts a National Convention of celebrated poets of Indian literature. The event is usually held at night where the poets recite some of the most beautifully crafted lines of patriotism.
For entry, free passes can be collected from Indian Coffee Home, Barakhamba Road.
12. Visit the Mini City of Over 800 Folk Artists at Kathputli Colony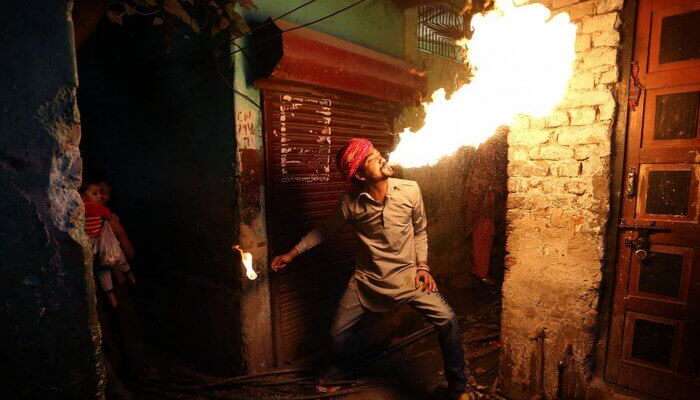 Well this will give you a sense of time travel. The streets are of a typical slum, but they are colorful; laced with colors of passion, colors of creation, shades of a heritage and nostalgia of belongingness. And, you can experience them all, just by walking past the streets of Kathputli Colony. With your skill set, you can actually try having some good conversation with these folk artists.
Nearest metro station: Shadipur on Blue line.
13. Free Library at Sarita Vihar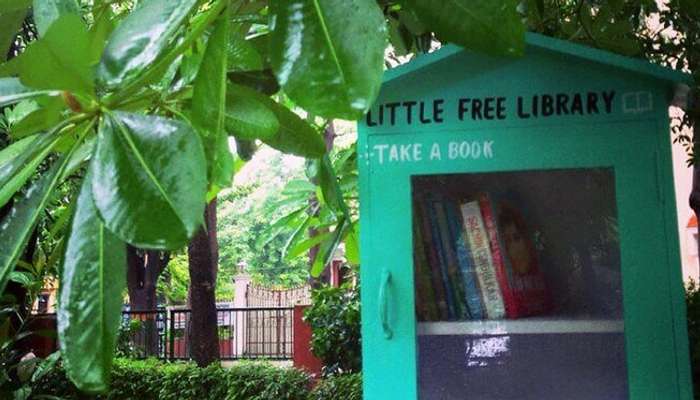 Now, this is a good barter! Take a book to borrow a book! The little book box installed at Sarita Vihar is aimed to cultivate the hobby of reading, lending and sharing.
Where: L- Shaped Park, J block, Sarita Vihar; For details, visit their Facebook page.
Nearest metro station: Sarita Vihar on Violet line
14. Pencil Jamming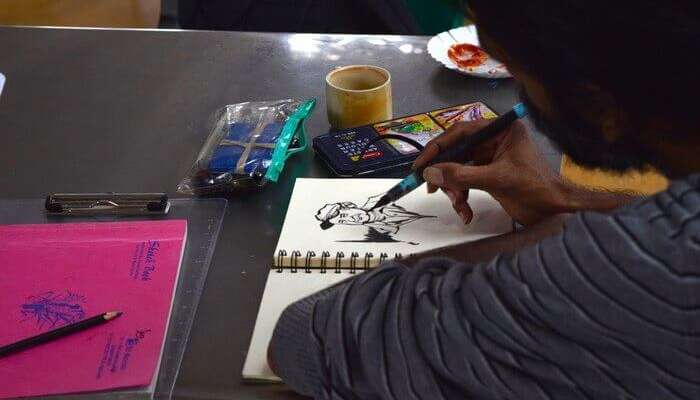 Jamming, of a different kind this time! Not with the strings but with some pencils. The group organises events, jams, contests and sessions for those who love to draw. And, yeah it's an open community. The jam sessions and regular events are generally communicated through their Facebook page.
15. Film Screenings at Cultural Exchange Centers of International Embassies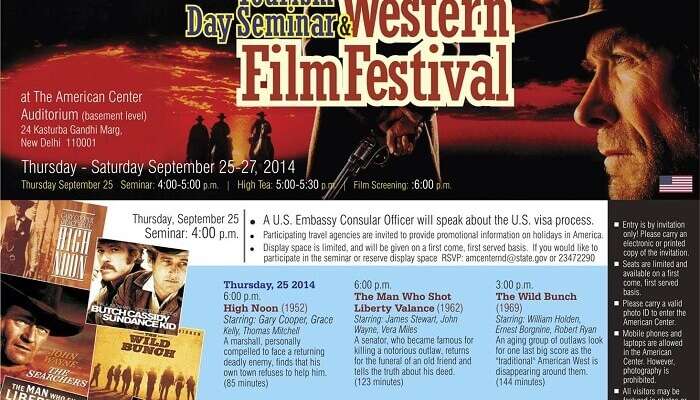 The cultural exchange center of the various embassies have dedicated days for some stunning performances and movie screenings. Now these movies are some of the rare screenings organised with an exclusive audience. Like the American Centre Library at KG Marg screens one every Friday; invites can be availed from the library. Similarly there are multiple foreign language screenings at  Alliance Francaise de Delhi, Italian Cultural Embassy, Korean Cultural Centre, The Japan Foundation, Russian Centre of Science and Culture, Hungarian Cultural Centre, and India Habitat Centre among others. The events are usually to be attended on first come first serve basis. Again, the invites are to be collected from the respective centres.
Further Read: 10 Haunted Places In Delhi That Will Give You Creeps
Alright, free mongers! Here is a complete list! Go out and exploit like a typical Delhi brat!
Frequently Asked Questions About Free Things To Do In Delhi
Q. Where can I stay in Delhi for free?
A. One of the best and safest places to stay in Delhi for free is at the Bangla Sahib gurudwara in Connaught Place. You can also experience providing your service or 'seva' to the gurudwara by participating in the preparation of 'langar'. Langar is a community-meal served for free, to whoever visits the gurudwara. This experience is absolutely soothing and the food is amazing.
Q. How can I cover Delhi in one day?
A. One of the best, cheapest and easiest ways to cover Delhi in one day is by taking a HOHO (Hop-On-Hop-Off) bus tour. The bus takes you through more than 25 major tourist spots in Delhi in a day. Some of the places you would be covering includes Rashtrapati Bhawan, Bangla Sahib Gurudwara, India Gate, Rajghat, National Gallery of Modern Art, Red Fort, Purana Quila, Humayun Tomb, Jantar Manter, Embassy Lane, Lotus Temple, Qutub Minar, Dilli Haat, Sarojini Nagar Market, Nehru Museum, National Rail Museum, Delhi Zoo, and National Museum. Through this trip, you can cover several monuments, museums, markets, and zoo in the capital.
Q. Is Delhi safe?
A. Yes, Delhi is a fairly safe city like any other metropolitan city. Though the large population and the diversity has made the maintenance of law and order a bit tricky. And some common precautions are needed just like any other busy city in the world. Delhi is still a safe place for travelers.
Q. What food is famous in Delhi?
A. Delhi is the capital of India with so many different cultures living together. This has influenced the food culture of the city and you would find something from every culture. Delhi is known for its street food culture, with Bhel Puri, Chhole Bhature, Golgappa, Aloo Chat, Bhalla Papdi Chaat, and many other tasty dishes.
Q. Which market is famous in Delhi?
A. Some of the famous markets in Delhi include Sarojini Nagar Market, Lajpat Nagar Market, Janpath Market, Connaught Place, Daryaganj Book Market, Chor Bazaar, Chor Bazaar, Dilli Haat, Chandni Chowk, Paharganj, and Khan Market.
Q. What is Delhi famous for?
A. Delhi is famous for its diverse cultural experiences. It offers the glam of a metro city, with amazing nightlife, party places, cafes, malls, shopping, entertainment, adventure, and other facilities. And it also takes you on a journey through its history of many centuries, with forts, monuments, colonial buildings, lakes, gardens, tombs, and museums. It is also highly popular for its street food culture.
Long Weekend Trips Starting @ Rs 3499/-
Take a trip to spend the upcoming long weekend with your buddies.
✓ Stay at 4 star rating hotels with local sightseeing, meals and transfers.
✓ Travel in AC coach round trip (from Delhi).
✓ All Inclusive Deal– Camping, Jeep Safari & Trekking as per itinerary
✓ Sign up NOW to celebrate the long weekend out of town!
---
Comments
comments