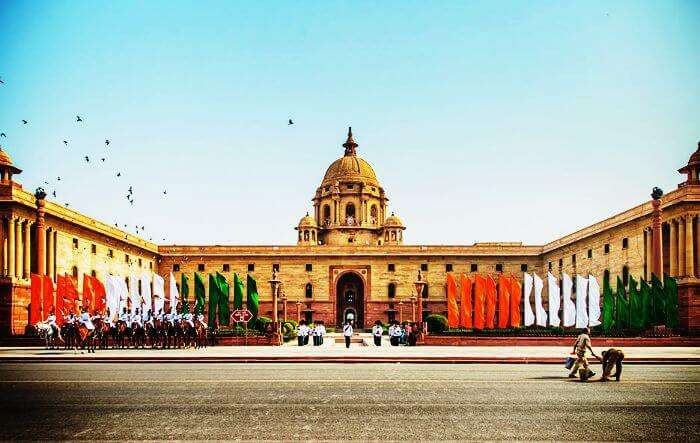 So a close buddy is visiting Delhi for the first time and you are excited yet confused about showing him the tourist places in Delhi. Not your fault. The long list of tourist attractions in Delhi often gives nightmares to most established trip planners.
Chill! All you have to do is figure out what they like and choose from our list of famous tourist places in Delhi across different categories. From monuments & temples to parks and museums, Delhi has so much in store that it won't stop amusing you. Don't believe us? Get packed and leave right away to be mesmerized by the beautiful city!
Top 56 Tourist Places To Visit In Delhi
Excited to explore Delhi? Here is the perfect mini-guide which has all the details about the places that you just cannot miss on your trip. Take a look to know all about it while you select the most extra ones in the capital city to explore!
1. Red Fort – Pride Of Mughal Dynasty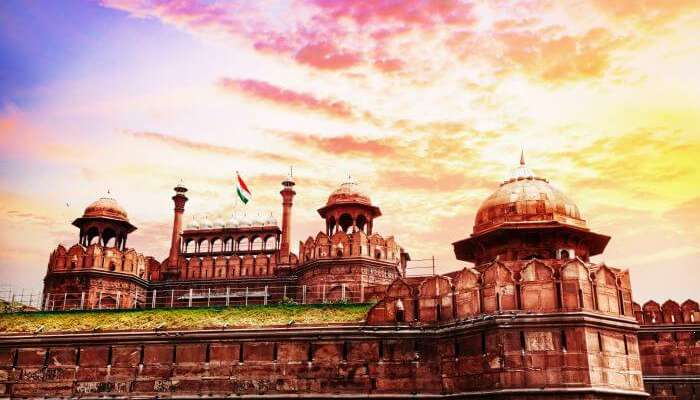 The Red Fort is an epitome of the Mughal era in India and is the face of tourist attractions in Delhi. Built in 1638, it is an outstanding marvel of Mughal architecture made of red sandstone. Within its magnanimous walls, the chhata bazaar and every evening sound and light show are special attractions. If you are interested in the history of Red Fort, you will be thrilled to know that the Fort was built when Mughal Emperor, Shah Jahan shifted his capital to Delhi. In 2007, this Fort has declared a UNESCO World Heritage. It is one of the most famous places in Delhi.
Entry fee: Free for children under 15, INR 10 for Indians, and INR 250 for foreigners
Opening hours: 9 AM to 6 PM. Closed on Mondays
Must visit: Digambar Jain Mandir, Sis Ganj Gurudwara and Paranthe Wali Gali nearby
Tip: This place has many tourists visiting during the peak season and there might be a long queue for the tickets.
---
Long Weekend Trips Starting @ Rs 3499/-
Take a trip to spend the upcoming long weekend with your buddies.
✓ Stay at 4 star rating hotels with local sightseeing, meals and transfers.
✓ Travel in AC coach round trip (from Delhi).
✓ All Inclusive Deal– Camping, Jeep Safari & Trekking as per itinerary
✓ Sign up NOW to celebrate the long weekend out of town!
---
2. India Gate – India's Largest War Memorial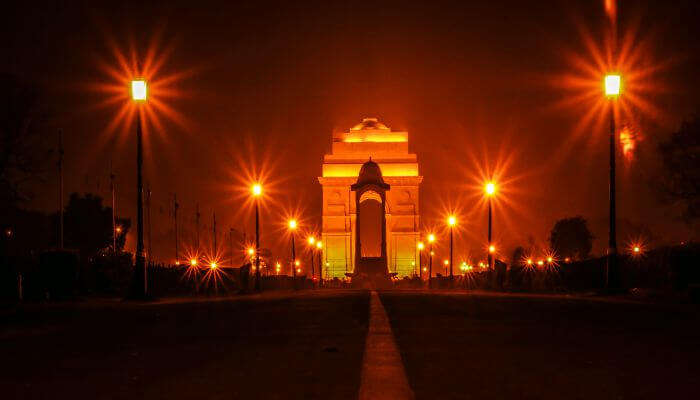 Image Source
India Gate is one monument that defines Delhi or India for that matter. It was built in 1931 as a memorial for martyrs of World War I and war in Afghanistan. At Rajpath, the structure looks amazing in evening lights. The gardens that line the structure are a must visit among the sightseeing places in Delhi.
If you are in Delhi on the Republic Day, you must visit India Gate Parade which is really a prestigious and the most ceremonious event of India. Lots of international guests and national leaders are present on the occasion and pay tribute to the freedom fighters and great leaders of the country.
Few Essential Tips:
For the sightseeing tour at India Gate, the best time is from October to March. The weather is soothing this time to roam around.
If you are having a family trip, go for a picnic near India Gate. Bring packaged or cooked food and have fun.
Bus service is readily available to reach India Gate. Else, you can take rickshaw or shuttle rickshaw.
Entry fee: Free
Opening hours: Always open
Must visit: National Gallery of Modern Art
Must Read: 15 Magnificent Places Near Delhi To Turn This Winter Into An Epic Affair
3. Rashtrapati Bhawan – Presidential Palace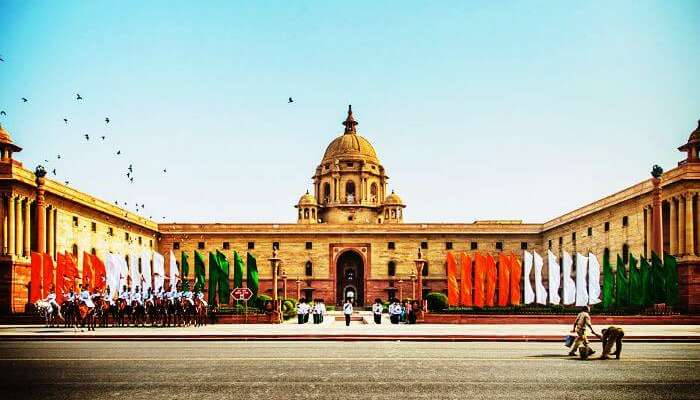 Image Source
On the opposite of the Rajpath is residence of the President of India. Not among the typical tourist places in Delhi, access to this grand piece of architecture is restricted. With four floors and 340 rooms in a floor area of 200,000 square feet, it has a huge presidential gardens (Mughal Gardens), large open spaces, residences of bodyguards and staff, stables, other offices and utilities within its perimeter walls. This grand architectural building is the largest residence of any head of state around the world. The architectural design of the building is based on the design of the Edwardian Baroque. The middle dome of the building is the perfect amalgamation of the Indian and the British architectural styles. Just a walk past the monument will give you an idea of how grand the monument is.
Opening hours: 9 am till late evening. For an inside visit, one can pre book at the official Rashtrapati Bhawan website.
Must visit: Stroll through the road and you will get a glimpse of Parliament House, National Secretariat and Defence Headquarters
Tip: Entry is restricted to only those who obtain a permit in advance.
Suggested Read: Monsoon In Delhi: 10 Ways To Enjoy The Romantic Rainy Season
4. Qutub Minar – Majestic Stone Structure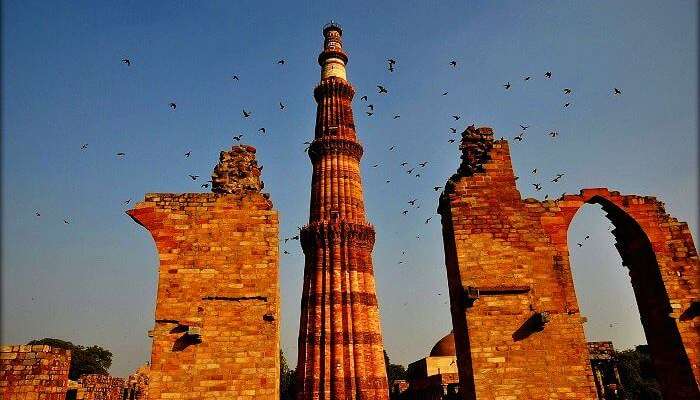 Among the other places to visit in Delhi, Qutub Minar stands tall with its 73 meter tall brick minaret. Built by Qutub-ud-din Aibak, the structure has five stories abundant with chiseled carvings and scriptures. Qutub Minar is the part of the Qutub Complex and it has been declared as the UNESCO World Heritage Site. This red stone tower is a heritage site of India is an amazing example of the beautiful Iranian architecture along with Parso-Arabic and Nagari details.
Entry fee: Free for children under 15, INR 10 for Indians INR 250 for foreigners
Opening hours: Sunrise until sunset, Closed on Mondays
Must visit: Chhatarpur Temple
Tip: This place remains a popular tourist sight despite the damage caused a few years ago.
Suggested Read: 50+ Incredible Places To Visit Near Delhi: Within 600 km From The Capital
5. Jantar Mantar – World's Largest Sundial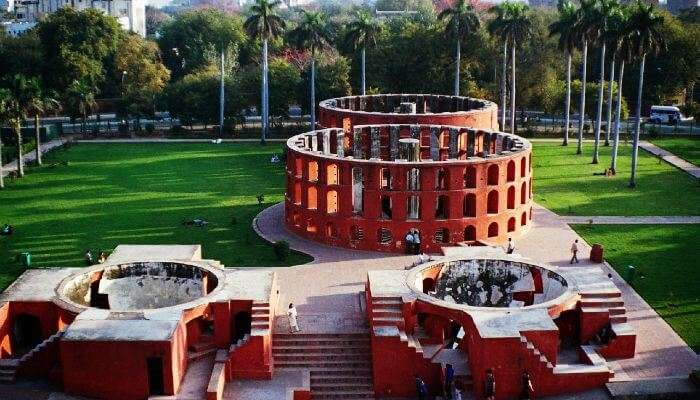 Constructed in 1724 by Maharaja Jai Singh of Jaipur, Jantar Mantar is an astronomical observatory. Fascinating for their ingenuity, the instruments at Jantar Mantar can no longer be used accurately because of the tall buildings around. However, a visit to admire the science of Indian astronomy makes it one of the most visited tourist attractions in Delhi. The principal instruments of the observatory are the Samrat Yantra, Jai Prakash, the Ram Yantra, and the Misra Yantra. There is also a temple of Bhairava, located near the building. It was also built by Maharaja Jai Singh II.
Entry fee: INR 5
Opening hours: Sunrise to sunset
Must visit: Central Park in Connaught Place and get a selfie with the largest Tiranga
Tip: This place often witnesses several cultural events.
Must Read: 10 Haunted Places In Delhi And Haunted Stories Surrounding Them
6. Humayun's Tomb – The Garden Of Tombs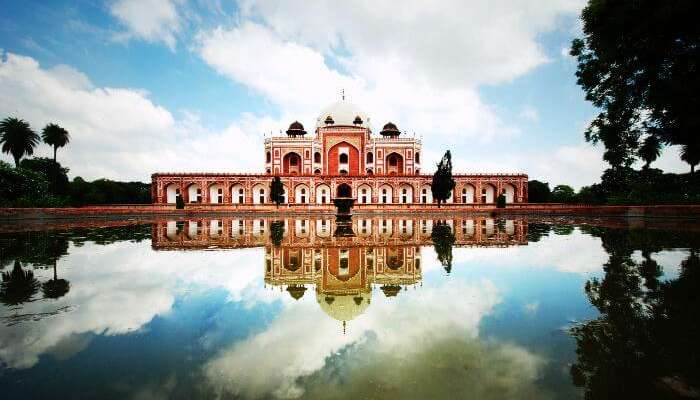 Image Source
A world heritage site under UNESCO, Humayun's Tomb was built in 1570 by Humayun's wife Haji Begum. It is unarguably one of the most amazing works of Mughal Architecture to which Taj Mahal owes its design. Not only the grave of the Mughal Emperor, Humayun, but this tomb also secures the graves of Bega Begum, Dara Shikoh, Hamida Begum, along with other significant members of the Mughals. The tomb is made of red sandstone and white marbles and it looks serene and beautiful even after so many years.
Entry fee: INR 10 for domestic and SAARC Visitors, INR 250 for others
Opening hours: Daily, up till sunset. Best viewed in the morning or a full moon evening.
Must visit: If on Thursday, walk to the Dargah of Nizam-ud-din Auliya for a spiritual qawwali evening
Tip: This place is often included in the Delhi guided tours with a blue bus.
Suggested Read: 10 Less Popular Places In Delhi, That Have Been Ignored For Long
7. Akshardham Temple – Experience A Holy Visit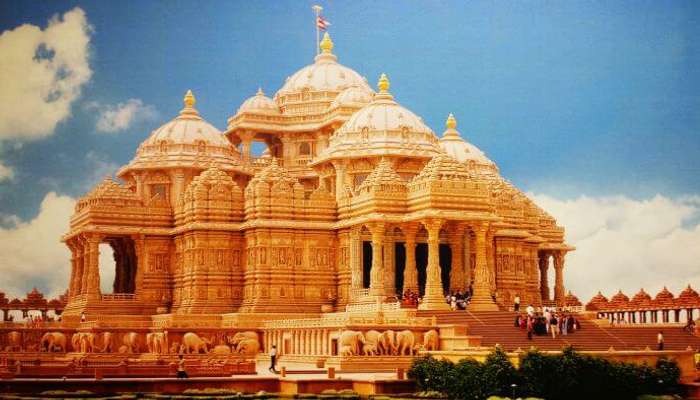 While sightseeing in Delhi, a visit is necessarily suggested to Swaminarayan Akshardham – one of the largest Hindu temples in the world. Built by the BAPS spiritual organization, it's a stunning architectural work made of the pink stone and white marble. Located on the banks of the Yamuna River, this temple has lots of exhibits for the visitors. There is an Abhishekh Mandap, Sanskruti Darshan, Sahajanand Darshan and Neelkanth Darshan where you can enjoy a cultural boat ride. The theme-based garden is really an exciting place to visit here. And while you are here, don't forget to visit the Sahaj Anand Water Show.
Tip: This temple is famous for having a splendid view from far off. It is also visible from the Delhi Metro line.
Entry fee: Free, separate fee to view exhibitions
Opening hours: 9.30 am to 6.30 pm, Closed on Mondays
8. Chattarpur Temple – Awe-Inspiring Complex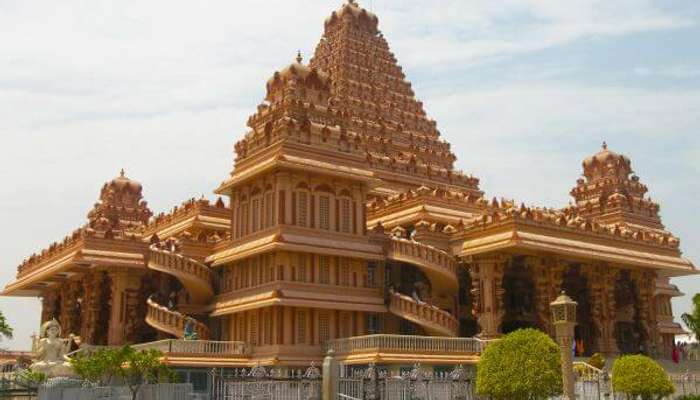 Image Source
Set amidst the beautiful surroundings of South Delhi, Chattarpur is a popular temple founded in the 1970s by Sant Shree Nagpal Baba. This divine temple has an incredible architecture and it's a perfect blend of north and south. There are beautiful statues of Shiv-Parvati, Ram-Darbar, Maa Katyayani, Radha-Krishna, Lord Ganesha, Goddess Laxmi, and Lord Hanuman.
Tip: This temple is famous for its architecture and makes for a perfect picture on your next visit.
Opening hours: 4:00 am – 11:00 pm
Suggested Read: Best Holi Parties In Delhi To Celebrate The Vibrant Festival Of Colors!
9. ISKCON Temple – Seek Blessings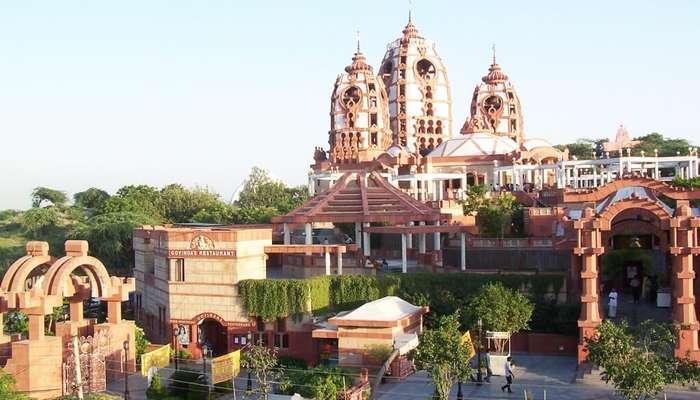 ISKCON is a spiritual institution founded by His Divine Grace A.C. Bhaktivedanta Swami Prabhupada in 1966. You can see the beautiful visual presentations of Bhagavad Gita with colorful lights that create a wonderful effect on the huge screen. They also organize beautiful robotics and Mahabharata show during the evenings. There's a simple Govinda's restaurant inside the temple premises, where you get veg food.
There are lots of museums inside the temple where you can visit the extraordinary exhibits. Besides, they organize multimedia shows for the visitors. The best time to visit ISKCON Temple is during the festival of 'Janmashtami', the birthday of Lord Krishna. It is celebrated with pomp and vigor and it will be a great miss if you don't visit this festival at this temple.
Tip: This is a perfect place to witness a serene setting accompanied by soothing bhajans and aartis.


Opening hours: 4:30 am to 8:30 pm
10. Lotus Temple – Experience The God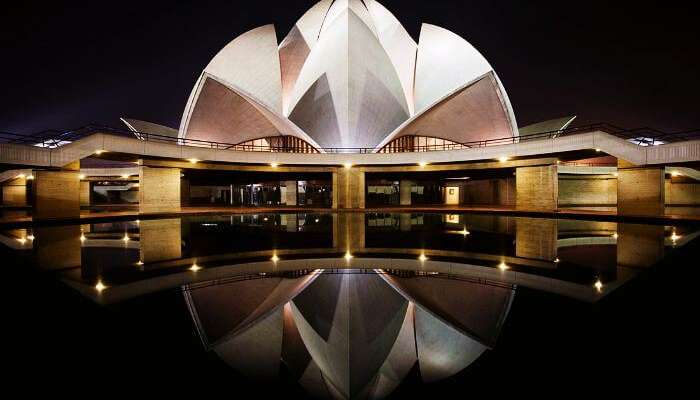 Famously known as the Lotus temple in the list of famous tourist places in Delhi, Lotus in the Bahai Temple symbolizes four religions namely Hinduism, Jainism, Buddhism and Islam. This temple belongs to the Bahai faith which proclaims that all people and religions are united. Worshippers of every religion are welcome here. You will find nine doors of this temple which allows 2500 visitors at the same time. For mesmerizing architecture, this building has achieved several awards and rewards.
Few Essential Tips You Need to Follow:
While you are here, stroll around the beautiful gardens inside the temple.
Photography is strictly prohibited inside the temple. So, keep your mobile and camera inside your bag.
If you want to know the history of the place, go for a guided tour.
Always keep your shoes at the deposit counter, outside the temple, before entering.
Entry fee: Free
Opening hours: Tuesday – Sunday, 9:30 am – 5 pm (winters) & 9:30 am – 7 pm (summers)
Must visit: Kalkaji and ISKCON Temple nearby
Suggested Read: 23 Best Cafes In Delhi You Must Visit At Least Once. Which Ones Have You Been To?
11. Jama Masjid – India's Largest Mosques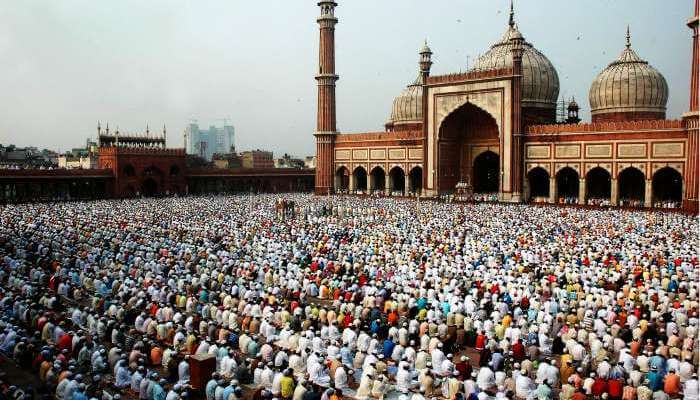 Among the other tourist attractions in Delhi is the largest mosque in India–Jama Masjid. It can hold 25000 devotees at a time. It was Shah Jahan's first architectural marvel. The mosque has four towers and the southern tower gives a stunning view of the city. You've to be dressed appropriately to enter the mosque. If not, rent an attire provided by the mosque authority.
Few Essential Tips:
The best time to visit the mosque is during the morning hours as there is no crowd at that moment.
Remember, you should always wear moderate clothes while visiting this mosque and women should always cover their heads with scarves.
You have to be careful about the harassment about fees and all.
You don't need any fake guides who say they can make you enter at fewer amounts. Remember, the admission fee is zero.
You can click pictures, but you have to pay Rs. 200 for taking your camera inside.
Entry fee: Free, but videography fee is INR 300
Opening hours: Daily, 7 am-12 pm: 1:30 pm-6:30 pm. It is closed during prayers and the timing depends upon the direction of the moon
Must visit: Try Changezi chicken at Karim's Hotel nearby
Suggested Read: Explore List of Top Tourist Places in India
12. Purana Quila – Old Fort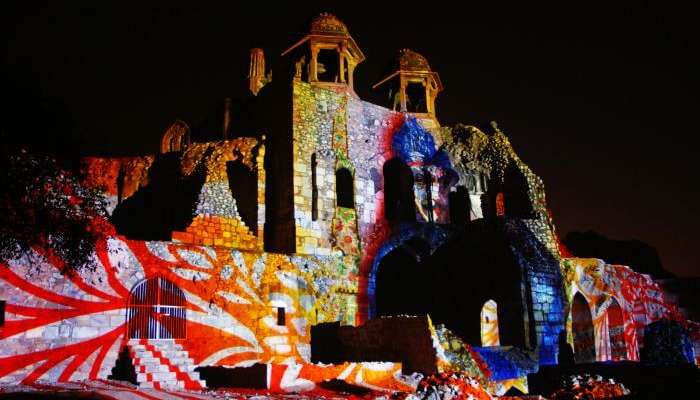 In the list of places to visit in Delhi, Purana Quila is one of the most ancient grandeurs of the city. With rectangular dimensions, it spreads over a circuit of nearly 2 kilometers. Boating in the lake nearby and a sound and light show in the evening are special attractions.
Entry fee: INR 5 for domestic, INR 100 for foreigners
Opening hours: 7 am to 5 pm
Must visit: National Zoo and Supreme Court Museum nearby
Tip: Boating activity near Old Fort is quite famous amongst the locals.
Suggested Read: 11 Amazing Places To Visit Near Delhi For New Year Celebrations 2019
13. Bangla Sahib Gurudwara – Offer Prayers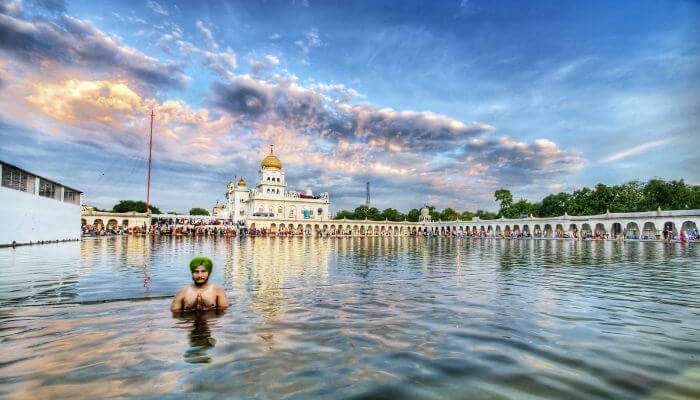 With the gurgling sarovar inside its complex, Gurudwara Bangla Sahib was first built as a small temple by Sikh General, Sardar Bhagel Singh in 1783. The complex also houses a higher secondary school, Baba Baghel Singh Museum, a library, and a hospital.
Entry Fee: Free
Opening hours: Everyday
Must visit: Rakab Ganj Gurudwara, Birla Mandir and St Cathedral Church nearby if you are on Delhi sightseeing
Tip: You can visit this place after sunset as the marble flooring is pretty hot during the day time in summers.
14. Raj Ghat – Take A Stroll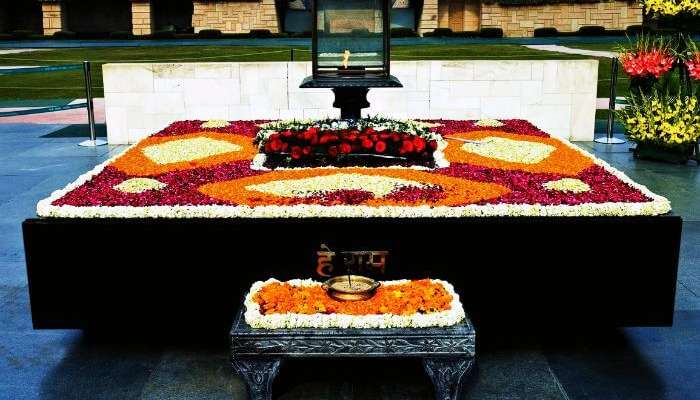 Gandhi Smriti shows you the exact location where Mahatma Gandhi was assassinated. The room is exactly how Gandhiji left it and that's where he built his abode for 144 days until his time of death. The room where he slept and the prayer ground is open to the public. It also has a display of paintings, sculptures, etc. On the other side of the road is Raj Ghat. Overall, if you want to pay your respects to Gandhiji and the work he did for India, then this is one of the best places to visit in New Delhi.
Entry fee: Free
Opening hours: 10 am to 5 pm, Closed on Mondays
Must visit: Feroz Shah Kotla fort
Tip: Many groups from schools come to visit this place during weekdays.
Suggested Read: 15 Festivals Of Delhi To Attend In 2019 For A Food, Shopping & Cultural Extravaganza!
15. Hauz Khas Fort – Take Scenic Shots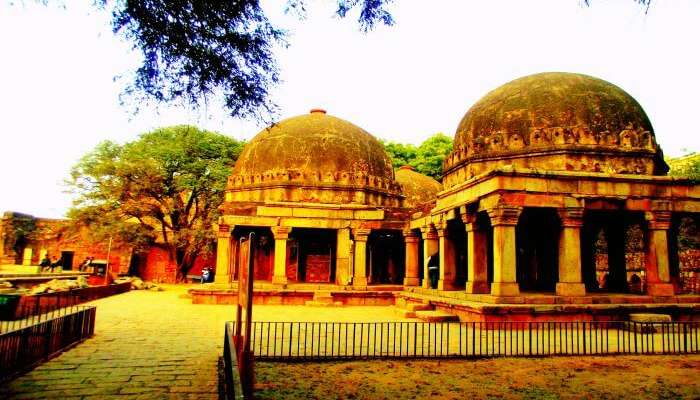 The Hauz Khas Fort Complex rests amidst the splendid beauty of a lake and is a 10 pointer among the very famous tourist places in Delhi. Firoz Shah Tughlaq re-excavated the silted tank and cleared the channels to give shape to what is a famous recreational spot in South Delhi. Built in the 13th century, is a hub of activities, a bird watcher's delight and a favored picnic spot for the locals.
Tip: This place has many college students that play live music around evening. You can surely spend some time enjoying the music with a scenery pleasing your eyes here.
Entry fee: Free
Opening hours: Sunrise to sunset
Must visit: Green Park (attached to the fort)
16. Agrasen Ki Baoli – Take In The Beauty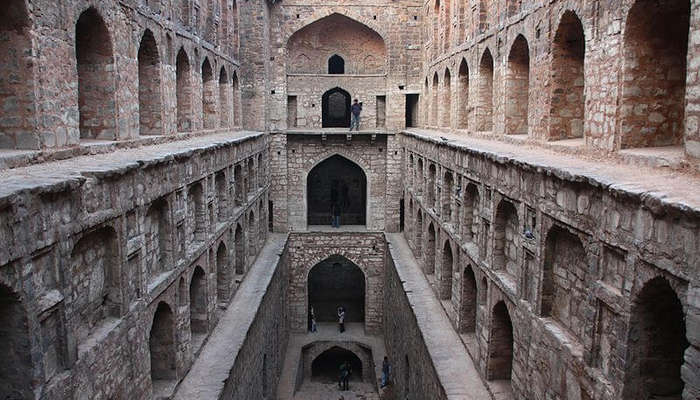 Agrasen Ki Baoli, which is also known as Agrasen Ki Baoli is one of the coolest places to visit in Delhi. It became quite popular after Amir Khan's PK movie and on the other hand, is also infamous for its haunted activities at night. This 60-meter long and 15-meter wide step well in Connaught Place attracts many. You must pay a visit to this place while exploring the lanes of CP.
Tip: This place has a wide scope for photography and stunning selfies with a creative backdrop.
Opening hours: 9:00 am to 5:30 pm
Suggested Read: 17 Super Fun Places In Delhi That Proves It Is The Happiest Metro In India
17. Nehru Park – Picnic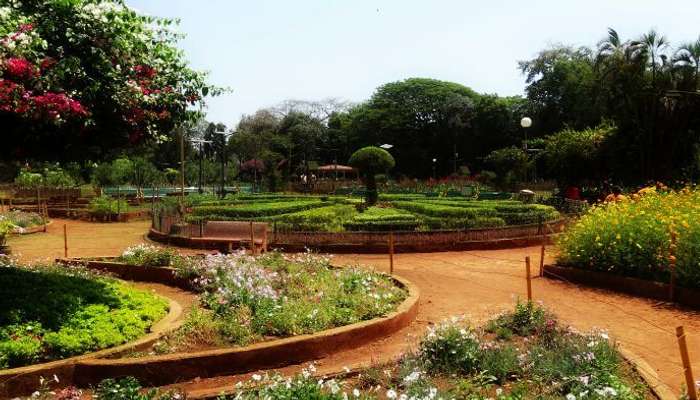 One of the most beautifully landscaped green areas, the Nehru Park in Chanakyapuri is one of the best places to visit in Delhi and is a hub for recreational activities. Any sightseeing in Delhi is incomplete without attending any of the Spic Macey Concerts and Morning- Evening Ragas concerts by MCD (organized every month). The famous annual Bhakti Festival draws audiences from all parts of India.
Tip: There are many cultural and musical events that take place at this venue. Make sure you check out the current day's scenario before you head here.
Entry fee: Free
Opening hours: 6 am to 8 pm
18. Crafts Museum – Explore Traditional Crafts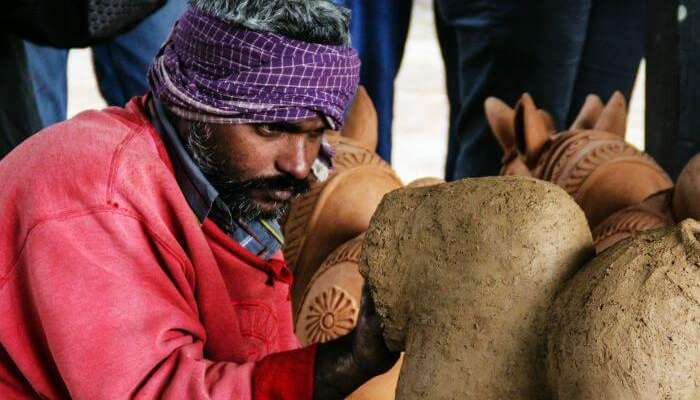 With the theme set up of a traditional village, this vintage museum in Pragati Maidan of Delhi has been preserving and nurturing the traditional crafts of India. An enormous carved temple chariot, a Gujarati haveli are the main highlights. The rear courtyard sells handicrafts made by local artisans. And the breakfast at Cafe Lota is a treat.
Tip: Portraying unique crafts, this place is the best one to be explored by people interested in the same.
Opening hours: 9:30 am to 5 am (July to September); 9:30 am to 6 pm (October to June); closed on Mondays and national holidays
Suggested Read: With These 10 Weekend Getaways From Delhi Under 5k, Budget Is No More A Constraint
19. National Rail Museum – Buy A Souvenir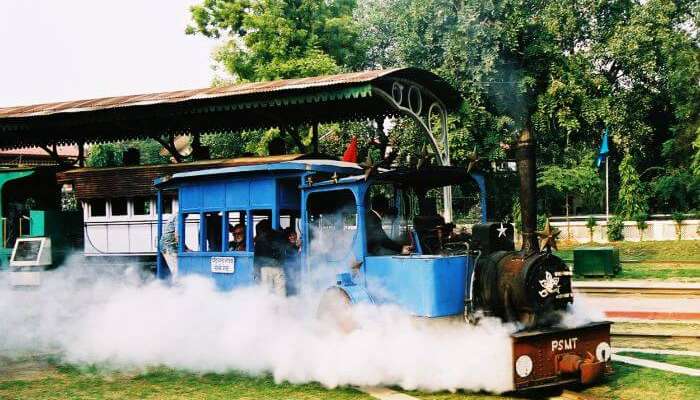 With an exotic collection of over a hundred exhibits of trains from Indian Railways, National Rail Museum is one of the coolest must visit places in Delhi, especially with your kids. Static and working models, signaling equipment, antique furniture, historical photographs, Prince of Wales' Saloon, Maharaja of Mysore's Saloon are the major attractions. A mono toy train is the star attraction among kids.
Tip: Rail museum is famous for having plenty of patterns and structures of trains on board. This is highly educative for kids.
Entry fee: INR 20
Opening hours: 9:30 am to 5:30 pm, Closed on Mondays and national holidays
20. Shankar's International Dolls Museum – Family Friendly Trip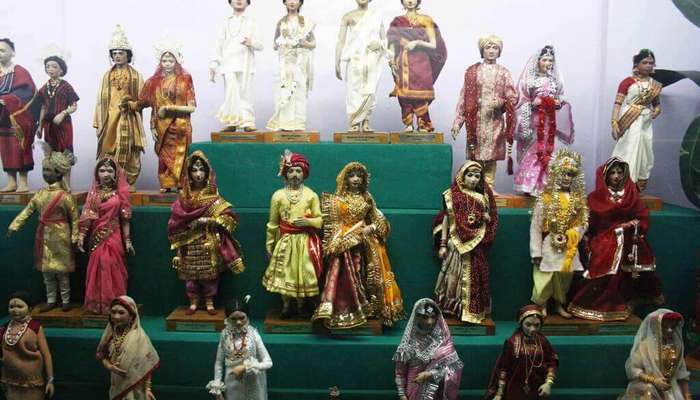 Shankar's International Dolls Museum in New Delhi is a wonderful place to visit on your trip to Delhi. The doll museum was envisaged by the popular cartoonist, K Shankar Pillai. The museum has exclusive costume dolls collected from USA, UK, Australia, New Zealand and from Asian countries. The number of dolls have increased from 3000 dolls to 6500 dolls collected from over 85 countries.
Tip: You can easily explore this place better on weekdays as there is less crowd.
Opening hours: 10:00 am to 5.30 pm. All days of the week except Monday.
Entry fee: INR 15 for adult and INR 5 for children
Suggested Read: Adventure Alert: You Will Now Be Able To Climb The Eiffel Tower Bridge In Delhi Soon!
21. Chandni Chowk – Eat Street Food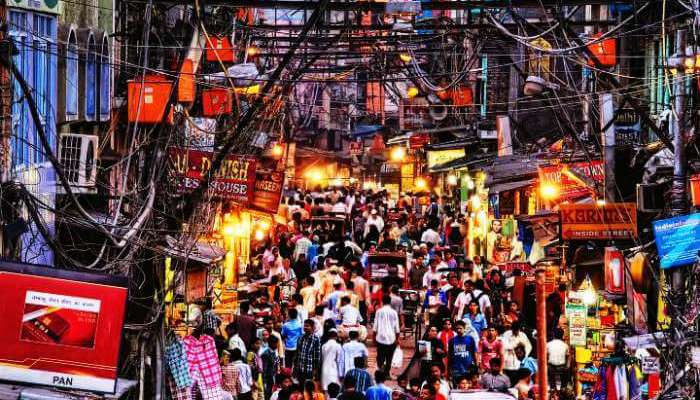 The main street of Old Delhi, Chandni Chowk is the heart of Delhi. Chaotically competing for space, its narrow lanes are filled with shops to buy inexpensive stuff. Also, Street food just doesn't get better than Chandni Chowk.
Tip: This market is perfect for buying wholesale products, so get ready with your list before you visit.
Must visit: The Flea Market every Sunday morning, Nayi Sadak, Daryaganj
22. Palika Bazaar And Janpath Market – Shop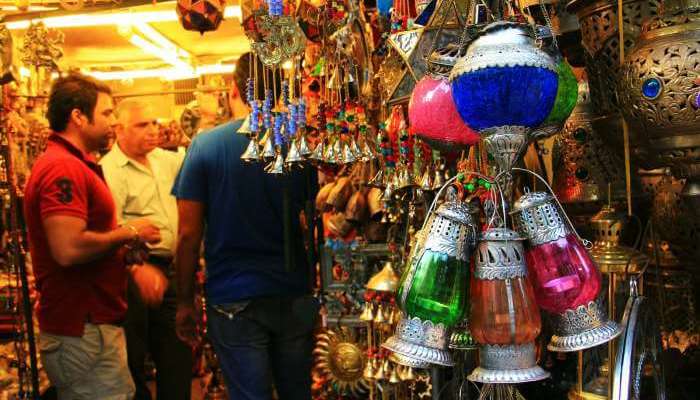 An underground market located between the inner and outer circle of Connaught Place, Palika Bazar houses 15,000 people within its confines at any given time. Set up in the late 1970s, it has 380 numbered shops selling a varied range of objects where electronic items and clothing are dominant and is one of the best places to visit in Delhi for all the shopaholics.
Tip: Hold onto your bags a little tighter as things might get stolen in this packed marketplace of Palika.
Janpath Market is another market in CP & the lane connects it to Lodhi Road. This place overflows with the shops and stalls at the roadside selling large numbers of goods.
Opening hours: 10 am till late late evening
P.S. Apart from these, there are places, I bet you, which offer such wide ranges and throw away prices that you can be that 'must-to-go-shopping-with guy'. Go to Sarojini Nagar, Lajpat Nagar, and Karol Bagh.
Suggested Read: This Heritage Park In Delhi Is A Perfect Replacement For Your Regular Picnic Spots
23. Sarojini Nagar Market – Shop And Eat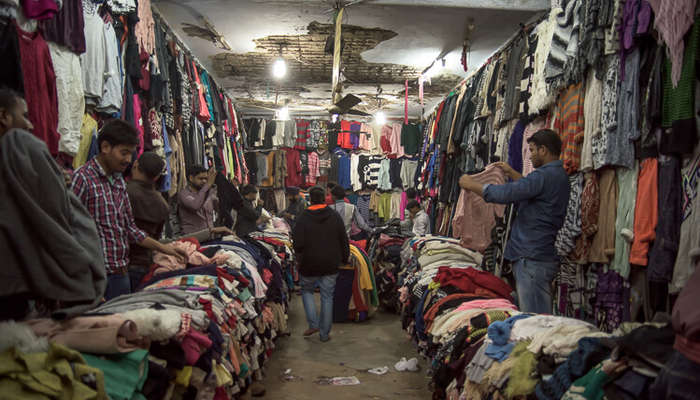 One of the best places to shop for accessories and clothes in Delhi at cheap prices is Sarojini Nagar Market, and everyone who's exploring Delhi must visit this market. It's probably the biggest and the most important markets of the city. From gorgeous pair of cheap to branded dresses for parties, one can get everything in this market at a throwaway price.
Tip: Every kind of flea stalls are dotted along the streets of Sarojini market but you can bargain to great lengths here. So, do try!
Opening hours: 10:00 am to 9:00 pm. All days of the week except Monday
24. Select Citywalk – Window Shopping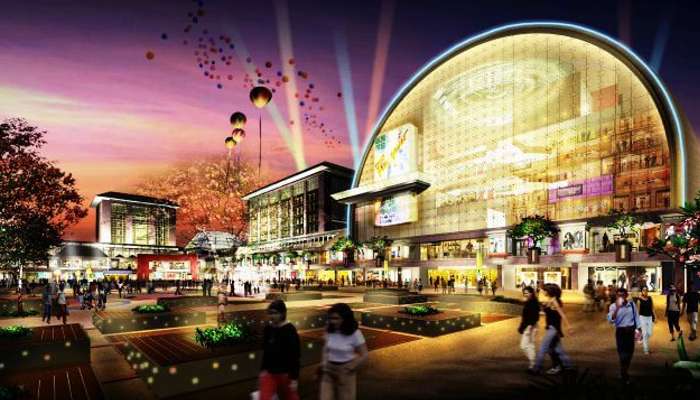 A premier shopping mall located in the Saket District Centre, Select Citywalk is a 1,300,000 square feet retail development is spread over 6 acres. It includes a multiplex, serviced apartments, offices, 180 odd retail outlets and a food court along with an open plaza. It is one of the finest and classiest places to visit in Delhi and a heaven for shopping enthusiasts.
Tip: Citywalk is mostly packed on weekends so if you're headed for a movie here, make sure you book in advance.
Opening hours: 11 am till late evening
Suggested Read: 35 Hill Stations Near Delhi For A Peaceful Getaway
25. Dilli Haat – Buy Textiles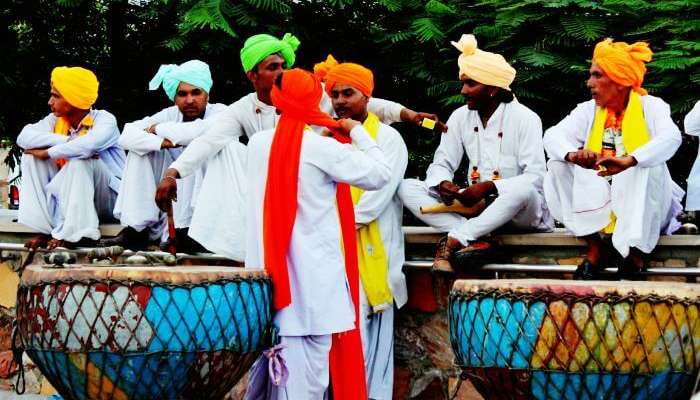 An open-air food plaza cum craft bazaar, Dilli Haat is situated near INA and is run by the Delhi Tourism Authority (DTTDC). Artisans and craftsmen from all over the country gather here to showcase and sell their handicrafts. And for the guests, there is plenty of options when it comes to food. It offers savory cuisines from all over.
Tip: This place has the best food to accompany the best shopping experience in the city. Don't forget to purchase souvenirs of all kinds from here.
Entry fee: INR 20
Opening hours: 10 am to 10 pm, Daily
Must visit: For theatre performances in Delhi, a visit to any of the theatres near Mandi House is suggested.
26. National Museum – Take In The History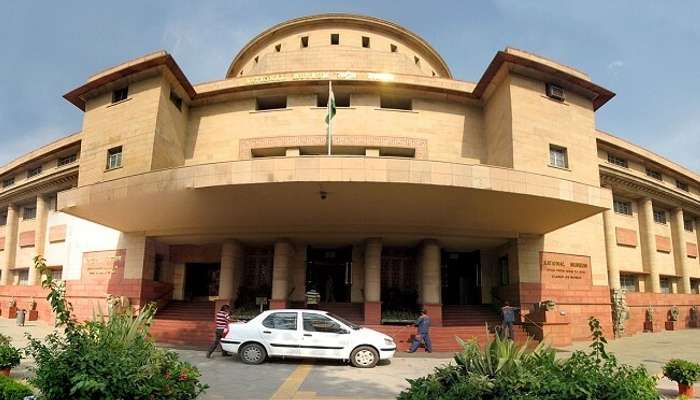 The National Museum of India is one of the largest museums in Delhi. The main exhibits of this museum are the vivid collections of Indian and foreign art. There are a plethora of departments, like manuscripts, archeology, paintings, arms and armor and many more.
Opening hours: 10 am to 6 pm. All days except Mondays.
Entry fees: INR 20 for Indians and INR 650 for foreigners.
Tip: Make sure you don't touch the things in display as it might ruin them since they're strategically placed for a reason.
Suggested Read: The Upcoming Ferry Service Between Delhi & Ghaziabad Is All We Ever Needed
27. The Educational National Gallery Of Modern Art – Check Out Art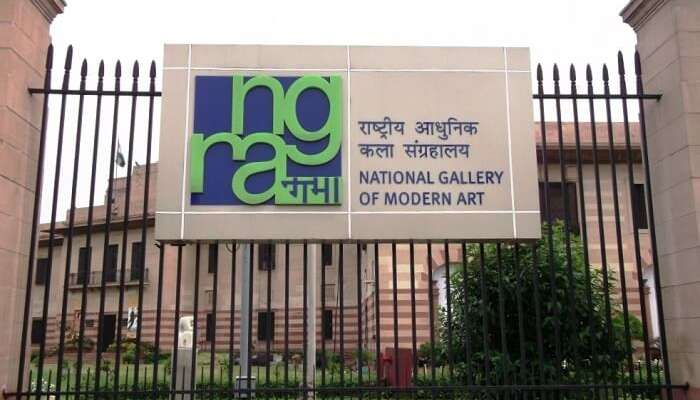 This is one of the major and largest National galleries of modern art. You can visit more than 14000 works of renowned artists, whether national or international. If you are an art connoisseur, you will love to spend your day at this museum.
Opening hours: 11 am to 6.30 pm. This museum is closed on Mondays and on national holidays.
Entry fees: Rs. 20 for Indians and Rs. 500 for foreigners. Students' entry is free.
Tip: This place is a must visit for all the art-enthusiasts to discover modern art techniques on display.
28. Lodhi Gardens – Heritage Amidst Nature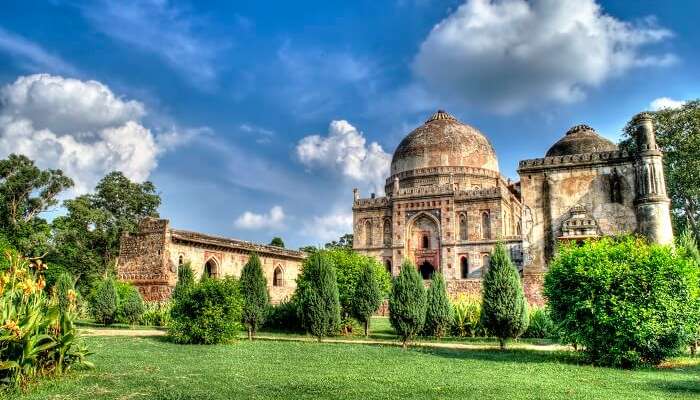 Located near Khan Market, Lodhi Gardens is spread around 90 acres and the entire year is a heritage site. You will get to see lots of historical monuments, like the tomb of Sikandar Lodi and Mohammed Shah. If you want to arrange a picnic on Saturday morning, head towards Lodhi Gardens.
Tip: This place mostly have school kids and family picnics going on. You'll have to find a spot for yourself.
Suggested Read: Delhi To Become The Most Populous City By 2028
29. Garden Of Five Senses – Adventure Park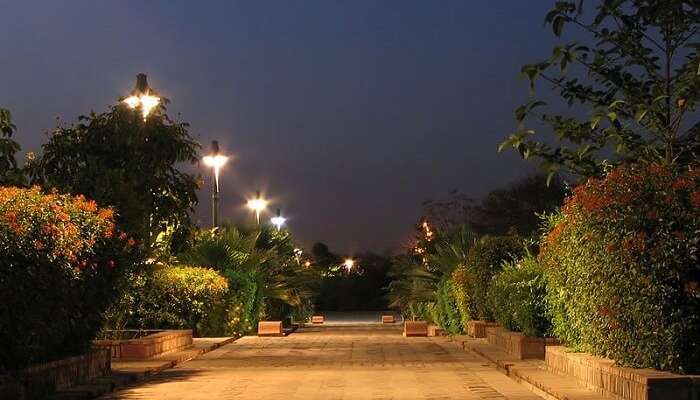 This 20-acre park is full of lush greenery that will be soothing to you amidst the pollution of Delhi. This park is not for strolling around, but you can also enjoy numerous activities over here. If you are having the trip with kids, they will love to explore the area.
Tip: Spend some time tickling your senses at this garden to find the best spot for a relaxing time.
30. Khan Market – Shop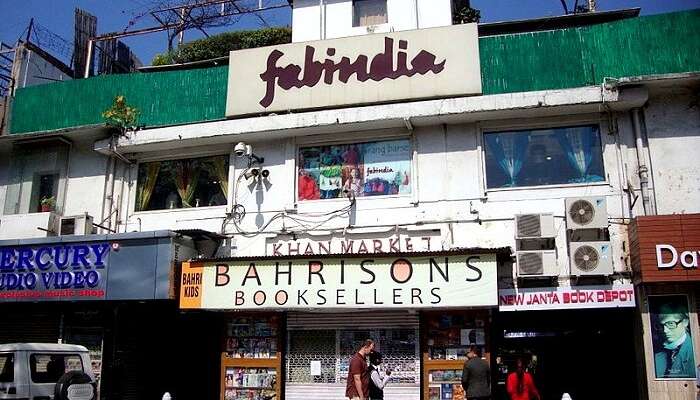 This is the place where you can find fancy branded items, along with the opportunity of shopping budget-friendly items from the street shops. You can find apparels, cosmetics, ayurvedic medicines and lots of other things here.
Opening hours: every day from 10.00 am to 11.00 pm except Sundays.
Suggested Read: Adventure Alert: You Will Now Be Able To Climb The Eiffel Tower Bridge In Delhi Soon!
Tip: Since this area is a little posh, you'll find more sophisticated crowd here.
31. Karol Bagh Market – Buy Cosmetics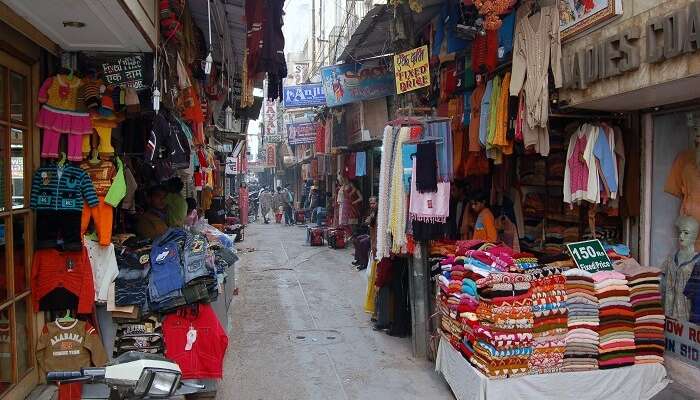 This is one of the oldest marketplaces in Delhi which is famous for traditional Indian wear, especially the bridal collection. The variety and design you can get here are difficult to find anywhere else. Besides these, you can also shop for jewelry, cosmetics, accessories, shoes, gadgets, books and lots of other materials.
Tip: Karol Bagh market is famous for a number of things. Make sure you purchase at least a few from here.
Opening hours: 10.00 am to 8.00 pm. It is closed on Mondays.
32. Tamra Shangri La's – Eat Local Food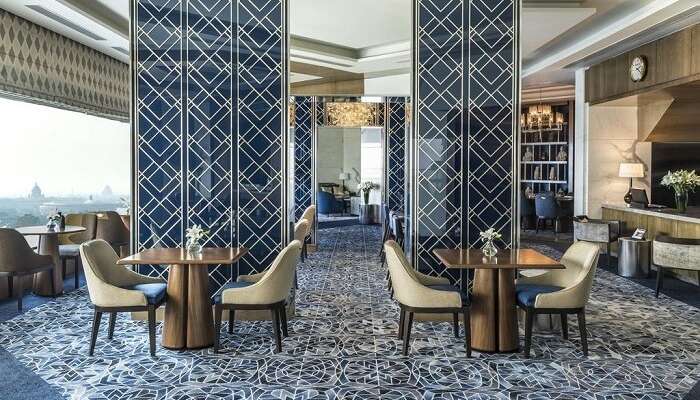 No food recommendations can be complete without Tamra. It is a fun and vibrant restaurant which serves up some local and delicious dishes. Situated in Eris Hotel at Connaught Place, Tamra is popular for serving up pan Asian, continental and north Indian cuisine. Head on over here for some R&R and tickle those taste buds.
Tip: This place is the perfect place if you wish to meet up with an old friend given the soothing ambience.
Entry timings: 6 Am – 12 Pm
Cost for two: Around an average of INR 3,000 including drinks and alcohol.
Suggested Read: 6 Best New Year Parties In Delhi For Welcoming 2019 Like A Boss
33. Lajpat Market – Shop For Knick Knacks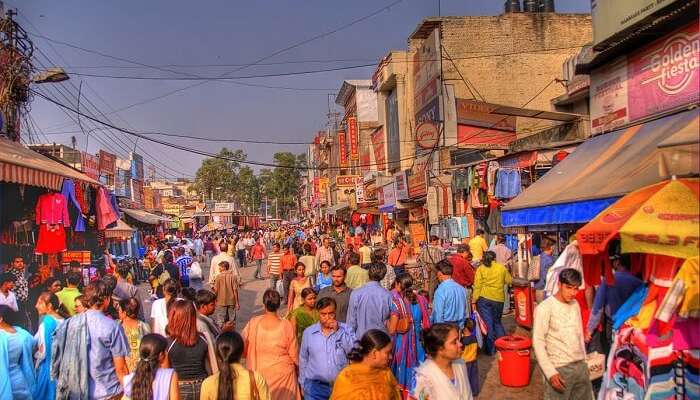 It is a commercial and residential point located near the South Delhi district. Named after Lala Lajpat Rai, who was nicknamed as the lion of Punjab; Lajpat Nagar is presently famous for its collection of a variety of items spread over different shops, all of which you can get at incomparable rates. Keep in mind that the place is divided up into four parts like Lajpat Nagar 1, 2, 3 and 4 which includes the housing colonies like Dayanand Colony, Amar Colony and such.
But it is a central market which turns eyes with its collection of shoes, fabrics, food items and ornaments. You will find everything from local stuff to branded ones and is a great shopping destination who are here on a shoestring budget. Most items are at a fixed price and unless you have some superior bargaining skills, it won't come down by much.
Tip: Make sure you don't visit this place on Mondays as it is closed and park at the right spot due to congestion.
Timings: Open on all days of the week from 9:00 am to 10:00 PM except on Mondays.
Entry Fee: Nothing, just what you decided to buy.
34. Kunzum Travel Cafe – Sip On Coffee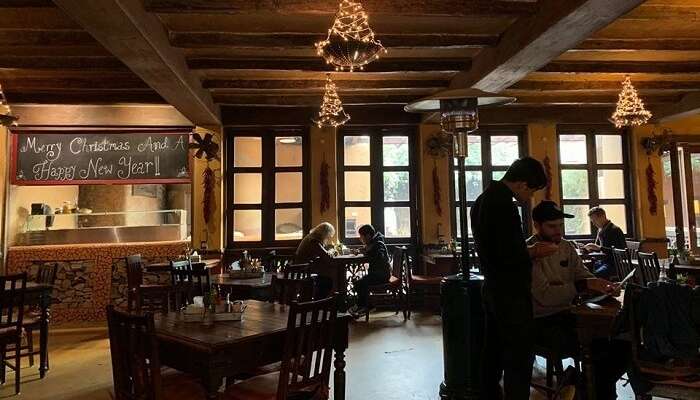 While in Delhi you can meet with the other travelers here and have a great time to share stories, getting to know others and making perhaps travel buddies as well. Foreign tourists flock here and you can share your knowledge about the city and its attractions with them. They also have their own website called Kunzum.com where you can upload pictures, no worries about wifi, they have a free one for you to use. Located in Hauz Khas village, it has become a part of the historical landscape for the city as well. Kunzum has become a travel Mecca where people come to tell tales about places unknown and known.
Tip: This is the kind of place where you can meet new people and share new experiences.
Timings: Open all days a week from 11:00 am to 7:30 am except on Monday
Entry fee: No need to buy anything but if you do then you can pay whatever you want.
Suggested Read: No More Layovers! Direct Flights To Phuket And Male From Delhi And Mumbai Are Finally Here
35. Paharganj – Buy Dirtcheap Earrings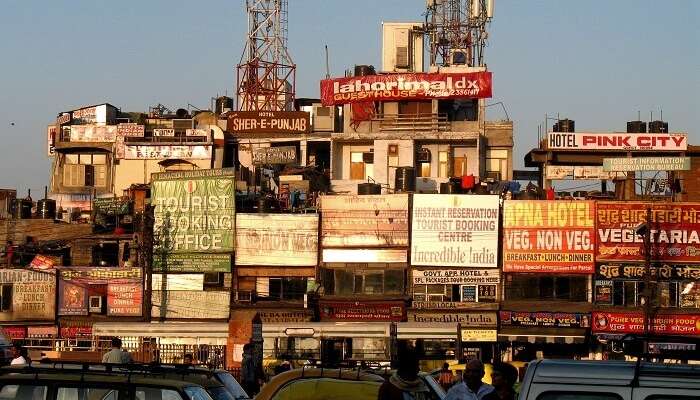 It is a famous neighborhood located in Central Delhi. It was known during the Mughal period as Shahganj marketplace. The current name came from its nearness to Raisina Hill where the Rashtrapati Bhavan is currently located. Paharganj was originally one of the five main markets in Delhi and was located outside of the fortified city.
Visitors here can find a variety of shops dedicated to current conversions and currency changes. Paharganj is actually one of the three major administrative subdivisions of Central Delhi district. It houses a lot of hotels, restaurants, lodges, dhabas, and shops. If you want to buy some amazing items at a cheaper price then this is the place to head to.
Timings: Open on all days of the week from 11:00 to 09:00 PM except on Mondays.
Entry fees: None
Tips: If hungry make sure to pay a visit to Multan Moth Bhandar for some delicious Kachoris, there are a large variety of leather items available here and check out the unnamed shops for them. If you are after some cheap drinks then My Bar is your friend as it offers the cheapest rates in the city.
36. The Blue Bar – Groove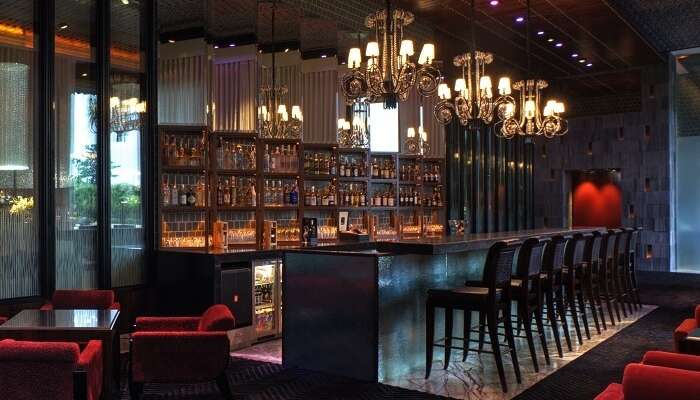 If you want to explore the nightlife scene of Delhi then this is the best bar to head to. It is one of the best luxurious lounge and bars in the city because of its charismatic and yet edgy decor of red on black that makes its patrons have a really unique experience. The ambient lighting and the DJ playing some popular tracks will make your night. Of course the drinks will just make it better.
Tip: You can surely enjoy the night with your friends here, even though the budget might have to be increased a little.
Entry timings: Open from 12:30 PM to 12:45 AM during the weekdays while weekend timings are from 5 PM to 12:45 AM.
Cost for two: The average on food and alcohol comes to about 3500 INR but you will have to shell out 400 INR more for ordering up a pint of beer.
Suggested Read: Soon You Will Be Able To Travel From Delhi To Panipat In Just 60 Minutes!
37. Club Pangaea – Dance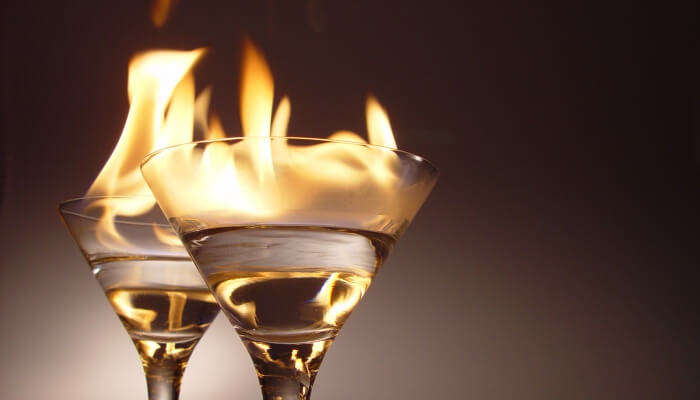 To enjoy some great food here, make sure you mark Club Pangaea on a list. It is a luxury dining restaurant and bar which offer a class in all aspects. Come here to experience some of the best food, wines, spirits and other beverages in a comfortable ambiance. The venue serves up Turkish, American, North Indian and finger foods.
Tip: This place is a perfect setting for a date. So, don't forget to tag along your partner.
Timings: Entry is between 12 PM to 1 AM.
Cost for two: The averages cost which was incurred while ordering good at the club was between 4000 INR.
Suggested Read: 10 Best Places To Visit Near Delhi For Snowfall This Winter On Your Next Trip
38. Khan Chacha – Visit For Delicious Chicken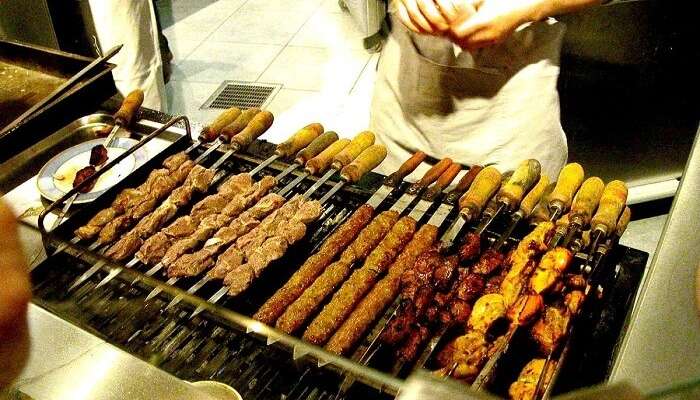 There is an amazing story behind this establishment which has become a part of Delhi's landscape. It was founded back in the 1970s by Haji Banda Hasan whose modest little shop went on to become the mammoth that was the Khan Chacha. Come here for some delicious food and make sure to try out the Mutton Seekh and Chicken Tikka Roll.
Tip: Make sure you don't stop by at rush hour or on weekends as there are many people here.
Entry timings: 11 AM to 11 PM
Cost for two: It's about 650 INR
Suggested Read: 31 Best Romantic Places In Delhi And Its Vicinity For The Love Birds
39. Laxminarayan Temple – Pray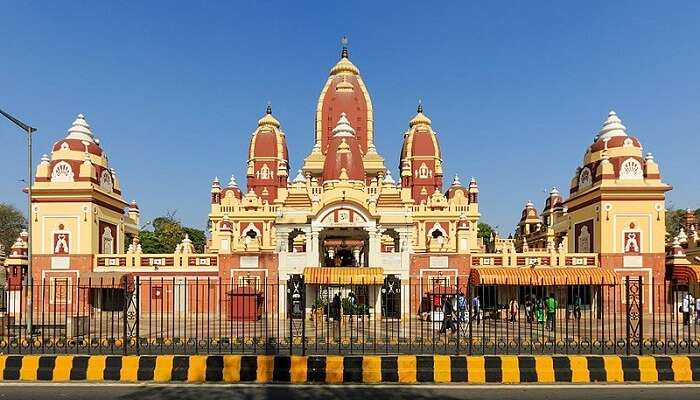 Birla Mandir refers to any temple which was built by the Birla family and there are many as such scattered over the various cities. This one is located on Mandir Marg is a very important Delhi tourist destination as well. It is dedicated to Laxminarayan or Lord Vishnu. Built in 1939, the temple is spacious and large to hold many devotees. The architecture resembles the Nagar style and there are a lot of side temples here as well which are dedicated to various other deities like Buddha, Shiva, and Krishna. The temple stretches for up to 7.5 acres and is flanked by a lot of shrines, large gardens, and fountains which display many nationalistic and Hindu sculptures as well.
Tip: Always carry a long scarf while entering the temple to cover your head in order to pay respect to the customs of the locals.
Timings: It can be visited on all days of the week from 04:30 am to 1:30 PM and then again from 02:30 PM to 09:00 PM.
Entry fee: There is no entry fee here.
40. Tomb Of Safdarjung – Experience History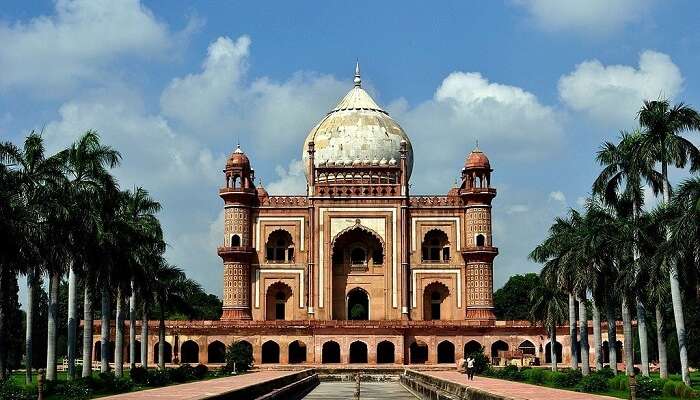 The tomb is a very famous attraction in Delhi and is made up of marble and sandstone. It was constructed in 1754 and then architect is in the late Mughal empire style. It's domed and arched dark red-brown and also white colored structure has a special aura which engulfs the visitors. Safdarjung held the post of the prime minister for the Mughal empire when emperor Ahmad Shah Bahadur was occupying the throne in the year 1748. The tomb was constructed by his son Nawab Shujaud Daula after his death in 1754. The tomb is the last of the monumental tomb which were built resembling the Garden of the Mughals and so it resembles an enclosed garden which is in the style of Humayun's tomb. The main attraction of the tomb is the Char Bagh plan, the mausoleum at the center, the five-part facade, the nine-fold floor plan, and the hidden stairway.
Tip: This place takes a minimum of an hour to cover so, make sure you have enough space to include this on your day's list.
Timings: It is open on all days of the week from sunrise till sunset.
Entry Fee: For SAARC members and Indian citizens, the fee is Rs15 but for foreign nationals, it's Rs 200.
Suggested Read: Experience Delhi In December Like A Local, And Here's All You Can Do
41. Feroz Shah Kotla Fort – Experience The Charm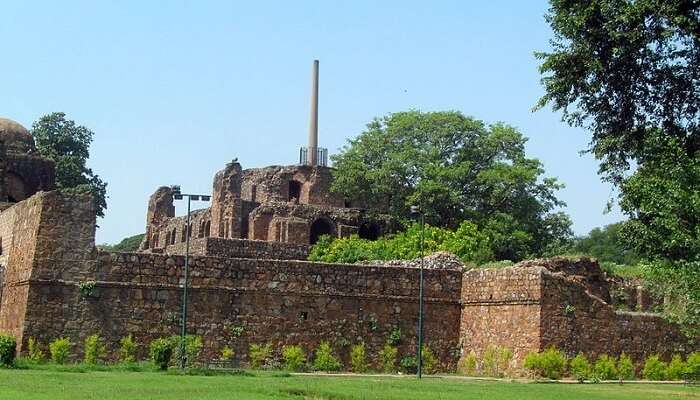 Kotla is just the name which people of this city call the historic monument built by the Sultan Feroz Shah Kotla to mold the city in his vision of Firozabad. The fortress is an amazement to behold with its polished sandstone Topra Ashokan pillar that stands tall within the fortress. It was actually one of the multiple pillars which are still left standing that was once built by the Mauryan Emperor. The obelisk is full of inscriptions as the original ones are in the Brahmi script along with some Sanskrit and Pali inscriptions which were added on much later. Apart from the pillar, there is also the Jami Masjid, a huge garden complex as well as baoli. What one can see of the fortress nowadays is just some ruins of what was once a proud fortress that was destroyed by continued warfare between the emperors.
Tip: Make sure you check the timings before going to this place and do not litter around.
Timings: Open all days of the week from Sunday to Tuesday from 6:00 am to 6:00 PM.
Entry Fee: For SAARC members and Indian citizens, the fee is RS 15 but for foreign nationals, it's Rs 100. Children below 15 don't need to pay.
42. Pragati Maidan – Visit Historical Monuments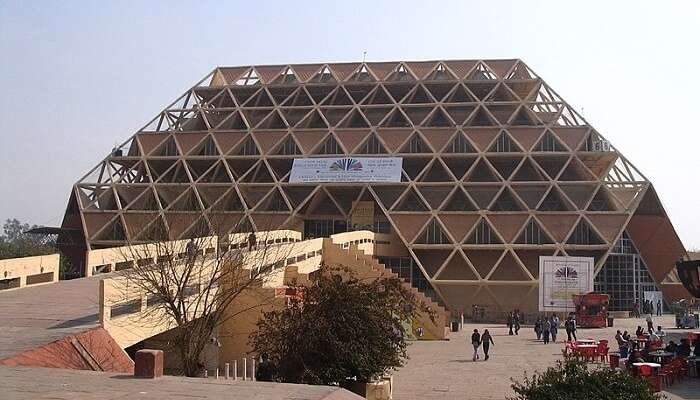 Located on the Mathura Road, Pragati Maidan is both an exhibition as well as a complex center which has a total of 150 acres of land which is equipped with roads, paved lawns, outlets and gardens. The place houses about sixteen huge halls in its entirety and Pragati Maidan is thought to be the largest of the exhibition centers in the city. This is a great place to get some scenic shots.
Tip: Reaching this place via metro is the perfect way to avoid the hectic traffic around the region.
Timings: The visiting times aren't fixed and they depend on the event which is being held there. But the visit duration can last from two to three hours.
Entry fee: The package deal for per person begins at 9914 INR.
Suggested Read: 10 Surreal Places To Visit Near Delhi In November In 2019
43. Nizamuddin Dargah – Pray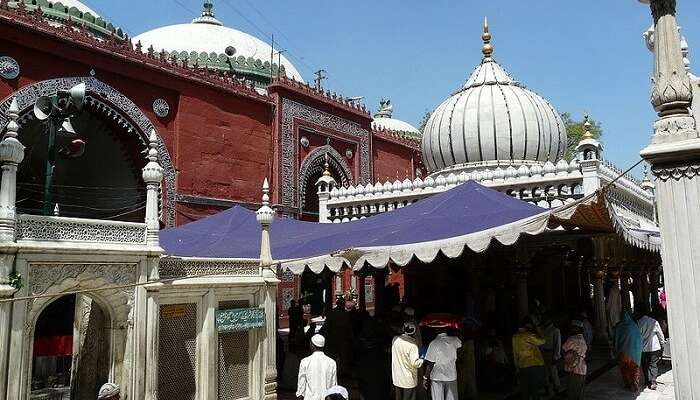 Fully known as the Hazrat Nizamuddin Dargah, this is a famous tourist destination site in the city. The structure is actually a mausoleum of a very Sufi Saint called Hazrat Khwaja Syed Nizamuddin Auliya who lives between the years 1238 to 1325. Located in the area of the same name, it is visited by many Islam believers every week. The complex consists of tombs of poets like Hazrat Amir Khusro, Inayat Khan and that of Mughal princess Jehan Ara Begum.
Near the holy dargah, the neighborhood is divided up into two parts all along the Mathura Road. One is Nizamuddin West and it is here that the structure is located along with having a lovely market which is dominated by Muslim vendors. The dargah also provides social assistance for the needy by providing them with basic necessities like furniture, utensils, clothes and other such things. They also serve food at Khanqah for those who need it. Make sure to catch one of the Qawwali performances which take place every night here.
Timings: The entry is from 5:00 am to 10:30 pm.
Entry Fee: No entry fee
Tips: Make sure to take care of your belongings because the crowds are insane. Don't wear footwear inside, parking will be difficult so park at a little distance and then walk to the temple. Make sure that you cover up your head before entering the Dargah and remember that women aren't allowed to enter the main shrine.
44. Nehru Planetarium – Take A Tour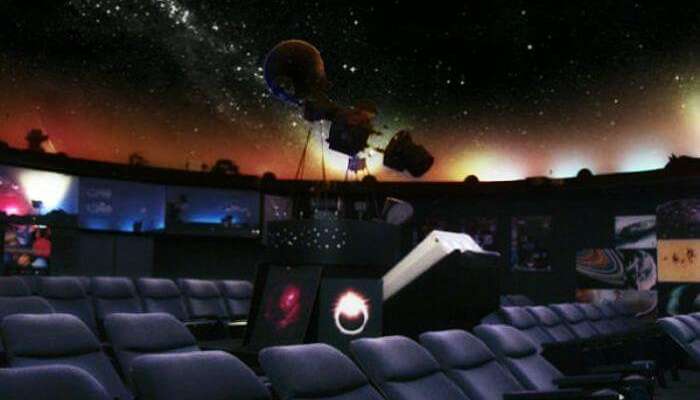 Image Source
This is a major hub of science and information but also serves as a popular popular picnic spot for school kids. The Nehru Planetarium is sure to charm the astronomy fan in you and so it is one of the best places on the Delhi tourist places map! You can choose to spend the afternoon roaming about in the vast galaxy far away from home surrounded by the stars, planets, and the solar system, or just take a tour of the astronomical artifacts and equipment that will fascinate you. The Hindi and English shows last for about 30-35 minutes each.
Timings:
English shows – 11:30 AM | 3:00 PM
Hindi shows – 1:30 PM | 4:00 PM
Cost: INR 60 per person
45. 8. Shahpur Jat – Shop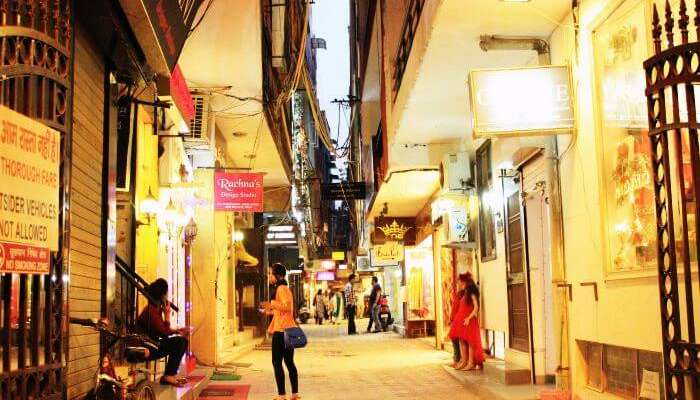 Image Source
If you are looking for the most fun places to visit in Delhi with friends for some good food and shopping, then Shahpur Jat is the best place to be at. While the lanes of Sarojini will always be overcrowded, Shahpur Jat's organised shopping lanes won't disappoint. You can find everything from high-end designer wear, quirky ornaments and accessories, customized outfits, and chic clothing here. For taming your tummy, you can head to eateries like The PotBelly Rooftop Café, Les Parisiennes Cafe, and Mad Teapot.
46. Okhla Bird Sanctuary – Birdwatching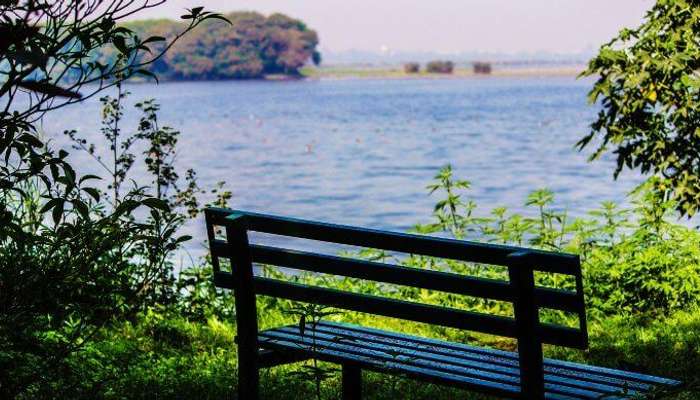 While this isn't exactly located inside Delhi, it still is considered one of Delhi's most fun and exciting places owing to the natural splendor and peace that this area offers. It's among the most peaceful places near Delhi that is more beautiful in the rainy season. It's situated in the Okhla barrage over the Yamuna river and is definitely one of the best places in Delhi for birdwatchers and nature lovers, especially in the monsoon season.
Best Places To Eat At In Delhi
If you are a foodie then Delhi is the paradise for you. Whether you want to taste the amazing street foods, or you are fascinated by a dining experience at multi-cuisine restaurants, these are the places to visit for the food lovers.
47. North Campus – Dine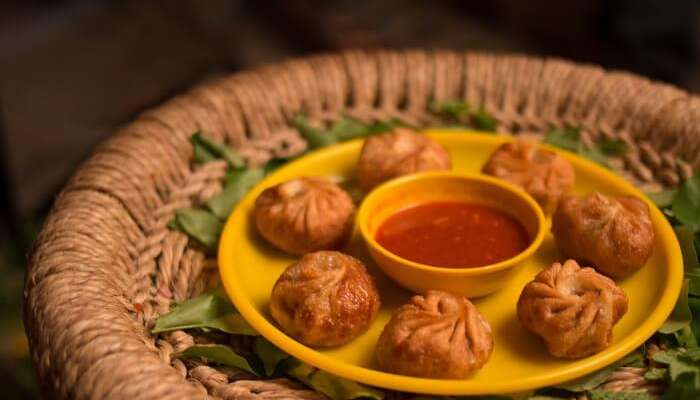 This is the ultimate destination of the food lovers as you can get street foods, fast foods, snacking cafes, and obviously, multi-cuisine eateries. Students around India come here with limited money in their pockets. Therefore, this is the place where you can find quality food at a reasonable price. In fact, it's among the best places to visit in North Delhi.
Tip: Chaap at the various restaurants is quite famous for you to indulge in.
Famous Foods: sweets, street foods, regional foods, street foods, and snacks
Special Picks: Bille di Hatti, Bamboo Hut, Momo's Point
Suggested Read: 12 Best Places To Visit Near Delhi In December For A Perfect Weekend Escapade!
48. South Campus – Eat Local Snacks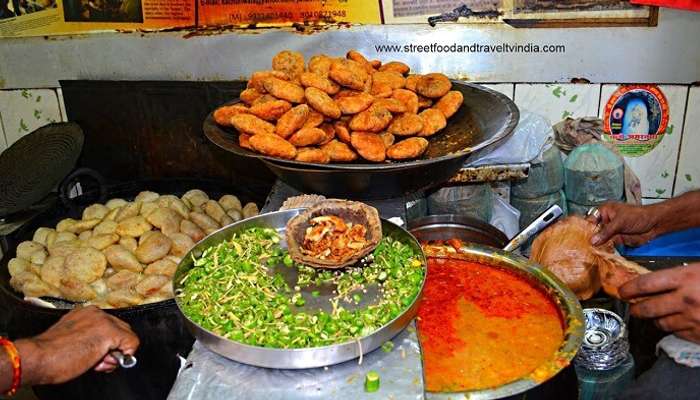 This is another place where you can get lip-smacking food in Delhi at an affordable price. For the cafes of this area, this place has always been on the list of the most favorites among the students. Tourists also find this place very appealing due to the cafes, like Big Yellow Door, Scooter on the Wall, etc.
Tip: Make sure you try the tandoori momos amongst other kinds of momos here.
Famous Foods: Italian, Chinese, American and North Indian Grill, shakes and fast foods.
Special Pick: QD's, Kev's, Echoes, Chowringhee Lane
49. Pandara Road – Take A Stroll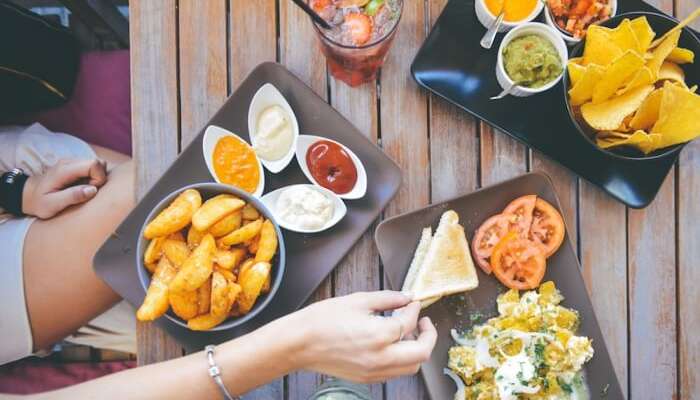 Are you looking for a place in Delhi where you can enjoy a fine dining experience with your family or friends or with someone special? Then, you need to head towards this place near India Gate where you can find several upmarket eateries.
Tip: Not only the food, this place is also famous for scenic drives at night too.
Famous Foods: North and South India delicacies, multi-cuisine, Pan Asian, sweets.
Special Pick: Gulati, Veg Gulati, Have More, Inchiban
Suggested Read: 16 Magnificent Places To Visit Near Delhi In Winters 2019
50. Nizamuddin – Pray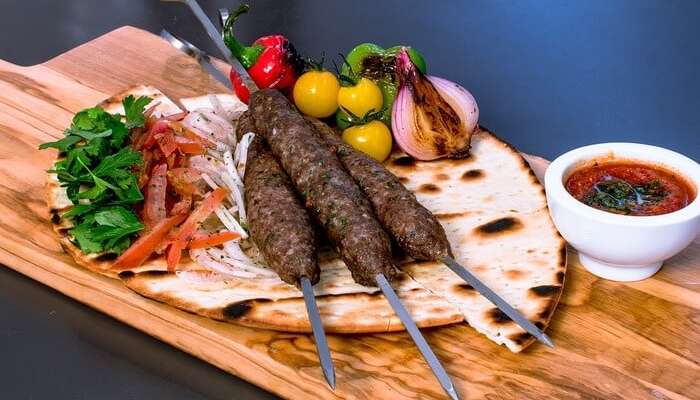 You are in Delhi and don't spend an evening at Nizamuddin will be a great miss. This is one of the oldest settlements in Delhi where you can find the most authentic foods of Delhi. From Kebabs to sweets, this place is famous for Mughlai cuisines.
Tip: Don't miss on the delicious Kebabs at Karim's in this place.
Famous Foods: Tandoori Grill, kebabs, traditional sweets, and other Mughlai foods
Special Picks: Gulfam Kashmiri Wazwan, Karim's, and Ghalib Kabab Corner
51. Connaught Place – Eat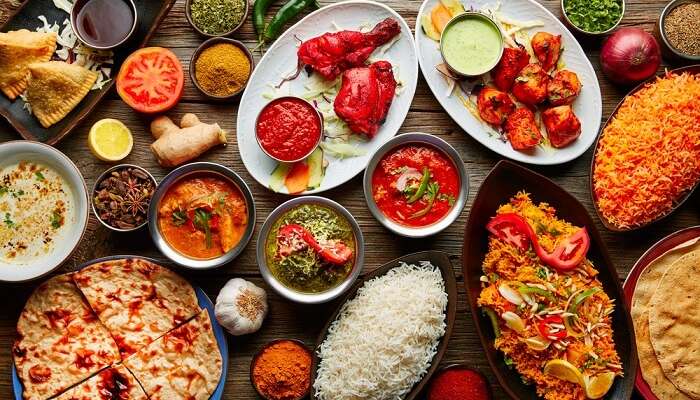 From multi-cuisine restaurants to street-side cafes, this place is the perfect destination for all types of foodies. Whether you are looking for international cuisine or your love is authentic North Indian recipes, head towards Connaught Place to enjoy an evening.
Tip: Parking is limited in this place. Make sure you park at the right spot to avoid a challan later on.
Famous Foods: North Indian, regional, international, cafes
Special Pick: Minar, Kake da Hotel, Jain Chawal Wale, Parikrama and lots more.
52. Gurudwara Bangla Sahib – Seek Blessings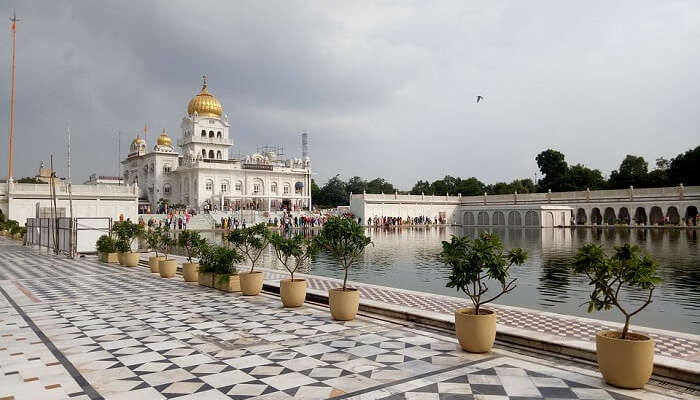 Image Source
The iconic shrine of Sikhs, Gurudwara Bangla Sahib is visited by hundreds of people every day. Located near Connaught Place, the serene environs of the landmark provides an ambient atmosphere. The best part and the main reason why you should visit this Gurudwara is the 'karha parshad'. There is a vast pond surrounding the premises and even an art gallery that you can visit to know more about the Sikh Gurus and religion.
Tip: During summers, it is always better to visit this place around evening time as the marble flooring gets pretty hot during the day.
Timings: Open 24*7
Langar timings: 9 AM – 3 PM, 7 PM – 10 PM
Entry Fee: None
53. Paranthe Wali Gali – Eat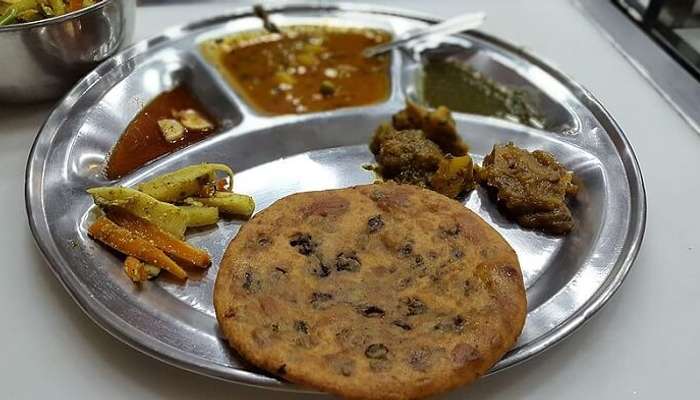 Image Source
if you are a big time foodie and love paranthas, then you should straight head to Paranthe wali Gali in Delhi. The narrow street in Old Delhi will lure you with the appetizing aroma of paranthas and other traditional Indian delicacies. This place is a heaven for foodies. From rabri parantha, halwa paratha to mixed, you get all kinds of assortments here.
Tip: Parking in this area is limited. You'll have to board a metro which is more convenient to reach this place.
Timings: 9 AM – 11 PM
Cost for two: INR 150
54. Kingdom Of Dreams – Watch A Show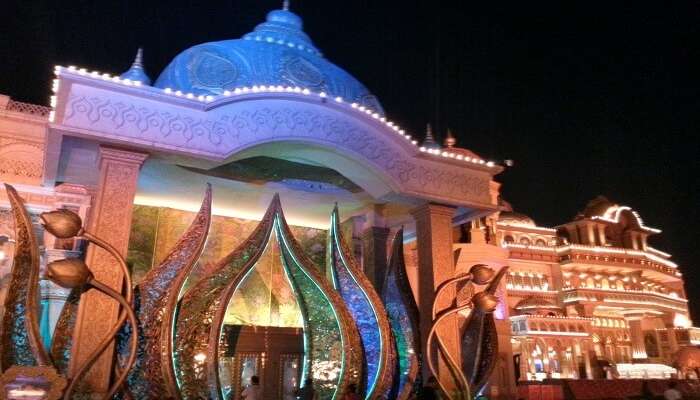 Image Source
This is a live entertainment theatre located in the national capital region of Delhi, close to Leisure Valley Park. On the day of its opening, a preview of an awe-striking bollywood musical was shown featuring Hussain Kwajerwala, Kashmira Irani, and Gauhar Khan. Covering almost 6 acres of area, KOD is run by Great Indian Nautanki Company – a joint venture of Wizcraft and apna Group.
Tip: There are only a limited number of seats here. So, make sure you book well in advance to avoid the end minute queue.
Entry Fee:
Diamond: 2,999 per person on weekdays
Diamond: 3,999 per person on weekends
Platinum: 2,499 per person on weekdays
Platinum: 2,999 per person on weekends
Gold: 1,999 per person on weekdays
Gold: 2,499 per person on weekends
Silver: 1,499 per person on weekdays
Silver: 1,999 per person on weekends
Bronze: 1,249 per person on weekdays
Bronze: 1,499 per person on weekends
Culture Gully: 600 per person on weekdays
Culture Gully: 700 per person on weekend
The capital city of India has observed remarkable developments over the years. Maintaining the heritage of the country, Delhi is a city full of historically rich sites!
To know more about this wonderful city, read what tourists have to say!
55. Cha Bar – Dine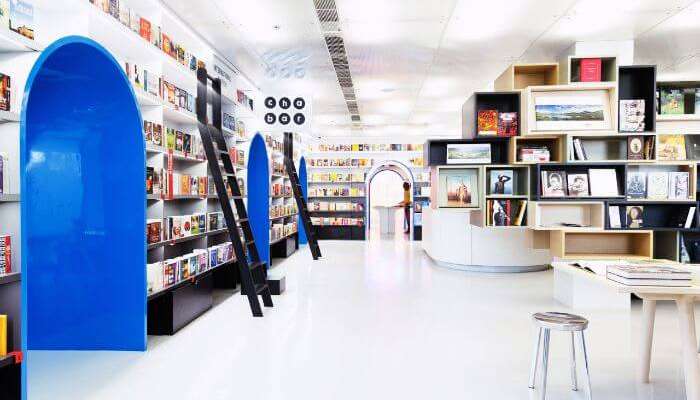 If you wish to spend some me-time in Delhi away from its crowded realms, then you can simply step into any of its charming book cafes. Book cafes in Delhi definitely serve as the most amazing places to chill with a book in one hand and a cup of steaming coffee or hot chocolate in another. You can get to Cha Bar in Connaught Place and spend a quiet afternoon sipping on a cup of coffee or tea, munching on a cake, and reading through your favorite book! And it's not just about spending lone time, but you can also visit these pretty book cafes for a romantic date with your partner. In fact, with its lovable and unique ambiene, Cha Bar is amongst the best tourist places in Delhi for couples who love coffee and reading.
56. Indian Air Force Museum – Step Back In Time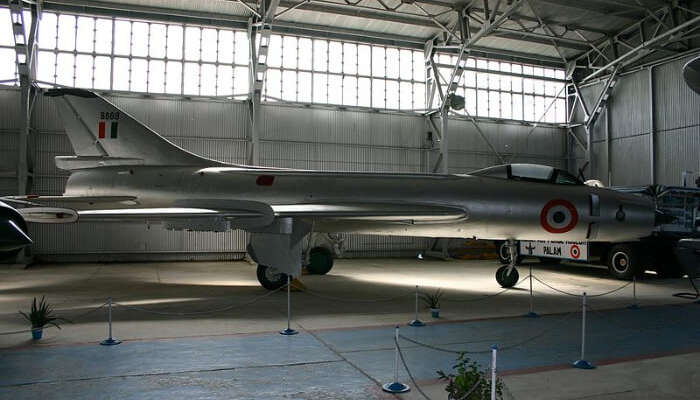 Small and large aircrafts along with an air force inventory are open for the visitors to have a look. Located in Palam Air Force Station in Delhi, this museum displays historic photographs, weapons and uniforms from the inception in 1932. The aviation museum is the speciality of this museum. The museum remains closed on Mondays and Tuesdays.
Further Read: Don't Call Yourself A Delhiite If You Can't Get These Right!
Whether it is about living the tradition and heritage of the country and getting a glimpse of history or enjoying the shopping culture and the mouth-watering foods, the capital city of India will never disappoint you. You can be in Delhi whenever you want, but going out during the daytime in summer will be really difficult. Prefer to visit places after sunset or early morning. So, get packed and book your trip to Delhi with TravelTriangle right away!
Frequently Asked Questions About Tourist Places In Delhi
Q. Which are places to visit in Delhi on Christmas?

A. Visit Sacred Heart Cathedral, The Imperial at Janpath, or an of the clubs during Christmas if you are in Delhi.
Q. Which are the most fun place in Delhi?

A. Some of the most fun places in Delhi that prove it is the happiest metro are Nehru Planetarium, Hauz Khas, Red Fort, Shahpurjat, Modern Art Gallery, Nizamuddin Lane, India Habitat Centre, India Gate and Delhi Haat, to name a few.
Q. Which are the best places to visit in Delhi with family in winters?

A. Akshardham Temple, Chandni Chowk, Qutub Minar, Nehru Planetarium are some of the places to visit in Delhi with family in winters.
Q. Which are the best places to visit in Delhi during November?

A. Take a walk around Connaught Place, visit Lodhi Gardens, Qutub Minar, or Deer Park in Delhi during November.
Q. How can I cover Delhi in one day?

A. You cannot possibly cover Delhi in one day, but you can definitely keep a day for covering top attractions in North Delhi, South Delhi, East Delhi, or West Delhi. We would suggest that you spend at least 4 days touring Delhi so that you can cover every nook and cranny of the city.
Q. Which are the best places to visit in Delhi near Hauz Khas?

A. Deer Park and Hauz Khas village which is famous for its party clubs and lounges are famous places near Hauz Khas in Delhi.
Q. Where can I spend my evening in Delhi?

A. You can spend your evening in Delhi at the majestic India Gate, enjoy a light and sound show at Red Fort, head to Pandara Road for clubbing, or grab some delicious food at Moolchand Parathe Wala.
Q. Where can I spend a day in Delhi?

A. If you're in Delhi, make sure you visit Lodi Garden, India Gate, Red Fort, Old Fort, Nehru Planetarium, and Hauz Khas Village. These places encapsulate the old and new Delhi.
Q. Where can I go with my girlfriend in Delhi?

A. You can take your girlfriend to Kunzum Cafe or Social Offline in Hauz Khas, Delhi. Both these cafes offer a quiet spot for lovebirds to spend some time together away from the din of the city.
Q. Is Delhi safe?

A. The crime level is moderate in Delhi. Women's safety is a massive concern in the city, so we suggest all solo female travelers to take necessary precautions and stay alert at all times.
Q. Where can I spend Sunday in Delhi?

A. You can kickstart your Sunday in Delhi with a heavy breakfast of piping hot chole bhature in Chandni Chowk, followed by a tour of Old Delhi and the surrounding areas. Stop by for lunch at a state bhavan canteen in Connaught Place and spend the evening shopping in the complex. Visit Hauz Khas in the evening for drinks and party all night.
---
Long Weekend Trips Starting @ Rs 3499/-
Take a trip to spend the upcoming long weekend with your buddies.
✓ Stay at 4 star rating hotels with local sightseeing, meals and transfers.
✓ Travel in AC coach round trip (from Delhi).
✓ All Inclusive Deal– Camping, Jeep Safari & Trekking as per itinerary
✓ Sign up NOW to celebrate the long weekend out of town!
People Also Read:
Places To Visit In Jaipur Places To Visit In Himachal Places To Visit In Uttarakhand
Comments
comments