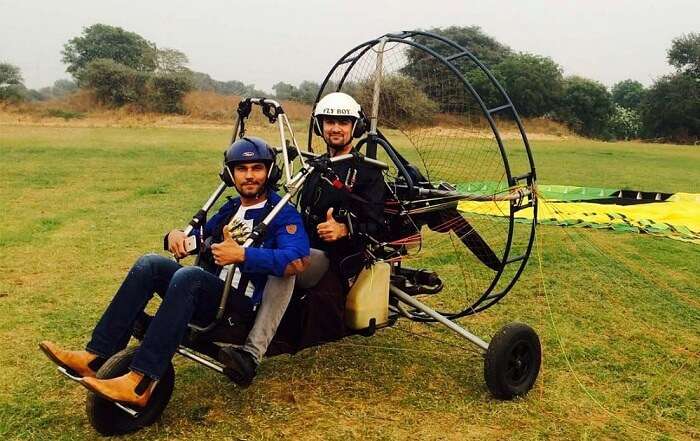 Like any other major city, Delhi too has people seeking adventure getaways from the hustle-bustle of the fast-paced city life. Yes, there is a long line of attractions in Delhi that make for a great outing experience. But they cannot satiate the adrenaline rush of the Delhiites.
Luckily, the capital is not far behind in adventure activities. Gurgaon, Noida, Faridabad, and Delhi have many places that provide facilities of adventure camps and adventure sports. And to help you choose the best, we bring to you a comprehensive list of the most adventurous places in Delhi NCR.
22 Most Adventurous Places In Delhi NCR
Here is a list of some of the most adventurous places in Delhi NCR that you must visit at least once. Take a look!
Flyboy Air Safari
F9-Go-Karting
Indian Mountaineering Foundation
Awara Adventure Farm
Shikhar Adventure Park (SAP)
Damdama Lake Resort
Camp Wild
Amusement Parks In Delhi
Paragliding
Flying Fox
Paintball
Bungee Jumping
ATV Ride
Joygaon
1. Flyboy Air Safari, Gurgaon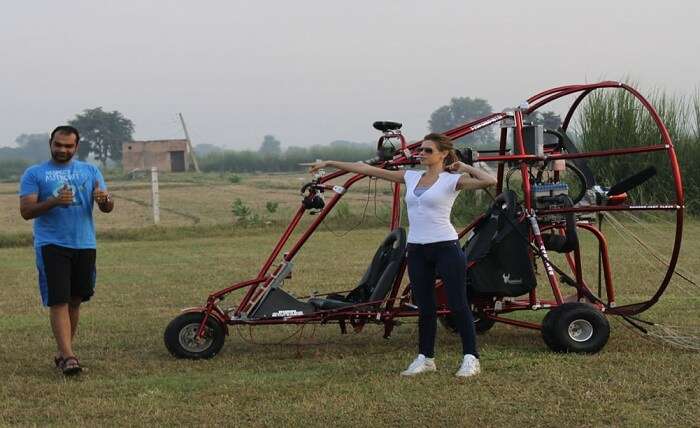 "I believe I can fly. I believe I can touch the sky." With Flyboy Air Safari, maybe you can! Flyboy Air Safari organizes one of the best adventure sports in Delhi NCR – Air Safari. It is basically a small automobile attached to a parachute. A powered paraglider that operates with the help of a hooked-up motor, harness, and a propeller, the air safari allows you to fulfill your childhood dream of flying like a bird. Trained pilots assist you in your flight and you can choose from the following options:
Kitty Hawk: 6 km – 8 km
Fly Yourself: 12 km – 15 km
Explorer: 20 km – 24 km
Location: Flyboy Aero Park near The Westin Resort and Spa, Sohna, Gurgaon
Must Read: 10 Affordable Holi Weekend Getaways From Delhi
---
Long Weekend Trips Starting @ Rs 3499/-
---
2. F9-Go-Karting, Gurgaon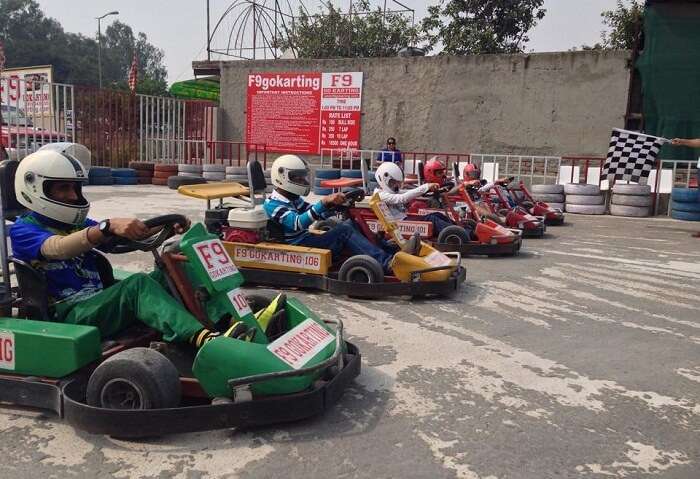 Go Karting is also one of the most popular adventure sports in Delhi. The city has some amazing places to try it, but F-9 Go Karting is the best among the adventurous places in Delhi NCR to try this sport.
Location: Sector 17-18 Link Road, (near IFFCO Chowk), Gurgaon
Timings: 1 pm – 7 pm; daily
Rate List:
INR 250/- for 7 Laps
INR 350/- for 10 Laps
INR 500/- for 16 Laps
Other places in Delhi for Go Karting: Wonder Speedway at Worlds of Wonder in Noida and Speedy Singh's Go Karting at Pacific Mall in Subhash Nagar
Suggested Read: 9 Luxurious Resorts In Manesar For A Delightful Getaway From Delhi
3. Indian Mountaineering Foundation, South Campus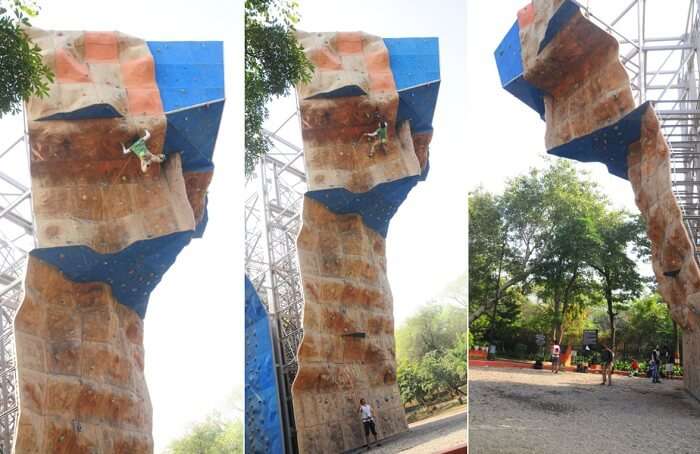 Artificial rock climbing may not be as cool as climbing Mount Everest. But if you are looking for adventure places in Delhi, Indian Mountaineering Foundation center in South Campus is the perfect place to be. Reminiscent of excitement and adventure, artificial rock climbing tests your physical strength and willpower.
Location: Benito Juarez Road, Next to Springdales School, Dhaula Kuan, Delhi
Timings: 9 am – 11 am & 4 pm – 8 pm (winters); 8 am – 12 noon & 5 pm – 9 pm (summers)
Charges: INR 100 per hour; INR 1000 monthly
Suggested Read: 39 Super Fun Places In Delhi That Make It The Happiest City
4. Awara Adventure Farm, Sohna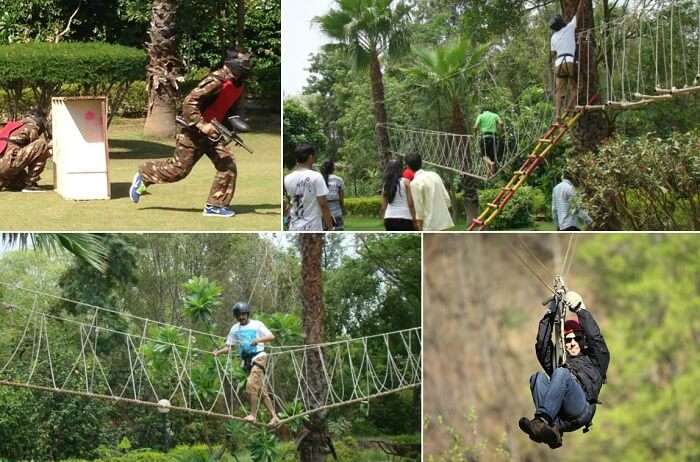 Developed on a farm business basis, Awara Adventure Farm is one of the most adventurous places in Delhi. Nestled among the gorgeous Aravali Hills, the farm provides a plethora of indoor and outdoor activities.
Location: Aravali Retreat, Raisina Village, near Pathways World School, 12 km beyond Sohna
Things to do:
Adventure Activities: Burma bridge, suspension bridge, commando net, zip line, parallel rope, tire wall, Tarzan swing, balance walk, and paintball
Modern Activities: Swimming pool, rain dance, and gym
Outdoor Spots: Tennis, cricket, football, volleyball, and basketball
Indoor games: Chess, carom, ludo, and tambola
Ethnic village games: Pitthu, kanchey, gilli danda, rassa kasha, matka phod, and kho-kho
Suggested Read: 7 National Parks Near Delhi To Escape Into The Wild
---
Planning your holiday but confused about where to go? These travel stories help you find your best trip ever!
---
5. Shikhar Adventure Park (SAP), Gurgaon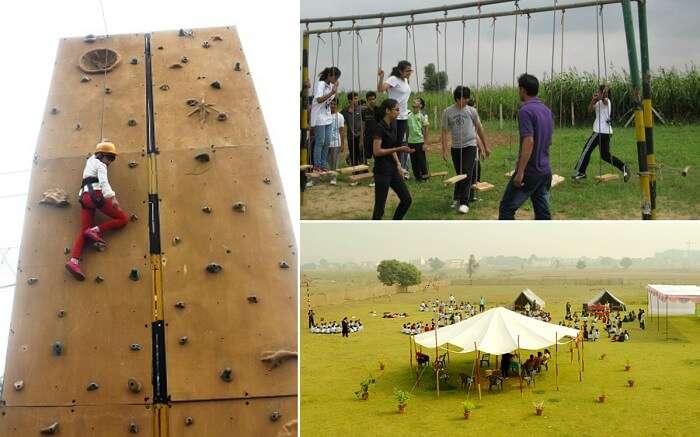 An ideal destination for corporate outings, picnics, school trips, and team-building exercises, Shikhar Adventure Park serves as one of the best places for adventure in Delhi NCR. The camp offers a wide range of adventure, village, and fun activities to choose from.
Location: Wazirpur Village, Sector 92, Gurgaon
Things to do:
Adventure Activities: Wall climbing, jumaring, obstacle course, Burma bridge, commando crawling, commando net, pit jump, clean jump, and Tarzan swing
Adventure Activities:Village Activities: Pottery, diya making, tractor riding, and village hiking
Adventure Activities:Fun Activities: Tug-of-war, tent pitching, and trust fall
Suggested Read: 15 Free Things To Do In Delhi
6. Damdama Lake Resort, Sohna-Gurgaon Road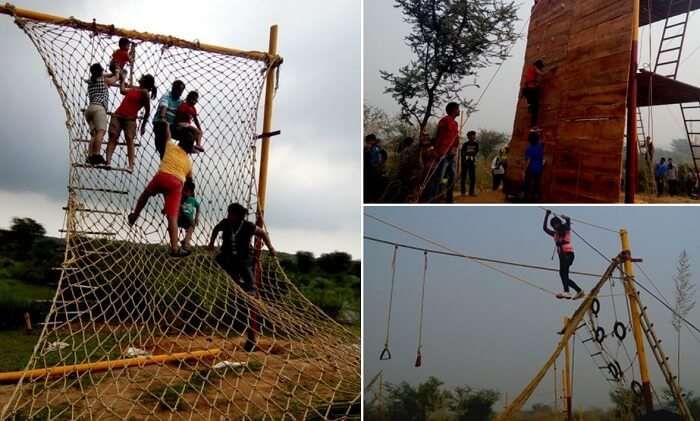 Damdama Lake Resort is a perfect adventure getaway from the hustle bustle of city life. Located on the banks of Damdama Lake, which is one of the top tourist attractions in Delhi, the resort is surrounded by the Aravalli Hills. The plethora of adventure activities set in the beautiful backdrop makes the resort one of the best adventure places in Delhi NCR.
Location: On the banks of Damdama Lake, Sohna – Gurgaon Road
Things to do: Artificial rock climbing, zip-lining, target jumping, valley crossing, and jumaring, Burma bridge, suspension bridge, commando net, tire crossing, air walking, and boating
Suggested Read: 10 Most Haunted Places In Gurgaon That Reveal The Paranormal Side Of Life
7. Camp Wild, Dhauj, Faridabad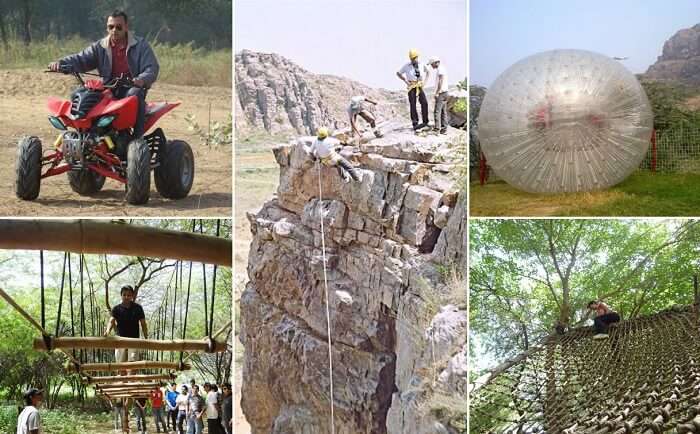 A one-of-a-kind adventure camp, Camp Wild offers eco-lodges and safari tents in addition to the myriad of adventure activities. The camp, which is one of the most adventurous places in Delhi NCR, has featured in magazines and news channels, besides being used in MTV Roadies.
Location: Near Manger Village, Dhauj, Faridabad – Gurgaon border
Things to do: Rock climbing, rappelling, flying fox, river crossing, cliff jumping, zorbing, cycling, raft building, and obstacle course
Suggested Read: 13 Unexplored Recreational Spots For Camping Near Delhi
8. Amusement Parks In Delhi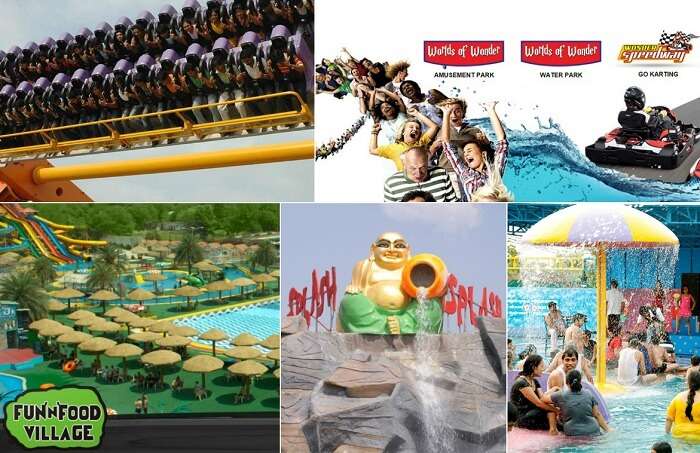 Water rides, go-karting, and thrilling rides can be experienced at the amusement parks in Delhi NCR. Some of the rides (such as the 360 Degree, Roller Coaster, and Twister) are rated as some of the scariest rides in India. But, of course, there are some simple rides and water parks to relax and enjoy. Some of the best amusement parks in the region have been listed below.
Suggested Read: 55 Hill Stations Near Delhi One Must Visit For A Peaceful Getaway!
9. Paragliding, Gurgaon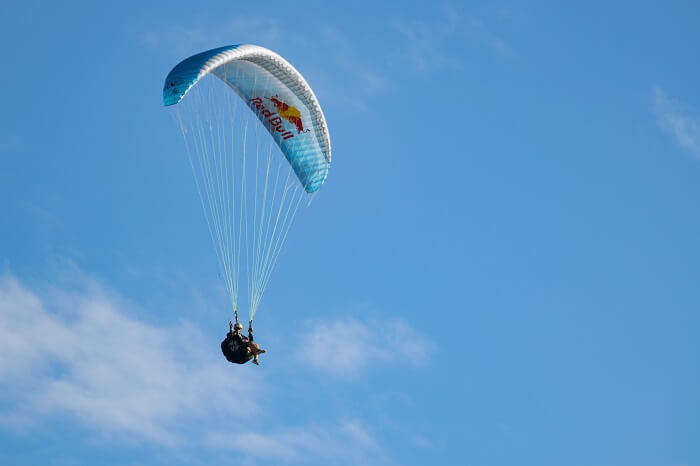 Glide like a bird and forget about everything else! The experience of paragliding is like none other. It will make your heart skip a beat and leave you with an unexplainable and relieving peace. Watch the world from above and feel like you are the king above Gurgaon which is one of the adventurous places to visit in Delhi ncr.
Location: Vill- Karanki Khedli, Sohna, Gurgaon
Charges: INR 3000 onwards
Timings: 11 am – 6 pm
Suggested Read: 32 Best Street Food In Delhi You Must Try That Is Worth Every Calorie!
10. Flying Fox, Neemrana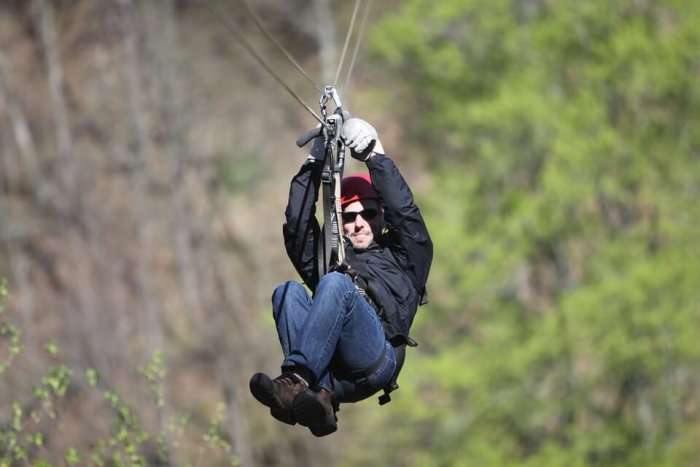 This is a zip line activity at Neemrana. Besides being a beautiful place, Neemrana is among the best adventurous places in Delhi ncr. Nothing else could be a better way to witness the spectacular Neemrana fort. There are five zip lines, each of them having a unique name and they offer jaw-dropping views of the city. You will be flying over Neemrana at a height of 150m, just imagine the experience!
Location: Neemrana palace
Charges: INR 1550 onwards
Timings: 9 am – 5 pm
Suggested Read: The Ultimate Guide To A Kickass Nightlife In Delhi
11. Paintball, Lock N Load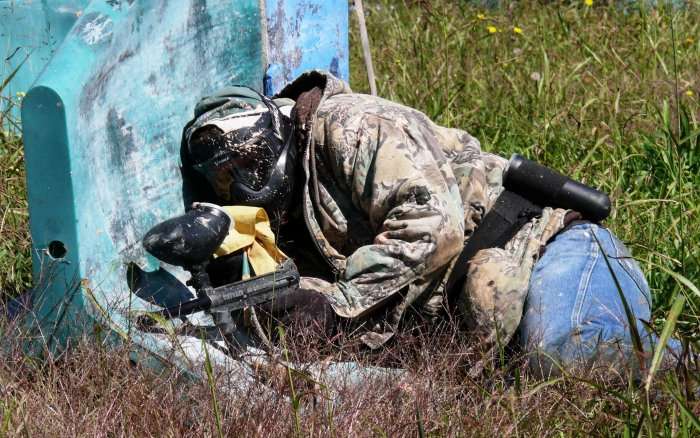 Among all the adventurous places in Delhi and ncr, the pacific mall in Subhash nagar is one. If you want to take out your stress, nothing could be a better technique than attacking with colours! It will freshen you up. Get your gang with you who has been planning something notorious always and begin the adventure.
Location: Pacific Mall, Subhash Nagar
Charges: INR 250 onwards
Timings: 11 am – 9 pm
Suggested Read: 32 Best Romantic Places In Delhi And Its Vicinity That All Couples Must-Visit
12. Bungee Jumping, Sainik Farm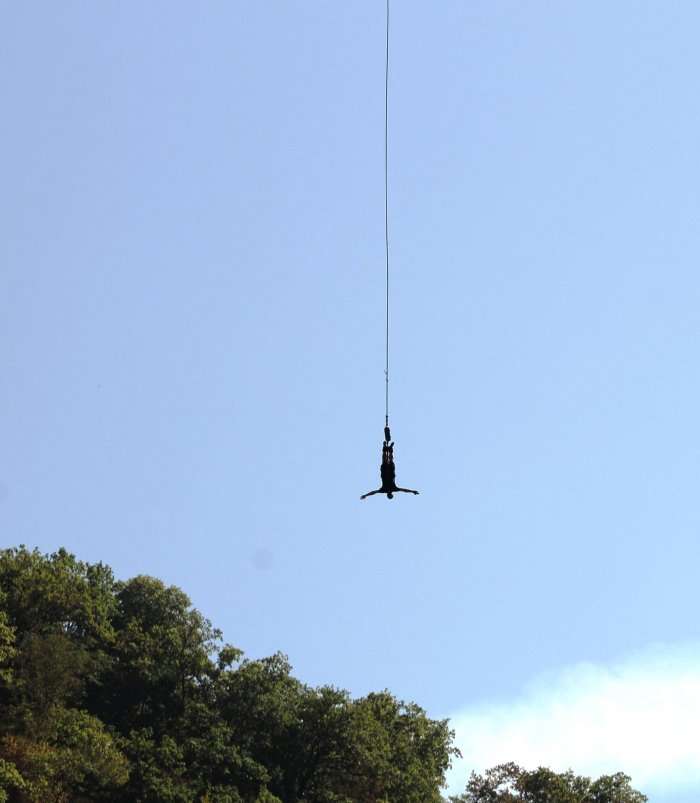 Bungee jumping is real fun if you are not afraid of heights! It is not that little jump that we are talking about here. Imagine you are standing 170m above ground and you see below the lush green land. You get the feeling to touch them anytime and this is what bungee jumping will make you do at Wanderlust Adventure Sports.
Location: Garden of Five Senses, Sainik Farm, New Delhi
Charges: INR 3000 onwards
Timings: 10 am – 6 pm
Suggested Read: 70 Incredible Places To Visit Near Delhi: Within 600 KM From The Capital
13. ATV Ride, Malpura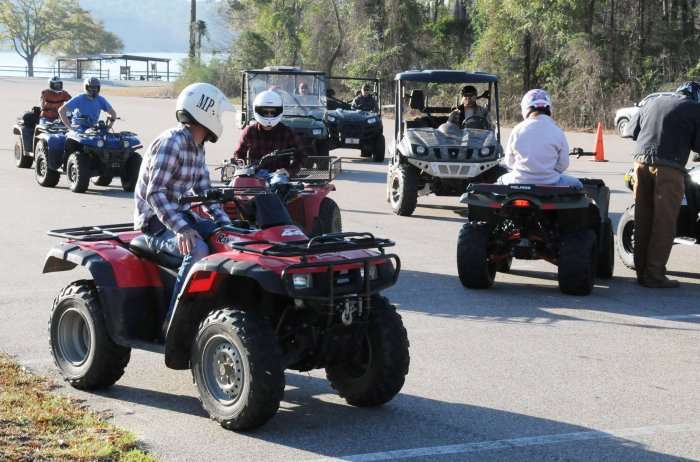 ATV is an all-terrain vehicle which is a quad bike for all the bikers out there. It is yet another adventure that will leave you amazed! Trainers are there to teach you how to control it and make sure you listen to everything they say for a safe ride!
Location: Malpura
Charges: INR 550 onwards
Suggested Read: 19 Festivals Of Delhi To Attend For A Food, Shopping & Cultural Extravaganza
14. Joygaon, Jhajjar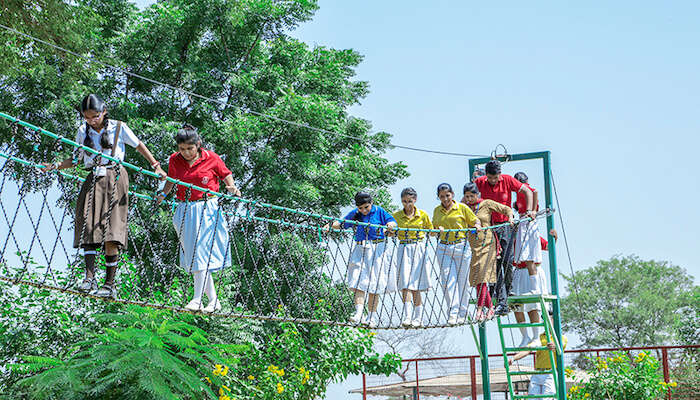 Joygaon provides you with the experience of an ethnic village's culture, activities, food, dance, music, along with modern indoor and outdoor games. You can also plan a night stay, corporate meetings and conferences at Joygaon! It is a beautiful village resort that lets you discover the joy of being in the lap of nature. Special attractions here include V-shape Burma Bridge, rock climbing, rappelling, trampoline, roller zorbing, and shooting.
Location: Village Kablana, 9 Milestone, Jhajjar – Bahadurgarh Road, Jhajjar, Haryana
Timings: 9:30 am – 5 pm
Suggested Read: 30 Best Cafes In Delhi You Must Visit At Least Once! Which Ones Have You Been To?
15. Off Road Adventure Zone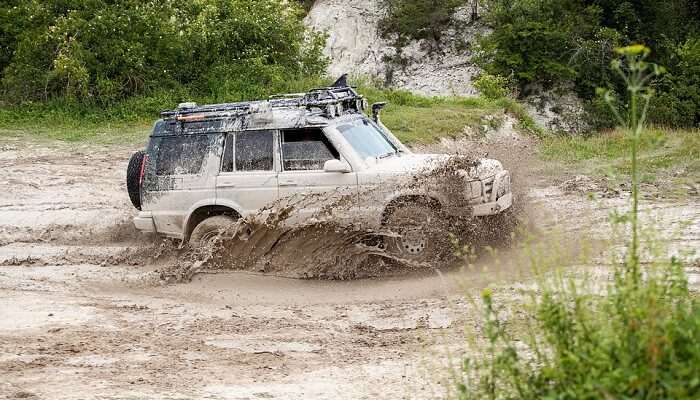 If you're a little too inspired by the Fast and Furious movies and want to go on an offroading adventure yourself, then the envy the Off Road Adventure Zone is the best place to head to. Live your fantasy of riding tough (but safe) at this off-roading site on the Faridabad Road, a premier adventure place in Delhi for adrenaline junkies and car lovers. It's the one place in the otherwise crowded NCR region where you get to ride like a beast on uneven roads over an enormous area of barren land. You can either get your own four-wheeler or hire one from the location itself.
Location: Baliyavas, Faridabad Road, Gurgaon
Timings: 8 AM – 8 PM
Suggested Read: 22 Places To Visit Near Delhi For New Year
16. Camp Tikkling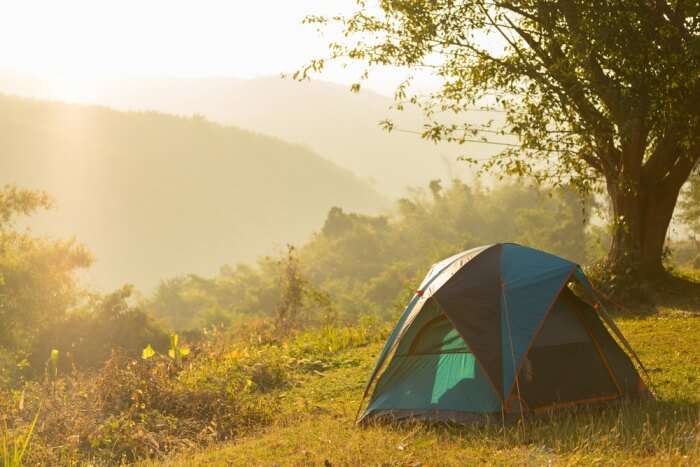 For all those who think Delhi has no proper place to go camping and you'll always only have to run to the hills for this kind of an adventure, think again! Camp Tikkling is the perfect spot for luxurious and adventurous camping in the wild, one of the best adventurous things to do in Delhi. Camp Tikkling is an awesome getaway bounded by rocky Aravali Mountains that will make you want to stay here forever! It's situated at a good distance from the urban streets of Delhi offering the perfect noise-free and pollution-free setting and a mix of nature, adventure, and rural camping experience.
Location: Gairatpur Baas, Badshahpur, Gurgaon
Timings: 9 AM – 5 PM
Suggested Read: 28 Best New Year Parties In Delhi
17. Camp Wild Dhauj, Faridabad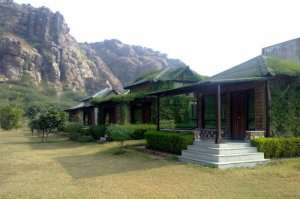 Camp Wild in Dhauj is a one-of-its-kind adventure and nature camp located near the Manger Village in Faridabad that offers accommodation in 7 well-furnished eco-lodges and 12 safari tents. The campsite is spread over an area of over 12 acres of land and is the perfect place to go to destress and unwind. Some of the adventure activities it offers include rock climbing, rappelling, flying fox, river crossing, cliff jumping, zorbing, cycling, raft building, and obstacle course, which are the best adventurous things to do in Delhi for thrill-seekers and adrenaline junkies. The best part is that you're in the hands of trained and experienced experts here, so you need not worry about getting hurt.
Location: Manger – Dhauj Rd, Mangar, Haryana 121004
Suggested Read: 79 Tourist Places In Delhi
18. Sky Waltz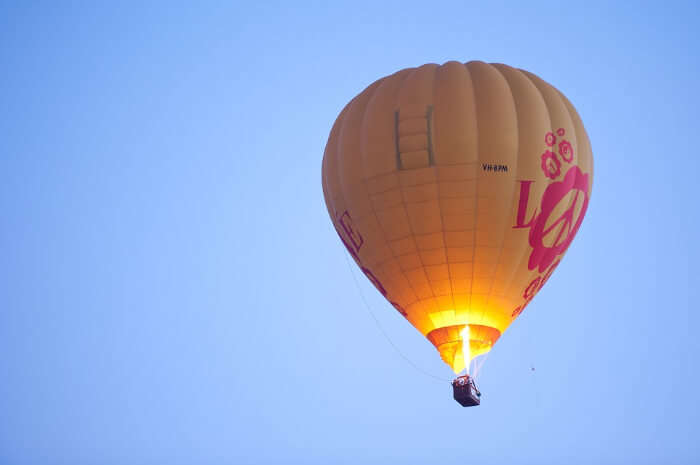 If you're tired of your boring daily routine and want to do something adventurous and unique at the same time, then Sky Waltz in Noida is the perfect place to head to. It's the best adventure place in Delhi that offers the most unusual and thrilling experience of soaring high above the city skyline in a hot air balloon, an experience you won't get anywhere else in NCR. Imagine soaring above the city like a bird with the cool breeze ruffling your hair and the best views of the sunset before your eyes!
Location: A-49, Sector 67, Noida
Starting price: INR 12,000 per person
Timings: 9 AM – 5 PM
Suggested Read: 39 Super Fun Places In Delhi That Make It The Happiest City
19. Wall Climbing, Shikhar Adventure Park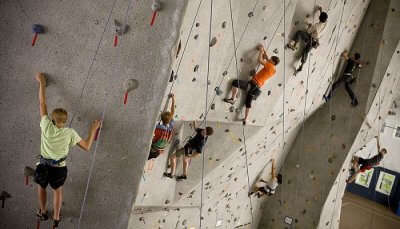 Image Credit: The White Mountain School for Wikimedia
Wanting to try one of the interesting adventure activities in Delhi? Then, you must go for Wall climbing in Shikhar Adventure Park in Delhi. It is a 16-feet wall which an adventure enthusiast has to climb which has all the necessary safety harness along with the climbing instructions given by the professionals. Explore some of the hidden places in Delhi.
Location: Hayatpur Village, Pataudi Road, Sector-92, Gurgaon
Starting Price: 1,500Rs which includes all other adventure activities
Timings: 9.30am to 06.00pm
Suggested Read: 20 Hidden Places In Delhi That Have Aged Gracefully Without Losing Their Charm
20. Bicycle Tour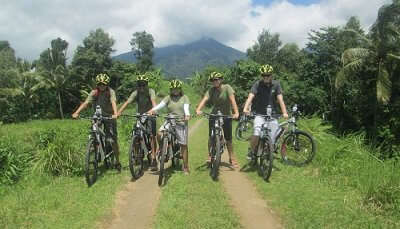 Image Credit: Imacim for Wikimedia Commons
Thinking to go for some adventure sports in Delhi? Try this bicycle tour which can range from 30 minutes to 3 hours. The helmets are provided within the 1480 Rs along with some snacks and guidance from the professionals. Enjoy this enthralling ride which will let you know about the history of the Delhi considered to be a magical place.
Location: New Delhi
Starting Price: 1,480Rs
Timings: 9.30 am to 06.00 pm
Suggested Read: Best Places To Eat In Delhi: If You're A Foodie, Then This Is Where You Need To Go
21. Village Adventure Farm Tour With Activities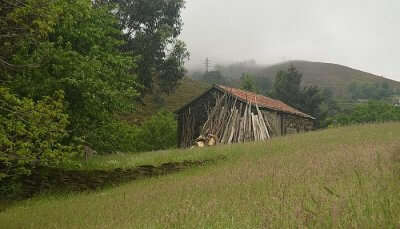 Image Credit: Pedro for Wikimedia Commons
Head out for some break free and a variety of adventure activities at one spot. You must surely try village adventure farm tour activities which is a one-day trip where you can have a picnic and enjoy with your friends and family. You can also plan your stay in one of the best resorts near Delhi to relax and rejuvenate.
Location: Delhi
Starting Price: INR 850 which includes all other adventure activities
Timings: 10:000 am to 6.00 pm
Suggested Read: Delhi In March: A Little Guide To Fall In Love With The City All Over Again
22. Segway Tour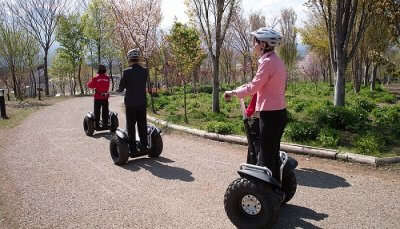 Image Credit: Author Name for Wikimedia Commons
Planning for a weekend getaway where you can try some of the adventure sports in Delhi? Choose for Segway tour which is a two-way battery powered electric vehicle in Rajpath in Delhi. The tour is of approximately 1 hour having starting and ending point as Vijay path which is opposite South block of Secretariat. You can go with your friends as they generally take a group size of eight individuals which is fun.
Location: New Delhi
Starting Price: INR 800
Timings: 9.30 am to 06.00 pm
Further Read: 36 Magnificent Places Near Delhi To Turn This Winter Into An Epic Affair
So which of these adventure places in Delhi NCR thrills you the most? Don't think much. Just pack your bags and go satiate your adrenaline rush with these adventure activities. Book a trip to Delhi with TravelTriangle, and have a thrilling time trying these activities.
Disclaimer: TravelTriangle claims no credit for images featured on our blog site unless otherwise noted. All visual content is copyrighted to its respectful owners. We try to link back to original sources whenever possible. If you own the rights to any of the images, and do not wish them to appear on TravelTriangle, please contact us and they will be promptly removed. We believe in providing proper attribution to the original author, artist or photographer.
Please Note: Any information published by TravelTriangle in any form of content is not intended to be a substitute for any kind of medical advice, and one must not take any action before consulting a professional medical expert of their own choice.
Frequently Asked Questions About Adventurous Places in Delhi NCR
Which are the places to enjoy in Delhi?
These are some of the famous and adventurous places in Delhi which offers an amazing chance to enjoy the weather and also see the different sides of the city. 1. Rock climbing at IMF, Moti Bagh 2. Delhi Eye, Kalindi 3. Nehru Planetarium 4. Red Fort 5. Paintball at ShootEm Down
Where can one spend a day in Delhi?
There are various things to do around in Delhi if you want to explore the best parts of the city. To enjoy the vibrant atmosphere, here are the best things to do at these adventurous places in Delhi and NCR: 1. A walk at Lodi Gardens 2. Visit Indian Mountaineering Foundation Adventures 3. Discover street foods 4. Nehru Planetarium 5. Light and sound show at Purana Quila
What is there to do in Delhi during the weekend?
There is a long list of things to do in Delhi during the weekends which includes: 1. Taking a heritage walk around the Jama Masjid 2. Spend the day at Open Air Gyms 3. Take a food tour 4. Enjoy a film screening
What are the unusual things to do near Delhi and NCR?
Apart from all the sightseeing there are many unusual things to do near Delhi and NCR like, 1. Paragliding in Gurgaon 2. Flying fox in Neemrana 3. Bungee Jumping at Sainik Farms 4. ATV ride at Malpura
Where to go with family for an adventurous day near Delhi and NCR?
There are plenty of things to do near Delhi and NCR which one can experience with family like one can visit the amusement parks located in the vicinity which are a paradise for the kids. And alongside that there are places like Bal Bhavan, National Zoological Park, Rail Museum and Nehru Planetarium.
---
Long Weekend Trips Starting @ Rs 3499/-
---