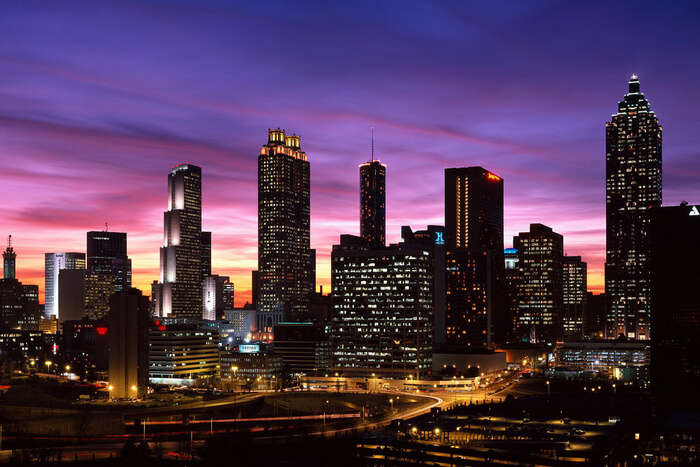 Georgia is famous among tourists for various reasons. Georgia, in the USA, is the center of art and culture that attracts tourists around the world, each year. If you get attracted to Georgia for tasting the delicious Georgian peach, then it is the valid reason to visit Georgia. But, there are several other epic reasons for which you will include this place on the top of the list of your consideration while planning for a vacation. Whether it is the Atlanta's Art Scene or the unique view of the Cumberland Island, Georgia has many gems in its chest. If you want to dig deep and get acquainted with those, you have to follow this Georgia travel guide thoroughly.
Best Time To Visit Georgia
If you are going for the first time, you have to be prepared with detail information about Georgia. What is the best time to visit the place? Though Georgia is an all-year-round destination, still you need to know which the best time is.
If you are planning for July to August, go to the mountain areas as the lowlands and the Tbilisi is extremely hot. Mount Caucasus range will welcome you with its skiing season this time.
For enjoying the lowlands, make your plan from the late September to November. This time, the mountain region is too cold to visit, the lowland is comfortable and has pleasant weather.
If you want to experience trekking amidst the valley of wildflowers, April and May is the best time. But, you should be prepared for mild rain.
Finally, June is the best time to visit Georgia. The summer's warmth soothes you and you feel energetic while exploring the city.
The Ideal Duration Of Stay In Georgia
The best Georgia tour guide will give you lots of information about visiting Georgia, especially if it is for the first time. There are numerous things in Georgia that will keep you amazed throughout your vacation. But, how much time you will spend there, depends entirely on you. Usually, a vacation is not more than 7-10 days. So, make sure you have an idea about the best places to visit in Georgia or the best things to do within your time limit.
Best Places To Visit In Georgia
1. Savannah
Image Source
If you want to follow the best Georgia travel guide, this place will be on the top. The cobblestone street will make you take a walk around the place where the old oaks on both sides of the street give you the shade and create a nostalgic moment for you. Also, you shouldn't miss strolling on Savannah River Street where you can get the amazing beauty of the river and also enjoy the local cuisine in the restaurants and cafes.
Suggested Read: 10 Fascinating Things To Do In Georgia To Make The Most Out Of Your Vacation
2. Cumberland Island
Image Source
If you download any Georgia tourist guide pdf, you will find this place there. Once you are in Georgia, you should not miss this exclusive island of the world that is completely different than any other islands. This is the largest uninhabited barrier island in Georgia. If you want to feel the wilderness and the raw Georgian beauty, this island will welcome you with open arms. The long stretched virgin beach, the wild horses and the ruins of Carnegie Dungeness mansion, Cumberland Island is all set to let your wilderness be free.
3. Atlanta
Image Source
The capital city of Georgia has something unique in its nature that you can't avoid. Atlanta is very much urban and cosmopolitan now, but it has a rich history behind it. This elegant city was the home of Martin Luther King Jr. which is transformed into National Historic Site. If you are a history buff, you can also visit Atlanta History Center, High Museum of Art, etc. To catch a glimpse of southern lifestyle and architecture, pay a visit to the Margaret Mitchell House.
Suggested Read: South Georgia Island: A Beautiful Emerald In The Atlantic Ocean
Best Things To Do In Georgia
If you are confused about what to do in Georgia, here we have listed some of the exciting activities that will make your vacation worthy!
1. Spend Your Leisure in Callaway Garden
Image Source
If you are tired of roaming around and want to revitalize yourself for the next go, visit the Callaway Garden that located on Pine Mountain, north of Columbus. The greenery and the colorful flowers and butterflies will make you happy instantly and your kids will love to roam around a lot. If you love playing golf, you will find two best golf courses over there.
2. Visit the Stone Mountain Park
This is one of the major tourist attractions in Georgia and the place is mentioned on every Georgia tourist guide. The 3,200-acre park is full of fun and entertainment. You can enjoy the world's largest light and sound show here. But, the main attraction of this park is the mountain-like granite monolith that features the relief carving of the famous Confederates. It is larger than Mount Rushmore!
Suggested Read: 9 Places To Visit In Georgia That Are A Surreal Blend Of Beaches, Farmlands, & Mountains
---
Planning your holiday but confused about where to go? These travel stories help you find your best trip ever!
Real travel stories. Real stays. Handy tips to help you make the right choice.
---
3. Grab a Mouthful of Georgia Peach
Once you eat one, you can't stop to grab more. This is one of the most dominating reasons why people visit Georgia during the peach season. There are 40 varieties available and you shouldn't miss one.
Best Places To Stay In Georgia
Here are some of the best accommodation suggestions for you to make your Georgia trip beautiful and comfortable-
1. The Westin Peachtree Plaza, Atlanta
Image Source
A Georgia travel guide is also necessary to find the best places to stay over there. And while talking about the best places, this is the most luxurious hotel in the heart of the country, in the capital. With their world-class services, this hotel is the lavish place where you always dream to live in.
Location: 210 Peachtree St. NW, Atlanta, GA 30303-1745
Suggested Read: 35 Best Places To Spend Christmas In Europe
2. The DeSoto
Image Source
The DeSoto is the name of elegance, sophistication, charm and rich history. The moment you enter here, you will be treated like a celebrity. The room-services are great with the awesome hospitality. Besides, the amazing room décor is something that will make you visit this hotel repeatedly.
Location: 15 E Liberty St, Savannah, GA 31401-3920
3. Hyatt Regency Savannah
Image Source
While choosing the hotel, the main thing you consider is the view from the windows or balcony. This riverfront hotel is the perfect place to enjoy the breathtaking view of the river and it is quite close to the Savannah River Street where you can the festivals and events. Hyatt Regency is full of amenities, like free wi-fi, indoor swimming pool, and the 24-hour fitness center.
Location: 2 W Bay St, Savannah, GA 31401-1107
Suggested Read: Things To Do While Celebrating Christmas In Europe: A Perfect Vacation
Additional Information
Currency: The national currency of Georgia is called Lari. Other than that, they accept US dollars also. Even, Euros and Rubles are also widely accepted in the republic.
Visa: With your US visa you can enter Georgia, but you need a valid passport.
What to Pack
Dresses or dress shirts
Sweaters/pullovers
Hiking shoes
Woolen socks
Scarves and hat
Flashlight
Alarm clock
Sunscreen
How To Reach Georgia
If you are planning to go to Georgia from India, you can take flights from the major cities, like Delhi, Mumbai, Hyderabad, Chennai, and Bangalore. If you live any other cities except these, you need to be there and go for the connecting flights for Georgia.
Further Read: Guess Which European City Gets The Title Of World's Most Liveable City This Year!
Hopefully, this thorough Georgia travel guide will help you a lot to know details about it and plan your journey accordingly. So, what are you thinking about? Hurry up, pack your bags and have a great vacation in Georgia with Travel Triangle.
---