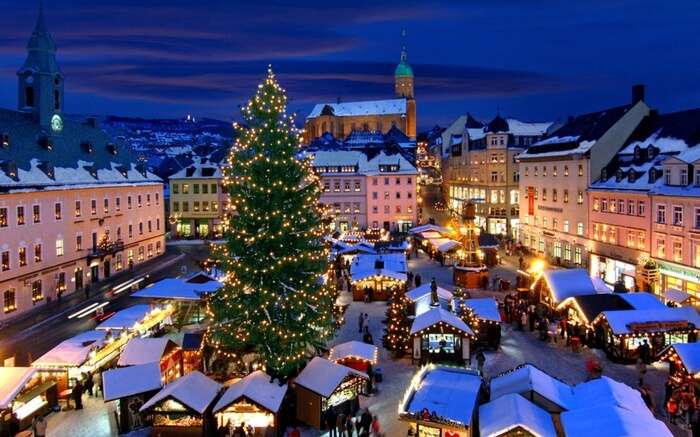 Thereupon the fireplace, Santa Claus won't make 'em happy! With the joy of ringing bells, Christmas holiday in Europe will make 'em go sappy!!
Inching closer towards the year-end, one can't suppress the desire to revel in the grand celebrations at the romantic European cities for Christmas holidays. December is the time when the entire Europe is coated with best Christmas markets and thick layers of snow and looks prettier than ever.
While Christmas makes for the perfect topping to end the year on a high, Europe presents all the reasons to celebrate moments amidst cheers, crackers, and chaos! Go partying hard in the pubs of Amsterdam, take a romantic ride with your partner in Prague, or stay in a glass igloo – European cities offer you Christmas celebrations in the most incredible manner ever!
10 Places To Celebrate Christmas In Europe
Let me take you through the alleys of best European cities where the warm aroma of gingerbread and the fragrance of Christmas tree mark the beginning of month-long festivities!
1. Reykjavik, Iceland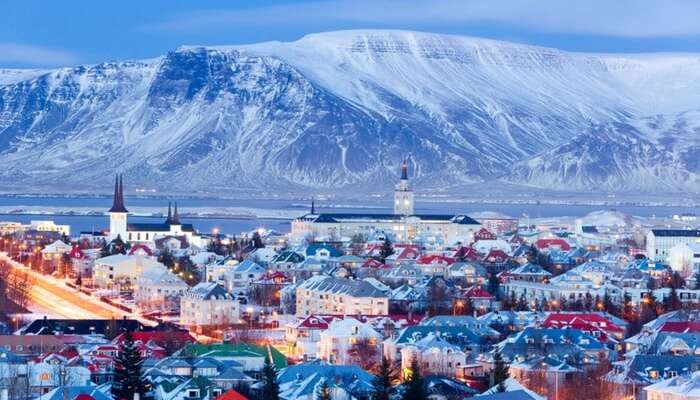 Don't get deceived by the size of this thinly populated island nation, Iceland erupts with joy and bonhomie during Christmas. Reykjavik, the capital city of Iceland has become a leading Christmas destination and looks straight out of a frame.
Highlights of Christmas in Reykjavik:
Lighting of Oslo Christmas tree: a tradition that has been in practice for decades and marks the beginning of Christmas holiday preparations.
Christmas creatures at Reykjavik art museum, Hafnarhús, Kjarvalsstaðir, and City Hall. They remain there until the Christmas festivities, narrating Icelandic folklore and making Christmas holiday memorable.
Winter Woods Wonderland at City Hall officially opens in December. The centerpiece is neatly placed among trees and one can also find Christmas creatures there.
Suggested Read: 10 Best Airports In Europe For An Enjoyable Journey To Your Dream Destination
2. Tromso, Norway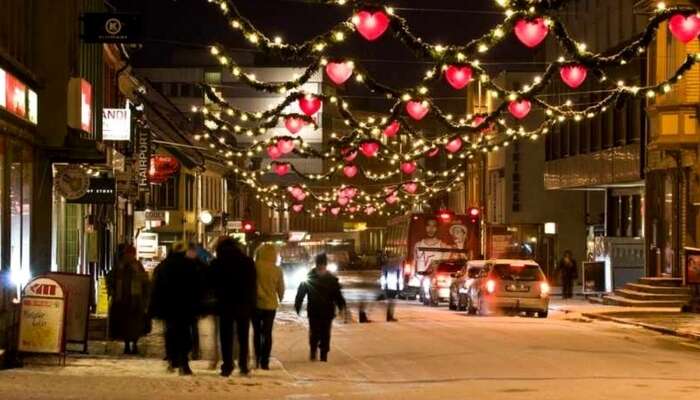 Northern Lights that have glorified Tromso in front of the world, but the happening city also gives people ample of reasons to await Christmas glitz, which puts Tromso among the top Christmas holiday destinations in Europe.
Plenty of outdoor activities, nightlife, and amazing local food make Tromso one of the perfect places to plan your Christmas in Europe.
Highlights of Christmas in Tromso: Spectacularly decked up downtown, beautiful Christmas market, and live concerts are just perfect to bask in the festivities.
Find the details of the events here.
Club your Christmas holiday tour with some of the popular attractions in Tromso like Northern Lights chases, whale watching safaris, photo safaris and excursions in the surrounding scenic landscape and make it a trip of a lifetime.
Suggested Read: 10 Best Norway Restaurants To Try All Delicacies On Your Next European Vacation!
3. Lapland, Finland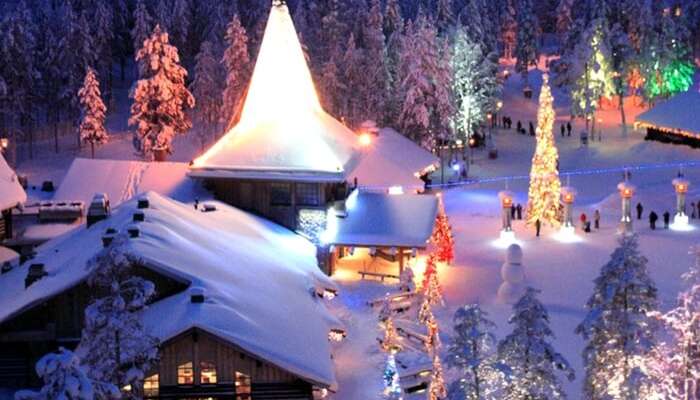 Evocative evenings shimmering on the spotless sheet of snow define a fairytale Christmas holiday in Lapland- popularly known as the village of Santa. The highlight of the town is its spirited atmosphere, picturesque locale lit by stars and ice lanterns. Countryside cottages in this quaint village of Finland make for the perfect place to jazz up the Rovaniemi Christmas in Europe.
Food being one of the highlights of the festivity leaves its lasting taste and feel. Some of the popular dishes of the Christmas season are pork roast, casseroles, rice puddings, and a variety of fish. Amidst the merriment and celebrations, Christmas carols are sung, goodwill gestures are exchanged, and finally, people call it a day with a relaxing sauna.
Highlights of Christmas in Lapland:
Munch on Gingerbread, sip on Glögi – a spicy mulled wine, and experience wood-fired sauna.
Lanterns made up of snowballs popularly known as ice lanterns are widely used as a decorative is the perfect mood uplifter.
Christmas mass at midnight, which is quite a Finnish thing!
Suggested Read: 11 Bewitching Places Of The World Where The Sun Never Sets
4. Tallinn, Estonia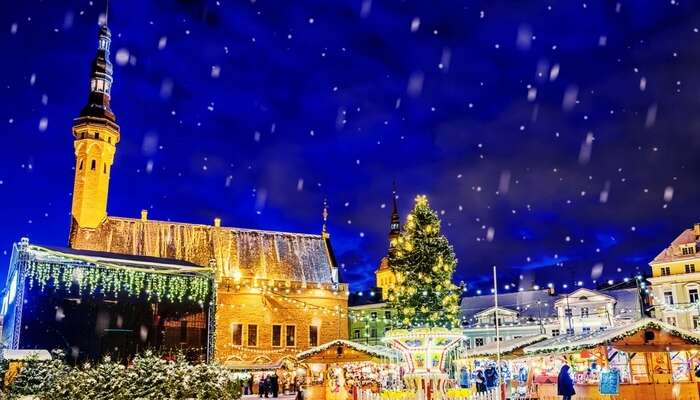 Tallinn is an ancient city epitomized by rustic charm and enchanting decoration. Walking past the medieval structures and streets of Tallinn in Estonia, one gets a feeling of having entered the wonderland.
Considered as one of the best European cities for Christmas celebration, Tallinn's key attraction is its Victorian Christmas market.
Highlights of Christmas in Tallinn:
Feast on popular delicacies like roasted pork, sauerkraut, blood sausages, gingerbread, marzipan, and local honey.
Christmas market, which was opened on 18 November 2016 and will remain open until 7 January 2017: Timings are 10 am to 7 pm (every day).
Interestingly, Tallinn happens to be the home to the world's first Christmas tree, which was erected in Tallinn's Town Hall Square when the ritual began in 1441.
Suggested Read: What Makes Malbork Castle In Poland A Must Visit Attraction For The Tourists?
5. Krakow, Poland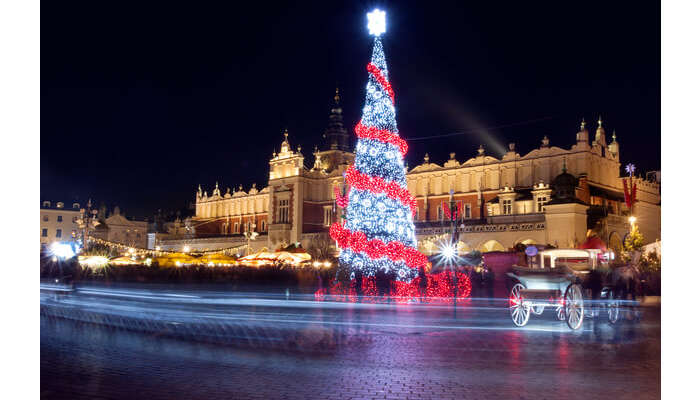 The mystic city of Krakow looks more adorable as the Christmas season closes in. With a fresh dash of snow all over the place, imposing Gothic churches and Baroque palaces, the typical charm of the picturesque city is just perfect.
Architectural marvels of the town, age-old traditions, glittering Christmas trees and carols everywhere make Krakow one of the popular places to spend Christmas holidays in Europe. This Christmas celebrate it the Polish way and get the real feel of Christmas in Europe at its best.
Highlights of Christmas in Krakow:
Watch out for the yearly contest called Krakow Christmas cribs held on the first Thursday of December at city's central Grand Square.
Christmas markets in Europe, a popular sight during the month of December, take place in Krakow at Rynek Glowny central square. The market begins from the last 2 days of November and lasts until January.
Suggested Read: Celebrate Christmas In France For A Majestic, Magical, And Merry Holiday
6. Prague, the Czech Republic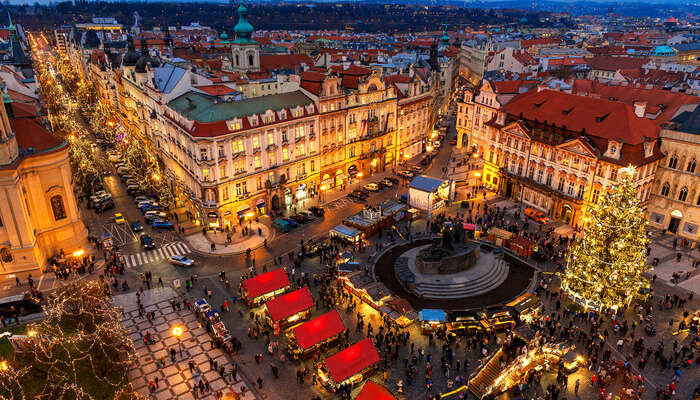 One of the perfect days to explore the charming city amidst the chants of rum-pa-pum-pum and reindeer games, Prague brims with festivities during the Christmas holiday. Go around sightseeing in Prague and strolling in the Christmas markets in Europe like Old Town Square and Wenceslas Square.
Prague is also known for to serve some of the most authentic food in Europe and finding one isn't difficult at all.
Highlights of Christmas in Prague:
Don't forget to explore the smaller yet well-organized markets at Republic Square, Havel's market on Kampa Island, and the one on the square in front of St. George's Basilica at Prague Castle.
Classical concerts in churches and historical buildings are a must visit.
Attend the masses – The Afternoon Mass at Tyn Church at Old Town Square, Timings: 4 pm | The open-air Christmas Mass on a stage at the Old Town Square, Timings: 9 pm | Midnight Mass at Strahov Monastery and churches around Prague, admission is free
Must Read: DO NOT Leave For Europe Without Packing These 8 Things
7. Cologne, Germany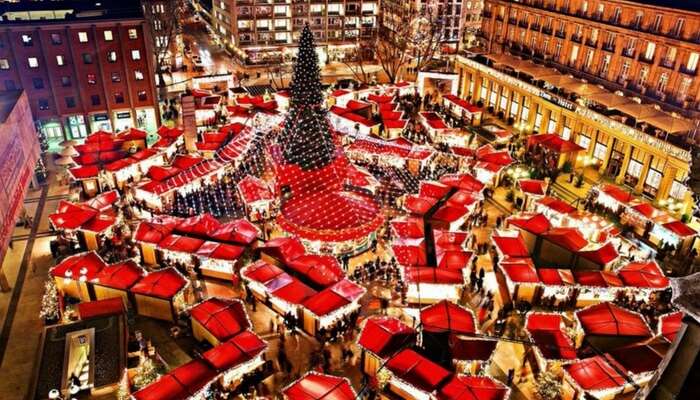 The Rhine flows by the gorgeous beauty and what could be a better way to celebrate Christmas than going for a ride in the river, soaking in the rustic charm of the city and listening to the live music. Christmas markets in Cologne exudes the festive essence and can be felt soon as you smell fresh cinnamon biscuits, mulled wine, and baked apples!
Highlights of Christmas in Cologne:
Christmas market at the cathedral is the most famous of several markets in Cologne.
The Cologne Philharmonic, a concert venue, organizes live concerts to keep up the festive mood.
Also visit: Hamburg, Nuremberg, which is counted among best European cities for Christmas celebrations.
Suggested Read: Most Popular Euro Trips To Plan 2017's Ultimate Escape
8. Copenhagen, Denmark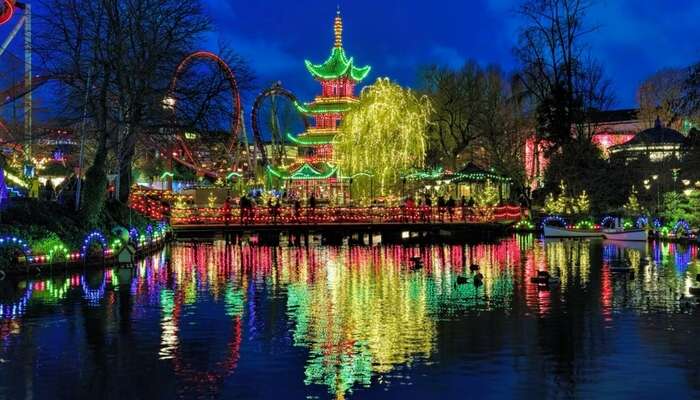 It is next to impossible to stay in Copenhagen and yet escape the spirit of Christmas because the capital city of Denmark provides one of the most sought-after Christmas holiday deals. Tivoli Gardens – where people from across the world assemble to celebrate and rejoice – is the perfect place to tune up the festive mood.
Of all the European Christmas markets, Tivoli Gardens Christmas market is a must visit during the months of November and December. This is the time when chimes, carols, music, decorations, lights, and entertainment make the celebrations bigger.
Tivoli Gardens timings: 11 am – 11 pm (Monday to Thursday, Sunday), 11 am – 12 am (Friday & Saturday)
Highlights of Christmas in Copenhagen:
Royal Copenhagen Christmas Tables – an exhibition by artists and celebrities in the Royal Copenhagen store at Strøget is a must visit attraction.
Visit the ice rink at Frederiksberg Runddel.
Purchase Christmas goodies and gifts from Copenhagen Christmas markets.
Savor delights like Smørrebrød & schnapps, white gløgg, and prawn-heavy open-faced sandwich.
9. Innsbruck, Austria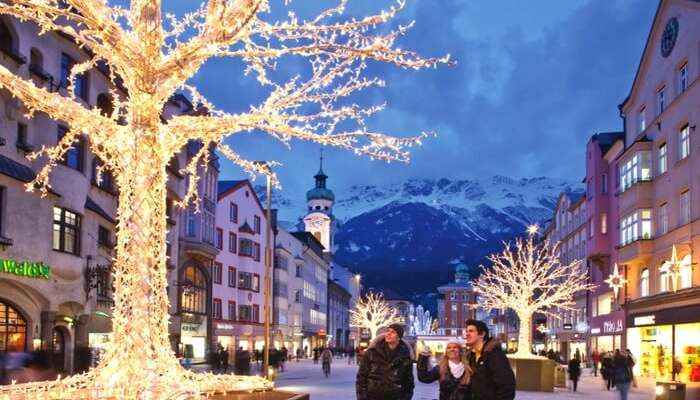 Boasting of one of the best Christmas markets in Europe, Innsbruck is a beautiful destination for the festive times. With all the decked up Christmas trees, piles of gingerbread, wooden toys and hand blown ornaments of glass around, Christmas couldn't get any better. Hallstatt Christmas in Europe is also famous for its merriment and jovial celebrations.
To top up the festivities, the romantic Christmas market in the narrow medieval square close to the Golden Roof makes for the special attraction.
Highlights of Christmas in Innsbruck:
Watch trumpeters playing carol tunes on the traditional 500-year-old Golden Roof.
Relish Kiachln- advent doughnuts with cranberry sauce.
Take a ride on the funicular up Nordkette mountain to Hungerburg.
While you are there, do not miss Vienna Christmas in Europe which is equally grand and glitzy.
10. Gressoney Saint Jean, Italian Alps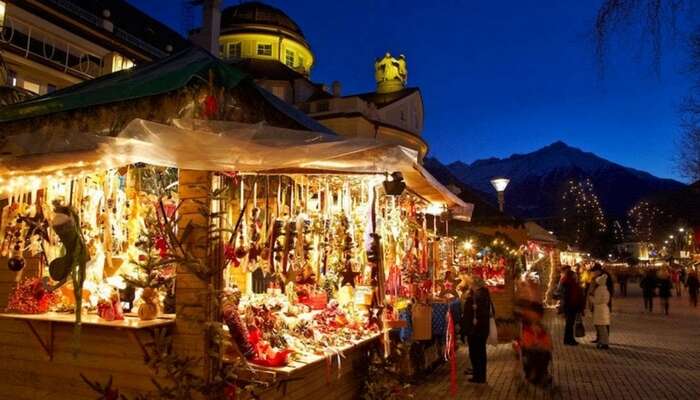 What could be a way better than spending Christmas holiday skiing, strolling through the ancient structures, and walking on a frozen lake? That's what the entire arena of Gressoney Saint Jean in the Italian Alps area is pepped up with!
Another of the sought after places to spend Christmas in Europe, the Italian Alps area is gorgeously decked up in the rustic charm of yesteryears. Also, there is a beautiful Christmas market – a place natives and tourists gather to eat, drink, and rave!
Highlights of Christmas in Gressoney Saint Jean:
Enjoy the breathtaking view of Alps mountains from the market area.
Make the maximum of your Christmas holidays by planning a skiing session in the Alps.
This video picks the top 10 Christmas market in Europe. Though, slightly different from the one that you saw above, this video too portrays the Christmas celebration in true taste!

Further Read: 12 Best Places To Visit In India During Christmas
Money can't buy you happiness but you can buy a plane ticket and travel to Europe, and that's kind of the same thing. How about celebrating this Christmas in Europe.
Frequently Asked Questions About Christmas In Europe
Q. Which European country is best to visit in December?
A. Prague, Budapest, Netherlands, Berlin, and Italy are some of the best European countries to visit in December.
Q. Which is the best Christmas market in Europe?
A. Strasbourg in France, Viennese Christmas Market, Old Town Square and Wenceslas Square in Prague, and Piazza Santa Croce in Florence are just a few of the best Christmas markets in Europe.
Comments
comments