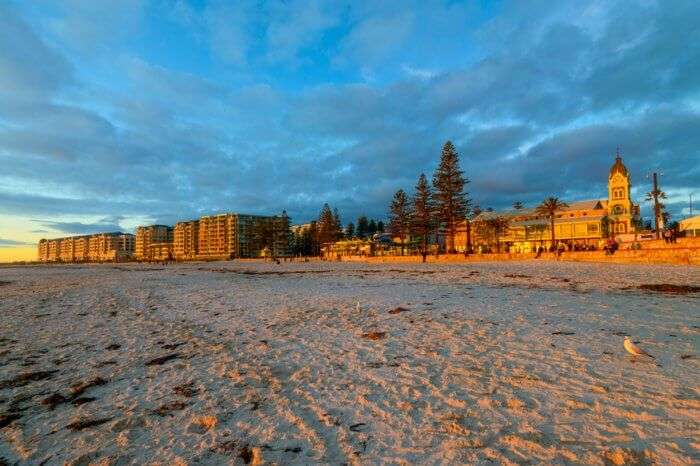 Every Vacation comes the time to choose between visiting two types of regions- the mountains or the beaches. While the mountains have their own charm but beaches comes with a feeling of relaxation and calmness that is hard to avoid for people who just to take a break from the regular routine of life. From the beautiful shimmering sands to the blue crashing waves and the cool wind blowing in your face, heaven is seldom found somewhere else. One of the best places to enjoy this paradisiacal enchantment is the Glenelg Beach.
About Glenelg Beach

Bayside Glenelg is a family friendly beach which is full of golden sands, amusement park, water slides, arcade games, and rides. There's much to do here, like the Bay discovery center, which shows local history exhibits that include a vintage swimwear collection as well. But your water adventures won't end at an amusement park because there is a dolphin spotting cruise which will allow you to see the friendly animals more up close. This is closed off by some creative cafes, laid back pubs, and global eateries right beside indie boutiques which gives the whole area a trendy and yet casual vibe.
Location: Glenelg Beach is located on Cnr Jetty Road, Colley Terrace Glenelg, Glenelg, Adelaide, South Australia, 5045
Must Read: 10 Luxurious Villas In Sydney Where One Can Experience A Lavish Stay While In Australia!
Weather

The best time to visit Glenelg Beach is from October 15th to April 29th. The temperature varies a little, but it is most pleasant the year round except some cold weeks in the winter months. The Glenelg beach weather is actually more temperate compared to other tourist destinations present worldwide. Here is a seasonal weather chart to help you:
Fall: Fall lasts from the months of March to May and the temperature and humidity combine to make this season feel moderate. The highs are in the range of 28°C (82.4°F) to 17.4°C (63.3°F) with the cold settling in during the later months. Rainfall during this time is rare with 2 to 5 days per month of any significant precipitation. Fall is actually the second busiest time for tourism in here.
Winter: The winter months last from the months of June through August and these middle months have cold weather combined with high temperatures. Precipitation during these months lasts from 5 to 6 days per month. In regards to tourism, the months of June to August are a slow season for tourism so accommodations might cost a little less.
Spring: The spring months of September to November range from daily highs of 26.9°C (80.5°F) to 18.6°C (65.5°F). These temperatures are comfortable given the wind and humidity running through. As for rain or snow, it does that for around 2 to 3 days per month. During these months, tourism is the slowest so you will find hotels to be reasonably priced.
Summer: Summer lasts from the months of December through February and the weather during this time is just perfect for travelers who like the warm weather. The average weather during this time is between 30.3°C (86.6°F) to 26.3°C (79.3°F). On an average, it rains or snow for just a small amount which is around one to two times per month. Summer months are the busiest in terms of tourists.
Suggested Read: Australia Tourist Attractions: Do The Dare To Visit All These Places On Your Aussie Trip
How To Get There
Bus, train or light rail options are relevant public transportation which you can use to reach the beach. Use these
Light Rail: Light Rail- TRAM
Train: Train- SEAFORD
Bus: Bus- 265, Bus- 300, Bus- H20
Some specific destination examples are:
If you are at the University of Adelaide Village then by public transportation it will take 35 mins. Take bus 265.
Take Light Rail tram or the Seaford train to reach Glenelg Beach from InterContinental Adelaide. It will take 46 mins.
Take bus B10 and 300 to reach the beach from AAMI Stadium, West Lakes. It will take about an hour to reach.
Take the bus M44 and then the Light Rail Tram to reach the beach from Westfield Tea Tree Plaza, Modbury. It will just take 74 mins to reach there.
Things To Do
Here is a list of the best things to do at Glenelg beach that will let you have a heartwarming experience like never before. Take a look!
1. The Beach And Pier

If you want to unwind and feel good, then wandering all g the pier is a great place to do just that, especially since the water there is crystal clear, the sands are stunningly white and the beach itself is pleasantly uncrowded. On warm days, cooling off with a swim is always recommended.
Suggested Read: 15 Reasons Why Spending Winter In Australia Is Better Than Being Anywhere Else!
2. Bay Discovery Centre

Located in a beautiful building by the pier, Bay Discovery Centre is both part history museum as well as part tourist information center. Here you can find a hotel, book a car, plan your itinerary and more on the ground level. But those here to learn about the history of the place will find the upstairs more fascinating since it is full of the history of Glenelg, Antarctic pioneers as well as the founding and development of Adelaide. You can tour the place free of cost and it is open daily from 10 am to 5 pm.
3. Haigh's Chocolates

Who doesn't love chocolates, most certainly do and that's why this place deserves a spot in this things-to-do list. This is the country's oldest family-run chocolate maker. Haigh's chocolates are just divine and they are made from fair trade cocoa beans which makes it more appreciable. Try out the sample on before taking some back home.
Suggested Read: 7 Villas In Townsville Where One Can Enjoy A Comfortable Stay While Holidaying At Australia!
4. The Marina

The Marina Pier is a great place to go for a little stroll on sundown. There are a lot of restaurants, boutiques, oyster bars with outdoor seating so that you can relax with a glass of wine and watch as the sky churns out various colours on its journey over the ocean.
5. Sky Dive

Glenelg beach in Adelaide has a great variety of things which one can participate in but this surely takes the cake. Come here for an unforgettable experience and skydive over the coastline and then land right on the sand of Semaphore Beach located near Glenelg. There are two heights you can jump from- 15,000 ft or 11,000 ft. You will find the staff friendly but professional and they will explain you everything that you need to know before going up.
Suggested Read: 10 Restaurants In Townsville Every Foodie Must Visit To Get A Taste Of The Authentic Australian Cuisine!
Places To Eat
Take a look at the best places to eat around the beach to satiate your hunger during your vacation there.
1. Durham's Restaurant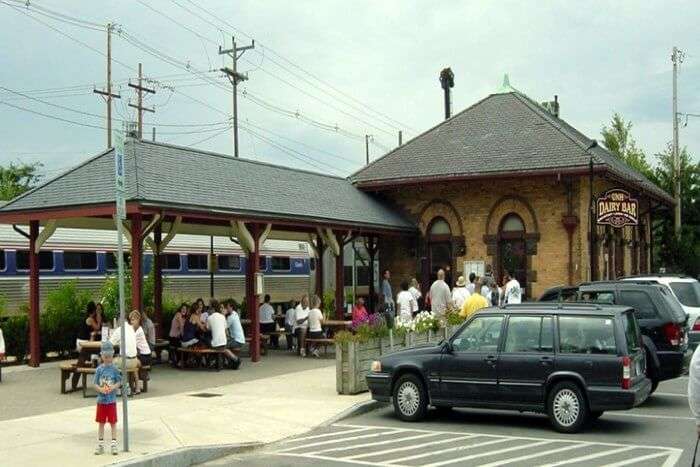 Come here for a beautiful bit of Nepalese food intertwined with its culture. The cuisine here is healthy but filling. But it's not just the food here, which is delicious, but the historical setting which is complemented by the architecture and hospitality of the place makes this place a charm to visit.
2. The Oyster Bar

As the name says, if you love oysters, then this is the place to head towards. Located right where the ANZAC highway meets the sea, the Oyster Bar overlooks the Marina over at Holdfast Shores. Come here to taste some of the finest oysters found in South Australia along with a glass of wine which you can sample from their extensive wine menu.
Suggested Read: 10 Restaurants In Townsville Every Foodie Must Visit To Get A Taste Of The Authentic Australian Cuisine!
3. Europa at the Bay

Out of all the Glenelg beach restaurants, here you can find some authentic Australian and European food. Located in the busy Moseley Square, Europa at the Bay is the premier dining spot in Glenelg. Here you can find everything from a quick espresso cup to a gourmet breakfast and also contemporary European dining. Breakfast is offered from 7 am and pasta, pizza as well as main courses run from 12 pm till late.
What to Know Before You Go Glenelg Beach
While there are the usual warnings and tips which one should follow while going to the beach but there are some things which are specific to this Beach and here we will cover What to Know Before You Go Glenelg Beach:
Make sure to always swim between the red and yellow flags which are at the beach. These flags indicate which are the safest places to swim.
Swim when the place is being patrolled by lifeguards and lifesavers.
Wear a shirt and hat even after applying a 30+ sunscreen. Reapply your sunscreen after going swimming.
Learn to spot a rip. It can be recognized by rippled or sand coloured water which is running out towards the sea even when the water in either side is generally cleaner.
Drink adequate water because the sun will not just tan you but you will feel dehydrated as well.
Further Read: 10 Best Hostels In Townsville For A Budget Staycation In Australia
Beaches are the one place everyone can universally relax with their friends and family. From beach games to seafood platters and more this is the ideal vacation region and the Glenelg Beach is a testament to just how amazing it is. So if you're planning to visit Australia anytime soon, then make sure to visit this exotic and hidden beach.
---
Looking To Book An International Honeymoon?
Book memorable honeymoon on TravelTriangle with 650+ verified travel agents for 65+ domestic and international destinations.
---