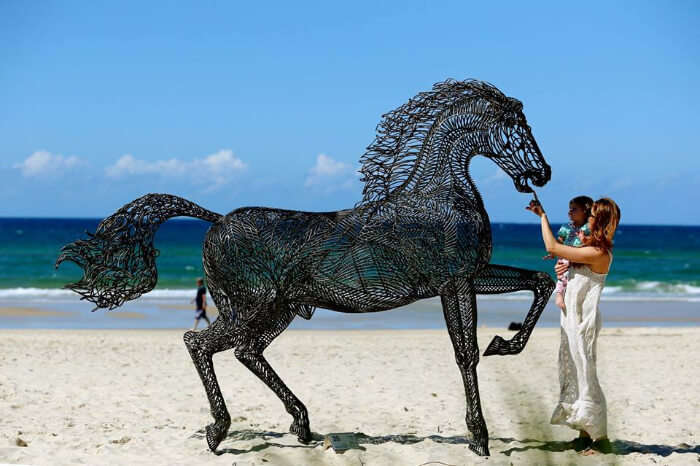 Gold Coast in Australia is one destination that's worth discovering. There is fantastic weather and non-stop entertainment all year round. Any holiday in Gold Coast in any month of the year is an assured treat. There's so much to see and do in there that one can never complete everything that's on the checklist.
However, you can always plan your visit around the festivals that keep happening in Gold Coast, round the year. Besides having fun, you can gain experiences and draw cultural insights while being in this place and attending Gold Coast festivals there is the best experience that you can have.
14 Best Gold Coast Festivals
Let us have a look at some of the famous festivals happening in Gold Coast You can pick the festival around which you want to plan your trip and accordingly, start packing your bags!
1. Gold Coast Food And Wine Expo
This is one of a kind festival hosted in Gold Coast that celebrates good food and good life. You can enjoy free tastings at more than 100 gourmet displays, have free wine, drink free beer, and also attend cheese appreciation classes. Besides this, there's a special cooking demonstration by renowned chefs, and an exclusive champagne bar! A true foodie would not afford missing out the spectacular celebration of fine food and drinks in Gold Coast. Plan your visit around it to cherish a world-class feast!
Must Read: Zoos In Gold Coast: 10 Places To Head To For An Enthralling Time Around Wild Animals
---
Australia Honeymoon Packages On TravelTriangle
Go on a luxurious honeymoon trip to Australia and witness the best of marine life at the Great Barrier Reef. Indulge in Australia's aquatic experiences, go for nature walks, and get the best of food & wine. Find best honeymoon deals offered only on TravelTriangle.
---
2. Surfers Paradise And Sand Safari Arts Festival
Beaches are the most amazing part of the city of Gold Coast and Surfers Paradise is the ultimate spot for admiring nature's beauty. This festival is a presentation of art inspired by sand and sea. You will see imaginations of artists spreading to unexpected limits and feel delighted at the sand sculptures. Thousands of spectators visit the Sand Safari Arts Festival to see the life-sized masterpieces by most talented sculptors and even you can. Find out the dates and get going!
3. Star Gold Coast Magic Millions Carnival
With the start of the New Year, another great festival starts in The Gold Coast. Star Gold Coast Magic Millions Carnival is celebration that lasts for about a week. By joining them for 10 magnificent days in Australia's Gold Coast, you can make the number one choice for starting your new year. Wear your favourite outfits and kick off celebrations with millions of things that take place at Star Gold Coast celebrations!
4. Surfers Paradise Live
Going to the Gold Coast in the month of May will let you see one of the biggest event hosted in the city. It is the time for Surfers Paradise Live, the annual free live music festival, which transforms Surfers Paradise into a venue for music festival. The iconic Surfers Paradise beach provides a unique gig backdrop of rock concert, while the waves play percussion in the background. You simply can't miss the live music concert in May amidst the waves sound and the beach wind.
Suggested Read: 10 Popular Indian Restaurants In Gold Coast To Explore The Real Taste Of India
5. 12 Towers Ocean Festival
The 12 Towers Ocean Festival, which has an extended long race course of 17 kilometres, has made itself one of the iconic race events across the globe. The participants have to be the best to cross the 12 lifeguard beach surveillance towers. And for your kind information, it witnesses lots of global best "ocean athletes". It is held in the month of March annually, and is a must watch festival in Gold Coast, Australia. People reach there in huge numbers for enjoying races of SUP, Ocean Ski, and Prone. Thus, it makes itself an exciting reason for sports lovers to visit Gold Coast!
6. Gold Coast Film Festival
Any movie buffs with hunger for new films? Gold coast has a film festival waiting for you. The Gold Coast film festival is held annually in Australia's top filming location and is a celebration of the ever-evolving film culture. You can be among the audience to watch some of the best films made in our world. There are films that touch social elements, films that touch exceptional love, and films that explore your innate desires. All these films are screened on the beach side and you can sit on the beach to enjoy them one by one. The festival sets itself apart from the stereotypes by bringing the best of films in different categories for audiences. Hope you got another good reason to visit Gold Coast!
Suggested Read: 10 Best Gold Coast Resorts That Showcase The Sunny Vibe Of The City
7. Gold Coast Running Festival
Taking place in the last week of April, the Gold Coast Running Festival isn't just a fun run. It is an iconic display of courage and sportsmanship, at Gold Coast's iconic venue - Cbus Super Stadium. There are five distinct races that cater to every age group and section of society. Runners, groups of friends, school students, tied up professionals and also families who want to spend time together participate in the event. Even you can be a part do the fun run and add a sporting feather in your travel cap. You can challenge yourself in Gold Coast to achieve a never expected target. Even if you're not a runner and your preference is a walk, you can have a fun walking race out there!
8. Cooly Rocks On
Started in 2011, this rock n roll festival has evolved to be the most awaited festival in Gold Coast every year. It's the largest festival that celebrates music of 50s and 60s, leaving everyone nostalgic. If you're also a fan of the rock and roll music that goes to decades back, you must join the crowd at the Cooly Rocks On festival. The beaches serve as the venue, and localities become your family com friends. There are various events waiting there - just get your dancing shoes and best outfits ready. Gold Coast will live up to your expectations!
Suggested Read: 10 Places To Visit In Gold Coast That Makes It A Hit Among Beach Bums
9. Groundwater Country Music Festival
The festival comes back every year in July to celebrate the exuberant music on the beach side, uniting water, culture and land that makes the whole of Australia. Plenty of celebrated artists perform in the festival and you may expect your favourite ones to be on the stage. On visiting Gold Coast at the time of Groundwater Country Music Festival, you will realise how beautifully the festival unites the country with the coast. It's is free of cost event, thus a bit crowded than over music festivals. But you must not fear this. You'll enjoy and feel the Australian patriotism breathing in the air!
10. Gold Coast Marathon
This is a major sporting event of Australia, which features a marathon, a half marathon, 10 kilometres run, 5 kilometres challenge and junior dash races for the kids. It attracts spectators and participants from all over the world every July, as the Gold Coast gets ready to host the running event. It provides the most scenic running track in Australia and thus, separates itself from all other marathons. If you're planning to visit Gold Coast in July, do participate in this marathon. You'll be rejuvenated!
Suggested Read: Paragliding In Australia: 10 Best Places For Touring The Australian Sky
11. Australia PGA Championship
Visiting the Gold Coast in the month of December gives you a huge variety of engaging and entertaining activities, especially for the kids. The Australia PGA Championships comes with the aim to get everyone enjoying. It has events for both the pros and kids. This is a great opportunity if you are traveling alone to Gold Coast and want to make some new friends. You'll find amazing pro players of golf all around!
12. Supercars Gold Coast or Gold Coast 600
The amazing beaches of Gold Coast also extend an opportunity to enjoy one of the biggest events in racing. It heats up the weather, while it is already time for the falling down of winters. There is little snow all around and amidst this, is the show of amazing races. Being to Gold Coast in December needs you mandatorily to watch this annual motor racing championship. Be a bit enthusiastic and see the big hot shot stars driving along the circuits in Gold Coast!
13. Bleach* Festival
The Bleach* Festival takes place annually in April in Gold Coast. It is one of Australia's leading and most exciting site-specific contemporary arts festival, and deserves a spot in the list of events that upheld Australia's culture. City's most renowned, dynamic and adventurous artists are found in this festival. They engage a broad audience through their performances and charm. Utilising the Gold Coast's world-famous natural landscape, and by bring incredible arts and cultural experiences, the Bleach* festival becomes the most unconventional festival. You may decide the rest by visiting Gold Coast yourself!
14. Swell Sculpture Festival
Held annually in the month of September in Gold Coast, the Swell Sculpture Festival presents awe-inspiring sculptures made by local, national and international artists. The sculptures are both monumental and memorable, hence are worth of a dedicated presence at the festival. You will find both young and old people admiring the sculptures, amidst the beautiful scenery and smooth conduction. Anyone with an eye for admiration will definitely visit this festival. Are you going to?
Further Read: 5 Best Airports In Gold Coast That'll Let You Have A Perfect Start To Your Australian Vacay!
Gold coast has an efficient transportation system. You can easily board a bus, train or cab and reach to the next destinations in your plan. After visiting Gold Coast, you wouldn't mind saying it out loud that you have visited one of the world's most beautiful destinations. There are beaches convincing you to stay a little longer, theme parks setting a style statement, and swimming, skydiving & surfing activities, to keep you occupied throughout the vacation! Besides these, the wide variety of events hosted in Gold Coast, as already enumerated above, act as the cherry on the top. So what are you waiting for? Plan a trip to Australia soon and head to Gold Coast.
---
Looking To Book An International Honeymoon?
Book memorable honeymoon on TravelTriangle with 650+ verified travel agents for 65+ domestic and international destinations.
---