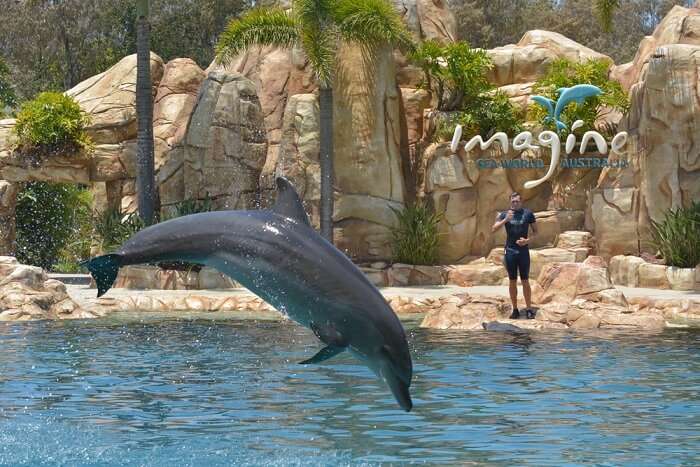 Gold Coast a charismatic city of endless beautiful beaches and subtropical rainforest of Queensland, Australia. Australia's Gold Coast, rife with natural beauty, is extended 57 kilometers of coastline. The area of Gold Coast is rich in lush greenery and waterfalls.
Breathtaking scenery of the skyline of Gold Coast practically dips its toes in the ocean.
Gold Coast remains at top status for soulful playground of entertainment and surfing. Every year over 12 million sightseers from all around the Globe plan a trip to Gold Coast to witness its enduring charm. The destination is best escape for the dedicated surfer and the nature enthusiast.
Best Time To Visit Gold Coast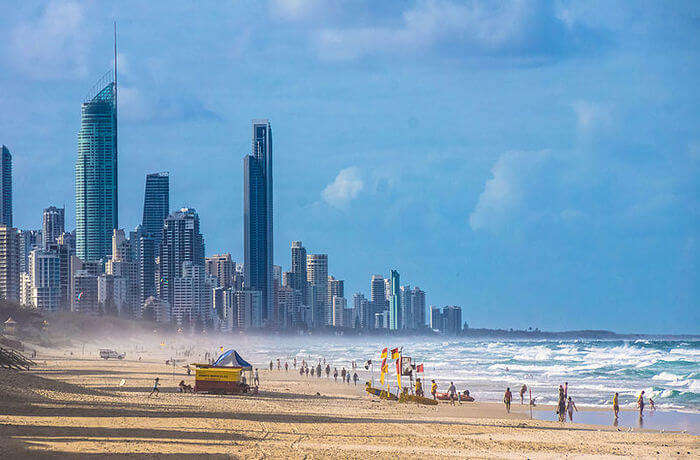 Gold Coast is the go-to destination for beach lovers. The white sand are as shiny as crystals and the beaches are as serene as they can be. Gold Coast has a great weather across the year. One can visit this place around the year and there should be no problem whatsoever.
Every corner of the Gold Coast bestow the immutable beauties from paradise beaches to the astounding lush jungles. Gold Coast lands among top notch tourist destination offering vigorous mix of theme parks, shopping, restaurant and luxurious accommodation with fortune natural beauty. If you're planning to visit Gold Coast in December, you can witness and enjoy the huge celebration of Christmas in golden sandy beaches. Gold Coast in December experience summer and that means you get to forget yourself with entertainment from all of the outdoor activities.
Gold Coast In December: 6 Places To Visit
Different events are hosted in this period of the month, you can chill with your friends and families enjoying the cocktail parties in the beach. The following places highlighted in the points are the best locations you can decide on for a fun adventure in Gold Coast in December.
1. Christmas And New Year's Eve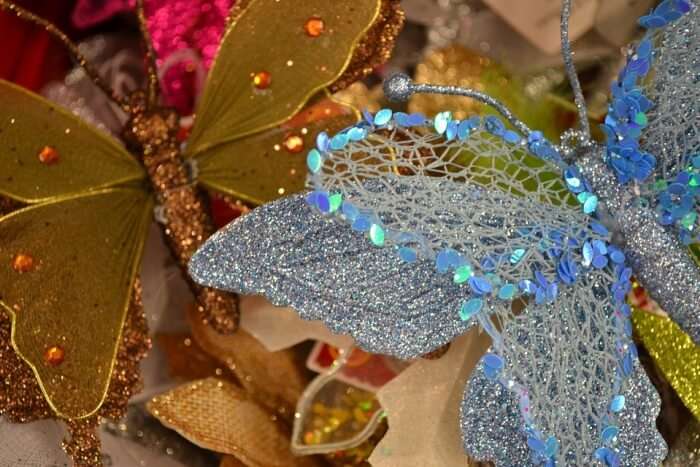 Since there are a lot of beaches to recommend for places to visit, we decided to recommend you visit most of the beaches in Gold Coast. Since the weather is summer in December, it is a top time you want to pick for your visit Gold Coast for the celebration of sun kissed Christmas and windy New Year's Eve on the beach. You and your friends and families can have memorable experience attending the huge celebration by the beach of Christmas for which different events and activities are hosted. Many bars and restaurant also provide special offers for the Christmas. You can choose to visit beaches like Broadbeach, Burleigh Heads Beach, Coolangatta Beach, Currumbin Beach and other beaches for different kind of fun.
14 Waterfalls In Australia That Take You Closer To Nature
2. Surfing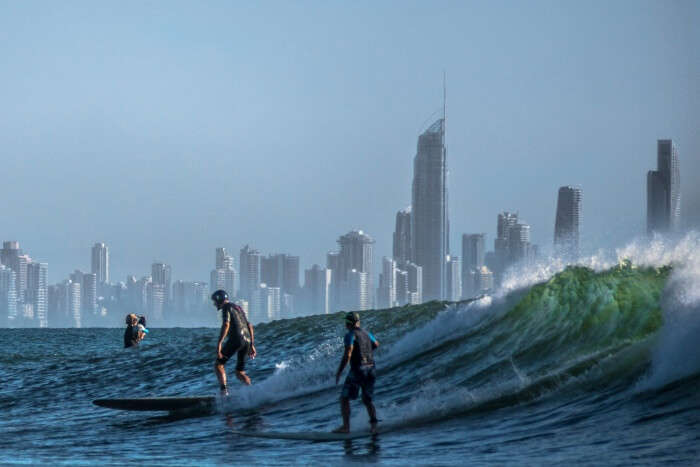 It's the same story with surfing locations as there are numerous surf places, we again recommend a visit to most of them. So, If you're a dedicated surfer, this is the place where you would want to spend rest of your remaining life. Gold Coast is best place to learn surfing if you're beginner. There are many surfing schools available and you can choose there. There are many unsurpassed surfing spots such as Surfer's Paradise, Snapper Rocks, Rainbow Bay, Greenmount Beach, Currumbin Alley, Narrowneck and Fingal, etc. from where you can hit and flow with the waves.
7 Beach Resorts In Australia That Offer Luxurious Stay In The Aussie-Land!
3. Dreamworld Theme Park and Zoo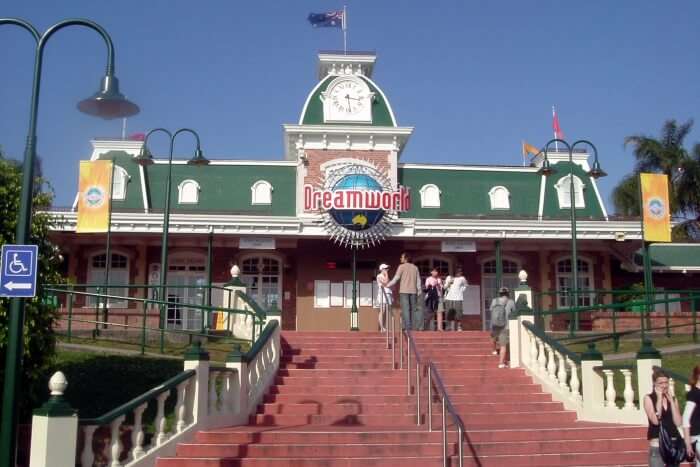 Dreamworld sits at top of most list of largest theme park in Australia. Dreamworld is like multiple world in itself offering the best thrill rides over 40 rides, different shows and attractions and peek to the Australian wildlife. Tower of terror II in Dreamworld falls under list of the fastest and tallest thrill ride in this sphere called Earth. Dreamworld features over 40 rides for all ages. And themed lans like Tiger Island. You can explore a giant list encompassing over 500 indigenous animals while reconnoitering the Australian wildlife. You can book your passes and tickets online too.
10 Museums In Australia That Tell The Tales Of The Country's Past
4. Whitewater World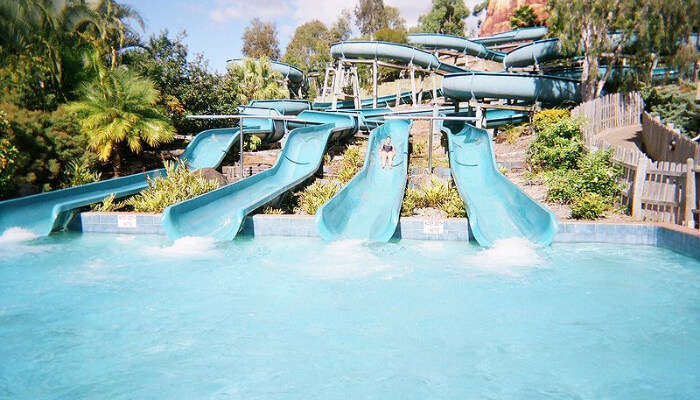 This water park has attracted many visitor for best water slides. Private cabanas with deck chairs and fridge can also be booked to sit back and relax. All the water fun activities are available for all kinds of age group. Surf classes are also available and is practiced on Cave of Waves several times a week after park closes. You can book your passes and tickets online too. So, don't miss out on this amazing water park in Gold Coast, Australia on your next trip!
5 Places To Go For Bachelor Parties In Australia
5. Sea World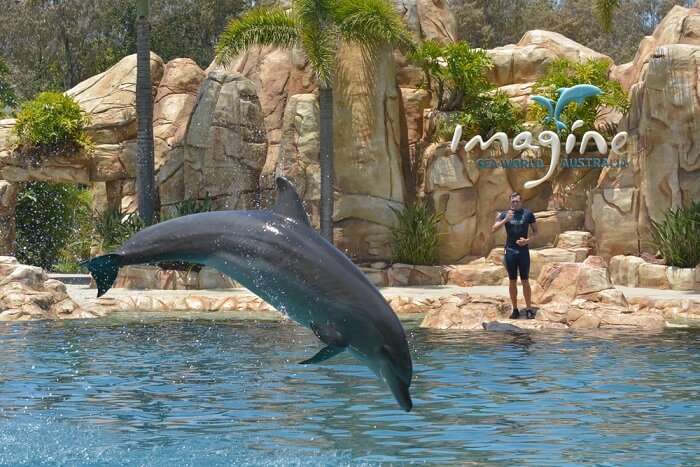 Sea World has been a go to place for fun filled activities and world famous attractions for over 35 years. This theme park has been a favorite and appealing to the many families. This park has also been a good place for marine researcher as you can see variety of marine animals. The park also hosts the Dolphin Discovery show and you can also see penguins and polar bears swimming underwater. Sea World resort and Water Resort is only theme park hotel in Australia. At Sea World, you can feel like you are engaging with soul of the vast blue ocean along with the sea's most endearing creatures.
Destination Of The Month: What Makes Australia In October A Great Time To Go Down Under?
6. Warner Bros Movie World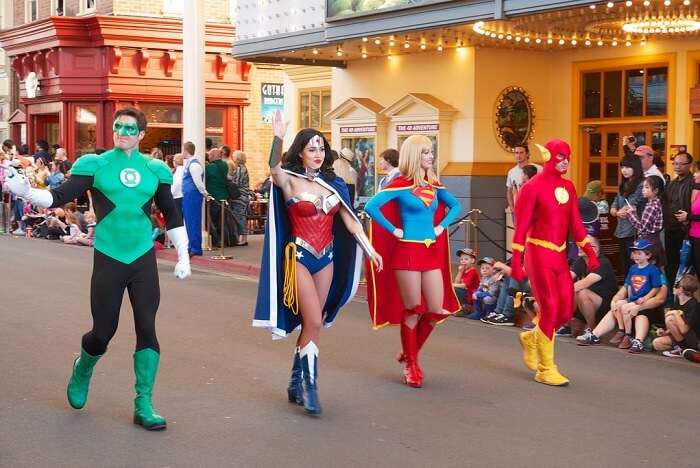 This happens to be within list of the highly visited park by the tourist when they stay at Gold Coast. This parks excites not only kid but adults too as they can see their favorite movie come to life. Different roller coaster rides such as Super Escape. The Green lantern Roller Coaster based on movies characters and superheroes of Warner Bros. People are excited to make memories with their favorite DC superheroes and supervillains. Families can take their kids to enjoy high quality entertainment and shows with shopping the themed goodies found at DC Super Heroes store, BATMAN store, etc. You can enjoy different food and desserts while touring the park as there are many restaurant you can choose according to your preference.
Gold Coast is on race with other rapidly growing cities of the world. This mesmerizing city boasting population of over 500,000 people, with stripe line of flawless shoreline and a sunlit gleaming sands – makes Goal Coast in December a wonderful visit. A natural spirit found in the absurdly gorgeous beaches and the ocean's shifting moods, and the waterfalls of highly tranquil nature and vast deep shore line forests up close to hinterland has attracted many tourist from all places in and out of this oceanic earth.
7 Lakes In Australia That Will Spellbound The Nature Lover In You!
If you're thinking what to do in Gold Coast in December, Gold Coast welcomes you with full entertainment and adventure. Thousands of international and domestic tourist gather around in this month for Christmas festivity and New Year holidays. The brightest shining Gold Coast is undeniably amongst the best holiday destination. The beaches and sand of Gold Coast awaits for you. Plan your trip to Australia for a fun and exciting holiday in December with your friends and family!
People Also Read
New Zealand In December Brisbane In December Bali In December
---