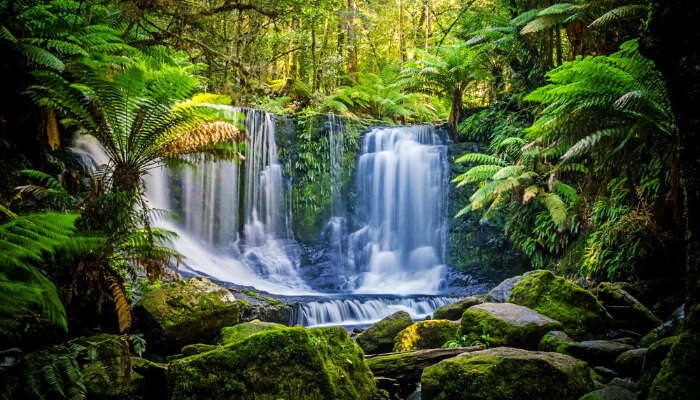 Australia is an incredible destination with most picturesque sights which leaves you in awe. There is no doubt that your hands will subconsciously reach out for camera to capture the magnificent vistas this beautiful country has to offer. Talking about the beauty of Australia, One can never forget the number of extraordinary waterfalls in this world's driest inhabited continent.
If you ever visit Australia or if you are an Australian resident, then you should definitely witness these massive and awe inspiring waterfalls. This article will provide you with the list of some of the Waterfalls of Australia.
14 Best Waterfalls in Australia
Want to get lost amid the natural beauty? Then go on an exploration journey to discover the most spectacular waterfalls in Australia.
1. Wallaman Falls, QLD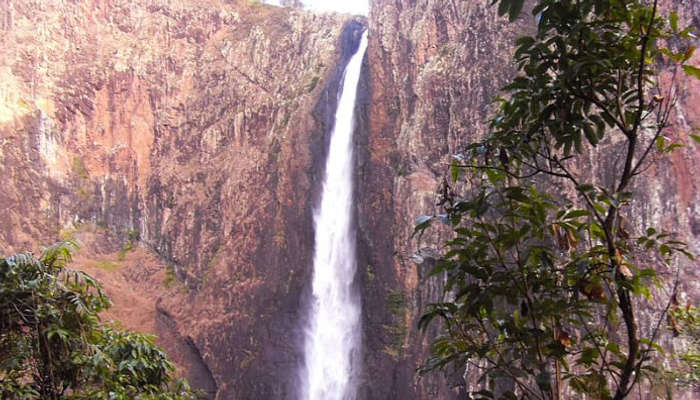 This is Australia's tallest, permanent and single-drop waterfall. Located in Girringun National Park, about 50km past Ingham, this waterfall boats a 268m plunge. There are two walking tracks in this waterfall region which will enable you to enjoy and see the spectacular escarpment, one is easy to walk and other is moderately difficult. This waterfall is positioned in the Wet Tropics of Queensland World Heritage area and it is also engulfed by dense rainforest which are some of the world's oldest, making it exceptionally beautiful.
Must Read: 10 Thrilling Festivals In Australia That Will Give You Major FOMO!
---
Australia Honeymoon Packages On TravelTriangle
Go on a luxurious honeymoon trip to Australia and witness the best of marine life at the Great Barrier Reef. Indulge in Australia's aquatic experiences, go for nature walks, and get the best of food & wine. Find best honeymoon deals offered only on TravelTriangle.
---
2. Mitchelle Falls , Kimberley Region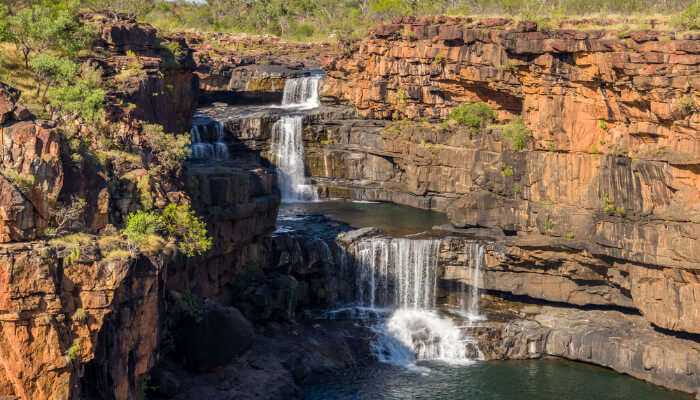 Located in a remote red rock wilderness in the Kimberley Region of Western Australia, this waterfall is multi-tiered with vibrant red cliffs framing its plunge ino the Mitchell River. Its location in the remote outback makes it difficult to reach, but if you were to visit it you will surely marvel at its beauty.
3. Southern Rockhole, NT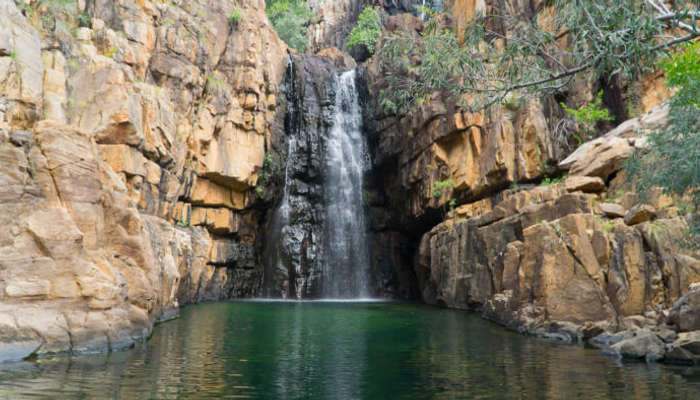 Located near Katherine region in Nitmiluk National Park is one of the most picturesque destinations as it appears to be a natural swimming pool surrounded by rocks from all around. One often calls it the best secret of Northern Territory.
Suggested Read: 7 Lakes In Australia That Will Spellbound The Nature Lover In You!
4. Ebor Falls, Guy Fawkes River National Park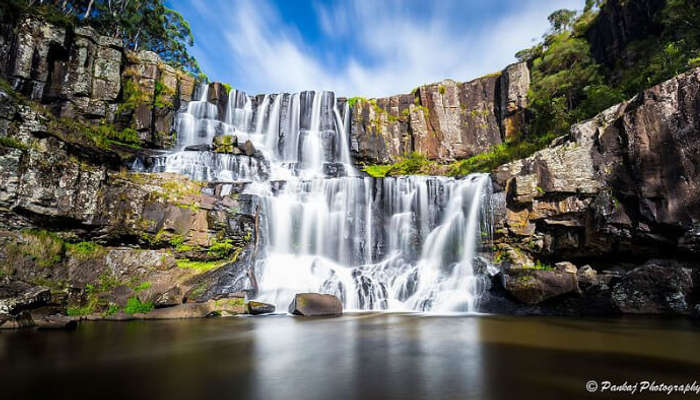 This waterfall is extremely superb as its beauty can be witnessed from three designated lookout platforms which look like a canvas picturing the contrasting views of rugged surroundings as well as falling water from Guy Fawkes River. This place is not just a picturesque location but its magnificent look makes it a dreamland for few.
Suggested Read: 10 National Parks In Australia For A Utopian Experience Into The Wild
5. Mackenzie Falls, VIC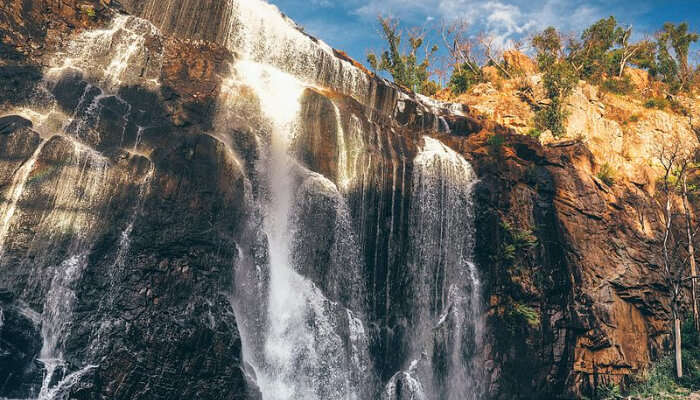 Located in Victoria in the Grampians National Park, this waterfall withstands the cruellest drought-ridden conditions of the nation. The height of this waterfall is about 30 metres. You can easily walk towards the base of the area and look at the scenic views of the Mackenzie Falls.
6. Crystal Shower Falls, Dorrigo National Park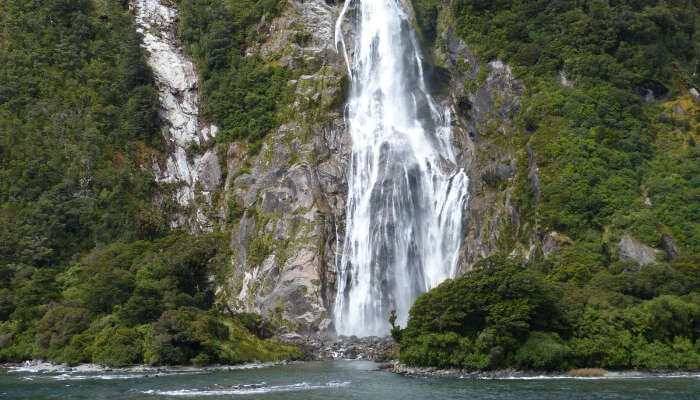 Crystal Shower Falls is located in the Dorrigo National Park which comes within the radius of Gondwana Rainforests of Australia which are part of World Heritage's site. In the New South Wales region, this waterfall can be easily reached by foot. It is a simple and beautiful landscape where you stand just behind the falls as water is collected in the pool surrounded by lush greenery.
Suggested Read: Meditating In This Crystal Castle In Australia Will Keep All Your Woes At Bay
7. Jim Jim Falls, Kakadu, NT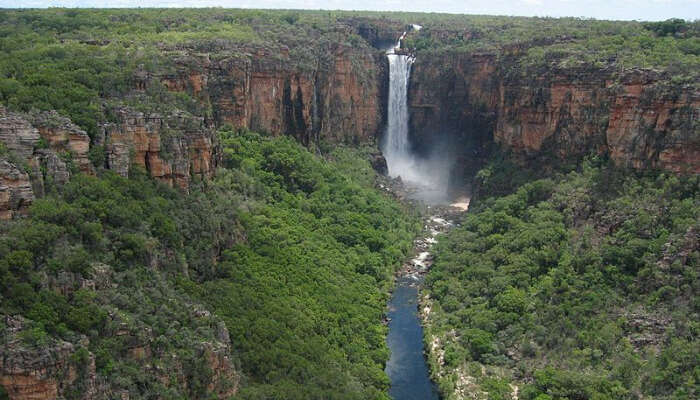 A 200-metre height waterfall surrounded by colourful cliffs is a most amazing view one can ever come across. Located in Kakadu National Park in the northern territory is one of the best places to swim in this world heritage site which acts as a witness to the Aboriginal history of Australian land.
Suggested Read: Paragliding In Australia: 10 Best Places For Touring The Australian Sky
8. Millaa Millaa Falls, Millaa Millaa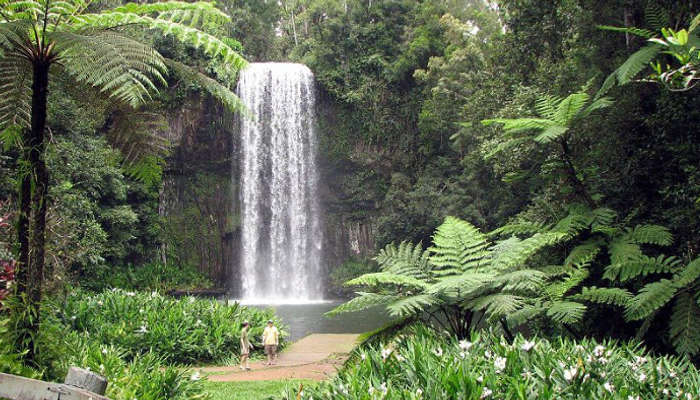 Located in Queensland within the Atherton Tablelands is another perfect spot for swimming. Millaa Millaa Falls is one of the most popular Australian waterfalls out of three located in the Queensland region. The beauty of this landscape is unquestionable due to its appealing waterfall formed at its base making it an extraordinary location.
Suggested Read: These Horizontal Falls In Australia Are The Proof That Nature Is A One Crazy Conjurer
9. Wollomombi Falls, Oxley Wild Rivers National Park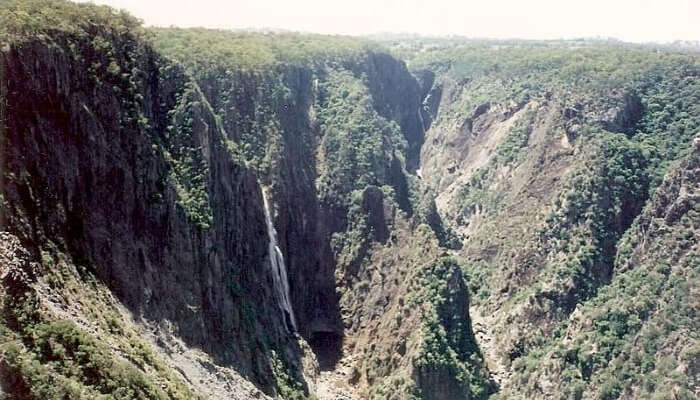 This is the highest waterfall in New South Wales which drops 220 metres into the gorge. This waterfall is located in Oxley Wild Rivers National Park which comes within the radius of Gondwana Rainforests of Australia which are part of World Heritage's site. There are two ways to reach Wollomombi Falls also this waterfall gives you a trekking opportunity.
10. Liffey Falls, Liffey Falls State Reserve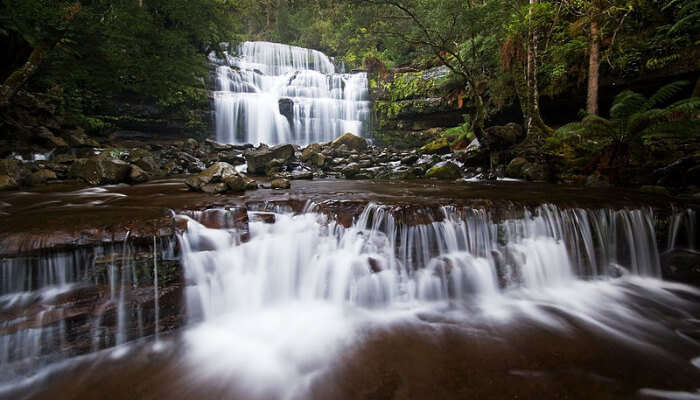 Liffey Falls is a jaw-dropping waterfall located in Tasmania region of Australia. This three-tiered waterfall has a breathtaking view. This waterfall is located within the radius of a temperate forest. The forest is a part of the Tasmanian Wilderness area which happens to be a World Heritage site as well. Another important feature about Liffey Falls is its two walking tracks which incorporate smaller falls for easy and safe walking.
Suggested Read: Your Complete Guide To Hamilton Island – Know Everything About This Australian Paradise!
11. Tia Falls, Oxley Wild Rivers National Park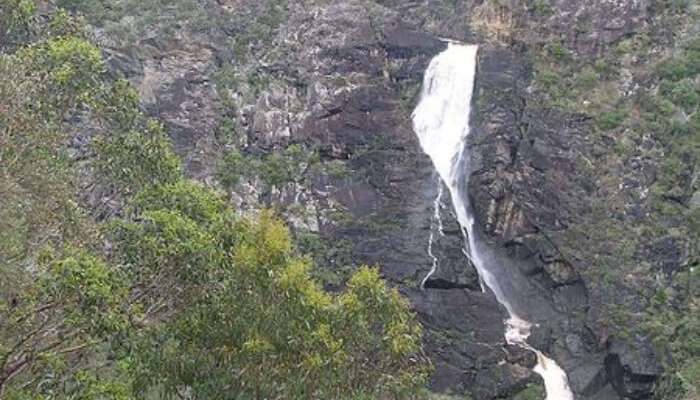 Located in the New South Wales, this waterfall is a part of Oxley Wild Rivers National Park which offers precipitous scenery. This waterfall has one of the most voluminous flows unlike other dry waterfalls in the region.
12. Fitzroy Falls, New South Wales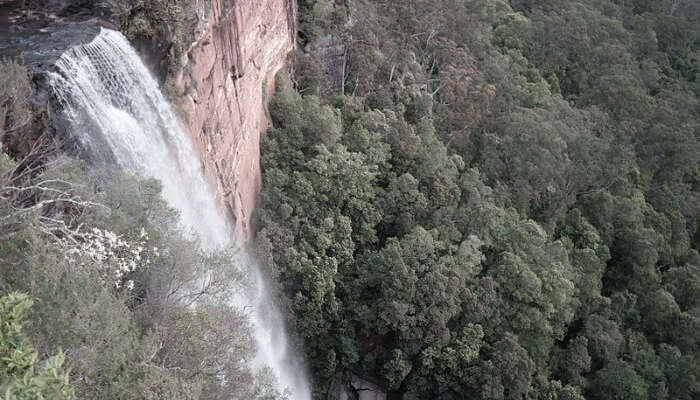 Located at New South Wales; Fitzroy Falls is a must gone destination. Also it very easy to reach Fitzroy Falls as it is just a two-hour drive from Sydney. These waterfalls cascade 82 metres into the verdant Kangaroo Valley of New South Wales. The place is rich in exotic fauna and flora which includes kangaroos, parrots, lyrebirds, wedge-tailed eagles, lorikeets, wallabies, bandicoots, and echidnae. The place has some extremely scary walking tracks through the cliff-faced, ravine area which opens to incredible vantage points over the valley.
Suggested Read: 15 Scintillating Islands In Australia That You Must Check Out On Your Tour Down Under
13. Montezuma Falls, West Coast Council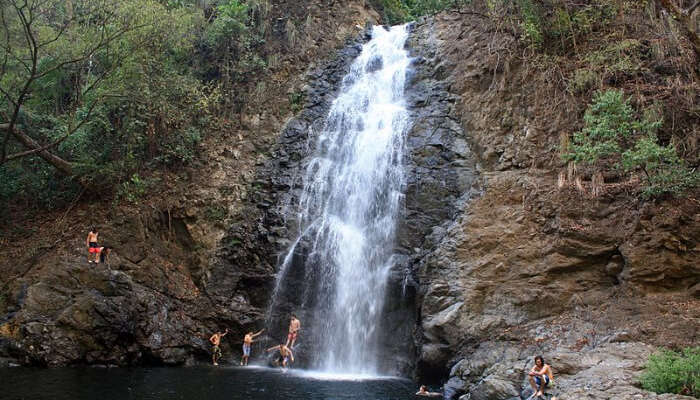 Located in the close proximity to cradle mountain which is part of Tassie's wildest places, this is the permanent as well as the highest waterfall of Roseberry region in Tasmania. In order to view the Montezuma Falls one has to make use of an extremely scary swinging suspension bridge.
14. Russell Falls, Mount Field National Park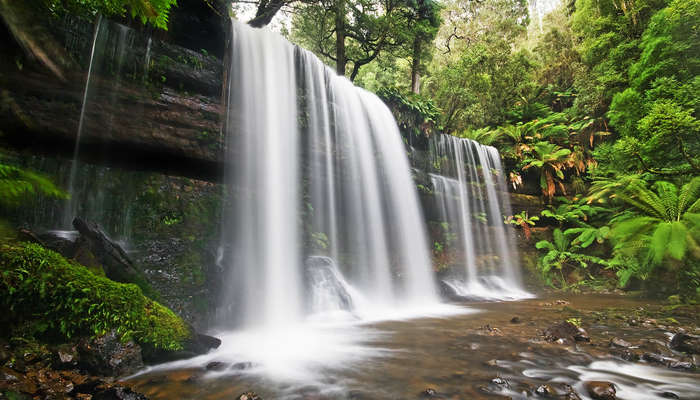 Located in Tasmania region, Russell Falls is another three-tiered waterfall surrounded by extremely tall tree ferns is an extraordinarily beautiful place to visit. This is the centerpiece of the first national park in the Island State.
Further Read: 10 Adventurous Theme Parks In Australia To Beat The Heat & Quench That Adrenaline Rush!
You can easily refer to the list above and witness the remarkable beauty of waterfalls in Australia and have a time of your life while exploring the gorgeous Australia.
Frequently Asked Questions About Waterfalls in Australia
Q. Which are the famous waterfalls in Australia East Coast?
A. Some of the famous waterfalls in Australia East Coast are:
1. Wallaman Falls
2. Crystal Shower Falls
3. Josephine Falls
Q. Which are the famous waterfalls in Darwin, Australia?
A. Some of the famous waterfalls in Darwin, Australia are:
1. Florence Falls
2. Wangi Falls
3. Jim Jim Falls
Looking To Book An International Honeymoon?
Book memorable honeymoon on TravelTriangle with 650+ verified travel agents for 65+ domestic and international destinations.
---
People Also Read:
Waterfalls In Australia Waterfalls In Canada Waterfalls In Iceland
Comments
comments