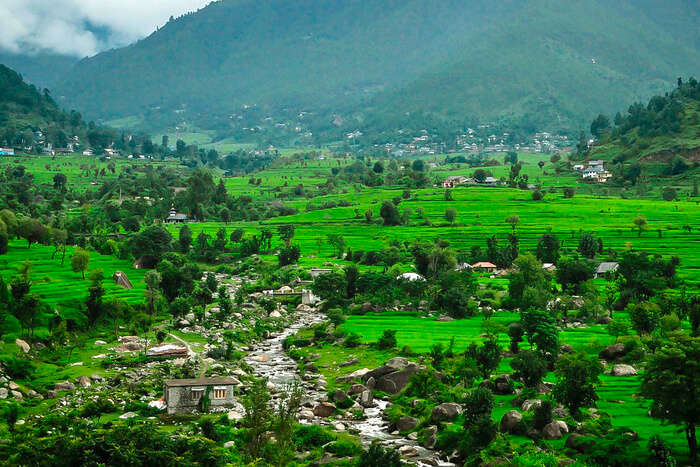 Dotted with hundreds of ancient temples, tall pines, and the green deodars, Mandi is a little town in Himachal Pradesh that every traveler who's looking for an offbeat travel experience must visit. There aren't many typical tourist places to visit in Mandi, but there certainly are some serene lakes, newly made dams, and some ancient temples one can visit. The town is also a perfect destination for your quick family vacations. Here's a list of 12 best places to visit in Mandi on your journey through Himachal.
Best Time To Visit Mandi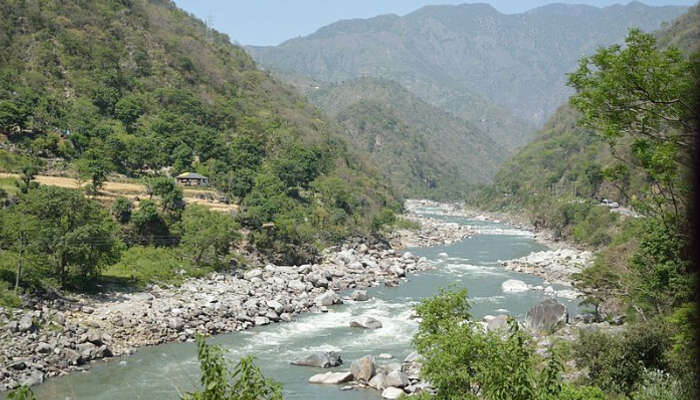 Summers are pleasant in Mandi and winters are chilly with snowfall in abundance. If you like to soak the warmth of the sun then April to May is the best time and it is also the peak tourist season in Mandi. And if you love to play with the snow then you must head to Mandi in the winter months. 
Places To Visit In Mandi
Check out these tourist places in Mandi and choose what all places are you going to cover on your vacation. 
1. Prashar Lake – A Picturesque Lake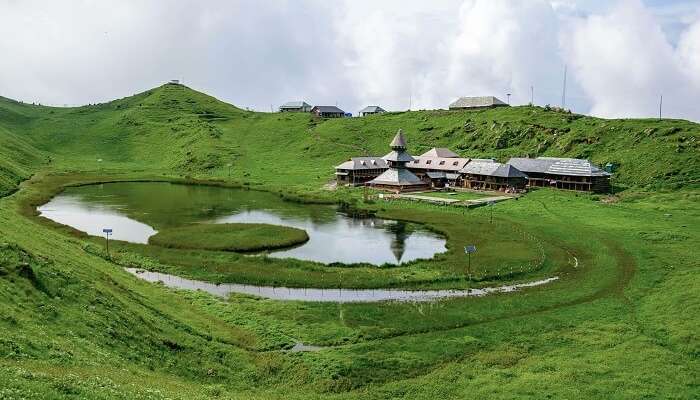 Ideal for nature enthusiasts, Prashar Lake is one of the best places to visit in Himachal Pradesh. Extremely scenic and serene, this lake is located at an altitude of 2730 m and surrounded by Dhauladhar Ranges and thick cedar forests. A floating island is seen in the middle of the lake and a century old pagoda-like temple dedicated to sage Prashar is located on the bank. People trek up to the lake and camp on its bank for fun and adventure.
Location: D.P.F. Parashar Dhar, Himachal Pradesh 175005
Famous For: Trekking, sightseeing, and temple
Must Read: Top 10 Summer Festivals In India You Shouldn't Miss In 2020
2. Rewalsar Lake – Encircled By Religious Sites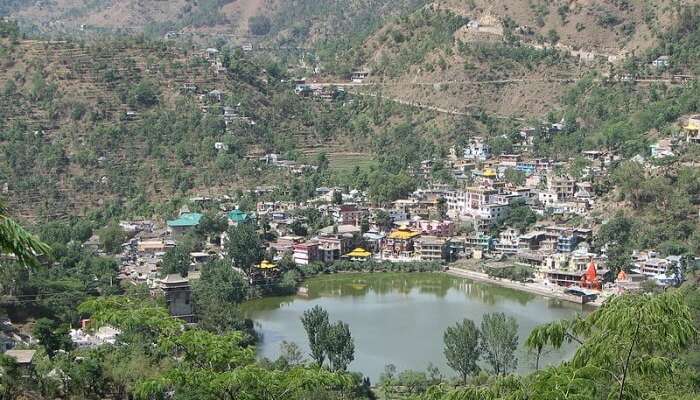 Tucked on a mountain spur, Rewalsar is a square shaped lake located at a height of 1360 m. Popular as Tso-Pema, which locally means lotus lake is one of the most scenic places to see in Mandi. Along with the breathtaking natural beauty, the three Hindu temples of Lord Shiva, Lord Krishna, and Sage Lomas, and monasteries, Gurudwaras, and a huge statue of Padmasambhava attract spiritual travellers.
Location: Rewalsar, Himachal Pradesh 175023
Famous For: Trekking
3. Dehnasar Lake – Of Stunning Beauty, Pristinity & Serenity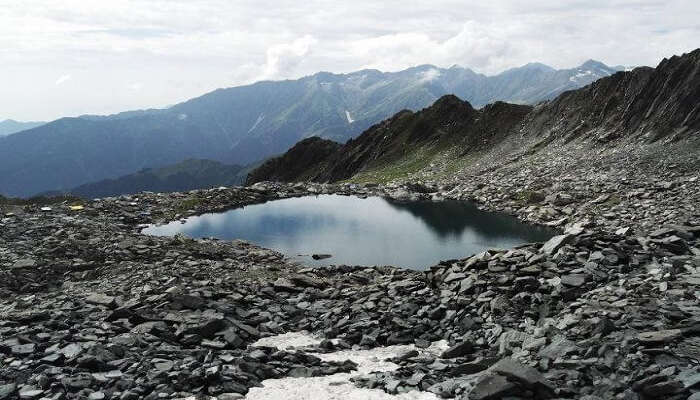 Dehnasar Lake lies at 14,040 ft. above sea level and remains mostly frozen during winter. It is located beside rocky cliffs and derives its water from the snow. Blizzards and and hailstorms are common here, so you must avoid going here during winter months.
Location: Dehnasar, Himachal Pradesh 176125
Famous For: Temples
Suggested Read: Romance In The Hills: 10 Best Honeymoon Destinations In Himachal Pradesh
4. Pandoh Dam – Enjoy Thrilling Water Sports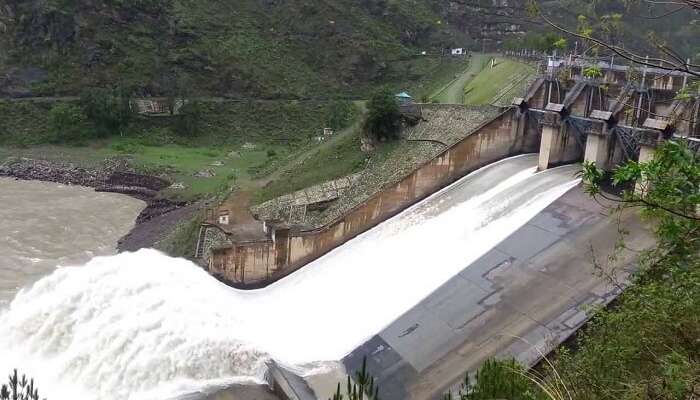 Constructed on Beas River, Pandoh Dam is a wonderful structure constructed in 1977. This beautiful dam and the lake formed by the greenish blue water of the dam make them some of the best places to visit in Mandi. White water rafting is seen in the lower beds of the lake with Grade IV and V rapids.
Location: NH21, Uba, Himachal Pradesh 175004
Famous For: Sightseeing
Opening Hours: 6 am to 6 pm
5. Barot Dam – A Popular Site For Fishing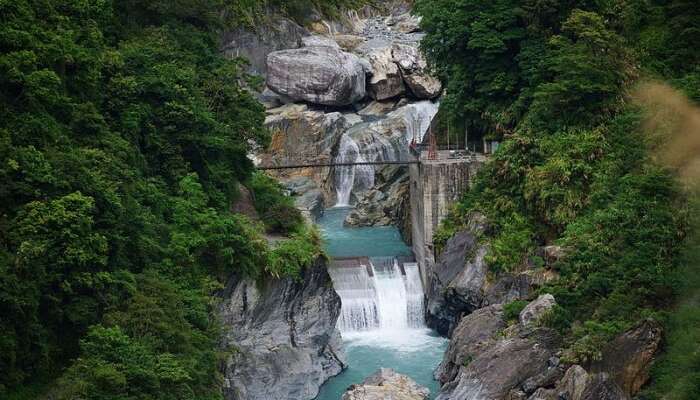 Barot Dam is another picturesque construction on River Uhl. Encircled by Dhauladhar ranges and cedar and pine forests, Barot Dam built during the British age is famous for trout fishing.
Location: Mandi, Himachal Pradesh
Famous For: Sightseeing
6. Sunder Nagar – Perfect For A Tranquil Getaway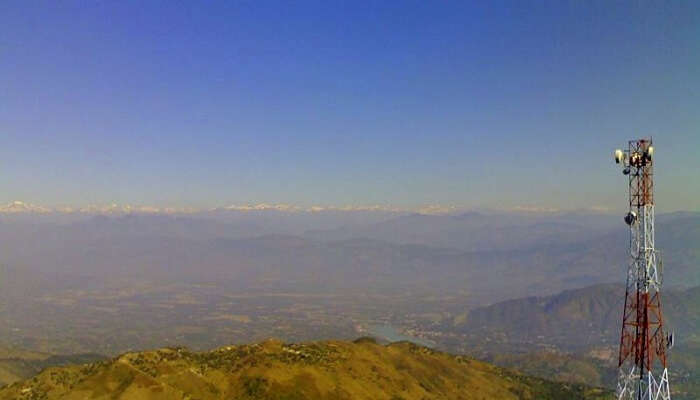 Imagine yourself standing on a peak and looking at vast green patches and serene lakes! Don't you feel like packing your bag and heading to this place right now? Well, you are not to be blamed. Sundernagar has captivated many people's interest due to the man-made lake which was produced by the waters of Beas-Sutlej Project. It is one of the calm places to resort to in Mandi where one can spend some time amidst greenery. 
Location: Himachal Pradesh
Famous For: Temples, greenery, and nature walks
7. Kamrunag Lake – Ideal For Relaxing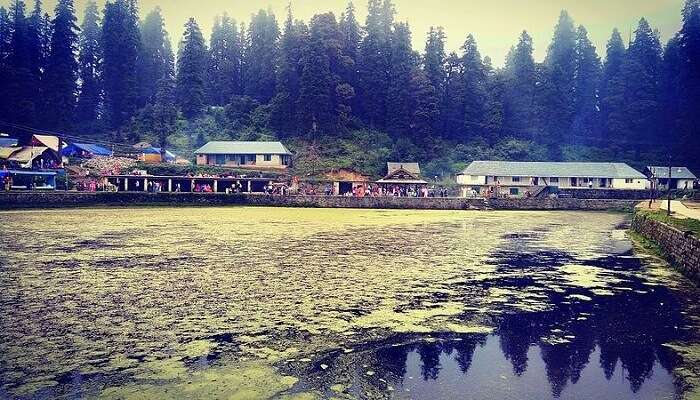 If you are visiting this district, then you must explore Kamrunag Lake as it is one of the best Mandi sightseeing places. This place offers an amazing trekking trail for nature lovers at a height of 3334m. The lake is located on the Mandi-Karsog road which is often explored by trekkers. Surrounded by Bahl Valley and snow-clad Dhauladhar, you will find it one of the best places to visit in Mandi. 
Location: Kamru Nag, Himachal Pradesh 175031
Famous For: Temple and lake
Beautiful Temples In Mandi
On your visit to Mandi, make sure that you explore these temples as they are counted among the top places to visit in Mandi. 
8. Shikhari Devi Temple – Surrounded By Serenity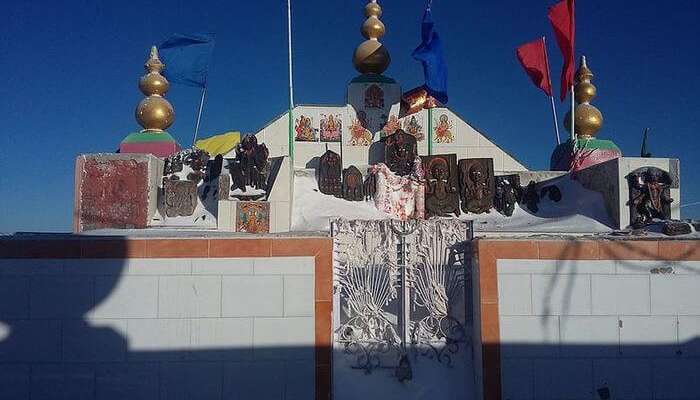 Mandi is famed for many vintage temples and Shikhari Devi is surely one of them. Nestled away from the main town, at an altitude of 3332 m, one can enjoy temple sightseeing with some jaw dropping views. This temple is dedicated to Sikhari (hunter) Devi in the form of a stone image and has no roof.
Location: Shikari Devi, Himachal Pradesh 175046
Famous For: Temples
Opening Hours: 6 am to 8 pm
Suggested Read: 10 Secret Places In Himachal That Tourists Haven't Discovered Yet
9. Kamakhya Devi Temple – Temple Of Supreme Goddess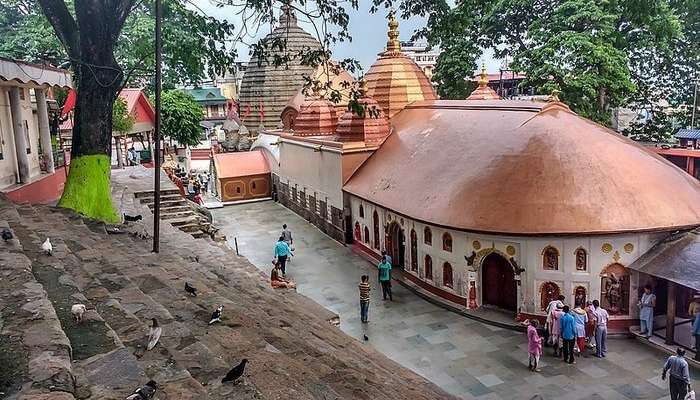 Among the best places to visit in Mandi, Kamakhya Devi Temple is devoted to Goddess Durga. This is a wooden temple, displaying Pagoda style architecture. Local people believe that the demon Mahisasur was cursed to be buffalo by the Goddess; hence plenty of buffalo sacrifices are seen during Navratri.
Location: Kao, Himachal Pradesh 175011
Famous For: Temple
Opening Hours: 5:30 am to 10 pm
Suggested Read: The Ultimate List of Adventure Holidays In India For Summer 2020
10. Bhutnath Temple – The Renowned Shiva Temple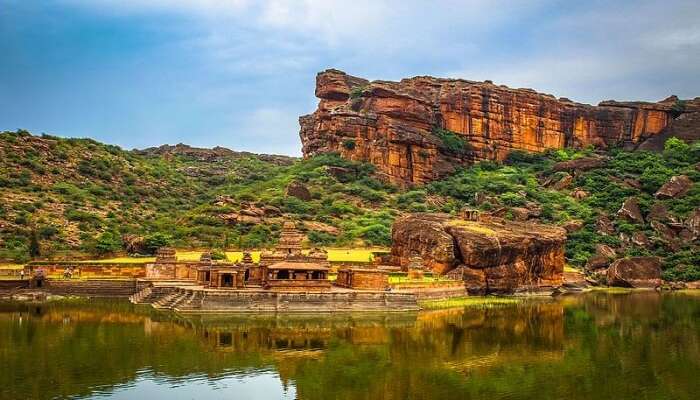 Built by Raja Ajber Sen, this temple is located at the heart of the town and a popular name in the list of Mandi tourist places. The temple boasts of beautiful idols of Shiva, nandi, ornamental double arch at the entrance, a cellar, and the mandapa. Shivratri is celebrated with great pomp here.
Location: Bhoot Nath Road, Samkhetar, Mandi, Himachal Pradesh 175001
Famous For: Temple, Religious Site
Opening Hours: 6 am to 8 pm
11. Bhima Kali Temple – Beautiful Architectural Wonders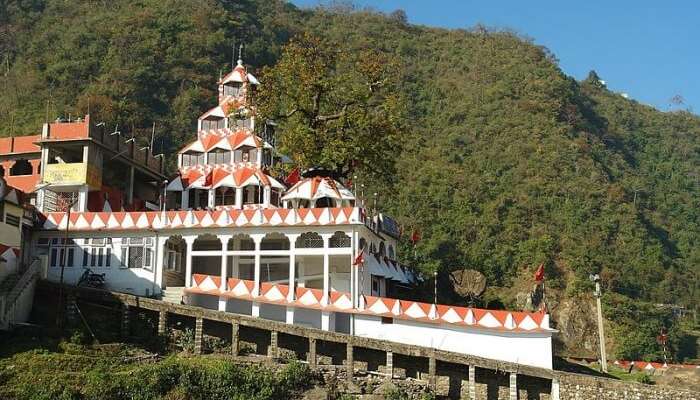 Bhimakali Temple is another famous religious place in Mandi. Dedicated to Bhima Kali, an incarnation of Durga, the temple architecture displays spectacular wooden carvings. Located by the banks of Beas, this temple has a huge museum inside, showcasing exclusive images of Hindu Gods and Goddesses.
Location: National Highway 20, Bhiuli, Mandi, Himachal Pradesh 175002
Famous For: Temple, Religious Site
Opening Hours: 6 am to 8 pm
Suggested Read: Long Weekends In India 2019: Enliven Your Vacay Vibes!
12. Triloknath Temple – Known For Spectacular Idols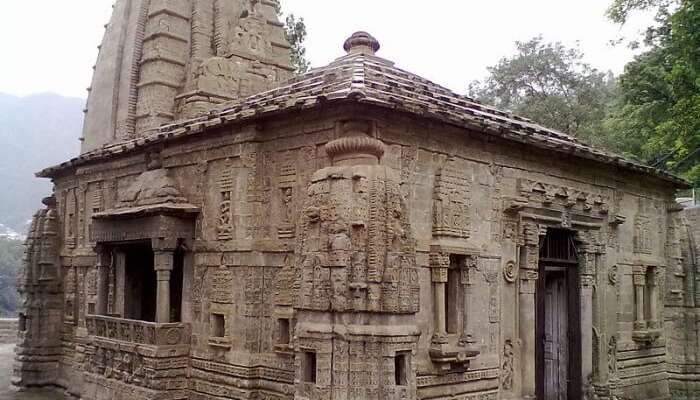 Constructed in 1520 AD by Sultan Devi, wife of Raja Ajber Sen, Triloknath Temple is yet another charming temple in Mandi. There are idols of three faced Lord Shiva, Parvati, Goddess Sharda, Narda and other Hindu gods. Known as one of the oldest shrines of the town, this temple is surely one of the most visited places to see in Mandi.
Location: NH 20, Purani Mandi, Mandi, Himachal Pradesh 175001
Famous For: Temple
Further Read: 10 Terribly Overrated Destinations In Himachal & Where To Travel Instead
Do you want to explore Himachal in a carefree manner? Then plan your vacation to Himachal with TravelTriangle, so that you can pack your bags and hit the road without any worries. Make sure that you explore all the top places to visit in Mandi. This is a place that you can explore with anyone, whether friends or family. 
Frequently Asked Questions About Best Places To Visit In Mandi
Q. What is famous in Mandi HP?
A. The town of Mandi is considered to be a pivotal centre for trade. Located on the road that connects Pathankot and Kullu, this district is admired by travelers for its beauty that comes from its different lakes and dams. Moreover, there are various attractions in Mandi that are worth a visit!
Q. How can I reach Mandi from Delhi?
A. Taking the train from Delhi to reach Mandi is considered to be the most hassle-free way. Take the Delhi-Una Himachal Express and deboard at Kiratpur Sahib. To reach Mandi from Kiratpur, tt will take you around 3.5 hours via road.
Q. How can I reach Mandi from Chandigarh?
A. You can visit this town from Chandigarh via bus. It will take at least 4 hours for you to reach Mandi from Chandigarh by bus. You can also opt for calling a cab for the same, which will make you reach the destination in similar time.
Q. Why is Rewalsar Lake famous?
A. Located at a distance of 24 kilometers from Mandi, Rewalsar Lake is one of the most popular sights in Himachal Pradesh. Enveloped within lush greenery, this lake is also known for the 123 feet tall statue of Padmasambhava Guru Rinpoche.
Q. How do you get to Rewalsar Lake?
A. Since the lake is located at a distance of more than 20 kilometers from the town of Mandi, you can reach this lake by calling a cab, which will take around 50 minutes.
Q. How many lakes are there in Himachal Pradesh?
A. There are over 25 reservoirs and lakes in the Indian state of Himachal Pradesh. The largest basin here s Renuka.
Q. Is Himachal Pradesh safe?
A. Yes, the Indian state of Himachal Pradesh is considered to be quite safe. It is also an ideal tourist destination for those who prefer traveling solo. Moreover, it is also a safe place for the solo female travelers.
People Also Read:
Places To Visit In Sikkim Places To Visit In Haridwar Places To Visit In Kolkata
Comments
comments