A guide to Amarnath Yatra is an essential to explore this idyllic spot located at a height of 3,888 m in Lidder Valley, Jammu & Kashmir. A famously revered pilgrim site in India, the cave enjoys the vicinity of Pir Panjal Himalayan ranges. Abundant snow covers the place throughout the year, except for a brief period. That's when pilgrims and thrill-seekers head for the holy Amarnath Yatra. The trek commences via two routes, from Pahalgam & Baltal during the Shravan months, which fall between July and August, depending upon the Hindu calendar.
Although it is one of the challenging trails and involves risks, the journey is worth experiencing. Hence, here is the comprehensive guide to Amarnath Yatra to complete the spiritual as well as an adventure tour comfortably. Apart from visiting the temple cave, one can also admire the beauty of some nearby destinations like Srinagar, Patnitop, Sonmarg, and Gulmarg. So, gear up for an incredible experience while reading this detailed guide.
About Amarnath Yatra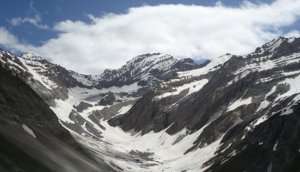 Image Credit: Hardik Buddhabhatti for Wikipedia
Amarnath Temple/Cave sits at an altitude of 3,888 m and is approximately 141 km from Srinagar. During June to August, an ice formation, also called Shivalingam or Stalagmite is formed inside the cave that gradually melts with the moon's cycle. This vertically-shaped Lingam forms when the water drops from the roof freeze inside the cave during a certain period of time. Once gathered on the floor, the ice grows vertically and hence the famous Amarnath ice Lingam is formed.
The height of the ice Lingam is approximately 13 feet which usually varies every year. The cave features two more ice lingams that depict Goddess Parvati and Lord Ganesha. Furthermore, SASB (Shri Amarnath Shrine Board) takes care of the yatra and makes several provisions for devotees to make it as smooth as possible.
Trekking Routes in Jammu and Kashmir: Embark on 7 New Epic Trails in Major Wildlife Regions
Important Details for Amarnath Yatra 2022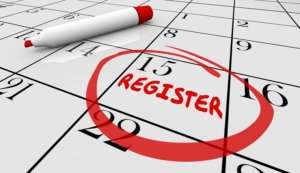 1. Dates of the Holy Yatra
This 56-days annual pilgrimage has now been reduced to 38 days by SASB due to the current Covid situation. As per the latest updates by Shri Amarnathji Shrine Board, the Yatra is expected to start from 27th June 2022 till 11th August 2022. However, the dates are tentative for now and may change anytime.
2. Registration Process
As per the rules, visitors must have a registration card or permit. Without having one, travellers are not allowed to proceed with the journey. Furthermore, registration usually takes place a month ahead of the fixed date for the commencement of Yatra. The registration process for Shri Amarnathji Yatra 2022 will commence as per the dates set by the Shrine Board. To keep up with the updates, you can check the official website of the Shri Amarnathji Shrine Board. Once available, you can fill out the registration form online and upload the required documents. After verification from the board, you will complete the registration and have the permit to begin your journey.
8 Surreal Places To Visit In Patnitop Which Will Give The Ideal Relaxing Vacation In 2022!
Quick Details
Trek difficulty: Moderate to high
Duration: 2 to 5 days
Age limit/restrictions: 13 to 75 years, women with 6 weeks pregnancy or more are not allowed for the trek
Highest point: 5,186 m
Amarnath trek length: 14 km from Baltal and 46 km from Pahalgam
Opening months: Mid-June to August (tentative)
Basecamp: Baltal and Pahalgam
Mode of Transportation: Helicopter, pony, walkway
Helicopter ride price: INR 12,000 approximately
Pony price: INR 4,150 for round trip
Best Routes to Reach the Caves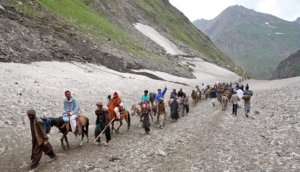 There are two routes that take you to the caves. One is via Pahalgam, whereas the second one is Sonmarg-Baltal. You can pick the one that suits you the best:
1. Baltal to Amarnath Caves
A challenging yet adventurous route, Baltal lies 14 km from the caves. Although the distance is shorter, the trek is steeper, and one needs to have great physical strength. You can complete the round trip in 1-2 days. Besides this, reaching the caves via helicopter is also an option if you wish to avoid physical exertion.
Quick route: Jammu—Srinagar—Sonmarg—Baltal—Amarnath Cave
2. Pahalgam to Amarnath Caves
Common among devotees, the route via Pahalgam is around 46 km. Besides this, the adventurous trek takes about 3-5 days to reach the caves. Unlike the Baltal trek, you can hire a pony to complete the entire route. Moreover, helicopter tours are also available to save time and energy.
Quick route: Jammu—Pahalgam—Chandanwari—Pissu Top—Sheshnag—Panchtarini—Amarnath Cave
Regardless of which route you select, you will find the best facilities even amid unfavourable conditions. The State Government Police Forces, Central Government, and various non-profit organizations ensure that devotees have a safe and sound journey. Besides this, there are also stalls and resting camps on both routes where devotees can halt and freshen up themselves.
9 Amazing Things To Do In Katra Which One Must Not Miss Out When They Plan A Vacay In Jammu!
Things to do during Amarnath Yatra
There is a myriad of experiences that you can enjoy during or after the yatra. Some of these include:
1. River Rafting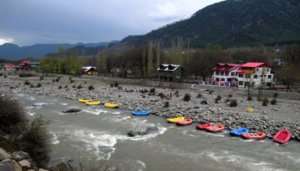 Thrill-seekers can go rafting in Pahalgam to take their experience a notch higher. The difficulty ranges from low to moderate, depending upon the one you choose. Beginners or non-swimmers can choose 2.5 km rafting, whereas travellers seeking ultimate adventure can opt for 5 km or the challenging 8 km rafting. The experience is worth a try as there are professionally trained guides who will be with you throughout the journey.
2. Golfing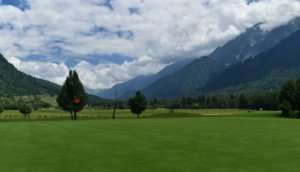 The ones who are all hearts for golf cannot ignore the 18-hole Lidder Valley Golf Course in Pahalgam, located at 7250 ft above sea level. The site is spread over 142 acres of land, with lush greenery and awe-inspiring all around.
Top 4 Places To Visit Near Vaishno Devi For An Unforgettable Vacay!
3. Shopping in Pahalgam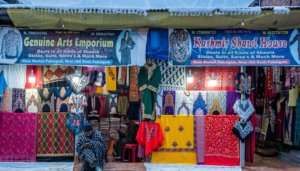 Pahalgam is the place from where you start and end the Amarnath Yatra. You can conclude your journey while enjoying retail therapy. There's no dearth of shopping places in Pahalgam selling some locally-produced products at reasonable prices. From Kashmiri handicrafts to traditional carpets and shawls, you will find them all at the local shops including New Kashmir Arts Emporium, Dagga Readymade, Paul Cloths, etc.
Places to Visit during Amarnath Yatra
These are some places that you can add to your Amarnath trek itinerary:
1. Pahalgam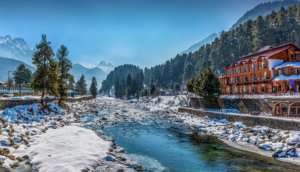 Encircled by Himalayan mountains and dense pine forests, Pahalgam serves as a base camp for the Amarnath Yatra pilgrims or trekkers. The destination offers several adventure opportunities such as trekking, river rafting, camping, and golfing. Besides this, you can also explore attractions like Betab Valley, Sheshnag Lake, Baisaran Hills, and enjoy a reposeful day at Lidder Amusement Park.
Char Dham Yatra: A Journey That Will Take You On A Quest For Moksha
2. Srinagar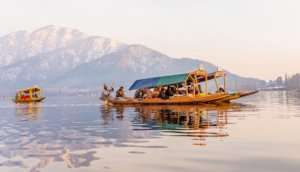 Located at a distance of 89.8 km from Pahalgam, Srinagar is renowned for its Mughal gardens, glistening lakes, and shrines. Some popular tourist attractions in Srinagar that you must visit include Shalimar Bagh, Nigeen Lake, Pari Mahal, Shalimar Garden, Lal Chowk, and more. While enjoying a shikara boat ride on Dal Lake, you will come across vendors selling fruits, snacks, seeds, and souvenirs as well.
3. Patnitop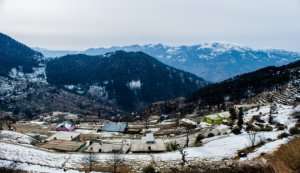 Situated in the Ramban district of Jammu and Kashmir, Patnitop is a serene location that lies around 173.1 km from Pahalgam. While visiting here, one can engage in several adventures like hot air ballooning, paragliding, trekking, and skiing.
Top Electrifying Things To Do In Pahalgam That You Must Not Miss!
Physical Fitness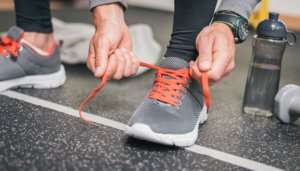 The Amarnath cave sits at a whopping height of 3,888 m from sea level. Whether you choose the Baltal trek or the Pahalgam trek, you may come across some strenuous conditions in high altitudes. Hence, it's recommended to well-prepare yourself before the trek. Practice breathing techniques and walk 5-7 kilometres every day. Along with this, train yourself with exercises like squats, step-ups, and downhill lunges.
Weather in Amarnath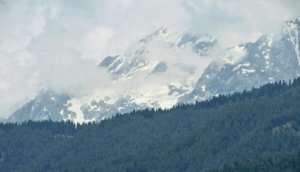 The weather in Amarnath fluctuates quite frequently. Sunny weather leads to rainfall and sometimes snowfall in no time. However, the temperature usually oscillates between 9-34 Degrees Celsius during the yatra. Considering the same, it is highly recommended to pack adequate woollen wear, extra clothes, and raincoats as well.
5 Astonishing Places Near Pahalgam To Explore In The Valley
What to Pack for Amarnath Yatra
Sturdy shoes
Sticks for trekking
Water repellent coat, shoes, and umbrella
Warm clothing including woollen hats and gloves
Sunscreen and moisturizer
Powerbank and torch with extra batteries
First-aid kit with general medications
Mosquito repellant
Ready-to-eat snacks
Tips for Amarnath Yatra
Get yourself medically examined before the trek to ensure that you are physically fit.
Get the registration done one month prior to the fixed date of Yatra.
Practice a fitness regime at least a month before the trek.
Avoid trekking alone and stay with a group.
Follow discipline while moving slowly and steadily.
Don't opt for any shortcut as it may lead to an unknown location/route.
Don't forget to carry Covid-related essentials like masks, plastic gloves, shields, sanitiser, and other disinfectants.
Thoroughly read the guide to Amarnath Yatra while planning the trek.
A Guide To Pahalgam In Winter: What To Expect From A Wintry Trip To Kashmir
Amarnath Yatra is a once-in-a-lifetime experience for travellers who wish to witness snow-capped mountains and indulge in some adventure. This journey will allow you to encounter some unforgettable experiences. Although the trek is a little arduous, this Guide to Amarnath Yatra will ease out your journey. So, plan with your friends or family and brace up for a venturesome Amarnath Yatra offered by TravelTriangle.
For our editorial codes of conduct and copyright disclaimer, please click here.
Frequently Asked Questions about Guide to Amarnath Yatra
What should I keep in mind while preparing for Amarnath Yatra?
Refer to these tips while preparing for Amarnath Yatra
1. Check the permissible age on the official website
2. Carry enough woolens including jackets, gloves, and caps
3. Indulge in some exercises at least a month before the trek
4. Check the prices of pony ride, palanquins, and helicoper ride beforehand
5. Read a detailed guide to Amarnath Yatra for a better understanding
Which are the routes to reach Amarnath Cave?
Baltal and Pahalgam are the two base camps from where the trek starts. The Pahalgam trek length is around 37 km and it takes 3-5 days to reach the cave temple, whereas, the Baltal trek length is around 14 km that you can cover in a day or two. Visitors can choose according to their preferences and physical fitness.
When will Amarnath Yatra 2022 take place?
The Yatra is likely to start from 27th June 2022 till 11th August 2022 as per the latest updates by Shri Amarnathji Shrine Board. However, the dates are tentative for now and may change anytime.
Which are some destinations I can visit during the Yatra?
Patni Top, Pahalgam, Srinagar, Sonmarg, and Gulmarg are some places that you can visit before or after the Amarnath Yatra. To make the most of your trip, you can opt for Amarnath Yatra travel package.
What is the age limit for the Amarnath Yatra?
13 to 75 is the permissable to undertake the Amarnath Yatra. Besides this, women with six weeks prernancy or more cannot register for the yatra.
People Also Read:
Guide To Jagannath Yatra Guide To Vaishno Devi Trip Guide To Char Dham Yatra