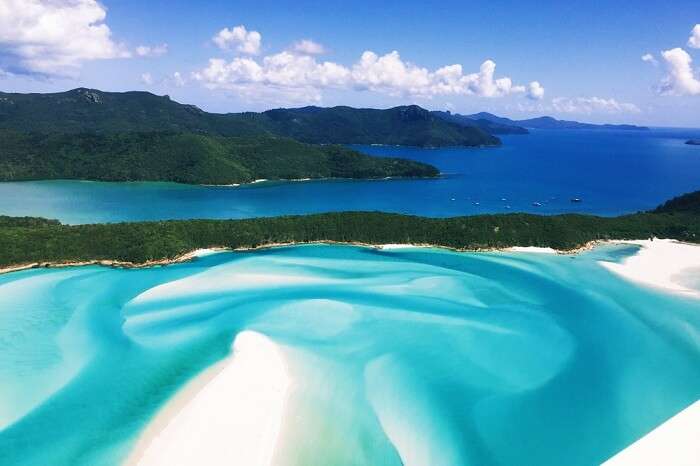 In the heart of the Great Barrier reef, lies the stunning Hamilton Island covered in green tropical bushlands with fluorescent blues of the ocean and reefs.So, if you have not been to this incredible place, here is a complete guide to Hamilton Island for all that you will need to know. The island is home to a myriad of marine life, gorgeous white beaches, fascinating flora and fauna and wondrous coral reefs.Popularly known as "Hamo" to the locals, Hamilton Island is one of Australia's most sought after holiday destinations.
World famous locations like the Great Barrier Reef, iconic Whitehaven Beach, Heart Reef, Whitsunday Island are easily accessible from Hamilton Island. This island is an experience like no other with breathtaking beaches, colourful sunsets, all the water sports action and a buzzing nightlife.
How To Get To The Hamilton Island
By Air

Hamilton Island is the only Whitsunday Island with its own commercial airport. Direct flights are available to and from Sydney, Melbourne, Cairns, Adelaide and Brisbane. Also, there are complimentary shuttle buses to take you straight to your accommodation. Private chartered flights can be organized as well from Mackay, Proserpine and Airlie Beach.
By Water

There is a 60 minute ferry ride to Hamilton Island Marina from Airlie Beach with more than a dozen services throughout the day. The Whitsunday Islands are popular for their world-class sailing conditions, and anyone coming by yacht is more than welcome to dock at the Hamilton Island Marina. According to this Guide to Hamilton Island, if its feasible for you, the best experience of the journey to the island will be by water only.
By Train
From Brisbane and Cairns to Proserpine runs the Sunlander train 4 times a week with connections to the Hamilton Island ferry and the Port of Airlie.
By Road
It takes about 12 hours non-stop drive north from Brisbane to Shute Harbour and Airlie Beach.
Getting Around

It is a very small island which is about 5 kms from North to South and only 3.5 kms wide from East to West. One can easily just walk around and explore the island, or by using free shuttle service. The primary mode of transport on the island are the golf buggies available for rent on hourly or daily basis.
Must Read: 15 Scintillating Islands In Australia That You Must Check Out On Your Tour Down Under
Weather

With mild temperatures and clear skies all year round, any time is a perfect time to visit Hamilton Island, Australia. However, each season has its unique features that are worth considering before planning a trip to the island. This guide to Hamilton Island recommends the months from April to June to travel to the island, when average temperature is 24C. With lesser showers and clear bluer skies, it makes up for some great family fun. May and June is specifically a good time for a romantic escape as the everyday temperatures are less variable. June is officially the winter month, as winter as it can get in Queensland. So, evenings are cooler and there can be some rain but days are mostly clear.
Top Things To Do
This Guide to Hamilton Island also suggests the 4 top things that are a must-do.
1. Turtle discovery

Hamilton Island nourishes a variety of aquatic life including turtles. For the tourists interested in experiencing reefs and magnificent life underwater more closely, a turtle discovery tour is a perfect choice. Priced at $30/adult and $20/child, this thrilling hamilton island tour gives a peek into the pristine seabed, turtles and encircling reef.
Suggested Read: Paragliding In Australia: 10 Best Places For Touring The Australian Sky
2. Hire a Dinghy

One of the best ways to explore secluded parts of Hamilton Island at your own pace is to hire a dinghy. Easily available on rent, they are the ideal option for those looking to soak in some sun, go fishing or swim on henning island beach and experience sea life up and close. The rent starts from $145 and goes up to $260 and can carry up to 6 people comfortably.
Suggested Read: Snorkeling in Australia: 10 Best Spots For Enjoying The Aussie Snorkeling
3. Wild life

No trip to Australia is complete without experiencing its wildlife. When in Hamilton island, one of the must visit places especially if you are with kids is Wildlife Hamilton island. Centrally located, it is home to snakes, koalas and lizards. They also run guided tours which
allow you even closer peak at the animals and even a chance to touch a few of them. Its open from 10 am to 5 pm and is tickets are fairly priced for $26/adult.
4. Walking trails

One of the most interesting Hamilton Island activities include seeing secluded coves, enjoying picnics with friends or opting for walking trails. These trails allow you to have unique, breathtaking views of the island while allowing you to spend time with friends or maybe just your own self. Some of the tips to keep in mind while walking down these trails are –
1. A certain fitness level is required to tread these trails
2. Carry enough water, around 1 to 2 liters/ person/ hour
3. Wear shoes that are comfortable and have a solid grip
4. If you are treading alone, make sure someone knows of your whereabouts.
5. There are no toilets along the trail.
Some of the must try Hamilton island bush-walks are :-
Passage Peak, Coral Cove, Escape Beach Trail, Flat top hill lookout, Saddle junction and South east head tail.
Suggested Read: Drop Everything And Head To These 9 Islands Near Australia Now
Top Places To See
1.Catseye beach

One of the main beaches on the resort side of Hamilton island, Catseye is popular among all kinds of tourists. From honeymooners to couples looking for a picture-perfect wedding destination or from someone just looking to relax to water sport enthusiasts, Catseye has something to offer to everyone. A scenic beach covered in palm trees overlooking the blue reef and peaks of whitsunday reef, it's a must visit for anyone and everyone visiting Hamilton Island.
2.Whitehaven beach

Named as number one beach of Australia in 2013, this white sand beach is located right in the middle of Great Barrier Reef, mere 30 minutes away from Hamilton Island. Stretched over 7 kilometers, this beach is popular among tourists and provides air tours and yacht rides for an unforgettable scenic view of this heaven on earth.
Suggested Read: 10 Major Rivers In Australia: The Lifeline Of The Land Down Under
3. All Saints Chapel

A perfect place for soaking in some divinity along with tropical sun, all saints chapel is popular among couples looking for a perfect island wedding. Located on the hillside, overlooking the Catseye bay, it is thronged by the tourists looking for some calm and serenity. And if any case you are looking for a wedding destination, this guide to Hamilton Island 'proposes' you to look into this picture-perfect place. Pun Intended!
4. Great barrier reef

Hamilton island is located right in the middle of a great barrier reef which is home to world's largest coral formations and variety of aqua marine life. A few of the ways to explore this glorious part of mother nature is by taking helicopter rides, going snorkeling which allows you to come in direct contact with the sea life or opting for boat rides.
Suggested Read: 14 Ways To Celebrate And Enjoy Christmas In Australia In 2022
Food & Wine

Image Source
Hamilton Island offers a plenty of choice with sophisticated restaurants, laid-back cafes, delicious take-away options, and bars with incredible views. There are many ways to enjoy eating and drinking on Hamilton Island. Most restaurants are located in Hamilton island resorts. Also, Hamilton Island provides you with a great selection of amazing fine dining restaurants like the Long Pavilion, Pebble Beach, the relaxed Manta Ray, coco chu and Romano's, and also Bommie at the Hamilton Island Yacht Club.
Shopping

This guide to Hamilton Island tells you the best place to go shopping on the Island which is Marina Village. This happening retail complex has got all tastes and budgets covered, from day-to-day necessities to exclusive high-end fashion. The beautiful local art is a must to look out for. Browse for souvenirs through specialty stores like Australia The Gift, local art galleries, fashion and jewelry retail stores to keep memories of the island alive for a lifetime. Moreover, all your essential groceries are easily available at the IGA Supermarket.
Accommodation
Hamilton Island Accommodation is designed to appeal to all tastes and budgets. There is something for everybody. It offers everything from the ultimate in Australian Luxury at Qualia to the deluxe suites at the Beach Club, from private Palm Bungalows to self-contained holiday homes and apartments to high-end Luxury Villas.
High-End Hamilton Island Hotels
Qualia

This top shelf property of Hamilton Island offers nothing but absolute luxury and relaxation. This Guide to Hamilton Island suggests you to go for Qualia if you are looking to a go on a splurge, Qualia will make for a perfect escapade.
Price: From $1250 per night
TripAdvisor Rating: 4.7/5
Location: 20 Whitsunday Blvd, Whitsundays QLD 4803, Australia.
Hamilton Island Yacht Club Villas

Positioned near the regal yacht club, these villas are private waterfront properties with luxurious interiors and jaw-dropping views. With four bedrooms and four bath, these spacious villas are apt for families and a big group of friends looking for a premium hamilton island accommodation.
Price: From $1150 per night
TripAdvisor Rating: 4.5/5
Location: 23 Front St, Hamilton Island QLD 4803, Australia
Suggested Read: 21 Best Resorts In Australia For The Perfect Vacation Down Under In 2022
Value Luxury
Beach Club

Image Source
Located right on the Catseye Beach, this tranquil Beach Club boutique hotel, an understated luxury has a beautiful beachfront location with child-free ambience and personalised service, perfect for an ultimate romantic getaway.
Price: From $710 per night
TripAdvisor Rating: 4.5/5
Location: 9 Resort Dr, Whitsundays QLD 4803, Australia
Reef hotel hamilton island

Out of all the Hamilton island hotels, Reef View Hotel is the largest property on the island. Centrally located with large rooms boasting incredible views of the coral sea, beach and the marina are only a few minutes walk away.
Price: From $370 per night
TripAdvisor Rating: 4/5
Location: 12 Resort Dr, Hamilton Island QLD 4803, Australia
Palm Bungalows

Situated in the midst of lush green tropical gardens, these cozy bungalows offer a relaxed and a modern contemporary experience.
Price: $400 per night
TripAdvisor Rating: 4.5/5
Location: Resort Drive, Hamilton Island QLD 4803, Australia
Budget
Hamilton island holiday homes and apartments

Hamilton Island holidays will never make you miss home with Hamilton Island holiday homes on the island. From a peaceful couples' getaway to a luxury waterfront villa for a group of bachelors or a comfortable family-friendly apartment, Hamilton Island Holiday Homes will provide you with all the comforts of a home.
Price: $150-$295 per night
TripAdvisor Rating: 5/5
Location: Front St, Whitsundays QLD 4803, Australia
Further Read: 7 Lakes In Australia That Will Pamper The Nature Lover In You!
Now with a complete guide to Hamilton Island at hand, you need not wait no more to experience nature at its best, book a holiday with TravelTriangle to this stunning island in the land down under!
People Also Read