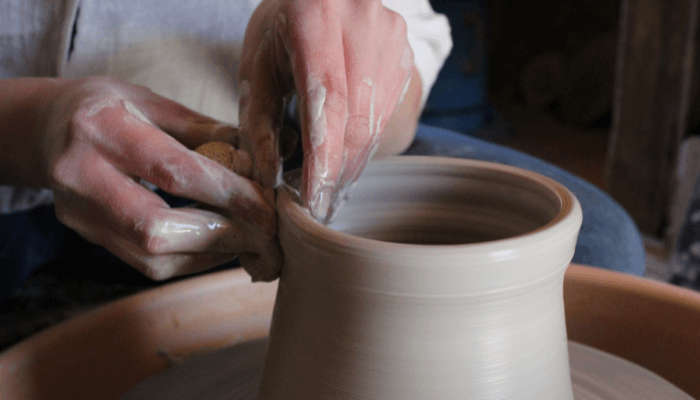 Whether it's the traditional artistry or a new collection of modern art showcases, these handicraft markets in India offer a cultural insight into the destination—and more interesting souvenirs than you'll find in any shopping centre for bringing back home.
What's better than a handicraft market for people watching, learning about the local traditions and watching people create awe-inspiring art? There are few opportunities that help you absorb the true identity of a place than standing amidst locals picking out designs, learning the history of carvings, munching on street snacks, and fully immersing yourself in the community to hunt the best that it offers. Browsing for valuable handmade products is a skill in itself that is best practised in several corners of India where community markets offer an overwhelming range to choose from.
5 Best Handicraft Markets In India
Here's a list of the most iconic handicraft markets in India across the country that you must visit during your next trip.
1. Dilli Haat, Delhi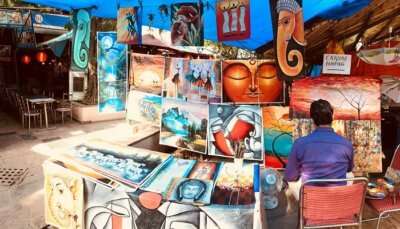 This open-air craft bazaar is the heartbeat of the capital, always bustling with a local and international crowd in search of the best goods that can capture the experience that is Delhi. While you will have to get through the paid entrance to explore the plethora of objects that it offers, this showcase is organised by Delhi Tourism and Transportation Development Corporation, making it a permanent destination unlike the weekly markets dotting the surrounding areas.
Location: INA Market, Dilli Haat, Kidwai Nagar West, Kidwai Nagar, Delhi, 110023
Shopping In Gangtok 2022: 15 Things That Can Be Taken Home As Mesmerizing Souvenirs
2. Rajasthan Handicrafts, Jaipur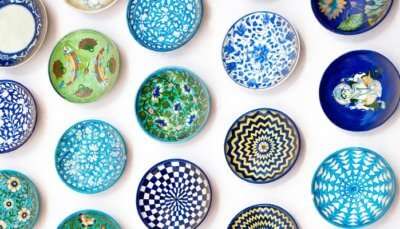 The most surprising contrast when it comes to handicrafts in Jaipur is the pink city's love affair with blue pottery that catches your eyes at the first glimpse. The Rajasthan Handicrafts market offers this and much more at selected locations that are promoted by the tourism board to showcase the flamboyant art and artisans who call this place home. Some of the most prominent pieces of handicrafts that you can invest in here are metal sculptures, leather clothing, lac work, stone carvings, and of course the ceramic work stained with blue that will make a perfect addition to your dinner set or a gift for pottery lovers.
Location: Shop No. 15, Hawa Mahal Rd, opp. Old Vidhan Sabha, Bazar, Jaipur, Rajasthan 302002
3. Kala Madhyam, Bangalore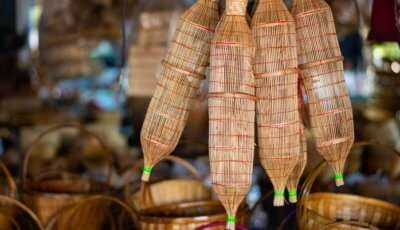 While showcasing the ethnic communities through art is an important aspect of keeping these traditions alive, it is much more important to promote the tribal and folk communities that are the sole reason why we are able to observe so much of this diminishing handmade culture. The Kala Madhyam is an NGO dedicated to doing just that. Since its inception, one of the most notable annual affairs that it hosts is the Kala Madhyam Mela which started as a small showcase in 2011 and now attracts thousands of visitors every year from all around the world.
Location: 45, 8th Main, 3rd Cross, Near-Mahin Communication, Vasanth Nagar, Bengaluru, Karnataka 560052
Shopping In Gwalior 2022: The Land Of Chanderi Silk & Handicrafts
4. Hogg's Market, Kolkata

Also known as the New Market, this world-renowned aggregation of traders, artists, pot markers and traditional craftspeople is a sight to behold on your next trip. Come for the vibrant chaos in the midst of which you can search for gems like Baluchori (sari) and stay for the exotic street food that the area is known for. Don't forget to step into the bewildering alleys as some of the finest handicraft products can be found inside the little shops that have been established alongside them for countless years.
Location: Dharmatala, Taltala, Kolkata, West Bengal
5. Clock Tower Market, Jodhpur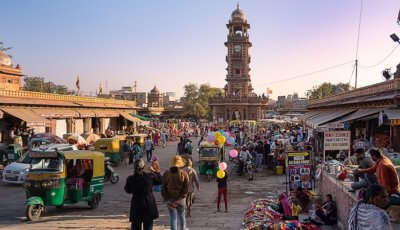 This old city market is a timeless charm in Jodhpur that we are glad is popping up in more travel guides and books to gain the attention that's been long overdue. The clock tower is the most popular landmark that you can use to make your way to this place and find yourself surrounded by some of the best handicraft products in the entire Rajasthan. The flavoured tea, embroidered fabrics, and Makhania Lassi shouldn't be missed out on.
Location: Clock Tower Rd, Ghantaghar Market, Jodhpur, Rajasthan 342001
Shopping In Jammu: 10 Top Places To Buy The Best Pashminas, Papier Mâché & Other Handicrafts In 2022
Whether you are planning a short cultural getaway or want to finally indulge in a shopping trip after months, these markets will surely make for an unforgettable travel experience, anytime, any day. If you are looking for handicraft markets in India, there are several fascinating destinations you can make your way to for a shopping or sightseeing spree. Feeling inspired? Check out our tour packages from the best cities in India to learn more.
For our editorial codes of conduct and copyright disclaimer, please click here.
Frequently Asked Questions About Handicraft Markets In India
What are some of the most popular places for handicraft markets in India?
From traditional to contemporary, if you are looking to buy the best handicraft that India has to offer, make your way to Uttar Pradesh, Andhra Pradesh, Rajasthan, and Gujarat for the best finds.
Is it expensive to buy handicrafts in India?
Handicrafts in India come in a wide variety of prices, from budget art in local markets to high-end Pashmina shawls, the cost will depend upon the type of handicraft you choose.
Is Pashmina shawl a handicraft?
Yes, Pashmina shawl is one of the most notable handicrafts that can be traced back to Kashmir's ancient art-history.
People Also Read:
Shopping Destinations In India Street Shopping In India Shopping Destinations In Chennai