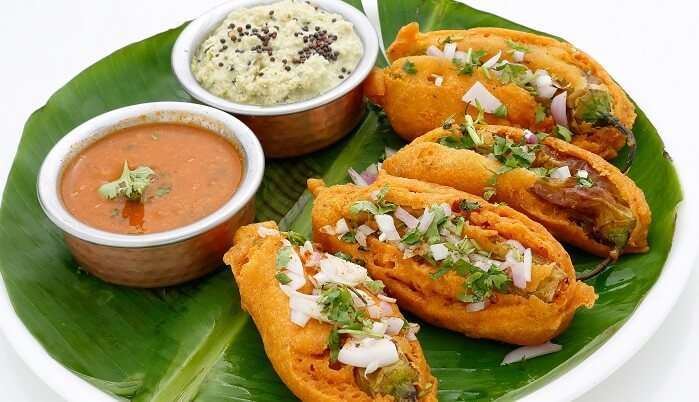 Enhancing the appeal of the southeastern coast of India, Andhra Pradesh boasts a rich cultural heritage and historical significance. From the Tirumala temple to Araku Valley, and Borra Caves, there's so much to admire about the destination. Apart from numerous man-made and natural attractions, street food in Andhra Pradesh is equally famous. You can find a wide range of wholesome snacks in every nook and corner of the state. While the staple ingredients like tamarind, mustard seeds, curry leaves, etc. are used to make most of the traditional delicacies, there are some street foods like Punugulu, Muri mixture, and Tomato bajji that tickle your taste buds with the lesser ingredients. So, if you are a true gastronome, binge on these flavorsome street foods and give your taste buds a true delight.
7 Street Foods in Andhra Pradesh to Tickle your Taste Buds
If you happen to visit the state soon, don't forget to gorge upon the best street foods in Andhra Pradesh. With each delicacy, you will experience an authentic taste that is worth trying for.
1. Bongu chicken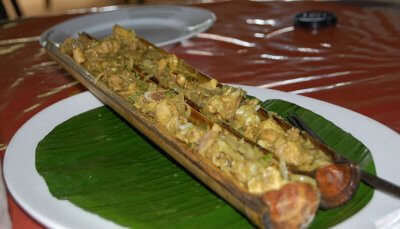 Image Credit: Tehjib for Wikimedia Commons
Famously known as 'Bamboo Chicken', Bongu chicken is mostly available in the Araku Valley which is one of the most visited hill stations in Andhra Pradesh. This flavoursome dish is made while marinating the chicken first and then stuffing it inside the hollow of a bamboo stick. To give it a smokey flavour, it is cooked over coal. The dish is prepared within 15 minutes without using any oil and less spice. While heading towards Araku, you will find several local vendors selling this uniquely-curated dish.
Price: INR 90 approximately
12 Amazing Festivals In Andhra Pradesh That No Traveler Would Want To Miss In 2022!
2. Egg Bonda

Image Credit: Avanthika Duraiswamy for Wikimedia Commons
Popularly known as egg pakora or egg bajji, this famous street delicacy is prepared with boiled eggs that are dipped in gram flour batter. This quick snack is prepared with local spices along with red and green chillies. You can enjoy Egg Bonda with a sprinkle of freshly-cut coriander, chopped onion, and lemon juice. Don't forget to savour it with the tangy chutney that is always served with it.
Price: INR 30 approximately
3. Liver Kebab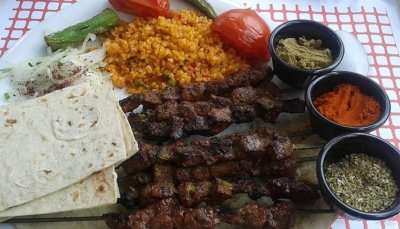 Image Credit: Wikimedia Commons
If you are a non-vegetarian lover, savouring on Liver Kebab is a must. You can widely find this delicacy in Vizag. Although it's street food, it can satiate all your hunger pangs. The luscious kebabs are often served with paratha or roti along with lemon soda. Vizag Complex and MVP Circle are the best spots to try out this dish along with other non-vegetarian delicacies.
Price: INR 100 approximately
10 Awesome Things To Do In Tirupati That'll Simply Leave You Awe-Struck
4. Punugulu

Image Credit: Balajijagadesh for Wikimedia Commons
Undoubtedly, the best street food in Andhra Pradesh, Punugulu is another filling as well as an easy snack that is made with dosa or idli batter. To enjoy its best taste, have it with coconut chutney, peanut chutney, or tomato chutney. This deep-fried snack is crispy on the outside and soft on the outside. If you are in Vizag, you must stop by Punugulu Karam in MVP Colony to tickle your taste buds with Punugulu.
Price: INR 40 approximately:
Top 10 Engaging Things To Do In Vijayawada For An Invigorating Vacation
5. Chakodi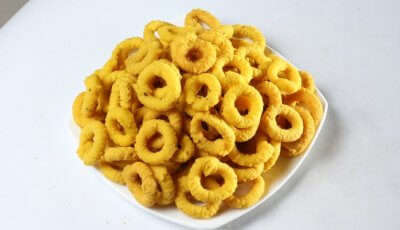 If your taste buds are craving some crunchy snacks, Chakodi should be your first choice. Made with moong dal, rice flour batter, cumin seeds, red chilli powder, and sesame seeds, this famous street food of Andhra Pradesh can be easily found in all parts of the state. Moreover, this traditional snack is prepared especially during Dusshera and Diwali.
Price: INR 40 approximately
6. Boorelu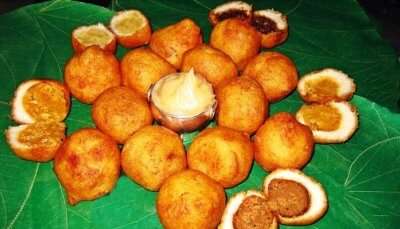 Image Credit: Abhinavsikharam for Wikimedia Commons
A popular delicacy of Andhra cuisine, Boorelu or Poornalu are deep-fried small balls that are prepared with jaggery, chana dal, rice flour, dry fruits, and cardamom. If you have a sweet tooth, Boorelu will surely impress you with its authentic taste. This sweet snack is mainly prepared during festivals and celebrations.
Price: INR 90 approximately
3 Zoos In Andhra Pradesh Where You Can Interact With Wildlife In 2022!
7. Tomato Bajji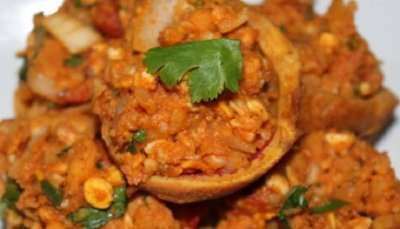 Among the best street foods in Andhra Pradesh, Tomato Bajji is mostly available at beachside locations. This simple yet mouth-watering delicacy is prepared while coating tomatoes with gram flour and then deep-frying them. What makes it all the more delicious is the puffed rice that is stuffed in the tomatoes. Served with crunchy peanuts, Tomato Bajji is one of the best snacks to munch on while visiting various attractions in Andhra Pradesh.
Price: INR 45 approximately:
Can't wait to savour these lip-smacking street foods in Andhra Pradesh? Apart from the above-mentioned ones, there are other delicacies like Bobbatlu, Rava Idli, Ridge Gourd Bajji, Perugu Vada, and Pesarattu that are famous among the locals as well as vacationers. So, plan a trip to Andhra Pradesh on your next vacation and stop by local vendors or street shops to grab a bite of these appetizing foods.
For our editorial codes of conduct and copyright disclaimer, please click here.
Frequently Asked Questions About Street Foods in Andhra Pradesh
Which are the best street foods in Andhra Pradesh?
Some of the top-rated street foods in Andhra Pradesh include:
1. Punugulu
2. Masala Batani
3. Bongu chicken
4. Liver Kebab
5. Boorelu
6. Bobbatlu
7. Rava Idli
8. Tomato bajji
9. Ridge Gourd Bajji
Can I visit Andhra Pradesh during the current Covid situation?
Yes, you can plan a visit to Andhra Pradesh while taking care of all the precautions. Remain masked at all times whenever going out or in the crowd, maintain a required social distance, and sanitize your hands at certain intervals. Moreover, it is recommended to check the updated before planning a trip.
Which are the best places to eat in Andhra Pradesh?
Helen Armitage, Flying Spaghetti Monster, Ming Garden, Bamboo Bay, Sweet Magic, Hanuman's Hillrock Cafe and Restaurant, and Infinity are some of the best restaurants in Andhra Pradesh where you can enjoy local as well as some international delicacies.
Which local delicacies are the best for the main course meal?
Here are some flavoursome dishes that you must try while visiting Andhra Pradesh:
1. Gongura Mutton
2. Ulava Charu
3. Kodi Pulao
4. Pulasa Pulusu
5. Pesara Punukulu
6. Royyala Yeppadu
Which are some traditional sweet dishes of Andhra Pradesh?
Putharekulu, Ariselu, Rava Laddu, Kajjikayalu, Kakinada Kaja, Bandar Laddu, Gavvalu, and Sunnundalu are some of the most-loved sweet dishes of Andhra Pradesh.
People Also Read:
Street Food In Delhi Street Food In Ahmedabad Street Food In Bangalore