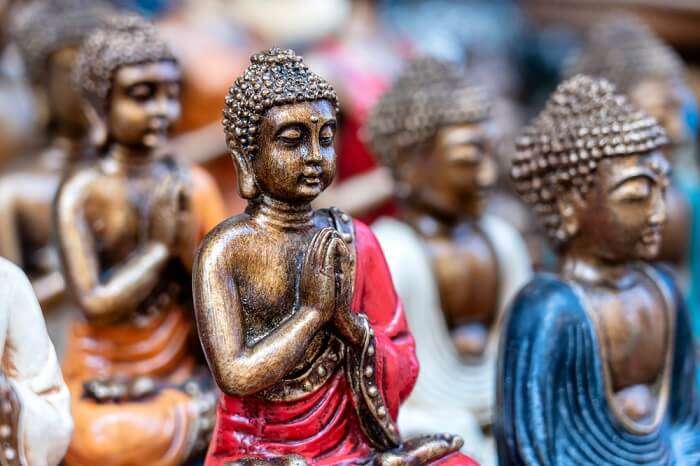 Apart from gorgeous waterfalls, peaceful monasteries, and lush-green valleys, Gangtok also offers a shopping extravaganza to all types of travelers. Its diverse culture and beautiful traditions are well reflected through the many things that this city offers, of which some can actually be taken home as souvenirs or gifts. But what exactly should you buy while you're shopping in Gangtok and what is it that holds the most value? Well, if these are the questions that are popping up in your head right now, read along because that's exactly what we are going to help you with. By the end, we are pretty sure you would not just want to visit and shop in Gangtok, but also know what is that you want to buy there!
Top 15 Things To Buy In Gangtok
Gangtok, the mesmerizing capital of Sikkim, is not just an eye-pleasing exotic city but also has a lot to offer, especially to shopaholics. There are a plethora of amazing things to buy in Gangtok. So, without further ado, here's a list of the best things to buy during your shopping in Gangtok. You'll be amused to see how everything from home decor to clothes is so beautifully handcrafted in this city.
Tibetan Carpets: A Sheer Reflection of Sikkimese Culture
Semi-Precious Stones & Silver Jewelry: Exquisite Jewels
Sikkim Tea: For All the Tea Lovers
Thangkas: Art at its Best
Buddhist Figurines & Prayer Flags: Peaceful Souvenirs
Wall Hangings: Vibrant & Artsy
Sikkimese Cups: Symbols of Sikkimese Tradition
Alpine Cheese: A Mouth-watering Delicacy
Black Cardamom: Add Some Flavour
Fresh Bamboo Shoots: Slice of Gangtok
Hand-Woven Jackets: Kimono Style Chic Jackets
Choksee: Authentic Tibetan Craftsmanship
Hand-Carved Wooden Tables: Uniquely Designed
Sikkimese Liqueur: Exotic Delight
Masks: Embrace the Culture
1. Tibetan Carpets: A Sheer Reflection of Sikkimese Culture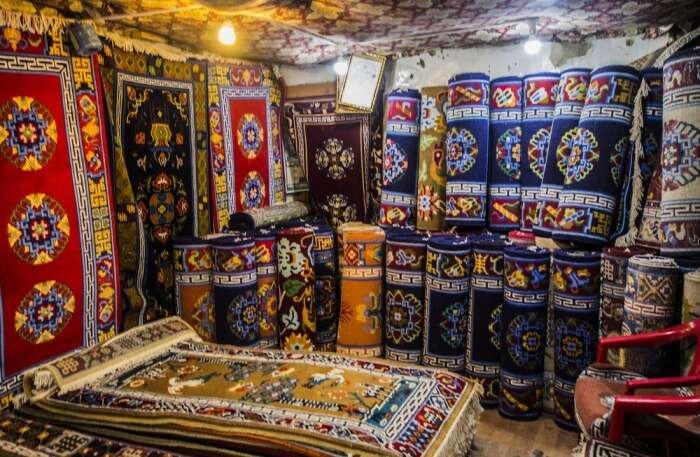 Unlike any other home décor item on sale, the Tibetan carpets are one of the best things to shop in Gangtok. Beautifully reflecting the art and culture of Sikkim, you can use it in your living room to give it a traditional touch. And if you really wish to buy an original work of art, head right to the Directorate of Handicrafts & Handlooms (DHH).
Price Range: ₹3000-8,000
Must Read: 15 Resorts In Gangtok That You Must Stay At On Your Trip
2. Semi-Precious Stones & Silver Jewelry: Exquisite Jewels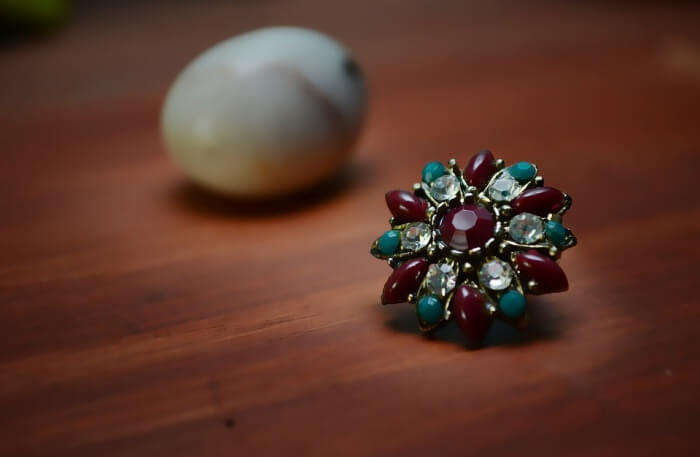 Dragon jewelry, precious stones, and all kinds of accessories made of silver are quite famous in the city of Gangtok. You can find almost every other shop in the city selling these. But if youre really into jewelry and wish to take home only the most authentic and traditional one, make sure you buy from Sikkimese Handicraft & Jewellery.
Price Range: ₹200-2000
Suggested Read: Paragliding In Gangtok: Witness The Breathtaking Sikkimese Beauty From A Bird's Eye View
3. Sikkim Tea: For All the Tea Lovers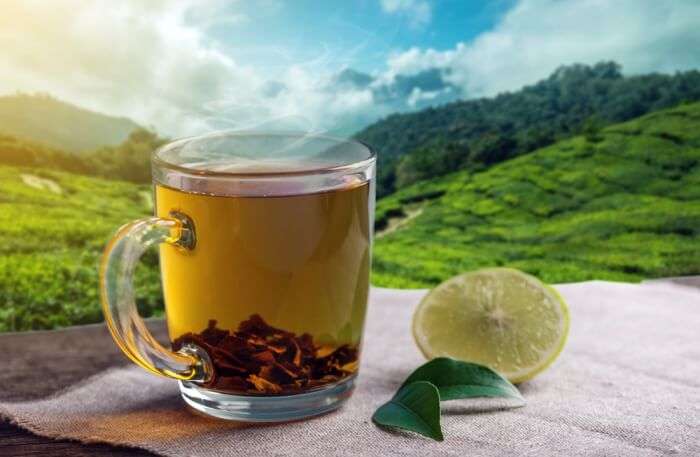 Grown at the popular Temi Tea Garden, the Sikkim Tea is an organic tea that can be bought as a souvenir too. The refreshing and healthy taste of the tea makes one fall in love with chai even if he or she is not already. And as far as the price goes, a pack of Green Tea from the garden costs around INR 120.
Price Range: ₹120-450
Suggested Read: 31 Incredible Places To Visit In Gangtok With Your Family And Friends In 2022!
4. Thangkas: Art at its Best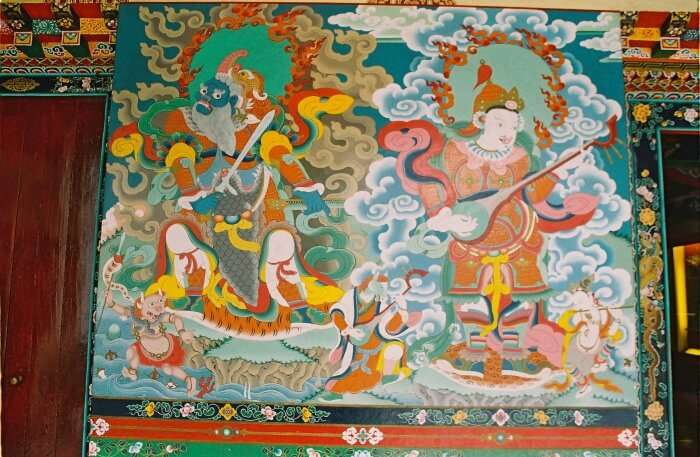 Thangkas or Thankas are popular miniature paintings that depict the lifestyle and important events from Buddhas life, Buddhist deities, and the mystic mandalas. These paintings are mostly made on cotton, silk, and paper are amongst the best things to buy in Gangtok. They might seem a bit costly and feel delicate, but they are worth every dime.
Price Range: ₹500-1000
Suggested Read: 11 Adventure Sports In Gangtok To Bring You Face To Face With Raw Nature In 2022
5. Buddhist Figurines & Prayer Flags: Peaceful Souvenirs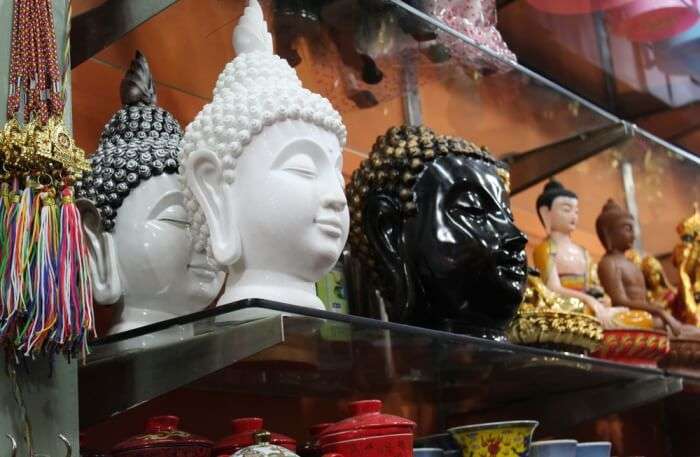 Of all the things in the city, if theres one thing that very prominently beautifies it all, it is the colorful prayer flags that flutter in the air and extend a warm welcome to all those who come to Gangtok. Apart from this, the Buddha statues are another attraction that can be bought as a souvenir for your loved ones. Both these things come in various sizes and can be chosen accordingly. Some of the best places for shopping in Gangtok-are MG Market and Buddha Park of Ravangla, especially for these items.
Price Range: ₹250-750
Suggested Read: 19 Places To Visit In North Sikkim To Witness The Magic In 2022!
6. Wall Hangings: Vibrant & Artsy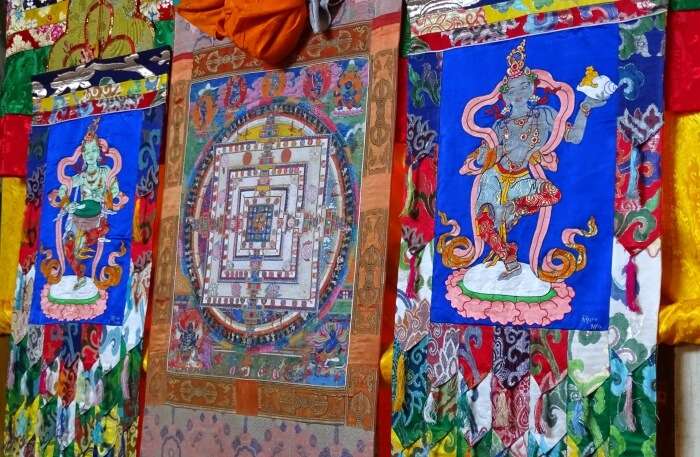 Canvas and wall hangings are amongst the other famous shopping items in Gangtok that you need to add to your list. You can pick beautiful Tibetan lanterns or colorful hangings from MG Market, which is the best shopping place in Gangtok. Most of these items cost around INR 100 and reflect the colorful history of the city.
Price Range: ₹100-500
Suggested Read: 24 Things To Do In Gangtok In 2022 To Experience North-East Like Never Before
7. Sikkimese Cups: Symbol of Sikkimese Tradition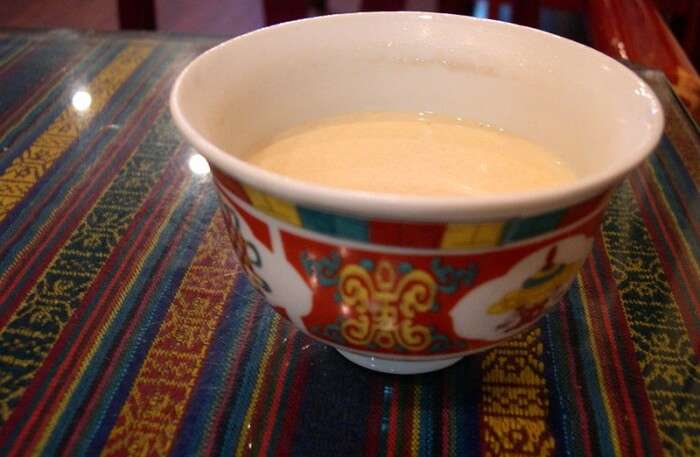 Shopping in Gangtok, Sikkim is an absolute delight, thanks to things like the Sikkimese cups that keep popping up in between. Made up of ceramic with colorful art printed on them like dragons and events, these cups make up for great souvenir gifts. You can pick them up from the MG Market and the Lal Market for as low as INR 80 per piece.
Price Range: ₹80-250
Suggested Read: 30 Places To Visit In India In April 2022: Beat The Heat This Summer Like A Pro
8. Alpine Cheese: Mouth-watering Delicacy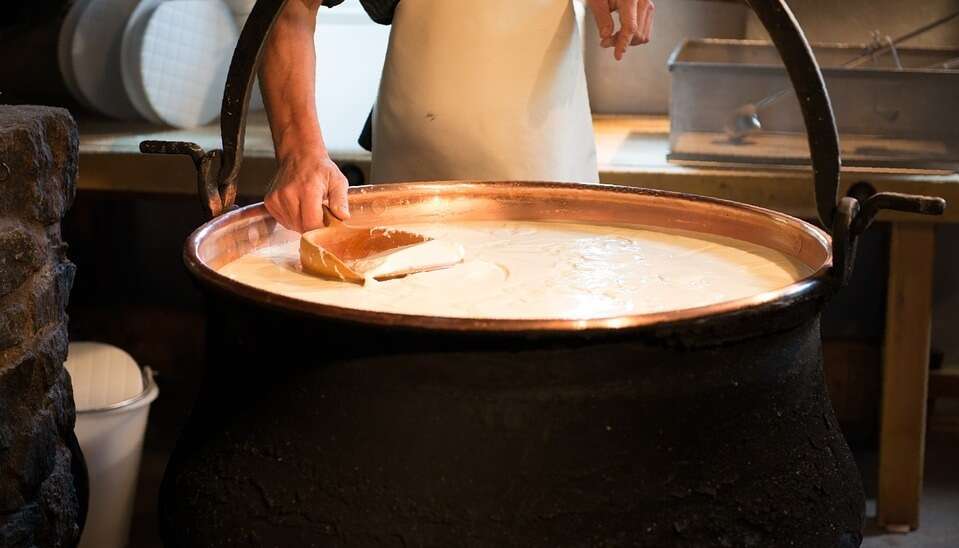 Shopping in Gangtok is as offbeat and interesting as it can get. Out of all the things that Gangtok is known for, its alpine cheese wins when it comes to the most unique souvenirs. Made with a combination of Indo and Swiss, this European delicacy is Sikkim's specialty. As the rich, yellow Gouda cheese melts in the mouth right after a bite, it makes one forget all about the calories. Alpine Cheese is not something that one can resist and hence, it is a global flavor sensation.
Price Range: ₹400-800
Suggested Read: Check Out These 14 Places To Visit In Namchi In 2022, The Culture Capital Of Sikkim!
9. Black Cardamom: Add Some Flavour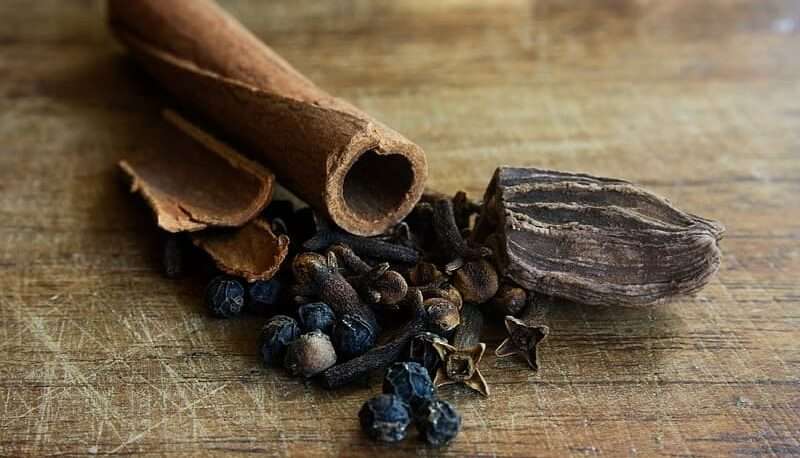 Image Credits: PD Pics for Pixabay
Among many things that India is known for, its flavoursome and aromatic food is what takes away the heart of many. Black cardamom is one of the most important ingredients of Indian cuisine and is used in dishes like Biryani from Hyderabad, Dal Makhani from Punjab, and vegetable stew from Tamil Nadu. Sikkim probably offers the best flavors when it comes to black cardamom or 'Bari Alcha'. This fragrant ingredient is indeed one of the best souvenirs for your moms, aunts, and chefs back at home.
Price Range: ₹150-450
Suggested Read: Guide To 2022 Dzongri Trek In Sikkim – A Glimpse Into The Heaven
10. Fresh Bamboo Shoots: Slice of Gangtok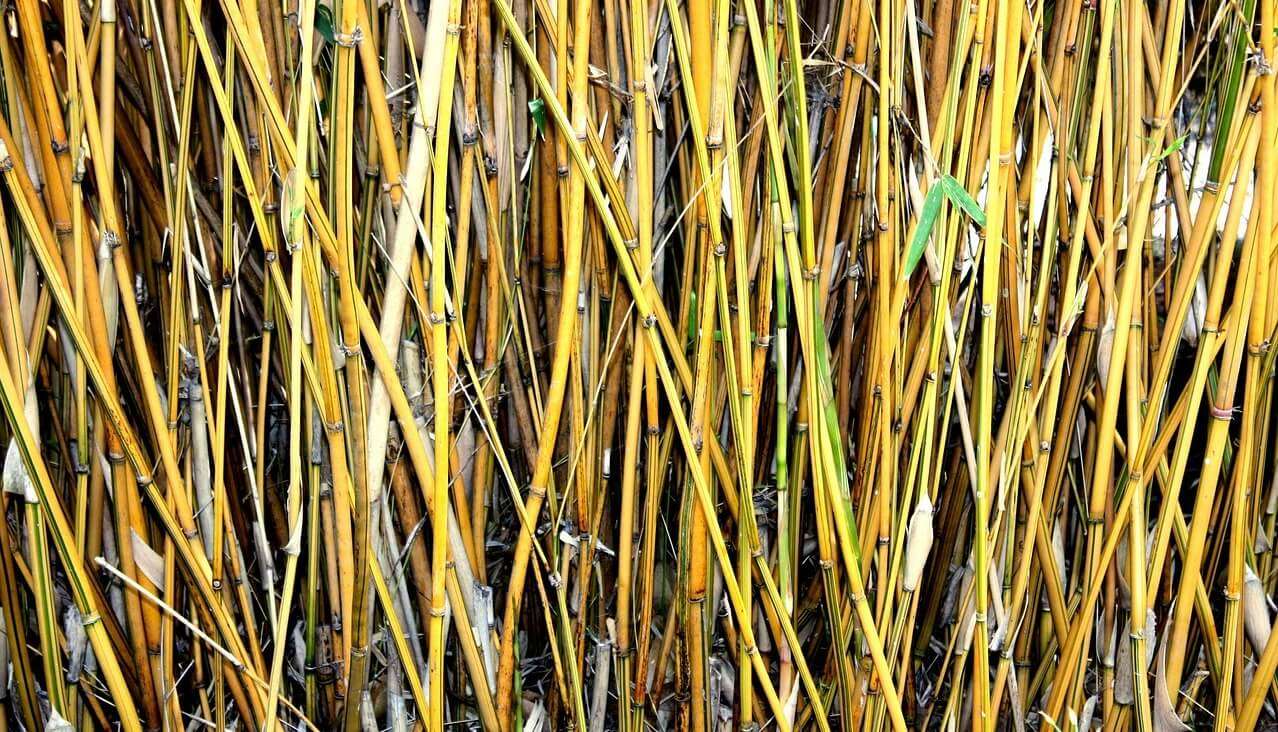 Image Credits: veronique2 for NeedPix
Sikkim has an ultra food scene that makes the foodies out there in the world go weak on the knees. Fresh bamboo shoots are something that one cannot find in any other part of the country but in Sikkim. The sweet and juicy flavor of bamboo shoots is a reason enough to take it for yourself and the family back home. It's similar to carrying a slice of Gangtok with you. Do carry some shoots back for your friend chefs or homecooks as the number of dishes these shoots can be used in is truly extraordinary.
Price Range: ₹100-300
Suggested Read: 28 Things To Do In Sikkim In 2022 For Unbeatable Adventures In Breathtaking Landscapes!
11. Hand-Woven Jackets: Kimono Style Chic Jackets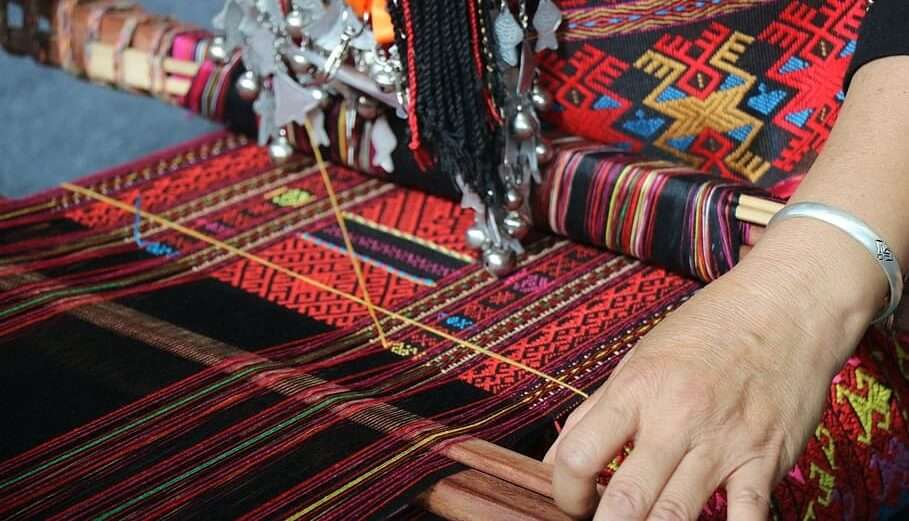 Another thing that makes shopping in Gangtok an experience to remember is the hand-woven jacket that is idyllic for those who love to get an insight into the cultures of different towns and cities. These jackets exude tradition from each of its yarn. Handicrafts in Sikkim are perfect to witness the impressive craftsmanship. These are kimono style jackets adorning beautiful embroidery. You can find these jackets at Directorate of Handicrafts & Handlooms.
Price Range: ₹2000-4000
Suggested Read: Trekking In Sikkim: 9 Trails That Will Prove You've Entered The Paradise In 2022!
12. Choksee: Authentic Tibetan Craftsmanship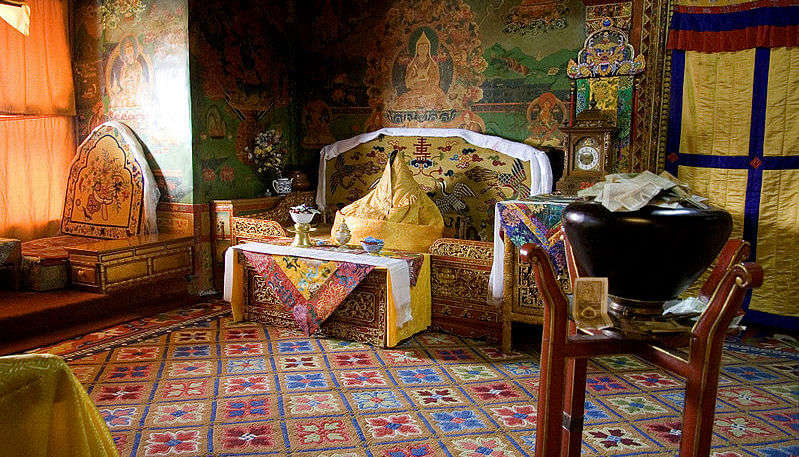 Image Credits: Luca Galuzzi for Pixabay
Sikkim is a destination that is all about customs, traditions, and heritage. Another souvenir that you can buy while shopping in Sikkim is Choksee. Choksee is the finest example of Tibetan craftsmanship and is one of the best things to buy in Gangtok. This is a Tibetan designed table that can make your living room more aesthetically pleasing and culturally inclined. This piece of work is as artistic and colorful as it can get and attracts the art lovers
Price Range: ₹10,000-20,000
Suggested Read: My 5-Day Trip To Sikkim With Family In December Was A Bucketful Of Cherishing Experiences
13. Hand-Carved Wooden Tables: Uniquely Designed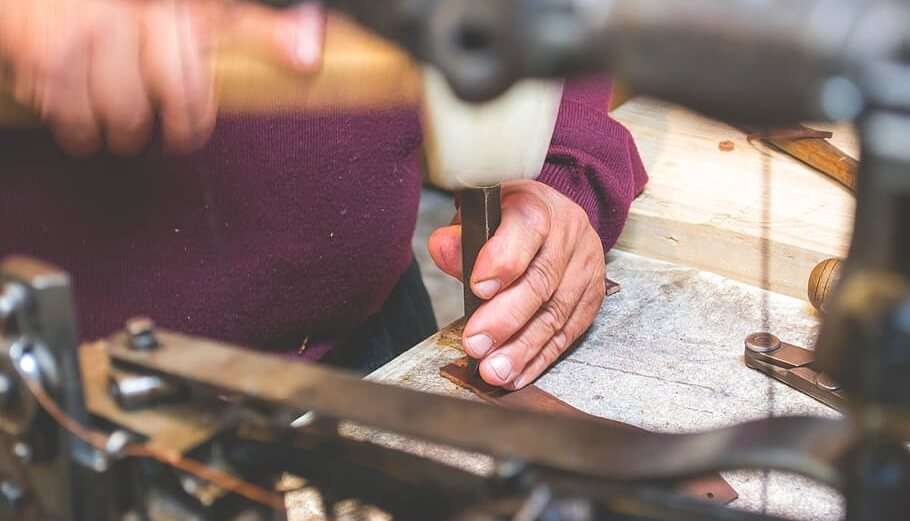 Apart from the Tibetan style tables, one can also find the hand-carved tables in Sikkim. Tables might seem a bit too much to carry as souvenirs, but the intricate designs of these hand made tables will make you think otherwise. The tables in Sikkim are built using 'tooni' or toona celiata, 'rani chhaap' or Macalia Exelsa, and 'okher' or Walnut. The eye-catching patterns and designs of these tables makes it difficult to not purchase them.
Price Range: ₹8000-15000
Suggested Read: 48 Places To Visit In Sikkim In 2022: Extraordinary Realms In The North East!
14. Sikkimese Liqueur: Exotic Delight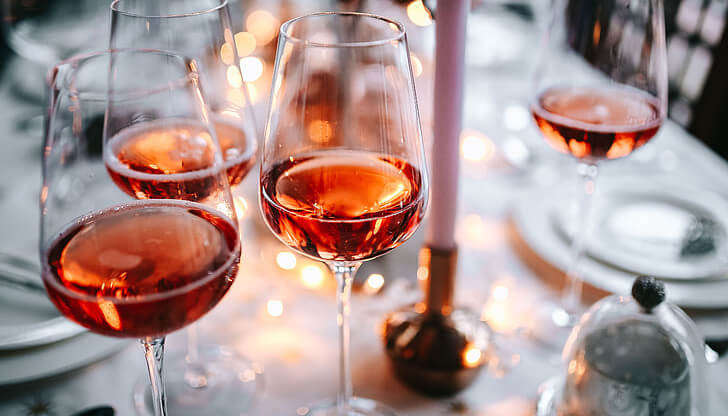 This is something for adults. For those who love to stock up their bars with liqueurs from various parts of the world, the country should consider going for the local, authentic flavours of Sikkim. Right from paan and orange liqueur to ginger and cardamom liqueur, the variety of liqueurs that Sikkim has to offer is outstanding. You can surely add the diversity in flavors to your home bar or carry some flavours for your friends back home!
Price Range: ₹1000-2500
Suggested Read: River Rafting In Sikkim 2022: When On A Vacation, Just Go With The Flow
15. Masks: Embrace the Culture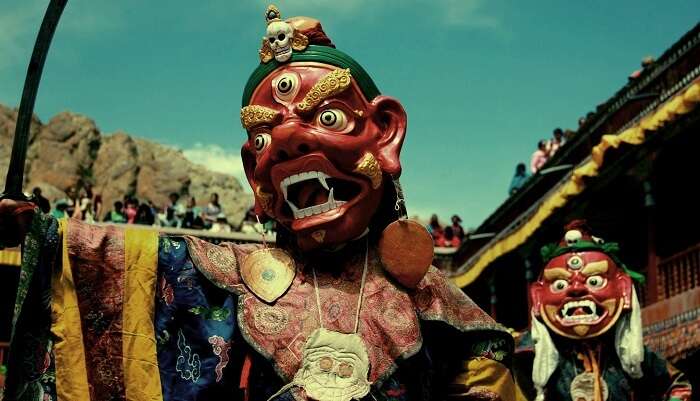 Another thing that one can only find in Sikkim are the colorful and extremely creative masks. There are little workshops spread all across the country that one can visit to witness the making of this handicraft. A particular wood named 'Zaru wood' or 'Zaru Shing' is mostly used to make these masks. Such masks adorn the shapes and faces of various deities, animals, and other legends.
Price Range: ₹300-600
Further Read: 4 Days Sikkim Trip In November Was All Bhavitha & Friends Needed To Relax, Rejuvenate, And Re-Energize!
Now that you know what all you can buy in Gangtok, don't keep the travel lover and Shopaholic in you waiting. Just pick a date, and plan your trip to Sikkim with TravelTriangle right away! Lots of treats and surprises await you in this Sikkimese paradise. After all, shopping in Gangtok is an experience that nothing else can match up to in the whole northeast!
Disclaimer: TravelTriangle claims no credit for images featured on our blog site unless otherwise noted. All visual content is copyrighted to its respectful owners. We try to link back to original sources whenever possible. If you own rights to any of the images and do not wish them to appear on TravelTriangle, please contact us and they will be promptly removed. We believe in providing proper attribution to the original author, artist or photographer.
Frequently Asked Questions About Shopping In Gangtok
What should I shop in Sikkim & Gangtok?
So, the souvenirs you can buy from Sikkim & Gangtok are the prayer flags. They can pretty much fit anything. You also have Canvas Wall Hangings, Thangkas, Woollen Carpets, and Traditional Folding Tables, Tea, Sikkimese Traditional Dress, Fruit Juice, etc.
Why is Gangtok famous?
This city is famous for being in the lap of nature and natural beauty. It is also famous because of the people who are so loving and nice. The places you get to visit here are the MG Marg, Nathula Pass and Flower Exhibition which are in and around Gangtok.
Is there snowfall in Gangtok?
Snowfall in Gangtok is a rare sight but you might witness it on the routes to high altitude places from Gangtok. Places like Tsomgo Lake and Nathula Pass may be close in winter because of snow.
Which is the best month to visit Gangtok?
During its peak season, which is from September to June, Gangtok witnesses a lot of tourists. Most of the tourists travel to this place in the month of September and October months as it is the ideal time to explore Gangtok.
What is the speciality of Sikkim?
Well, the state Sikkim is known for its Temi Tea and Organic farming. You will have this place to yourself with peace and harmony. The people of Sikkim are quite friendly and when you are visiting anyone's houses, they will serve you a glass of lukewarm water and tea.
What can I buy from Gangtok?
You can buy quite a few things from here like Tibetan Carpets, Semi-Precious Stones & Silver Jewelry, Sikkim Tea, Thangkas, Buddhist Figurines & Prayer Flags, Wall Hangings, Sikkimese Cups, and Black Cardamom.
What is the famous food of Gangtok?
Tibetan cuisine is full of fresh vegetables, lentils, wildflowers, mushrooms, bamboo shoots, and nettle leaves. The locals of Gangtok preserve the seasonal vegetables very well. Moreover, there is a craze for non-vegetarian food, beef, pork, and fish as well.
---
People Also Read:
Shopping In Jammu Shopping In Palampur Shopping In Guruvayur