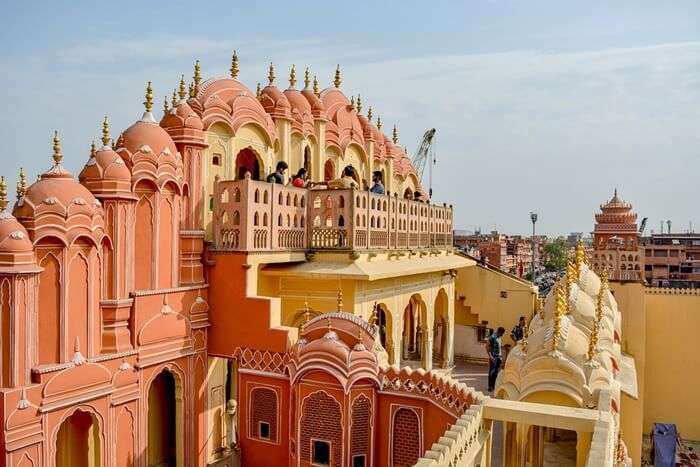 Jaipur, also known as the pink city has become a major tourist attraction in recent years. Hawa Mahal is one of the most visited attractions in Jaipur. While visiting Hawa Mahal in Jaipur on a pleasant evening, you will be left totally mesmerized by the place. Experience the rich past and cultural heritage of Rajputs at one place. This beautiful structure has also become a good picnic spot as a number of kids flock the place with their families. So, know more about this beautiful palace from our guide here.
Best Time To Visit Hawa Mahal

The summer months are a bit hotter to visit this place. It is advisable to visit Hawa Mahal in the months of October to March as the weather is pleasant at this time. And morning hours can add on to your joy as the palace looks all the more beautiful with rays of sunshine falling on it.
Monsoon In Jaipur: A Guide To Explore The Pink City Of Rajasthan!
Hawa Mahal Timings And Entry Fees

Image Credit – Karppanta for Wikimedia
Check out the details of the opening hours and entry fees. 
Timings: 9:00 am – 4:30 pm
Entry Fees: Indian: INR 10, Foreigners: INR 50
History Of Hawa Mahal

Image Credit – Pxhere
The archaeological wonder was built in the year 1799 for the royal women. Medieval times saw the strictly followed pardah system. So, in order to make sure that the royal women are in touch with the outside world, this palace was built. The women could see what all is happening in the outside world without being seen by others.
Also one notable element about the Mahal is that it is in the form of the crown of Lord Krishna as Sawai Pratap Singh was a devotee of Lord Krishna. Explore more about the Hawa Mahal history by visiting the monument. It is among the most famous tourist places in Jaipur. 
53 Tourist Places In Jaipur To Visit For An Experience Like Never Before!
Facts About Hawa Mahal

Image Credit – Avni for Wikimedia
Following are the notable fast facts of Hawa Mahal – the palace of Breeze. 
Hawa Mahal is built in the shape of crown of Lord Krishna as Swaraj Pratap Singh was a great devotee of Lord Krishna
The name Hawa Mahal means Palace of Winds or Wind Palace. It has 953 windows which were built to allow breeze to flow through and keep the palace cool
The palace was constructed for the royal ladies so that they could watch celebrations or other activities happening on the street without being seen by anyone
The entry to the Hawa Mahal is through the City Palace. There is no direct entry
Hawa Mahal is named after Hawa Mandir. The name was derived from the 5th floor which was called Hawa Mandir
Details About Architecture Of Hawa Mahal

Image Credit – Ronakshah for Wikimedia
Hawa Mahal is a cultural heritage exhibiting a distinctive blend of Mughal and Rajput architectural style. One can make out the Rajput architectural style from its domed shaped canopies, lotus and floral patterns, and fluted pillars while the Islamic style is seen in its arches and stone inlay filigree work. 
12 Awesome Water Parks In Jaipur To Stay Cool In Summer
Places To Visit Near Hawa Mahal
Jaipur is a beautiful city with a lot of palaces, forts, museums, textiles and not to forget the shopping places in Jaipur. It is an all in one package in one place. Here is a list of the best tourist places near Hawa Mahal that you should explore on your trip to Jaipur. 
1. City Palace

Image Credit – Volker from Pixabay
Built by Maharaja Sawai Jai Singh, it is a beautiful landmark in Jaipur. If you are a history freak and love to explore the history of a place, then this palace should be on your list. It is a beautiful and spectacular palace. The palace also houses the famous Mubarak Mahal and Chandra Mahal. This is indeed one of the best places to visit in Jaipur.
Top 39 Things To Do In Jaipur: Exploring The Pink City All Over Again
2. Chokhi Dhani Village

It is the best place to get an amazing Rajasthani experience. One can experience the Rajasthani culture with different paintings, art, performances and not to forget the traditional Rajasthani food. It is situated away from the hustle and bustle of daily life and takes you to the fresh air of Indian villages. This place is a must-visit when visiting Jaipur.
3. Jantar Mantar

Image Source
One of the best tourist places near Hawa Mahal, Jantar Mantar is a UNESCO World Heritage Site and houses the largest stone sundial in the world. Completed in the year 1734, it has a collection of 19 architectural astronomical instruments. In 2006, a film by the name The Fall as a Maze was also shot here. The stone sundial has also been photographed for various magazines. There are many other interesting stone structures inside the monument. Make sure to visit this heritage site near Hawa Mahal.
21 Best Hotels In Jaipur For Enjoying A Princely Stay In The Pink City
4. Amber Fort

Amber Fort in Jaipur is one of the most visited forts in Jaipur. It is a beautiful fort made of marble and sandstone. It has a number of gardens, halls and palaces. There is also a temple inside the fort named Shila Devi Temple. It also has a huge ornamental garden which basically separates the two buildings inside the fort. One can take an elephant ride and reach the fort. It is a very beautiful fort to spend time with your family.
5. Jal Mahal

Situated in the middle of Man Sagar Lake, it is a beautiful Mahal located in Jaipur. It showcases the architectural style used by the Rajputs. It is one of the top destinations in Jaipur. It is basically a five-storeyed building made in red sandstone. What is special about this palace is that when the lake is full of water, then the four floors of the palace are submerged in it and only the top one is visible. Nahargarh Hills border the palace making it look all the more beautiful and peaceful place.
22 Best Resorts In Jaipur For A Comfortable Yet Regal Staycation
How To Reach Jaipur

Tourists from different parts of the world visit Jaipur every year to know more about the cultural and historical legacy of Jaipur. Being one of the major cities of India, Jaipur is very well connected to different parts of India. Here we have listed for you in detail as to how you can easily reach Jaipur.
By Air
The nearest airport is Jaipur International Airport which is around 7-10 km from the main city. It is very well connected to major cities of India as well as to different parts of the world. Once you get down to the airport, you can hire a taxi or cab and reach Hawa Mahal easily.
By Road
Jaipur is very well connected via road via National Highways 8, 11 and 12. Rajasthan State Road Transport Corporation provides bus services between Delhi and Jaipur. There are certain private and express buses also available that move between the two cities.
Hawa Mahal is around 8 km from the Jaipur bus stand. You can easily get an auto or cab to reach Hawa Mahal from there.
By Train
Indian Railways connects all the major cities with each other. You can easily reach Jaipur via Indian Railways. There are various trains which connect Jaipur to different cities such as Kolkata, Ludhiana, Delhi, Indore, Kota etc. There is also a special luxurious train known as the Palace on Wheels which runs between Jaipur and Delhi.
The distance between Hawa Mahal and Jaipur Railway Station is around 5-6 km. And you can easily get an auto from the railway station and reach Hawa Mahal.
12 Best Places That Exemplify The Nightlife In Jaipur
Hawa Mahal of Jaipur is a beautiful palace built in red and pink sandstone. And know more about the culture and history of Rajputs by visiting this palace. Take a trip to this beautiful historical monument with your family. So what are you waiting for? Book your trip to Jaipur with TravelTriangle and have the best of experience.
For our editorial codes of conduct and copyright disclaimer please click here. 
Frequently Asked Questions About Hawa Mahal
Why is Hawa Mahal famous?
Translating to 'Palace of Winds', Hawa Mahal is known for its unique and intriguing exteriors that resembles a honeycomb of a beehive. Hawa Mahal showcases numerous jharokhas or small windows that allow breeze to flow in and keep the place cool.
When was Hawa Mahal built?
One of the oldest monuments of Rajasthan, Hawa Mahal was built in the year 1799.
Who built Hawa Mahal?
After getting inspired by the offbeat architecture of Khetri Mahal, Maharaja Sawai Pratap Singh ordered to get this beauty built. Designed by Lal Chand Ustad, Hawa Mahal reeks of authentic Rajput architecture.
What is inside Hawa Mahal?
Enhancing the charm of Jaipur, Hawa Mahal boasts several intriguing elements. It features an arched entrance that is beautified with the sculptures of Lord Ganesha, Lord Shiva, Lord Vishnu, Goddess Kali, and Goddess Laxmi. Furthermore, the Hawa Mahal has 5 floors and each of them houses a Mandir. The first one is Sharad Mandir that is beautified with cool fountains. On the second floor, one will find Ratan Mandir that is embellished with intricate artwork of precious stones and colorful glasses. The third floor has Vichitra Mandir and fourth one boasts Prakash Mandir. Lying on the fifth floor is the Hawa Mandir that offers a spectacular view of the city.
What is the distance between Jaipur railway station and Hawa Mahal?
Hawa Mahal is at a distance of 5.5 km from Jaipur railway station. Upon reaching the station, you can hire a taxi or board a direct bus to Hawa Mahal that will take just 18-20 minutes to reach.
What rock is used in Hawa Mahal?
Built in 1799, Hawa Mahal is made of the Pink sandstone that makes this monument stand out amongst other iconic landmarks of Rajasthan.
What are some places to visit near Hawa Mahal?
There are numerous places to visit near Hawa Mahal such as City Palace, Chokhi Dhani, Jantar Mantar, Amber Fort, and Jal Mahal.
How many windows does Hawa Mahal have?
Hawa Mahal showcases a total of 953 small windows. These windows are also known as jharokhas and allow winds to pass through the monument.
What is the shape of Hawa Mahal?
Exhibiting 953 windows, Hawa Mahal is sitting on the Badi Chopad and is shaped as a honeycomb of a beehive. The windows allow breeze to blow through.
Is Hawa Mahal symmetrical?
Reeking of the Royal era, this monument is nicknamed as a Palace of Winds. The architecture of Hawa Mahal is indeed symmetrical and takes away the breath of spectators.
---
Looking To Book A Holiday Package?
Book memorable holidays on TravelTriangle with 650+ verified travel agents for 65+ domestic and international destinations.
---
People Also Read