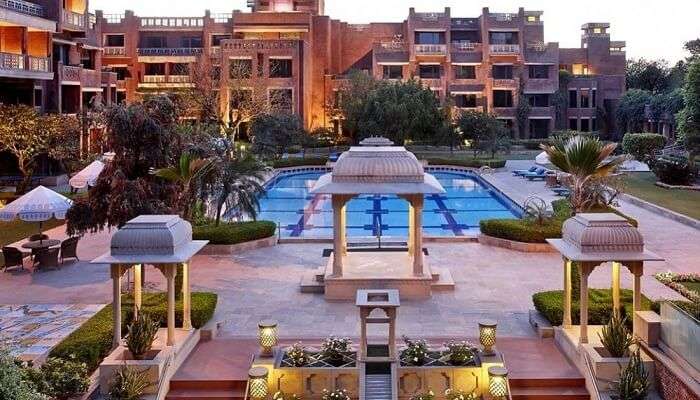 Resorts in Jaipur exude grandeur. The royal splendor that the city emanates is complemented by these plush stays, showered with the traditional Rajputana architecture, lustrous spreads of local and world cuisine, and spectacular landscapes. And of course, they are wallet burners! Just to help you pick one that suits your taste and pocket, here's a quick guide of 20 best resorts in Jaipur.
Best Resorts In Jaipur
Looking for a luxurious staycation where you can be pampered with endless and top-notch services all day long? We have laid out the best options for exactly what you seek:
1. Oberoi RajVilas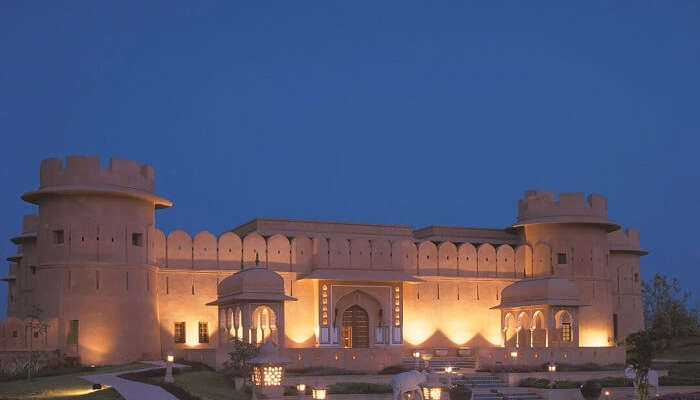 Regal is the word that best describes this magnificent resort, which epitomizing the princely Rajasthan. Spread over thirty-two acres of carefully manicured lawns and buildings, this luxury resort is lush with thick foliage, redolent with indigenous flowers and abuzz with exotic bird life. Undoubtedly, the best resort in Jaipur, it is.
What's special: The Elephant Safari, a gourmet meal at Charbagh overlooking the tiered garden, cooking sessions at the Rajmahal restaurant, and Rajasthani block printing lessons
Suggested Suite: Skip the suite; go for luxury tents with a private garden and patio
Tariff: INR 39,000 per night onwards
Suggested Read: 20 Magnificent Tourist Places In Jaipur
2. Lohagarh Fort Resort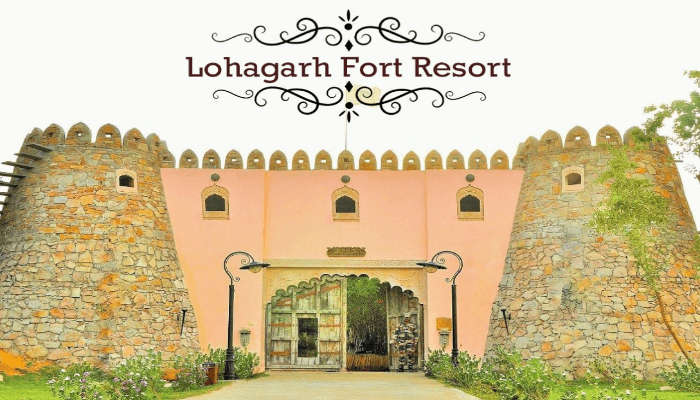 One of the best resorts in Jaipur with a private pool, Lohagarh is an eco-friendly resort on the Jaipur-Delhi Highway which promises not just luxury but an overall richness to all its guests. Surrounded by the Aravalli Hills of Kookas, it's a dream place for nature lovers. It's one such resort in Jaipur, which nature enthusiasts just can't miss.
What's special: Soak your wandering soul in village safari to nearby Kookas to experience village life, or try your hand at Elephant Safari. You can try out their special Ayurvedic massages and tree house baths for a true jungle experience.
Suggested suite: Cottages with a private pool – Unique interiors with beds on a stone slab, a Korean concept said to present you with a restful sleep. A private garden and the pool add to the charm of the cottage.
Tariff: INR 8,000 per night onwards
3. Lebua Resort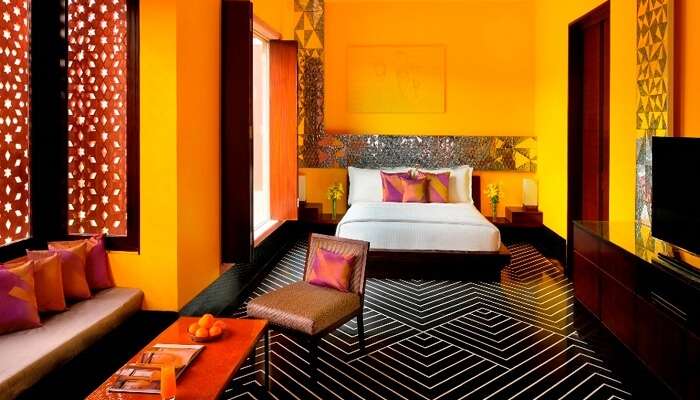 Lebua Resort, Jaipur is said to have been inspired by the Navratnas, the celestial gems. Everything about it reflects the vibrancy of those special gems. It is an all-suite resort that combines the mysticism of the historic past with the sensibilities of present times.
What's special: Unique recreational activities like kite flying, elephant polo, camel and horse riding, croquet, and countryside bicycling. The Chakra Bar with its mist fountain recreating the night sky is a must visit at this one of the best resorts in Jaipur.
Suggested suite: Lebua Resort Deluxe Suite; it offers an amazing view of the forest and the hills. Also, each suite has a private garden and a sit-out on the rooftop.
Tariff: INR 7,500 per night onwards
Suggested Read: Jantar Mantar Jaipur: The World's Largest Sundial
4. The Tree of Life Resort & Spa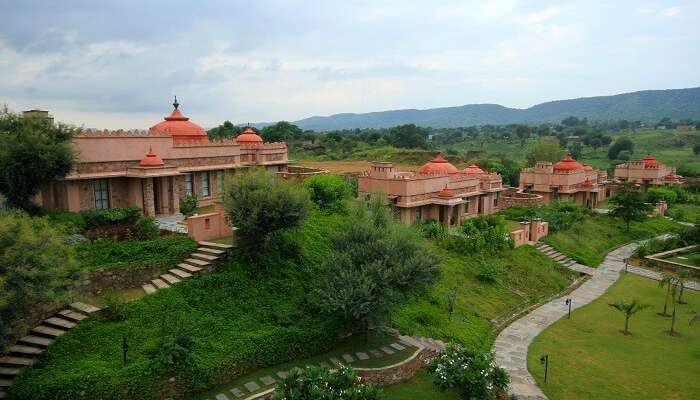 The Tree of Life Resort & Spa is a unique cluster of 14 luxury villas set in the verdant surroundings of the Aravalli ranges. Interestingly, each villa is named after an Indian tree and the interiors reflect the color of the flower the three bears.
What's special: The spectacular view from the high open air sit out ridge, the bell-shaped infinity pool in between two ridges, and unique cooking experience with the chef, starting from fetching veggies from the local market till the plating of the dish. Also, you can take a ride in the 1965 Vintage Willys Jeep into the local village or maybe teach a subject or two at the local school supported by the Tree of Life.
Suggested suite: Two Bedroom Luxury Garden, Terrace & Spa Villa – a luxurious villa with a fireplace and a private lawn in front of the villa.
Tariff: INR 11,000 per night onwards
Suggested Read: 20 Best Hotels In Jaipur For Enjoying A Princely Stay In The Pink City
5. ITC Rajputana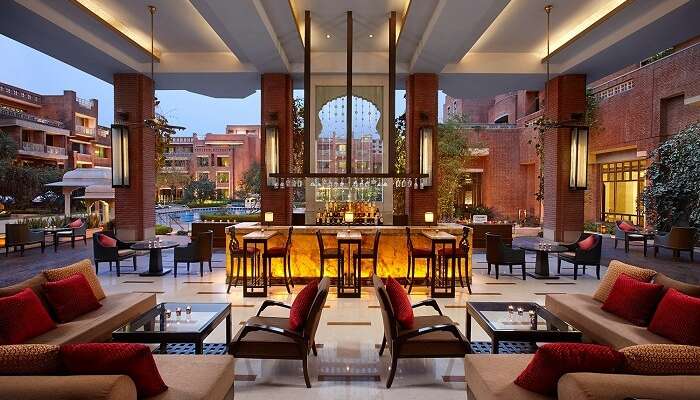 The name itself gives a fair idea of what to expect from this ITC resort; one of the best resorts in Jaipur. Rajputana is designed to resemble the opulent havelis of Rajasthan, complete with long corridors, decorated courtyards, and traditional Rajasthani décor.
What's special: Authentic Rajasthani cuisine at the iconic Jal Mahal restaurant and delectable North Western specialties at the Peshawri, rejuvenating spa treatment at the Kaya Kalp Spa, and recreational activities ranging from croquet to water polo.
Suggested suite: Thikana Suite – Experience the Rajput living extravaganza, complete with a personal butler.
Tariff: INR 6,500 per night onwards
Suggested Read: 12 Historical Places In Rajasthan That Will Take You Back To The Glorious Past
Suggested Read: Get The Rajasthani Bohemia On! 8 Amazing Shopping Places In Jaipur
6. Trident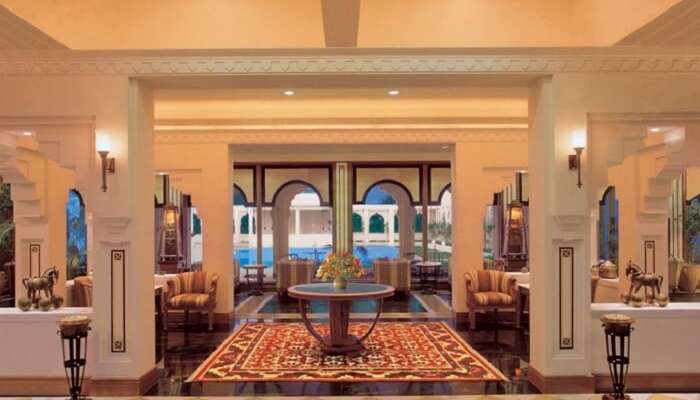 A short distance away from Amber Fort, Trident is a palatial resort offering a beautiful view of the Mansagar lake and Jal mahal. This one of the best resorts in Jaipur has 132 well-appointed rooms and suites, replete with modern amenities and a "jharokha" at the end of each room to take in the sprawling gardens, the Aravali hills, and the lake.
What's special: Rejuvenate yourself at the Trident Spa, relax on the decks by the poolside, and spend time with your little ones at the kids club, designed to explore everything from cooking to pottery. You will be delighted with your decision about this luxury resort in Jaipur.
Suggested suite: The Garden/Lake view suite – an elegant suite with an attached balcony overlooking the garden or the lake.
Tariff: INR 7,300 per night onwards
7. The Tree House Resort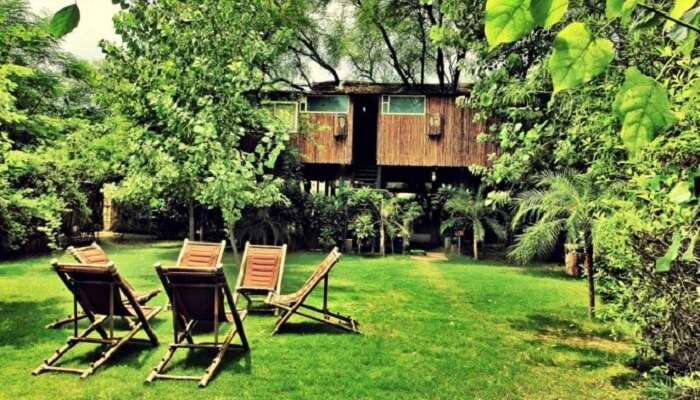 The Tree House Resort is one of the very few resorts in the world which are said to offer luxury tree houses and over-water suites. The accommodations here are aptly named 'Nests' and it is a surreal experience to stay in rooms with live branches of trees running through them, making this property one of the best resorts in Jaipur, Rajasthan for a unique experience.
What's special: Jungle Safari and recreational activities like archery, tennis and volleyball. Taruveda, bird watching, and movie setups make this place special retreat.
Suggested suite: Luxury Nests – Named after the various birds found in the area, these are treehouses with all modern amenities including a bathtub atop a tree!
Tariff: INR 20,000 per night
8. Samskara Resort & Spa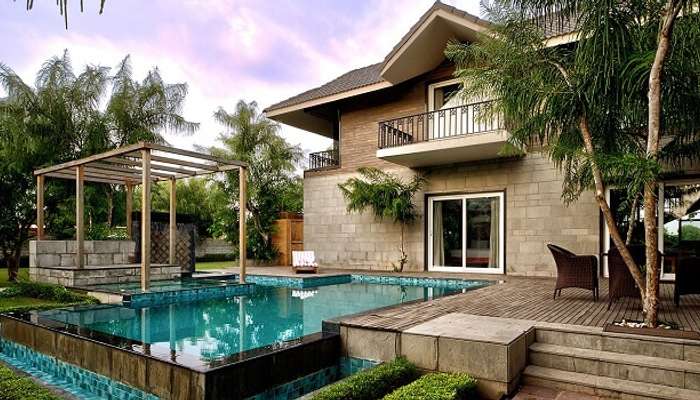 The Samskara Resort & Spa is unlike any other. This one-of-its kind boutique wellness resort is sure to blow your mind with its unique and endless features. If your ideal stay involves living in luxury villas and rooms set amidst totally natural environs, then this is the perfect place for your Jaipur staycation. Among other facilities, the lush green outdoors are sure to rejuvenate your senses and make you forget about all stresses of life. Many of the villas in this resort property features private pools and various plunge pools apart from delightful private gardens and courtyards.
What's special: Bodhi the banquet hall, Karma Cafe Restaurant, Sama Spa, speedy and courteous room service, airport transportation, and more.
Tariff: INR 7,600/-
9. Chokhi Dhani Resort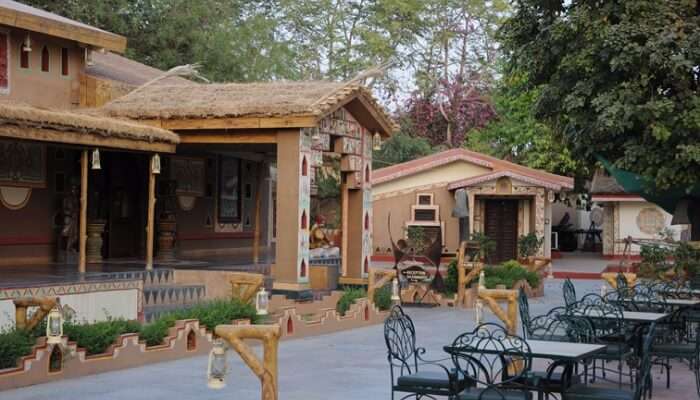 If you want to experience Rajasthan to the fullest, Chokhi Dhani is the place. Ethnicity at its best, it is a luxury hotel with the promise of pleasing all your senses with a riot of colors, traditional architecture, mouthwatering food, and culturally vibrant scenes and sounds.
What's special: Choose from a range of dining experiences: Bindola, Aarogosa, Chandi Mahal Bar, Chandi Mahal Lounge, barbecue, and Kesari Kyari or a traditional sit-down meal while witnessing typical Rajasthani performances.
Suggested suite: Haveli-Suite, which is a private mansion with a common courtyard and private balconies, richly crafted interiors for that special royal touch.
Tariff: INR 7,500 per night onwards
Best 3 Star Resorts In Jaipur
Your search for the best resorts in the Pink City in a minimal budget are over. Check out the best properties for a luxurious stay that will go pretty easy on your pocket.
10. Sunrise Health Resort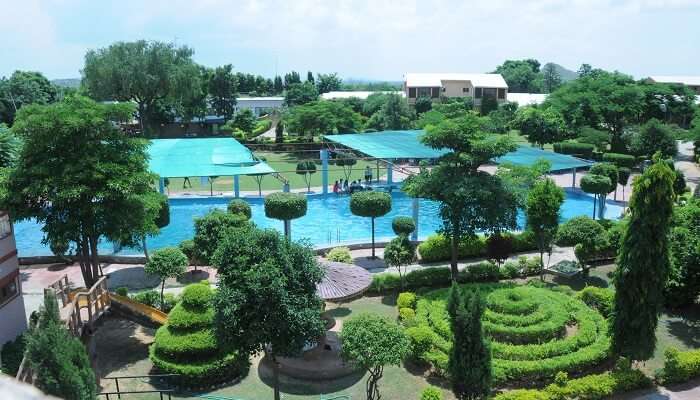 Sunrise Health Resort is first-of-its-kind, Naturopathy Resort. Replete with a multitude of treatments for the tired soul, it is an ideal getaway for rejuvenating the self and getting charged once again to take on the hectic pace of urban life, once again with a vigor.
What's special: Aside of the Naturopathy facilities, Water Park for an all round recreation, live dances and folk performances, and an excellent amphitheater to enjoy open air live stagings.
Suggested suite: Deluxe Green Cottage – Comfortable rooms at the ground level which open out to the garden on both sides.
Tariff: INR 3,500 per night onwards
11. Pride Amber Vilas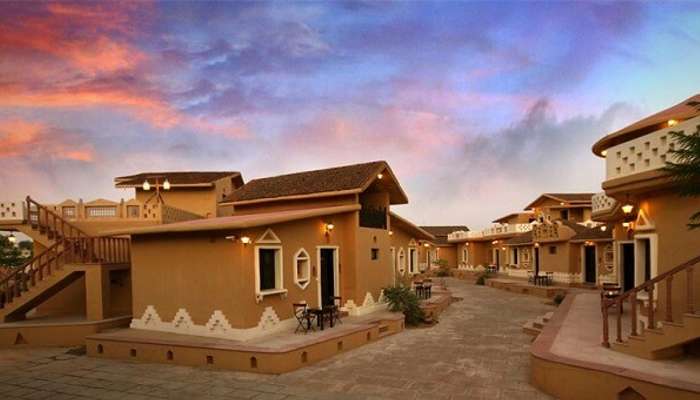 This popular resort in Jaipur is a perfect re-creation of Rajasthani villages at their bests. With attention to minutest of details, it is really a commendable experience in making you live in Rajasthan, like a true Rajput.
What's special: An old style step-well-like swimming pool for a mystical bathing experience, a well-equipped health club complete with steam sauna Jacuzzi, an excellent open air rural setting to savor the mouth watering Rajasthani cuisine.
Suggested suite: Haveli Suite – a truly royal stay, luxurious amenities and dedicated attendants at your service.
Tariff: INR 5,000 per night onwards
Suggested Read: Swing, Dance, & Rejoice At Teej Festival In Jaipur – A Fanfare Of Customs & Celebrations
---
Planning your holiday in Rajasthan but confused about what to do? These Rajasthan travel stories help you find your best trip ever!
Real travel stories. Real stays. Handy tips to help you make the right choice.
---
Most Affordable Resorts In Jaipur
Who says royalty and budget can't go hand-in-hand? These pocket-friendly resorts in Jaipur offer all the comforts and spoils of a lavish resort at the lowest prices possible.
12. Jaipur Marriott Hotel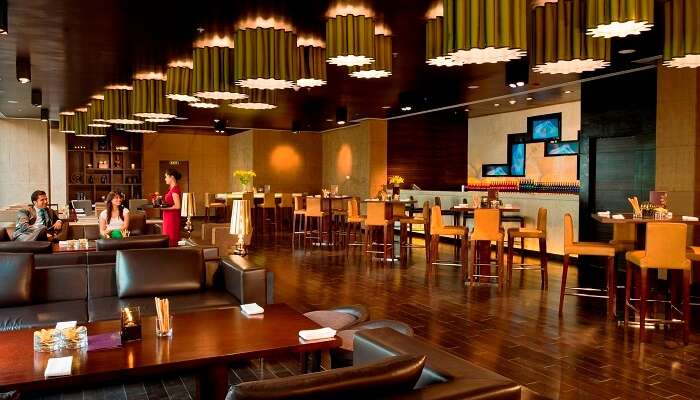 Marriott group of hotels needs no exclusive description. The one in Jaipur continues the legacy. The resort in Jaipur is specifically designed to complement the traditional Rajasthani décor and opulence. Luxury speaks for itself while you're here, but without burning a hole through your pocket.
What's special: Treat your taste buds with some mouth-watering cuisines in their popular restaurant, Okra. Unwind in the beautiful pool and read your favorite book. Take a walk and get a peek of the hills and a glimpse of the pink city. Opt for their unique spa experience.
Tariff: INR 5,800 per night onwards
13. Shahpura House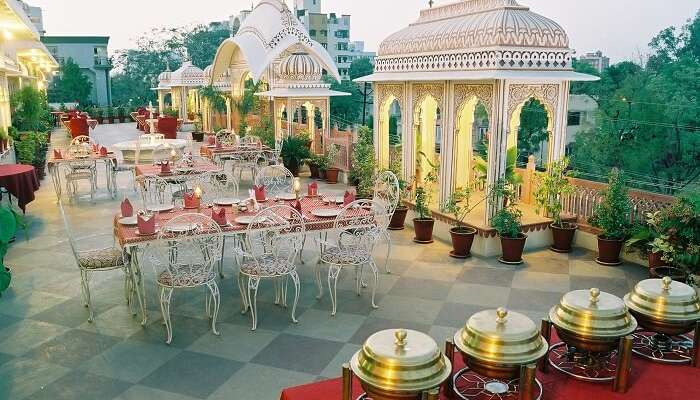 Shahpura House is one of the leading resorts in Jaipur, which is known for its royal grandeur and beautiful courtyards. Every inch of this resort speaks of a bygone era, rich in heritage. The traditional services offered by the resort gives you a one-of-its-own-kind experience.
What's special: Check out the beautiful Mughal interiors with a combination of Rajasthani style architecture. Enjoy a scrumptious breakfast at the rooftop restaurant, and stroll amidst the well maintained gardens.
Tariff: INR 3,500 per night onwards
14. Four Points By Sheraton Jaipur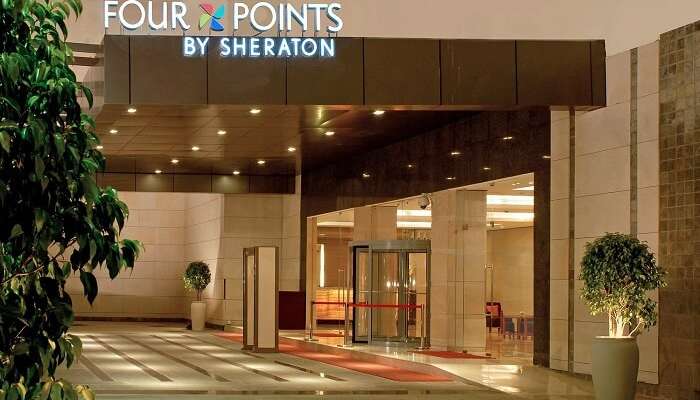 Four Points by Sheraton is one of the fancier resorts in Jaipur, while on a budget. Totally modern outlook and the extremely beautiful premises serve as a perfect place for a memorable stay.
What's special: Attractions like The City Palace, Amber Fort, and Hawa Mahal are close. Spend time in the lounge which has a relaxing ambiance, and taste some continental and authentic cuisine.
Tariff: INR 4,200 per night onwards
Suggested Read: Adventure Places In Jaipur: 8 Best Sites To Witness The Thrilling Side Of The Pink City!
15. Fortune Select Metropolitan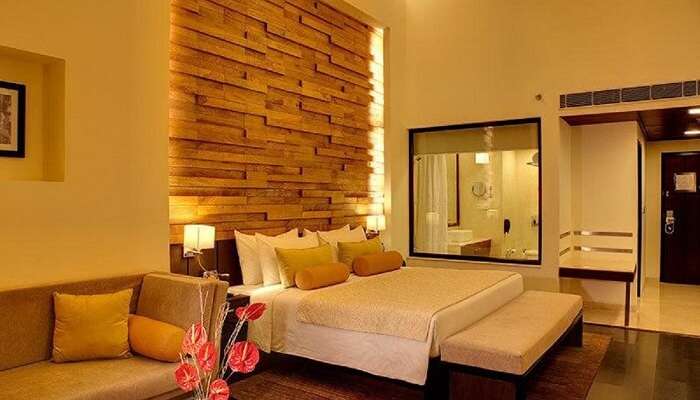 Fortune Select Metropolitan wears the modernity like no other. It is known for its spacious, highly-decorated and well-designed rooms. Being at a prime location, it is an ideal resort in Jaipur for those wanting to experience a lavish stay at moderate prices.
What's special: Check out the rooftop pool and also the majestic view of the pink city from this one of the best resorts in Jaipur. Savor their delicious breakfast and lunch spread involving a variety of dishes. Head out to explore the prominent bazaar and indulge in some seriously colorful shopping.
Tariff: INR 4,500 per night onwards
16. Woodsvilla Resort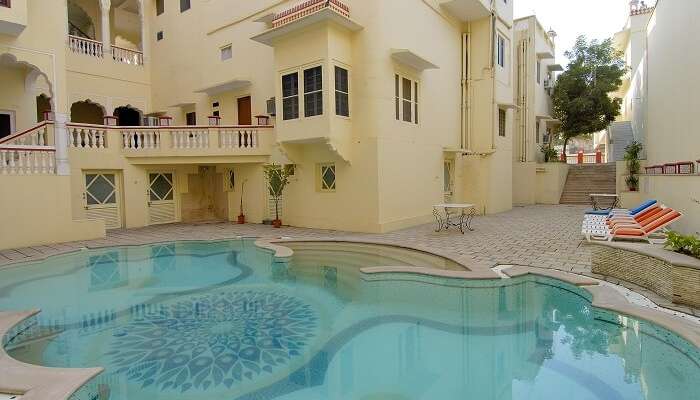 Woodsvilla Resort is an ideal family destination in Jaipur, just on the highway. A tranquil resort it is, simplicity being its cornerstone. You can revel in the calming nature sights and sounds while gazing at pet geese and rabbits.
What's special: Take a dip in the large pool or have poolside parties. Visit the Baradari to enjoy soothing lounge music or cozy sit-outs. Or just enjoy a quiet evening with your loved ones on the loungers.
Tariff: INR 3,000 per night onwards
17. Umaid Bhawan Heritage House Hotel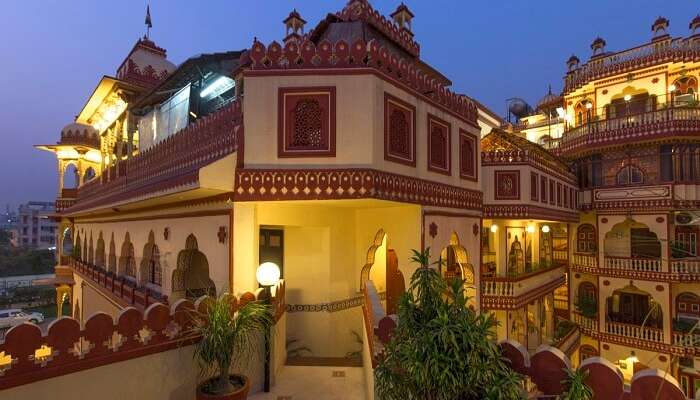 Ranked as one of the best resorts in Jaipur, Umaid Bhawan offers a comfortable home away from home with traditional Rajput hospitality, all within a good budget. Run by a family of Rathore's, Umaid Bhawan is one of the most elegant resorts in Jaipur.
What's special: Relax in the swimming pool and unwind on your holiday. Savor the cuisines in the rooftop restaurant and get a glimpse of the Rajput paintings and designs by exploring the hotel premises.
Tariff: INR 5,500 per night onwards
Suggested Read: 10 Must-Visit Fancy Cafes in Jaipur You Can't Miss
18. Umaid Mahal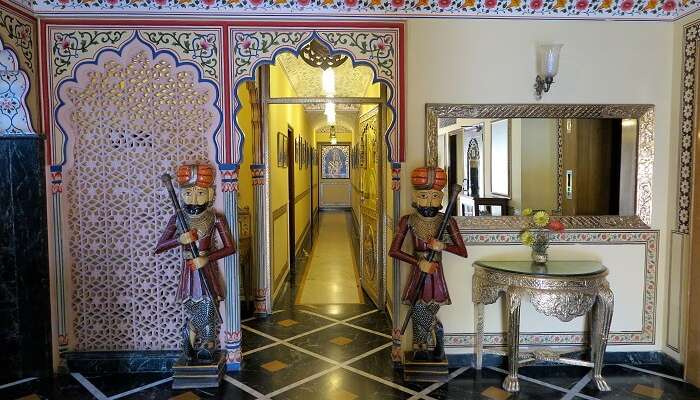 Umaid Mahal offers an excellent stay at an economical price and is one of the highly recommended resorts in Jaipur if you're looking for a heritage-filled accommodation. The Mahal is an illustration of exemplary architecture and wonderful decor, guaranteed to give you a happy stay and a contented vacation.
What's special: Umaid Mahal offers a variety of scrumptious cuisine at their rooftop restaurant. There are a few popular places around, for you to explore. However, for lazy vacationers, the resort itself has so much spectacular artwork to offer that it needs its very own private tour.
Tariff: INR 3,600 per night onwards
Note: Don't confuse this resort with Umaid Bhawan.
19. Achrol Niwas Treehouse Resort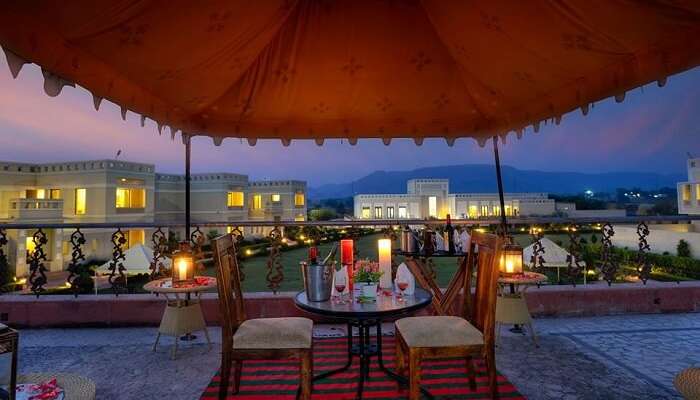 Situated on the serene and peaceful outskirts of the city of Jaipur and bordered by the lush Aravalli Ranges, the Achrol Niwas is the best place to stay in this royal city if you're looking for natural surroundings. You'll be greeted with uninterrupted views of verdant fields from your dreamy treehouse. Sprawled over an enormous area of 7 acres just a few miles from the main city of Jaipur, this property offers utter luxury and comfort in its 40 rooms and villas. So, just sit back in your private balcony, sip on your cup of piping coffee or tea, and take in grand views of nature, leaving your worries far behind.
What's special: Verdant lawns and vegetable gardens, a lavish pool, restaurant serving delish Rajasthani cuisine, a huge banquet room for functions and events, and a chic bar.
Tariff: INR 2,800/-
20. Nahargarh Haveli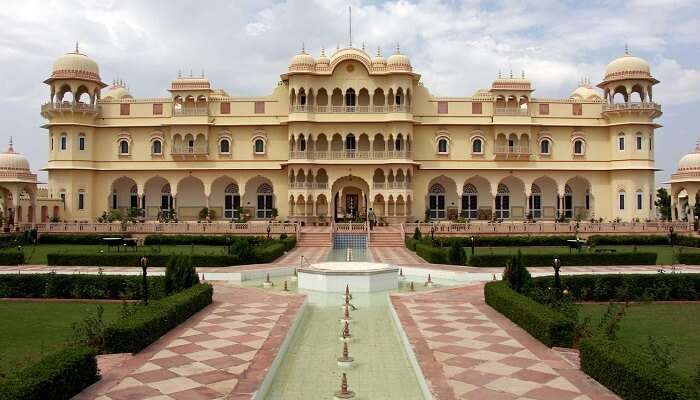 Nahargarh Haveli is a well-preserved Rajasthani style hotel, customized brilliantly to retain its architectural splendor. At this one of the economically-priced resorts in Jaipur, the perfect holidays await you. Extremely tasty food acts like the cherry on the top.
What's special: Enjoy dining at their rooftop restaurant and be treated with gorgeous view of the lit-up Jaipur. Savoring their excellent food and revel in the traditional puppet show. Explore the famous tourist attractions which are easily reachable from the hotel.
Tariff: INR 2,500 per night onwards
21. Hotel Anuraag Villa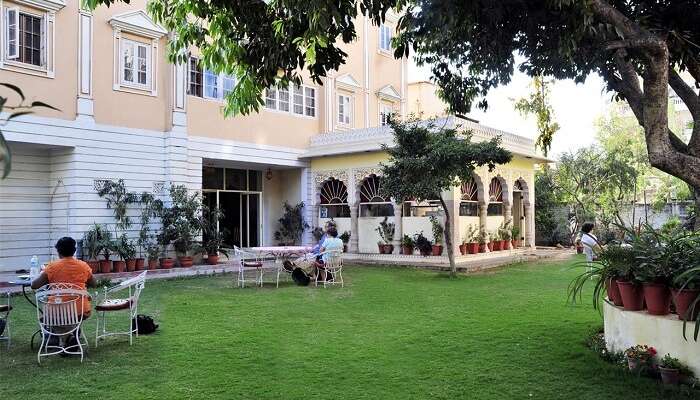 Anuraag Villa is one of the best resorts in Jaipur, if you're traveling on a shoestring budget. The hotel provides best of the services and a memorable experience with its splendid design of the Villas.
What's special: Enjoy the cultural dance and puppet show in the evenings which are organized by the hotel. Don't miss their homemade like dishes at the restaurant. The hotel also arranges for customized safaris and tours if you intend to explore outdoors.
Tariff: INR 1,300 per night onwards | People usually prefer this resort in Jaipur for picnic for its budget-friendly tariff.
Suggested Read: 8 Best Places That Exemplify The Nightlife In Jaipur
22. Hotel Amer View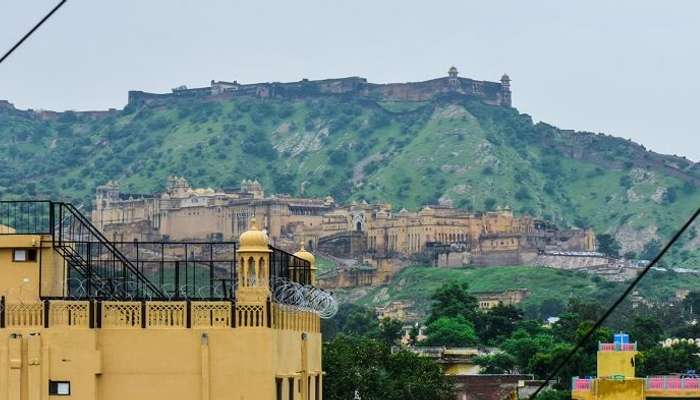 Hotel Amer is a simple resort built in Rajputana style, which offers a wonderful stay at a former residence of a royal family. It's well built to accommodate the taste of tourists in such a way as to gain loads of appreciation for its admirable wall paintings and elaborate interior designs.
What's special: Enjoy the delicious food at their restaurant. Check with the hotel staff for customized tours, if you intend to explore the attractions around. Look out for dance shows and traditional puppet shows in the evenings.
Tariff: INR 1,200 per night onwards
Further Read: Best Wedding Venues In Jaipur: Tie The Knot The Royal Style!
A trip to Pink City on your mind? Then take your pick from above-mentioned list of best resorts in Jaipur, and enjoy a royal stay by booking a lavish stay and a memorable holiday in Jaipur via TravelTriangle. If you know of any more fabulous resorts in this city, let us know in the comments below.
Disclaimer: TravelTriangle claims no credit for images featured on our blog site unless otherwise noted. All visual content is copyrighted to its respectful owners. We try to link back to original sources whenever possible. If you own rights to any of the images and do not wish them to appear on TravelTriangle, please contact us and they will be promptly removed. We believe in providing proper attribution to the original author, artist or photographer.
Please Note: Any information published by TravelTriangle in any form of content is not intended to be a substitute for any kind of medical advice, and one must not take any action before consulting a professional medical expert of their own choice.
Frequently Asked Questions About Best Resorts In Jaipur
Which are the best resorts around Jaipur?
Lebua Resort, Heiwa Heaven Resort, Pride Amber Vilas Resort, etc. are few resorts that are considered to be some of the best resorts around Jaipur.
Which are the best wedding resorts in Jaipur?
PinkCity Garden & Resorts, Cambay Resort Jamdoli, and Green Palms Wedding Resorts are some of the best wedding resorts in Jaipur.
Which are the family resorts in Jaipur?
Ginger, Kanchan Kesari Village Resort, Apano Rajasthan, and Chokhi Dhani Resort are some of the best family resorts in Jaipur.
Are there resorts in Jaipur with a swimming pool?
Yes, you will find many resorts in Jaipur that are equipped with a swimming pool. Some of them are The Heritage Village Resort & Spa and Stardom Resort.
Are there any resorts on the Jaipur-Delhi Highway?
If anyone is looking for a resort on the Jaipur-Delhi highway then there are several options that one can choose. Some of the famous abodes are Aravali Resorts, Neemrana Resort, and Heritage Village Resort & Spa.
Which are the 5-star resorts in Jaipur?
There is no dearth of 5-star resorts in Jaipur and some of the popular ones are JW Marriott Jaipur Resort & Spa, Trident Jaipur, Sujan Rajmahal Palace, The Oberoi Rajvilas, and Raddison Jaipur.
Are there are any resorts in Jaipur for fun activities?
Pink Pearl Resort & Fun City and Hotel Mauj Mahal Water Park & Fun Resort are the most popular options in Jaipur for fun resorts.
Which are the top resorts in Jaipur for couples?
Some of the top romantic resorts in Jaipur that couples can go to are Choki Dhani Resort, Heiwa Heaven Resort, Pride Amber Villas Resort, and The Woods Villa Resort.
---
Looking To Book A Holiday Package?
Book memorable holidays on TravelTriangle with 650+ verified travel agents for 65+ domestic and international destinations.
---
Comments
comments