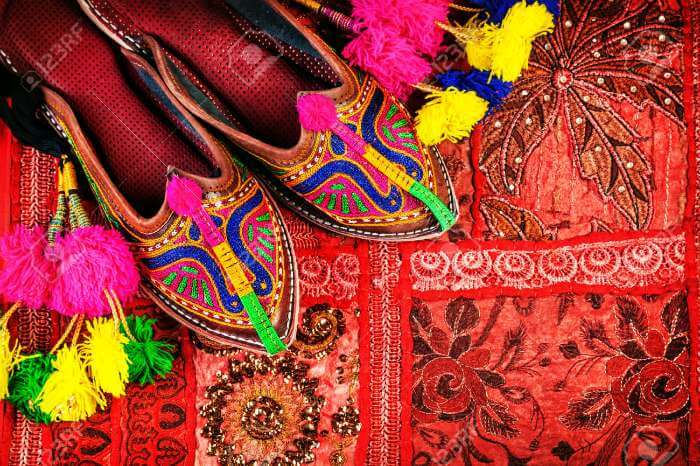 Jaipur, the 'pink city of India' is better known for its royalty and the wonderful monuments. But, very few people are aware of the list of endless things that make it a must visit shopping destination. There are undoubtedly some remarkable shopping places in Jaipur which can enrich your total shopping experience tenfold.
If you're a shopaholic, then don't look anywhere else for a shopper's paradise! The unique beauty and the traditional touch on the things will leave you smitten in no time. You don't need to wonder about which places to visit in Jaipur for shopping. This Jaipur shopping guide will answer it all and make you find the famous shopping places in Jaipur.
14 Shopping Places In Jaipur
The stuff that you'll get in Jaipur has unparalleled beauty and you would definitely want to come back again for shopping purposes! Check out the exclusive list of these shopping places in Jaipur where you should shop until you drop.
1. Johari Bazaar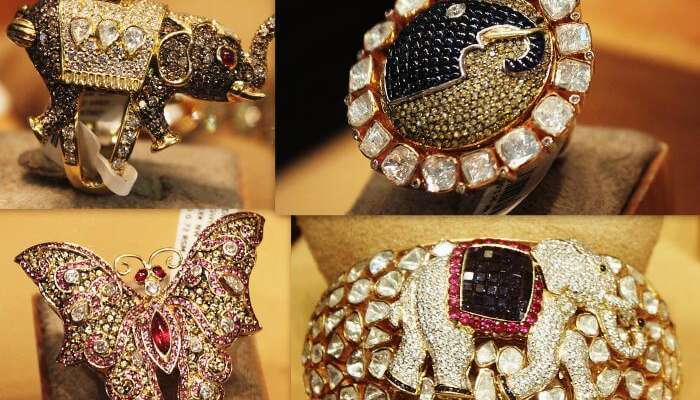 Jaipur is home to India's largest and the most fabulous collection of jewelry of all types. Jaipur, famous for jewellery and clothes, is visited the most by people who love both. There are many markets in Jaipur selling precious stones, gems, semi-precious stones, and jewelry with a limited warranty. And Johari Bazaar is one of the earliest Jaipur shopping places where you can buy all these. The plethora of choices and amazing designs makes it one of the best places to shop in Jaipur and also, it will leave you spellbound, especially the wonderful handmade, delicate jewelry.
Specialty: Jewelry with precious gemstones, and handmade necklaces are some of the best things to buy in Jaipur which are available at reasonable prices at this Jaipur market.
Open: All 7 days open | Johari Bazaar Jaipur Timings – 10 am to 11 pm
Location: Johri Bazar, Gangori Bazar, Jaipur
Nearest Bus Stop: Badi Chopar Bus Stop
Must Read: 10 Magnificent Tourist Places In Jaipur: Revisit The Colors & Grandeur Of The Pink City
---
Rajasthan Holiday Packages On TravelTriangle
Explore Rajasthan, the land of Maharajas. Experience its royal cultural heritage, luxurious hotels, camel safaris, pristine lakes, and magnificent forts and palaces. Cover the best of Jaipur, Udaipur, Jodhpur, Jaisalmer, Pushkar and Ranthambore at best prices with TravelTriangle.

---
2. Tripolia Bazaar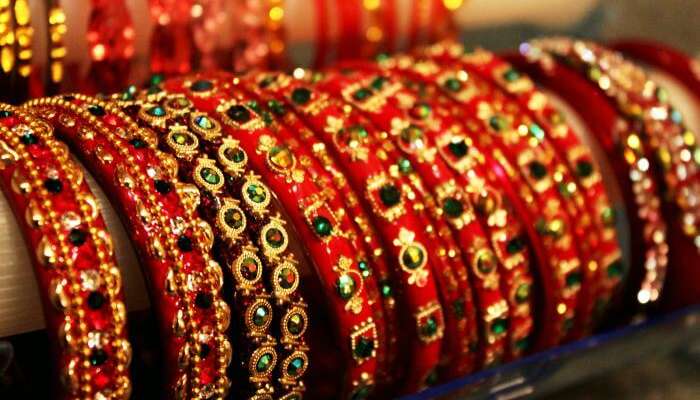 Tripolia Bazaar is known for its lac jewelry and the beautiful varieties of bangles is the best shopping area in Jaipur. Shop for the textiles in Tripolia Bazaar. Flaunt the popular Bandini tie and dye fabrics with rich embroideries are also available here. Since you can also buy designer carpets, brass ware and other traditional wears here, this market can be considered as one of the most amazing places to do shopping in Jaipur.
Specialty: Shop for lac jewelry which comes with exquisite designs at this Jaipur shopping place.
Open: 7 days open | Tripolia Bazaar Jaipur Timings – 10 am to 7 pm
Location: Tripolia Bazar, Kanwar Nagar, Jaipur
Nearest Bus Stop: Choti Chopad Bus Stop
Must Read: Top 11 Shopping Destinations in India
3. Chandpole Bazaar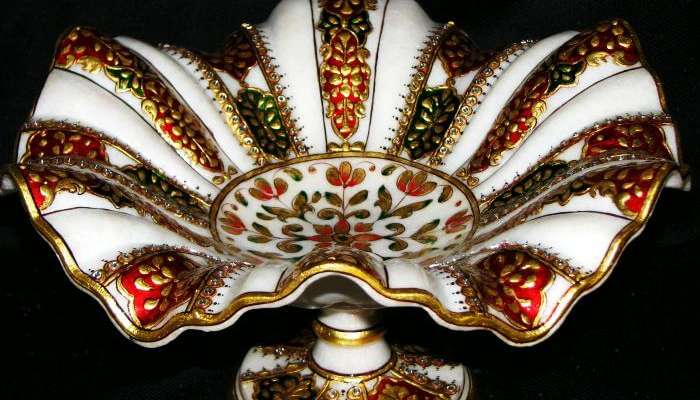 Chandpole Bazaar, one of the traditional shopping markets in Jaipur, is where the creativity comes alive; where you can come across handicrafts, carvings made out of marble and other hand-looms. At the Khazanewalon ka Rasta, you can shop for popular pieces like the traditional and flamboyant shoes, pretty handicrafts, perfect sculptures made of wood and stones, carpets, turbans or anything that you absolutely love!
Specialty: Don't forget to shop for marble sculptures which come in all hues and designs and relish in Jaipur street shopping.
Open: 7 days open | Chandpole Bazaar Jaipur Timings – 11 am onwards
Location: Indira Bazar, Topkhana Desh, Jhotwara, Jaipur
Nearest Bus Stop: Choti Chopad Bus Stop
Suggested Read: Savor The Local Food Of Rajasthan With These 15 Iconic Dishes
4. Kishanpole Bazaar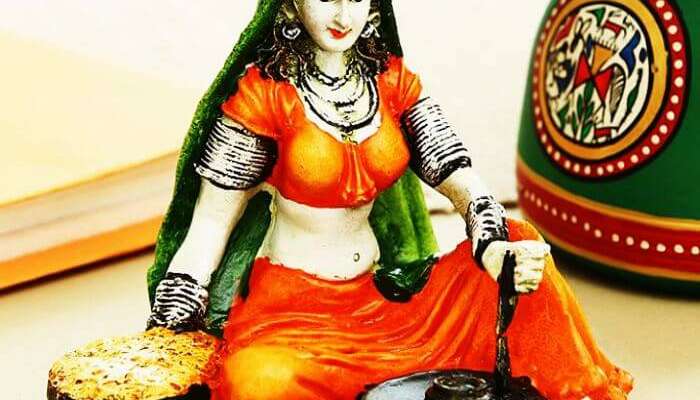 Kishanpole is best known for textile goods which can be bought at reasonable prices. It is also one of the best places to visit in Jaipur for shopping, to get your loved ones some wooden souvenirs; as Kishanpole Bazaar is home to many skilled artists renowned for their unique wooden carvings.
Specialty: Check out the wonderful wooden sculptures and souvenirs at this Jaipur shopping place
Open: 7 days open | Kishanpole Bazaar Jaipur Timings – 11 am to 9 pm
Location: Kishanpole Bazar Road, Jaipur
Nearest Bus Stop: Choti Chopad Bus Stop
Suggested Read: Hottest New Year Parties In Jaipur To Celebrate In 2019!
---
Planning your holiday in Rajasthan but confused about what to do? These Rajasthan travel stories help you find your best trip ever!
Real travel stories. Real stays. Handy tips to help you make the right choice.

---
5. Nehru Bazaar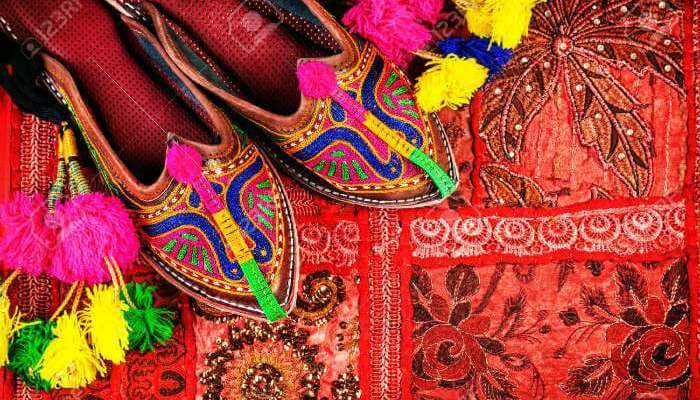 Although you can find some beautiful clothes and textiles in Nehru Bazaar, the main attraction of Nehru Bazaar are the traditional jootis, which are one of Jaipur shopping speciality that look vibrant with multi-colored design. All of them look tempting, but ensure to bargain well before you buy a handful!
Specialty: Joothis are a must buy at this most splashy shopping place in Jaipur
Open: 7 days open | Nehru Bazaar Jaipur Timings – 10.30 am to 7.30 pm
Location: Film Colony, Modikhana, Jhotwara, Jaipur
Nearest Bus Stop: Hathoj Bus Stop
Suggested Read: Take Down Tips To Plan An Ideal 4D/3N Romantic Trip To Rajasthan!
6. Sireh Deori Bazaar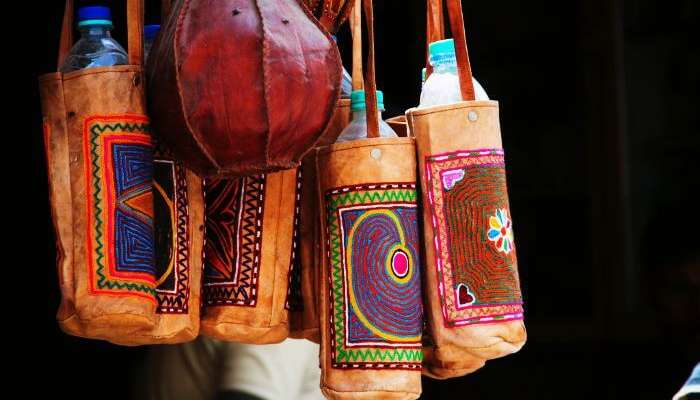 Sireh Deori Bazaar, opposite to the famous Hawa Mahal is a perfect place for window shopping and street shopping in Jaipur, since you get a glimpse of the overall shopping items available here. This is one of the famous shopping places in Jaipur. Leather shoes, puppets, knickknacks and some unique hangings can be picked up from here, which are exclusive make of Jaipur.
Specialty: Out of all the shopping places in Jaipur, you will get best Camel Leather products here
Open: 7 days open | Sireh Deori Bazaar Jaipur Timings – 11 am onwards
Location: Sireh Deori Gate, Tulsi Marg, J.D.A. Market, Jaipur
Nearest Bus Stop: Badi Choupad Bus Stop
Book Rajasthan Tour Packages With TravelTriangle!
7. Bapu Bazaar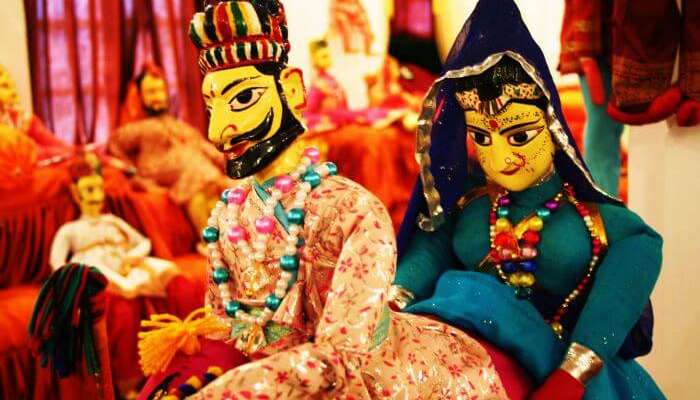 The best place to visit in Jaipur for shopping, Bapu Bazaar is a one-stop destination for all the Jaipuri items as you could almost buy anything for a reasonable price. If you're looking for the best wholesale cloth market in Jaipur, then this is the one. This bazaar stands out for the moderate prices of items like textiles and Joothis. You can easily find one of the best shops in Bapu bazar, Jaipur. Here you can enjoy the novelty of street shopping in Jaipur. Plus, the bazaar lies in a pretty location and you could get to witness the 'pink' side of the city!
Specialty: Best quality Jaipur textile goods are present here. However, be ready to bargain!
Open: 7 days open | Bapu Bazaar Timings – 11 am onwards
Location: Bapu Bazaar, Jaipur
Nearest Bus Stop: Sindhi Camp Bus Stop
Must Read: 38 Most Colorful Places In India That Will Make Your Heart Skip A Beat
8. Mirza Ismail Road (MI Road)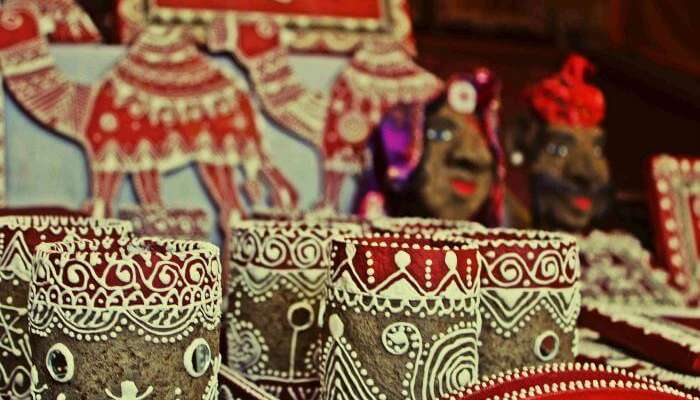 Pottery in Jaipur is taken too seriously -And you're sure to fall in love with the pottery works the moment your gaze falls on them! Visit MI — the most vibrant of the shopping places in Jaipur — road to shop for pottery work, which dates back to the days of the Rajput kings who used the pots extensively to beautify their palaces. So head there to add some beautiful collections to your home. Also, look for brass statues and wooden items.
Specialty: Ensure you buy the colorful pots and wooden souvenirs from this shopping place in Jaipur
Open: 7 days open | Mirza Ismail Road Timings – 11 am onwards
Location: MI Road, Jaipur
Nearest Bus Stop: Ajmeri Gate Bus Stop
9. Tibbati Market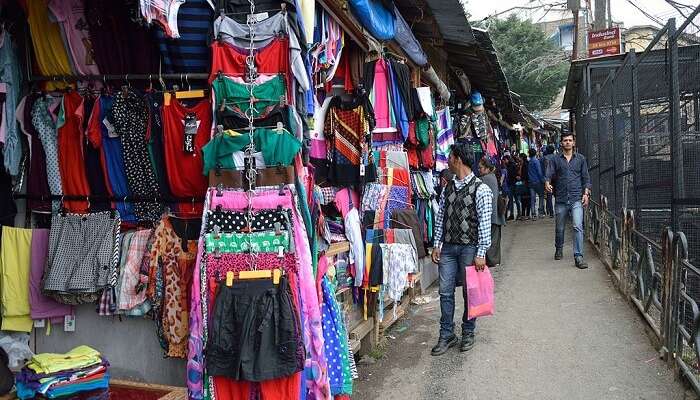 For the budget shoppers the Tibbati market is one of the good shopping places in Jaipur to barge in and explore the handicrafts, fashion and other local souvenirs crafted by the tibetan people. This market is set up in the starting of winter around November and lasts till the end of January. For the travelers who are planning to head to Jaipur during this period, can enjoy this seasonal market and invest on some tibetan crafts.
Best Time To Visit: Late afternoon to evening
Opening Hours: 10am – 9pm
10. Anokhi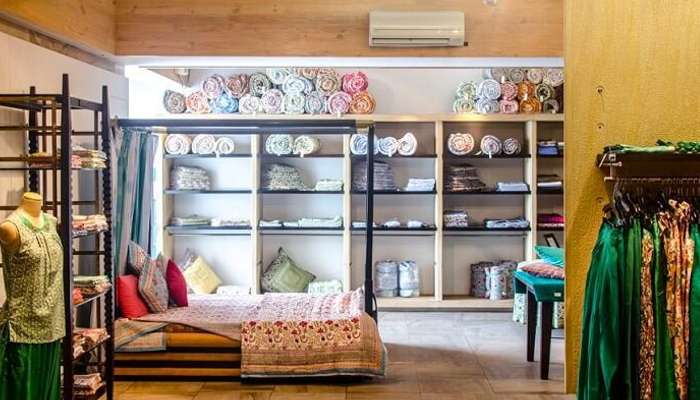 If you're an admirer of beautiful bright prints and handcrafted fabrics, then Anokhi will definitely not disappoint you. Holding different chains of stores, this place has made a mark with its distinguished designs, prints and range of colors which makes it one of the best shopping places in Jaipur. So how can you miss this paradise shop while roaming in the city of art and crafts.
Location: Anokhi Farm, Todi Ramzanipura, Jagatpura, Jaipur 302017
Opening Hours: 10am – 8pm
11. Gaurav Tower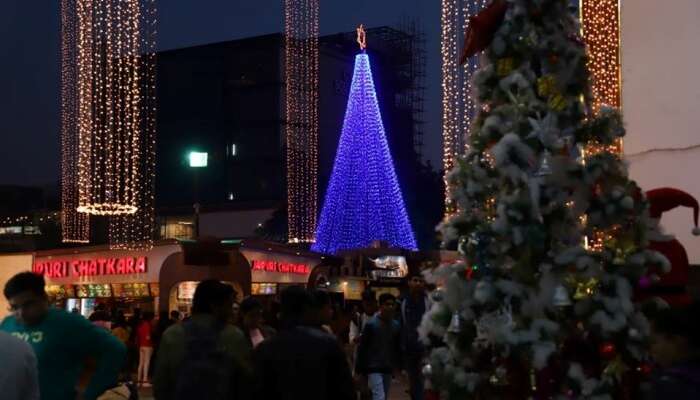 At Gaurav Tower mall, expect a great ambiance and variety. This is considered to be the oldest mall in Jaipur and provides a great parking space, making the shopping experience hassle free for you. You'll get a wide range of clothes and other local products at inexpensive prices at GT Bazar that has been established here at the basement. This is one of the finest shopping places in Jaipur, Rajasthan.
Location: Malviya Nagar, Jaipur, Rajasthan 302017
Opening Hours: 9:30am – 11pm
Conveyance: The mall can be reached via autos as well as cabs
12. The Gem Palace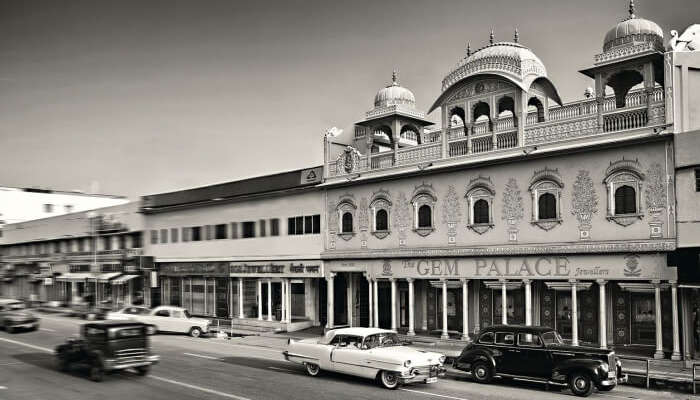 If you have a thing for antique charms and jewelry, then The Gem Palace is ideal for you. Renowned for the traditional and intricate designs, their jewelry is an epitome of a vast cultural heritage. Each item that they sell speaks for itself. The family-run business has a great legacy that continues to grow till date.
Location: Shop No. 348, MI Road, Jayanti Market, New Colony, Jaipur, Rajasthan 302001
Opening Hours: 10:30am – 7pm
Conveyance: You can get to this place without any inconvenience using metro. Sindhi Camp Metro Station is only 2 kilometers from here.
13. Kripal Kumbh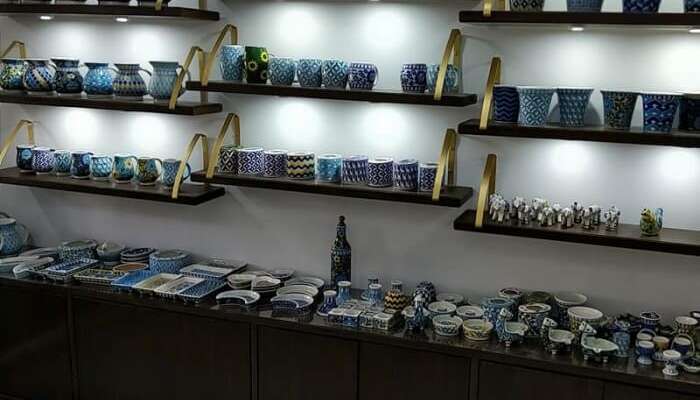 The significance of this place dates back to the 60s and since then it has been selling beautiful blue pottery. Made with quality and precision, the pottery steals every tourist's heart. If you are looking for the shopping places in Jaipur city that sell qualitatively designed pottery items, then this place is for you. There are various items made with the similar motif here and are suitable to be gifted as souvenirs.
Location: B-18, Shiv Marg, Banipark, Kanti Nagar, Bani Park, Jaipur, Rajasthan 302016
Opening Hours: 9:30am – 6pm
Conveyance: From here, Chandpole metro station is the closest (1.5 kilometers from here)
14. Aravali Bazaar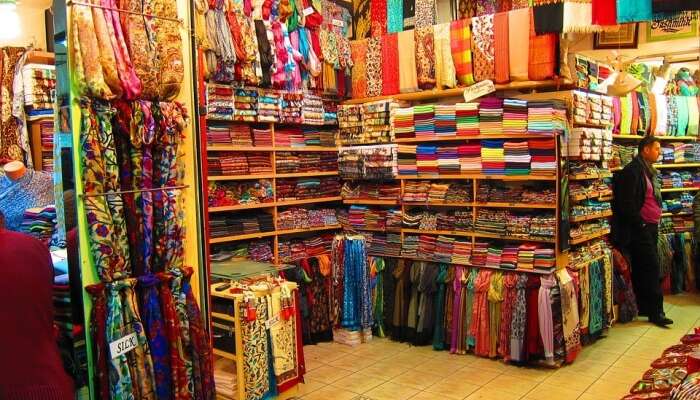 If you want to shop for home decor products, then consider Aravali Bazaar. The market is an all-in-one place, known for selling high-quality quilts, bed sheets, stationery, and even clothes. Each item sold here does not cost much. This place can be a paradise for those looking for home-related solutions.
Location: B-5/B-6, Vinayak Apartment, C-1, Prithviraj Road, Prithviraj Road, Jaipur, Rajasthan 302001
Opening Hours: 9am – 9pm
Conveyance: The metro station is located at 1.4 kilometers from this place
Further Read: 12 Historical Places In Rajasthan That Will Take You Back To The Glorious Past
These are the beautiful shopping destinations unique to Jaipur, which are what makes Jaipur the cultural shopping capital. So, next time you plan a holiday in Jaipur , be sure to head out to these places for shopping in Jaipur and go back home with your hands full of shopped items and heart full of happiness!
Frequently Asked Questions About Shopping Places In Jaipur
Q. What is famous to buy in Jaipur?
A. There are various things that you can find in the markets in the Pink City. Some of them that you must consider when shopping in Jaipur are:
1. Lehariya saree
2. Items with Meenakari work
3. Bed sheets with intricate embroidery
4. Handcrafted Jaipur bags
5. Cloth piece with Bandhej print
6. Blue pottery
7. Mojris
Q. What can I buy in Johari Bazar?
A. Johari Bazar in Jaipur is known for its jewelry shops and is one of the best places in the city for those who want to buy fabrics, traditional dresses, and clothing accessories.
Q. What are the things to buy in Rajasthan?
A. When exploring different cities in Rajasthan, you'll come across many market areas from where you can get your hands on a number of things. Some of the common things that you can consider buying here are:
1. Carpets
2. Cloth pieces
3. Paintings
4. Gemstones and jewelry
5. Puppets, toys, and stuffed dolls
Q. On which day Jaipur markets are closed?
A. Different markets in the city of Jaipur are closed on different days. For instance, the very famous Johari Bazaar stays open on all days of the week. However, some part of this market remains closed on Sundays as well as Tuesdays. Other major markets like Bapu Bazar and Nehru Bazar are believed to stay open throughout the week.
Q. Which is the famous sweet in Jaipur?
A. While you are shopping in the city of Jaipur, it is essential that you also buy some sweets. Some of the sweets that are specialties here are – Phenni, Ghevar, Churma, Makkhan Bada, Moong Dal Halwa, Gajjak, Rabri, Gulaab Sakri, and Imarti.
Q. Is it safe to walk around in Jaipur?
A. Even though the city of Jaipur is quite safe when it comes to exploring the different markets and streets but one needs to be careful of his or her belongings in order to avoid the risks of theft, pickpocketing, etc.
Q. What is special about Jaipur?
A. The city of Jaipur is the capital of Rajasthan and is known for its various attractions like Amer Fort, Hawa Mahal, Jala Mahal, Jantar Mantar, etc. It is popular by the name Pink City and is the largest city in the Indian state of Rajasthan. It is also believed to be one of the initially planned cities of the nation. Apart from the attractions, there's a lot that can be found in this city that can be explored for a great travel experience.
Q. What is famous in Jaipur for eating?
A. You'll get a variety of lip-smacking snacks in the city of Jaipur that reflect the food culture of Rajasthan. While you're here, searching for a delightful treat, then don't forget to taste:
1. Dal bati churma
2. Ghevar
3. Kachori
4. Laal maas
Q. How safe is Jaipur?
A. The highly developed cities of Rajasthan, Jaipur is quite safe for the locals as well as tourists. All kinds of travelers can come spend some quality time here without worrying about the safety. Friends, families, honeymooners, and solo travelers can come to this city for a vacay. Female solo travelers too should not worry at all about the safety here.
Q. What is the best time to visit Jaipur?
A. Winters in Jaipur are dry but warm. The spring as well as summer seasons are believed to be quite hot. The monsoon season does not stay for long but the city receives heavy rainfall during this time. The best time to visit the city of Jaipur, however, comes between November and February.
Q. What can we do in Jaipur at night?
A. During the night hours, the city of Rajasthan, Jaipur looks all the more beautiful. Some of the places you can visit in the night in this city are:
1. Nahargarh Fort
2. Jal Mahal
3. Raj Mandir Cinema Hall
4. Chowki Dhani
---
Looking To Book A Holiday Package?
Book memorable holidays on TravelTriangle with 650+ verified travel agents for 65+ domestic and international destinations.

---
Comments
comments