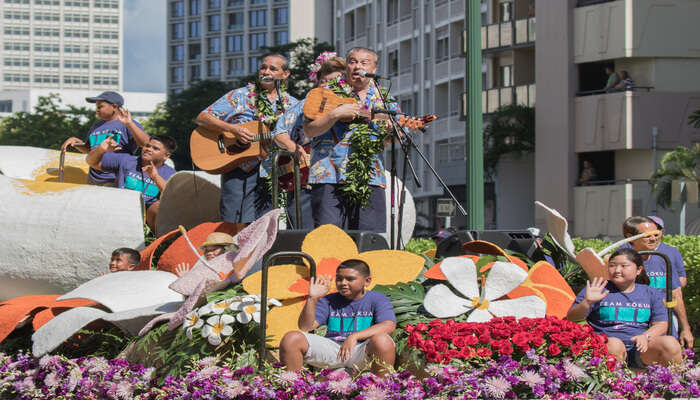 Hawaii is considered as paradise on Earth because of the cool and crisp breeze, tropical weather, long summers and cozy winters. Hawaii offers something for every kind of traveller. You can swim, surf, dance, celebrate life and enjoy beautiful sunsets on its pristine beaches. The cluster of islands is steeped in history with various events and festivals in which you can take part in.
The true character and beauty of these islands is enhanced during the various Hawaiian festivals. Ranging from music to art to food, you can find a festival for everything here. The people are welcoming and friendly which enhances the experience even more. If you want to be a part of these hawaiian festivals then look no further as we have them listed below.
Top 15 Hawaiian Festivals
Here we present to you the most popular Hawaiian festivals that are celebrated in the various islands of this beautiful country:
1. Hawaiian Slack Key Guitar Festival
2. Prince Lot Hula Festival
3. Annual Waikiki Hoolaulea
4. Honolulu Festival
5. Hawaii Songwriting Festival
6. Ka Molokai Makahiki Festival
7. Hawaii Performing Arts Festival
8. Ukulele Festival Hawaii
9. Mayjah Rayjah
10. Wonderland Hawaii
11. Wanderlust Oahu
12. Hawaii International Music Festival
13. Flowfest Hawaii
14. Merrie Monarch Festival
15. Aloha Festivals
1. Hawaiian Slack Key Guitar Festival
This festival began way back in 1982 in the city of Honolulu. It features many artists of Hawaii who are experts in the genre of Slack Key Guitar. لعبة طاولة 31 فلاش It takes place over an afternoon of musical fun. Listeners and enthusiasts come here to experience a variety of styles in this genre giving them a better and more fulfilling understanding of the beautiful musical notes.
When: August
Where: Honolulu
Must Read: Hang Gliding In Hawaii: Know The Best Spots To Try This Adventurous Activity
2. Prince Lot Hula Festival
This festival is celebrated in honor of Prince Lot Kapuāiwa. It is held in the gorgeous gardens of Moanalua. The event's first installment began way back in 1978, it has been celebrated ever since annually for over 40 years. The Prince who was later known as King Kamehameha brought back the Hula.
This festival is solely managed by the Moanalua Gardens Foundation and has seen exponential growth since its inception. The numbers can sometimes rise to 20,000 locals and visitors at its peak.
When: July
Where: Moanalua Gardens in Honolulu
Suggested Read: 9 Thrilling Things To Do In Honolulu That You Must Try On Your 2022 Hawaii Trip!
3. Annual Waikiki Hoolaulea
The largest block party in the island nation brings together tens of thousands of locals and visitors. These people spill into the streets and reach the Kalakaua Avenue to get a taste of the food, frolic and entertainment. This Aloha festival sees performers who are adept in their respective genres of Hawaiian classical music and hula halau. Many Hawaiian artefacts, craft pieces, flowers and amazing cuisine are also a part of this beautiful festival.
When: September
Where: Honolulu
Suggested Read: 16 Picture-Perfect Places To Visit In Hawaii In 2022 For A Dramatic Tropical Getaway
4. Honolulu Festival
The Honolulu Festival is the most famous cultural event in the Hawaiian festivals calendar. This experience is unique to the Hawaiian Islands and attracts locals and visitors alike. It endorses and popularizes mutual cooperation and understanding, ethnic camaraderie and wealth.
Performers and artists from various countries and cultures come here to perform and enthrall the audiences with their art, music and dance. The festival's last event is a magnificent parade going down at the main commercial street of Waikiki, the Kalakaua Avenue.
When: March
Where: Honolulu
Suggested Read: 10 Picturesque Hotels In Hawaii That Will Give You Travel Goals
5. Hawaii Songwriting Festival
The Hawaii Songwriting Festival celebrates the craft in songwriting and the art to fit it into a melody. The festival emphasizes the education of music in films and TV through collaboration. Writers from all the various islands as well as the rest of the world come here to associate with musicians and producers from around the world.
Both beginners as well as experienced songwriters get ample opportunities here to learn and discover new ways to enhance their art. If you happen to be here in July, then make it a point to attend this amazing festival.
When: June/July
Where: The Big Island
Suggested Read: Hawaiian Islands Guide 2022: For A Surreal Holiday In The Lap Of Nature
6. Ka Molokai Makahiki Festival
The Ka Molokai Makahiki festival has been commissioned to preserve the traditional legacies of the Molokai region. This festival commemorates the ancient practice of Makahiki. In this, the time that follows the season of harvest is delegated towards paying taxes and tributes by the tribal chiefs of every district. The festival includes activities on land and sea, workshops and lectures for art and crafts and various sporting events.
When: January
Where: Molokai
Suggested Read: 12 Best Beaches In Hawaii Where You Can Soak In The Sun & Enjoy A Blissful Vacay
7. Hawaii Performing Arts Festival
The Hawaii Performing Arts Festival started in the mid-2000s. It is a fairly young festival but in this short span of time has come to be known across the world as a hot cauldron for the best artists and musicians. The festival has concerts in various genres including jazz, classical, rock and orchestrated musical shows. The festival also serves as a training ground for aspiring musicians and artists. If you are musically inclined, then visiting this festival can be a valuable experience for you.
When: June
Where: The Big Island
Suggested Read: Hawaii Nightlife: Best Places On The Island To Get Tipsy On The Refreshing Tiki Cocktails
8. Ukulele Festival Hawaii
The Ukulele Festival at the various locations throughout Hawaii is now part of the annual tradition that is followed here every summer. This is considered to be the largest Ukulele festival in the entire world and is only gaining popularity each year. There are performances by hundreds of artists from around the world. بطولة اليورو 2024 Prepared to be enthralled and entwined in the musical notes of ukuleles at each corner of the venue.
When: Depends on the location of the festival
Where: Oahu, Maui, Kauai, Waikoloa
Suggested Read: 10 Best American Road Trips For An Unforgettable Journey In The Land Of Enchanting Sceneries!
9. Mayjah Rayjah
If you are a fan of Reggae music then Mayjah Rayjah is for you. Every year in July, the cities of Maui and Honolulu play host to the largest reggae festival of Hawaii. Consisting of a lineup of the world's most popular reggae artists, this festival is sure to ignite your inner party animal. The producers of this music festival also have provisions for amateur reggae artists to present their music in this festival.
When: July
Where: Maui, Honolulu
Suggested Read: 14 Awesome New Year Parties In USA That You Must Be A Part Of
10. Wonderland Hawaii
The EDM genre has certainly burst into a diverse music scene with millions of followers throughout the world. If you are one of these fans, then Wonderland Hawaii is the place for you to experience some wonderful EDM. All major electronic dance music artists bring down the house with their beats. Music lovers also get a chance to listen to some local artists, who are given a chance to perform their music in front of thousands of EDM fans from around the world.
When: Depends on the various locations
Where: Held at different locations across the Hawaiian Islands
Suggested Read: 16 Food Festivals In USA Every Food Lover Should Attend
11. Wanderlust Oahu
Wanderlust Oahu pledges to help you discover the true north of Hawaii. The magnificent shores of the northern point in Oahu welcome you to bathe in their glory. العاب سبين This festival is for the lovers of peace and tranquility. It contains various activities like guided tours along the shores, meditation, spa, yoga and music tutorials. Do make an effort to take part in this festival if you want to get away from the usual partying in Hawaii.
When: March
Where: Oahu
Suggested Read: 10 Top-Rated Casinos In USA To Try Your Luck And Roll The Dice!
12. Hawaii International Music Festival
The Hawaii International Music Festival is held annually for music lovers from around the world. It is produced by a non-profit entity which is keen on getting the best and most popular artists in the music industry. From acclaimed artists to rank amateurs, this festival witnesses crowds in the thousands. If you don't want to be a part of the music festival, then you can check out the food stalls and music instruction booths to get your jam on.
When: August
Where: Various locations across Hawaii
Suggested Read: 11 Halloween Parties In USA You Should Attend To Shake Things Up
13. Flowfest Hawaii
The Flowfest was founded after the active lava flow deviated from its original direction in the year 2014. It threatened to cut Puna from the Big Island. The festival celebrates the different cultures, art, music and colors of the locals who came together in a time of crisis to help each other. Here you can enjoy organic food, great art and music.
When: February
Where: Puna
Suggested Read: 10 Hot Springs In USA Which Will Give You Relaxing Spa Like Experience Amidst The Nature!
14. Merrie Monarch Festival
The Merrie Monarch Festival is celebrated to commemorate King David La'amea Kalākaua. He was also known as Merrie Monarch because of his jovial and flamboyant nature. He was a true connoisseur of classical music, dance and the performing arts. He was dearly beloved by the community until he died.
When: April
Where: Hilo
Suggested Read: Hang Gliding In USA: Swoosh Through The Air & Feel The Adrenaline Rush In 2022!
15. Aloha Festivals
Aloha Festivals are held across the various islands of Hawaii. These festivals help in showcasing and exhibiting the culture and traditional legacies of the local people. The best part is that the festival is free for anyone to attend and celebrates the best of Hawaiian culture, music, history and dance.
When: September
Where: Held across various Hawaiian Islands
Further Read: 16 Food Festivals In USA Every Food Lover Should Attend In 2022

Hawaiian festivals are a combination of fun, food and every kind of event that you can find under the sun. This list is intended to help you to plan your trip to Hawaii and its various colourful festivals. We hope the food, beaches, fun and frolic at these festivals help you to create some of the most amazing memories. We hope you have a good trip while exploring the various traditions of Hawaii through festivities. Aloha!
Disclaimer: The images provided are for representation purposes only. TravelTriangle claims no credit for images featured on our blog site unless otherwise noted. All visual content is copyrighted to its respectful owners. We try to link back to original sources whenever possible. If you own the rights to any of the images, and do not wish them to appear on TravelTriangle, please contact us and they will be promptly removed. We believe in providing proper attribution to the original author, artist or photographer.
Please Note: Any information published by TravelTriangle in any form of content is not intended to be a substitute for any kind of medical advice, and one must not take any action before consulting a professional medical expert of their own choice.
Frequently Asked questions About Hawaiian Festivals
What are some holidays in Hawaii?
Festivities and Holidays in Hawaii include Prince Kuhio's day, Aloha fests, Hula fests, Kamehameha day, Lei day and Statehood day.
Are there any raves in Hawaii?
Yes there are many raves in Hawaii. Some of them include EDC, Ultra, Wonderland Electric Forest, Imagine, Bonnaroo and Electric zoo.
What is a traditional Hawaiian gift?
Coffee, Hula skirts and macadamia nuts are good traditional gifts to offer someone. Other good gifting ideas include artefacts showcasing local craftsmanship, and the deep heritage and culture of the Hawaiian people.
What not to wear in Hawaii?
For all activities in Hawaii casual fashion is a completely appropriate choice. Locals and tourists are seen wearing aloha shirts, loose trousers and wide shorts. For footwear you can consider flip flops or sandals for optimum comfort.
What are the unique aspects of Hawaiian culture?
Hawaiian culture is an amalgam of unique influences and traditions. It deeply influences language, food and the fashion of the region. Hawaii is not just about the beaches, food, and festivals.
What is a traditional Hawaiian blessing?
A traditional Hawaiian blessing is considered to be a sacred exercise. The true purpose of the Blessings is to ask the almighty for peace, health prosperity, happiness and harmony in life.
What are some common Hawaiian phrases?
Aloha means hello or goodbye or love, Ohana means family E komo mai means welcome, Hale means home, Mahalo means thank you and Keiki means children/child.
{
"@context": "https://schema.org",
"@type": "FAQPage",
"mainEntity": [
{
"@type": "Question",
"name": "What are some holidays in Hawaii?",
"acceptedAnswer": {
"@type": "Answer",
"text": "Festivities and Holidays in Hawaii include Prince Kuhio's day, Aloha fests, Hula fests, Kamehameha day, Lei day and Statehood day."
}
}
, {
"@type": "Question",
"name": "Are there any raves in Hawaii?",
"acceptedAnswer": {
"@type": "Answer",
"text": "Yes there are many raves in Hawaii. Some of them include EDC, Ultra, Wonderland Electric Forest, Imagine, Bonnaroo and Electric zoo."
}
}
, {
"@type": "Question",
"name": "What is a traditional Hawaiian gift?",
"acceptedAnswer": {
"@type": "Answer",
"text": "Coffee, Hula skirts and macadamia nuts are good traditional gifts to offer someone. Other good gifting ideas include artefacts showcasing local craftsmanship, and the deep heritage and culture of the Hawaiian people."
}
}
, {
"@type": "Question",
"name": "What not to wear in Hawaii?",
"acceptedAnswer": {
"@type": "Answer",
"text": "For all activities in Hawaii casual fashion is a completely appropriate choice. Locals and tourists are seen wearing aloha shirts, loose trousers and wide shorts. For footwear you can consider flip flops or sandals for optimum comfort."
}
}
, {
"@type": "Question",
"name": "What are the unique aspects of Hawaiian culture?",
"acceptedAnswer": {
"@type": "Answer",
"text": "Hawaiian culture is an amalgam of unique influences and traditions. It deeply influences language, food and the fashion of the region. Hawaii is not just about the beaches, food, and festivals."
}
}
, {
"@type": "Question",
"name": "What is a traditional Hawaiian blessing?",
"acceptedAnswer": {
"@type": "Answer",
"text": "A traditional Hawaiian blessing is considered to be a sacred exercise. The true purpose of the Blessings is to ask the almighty for peace, health prosperity, happiness and harmony in life."
}
}
, {
"@type": "Question",
"name": "What are some common Hawaiian phrases?",
"acceptedAnswer": {
"@type": "Answer",
"text": "Aloha means hello or goodbye or love, Ohana means family E komo mai means welcome, Hale means home, Mahalo means thank you and Keiki means children/child."
}
}
]
}
People Also Read:
Spanish Festivals Brazil Festivals Chinese Festivals
Comments
comments